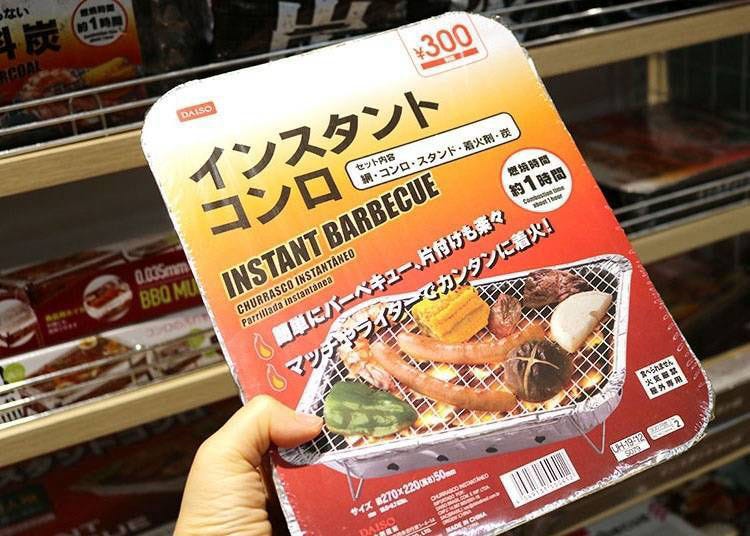 The recent surge in people heading outdoors to enjoy barbecuing and more has caused DAISO to stock up on various outdoor and leisure items. We spoke with Mr. Yuto Sasayama, a staff at the popular DAISO Shinsaibashisuji 2-chome, to find out about the latest and best-selling products.

DAISO is a 100-yen shop (110 yen including tax) that offers a selection of high-quality items! It's also found a trendy spot among foreign visitors. Located on the bustling Shinsaibashisuji shopping street, the store can be accessed from both Shinsaibashi Station and Namba Station.

And thanks to careful countermeasures against Covid-19, such as disinfecting the shop and products, you can feel at ease when shopping.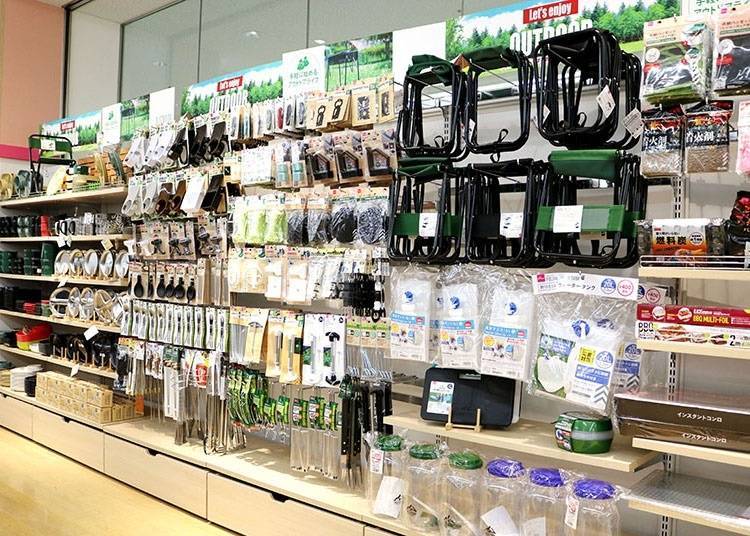 The outdoor and leisure items are located on the fourth floor.
1. Multi-Foil for BBQ: A Handy Item for Beginner Barbecuers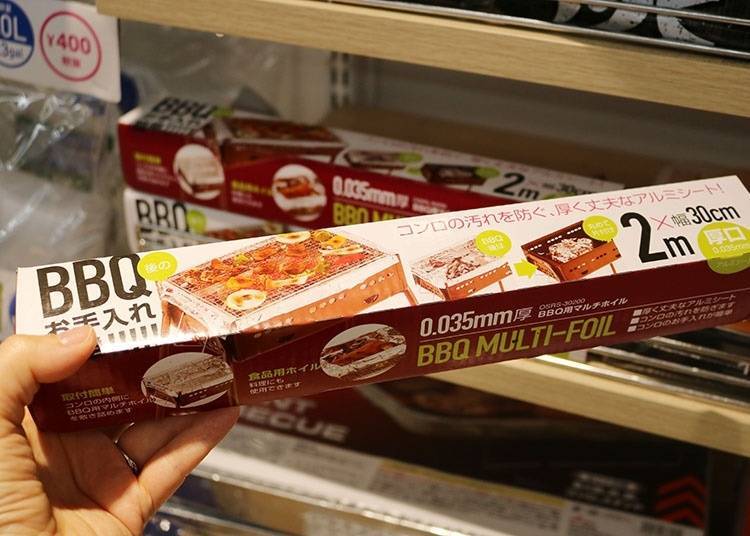 Multi-foil for BBQ
The multi-foil for BBQ is an excellent item that makes for easy cleanup. You can use it just by putting the foil around the inside of a stove. Then, you can throw it away with no need to wash dishes once it becomes dirty with charcoal or oil. This makes it a product recommendation for beginner barbecuers.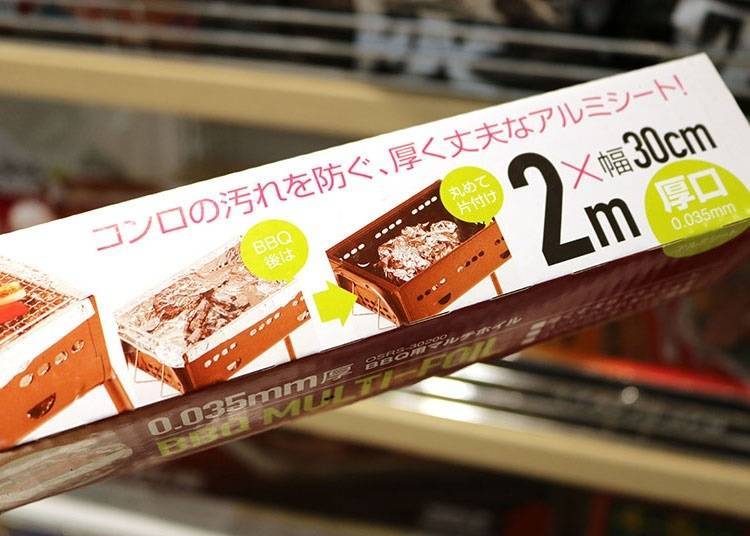 It's three times thicker than regular aluminum foil.
Mr. Sasayama added, "Because it's durable and thick, you can use the foil to make a simple pan on a grill screen or to cook dishes wrapped in foil." If you have any left over, it's great because the foil can also be used for cooking at home.
2. Yakitori Stand: Try Making Yakitori at a BBQ!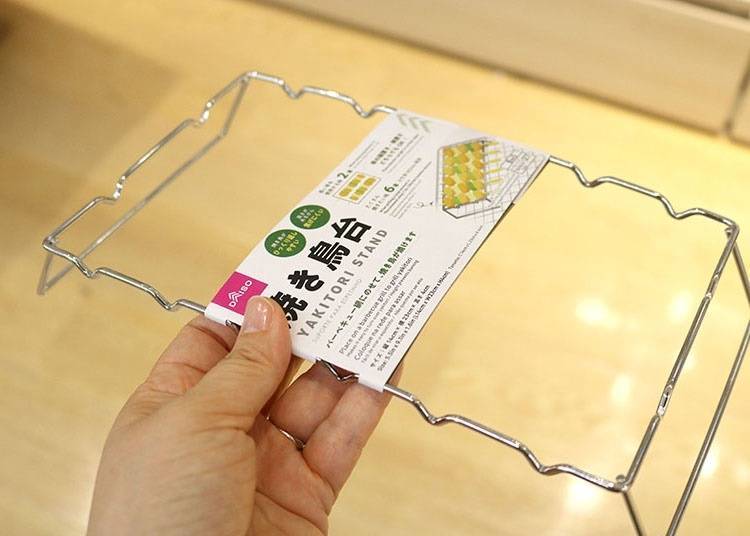 Yakitori stand
Yakitori is a famous Japanese dish using skewered pork or chicken, and is very popular at izakaya - informal Japanese bars. However, when trying to make yakitori on a BBQ grill screen, the skewer gets too close to the fire, causing the handle to burn. An item that solves this problem is the yakitori stand.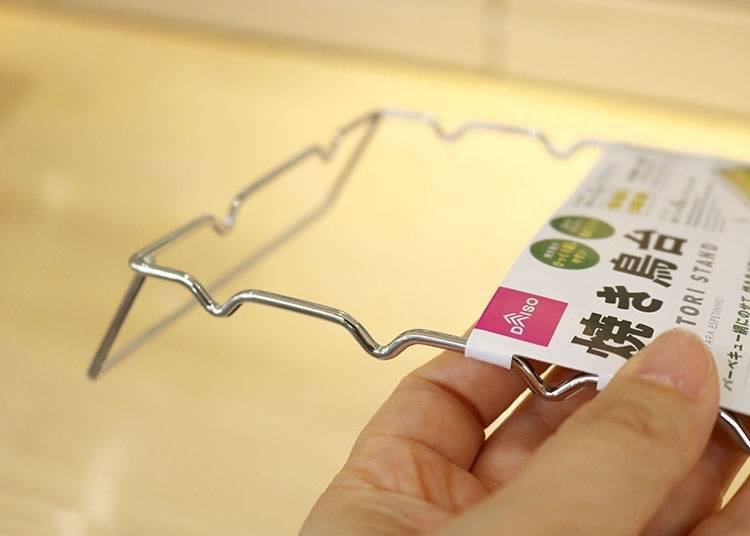 Place the skewers into the grooves of the stand.
According to Mr. Sasayama, "Just put the stand on a BBQ grill screen and place the skewers into the grooves. This elevates the skewers and prevents them from getting burnt. What's more, the skewers don't get too hot so that you can flip them over easily."

Yakitori that you eat outside is especially delicious. So why not try using this item to make yakitori at an outdoor BBQ?
3. Alcohol Burner Trivet: You Can Even Adjust the Size!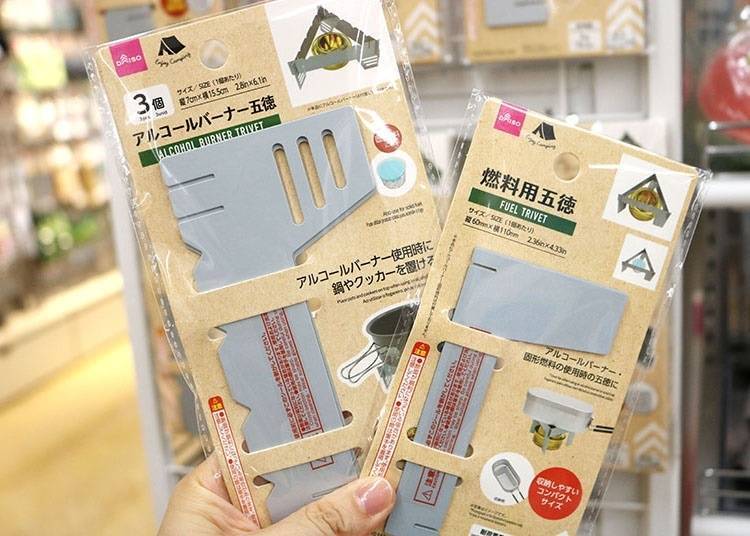 Alcohol Burner Trivet
With the alcohol burner trivet, you can put pots or cookers on top of an alcohol stove. This item can also be used as a form of solid fuel, and it has two incisions so that you can adjust the size.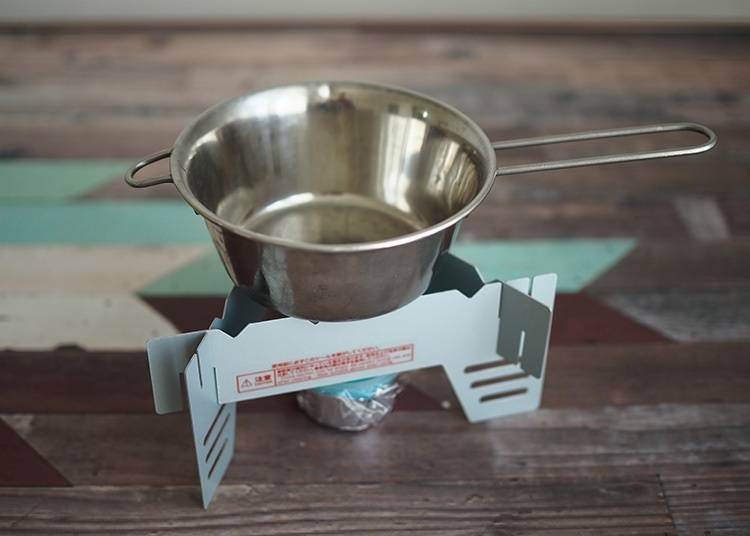 Cooking becomes much easier when using items such as alcohol stoves (not sold at the store) and solid fuels (sold separately) together.
"Whether at a BBQ or mountain climbing, this is a convenient item to have with you in the outdoors. It also comes with a smaller size that can be used as fuel for the fire.", explained Mr. Sasayama. Another attractive feature is that, although it requires assembly, it's very compact.
4. Mini Folding Table: Easy to Transport!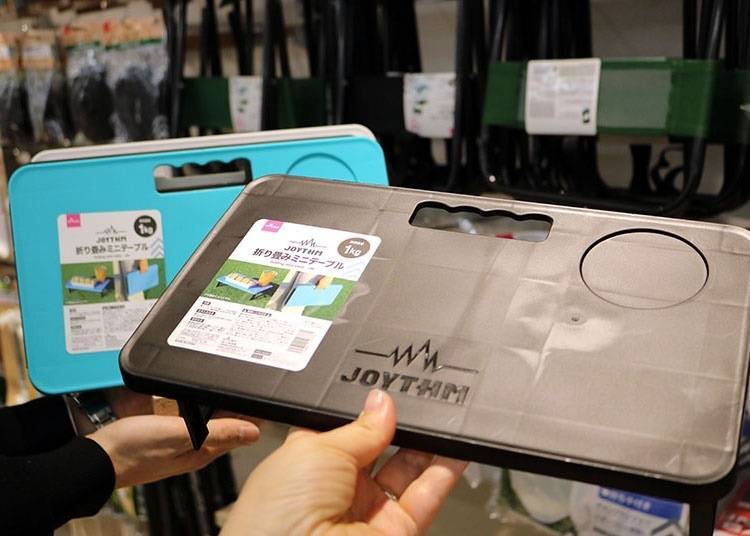 Mini folding table
The mini folding table is a compact item that you can carry with you to many places. The hole in the table acts as a handle, making it easy to transport. There's also a space on the surface that acts a cup holder.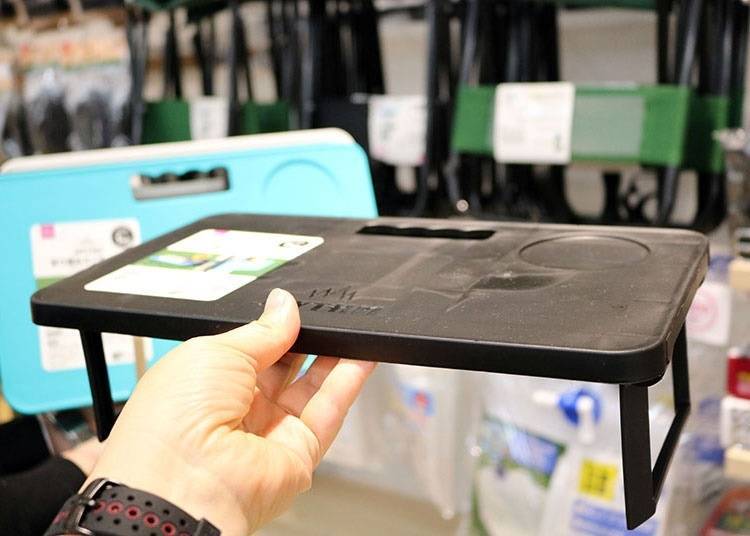 The convenient size of this item makes it easy to transport. (External Dimensions: Width 310mm×Length 180mm×Height 90mm)
Mr. Sasayama commented, "Not only can it be used for the outdoors, but this is an item that's great for playing house with your children or to use as a work table."

The table weighs one kilogram, and the surface of the table is made from polypropylene. This is a material that's also used to make plastic containers. Additionally, you can easily wipe it clean if it ever gets dirty.
5. Drink Clip (Square): Also Used as a Shoe and Phone Holder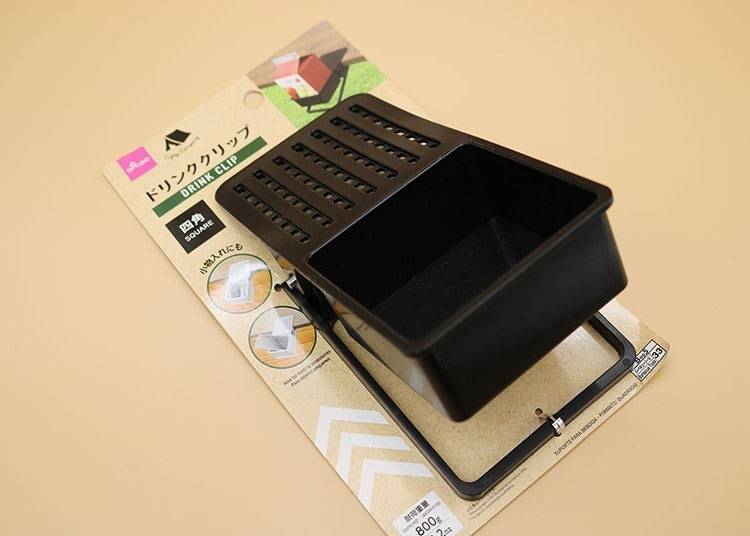 Drink clip (square)
The drink clip (square) can be used by attaching the clip onto surfaces such as desks. It's the perfect item to store shoes or phones when you're at a BBQ or campsite. The storage compartment is quite large and can hold items weighing up to 800 grams. Because the clip is square, you can even fit items like juice boxes.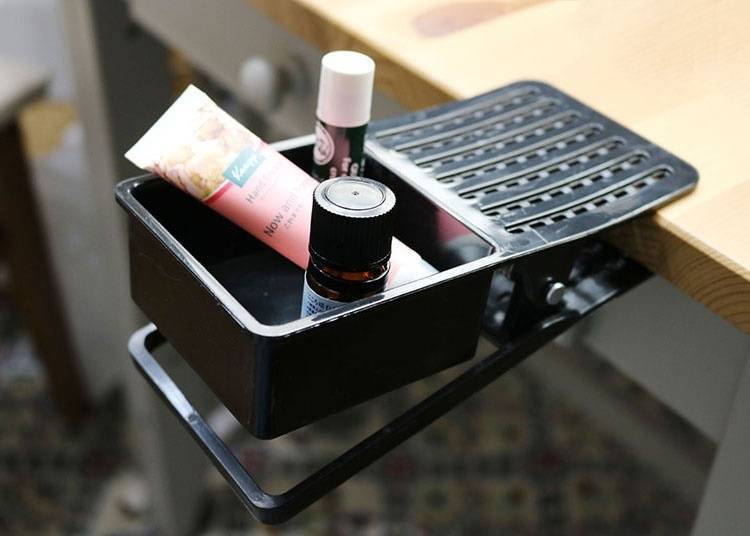 It can also be used to store small items.
Mr. Sasayama mentioned, "This clip has a deep storage compartment, so it's handy to store small items such as lip balms and coins."

It can be used on the upper surface of tables that are 25 millimeters to 30 millimeters wide. These clips are available in both black and white.
6. Multipurpose Camping Tool: Use This Item in Various Ways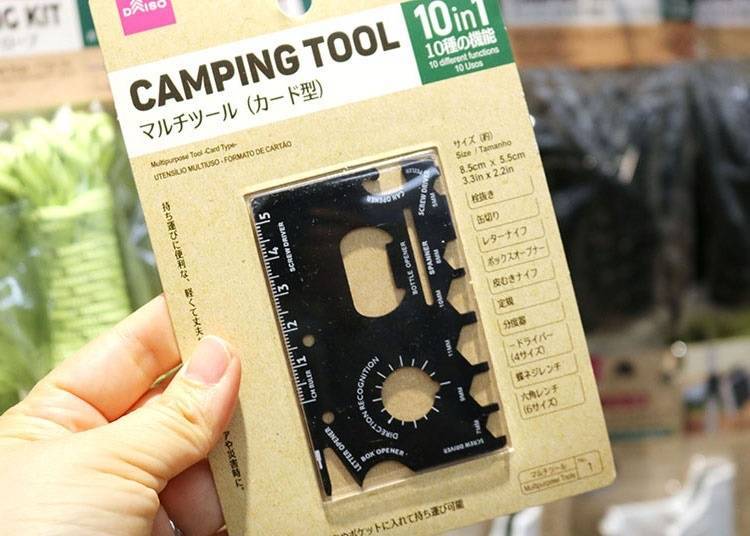 Multipurpose camping tool
The multipurpose camping tool has over ten different functions. It can be used as a bottle opener, a can opener, a paring knife, a screwdriver, or a hexagonal wrench. So whether it's fishing, camping, or barbecuing, you can be at ease with this one item during various outdoor activities.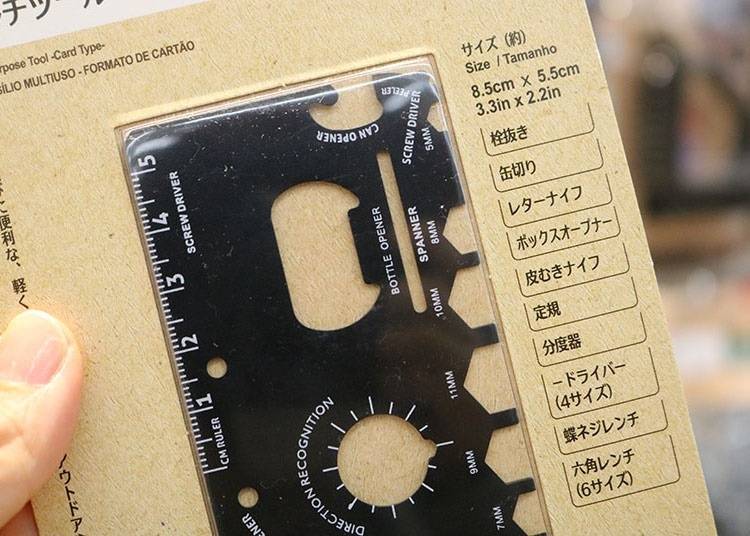 It has 10 different functions that come with descriptions on the back of the packaging.
Mr. Sasayama is also in awe of this superb item stating, "Small enough to fit in your pocket, this item is easy to carry. In addition to acting as a cooking tool, it also functions as a screwdriver and hexagonal wrench."

It is light and durable. This item would also be a useful tool to have during an emergency, too.
7. Collapsible Travel Cup: Easily Carry this Compact Item!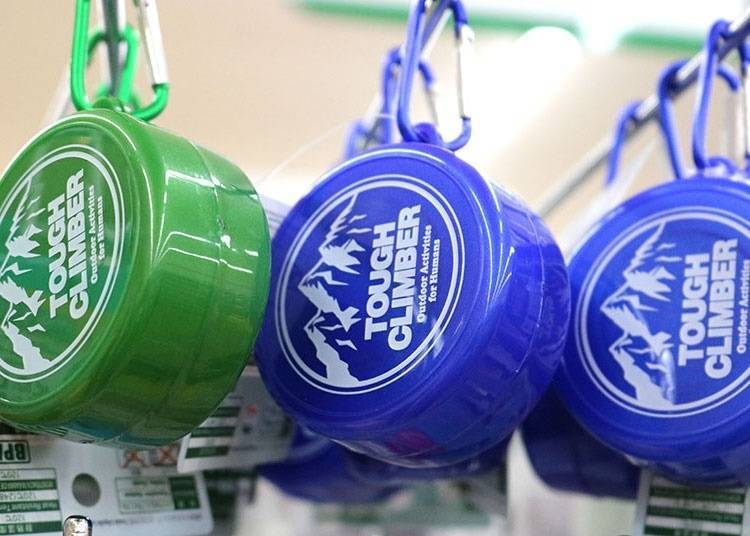 Collapsible travel cup
The collapsible travel cup is about the size of a yoyo. If you open the lid and lift the inside, you can use it as a simple cup.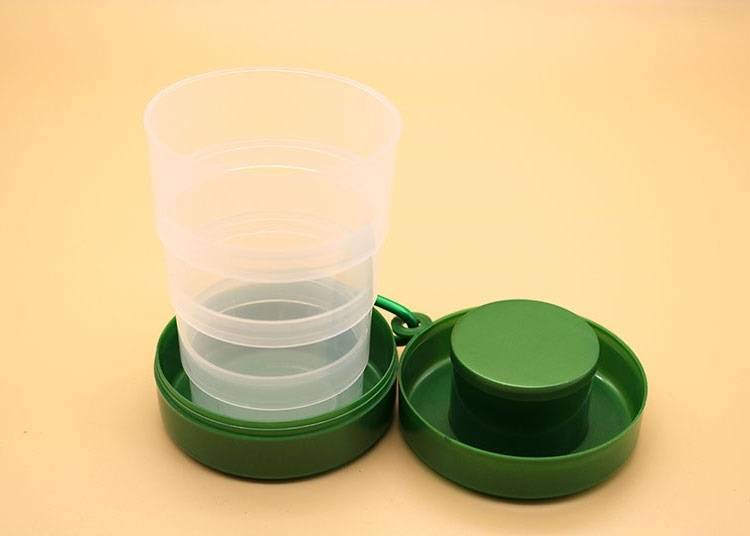 You can lift up the clear cup for use.
Mr. Sasayama told us, "In addition to being used for drinking water, this portable and foldable item is convenient to use as a toothbrush cup."

It's handy to use when you need to gurgle or take some medicine with water while you're outdoors. Attached with a carabiner, it's easy to carry around.
8. Metal Jig (40g, Glow-in-the-dark): Practically Guarantees a Large Catch of Fish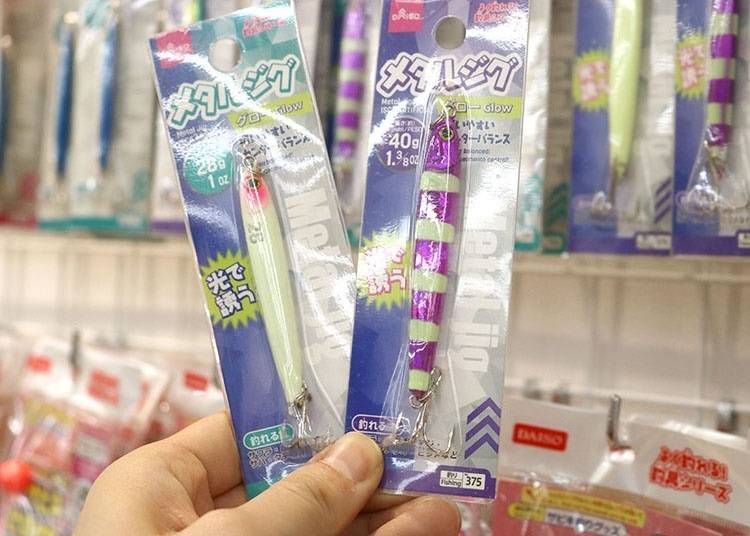 Metal jig (40g, glow-in -the-dark)
DAISO even has fishing gear! The raved about metal jig is said to guarantee a large catch of fish. It became a huge hit on social media due to a famous Youtuber using it. There is a wide selection of jigs sold, but we recommend the new glow-in-the-dark kind.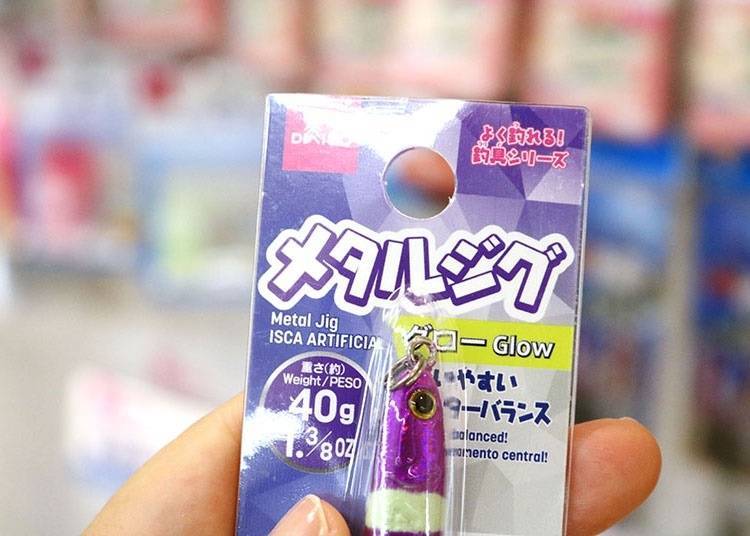 This is a fluorescent jig that glows in the dark.
Mr. Sasayama added, "This is a fluorescent, glow-in-dark item that shines in deep waters."

The metal jig moves irregularly once it's in the water. You can catch a lot of fish this way because the movements are similar to a real fish.
9. Fanny Pack: Perfect for Moving Around Empty-Handed
Fanny pack (220 yen)
This fanny pack can be compactly put away when you aren't using it. It's only 220 yen, a price that's rare for such bags. The functionality of the fanny pack makes it even better. Although it looks small, the material is stretchy, so it will easily fit your cellphone or coins.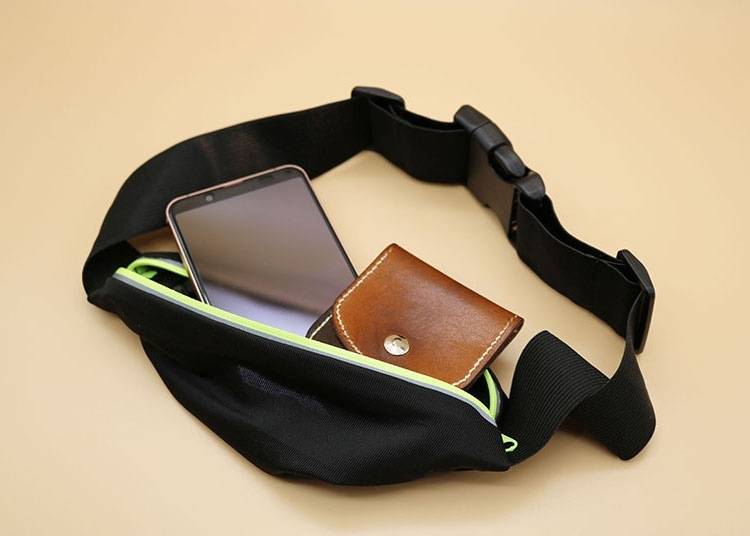 It can stretch this much!
Mr. Sasayama pointed out, "Not limited to the outdoors, many people also use this item when they're on a run. A reflector surrounds the zipper, so it will stand out even in the dark." It's a superb item that's also equipped with great safety measures. These fanny packs are sold on the third floor.
10. Instant BBQ: An Easy Way to Start a Fire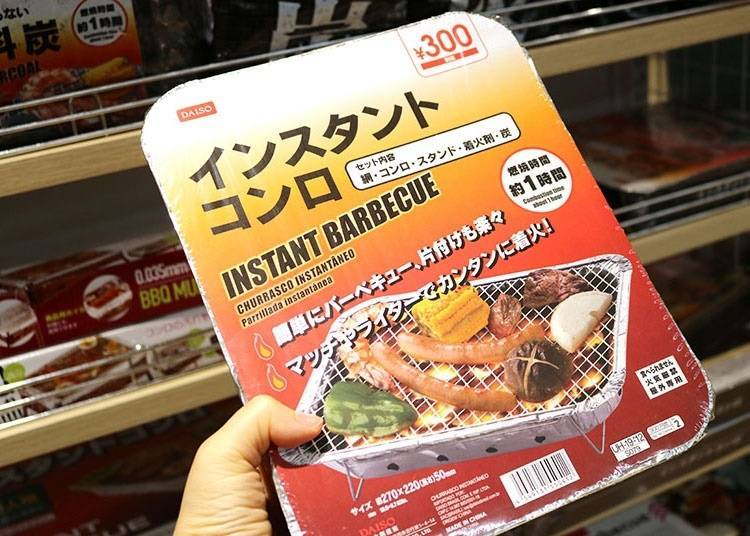 Instant BBQ (330 yen)
Even though it's 330 yen, we recommend instant BBQ because it's a use-and-dispose item that makes cleanup easy. The set comes with a grill screen, a stove, a stand, fire-starting materials, and charcoal. With these items, you can easily start a fire with just a lighter.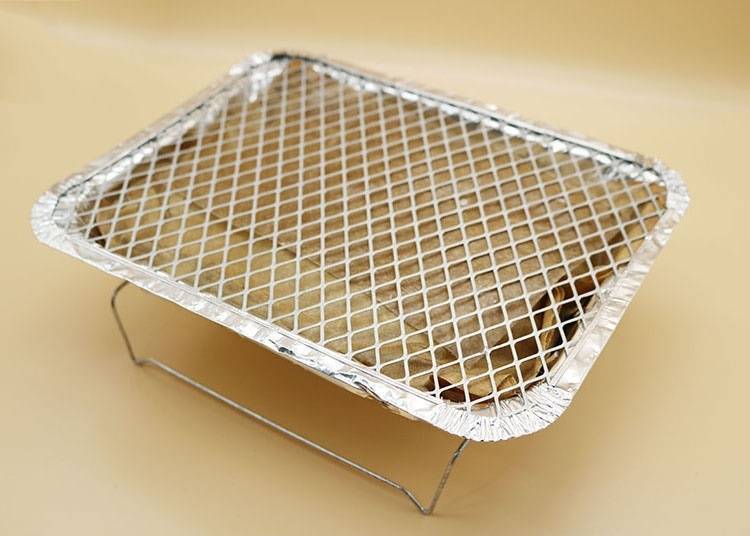 The inside looks like this. You can use it as soon as you open it.
Mr. Sasayama commented, "Just open the package, put the stove on top of the stand, and start a fire from in-between the grill screen. You don't have to go through the trouble of starting a fire from scratch because it comes with a stove, fire-starting materials, and charcoal."

The fire lasts for approximately an hour and is perfect for the recently popular activity of solo camping.
DAISO Shinsaibashisuji 2-chome Store Found on Shinsaibashisuji Shopping Street
The DAISO Shinsaibashisuji 2-chome Store is on Shinsaibashisuji shopping street close to both Osaka Metro's Shinsaibashi Station and Namba Station. It's the perfect place to stop by when shopping around this famous street where approximately 180 shops can be found.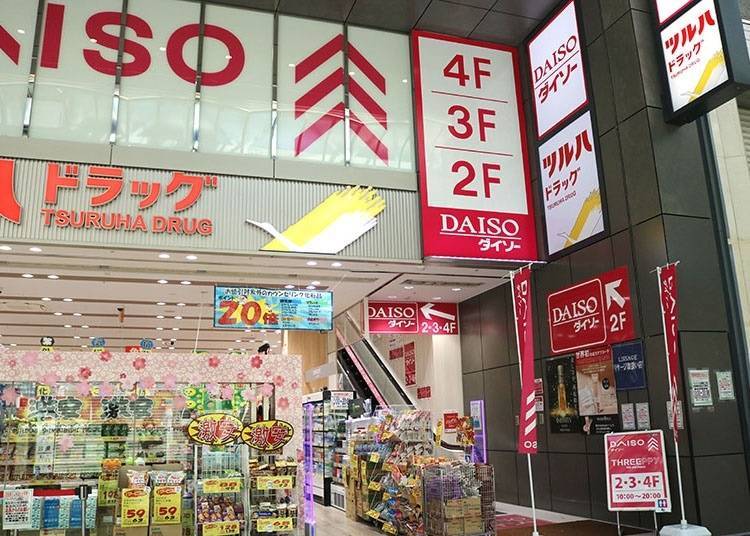 You can take an escalator to the second floor to get to the DAISO Shinsaibashisuji 2-chome Store.
DAISO is located on the second to fourth floors of a building. With all registers located on the second floor, it's possible to pay with UnionPay cards and credit cards. All of the store's signs are in Japanese, but you can find information in English and Portuguese on the product tags.

Some items are more than 110 yen, but it's still incredibly reasonable when taking into consideration that the market price for similar products at other shops are from 1,000 yen to 2,000 yen. Because there are some that sell out immediately, we recommend purchasing items as soon as you find one you like.

Covid-19 countermeasures
Indoor disinfection measures taken/Sanitizer installed/Disinfection of stands, registers, escalators, etc./Ventilation measures in place/Coin trays used/Plastic partitions installed/Staff wear masks, gargle, wash hands regularly, and monitor body temperature/Entry declined to anyone who is feeling unwell/Guests are required to wear masks

*Unless stated otherwise, the prices for items we introduced are all 110 yen (including tax). *The number of items in-stock depends on the store.
DAISO Shinsaibashisuji 2-chome Store

DAISO Shinsaibashisuji 2-chome Store

Address

2-2-19, Shinsaibashi, Osaka Shi Chuo Ku, Osaka Fu, 〒542-0085

Hours: 10:00 a.m. to 10:00 p.m.
Closed: Open daily
Text by: Shigemi Niki
*The information found in this article is from a visit that was made in April 2021. For updated information, please refer to the store's official website.
*This information is from the time of this article's publication.
*Prices and options mentioned are subject to change.
*Unless stated otherwise, all prices include tax.
Limited time offer: 10% discount coupons available now!