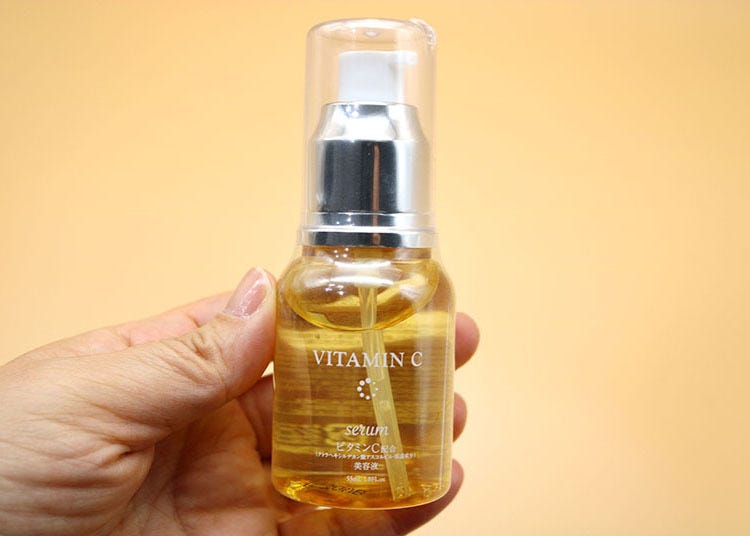 From food to daily commodities and beauty products, DAISO offers a wide selection of items! This includes many high-quality items that are also a hit with foreign tourists.

We spoke with Mr. Yuto Sasayama, a staff at the popular DAISO Shinsaibashisuji 2-chome store, to find out about their latest cosmetics and beauty products. Located on the bustling Shinsaibashisuji shopping street, DAISO Shinsaibashisuji 2-chome is a 100-yen shop (110 yen including tax) that is frequented by foreign guests.

Thanks to careful countermeasures against Covid-19, such as disinfecting the shop and products, you can feel at ease when shopping.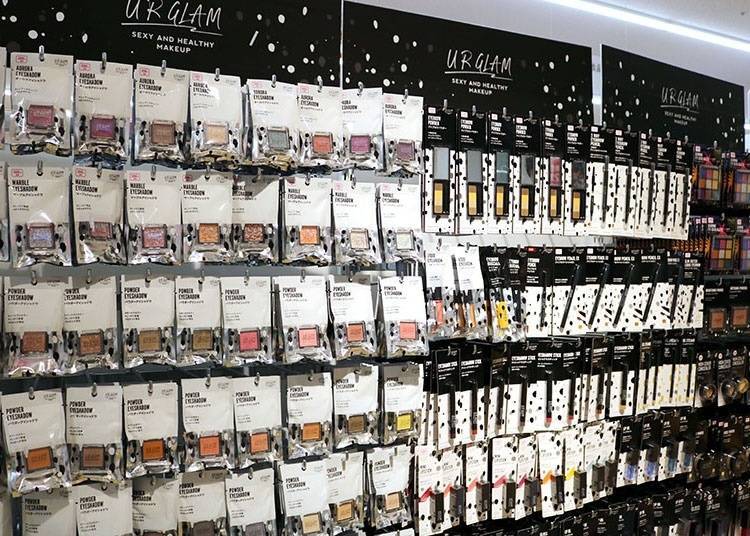 Makeup is available in many different shades and colors
1. Gel Nail Stickers: A Bargain-Priced, Easy-to-Use Item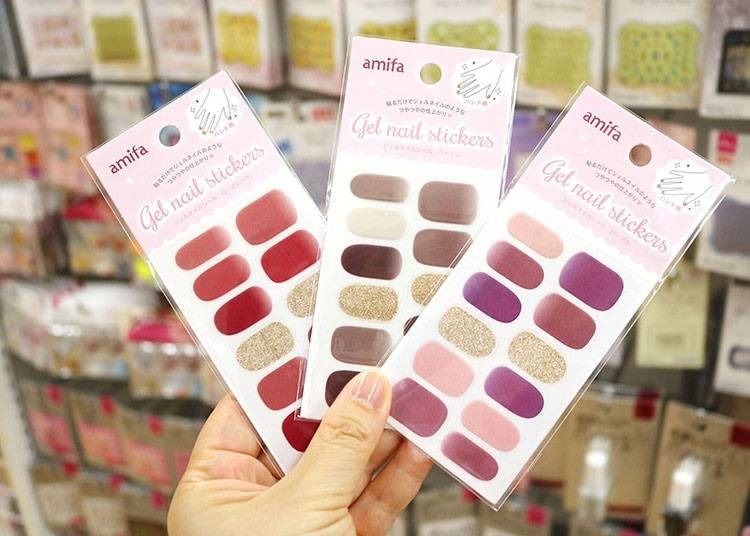 Gel nail stickers
You can find many exciting items at the cosmetics corner located on the third floor of the store. One of these items is the gel nail stickers. You merely stick these stickers onto your nails and file the remaining excess away with a nail file. Also, there's no need for nail polish remover. When you want to take the stickers off, all you have to do is peel them away.
There are plenty of choices for nail glitter and sequins.
What's more, there are plenty of choices when it comes to nail decorations. Mr. Sasayama added, "Because you can enjoy mixing and matching the different decorations, many people buy them in bulk."

Since the gel stickers are thin and easy to stick on, it's an item recommended even for those trying them for the first time.
2. Blooming Eye Color Palette: An Astonishing Price for a Nine-color Palette!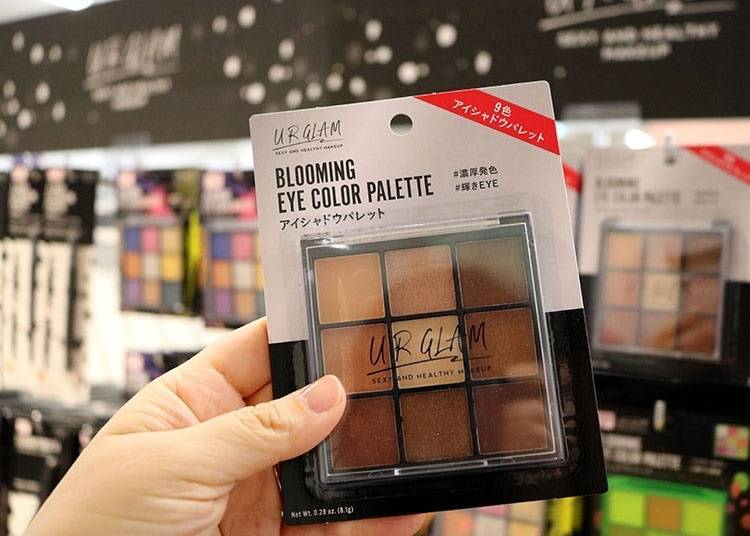 Blooming Eye Color Palette
The blooming eye color palette is an eyeshadow palette that combines popular shades of brown. With the colors ranging from natural and matte to glittery and bold, you can enjoy many different looks with this one item.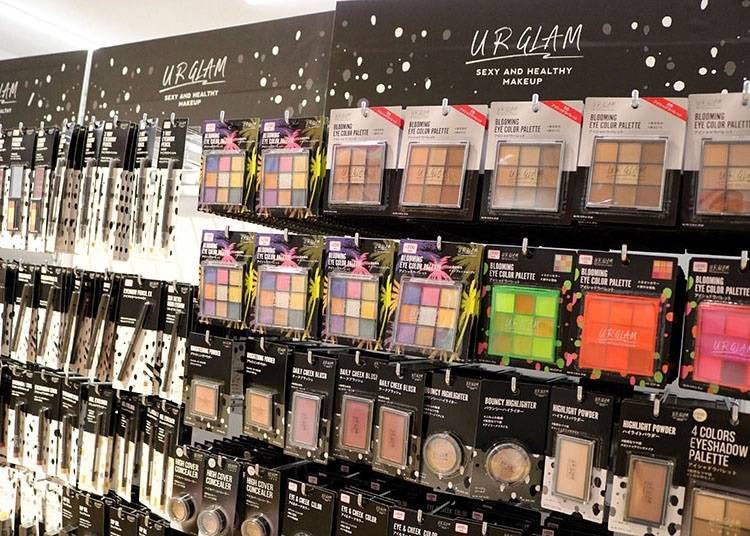 The nine-color palette comes in different color variations.
According to Mr. Sasayama, "This brand is also popular on social media due to offering highly-pigmented eyeshadows that keep their bold color when applied. Although the palettes come in various colors, the brown palette has been number one with unwavering popularity since its first release."

In addition, the very reasonable price of 110 yen for a nine-color palette is also very appealing.
3. Blush Container with a Makeup Sponge: A Container that Can Also Store Broken Blush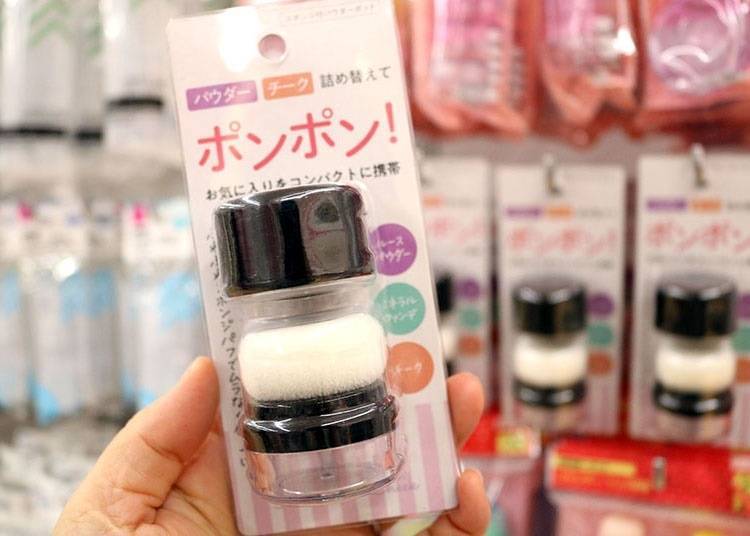 Blush Container with a Makeup Sponge
The blush container with a makeup sponge lets you apply blush directly onto your face. It comes with a fluffy makeup sponge that enables you to apply your makeup evenly.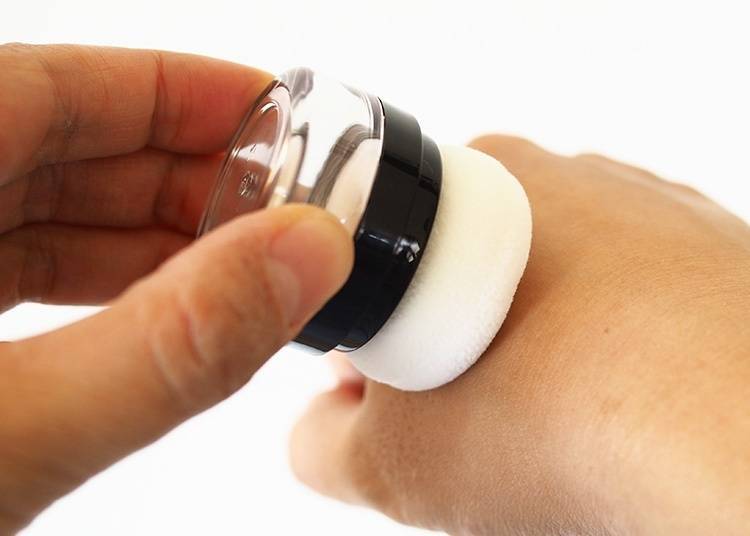 You can use this item by putting the blush in the clear container
All you have to do is put your favorite blush or powder in the container. Mr. Sasayama added, "It is convenient for using up the rest of your blush if it breaks or cracks." This is a compact item, so you can also bring it around with you in your makeup bag.
4. Detergent for Makeup Puffs and Sponges: Also Great for Reusable Face Masks!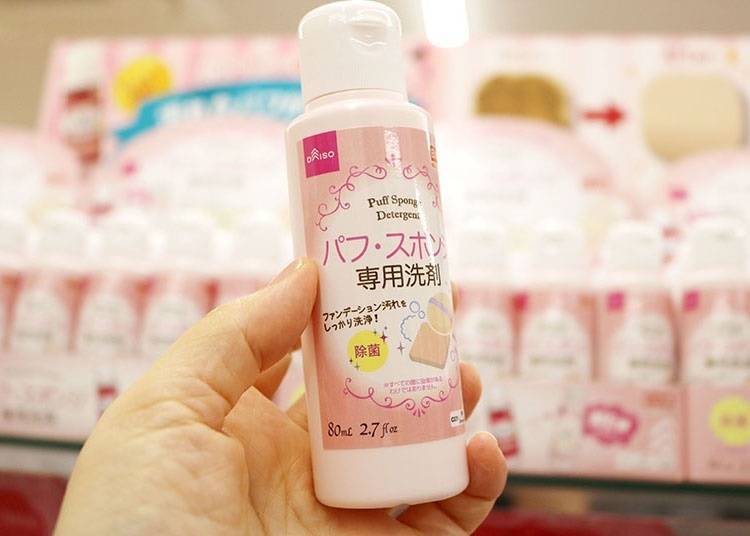 Detergent for Makeup Puffs and Sponges
A standard and popular item is the detergent for makeup puffs and sponges. All you have to do is apply the detergent onto your dirty puff or sponge and rub to wash clean. Without much effort, it will look brand new.

In addition, another great aspect of this product is that it's made in Japan and has disinfecting properties.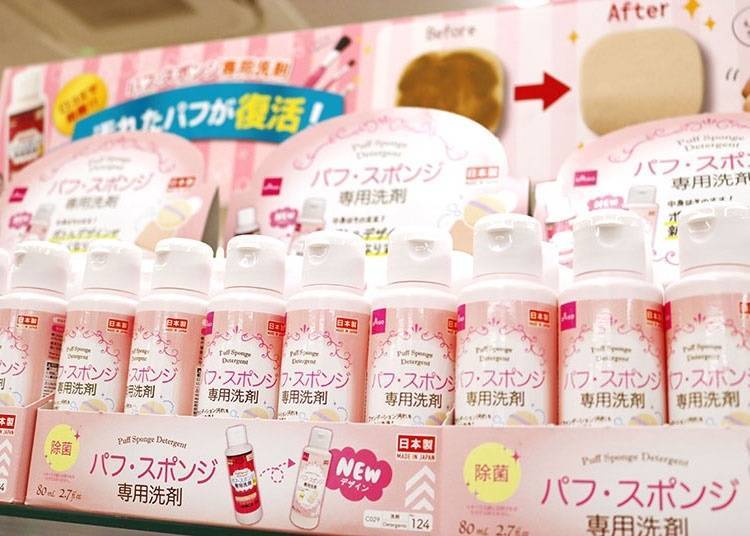 This item has also been cutely repackaged.
Mr. Sasayama told us, "Recently, it has been gaining popularity on social media as it's a great product that easily removes makeup from polyurethane masks." It is a very reasonably priced item that holds a generous 80 milliliters of detergent per bottle.
5. Eyebrow Coat: An Item Also Popular Among Foreigners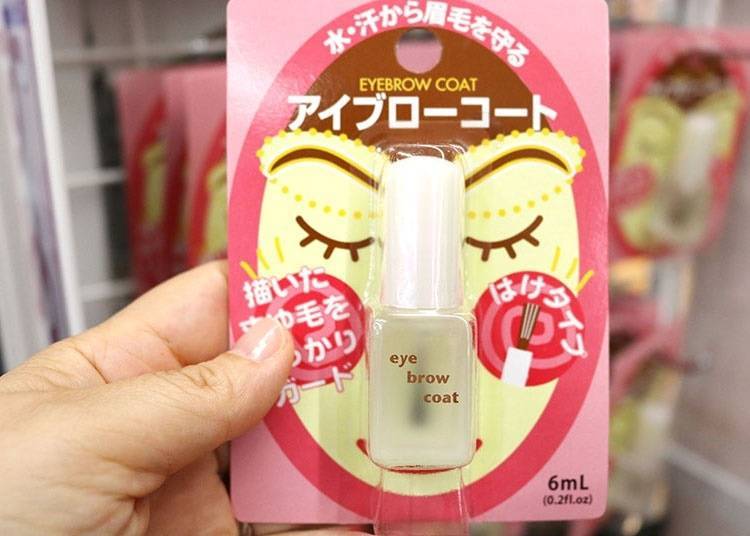 Eyebrow Coat
The eyebrow coat is an item that you'll want to have with you in the warmer seasons. It protects your eyebrow makeup from any water or sweat. Because it coats your eyebrows thoroughly, you can also be at ease at the beach or pool. The eyebrow coat can be easily removed with cleansing oils or makeup remover.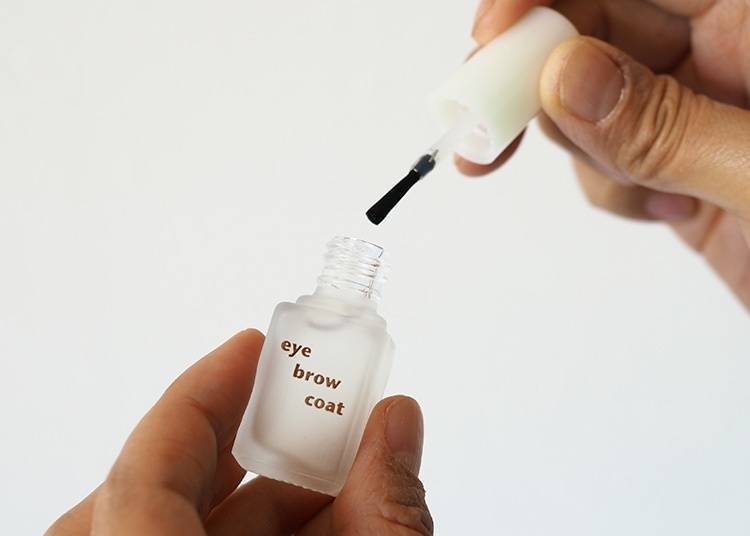 Mr. Sasayama added, "The eyebrow coat that you apply with a brush is easy to use, making it a popular item among our foreign customers. Some people even buy this item in bulk as a souvenir." It is a standard product with many repeat customers.
6. Compressed Facial Masks: So Much Variety!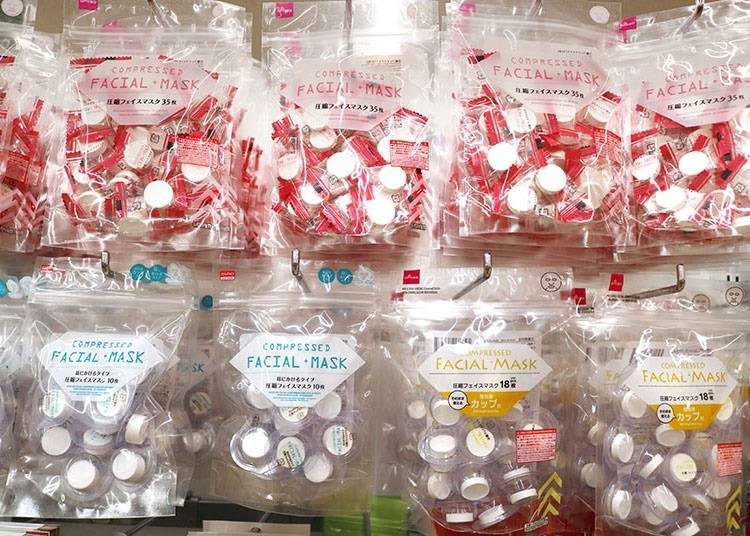 Compressed Facial Masks
The compressed facial masks are an exceptional item that inflates when mixed with your toner or skin lotion. There are many kinds, including ones that come with a cup to pour your toner into, as well as long masks that cover your neck. This a great item that's also hygienic due to being individually wrapped.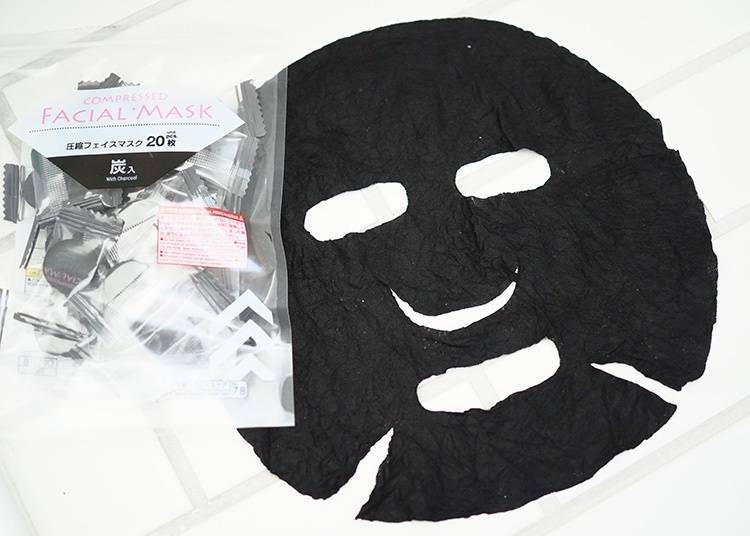 A new charcoal-infused facial mask.
The new charcoal-infused facial mask is said to absorb excess oils and dirt from the skin. Mr. Sasayama mentioned, "On social media, it has been popular to use this mask with both toner and skin lotion together."
7. Vitamin C Serum: Colorful and Cute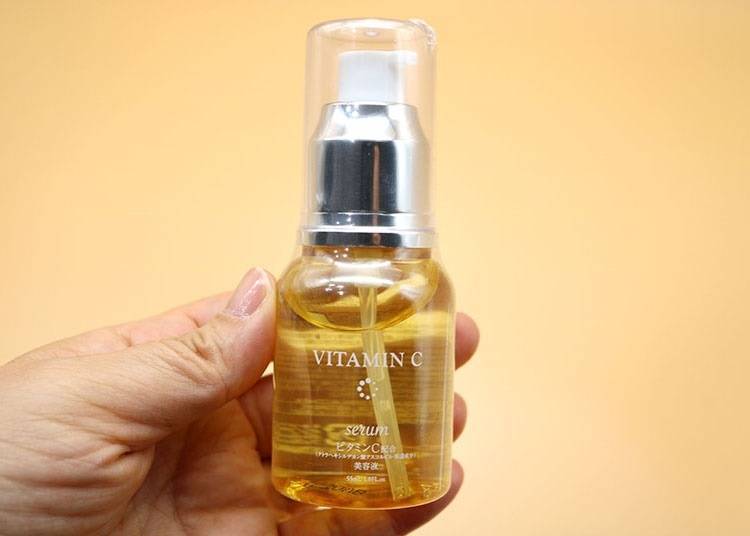 Vitamin C Serum
This store offers three products that you can use after applying toner. These include apple stem cell serum, vitamin C serum, and human-type ceramide serum.

Mr. Sasayama commented, "Around this time of year, people start becoming more mindful about sun exposure, so the vitamin C serum is currently our most popular." It has great reviews for being a low-cost, high-performance product bottling a generous 55 milliliters of serum.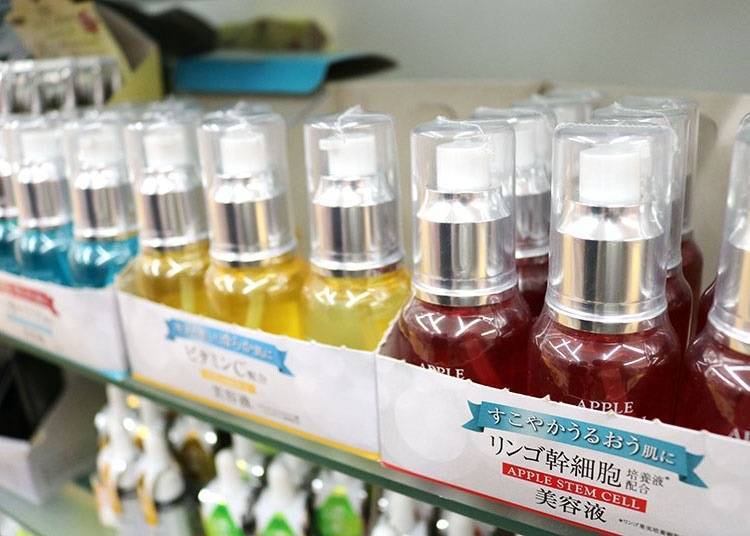 This series comes in the three varieties of apple stem cell serum, vitamin C serum, and natural human-type ceramide serum.
The market price for such serums is generally around 2,000 yen. Because of this, many people buy all three of the cute and colorful bottles together.
8. Jewelry Trays (Ring Boxes): An Item Popular Due to its Simple Design
Left: Three-Tier Drawer (220 yen), Right: Jewelry Tray (Ring Box)
You can store items such as rings and earrings in the jewelry tray. Shown on the right in the photo above, the most popular from the jewelry tray series is the ring box. Altogether there are three types of trays. There's one separated into square compartments that you can use to store small items, a tray for rings, and a tray for earrings.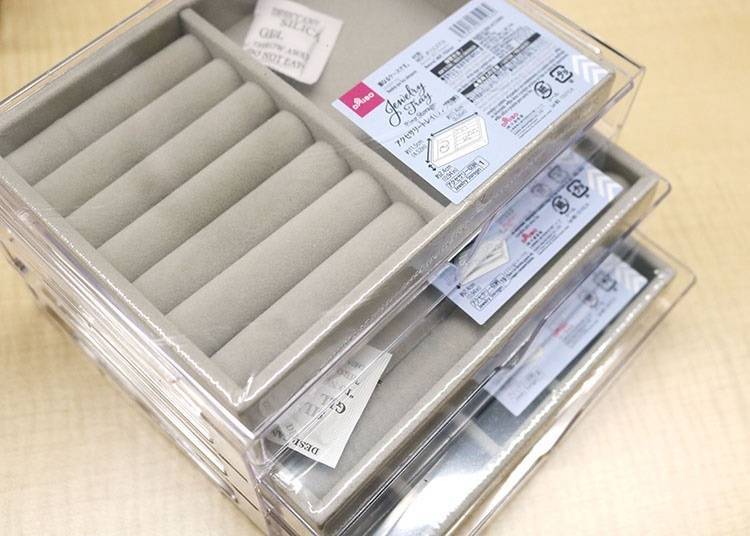 The ring boxes fit perfectly into the separately sold three-tier drawer (220 yen)
Mr. Sasayama commented, "The ring boxes became a big hit on social media due to the fact they fit perfectly into the three-tier drawer (220 yen). Because many people buy them as a set, we started to display them together. Once we started doing this, they started to sell out very quickly." One of the secrets to its popularity is that it has a simple design that fits any room.
9. Tangle-Free Elastics: High-Quality Bands Made in Japan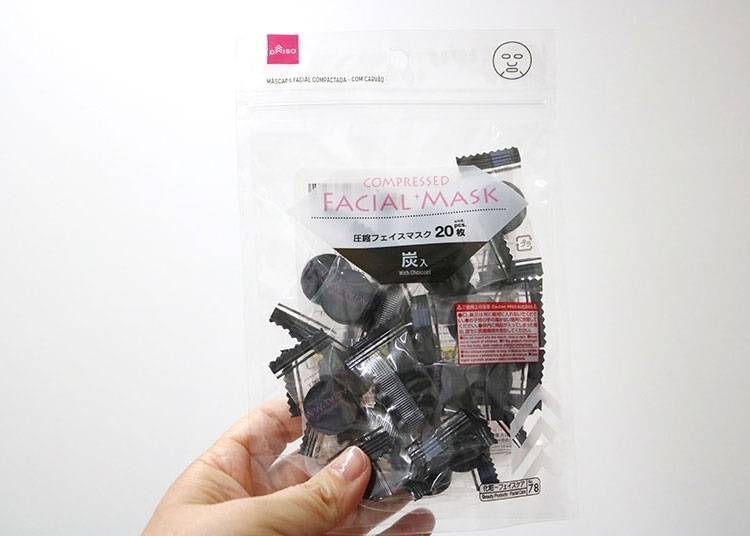 Tangle-free elastics
Tangle-free elastics are a popular item due to their thinness and stretchiness. As advertised, these elastic bands don't get tangled in your hair and are made from sturdy materials that don't break easily. There are 100 bands in a pack, making it the perfect use-and-dispose item.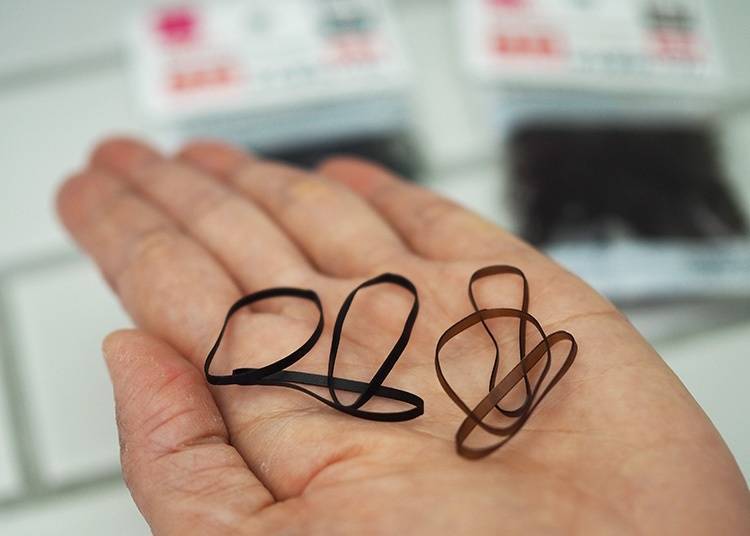 Black (on the left), brown (on the right)
They come in the colors of either black or brown. Because these colors are quite natural, you can use them for an elaborate hairdo or when you have to tie your hair up in a professional setting, like working at a restaurant.

Mr. Sasyama gives this item his seal of approval, adding, "There are similar items at other shops, but these Japan-made, antibacterial bands can only be found at Daiso!"
10. Hot-Air Brush: Worth the 330 yen!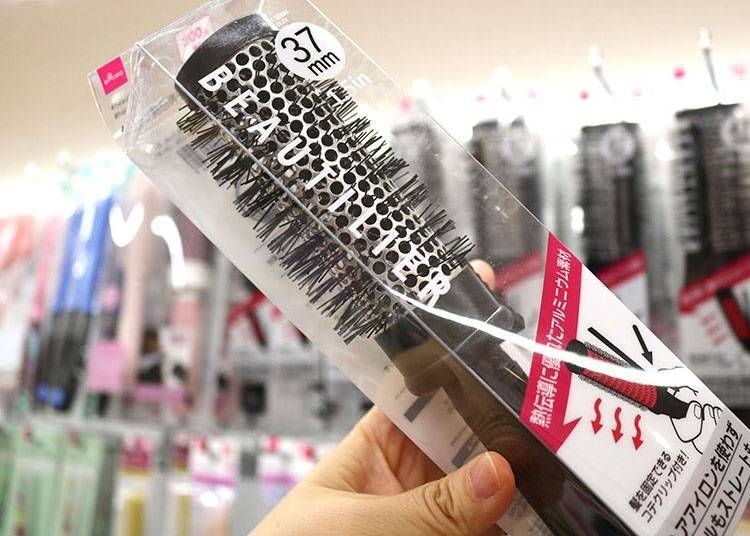 Hot-Air Brush (330 yen)
The item which Mr. Sasayama excitedly told us, "Although it isn't 110 yen, I highly recommend it!" It's the hot-air brush. It uses outstanding aluminum material that disperses heat.

This has the same effect as a flat iron and can be used when drying your hair to create a beautiful, straightened look. Also, it comes with a clip to hold your hair in place, allowing you to use it as a curler.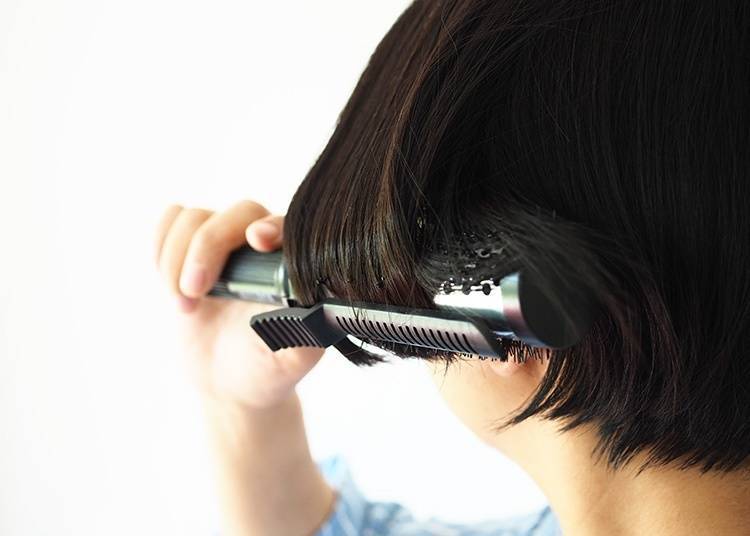 Attached with a clip, it can be used to both straighten and curl your hair.
This hot-air brush can be used on both wet and dry hair. Behind the clip is a removable hairpin that you can use to part your hair.

"This item comes in three sizes. First, there's the 28-millimeter brush (220 yen) and the 47-millimeter brush (330 yen). The one we've introduced today is the 37-millimeter brush which is perfect for giving your bangs a light lift," Mr. Sasayama explained. It is a trendy item that often sells out.
DAISO Shinsaibashisuji 2-chome Store on Shinsaibashisuji Shopping Street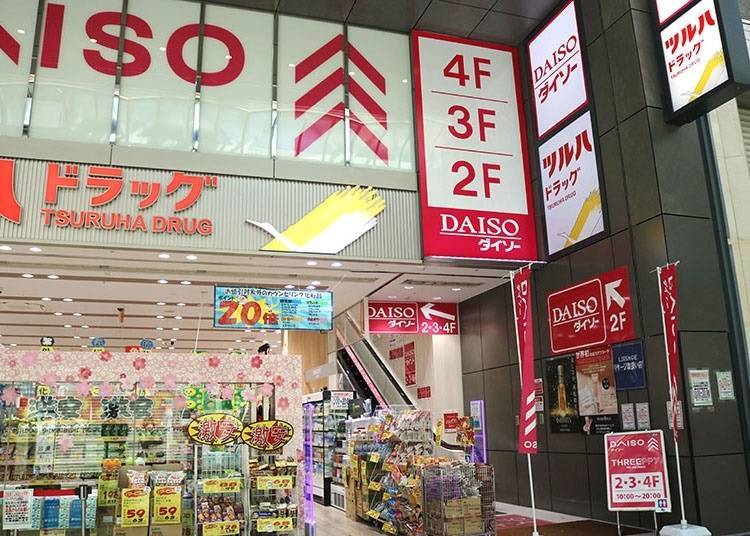 You can take the escalator to the second floor to get to the DAISO Shinsaibashisuji 2-chome Store.
The DAISO Shinsaibashisuji 2-chome Store is on Shinsaibashisuji shopping street close to both Osaka Metro's Shinsaibashi Station and Namba Station. It's the perfect place to stop by when shopping around this famous street where around 180 shops can be found.

Daiso is located on the second to fourth floors of a building. With all registers located on the second floor, it's possible to pay with UnionPay cards and credit cards. All of the store's signs are in Japanese, but you can find information in English and Portuguese on the product tags.

Some items are more than 110 yen, but it's still incredibly reasonable when taking into consideration that the market price for similar products at other shops are from 1,000 yen to 2,000 yen. Because there are some that sell out immediately, we recommend purchasing items as soon as you find one you like.

Covid-19 countermeasures
Indoor disinfection measures taken/Sanitizer installed/ Disinfection of stands, registers, escalators, etc./Ventilation measures in place/Coin trays used/Plastic partitions installed/Staff wear masks, gargle, wash hands regularly, and monitor body temperature/Entry declined to anyone who is feeling unwell/Guests are required to wear masks

*Unless stated otherwise, the prices for items we introduced are all 110 yen (including tax).
*The number of items in-stock depends on the store.
DAISO Shinsaibashisuji 2-chome Store

DAISO Shinsaibashisuji 2-chome Store

Address

2-2-19, Shinsaibashi, Osaka Shi, Chuo Ku, Osaka 542-0085

Hours: 10:00 a.m. to 10:00 p.m.
Closed: Open daily
Text by: Shigemi Niki
*The information found in this article is from a visit that was made in April 2021. For updated information, please refer to the store's official website.
*This information is from the time of this article's publication.
*Prices and options mentioned are subject to change.
*Unless stated otherwise, all prices include tax.