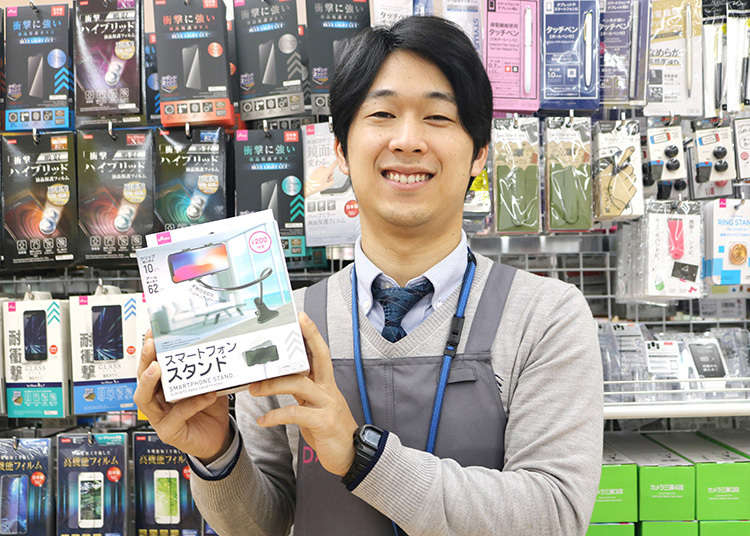 Daiso Shinsaibashi Store is located near both Osaka Metro Shinsaibashi Station and Nanba Station, and is right in the center of the Shinsaibashi Hankagai shopping district.

The 100-yen shop, a popular location among locals as well as foreign tourists. But what exactly do people buy at these shops?
The Daiso Shinsaibashi-suji 2-chome Store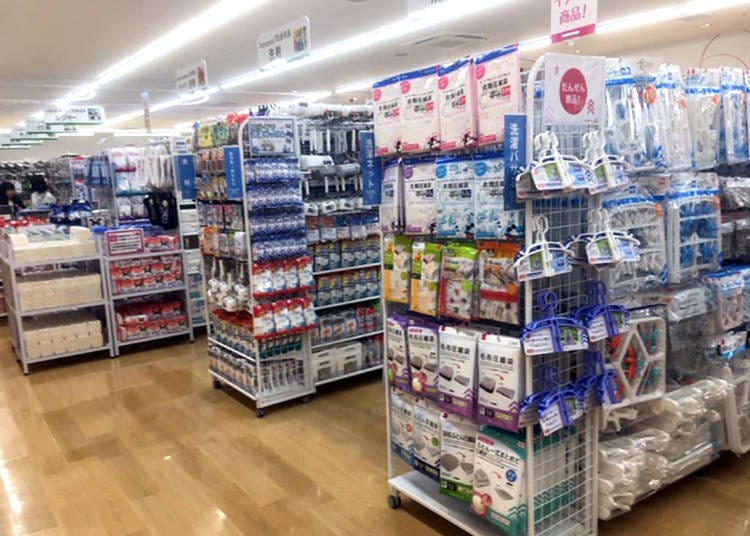 This particular store in Osaka's Shinsaibashi area has a drugstore for the first floor, and the remaining 2nd to 4th floors selling the usual Daiso goods. Each floor has a variety of goods lined up, from makeup, stationery, and daily supplies. Some products are 300-yen or 500-yen, but for the most part everything costs a hundred yen. While tax exemptions are not available for the products here, UnionPay and other credit cards are accepted here.

We'll be introducing 7 items from this same store that shocks even the Japanese with their 100-yen pricing.
Item No.1: Compressed Facial Mask: A compact design that makes it great for travel-use!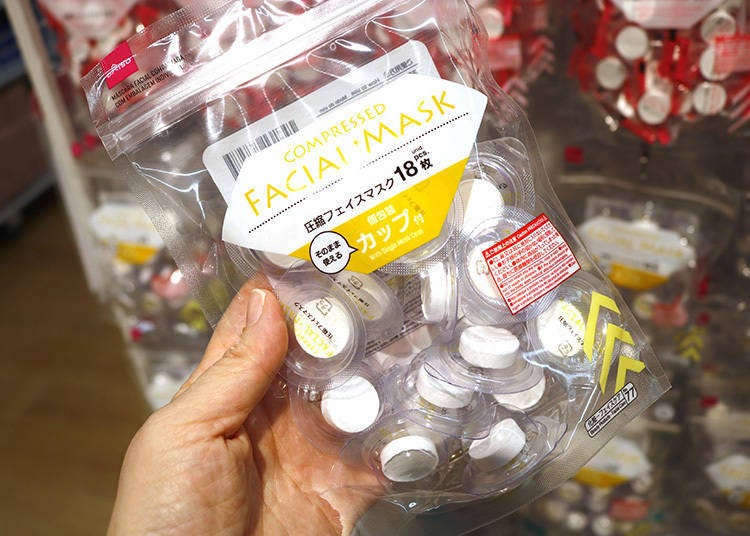 "Compressed Facial Mask 18 pieces"
We'll start off with the popular beauty products. This "Compressed Facial Mask 18 pieces" contains facial masks compressed in a tablet form. Mix them with your usual facial lotion and apply it to your face while it's still milky, and you'll be rewarded with an instant facial mask. The most popular variant in this product series is the one that comes with a cup to pour the facial lotion inside. Since it comes individually packed, the convenience makes it a popular choice even for tourists.
"Ear-type Compressed Facial Mask 10 pieces"
These ear-type masks come in packs of 10 each. Not only are there parts. There are also 20 "compressed face masks with charcoal" without cups and "35 compressed face masks", and there are more cups because there are no cups. This series of compressed facial masks sell a combined total of 300 a month. You can find them on the third floor of the building.
No. 2: Lint Remover: It even comes with a brush at this price!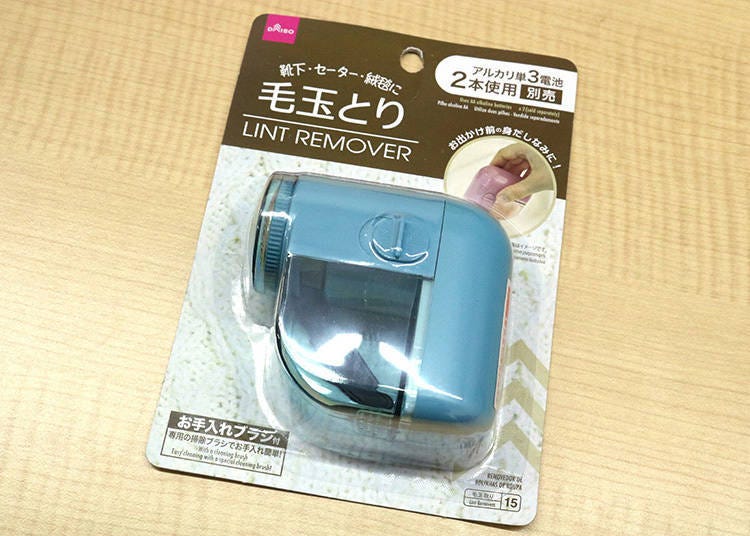 You can find this on the third floor as well. An electric lint remover that removes lint from sweaters and knitwear. Lint removers usually cost 2,000-yen, and even the cheap ones cost around 700-yen. This beats all the above at just 100 yen! Moreover, it has a simple and easy-to-use design that comes with a brush to clean the insides.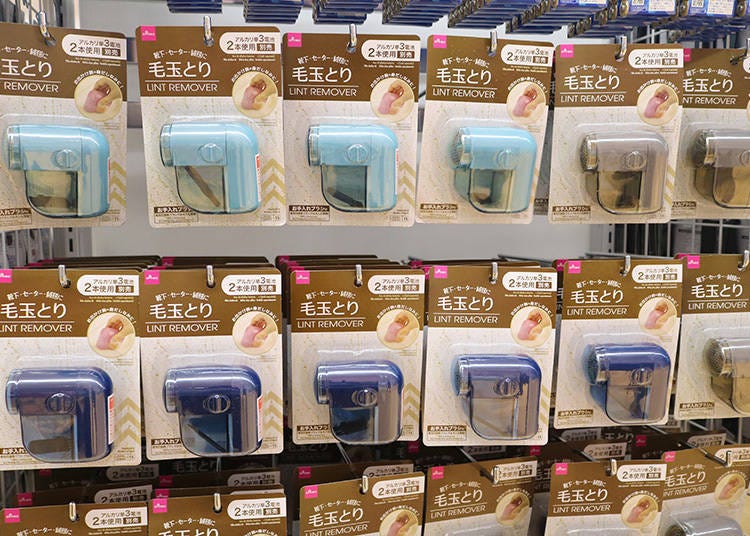 With this kind of bang for the buck, it has been featured even on Japan's TV channels with blazing popularity.
No. 3: Smartphone Stand: The Store Manager's Top Recommendation!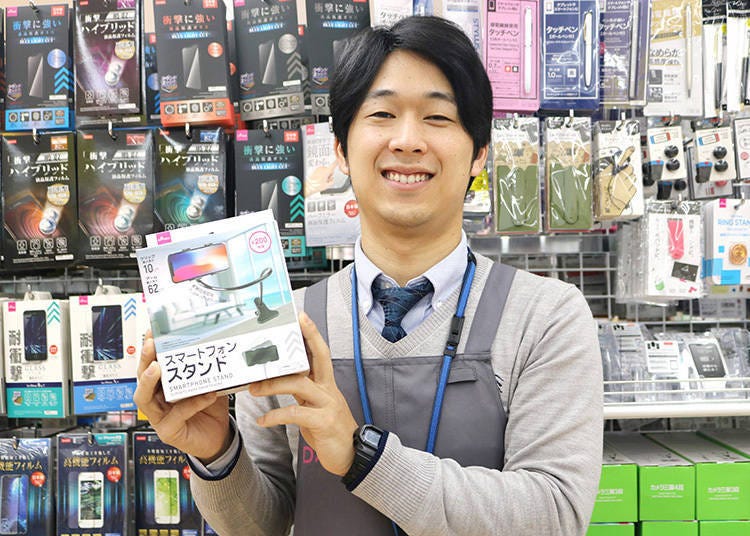 The Store Manager, Inukai Go
The store manager Inukai's favorite item is the "smartphone stand". Also located on the 3rd floor, it supports smartphones up to 10 cm wide. It's a 200-yen item, but it has apparently been sold 1,000 pieces a month before. Talk about selling like pancakes!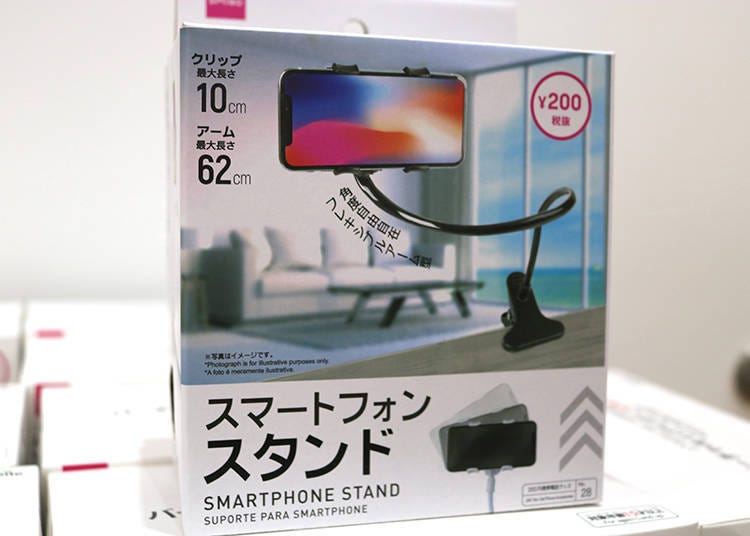 The stand is a clip-type with an arm length of 62 cm. You can also twist it at any angle. "It's a convenient stand for watching videos and viewing recipes. The quality is amazing for 200 yen! It's a highly recommended product that's really worth the money," said Inukai.
No. 4: Smartphone Holder: Turn your smartphone into a controller with this!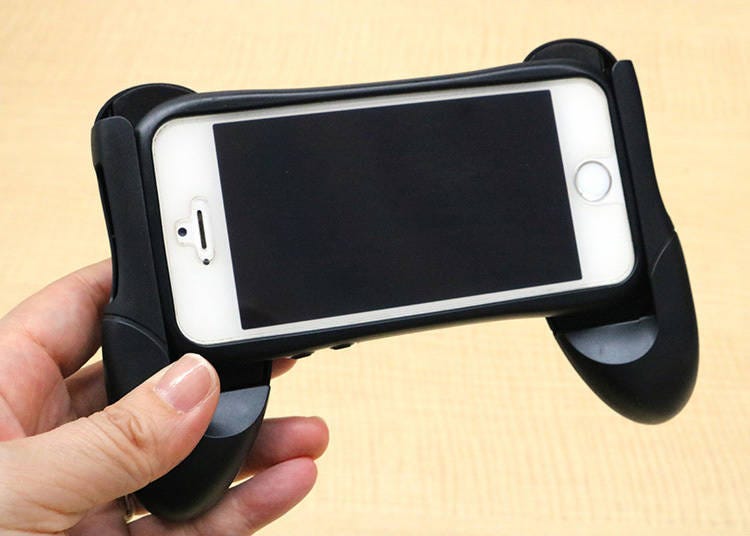 For gamers who regularly game on their smartphone, this "smartphone holder" is a great buy. This is also available on the 3rd floor. Just set your smartphone and it'll look just like a gaming controller! It fits snugly in your hand and feels firm in your grip.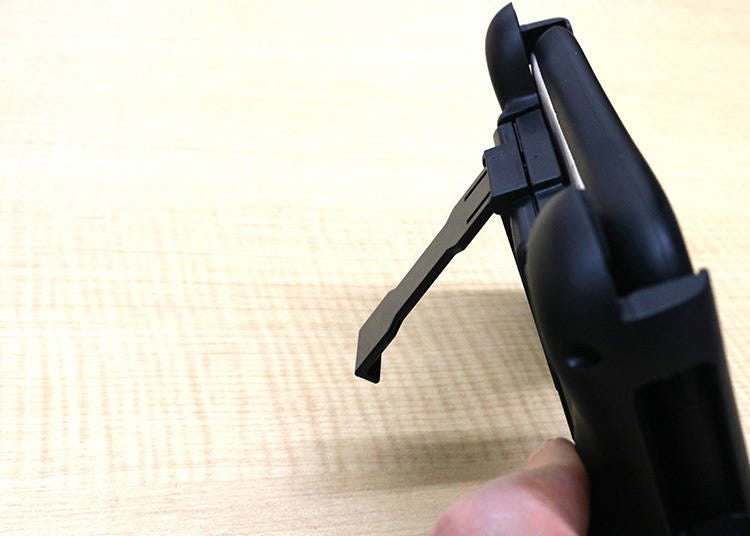 It even has a retractable stand on the back, so you can let it stand on its own to watch videos. Compatible with smartphones from 13 to 16.5 cm, it's amazingly convenient for only 100-yen! It is one of Daiso's prized products.
No. 5: Stainless Ladle: A hidden masterpiece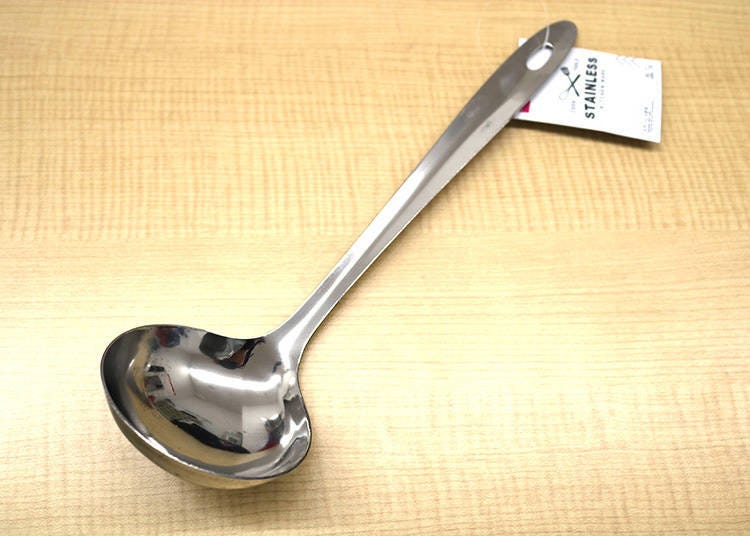 Daiso is also well known for their innovative cookware, and the 4th floor of this Daiso store showcases these items. Among the many products, this "stainless steel ladle" is the top pick in cookware! Although it looks like a normal ladle, it's unique in that it doesn't have the joints that usual ladles have connecting the head and the handle.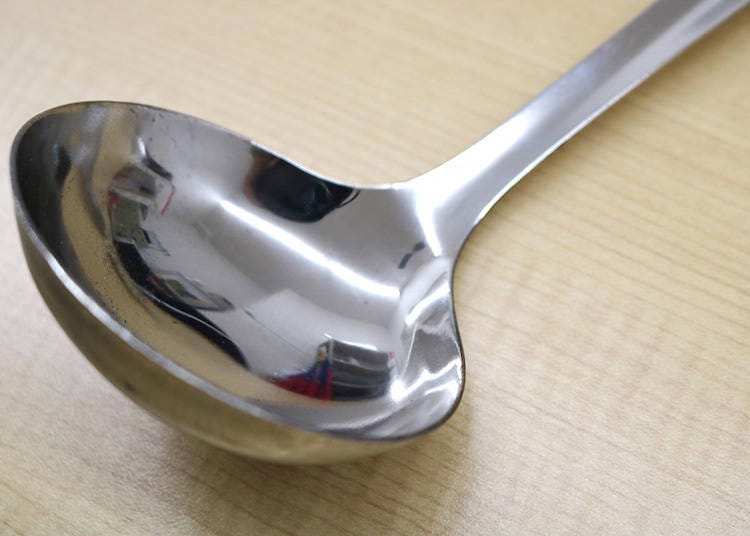 Its seamlessness is what makes this item popular due to its ease of wash. Wooden handles and those with character designs are also popular at this store, and apparently even though the shop has 10 different varieties of ladles, this stainless-steel ladle remains the most popular. Such is its booming popularity that it might even be sold out on some days, so it's advisable to grab it the second it's available.
No. 6: Bottle Opener: For all shapes and sizes!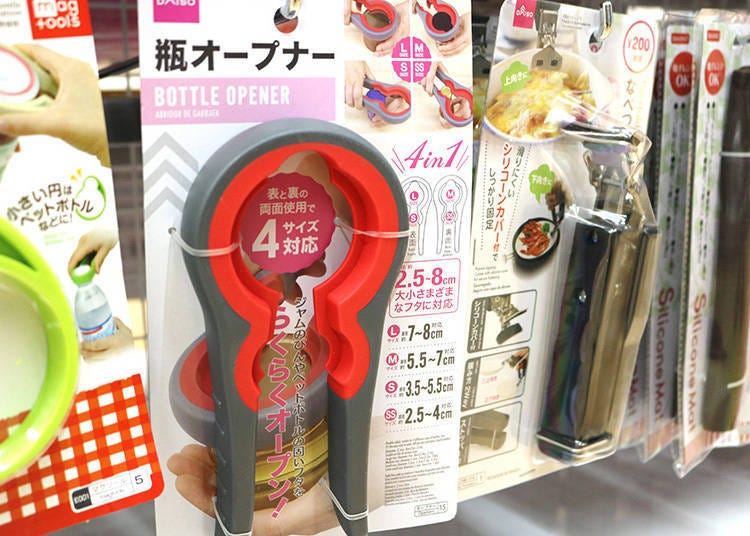 This bottle opener that easily pops open even the hardest of bottle lids is also found on the 4th floor. Set the lid so that it is sandwiched between the indents, then grasp the handle and rotate to open the bottle. The rubber handle makes it easy to use for people with weaker grips as well.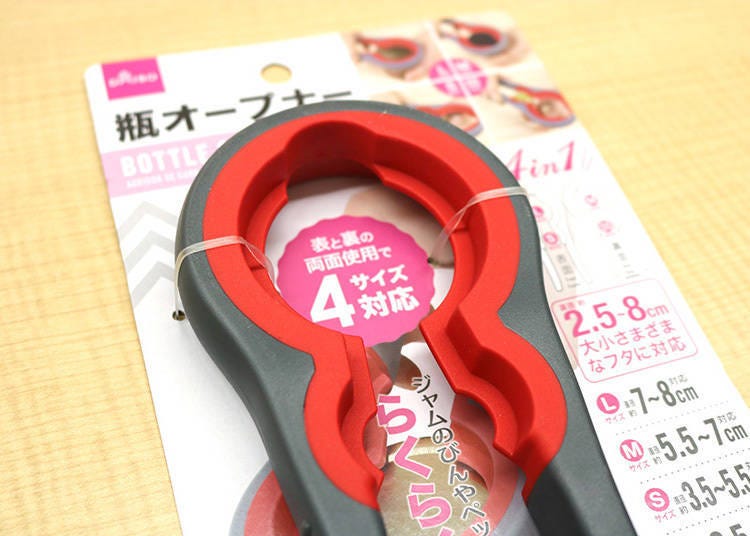 The best part about this bottle opener is that it can accommodate various sizes of bottle caps from a width of 2.5 cm to 8 cm, making it convenient yet easy to use for anything from plastic bottles to jam bottles. This is also another quick sell-out popular product.
No. 7: Handle Vegetable Cutter: A wonderful product of innovation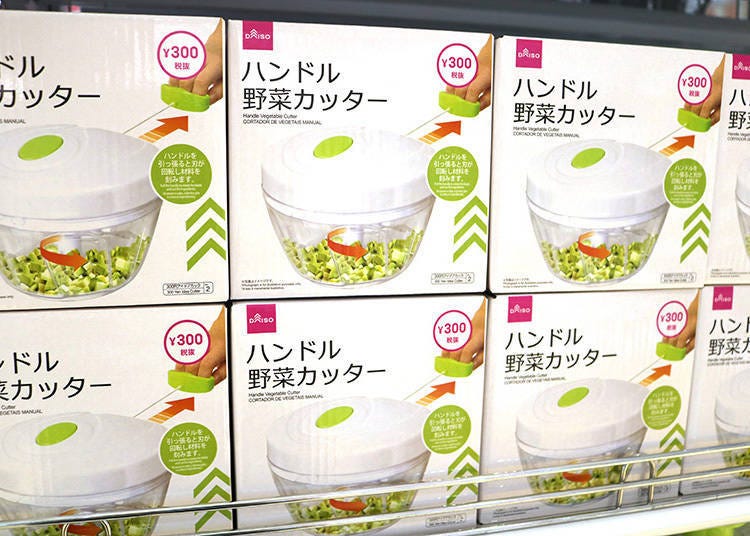 We're not done with introducing the lineup of kitchen utensils yet. Our last item is the handy dandy "Handle Vegetable Cutter", which makes the troublesome dicing of vegetables a simple and speedy process. Place your greens into the container and pull the string to swiftly and finely slice your vegetables to figurative ribbons. Quite the innovative idea, this.

While this is 300-yen (rather pricey for a 100-yen store), the store sells 30 to 40 sets of this every month as a testament to the item's popularity. To be able to cut long preparation times short makes this item highly valuable.
The hidden treasure trove of the 4th floor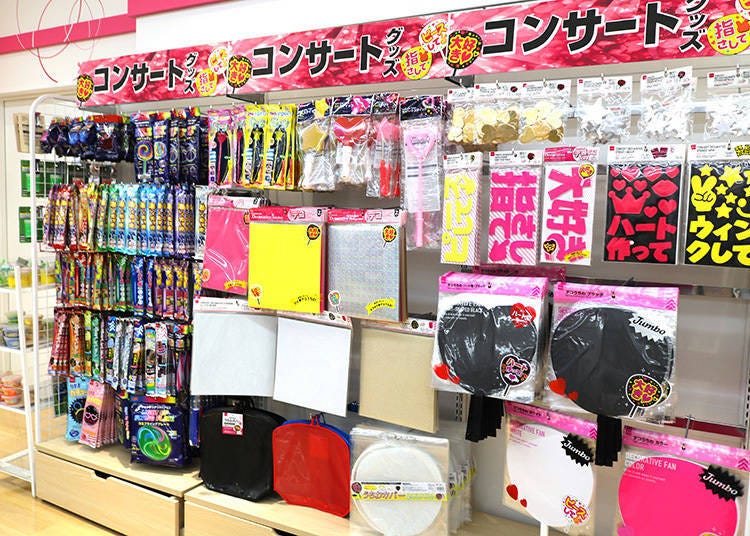 The 4th floor's concert goods corner
As we already showcased, the 4th floor is filled with kitchen appliances. However, it also houses a good number of daily supplies. The store manager Inukai explains, "It's a secret spot that tourists don't often find." They even have a concert goods corner, from fans, cut-and-paste letters, and glowsticks, all essential items for fans to support their musical artists here in Japan.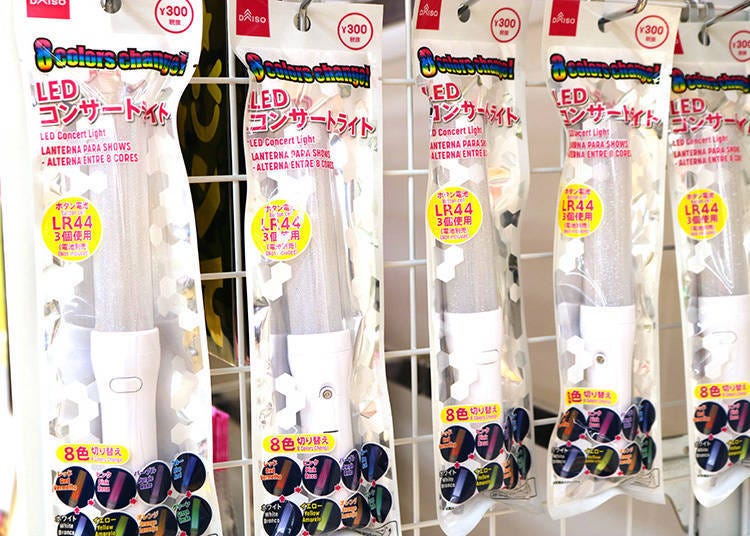 "LED Concert Light Sticks" (300-yen)
What stands out here is the "LED Concert Light Stick", which has 8 different colors it can shine in. While most other LED light sticks sell at 1,500-yen, this stands out at only 300-yen! While batteries are sold separately, this still remains one of the most value-for-money items.
Don't miss it! The Foreign Tourists' Choice Corner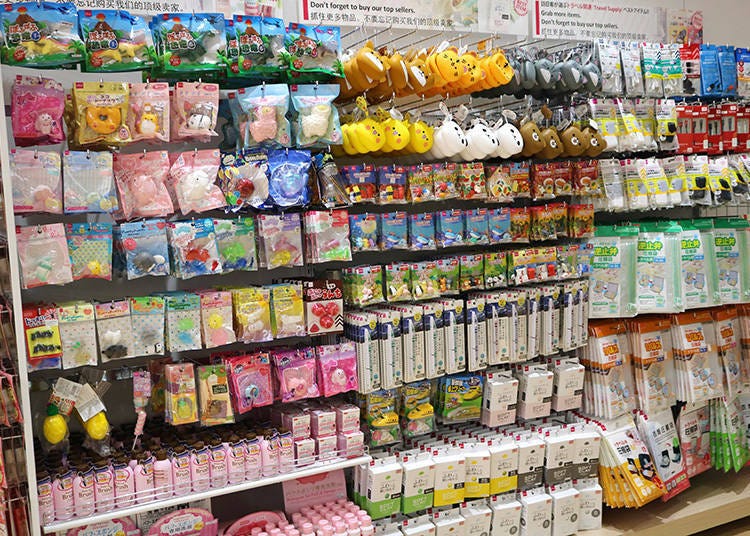 The Best Item Corner, curated by foreigners
In front of the descending escalator on the 3rd floor, there is also the "best item corner according to foreigners", which is a collection of items popular with foreign tourists. Items such as cosmetics, stationery, and travel products are lined up. You can find souvenirs that fit your needs perfectly, so be sure to check them out.

The Daiso Shinsaibashisuji 2-chome store, full of interesting products at reasonable prices, is a fun place even if you're simply window shopping! Go on a treasure hunt and experience the excitement of discovering the many different surprising items here.

*The items featured in this article do not guarantee it being in stock
*Available items depend on the shop
*Prices and contents may change
DAISO Shinsaibashisuji 2chometen

ダイソー心斎橋筋2丁目店

Address

2-2-19, Shinsaibashi, Osaka Shi Chuo Ku, Osaka Fu, 〒542-0085

Open Daily
Text by: Niki Shigemi
*This information is from the time of this article's publication.
*Prices and options mentioned are subject to change.
*Unless stated otherwise, all prices include tax.
Limited time offer: 10% discount coupons available now!