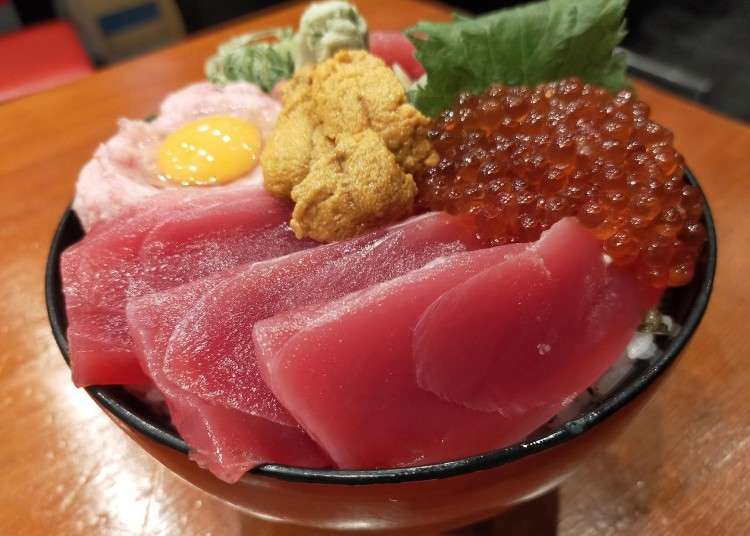 Osaka sushi lover? Nipponbash is a town where you can appreciate traditional performing arts such as Ningyo Joruri at the traditional Bunraku Theater, and visit Kuromon Market, also known as Osaka's Kitchen. Many tourists visit not only from Japan, but from all around the world.

Nipponbashi's natural tuna specialty store, Matakoiya, is a particularly attention-grabbing spot, with plenty of mega-sized gourmet tuna dishes. This shop is a must-see for lovers of both tuna and super-sized meals. Today, we will introduce some of the charms and recommended dishes of Matakoiya.

If you are a tourist planning a visit to Nipponbash, this is one spot you'll want to add to your itinerary.
Black-and-Red Themed Tuna Specialty Shop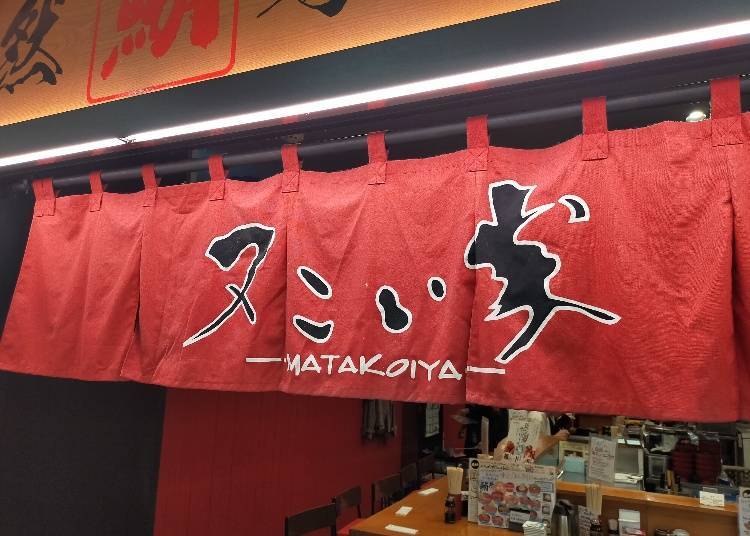 The shop is a 1-minute walk from Nipponbash Station on the Kintetsu Railway. It is also easily accessible from Nipponbash Station on the Osaka Metro Sakaisuji and Sennichimae Lines.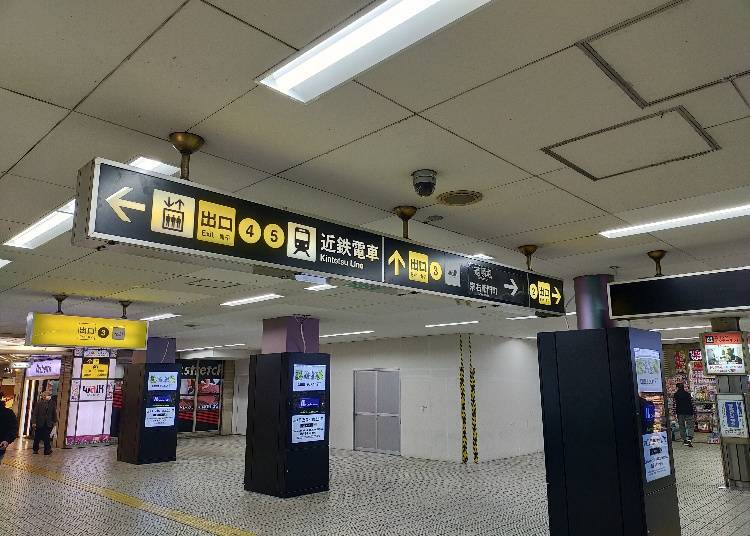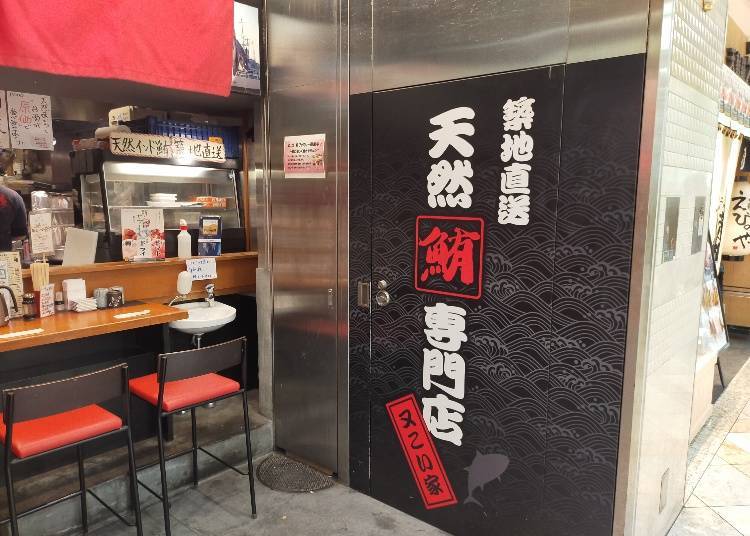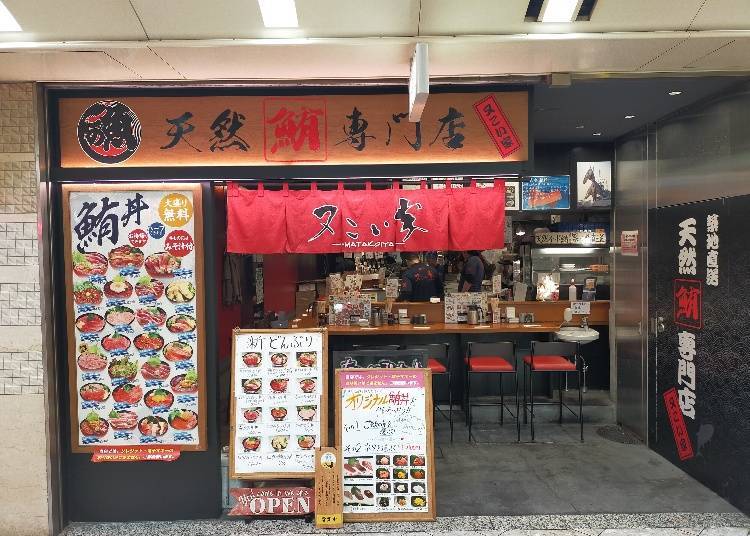 From Exit 3, head straight towards Namba via the underground shopping area, Namba Walk. You will find yourself surrounded by restaurants. The shop's kanji reads 'Natural Tuna Specialty Shop.' The theme of the shop's interior is mostly red and black. And no matter where you turn your head, you will see nothing but tuna, tuna, and more tuna!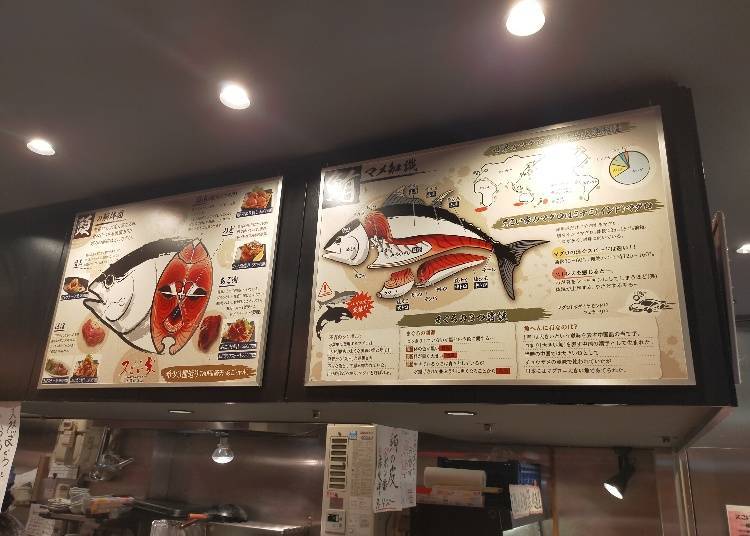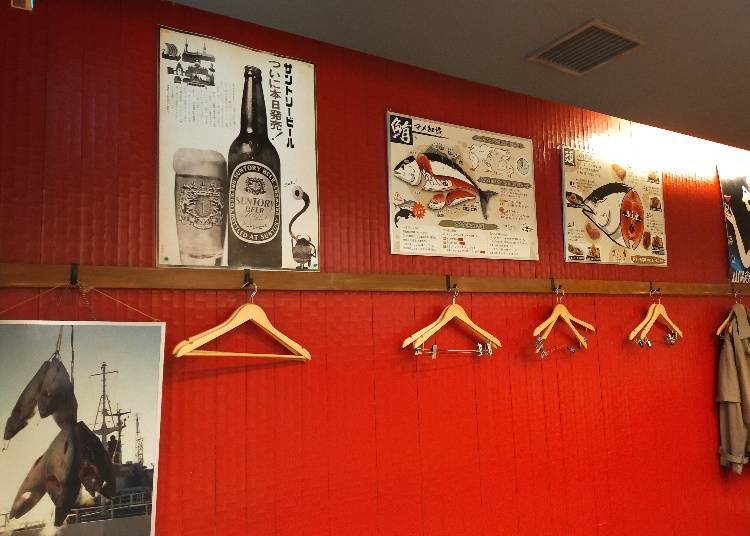 There are all kinds of information about tuna, such as the different parts of the fish and other fun facts, all over the shop. Even if you enter with no knowledge at all, you will find yourself a tuna expert in no time!

The red and black colored theme was decided by the president of the head office himself. However, the space of the interior is designed based on the ideas of the staff, giving it a very homemade feel.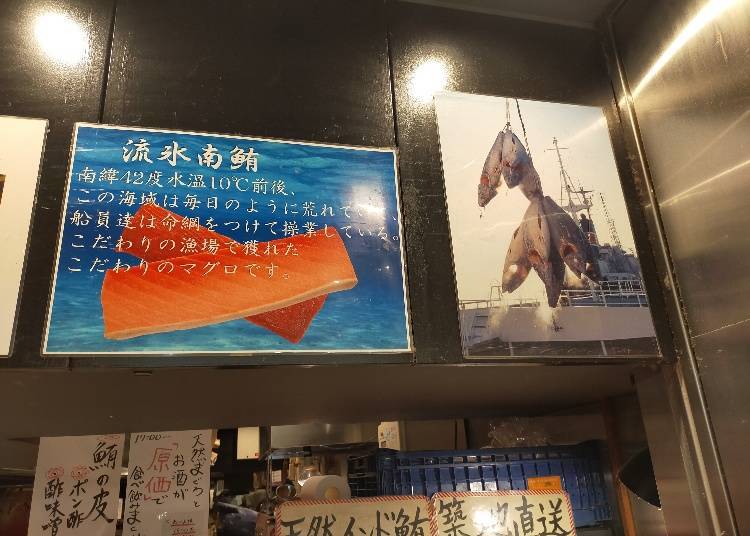 The menu features plenty of Osaka sushi bowls and izakaya dishes made with natural Southern Bluefin Tuna.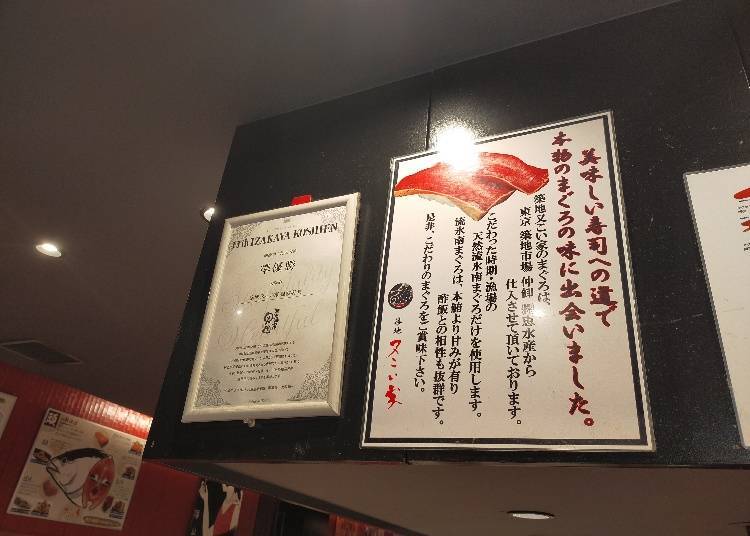 Matakoiya opened in Nipponbash on September 18, 2014. The parent company is a seafood wholesaler located not in Osaka but in Kachidoki, Tokyo. The restaurant business is centered in Tokyo, and operates both donburi and sushi restaurants. You can eat authentic Edomae-sushi made by real sushi chefs.

The shop opened in Osaka operates as the flagship store nationwide. The Osaka shop's menu includes the usual donburi bowl items, however this is its first time to include an izakaya menu. Shop owner Yoichiro Hayashi says, "Our izakaya menu was made from scratch." Their dishes are devised with many years of experience in the food and drink industry.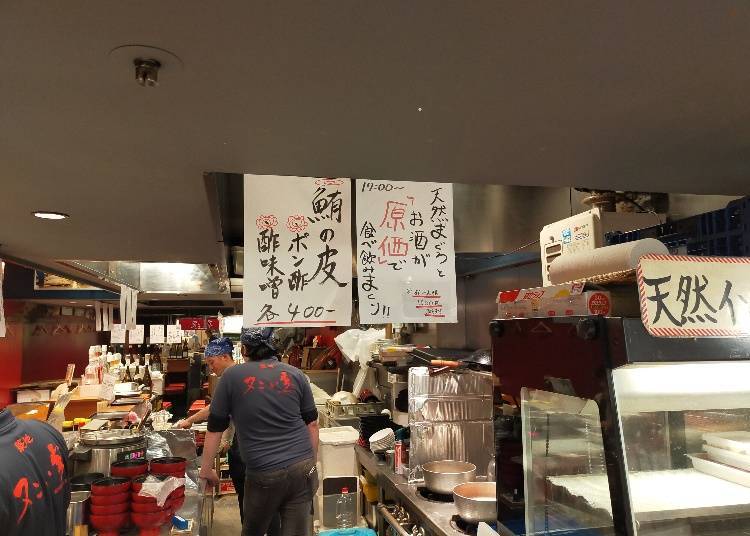 All ingredients are purchased from Toyosu Fish Market in Tokyo. Because most of the restaurants in the neighborhood get their ingredients from markets in Osaka, this is a point that sets them apart from the rest.

The only tuna used here is natural Southern Bluefin Tuna. It has a sweeter taste than regular tuna. Osaka sushi bowls, donburi (rice bowl) and izakaya dishes are reasonably-priced, and use all parts of the tuna, including the high-quality and rare cuts.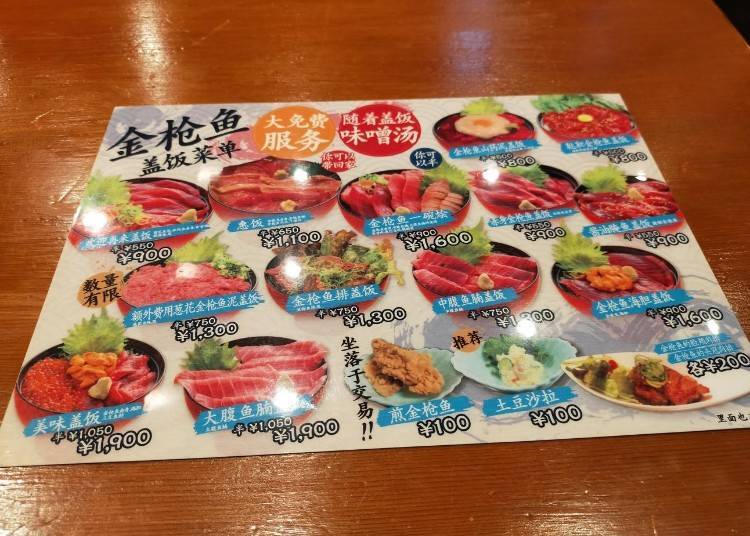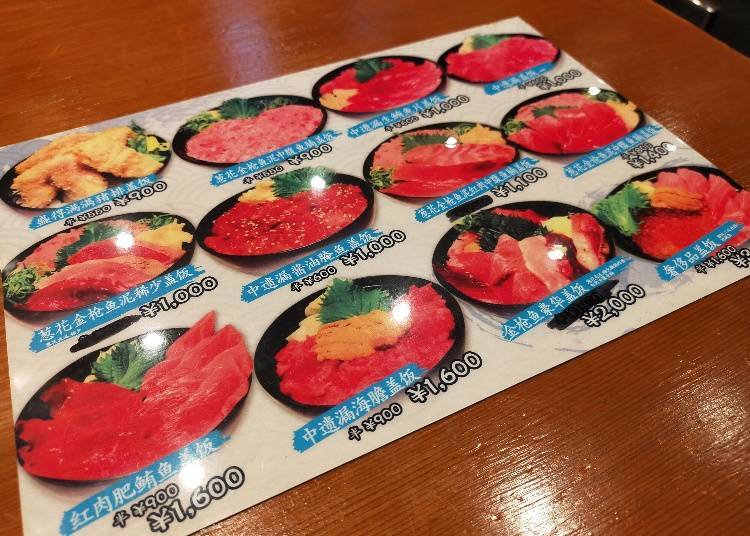 When we asked tourists visiting Japan for their most favorite Osaka sushi bowls, the Matakoi-don (kiriotoshi, negitoro, and akami tuna), Megumi-don (tuna meat from the brain, chin, and cheek, and akami tuna), and Maguro-zukushi-don (negitoro, chutoro, otoro tuna) were the most popular.

There are a whopping 25 types of Osaka sushi bowls alone, and many original rice bowls that can only be eaten in Osaka, including the rare Green Onion Bowl and Tuna DX.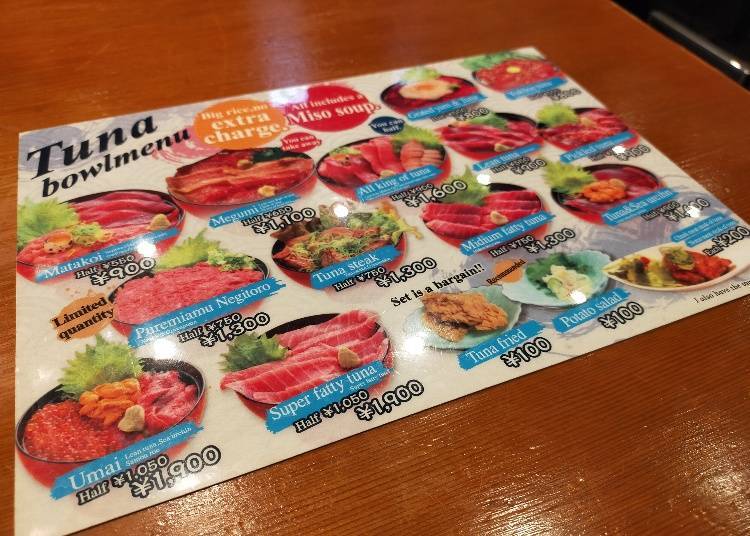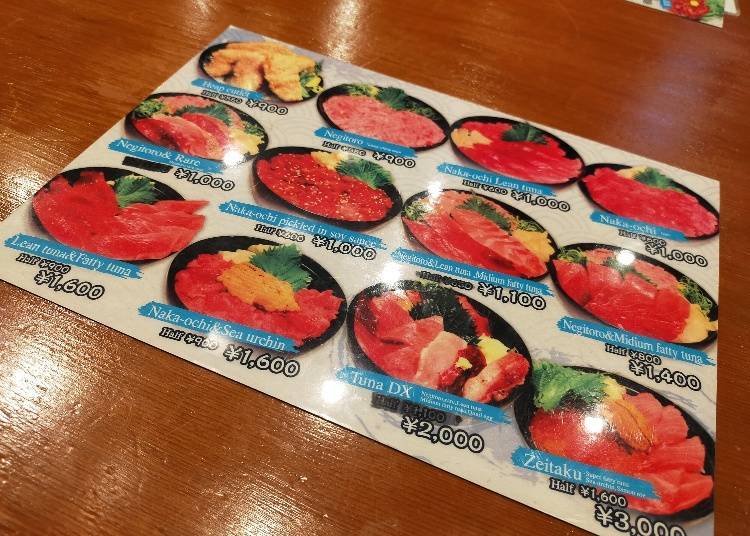 One of the most popular services, especially with guests from overseas, is the service that allows customers to create their own original Osaka sushi bowls. Toppings include items such as sea urchin and salmon roe.

You can upgrade to a large serving for free. The regular size for vinegared rice is 200g, while large portions start at 300g. Many regular customers even order as much as 1 kg. These mega-sized portions are just one of the reasons this shop has become such a hot topic.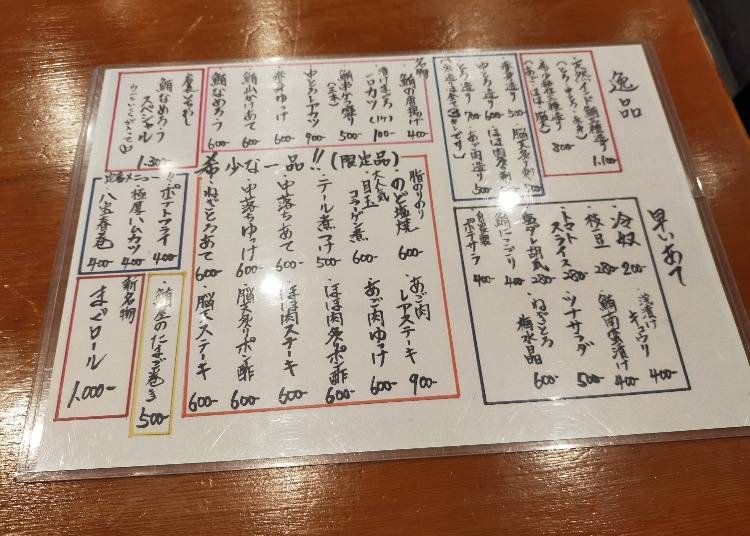 The most popular item on the izakaya menu is the Natural Indian Tuna 3-Selection Sashimi dish (which includes toro, chutoro, and akami tuna cuts). Second popular is the deep-fried tuna, and third is the salty grilled tuna.

The shop's recommendation is the deep-fried chicken dish. I tried each part of the tuna, and found the kama cut (the part closest to the head of the fish) to be especially delicious. Many customers love it for its soft and juicy texture.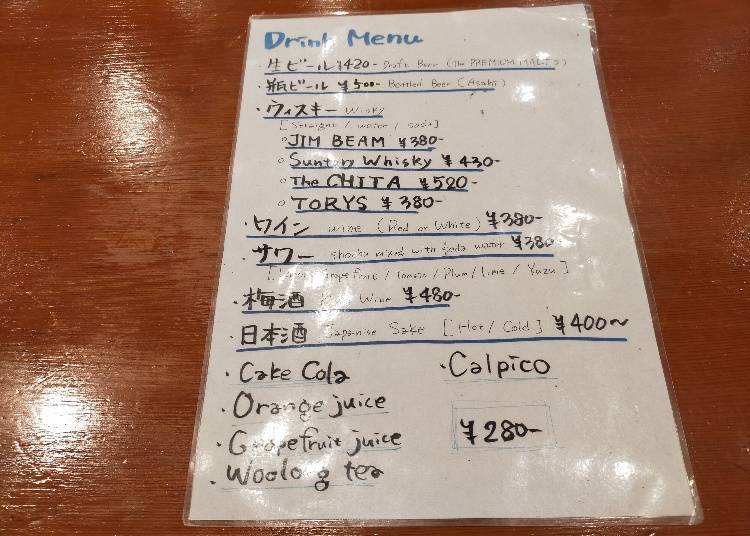 When it comes to drinks, sake is the most popular with overseas customers. The shop also sells local sake, unique to Osaka. It is worth a visit at least once when sightseeing. The food and drink menu is also available in English and Chinese.

The menu items here are generally cheaper than shops in Tokyo. From opening to closing time, you can come here to enjoy tuna dishes at a reasonable price.
Ordering An Original Osaka Sushi Bowl
Today I ordered the Matakoi Bowl (900 yen). This dish is very popular among foreign tourists visiting Japan. Naturally, the rice serving is also large.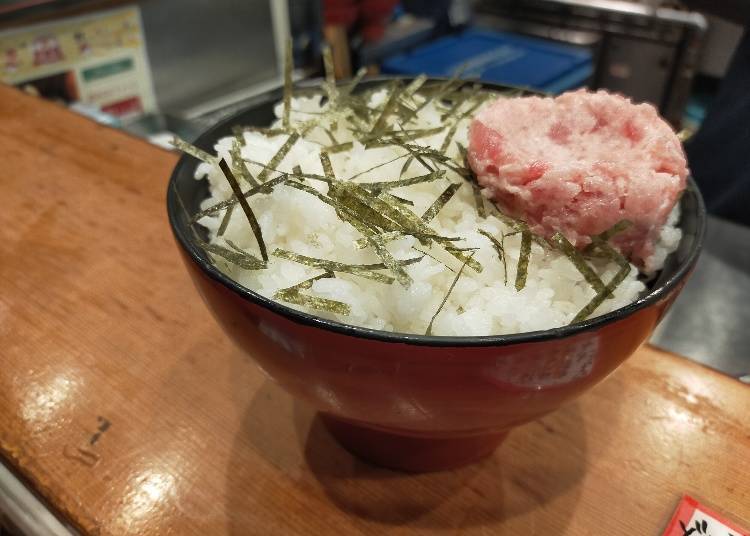 When asked how much rice, I went with the 500g size. What's the point ordering a super-sized dish unless you plan to eat a lot? I did request to see the portion size before ordering the ingredients, and it seemed to be a rather generous serving. I'm excited to see the finished product.

I also tried some popular toppings: Sea Urchin (20g, 800 yen) and Salmon Roe (30g, 600 yen).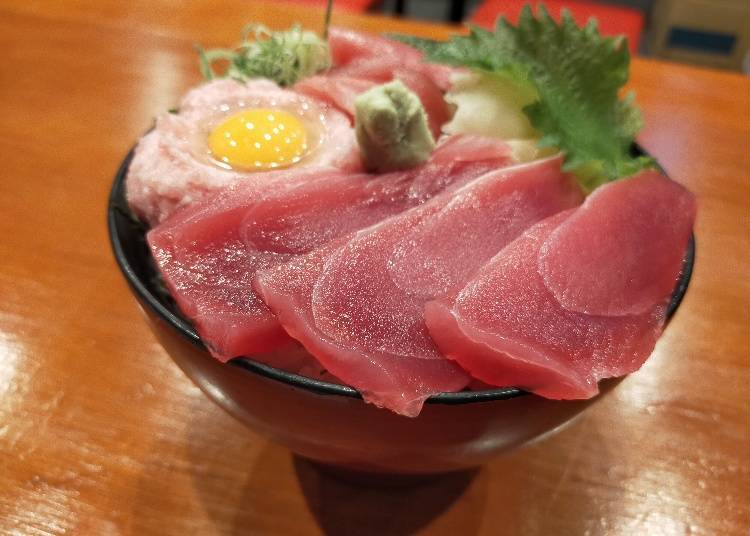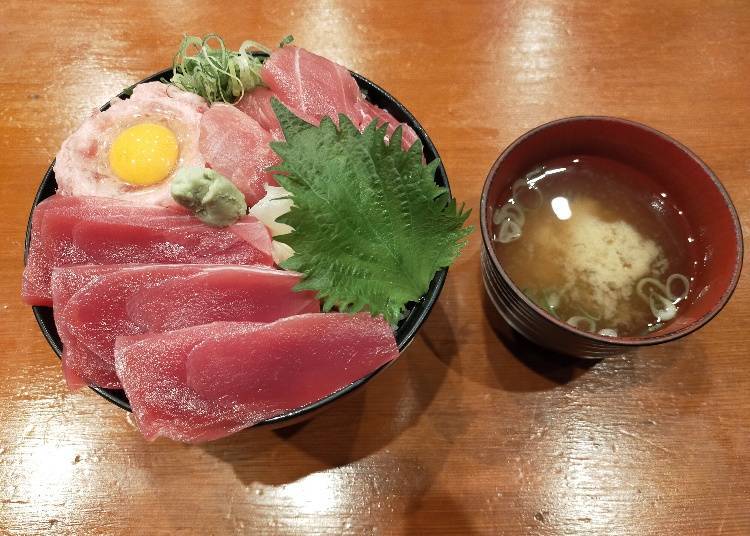 After a while, the Matakoi Bowl has arrived.

The rice mentioned in the previous step has changed this meal into a wonderful dish. The shiny red tuna is boldly arranged and even overflows from the generously portioned Osaka sushi bowl. Each piece of red tuna is thick, and even the negitoro cuts are rather large.

All bowl dishes come in a set that includes miso soup. Even so, the appeal of this Matakoi Bowl is pretty impressive.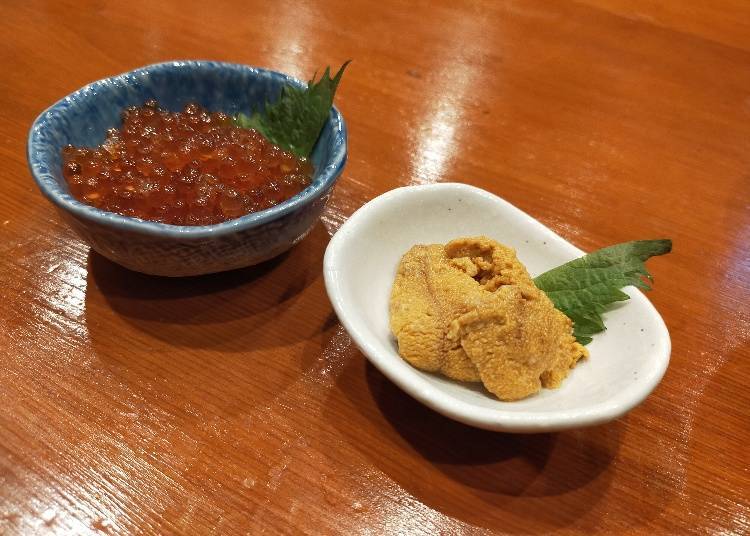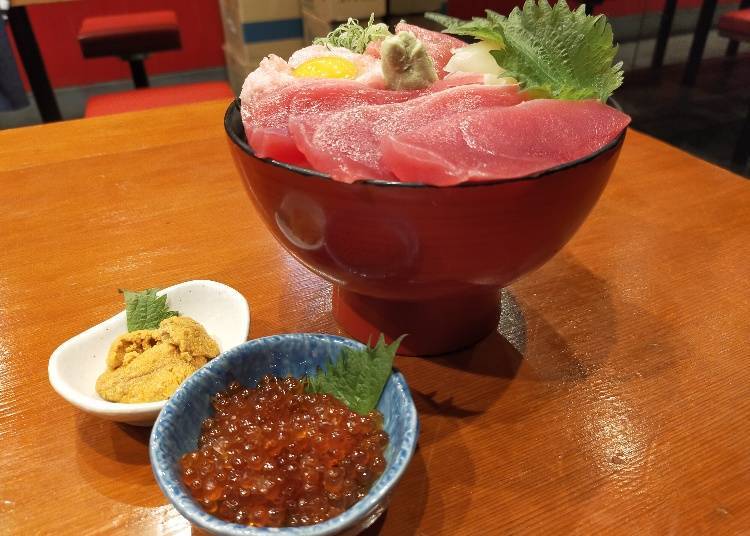 Next come the toppings, Sea Urchin (20g) and Salmon Roe (30g). Nothing but luxury seafood ingredients at this table. Time to add them to the Osaka sushi bowl!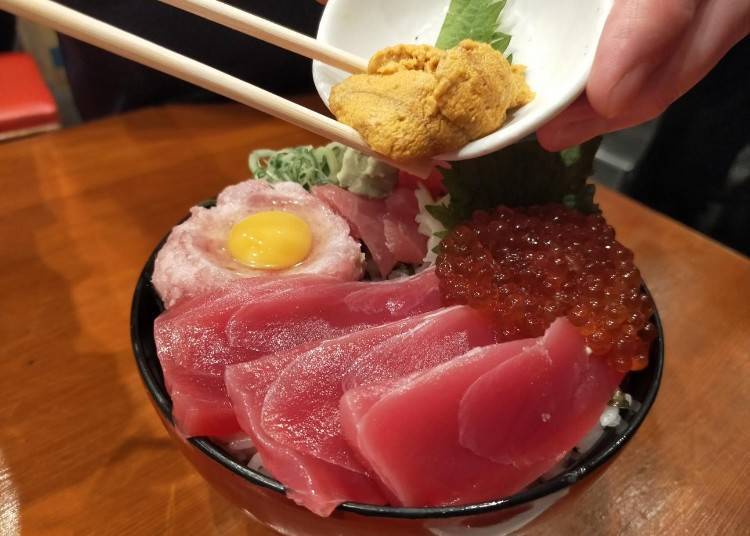 First I top it with the salmon roe, then add the sea urchin. Though I want to eat it right away, because it is such a high-class food, I wanted to make it a beautiful presentation first.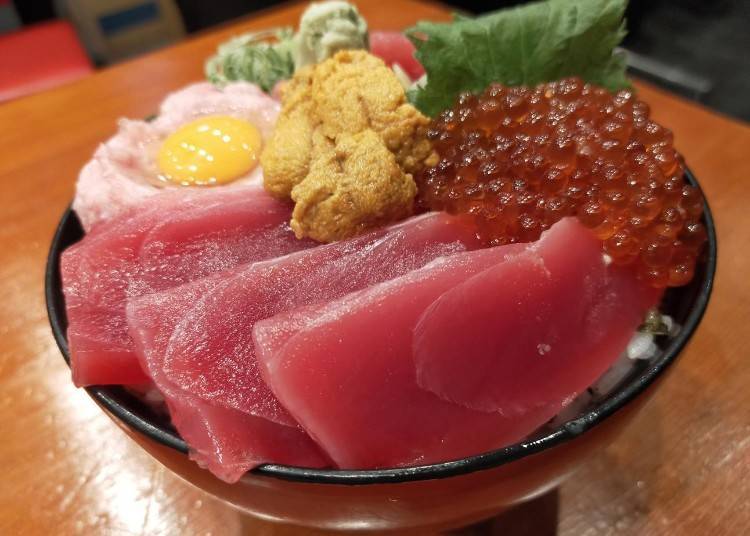 And it is complete!

Here is the original Matakoi Bowl. This dish really packs a punch! It is such a masterpiece, even the shop staff look at it in awe.

Now that it is complete, where do I begin? I asked shop owner Hayashi how it should be eaten. There are two ways: "You should enjoy it as you like. One way is to drizzle the soy sauce right into the bowl and eat it like that. Or you can put soy sauce in a small dish and eat the ingredients one by one."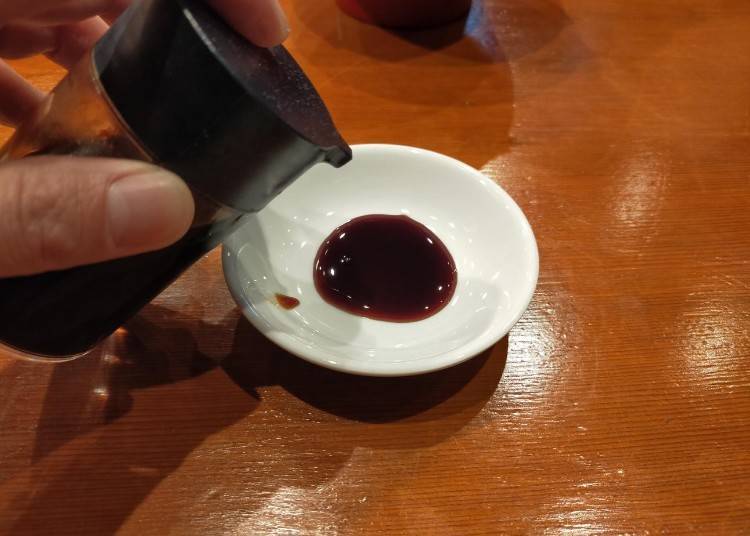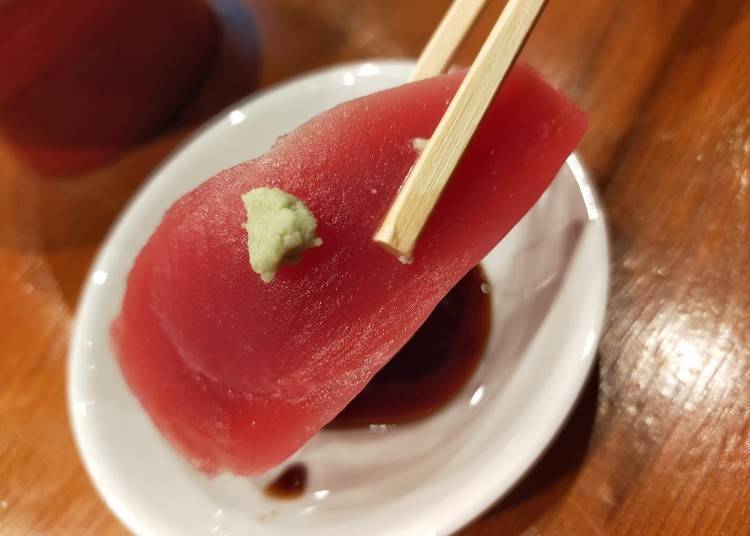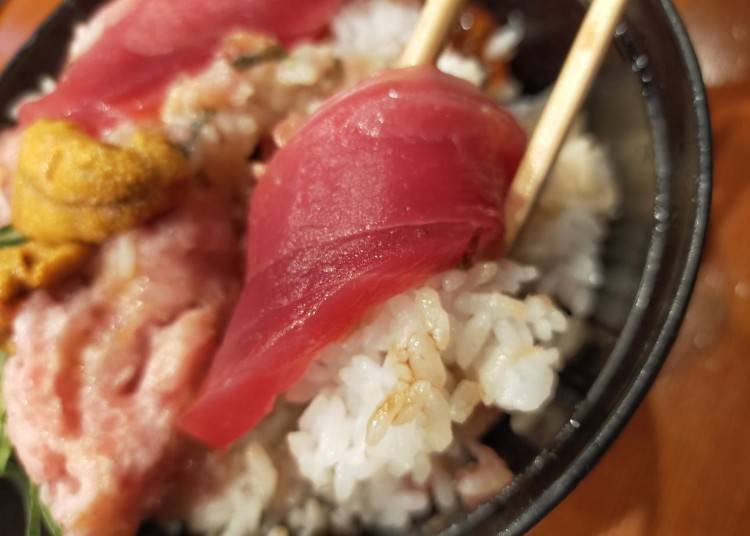 I decide to go with the latter.

Put the soy sauce in the small dish, top the red tuna with wasabi, and enjoy it in one bite. The texture of the tuna is thick and firm. It doesn't smell, and has a unique and delicious sweetness. Eating it together with the rice brings out the flavor even more. It goes especially well with vinegared rice.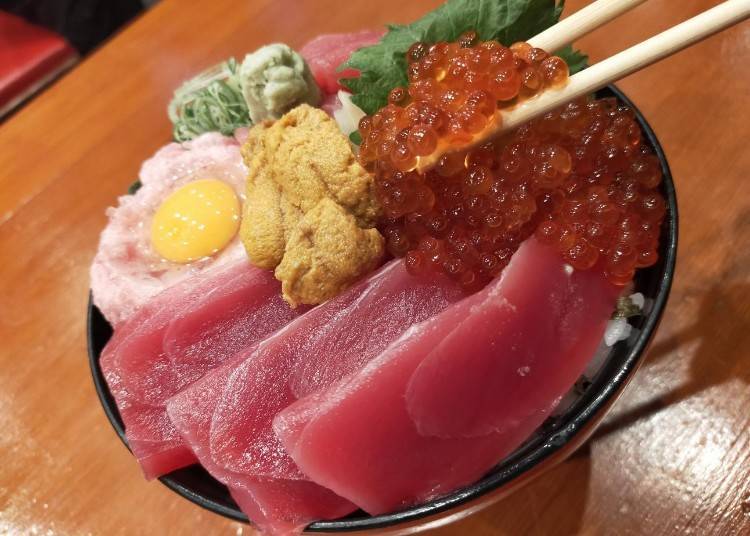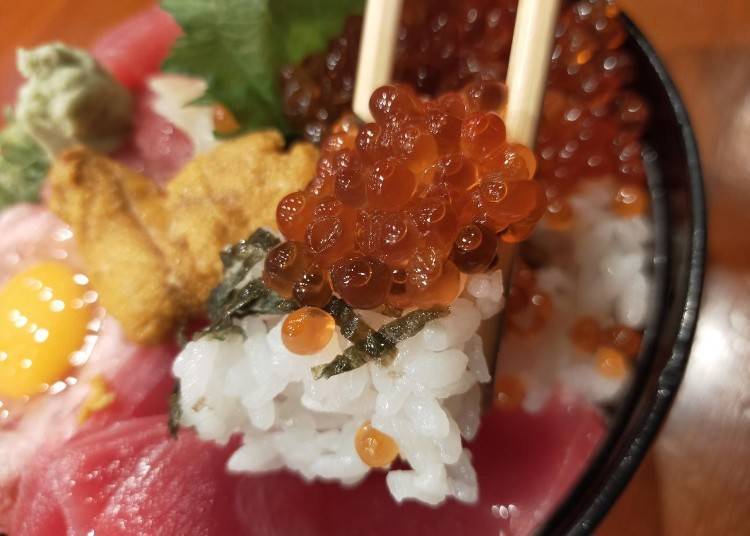 On to the salmon roe.

I enjoy the texture of the roe popping in my mouth. It is already salty, therefore doesn't need any soy sauce. Instead, eating it together with the tuna brings out the delicious flavor of each piece.

The salmon roe resembles small, shiny jewels, making not only the taste but the presentation superb.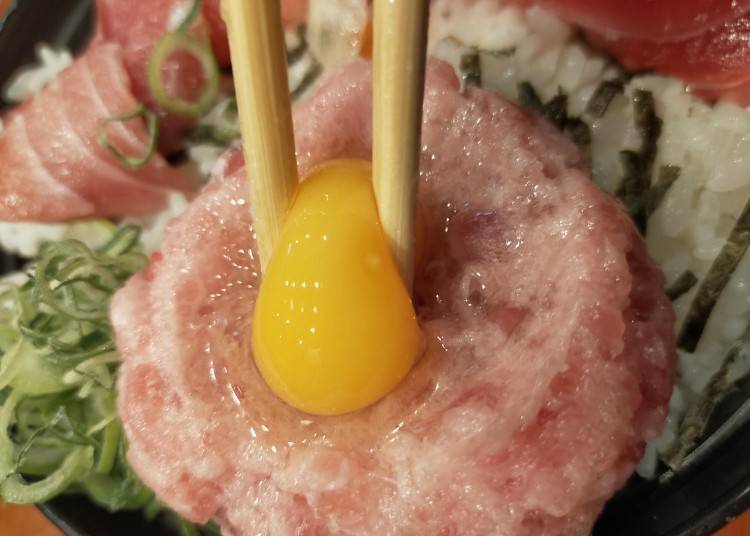 My personal favorite was the negitoro.

Letting the yolk melt into the tuna really enhances the meal. The texture is smooth yet thick, with a condensed, rich flavor, you just can't help but eat it all up. I'm sure plenty of customers have been captivated by the deliciousness of this dish.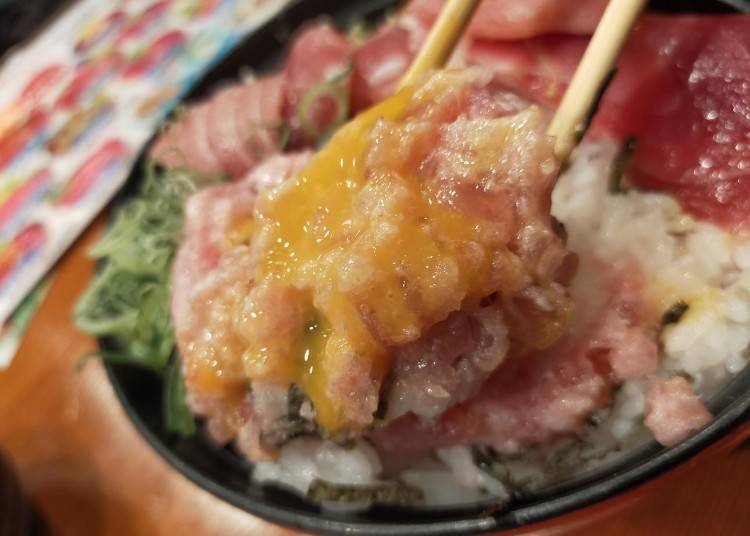 Adding the sea urchin and salmon roe to the negitoro really brings out the delicious flavor. Though it's a rather large portion, no matter how much you eat, you will never tire of it.

Despite being a mega-sized meal, I managed to wolf down the entire thing. It is a really filling dish. But more than that, it was an addictive dish that could fully satisfy even the biggest of appetites.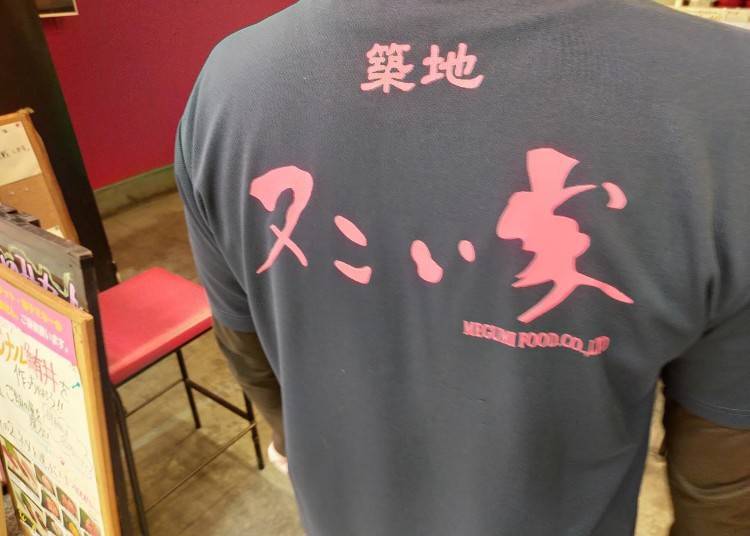 At Matakoi-ya, you can experience not only the deliciousness of fresh tuna and mega-sized portions, but the enjoyment of creating your own original donburi bowl.

You will be surprised at the amount of delicious food you can enjoy for the cheap price of 2,300 yen. Tuna is included in not only the Osaka sushi bowl dishes but in all menu options, so this is the perfect place to visit people who love tuna.

Please note, payment is by cash only, and they do not accept credit cards, electronic, or smartphone payments at this time. Regardless, if you visit Nipponbash, this shop is a must-see location you should definitely visit.
Matakoi-ya, Osaka Namba Store

又こい家 大阪難波店

Address

1-5-12 Sennichimae, Chuo-ku, Osaka 542-0074, Osaka Prefecture Underground Namba Walk Sanbangai Kitadori

Nearest Station

1 minute walk from Nipponbash Station on Osaka Metro Sakaisuji and Sennichimae Lines


Phone Number

06-6210-1089

Hours: 11:00AM-10:00PM
Regular Holidays: New Year's Day, 3rd Wednesday of odd months
We also recommend these restaurants in addition to those above. Save time and hassle - book your table online today!
Address

Osaka station square third building 32F,1-1-3, Umeda, Kita-ku, Osaka-shi, Osaka, 530-0001
View Map

Nearest Station

Kitashinchi Station (Tozai Line)


Phone Number

06-6341-5460
Book an unforgettable experience in Osaka!
Make your trip extra memorable by booking one of these recommended tours.
*This information is from the time of this article's publication.
*Prices and options mentioned are subject to change.
*Unless stated otherwise, all prices include tax.