Ura Namba is a popular gourmet spot in Osaka, Japan. But even with such a name for luxury gourmet, you can find delicious yet cheap famous spots too, if you know where to look!

Why is Ura-Namba grabbing so much attention? That would be because of the super-sized ramen shop, Handmade Futomen Dokamori Macho Namba Sennichimae. Fans of ramen are so enthusiastic about this place that many line up, even late at night and on consecutive days, for a dish.

Today we will take a look at the recommended dishes of Futomen Dokamori Macho Namba Sennichimae. If you're in Osaka and craving ramen, this is the place to check out.
The Attention-Grabbing Ramen Hot-Spot of Ura-Namba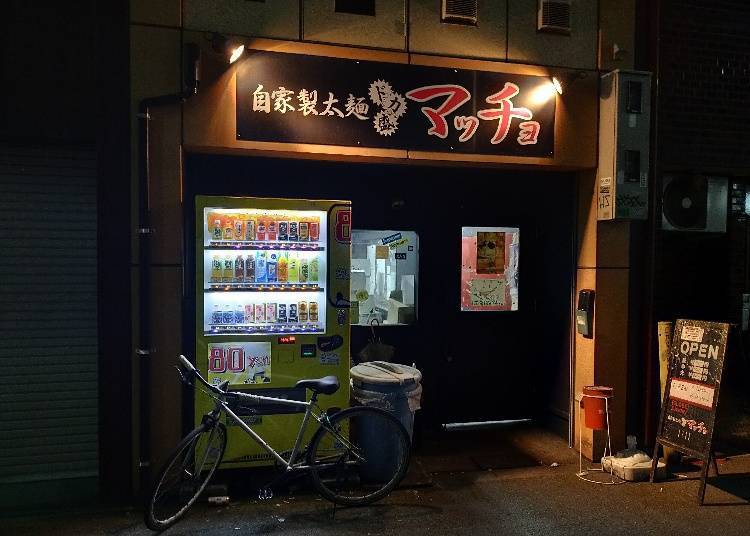 The shop is a short five-minute walk from the Nankai Electric Railway Namba Station. It is also walking distance from Nihonbashi Station on the Osaka Metro Sakaisuji and Sennichimae Lines.

Despite being the popular tourist spot in the Namba area, it is called 'Ura-Namba' (which literally means "backstreets of Namba"). And this Ura-Namba, also a popular gourmet spot, has only grown even more in popularity in recent years.

In this area you will find many cheap yet delicious standing bars, as well as stylish bar-restaurants. Macho Namba Sennichimae is just one of these gourmet shops.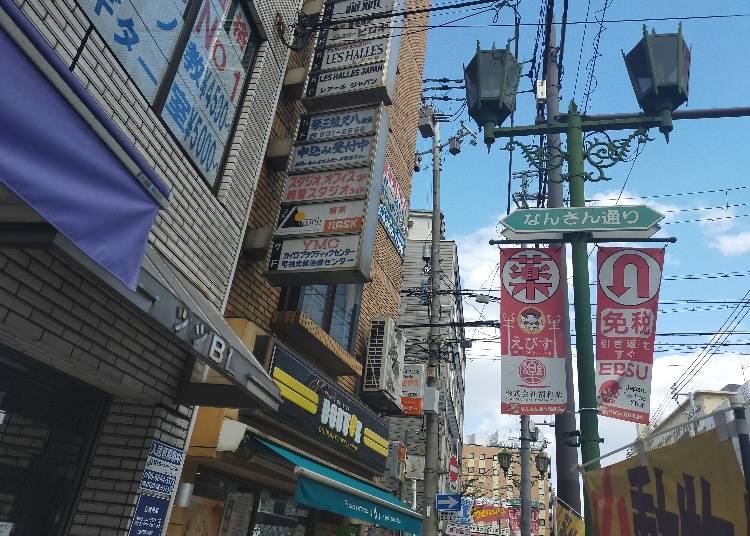 The shop is located east of Doguya-suji and Namba Grand Kagetsu, but can be difficult to find on your first visit. You can use Nansan-dori(なんさん通り) street sign to help.

From Namba, go down the street toward Nihonbashi. When you get to Doutor Coffee, turn left and walk for about 30 seconds.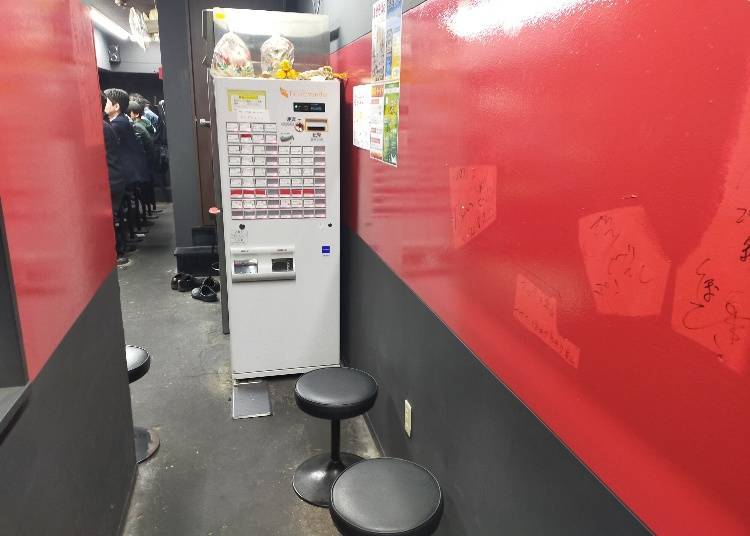 There are several round chairs lined up as soon as you walk through the door. Right next to them is the meal ticket machine. The counter seats are further back.

The shop seats 12, all of which are counter seats, creating a casual, comfortable atmosphere.
Macho, Latin-style Jiro Ramen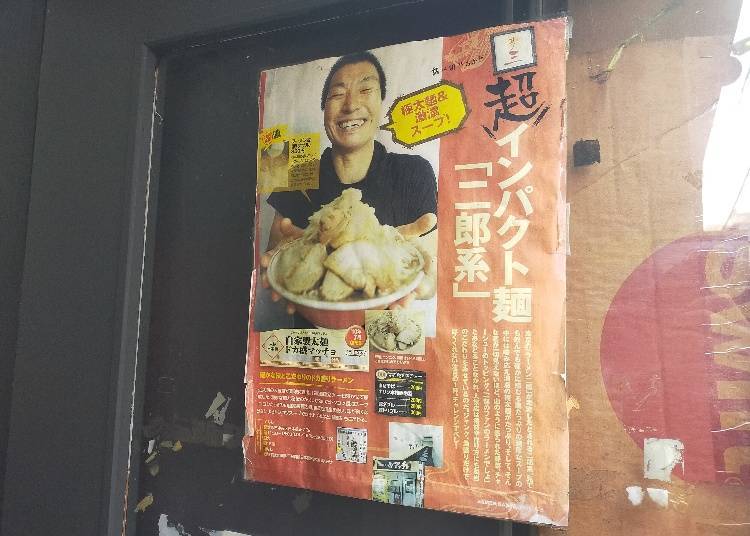 Macho Nanba Sennichimae opened on July 31, 2010 as a ramen shop serving signature Jiro ramen in Osaka. Jiro-style refers to ramen shops inspired by Ramen Jiro, a nationwide ramen branch based in Tokyo.

The special feature of Ramen Jiro's ramen is the thick noodles they use, topped with vegetables, garlic, and back fat heaped so high, you can't even see the boiled noodles underneath.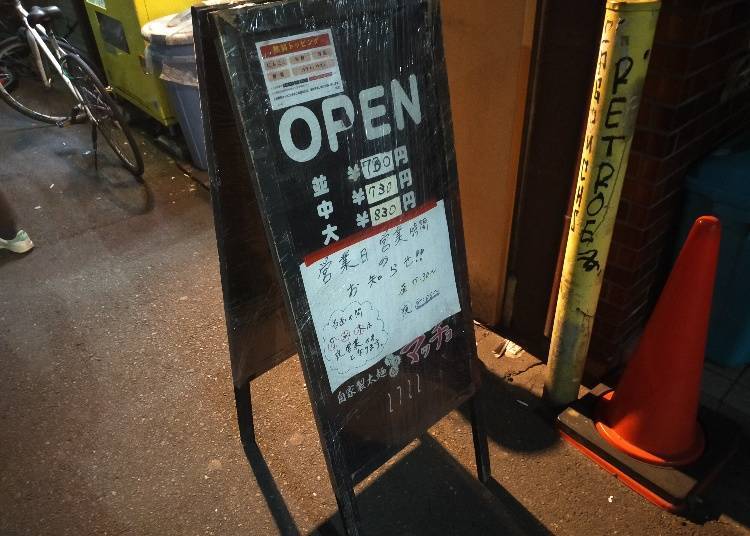 There are many enthusiastic Ramen Jiro fans, who call themselves 'Jirorian.' In recent years, Jiro Ramen has gained tremendous support from not only Japanese fans, but fans from American as well as other Asian countries.

As the name 'Handmade Futomen Dokamori' suggests, you can enjoy thick 'doka-mori,' or super-sized, ramen noodles. Today we interview Mr. Koji Omoso, who was involved in the launch, in detail about the shop.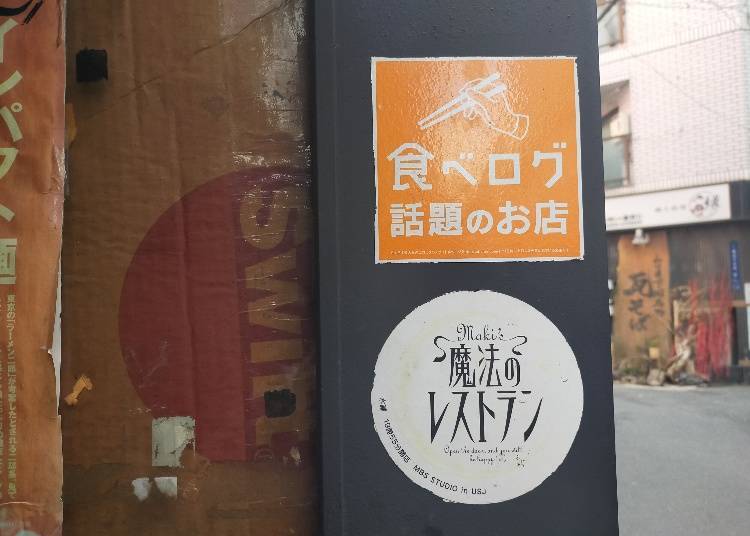 The name 'Macho' implies masculinity. And certainly, many of the customers are men. However, even women and couples can enjoy a meal at this welcoming shop.

In the beginning, the only item on the menu was ramen. However, new menu items such as mazesoba and tsukemen (which involve dipping or mixing your noodles) have since been added. Today, the shop has gained good reputation in all forms, having been featured on famous Japanese gourmet sites and media outlets.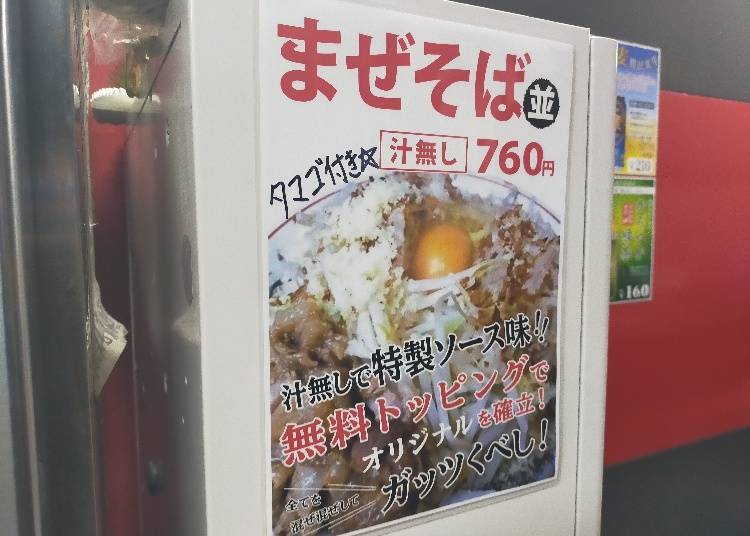 Tourist come from countries all over the world, including China, South Korea, Taiwan, and the United States. When I asked about the most popular menu item, the ramen won by a landslide. Second was the mazesoba, followed by the tsukemen.

Other menu items include Pork Ramen, Pork W Ramen, Pork T Ramen, Pork W Mazesoba, Pork T Mazesoba, Pork W Tsukemen, Pork T Tsukemen, Shio Ramen, Pork W Shio Ramen, and Pork T Shio Ramen.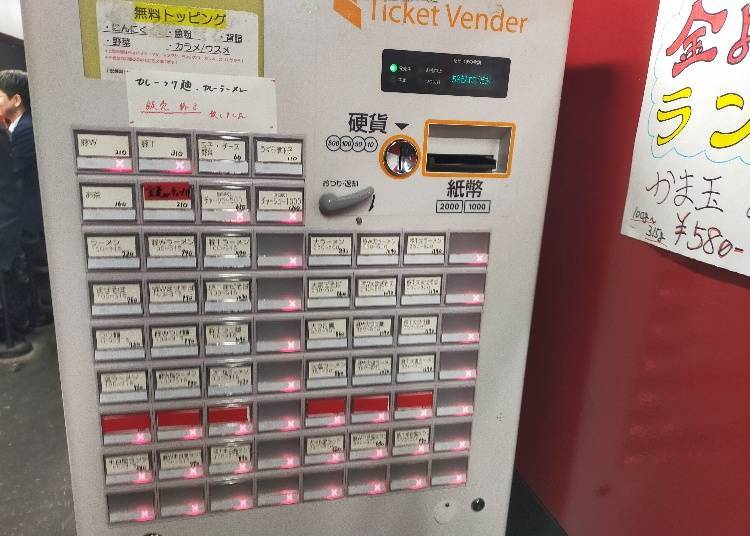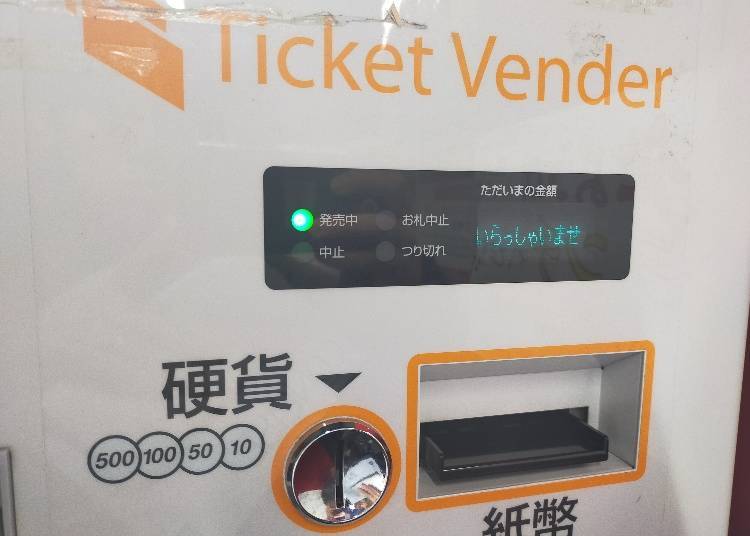 Unfortunately, there are no foreign language menus available. The ticket machine is Japanese only, and the shop has their own ordering method, so I will explain it in detail here.

At the ticket machine, press the button to select Ramen (ラーメン) or Mazesoba (まぜそば). If you want a larger serving, select Large Ramen (大ラーメン) or Large Mazesoba (大まぜそば).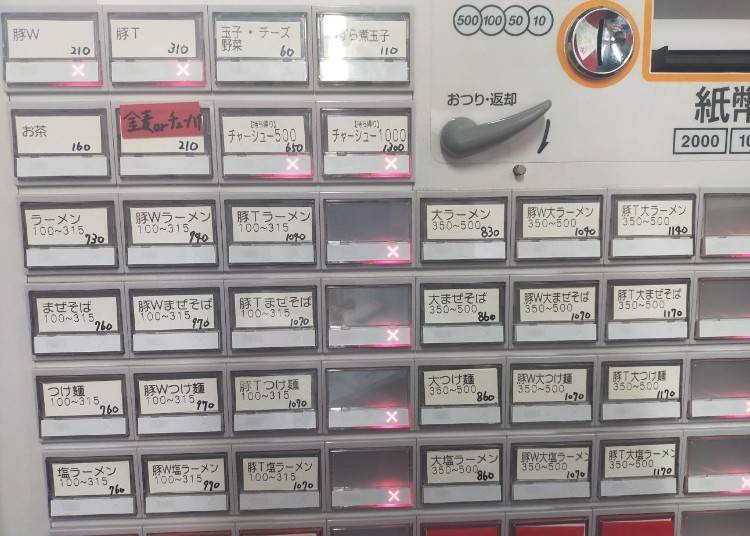 First, buy your ticket at the ticket machine. Select your favorite noodle option. If you are new to ramen, we recommend the Ramen or Mazesoba. Then, hand your ticket to the staff.

If there are many people, you may have to wait in line. The staff will guide you once seating becomes available.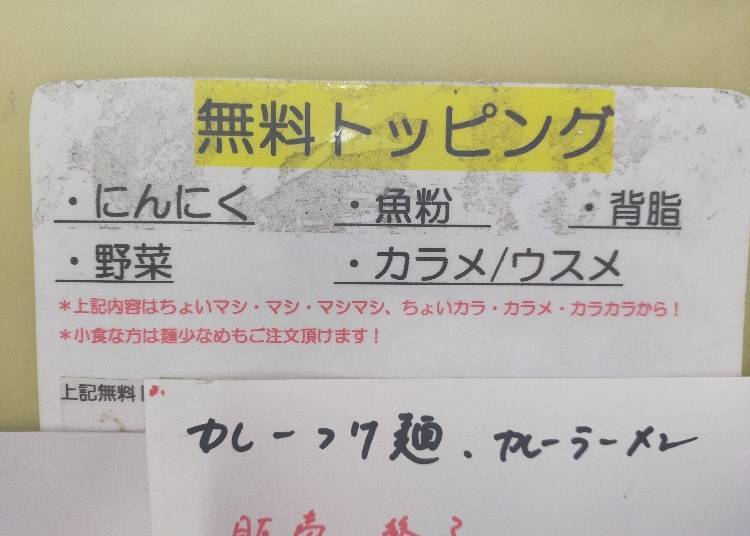 You will be asked two things when you hand the staff your ticket: the amount of noodles you would like, and the toppings. The regular size for noodles is from 100g to 315g, while large sized portions are from 350g to 500g.

For toppings, you can select ninniku (garlic), se-abura (pork back fat), yasai (vegetables), and gyofun (fish bullion). All toppings can be requested by quantity. From smallest to largest, the options are 'choi-mashi' (small), 'mashi' (large), and 'mashi-mashi' (extra large).

You can pick and choose the amount for each individual topping as you like. You can even order an extra-large of everything. All toppings are free. You can also select the level of flavor and spiciness, from 'choi-kara' (mild), 'karame' (spicy), and 'kara-kara' (extra spicy).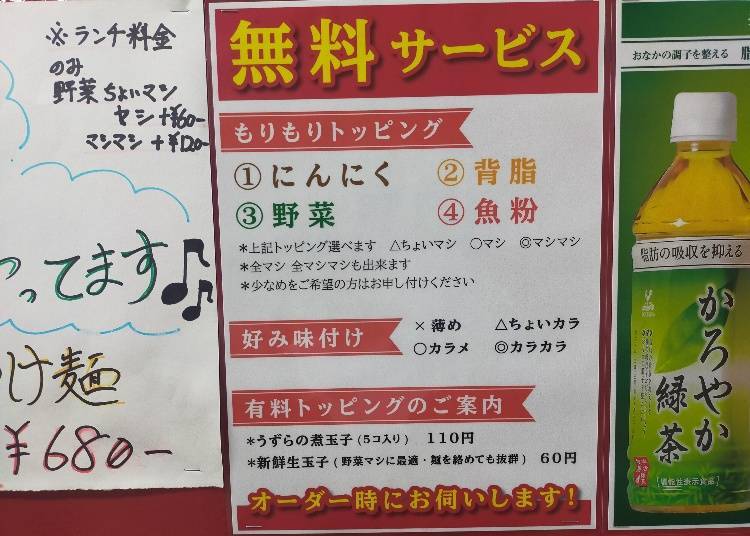 You can select your toppings by number. Select 1 for garlic, 2 for back fat, 3 for vegetables, and 4 for fish bullion. Along with these free toppings, you can also order special paid toppings, such as 'Uzura Ni-tamago' (boiled quail eggs, 5 pieces) and 'Shinsen Nama-Tamago' (fresh raw egg).

One of the best things about the shop is that you can create your own original ramen. For a super-sized dish, select the large noodles, and order an extra-large serving of each topping.

For foreign customers, please note that the flavor of this ramen is generally different from that of regular Japanese ramen. It's a unique ramen dish, so be sure to prepare yourself before your visit with the help of this article.
An Extra-Large Serving of Everything!
Today I ordered the Large Ramen (830 yen). This is the most popular selection amongst foreign visitors to Japan.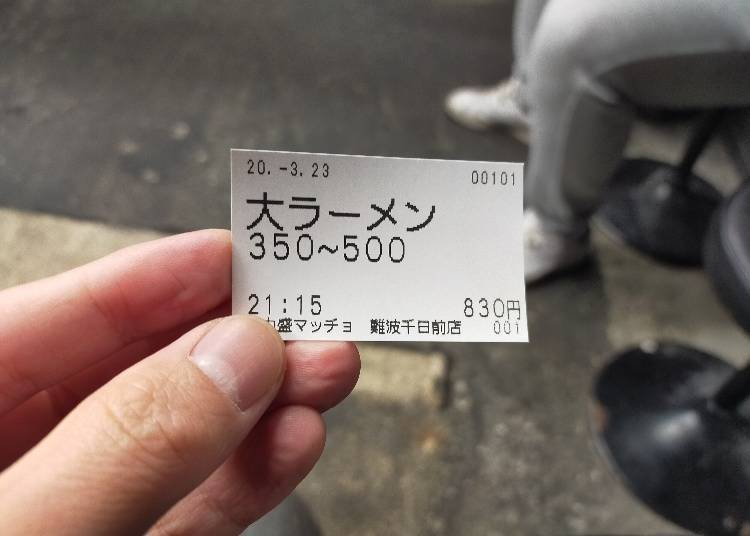 I entered the shop around 9:00PM, and it was already full, with people waiting in line. I bought my meal ticket and waited about 10 minutes. At last, I was guided to my seat where I could make my long-awaited request.

When I asked the staff for the 500g portion, he politely explained: "The 500g is extremely large, and you may not be able to eat the whole thing. Why not try the 400g size?"

I decided to take his suggestion and switch to the 400g. As for the toppings, I ordered one of each, all extra-large.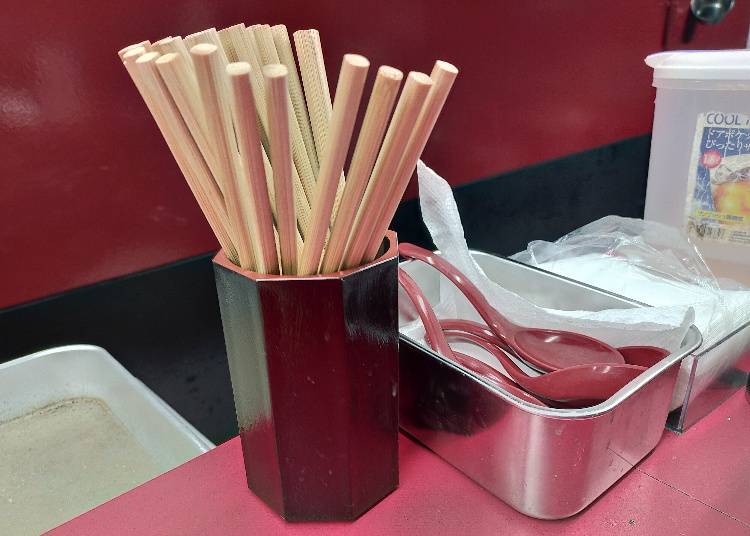 The chopsticks, renge (soup spoons), and water are all self-service. You can prepare everything yourself as you wait for your meal. After about 10 minutes, your ramen will be served!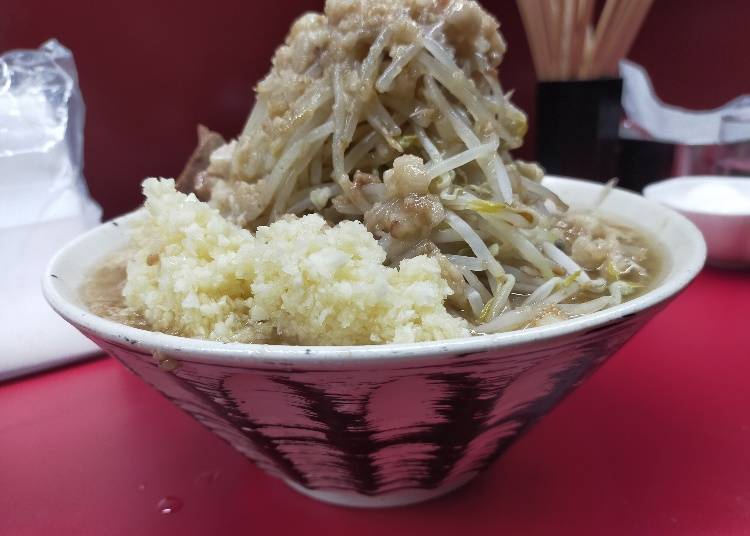 I was dumbfounded by the sheer size of the ramen placed before me. It was a super-sized portion indeed.

I was surprised by the especially large serving of vegetables, on top of which the back fat had been poured over. It was like an edible Mt. Fuji, or perhaps even Everest! And just like many people want to try climbing those mountains at least once in their lives, so too should everyone try this ramen at least once.

The helping of bean sprouts was 900 grams. All vegetables are domestically produced.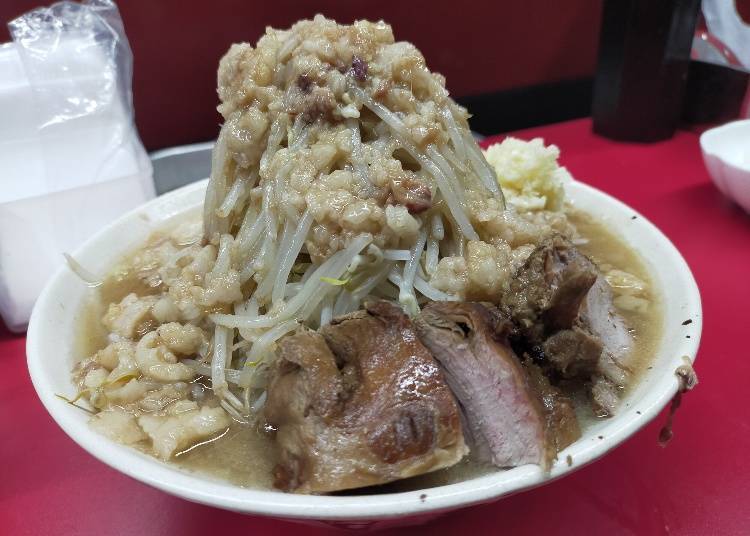 It may be hard to tell with all the vegetables piled on top, but the pork slices were also extremely thick. Each slice added a presence to the dish. As for the ramen, it was buried underneath the vegetables, and cannot be seen here at all. This was indeed an authentic dish.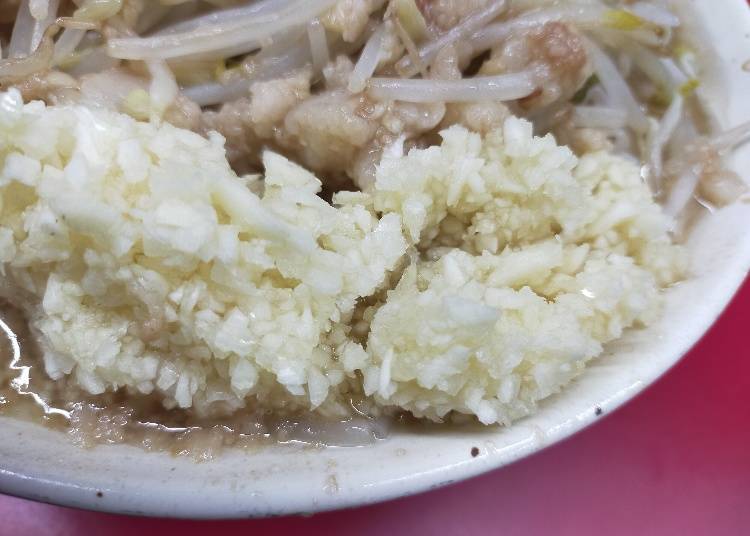 As I rotated the bowl, I inhaled a generous amount of garlic. See all the white that resembles the snow atop Mt. Fuji? That's minced garlic, and there's about 70 grams of it.

The smell of the garlic made me ever hungrier. I had to eat it as soon as possible.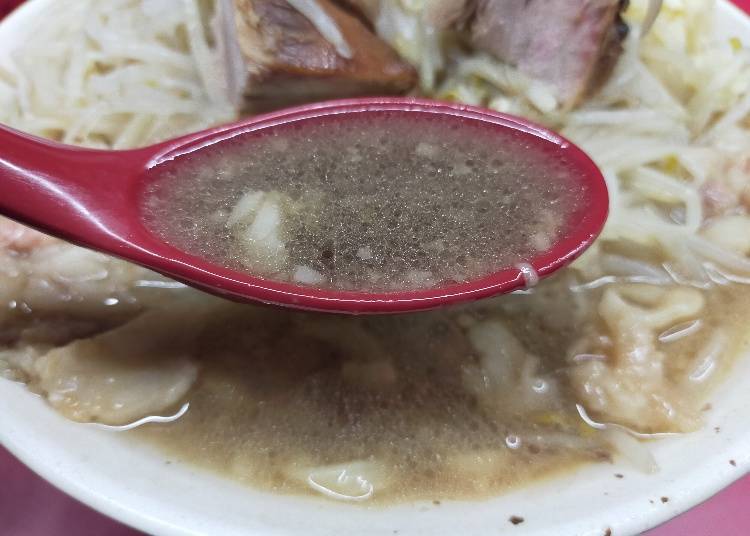 First, I scooped the soup with the spoon to taste the broth. It had a surprising taste, with a generous serving of back fat. For a super-sized dish, this was a rather elegant soup.

The soup stock is made from pork bone and pork knuckle, soy sauce, and garlic. The broth is aged by simmering a large amount of pork bone for 12 hours, and letting it sit overnight. This dedicated process gives the soup it's rich, delicious flavor..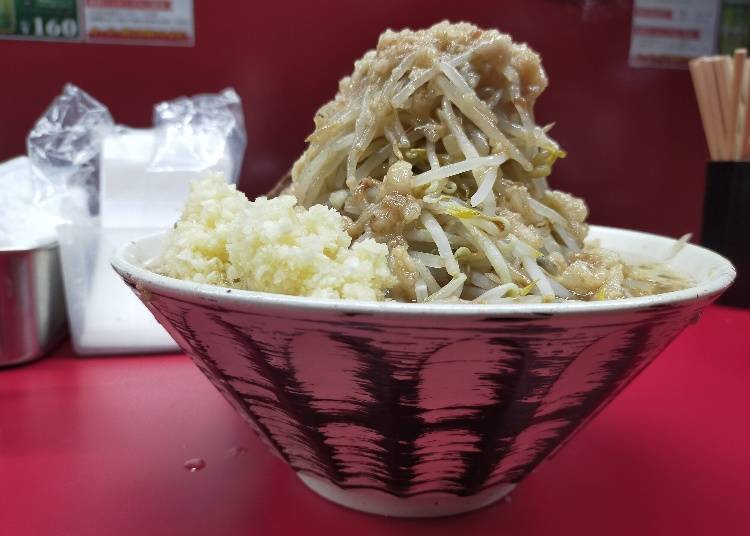 Time to get to the best part: actually eating it. Vegetables include bean sprouts and cabbage. Because each ingredient has been super-sized, this will be no easy task.

Come on an empty stomach, and stuff yourself with heaps of vegetables, back fat, and garlic, intertwined in the delicious soup. The bean sprouts have a crisp, pleasant texture. Each bite fills your mouth with the rich flavor of the ingredients.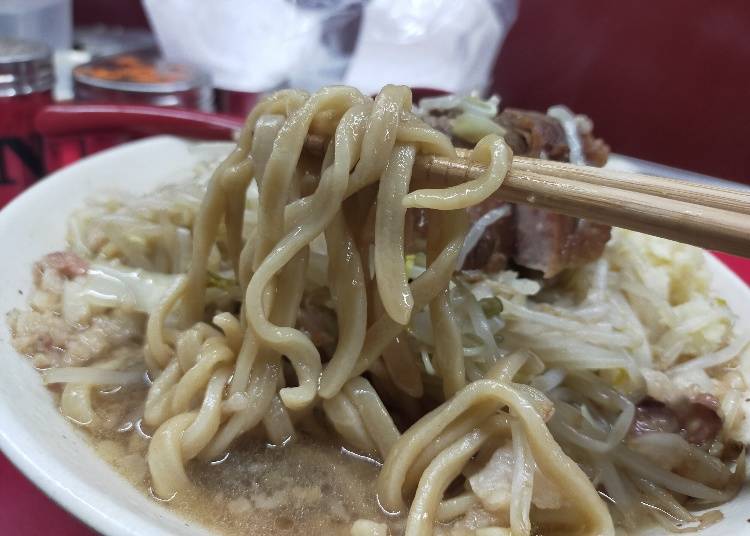 At last, I can see the noodles hiding underneath. They are flat, thick noodles, with a firm, chewy texture. Thinner noodles are usually more popular in Japan. This dish is closer to tsukemen than traditional ramen.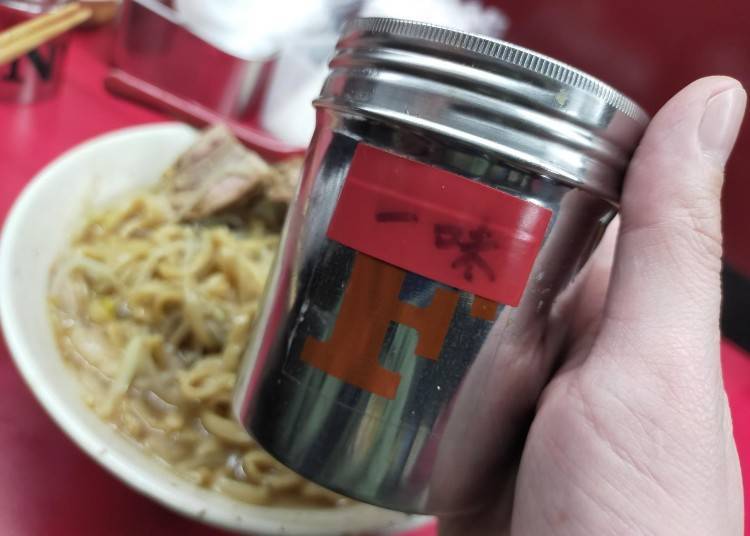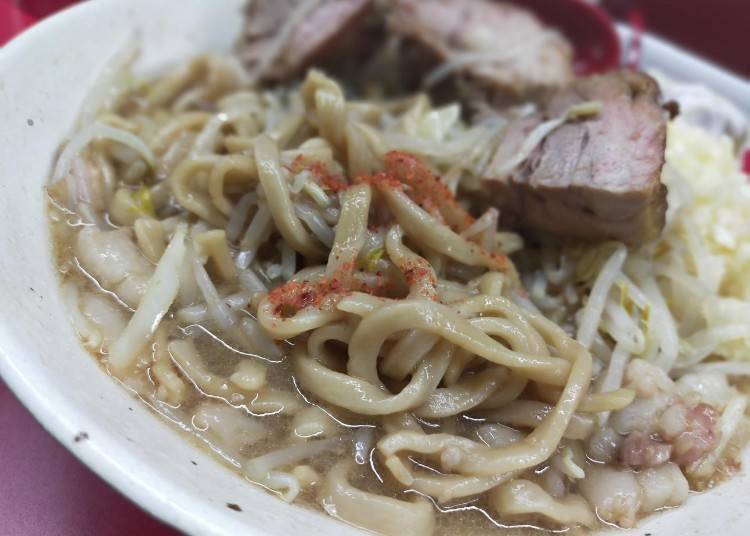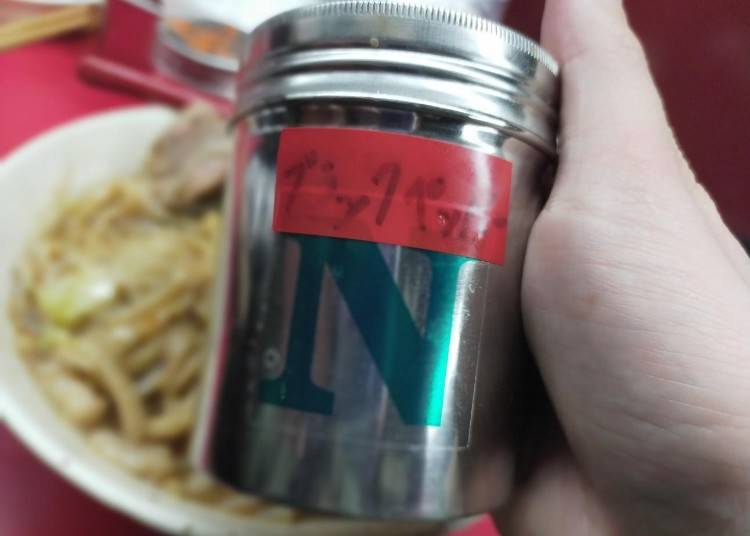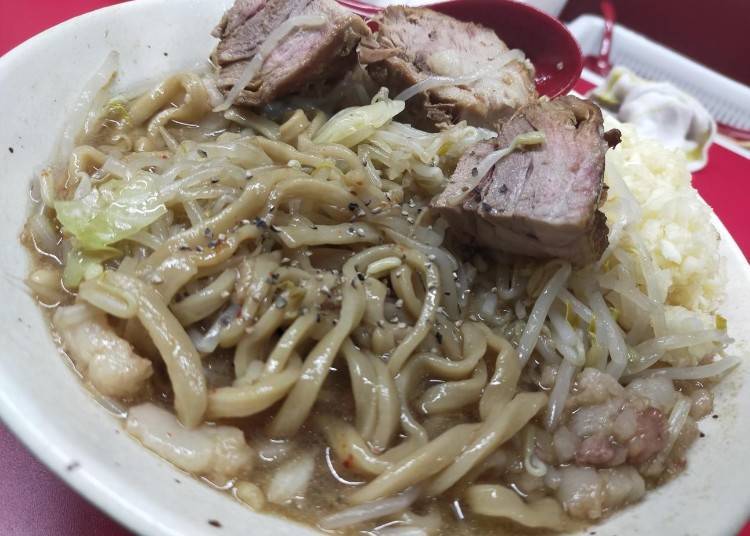 There are two types of spices you can use: togarashi (cayenne pepper) and black pepper. I decided to use a little bit of each.

And I'm glad I did. It really brought out the taste. The black pepper goes especially well with the pork slices, adding a kick to the rich flavor of the meat.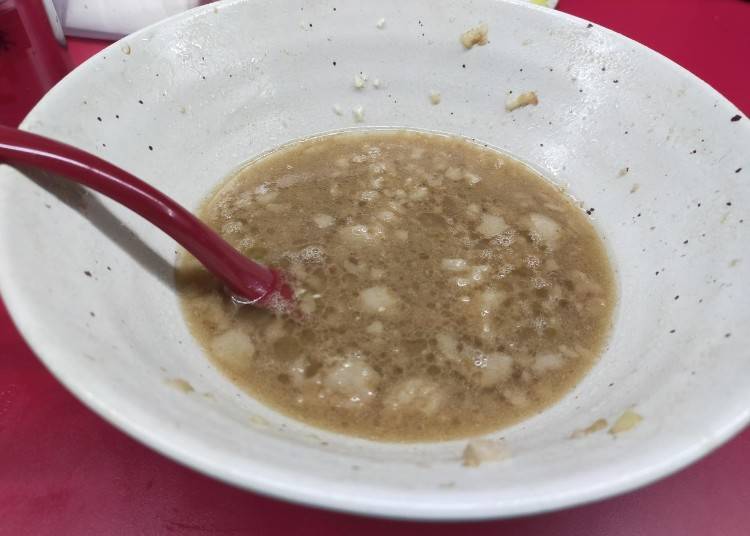 It took some time, but I was able to finish eating the entire bowl. I was satisfied not only by the delicious taste, but the fact that I was able to finish it at all!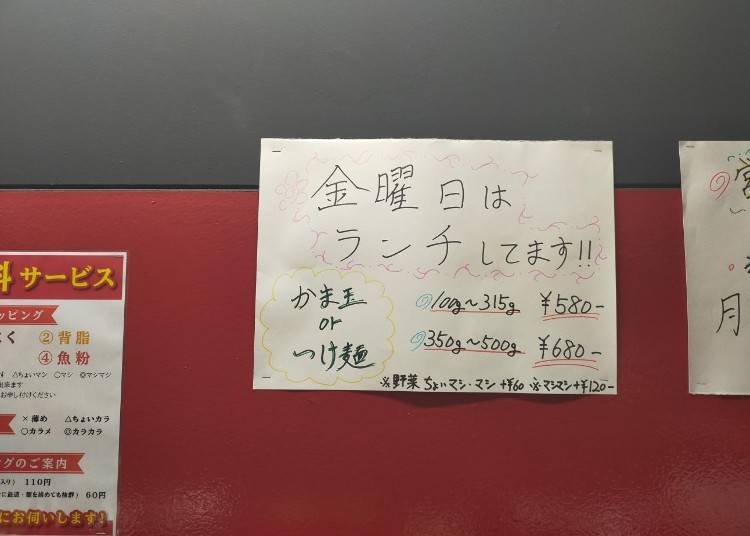 Today I visited for dinner, however the shop is open for lunch on Fridays only. For dinner, you can enjoy tsukemen at a reasonable price. In addition, the Kamatama dish is a lunchtime-only menu item, and also a great deal.

The shop tends to draw big crowds, especially on Fridays, Saturdays, Sundays, and holidays. You may want to avoid these days as much as possible. Aim for a weekday visit. If it is full, just wait in line a little while for your seat.

This is a fun shop where you can order original as well as super-sized ramen. Next time you visit the Ura-Namba area, be sure to pay a visit!
Homemade Futomen Dokamori Macho Namba Sennichimae

自家製太麺 ドカ盛 マッチョ 難波千日前店

Address

2 Chome-7-22 Nipponbashi, Chuo Ward, Osaka, 542-0073

Nearest Station

5 minute walk from Namba Station on Nankai Electric Railway


Hours: 6:00PM-10:30 (closed when noodles are sold out)
Regular Holiday: Tuesdays
*This information is from the time of this article's publication.
*Prices and options mentioned are subject to change.
*Unless stated otherwise, all prices include tax.
Search for International flights