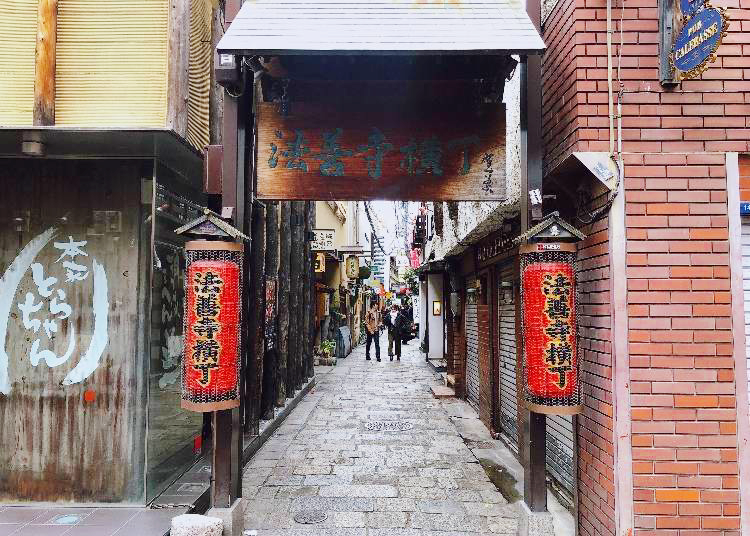 Hozenji Yokocho is a popular tourist attraction in Namba, Osaka. However, despite being so close to Dotonbori, another sightseeing hotspot, it has quite a different atmosphere. With its red lanterns, cobblestone paths, and the famous Hozenji temple and Mizukake Fudo-son statue, you will get to see a more traditional side of Japan.

There are many things to do around the city, including joining the lunch and dinner crowd for some Osaka gourmet. Today, we will introduce some of the best ways to enjoy your trip, from strolling the Hozenji Yokocho area, to visiting the temple, to indulging in some local delicacies!
What kind of place is Hozenji Yokocho?
Hozenji Yokocho was originally a precinct of Hozenji, a temple of the Jodo Sect of Tenryuzan, where many worshipers came and went. Eventually, stalls were developed along the side streets for worshipers. Unfortunately, they were once lost in the Pacific War raids, but were rebuilt after the war and has since become a prime location.

At present, there are two alleys extending from east to west, at about 80m long and 3m wide. There are many well-established Japanese restaurants, bars, okonomiyaki and kushikatsu shops, and sweets shops that are perfect for a short break. It is a tourist hotspot where many visitors flock to enjoy the unique tastes of Osaka.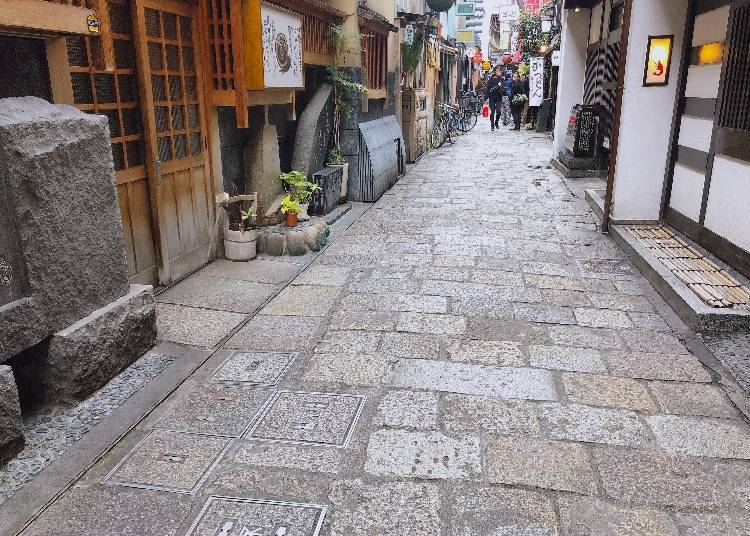 The Cobblestone Streets of Yokocho
One of the charms of Hozenji Yokocho is that, unlike the urban Namba atmosphere, you can enjoy a more traditional street view of Japan, with cobblestone paths and renovated old Japanese houses. It is as if you have taken a step back in time.

The area is about a 5-minute walk from Namba Station on each of the Osaka Metro Midosuji and Sennichimae Line, as well as the Kintetsu and Nankai Lines. It is also 5 minutes southeast from Dotonbori and Ebisu-bashi Bridge, famous for the giant Glico Sign, making it a great place to stop during a sightseeing trip around Dotonbori.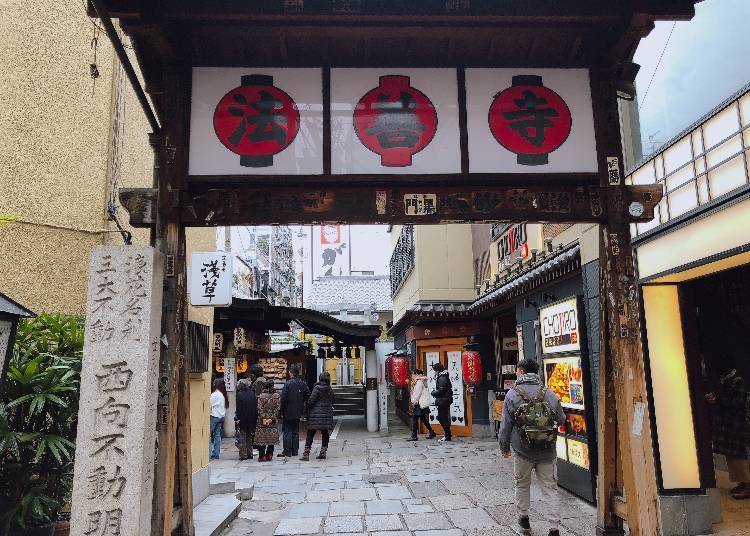 Hozenji was originally a temple built in Uji City, Kyoto Prefecture in the late 1620s and early 1630s, and was relocated to its current location in 1637. Hozenji Temple is now located at the center of Hozenji Yokocho, with its entrance marked by the wooden gates labeled "Hozenji."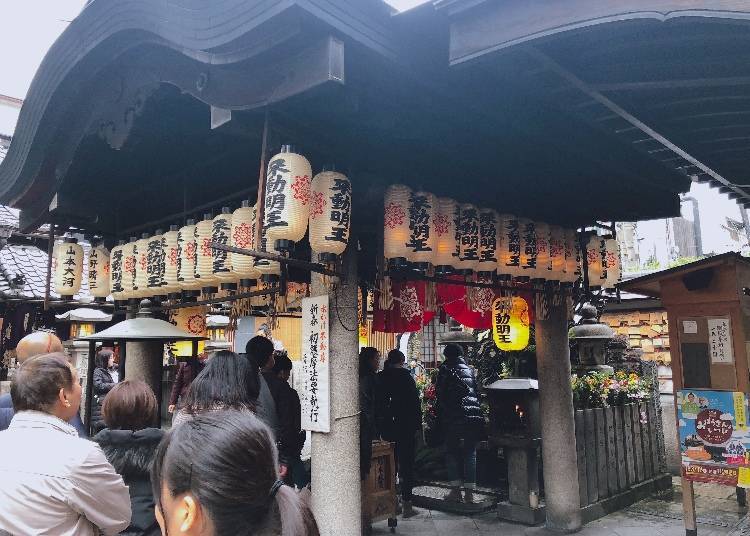 When you enter Hozenji Temple, pay your respects to Mizukake Fudo-son, the Buddhist Fudo Myo-o statue covered in rich, bright green moss. This statue is said to have grown mossy from the water sprinkled on it by people making wishes. This custom is said to have began when a woman visited Hozenji and poured water over the statue while praying for her wish to be granted long ago.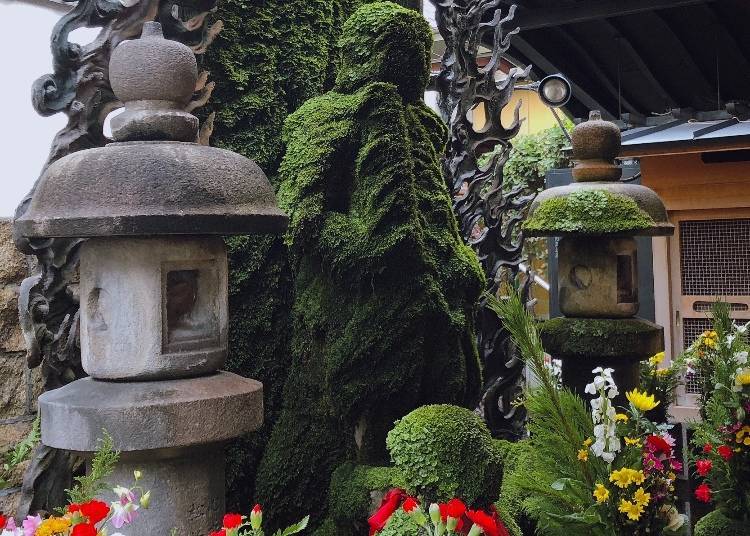 Covered from top to bottom in moss!
Mizukake Fudo-son is said to provide guidance and direction in helping your wishes come true. If your concern is a physical ailment of the body, it is also said to be beneficial to pour water over those parts while praying for them (I myself prayed to ease my stiff shoulders while pouring water on them!) If you are hoping for a special encounter, you should pour water on the Kongara-doji and Seitaka-doji statues flanking both sides of Fudo-son.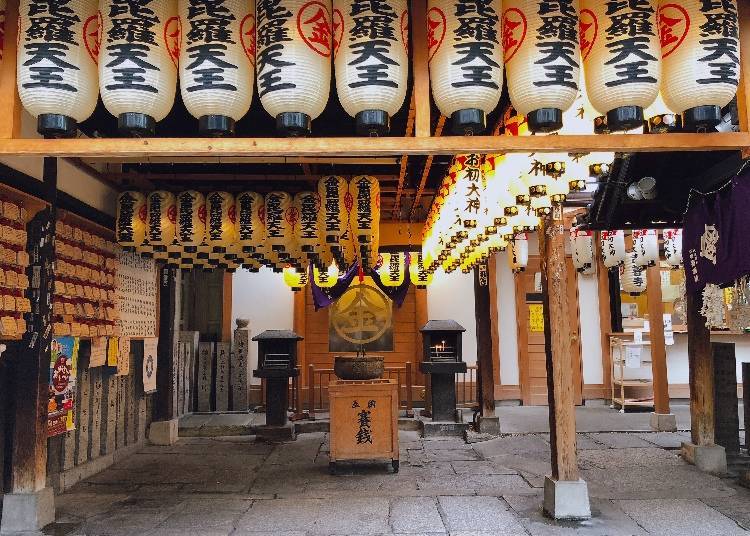 The rows of lanterns at the neighboring Konpira-do have an overwhelmingly majestic appearance. It is currently said to enshrine the god of traffic safety and business prosperity. A grand festival is held every October in commemoration.

It is open for worship 24 hours at no cost. Feel free to visit anytime!
Jodo Sect Tenryuzan Hozenji Temple

浄土宗 天龍山 法善寺

Address

1-2-16 Nanba, Chuo-ku, Osaka City, Osaka 542-0076

Phone Number

06-6211-4152

Hours: Open 24/7
Meoto Zenzai: An After-Worship Sweets Break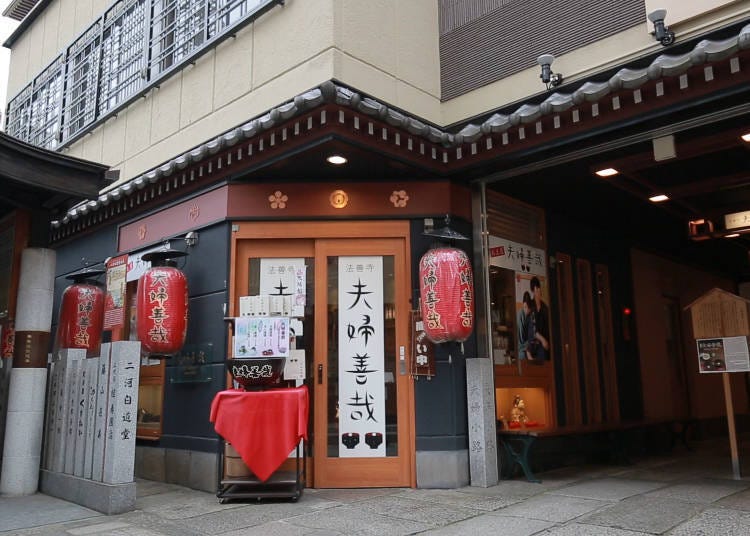 After worshiping at Hozenji, take a break at the sweets shop next door, Hozenji Meoto Zenzai. This is a shop with quite a lengthy history, originally born as a zenzai shop called "Ofuku" over 130 years ago.
The shop is very neat and clean. Despite its long history, it is very easy to enter, and also very welcoming of foreign tourists.

One of their specialties is, naturally, the Meoto Zenzai for which it is now named!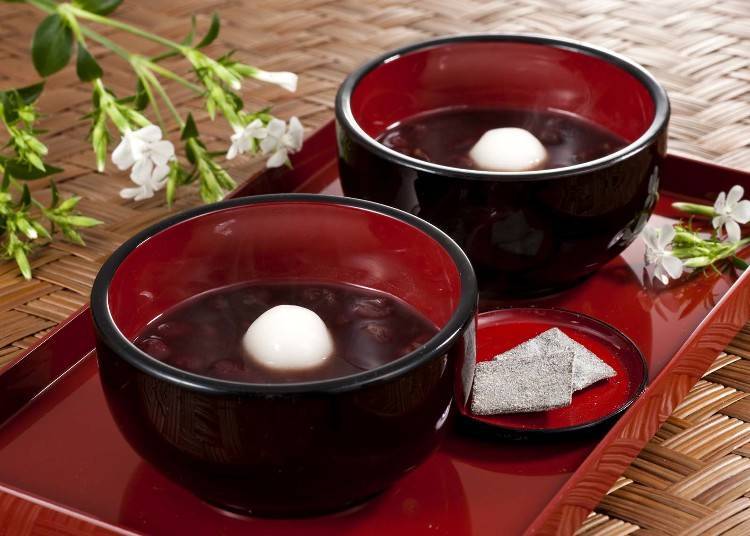 Meoto Zenzai (880 yen, tax included)
Meoto Zenzai, the shop's namesake, is a sweet red bean soup called "zenzai" that divides each serving into two bowls. It was originally served this way when the shop was still called Ofuku, as it was thought it would appear a more voluminous serving if divided this way. However, that concept became a huge hit, and has become a signature part of the shop's style to this very day.

This zenzai is made using Tamba Dainagon (large-grained) Azuki beans, and characterized by its rich sweetness. The flavorful red beans and gentle taste of the rice cakes marry together deliciously when eaten together.

Meoto Zenzai is also considered a lucky when enjoyed as a couple. It is traditionally enjoyed two bowls apiece. It is also said that true love can be realized when enjoyed together by two people who are attracted to each other. If there is someone special on your mind, why not invite them to try this dish with you?
法善寺 夫婦善哉

Address

1-2-10 Namba, Chuo-ku, Osaka City, Osaka 542-0076

Phone Number

06-6211-6455

Hours: 10:00AM-10:00PM
Regular Holidays: None
Okonomiyaki Shop Yakizen: Indulge Yourself in Osaka Gourmet!
After whetting your appetite with the Meoto Zenzai dishes, its time to really indulge! For that purpose, turn to none other than Osaka's signature local delicacy, okonomiyaki.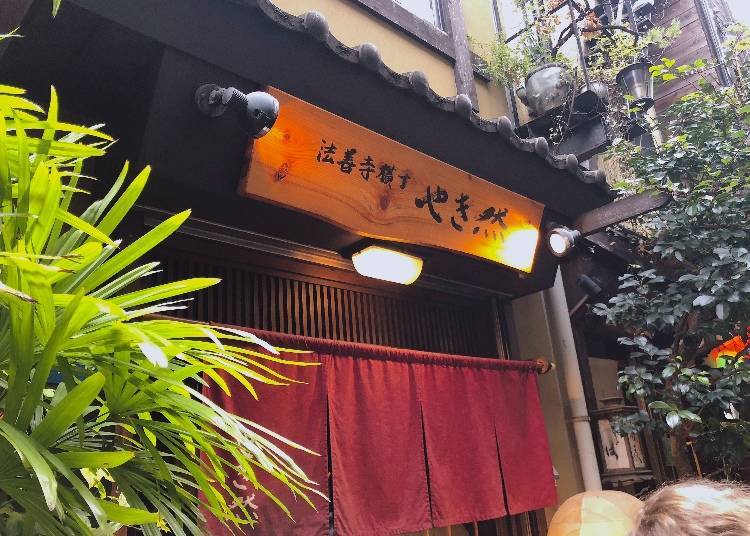 Today we visited the okonomiyaki shop, Hozenji Yokocho Yakizen. By the time we arrived, lines had already begun to form, as expected from such a popular shop during a holiday lunchtime.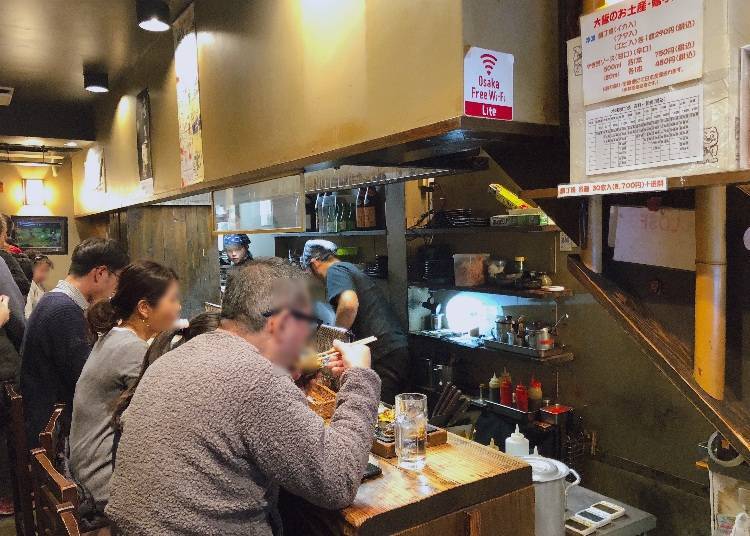 The first floor is limited to counter seating, while you will find full table seats on the second floor. Opt for counter seating for the excitement of watching the chefs skillfully prepare their meals right before your eyes. We ordered their specialty, Modan-yaki (or, "modern okonomiyaki") (1,330 yen, including tax). The Modan-yaki is a delicious okonomiyaki topped with fried yaki-soba noodles.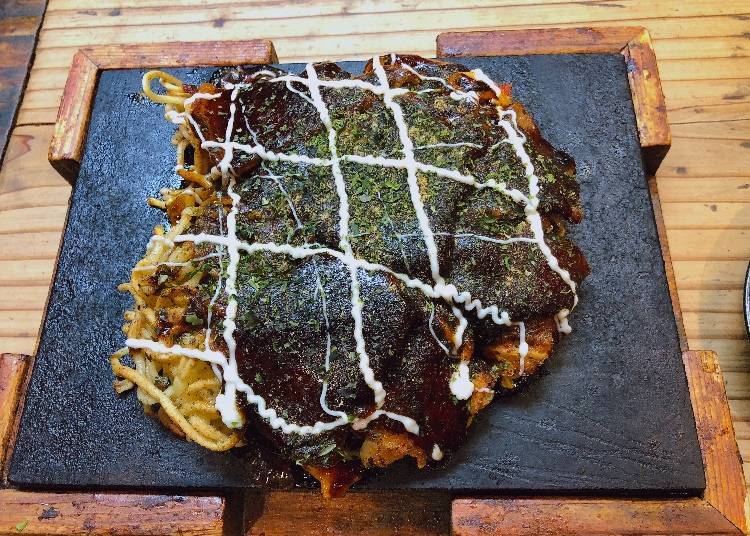 After about 15 minutes, the Modan-yaki is transferred from the hot iron plates it's prepared on to your table. It has plenty of sauce, and less mayonnaise. You'll be hit with the delicious flavor from your very first bite!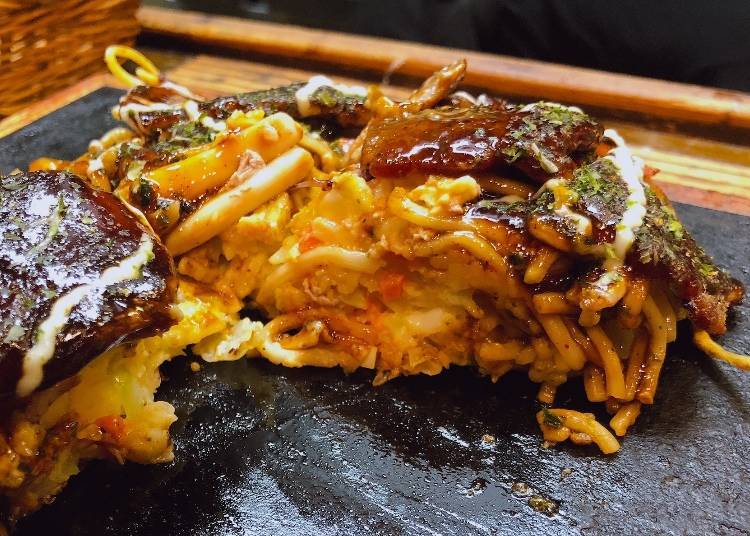 The dough is super soft and melts right in your mouth. The rich sauces and yakisoba noodles intertwine to create the perfect compatibility of aroma and flavor. It is absolutely delicious…!
法善寺横丁 やき然

Address

1-1 Nanba, Chuo-ku, Osaka City, Osaka 542-0076

Phone Number

06-6211-7289

Hours:12:00PM-3:00PM (L.O. 2:15PM)
5:00PM-10:30PM (L.O. 9:45PM, Last Entry 9:30PM)
Weekends/Holidays 12:00PM-10:30PM (L.O.9:45PM, Last entry 9:30PM)
Regular Holidays: Wednesdays (the following day in event of public holiday)
Kushikatsu Daruma Hozenji: More Recommended Osaka Cuisine!
For some Osaka gourmet you can enjoy with a drink, head to Kushikatsu Daruma Hozenji, a famous kushikatsu, or skewered item, chain. The fried, skewered items are covered with fine bread crumbs making them crisp and juicy. The sweet and spicy sauce is delicious, and you will find yourself wanting to indulge in one after another.

What better way to add some more excitement to your trip while uplifting your mood than enjoying delicious kushikatsu with sake in the lively Osaka atmosphere!
Kushikatsu Daruma Hozenji

串かつだるま 法善寺店

Address

1-1-4 Nanba, Chuo-ku, Osaka City, Osaka 542-0076

Phone Number

06-6211-8112

Hours: 11:30AM-10:30PM (L.O. 10:00PM)
Regular Holidays: None
End the Day with Fine Coffee at Cafe Arabiya Coffee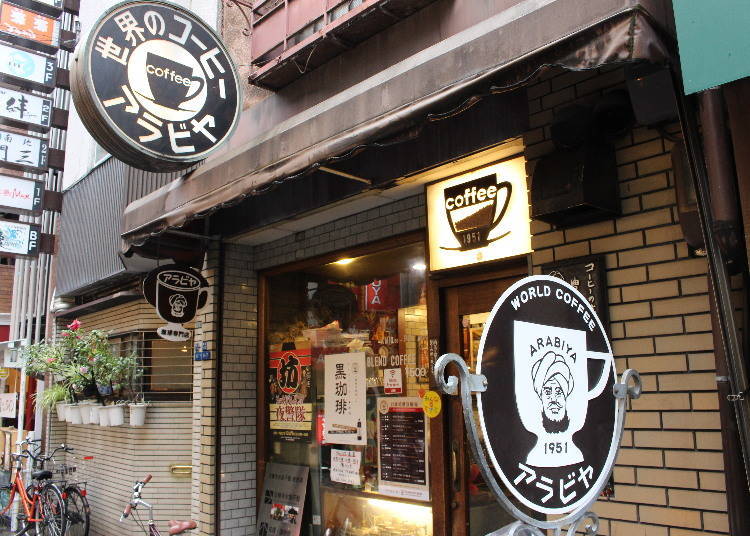 After a day of worshiping at Hozenji, strolling through Yokocho, and indulging in delicious cuisine, we decide to bring the excitement to a close with a relaxing break at the well-established coffee shop, Arabiya Coffee, located only meters west of Hozenji.
The shop is decorated with carved wooden menu boards and relief carvings, providing a calming atmosphere that seems as if all time had stopped. It's time to order some coffee.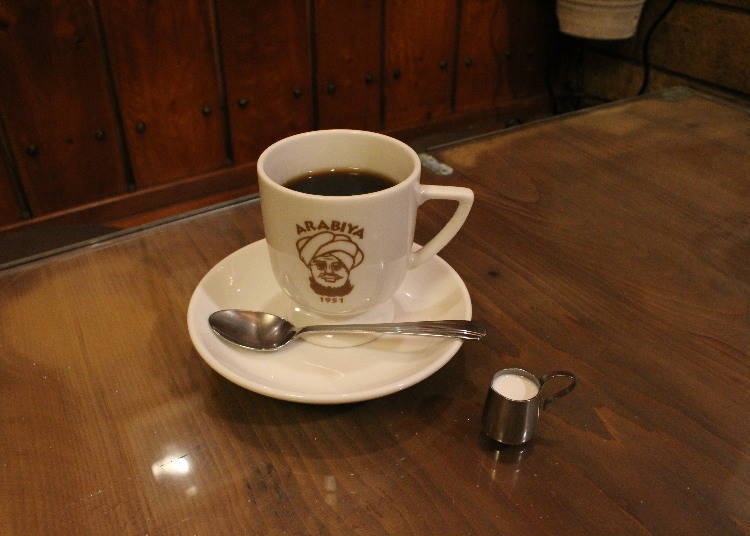 Blend Coffee (550 yen, plus tax)
This coffee has a light taste and rich fragrance, which gently takes ahold of your weary body as you enjoy it. It has a moderate balance of acidity and bitterness that still remains delicious, even after having cooled.

If you sit here long enough, you might just start to get hungry again... time for dessert.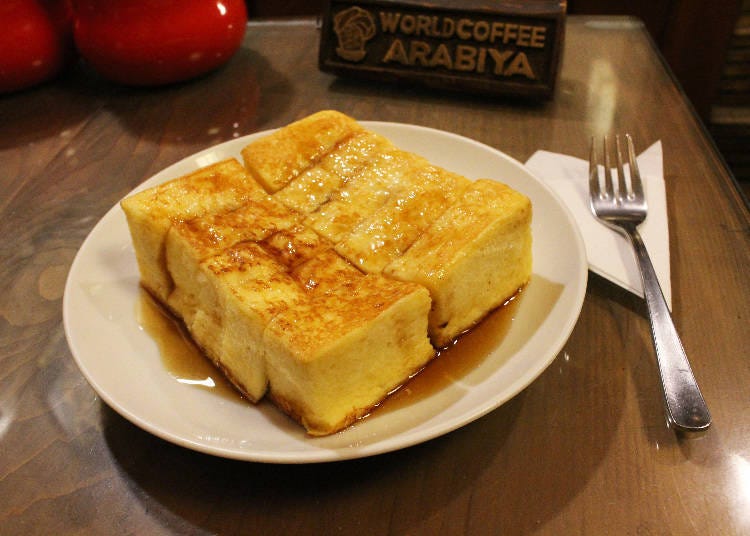 French Toast (with maple syrup) (750 yen, plus tax)
The French toast we ordered was very thick and filling! You can choose maple syrup or sugar as a topping. We went with maple syrup. The moist, sticky bread and the gentle maple flavor blended together perfectly for a most satisfying moment.
アラビヤコーヒー

Address

1-6-7 Nanba, Chuo-ku, Osaka City, Osaka 542-0076

Phone Number

06-6211-8048

Hours: 10:00AM-7:00PM (L.O. 6:45PM)
Regular Holidays: Irregular closings
Hozenji Yokocho: A Place to Enjoy Scenery and Gourmet
Hozenji Yokocho may have a different atmosphere from Dotonbori, yet it is one where you can fully enjoy the taste of Japan. The Yokocho area itself is quite compact, so you can enjoy it in full in as little as half a day, or even during a single meal. The lanterns at night create a different scene from the daytime, so you may want to visit during both times.

It seems that many new restaurants and shops have been established in Hozenji Yokocho over the years, as well, making it one of our top recommendations for Osaka and Namba sightseeing!


Text by:WESTPLAN
*This information is from the time of this article's publication.
*Prices and options mentioned are subject to change.
*Unless stated otherwise, all prices include tax.