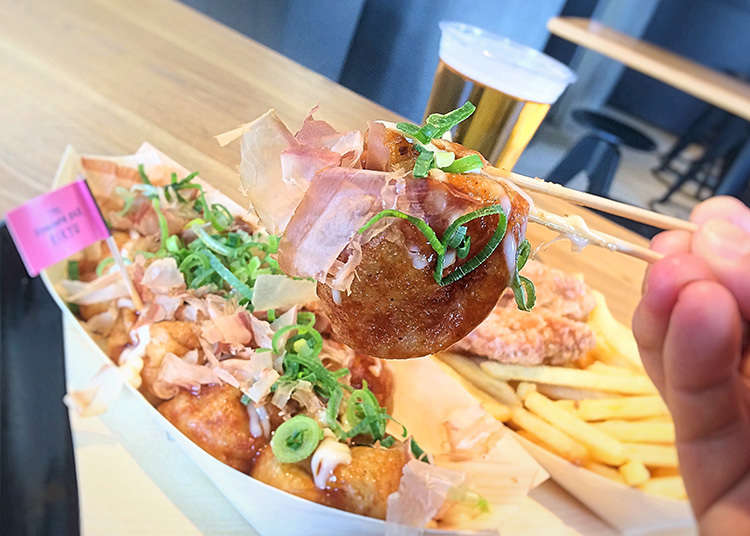 Osaka Castle is often bustling with international tourists. When you're walking around the castle park and the castle's tenshu tower, you're going to get hungry and thirsty.

There are plenty of restaurants near Osaka Castle, but you've come all the way to Japan to go sightseeing. You want the best restaurant, one where you can eat all sorts of great food and enjoy beer and sake, don't you?

Well, let's hear what a local writer has to say about these two great restaurants, with one being for daytime excursions and the other being perfect for dinner.
If you're after takoyaki: The Konamon Bar Rikyu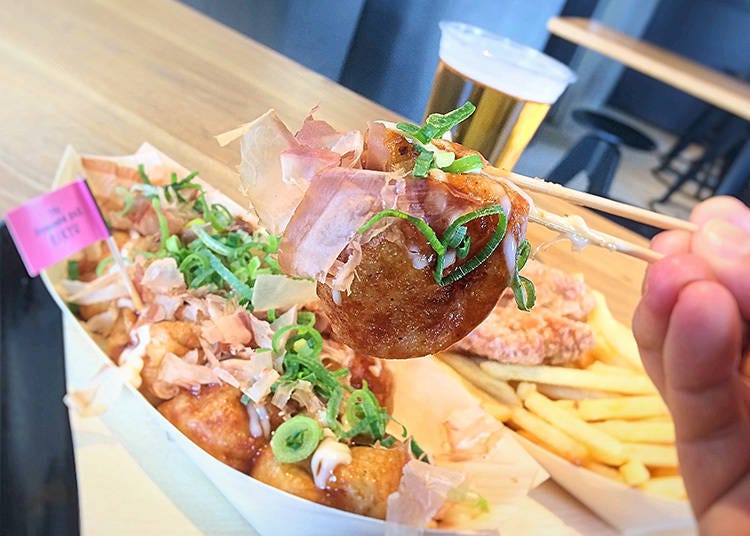 Osaka is big on konamon, flour-based foods, and takoyaki is perhaps its most well-known one. The Konamon Bar Rikyu is suchi an izakaya restaurant near Osaka Castle - right in front of the tenshu tower. It's in the shopping mall Miraiza Osaka-jo on the first floor, making it the perfect place to pop in when you need a break from exploring Osaka Castle.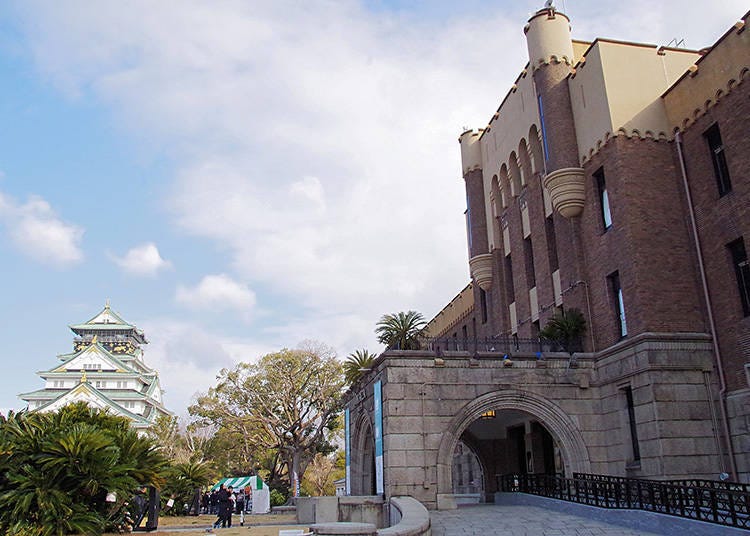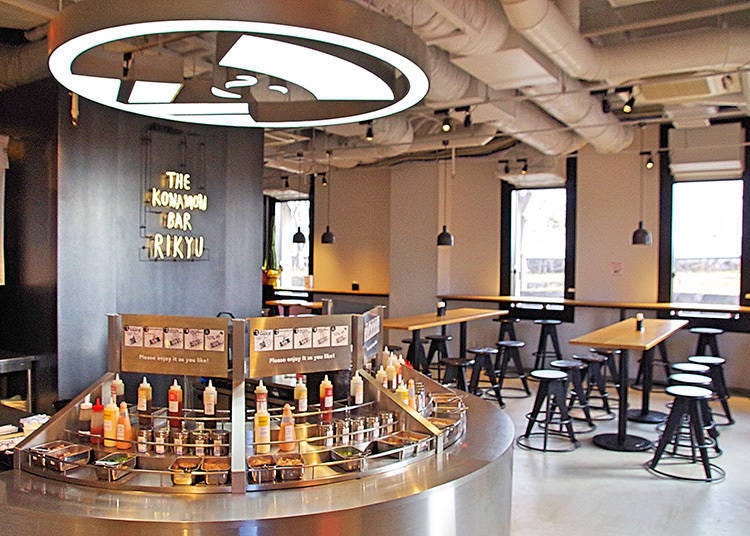 It's down the hall to the right from the entrance and is open from 9AM to 6PM.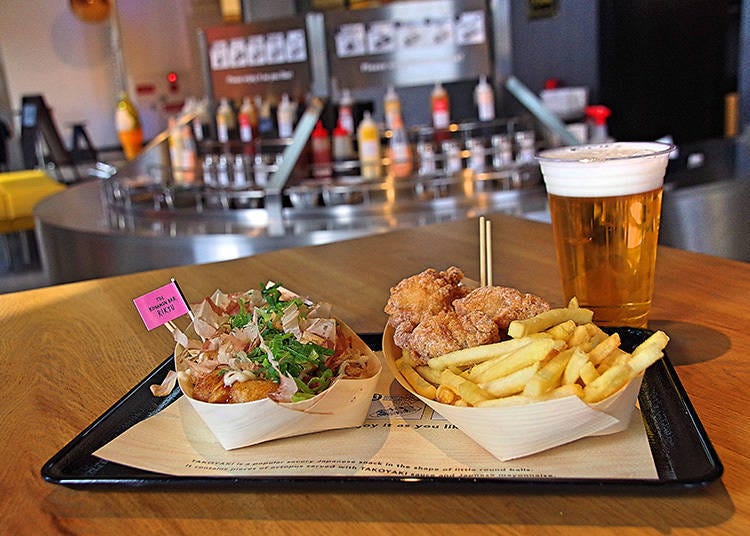 From the left: Takoyaki (8P for 780 yen), Potekara Set (fries and karaage fried chicken, 980 yen), beer (600 yen), all with tax included
The secret to its popularity is how freeform the toppings are. They give you plain takoyaki, and from there you can put on whatever sauce or toppings you'd like, making your own original flavor.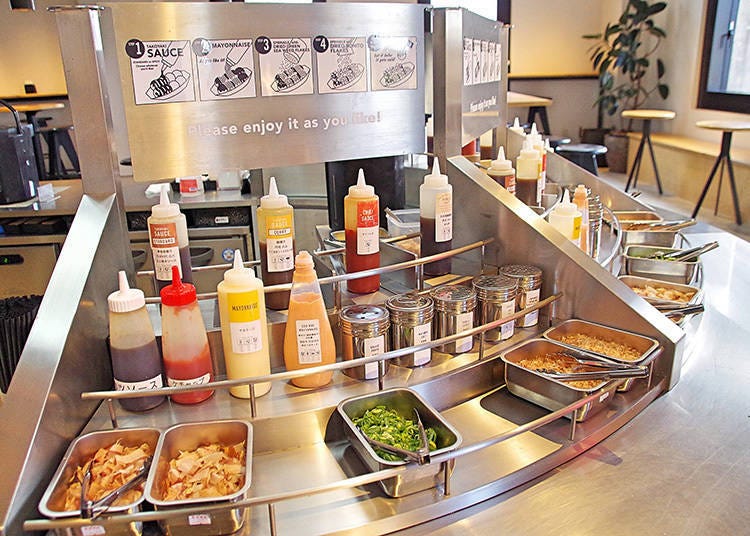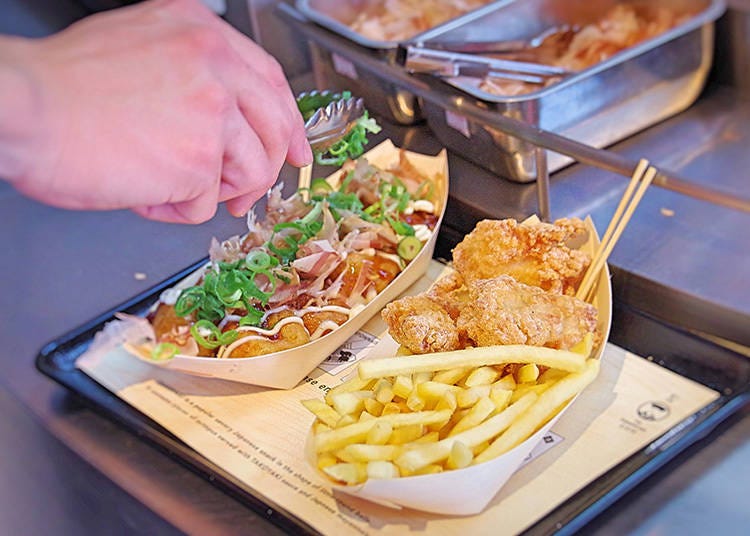 You can put the sauce and toppings on your fries or chicken, too. As for drinks, they offer coffee, soft drinks, beer, highballs, and more. About 80% of the customers on weekdays are tourists, so they're prepared to help you get the flavors you want without any need to speak in Japanese.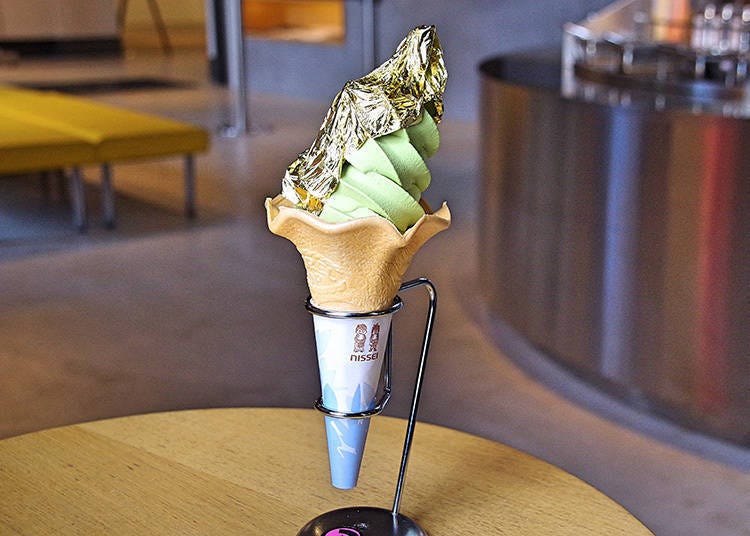 Kinpaku matcha soft (980 yen, tax included)
Their ice cream is also popular. Most popular among them is their matcha ice cream, decorated with gold foil to give it a pleasantly Japanese aesthetic.
ザ・コナモン・バル 利休

Address

1F MIRAIZA OSAKA-JO,1-1,Osaka-Jo, Chuo-Ku, Osaka

Phone Number

06-6484-9455

Hours: 9AM to 6PM (last order is 5:30PM)
Closed: Open Daily
If you want to see them cook in front of you: -SUN-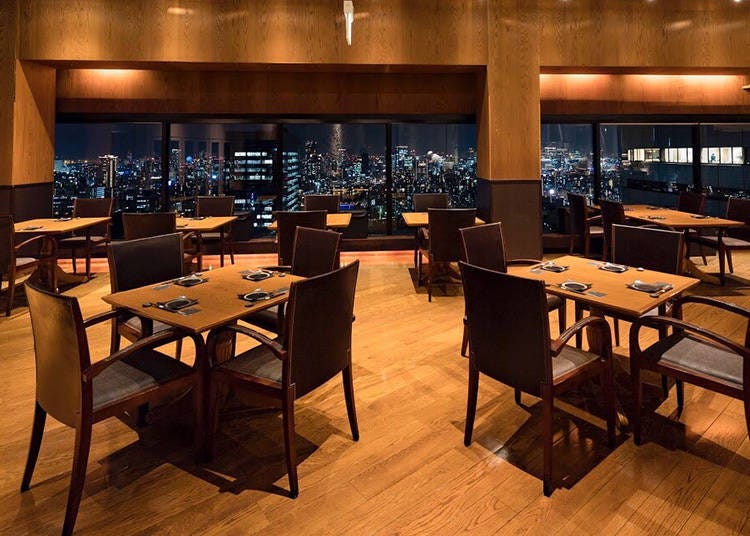 photo by:Dynamic Kitchen & Bar -SUN-
Now, let's take a look at a more grown-up izakaya, with a relaxed atmosphere befitting of the ladies and gentlemen who frequent it: Dynamic Kitchen & Bar -SUN- OBP Twin Tower Branch. You'll find this restaurant near Osaka Castle on the top (38th) floor of Twin Tower 21, located among other high-rise buildings to the north of Osaka Castle.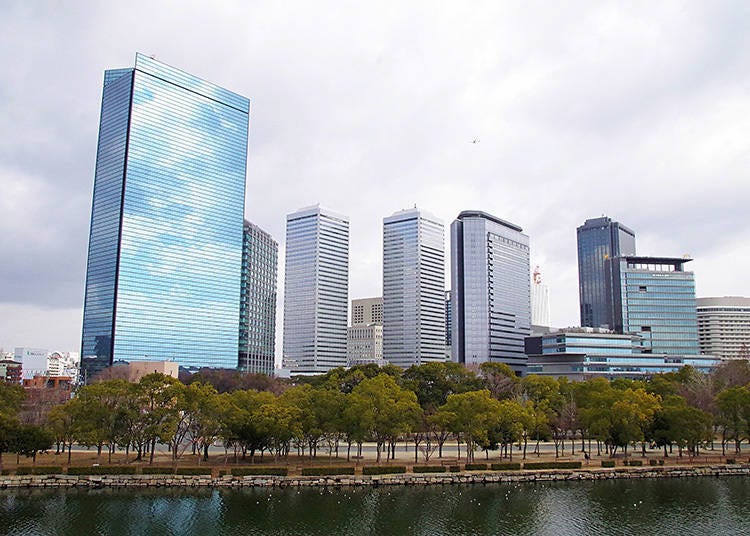 View from Osaka Castle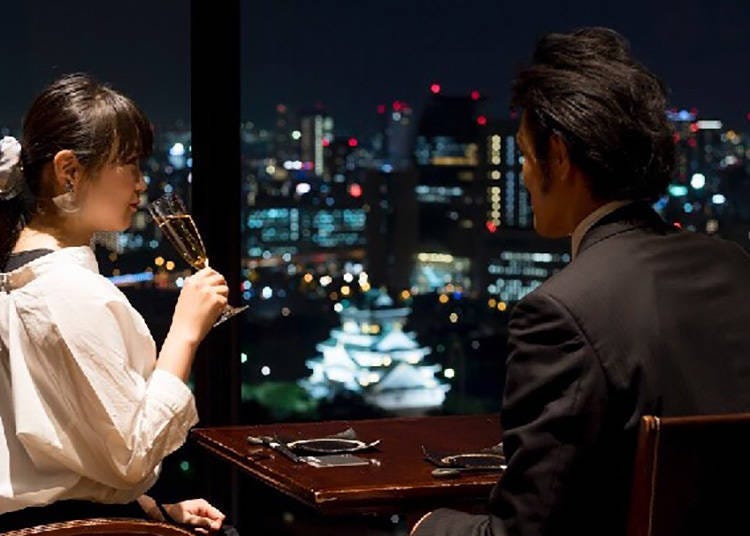 photo by:Dynamic Kitchen & Bar -SUN-
The izakaya boasts a wonderfully scenic location, allowing diners to look down at Osaka Castle and the city below from a 150 meter-tall perch. The city glamorously lights up at night in a sight of Osaka you'll never forget. That being said, window seats are really popular, so you might want to reserve them.

Though it may seem like a posh restaurant that mainly deals in course meals at first glance, it has plenty of standalone dishes as well. Most popular is the "Kuroke Wagyu Atsugiri Mizukemuri-mushi", a Japanese black dish with the beef steamed before your very eyes, and the Japanese black sirloin steak. The carefully curated ingredients and dishes made by skilled masters is every bit as moving as the night scenery. There are English menus available with plenty of photos, too, so you don't need to worry if you can't speak Japanese.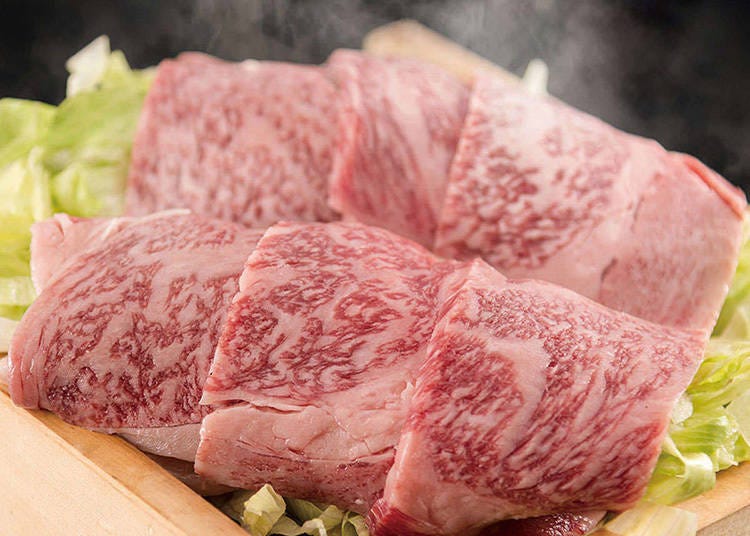 Kuroke Wagyu Atsugiri Mizukemuri-mushi (Steamed Japanese black) 100 grams (2,600 yen, tax included)/ photo by:Dynamic Kitchen & Bar -SUN-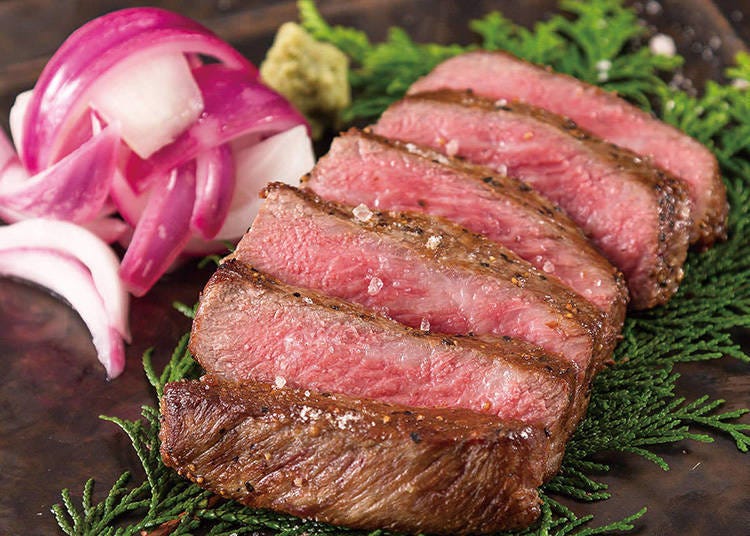 Japanese black sirloin steak 100 grams (3,000 yen, tax included)/ photo by:Dynamic Kitchen & Bar -SUN-
There's a lunchtime menu during weekdays that starts at a reasonable 1,000 yen (tax included) that's worth checking out. The lunchtime menu, however, is only in Japanese.
Dynamic Kitchen & Bar chan -SUN- OBP Twin Towers shop

ダイナミックキッチン&バー 燦-SUN- OBPツインタワー店

Address

38F, Twin 21MID Tower, 2-1-61, Shiromi, Chuo-ku, Osaka

Phone Number

0800-170-1722

Hours:
Monday to Friday
Lunch: 11AM to 2:30PM (last order is 2PM)
Dinner: 5PM to 10:30PM (last order is 9:30PM, drink last order is 10PM)
Saturday, Sunday, Holidays
Lunch: 11AM to 3PM (last order is 2PM)
Saturday
Dinner: 5PM to 10:30PM (last order is 9:30PM, drink last order is 10PM)
Sunday, Holidays
Dinner: 5PM to 10:00PM (last order is 9PM, drink last order is 9:30PM)
Prices: Dinner 5,500 yen on average, Lunch 1,200 yen on average
Payment Methods: Union Pay unusable
Closed: December 30 and 31, January 1 and 2
Text by:kurashisa
We also recommend these restaurants in addition to those above. Save time and hassle - book your table online today!
和・shoku きりり

Address

3-6-6, Higashinodamachi, Miyakojima-ku, Osaka-shi, Osaka, 534-0024


Nearest Station

Kyobashi Station (JR Gakkentoshi Line / Tozai Line / JR Osaka Loop Line)

Book an unforgettable experience in Osaka!
Make your trip extra memorable by booking one of these recommended tours on our partner site, Voyagin!
*This information is from the time of this article's publication.
*Prices and options mentioned are subject to change.
*Unless stated otherwise, all prices include tax.