The super-popular Mahoroba Daibutsu Pudding is known as a gift from Nara Prefecture that is always appreciated. Many people have become hooked on the delicious Nara pudding and its silky, smooth texture.

The place to go to enjoy the total experience of the Nara pudding is Mahoroba Daibutsu Pudding Honten Purin no Mori Café - a bit of a mouthful, but we're sure you'll be captivated by its flavors and charm. The exterior and interior of the facility were designed with the image of pudding in mind—it's a very unique and charming store.
Tasty Nara Pudding Everywhere!
Riding the bus for about 8-minutes from Kintetsu Nara Station a cute sweets looking building comes into view.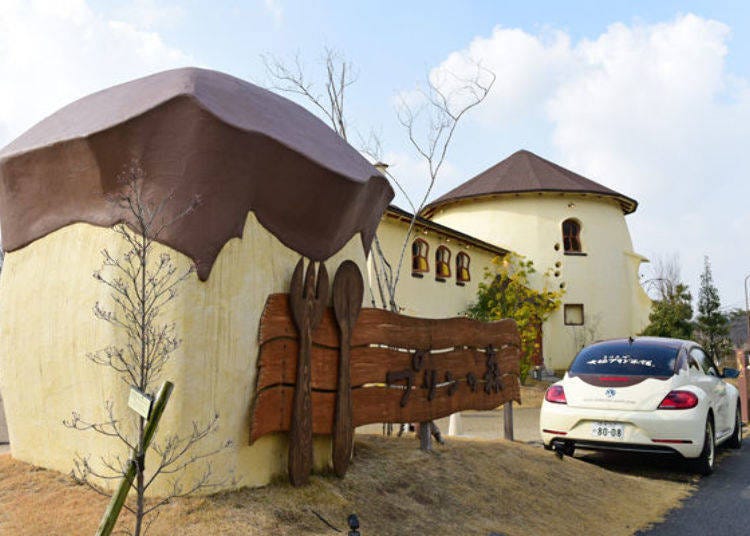 ▲A building with an exterior that looks like pudding with a caramel-like brown roof and custard-like yellow wall. Even the company car has pudding markings
Purin no Mori café was created due to the president's dream of, well, making pudding in a pudding. This is the main shop for Mahoroba Daibutsu Pudding, which is now a Nara Prefecture standard.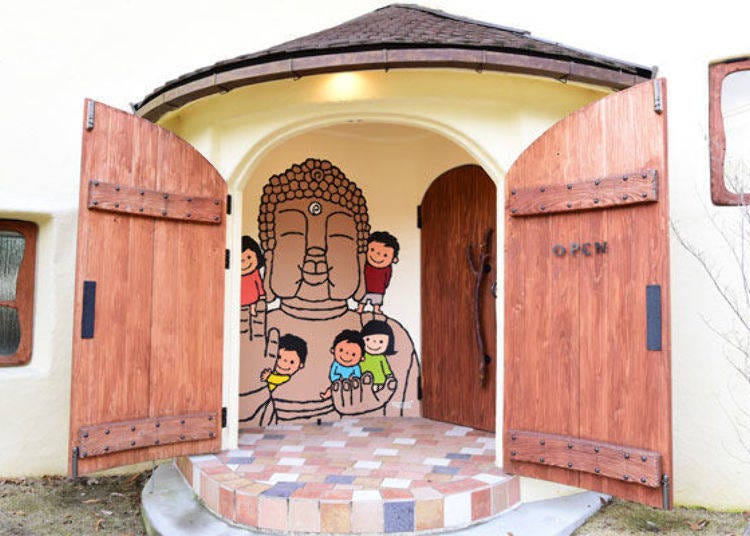 ▲A drawing of Daibutsu with children. Quite a surprise from the get go!
The Nara pudding was originally a dessert that a couple served at their pasta restaurant and became commercialized. In 2007 it received the Nara Prefecture Tourism Gift Award and after receiving so much praise they converted the shop into a pudding specialty shop.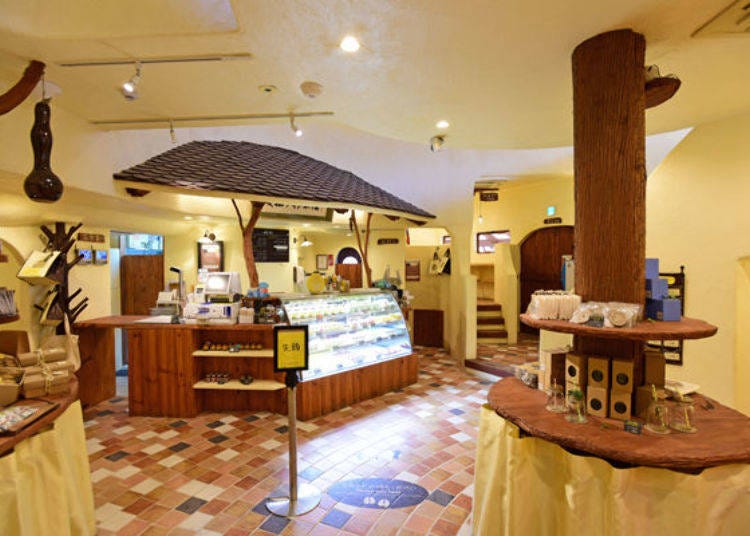 ▲The interior has many cute designs that come straight from a fairytale
▲With so many pudding varieties it's hard to pick one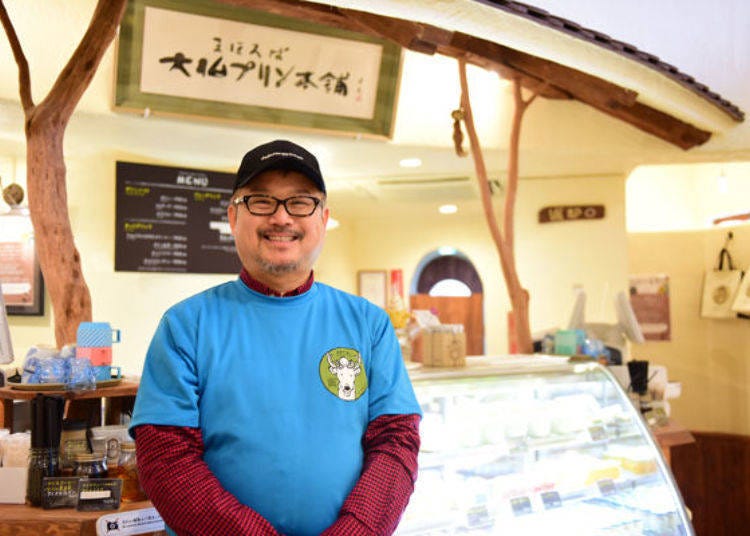 ▲President Hiroshi Takagishi, beaming his great smile. He and his wife create various puddings
Mahoroba Daibutsu Pudding was made by the couple filled with love, they made it so it has a "kind motherly flavor" so even otherwise picky eaters would enjoy it. Pudding come cute jars which can be used for other stuff later. There are big and small sizes and the flavor and texture changes slightly.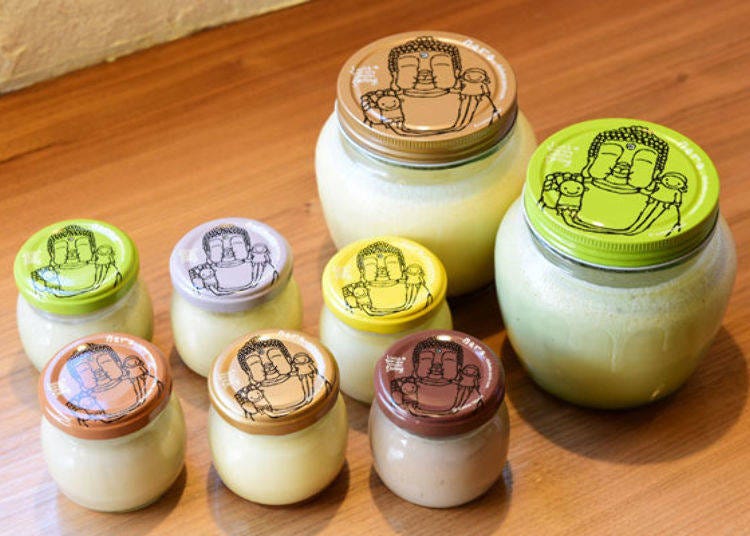 ▲Mahoroba Daibutsu Pudding (large) 800 yen each and (small) 300 yen each (both include tax). There are many flavors such as custard, Yamato Cha (Yamato Tea), chocolate, and rare cheesecake, also you can tell the different flavors by the color of the cap
The large size puddings are made with simple ingredients: milk, fresh cream, eggs, sugar and vanilla beans. They have a nostalgic taste—something like what a mother would make for her child; they have a slightly thick texture. The large size comes in 2 flavors: standard custard and Nara Prefecture's tea, Yamato Cha.

Compared to the large size puddings, the small size has a silkier and smoother texture. If you have to compare them, the large size reminds us of a moms country cooking and the small one has more of a fancy city style.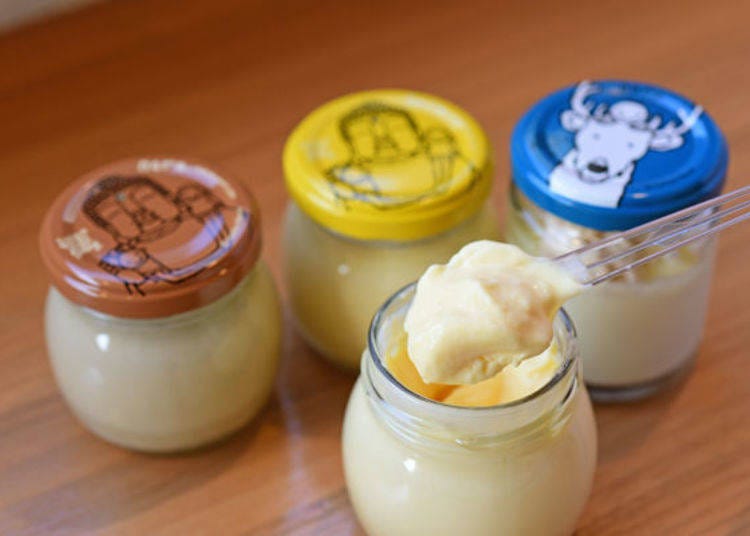 ▲The custard pudding uses lots of quality fresh cream. A soft sweetness with a silky texture that puts a smile on your face.
There are 6 flavors: custard, Yamato Cha, rare cheesecake, chocolate, cappuccino, and local sake from Yamato. Each has different qualities; for instance, the Yamato Tea uses red bean paste instead of caramel at the bottom to give a more Japanese sweetness. The cappuccino flavor has a freshly ground espresso aroma which gives the pudding great taste.

Another popular product is the Shiroi Shika no Purin (White Deer Pudding) with a cute picture of a deer. It is a white pudding made with the image of a white deer, which is considered to be god's messenger.

They have 3 different flavors of Mont Blanc chestnut, yogurt, and white coffee. The gap between the white color and coffee flavor is somewhat shocking to the senses, also the recipe is a secret. It is very unique and we recommend it.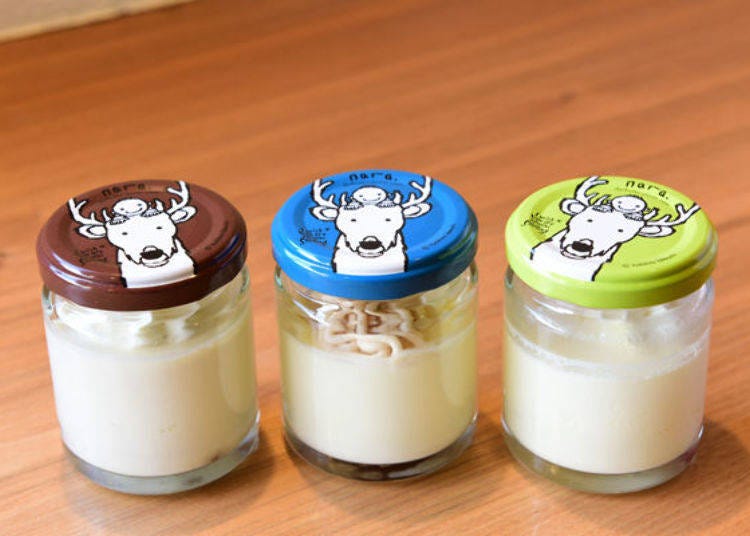 ▲From the left: White coffee, Mont Blanc chestnut, Yogurt; each cost 400 yen (tax included). With three unique flavors, it makes you want to try them all!
They also have cherry blossom flavored Sakura Pudding and rice pudding made from 4 colored ancient rice, Shishinju Kodaimai Pudding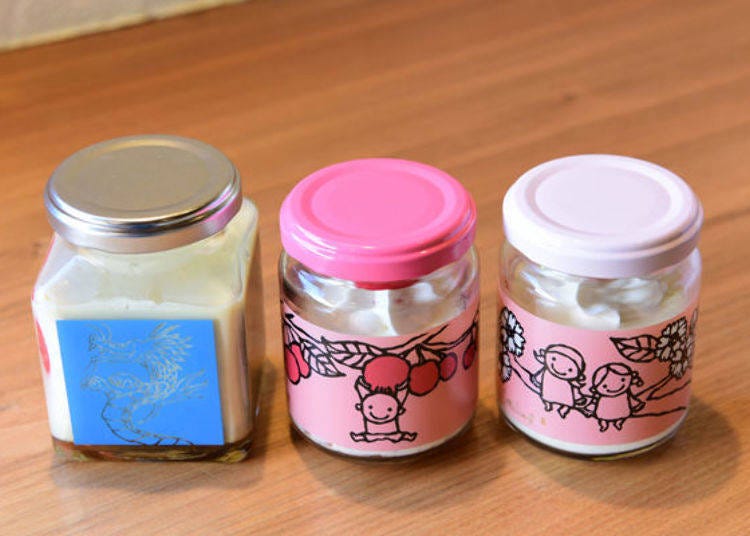 ▲From the left Shishinju Kdaimai Pudding (600 yen), Sakuranbo (420 yen) with cherry jam at the bottom, and Nara Yaezakura (420 yen) imaged after the Nara Prefecture flower Nara yaezakura (all include tax).
Also, you can forget about the soft ice cream that is limited to the main store. Depending on the day 70% of the customers will order it.

There are other stores that sell Mahoroba Daibutsu Pudding, however, the soft cream can only be enjoyed here.

They have three flavors of ice cream: pudding, custard, and caramel. The pudding flavor is a mix of caramel and custard, by eating both flavors at once it creates a pudding flavor.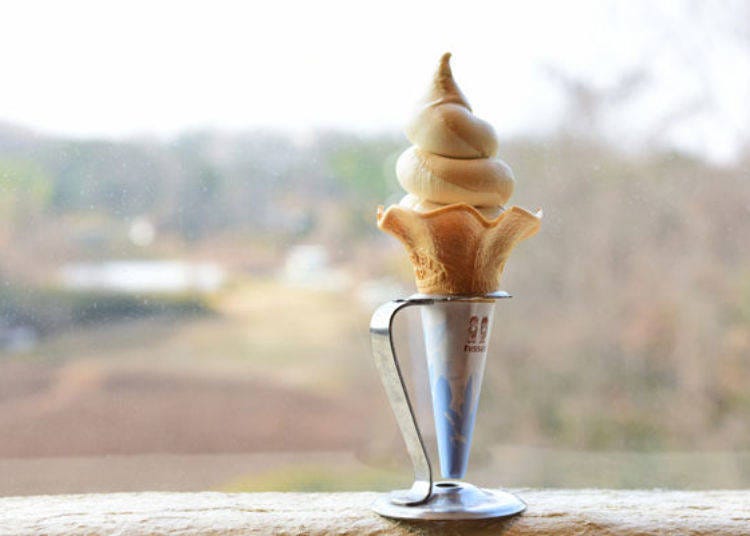 ▲Custard and caramel mix Pudding Soft (380 yen), custard and caramel are 350 yen each (all include tax).
You can get the pudding and soft serve to go, however we recommend eating at the store. The wellhole style store has counter seats, table seats, and booth seats on the first and second floor.

Each seat is made from different kinds of wood, such as walnut, cherry, Japanese zelkova and monkeypod. It's like a maze and almost like entering a Nara pudding forest.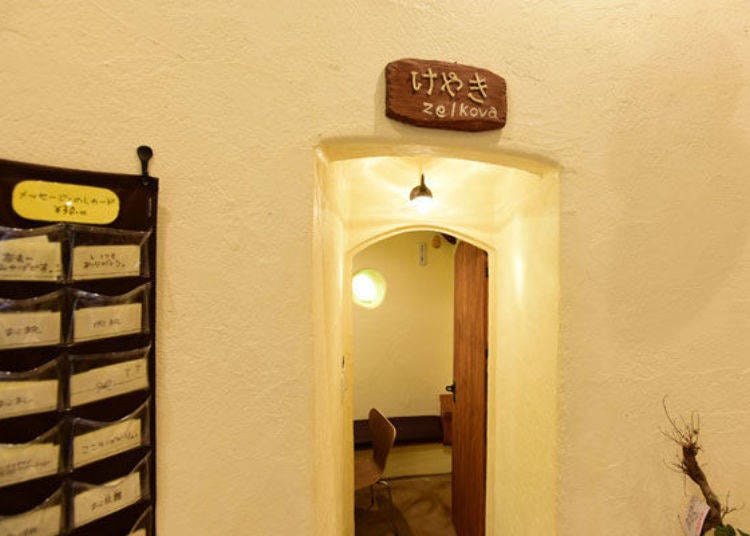 ▲Keyaki (zelkova) is a private room and is perfect for family and groups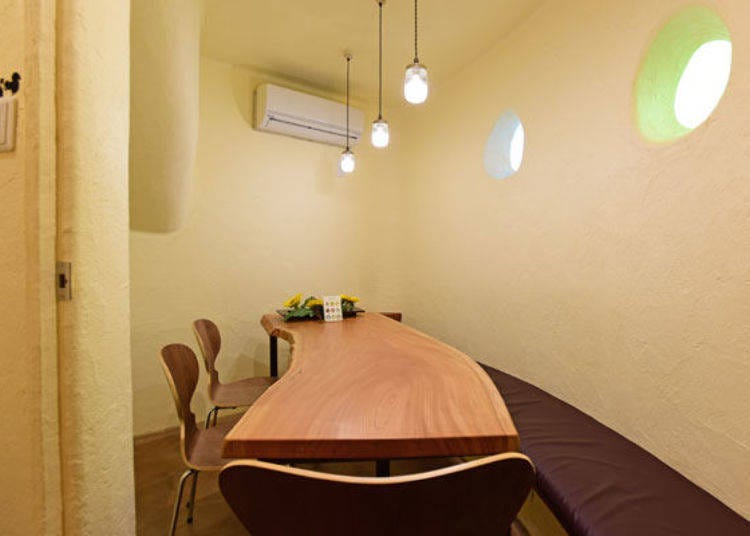 ▲The Kyeaki room is equipped with a zelkova table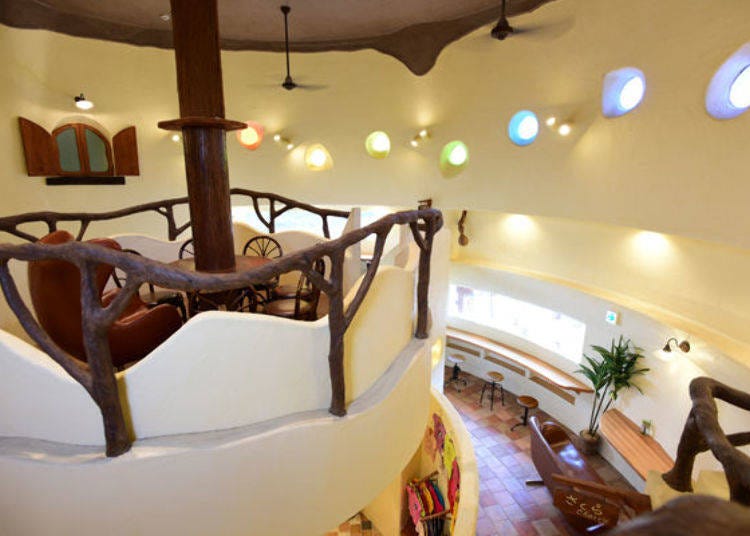 ▲There are very few straight lines in the store; the ceiling is also unique and looks like caramel is dripping down. The seat and table on the top left is made from monkey pod
On a nice day, you can also eat on the lawn outside. It is equipped with swings and hammocks, a perfect place for adults and children to have fun.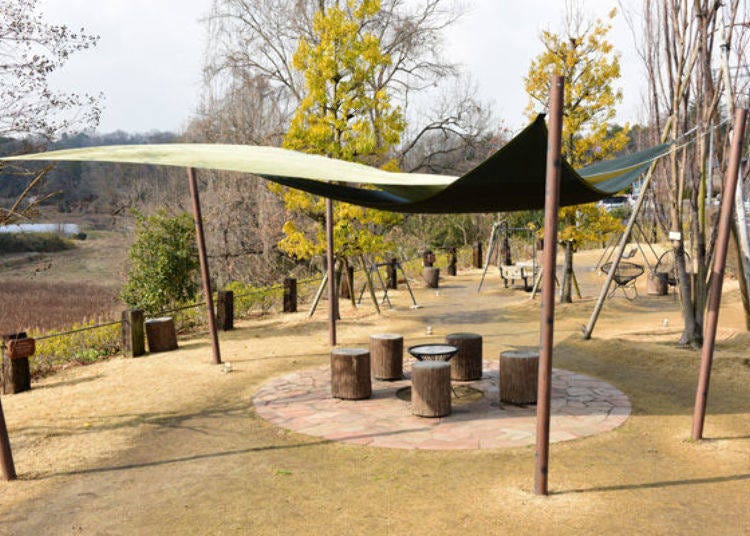 ▲Outdoor space to enjoy your pudding in the sunlight
Mr. Takagishi said, "pudding doesn't last long, so we have other Nara gifts that will last longer." They sell coffee, sundries with the Mahoroba Pudding Daibutsu picture, jam that looks like pudding and pudding flavored tea—so make sure to check it out!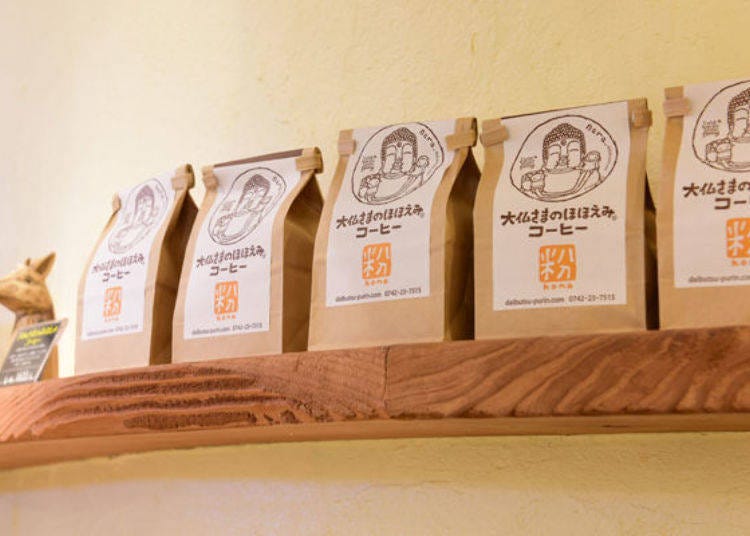 ▲Dabutsu-sama no Hohoemi Coffee 600 yen (tax included) is used in the cappuccino flavored pudding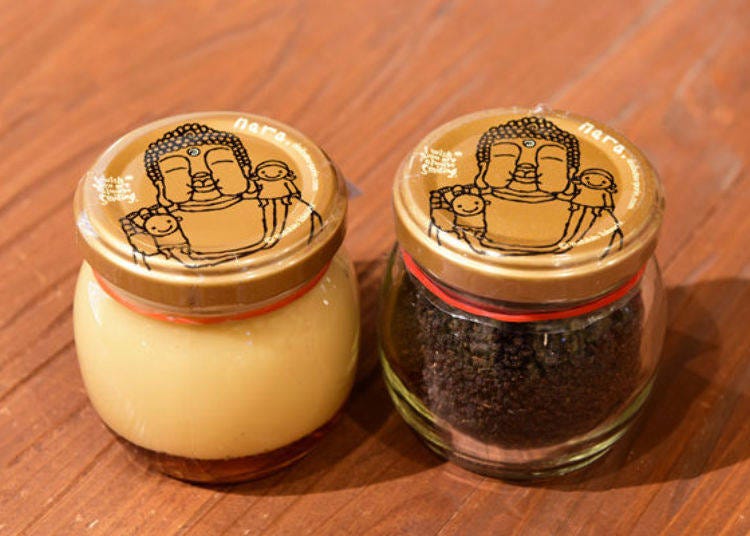 ▲On the left is the Pudding Jam 700 yen (tax included) that looks similar to Mahoroba Pudding (small). It has a flavor as if you made pudding into a paste, and makes your toast nice and sweet! On the right is the Pudding Tea 700 yen (tax included), with a pudding aroma it is best to drink it as milk tea.
Fun, delicious and cute! Mahoroba Daibutsu Pudding Honten Purin no Mori Café. Come visit for a sweet relaxing time.
Mahoroba Daibutsu Pudding Honten Purin no Mori Café

まほろば大仏プリン本舗 本店 プリンの森・カフェ

Address

1073 Narazakocho, Nara, Nara Prefecture

Phone Number

0742-23-7515

Hours: 11:30AM – 5:30PM (last order 5:30PM)
Closed: No scheduled holidays
*This information is from the time of this article's publication.
*Prices and options mentioned are subject to change.
*Unless stated otherwise, all prices include tax.
Limited time offer: 10% discount coupons available now!