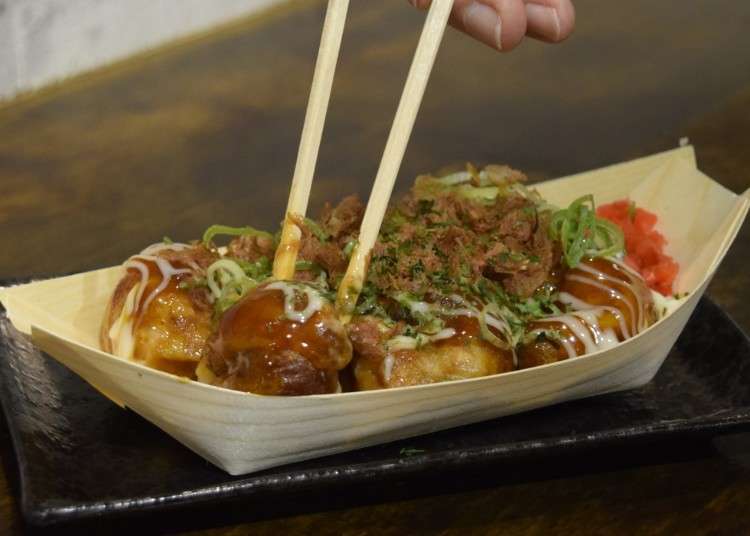 Perhaps no dish is more representative of Kansai cuisine than "takoyaki." Takoyaki are balls of dough with octopus filling, cooked on a special griddle, and topped with a sweet and salty sauce. It's one of Japan's truly original dishes. Vendors of takoyaki are increasingly experimenting with other flavors and ingredients, so it's fun for visitors to compare them.

In this article, we'll introduce five popular kinds of takoyaki for people who've never eaten it before.
Nobody can say no to Kansai's soul food, takoyaki!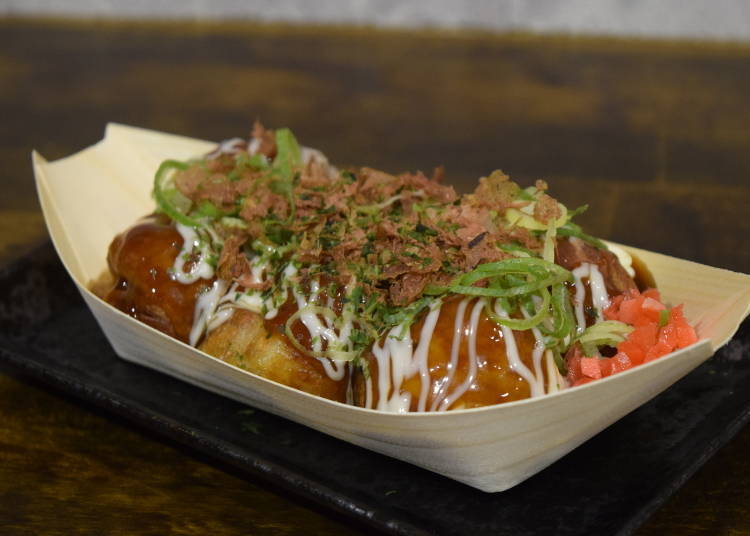 The Kansai region of Japan has lots of delicious foods, but you'll find that absolutely everyone around Osaka young and old love takoyaki. Outside of Japan, people sometimes call them "octopus balls," and the dish's fame is slowly increasing.

In recent years, even takoyaki street vendors have seen an increase in tourists stopping by for a bite. The cycle one always sees are customers taking a takoyaki ball to their mouth via toothpick or chopsticks, crying "ooh, that's hot!" followed by "yum!"
What kind of a dish is takoyaki? You'll find lots of varieties these days!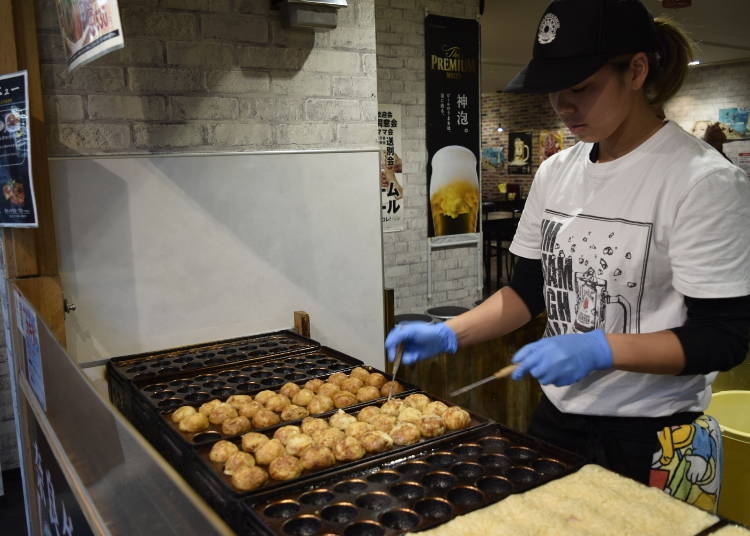 Osaka's takoyaki stands out for using dashi broth in their dough. Flour mixed into dashi broth is poured into spherical slots in a griddle, to which octopus and ingredients like crispy tempura bits and pickled ginger are added. With a sweeping rotation, the half-spheres are cooked to become balls. Everyone in Osaka cooks takoyaki from a young age, so they're masters at making perfect spheres.

Once cooked, the balls are moved to a plate, slathered with takoyaki sauce, and topped as desired with katsuobushi or aonori flakes. Bite into a piping hot takoyaki, and you'll get the most delicious sensation of soft dough overflowing with octopus and sweet sauce flavor. Some people use mayonnaise to give it an even more rounded taste.

And again, in recent years people are adding vegetables to the filling or trying new sauces. Let's see some recommended dishes from popular takoyaki restaurants.
"Konamonya Hachi" gives us the stats! Check out their ranking of popular items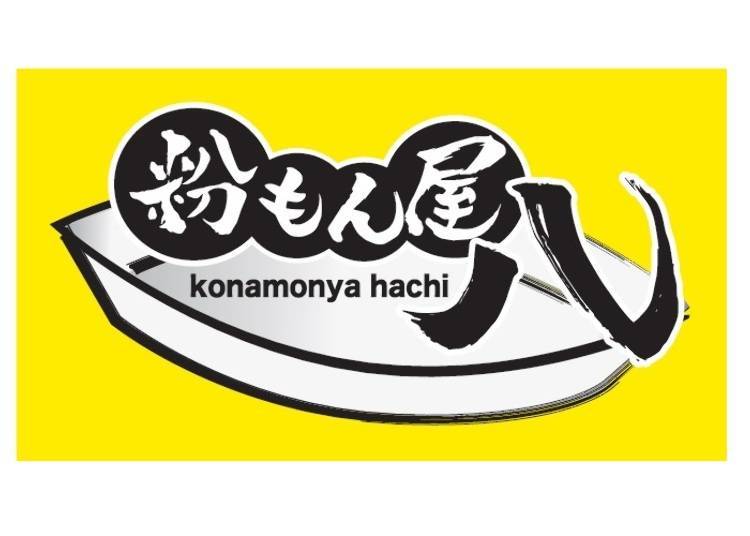 What kind of takoyaki are the biggest hits with international visitors? We asked the staff of "Konamonya Hachi," a restaurant chain known for its variety of takoyaki and popularity. Konamonya Hachi stands out for the rich flavor of their dough. There's a pleasant skipjack tuna flavor to it, and regulars are known to eat their takoyaki plain. They're cooked slowly on griddles made of sheet copper, notable for high heat transference, until the ball is crisp with a soft and smooth interior. It's the kind of takoyaki you could only get from Konamonya Hachi.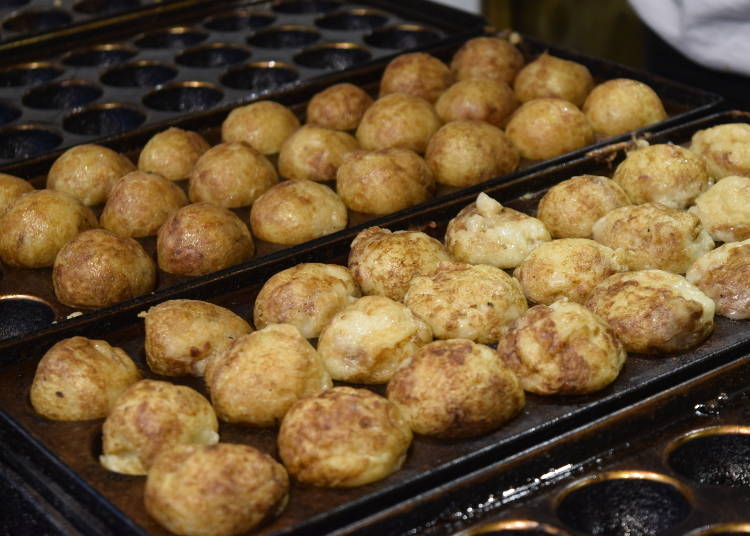 Their adherence to the traditional takoyaki filling, octopus and tempura bits, is also important. The tempura bits are fried in canola oil and are relatively healthy. Pickled ginger and green onions are not included in the filling, but rather served as a side or topping so you can enjoy them however you like. You also have the freedom to add mayonnaise and aonori flakes.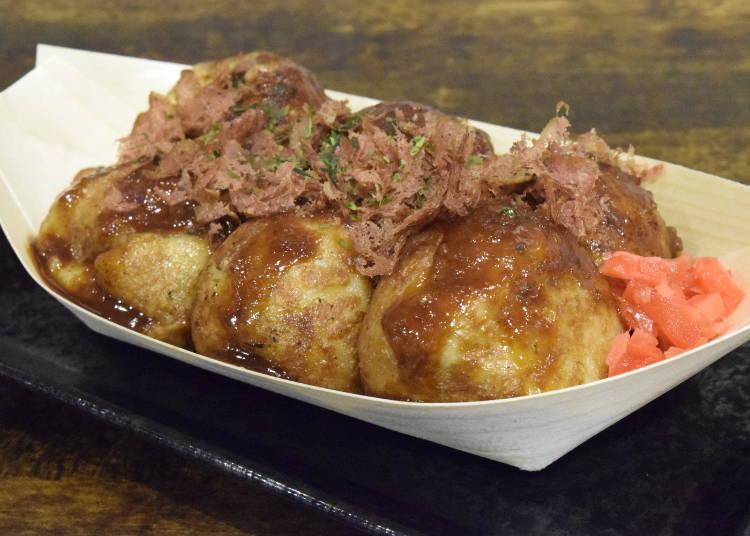 Once everything's cooked, it's served to you on a "fune," an old-fashioned sort of plate. In the distant past when plastic containers weren't around, takoyaki was arranged and sold in vessels of thinly planed wood called "kyogi." From the side, these pouches looked like boats, or "fune" in Japanese. Even now, there are takoyaki vendors that count bunches of takoyaki in numbers of fune. Takoyaki is perhaps the only dish with "fune" serving sizes, so that's something to look out for.

But in any case, what kinds of Konamonya Hashi takoyaki are most popular with international visitors? Says a Konamonya Hachi restaurant manager, "Most popular is regular sauce. People who regularly eat cheese also appreciate the cheese topping." Let's start at the top of the ranking.
#1: The orthodox "takoyaki sauce" flavor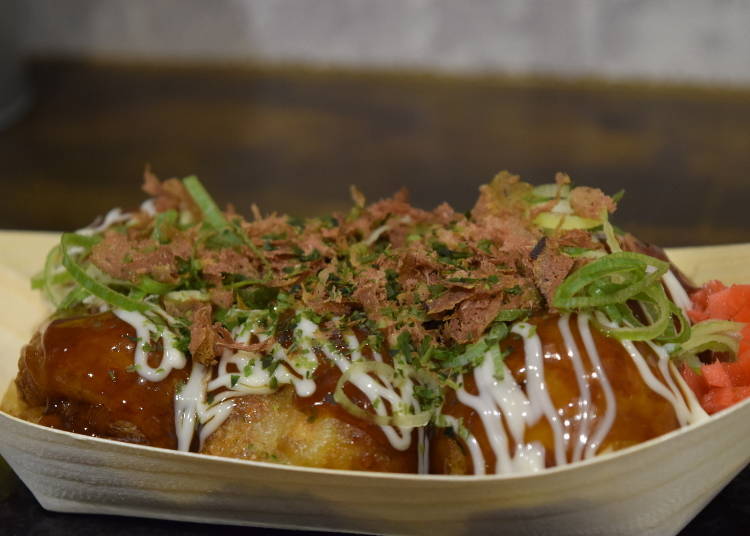 There's no going wrong with the slightly sweet takoyaki sauce. Konamonya Hachi has their own special blend, to which you can add mayonnaise, green onions, katsuobushi, or aonori flakes.
#2: Konamonya Hachi's special "miso sauce" and "soy sauce" flavors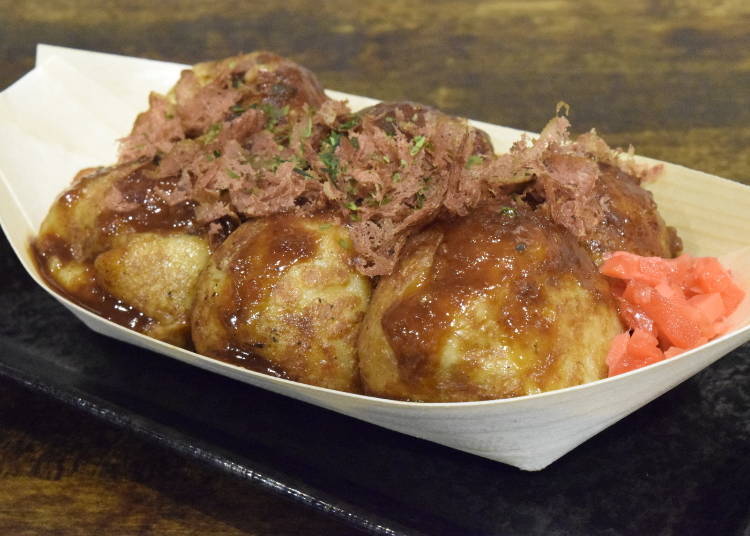 The "miso sauce" has been a hit since the chain's conception in Nara, one of Japan's old capitals. It's a special blend of miso and fruit, with the sweet and salty profound flavor of miso brightened up by the sweetness of fruit. People who give it a try will often come back for more of its rich flavor.

However, perhaps just as popular is the simple soy sauce flavor. These takoyaki are dashed with soy sauce, which goes well with the flavor of the octopus, but isn't overbearing.
#3: The sharply Japan-style "ponzu flavor"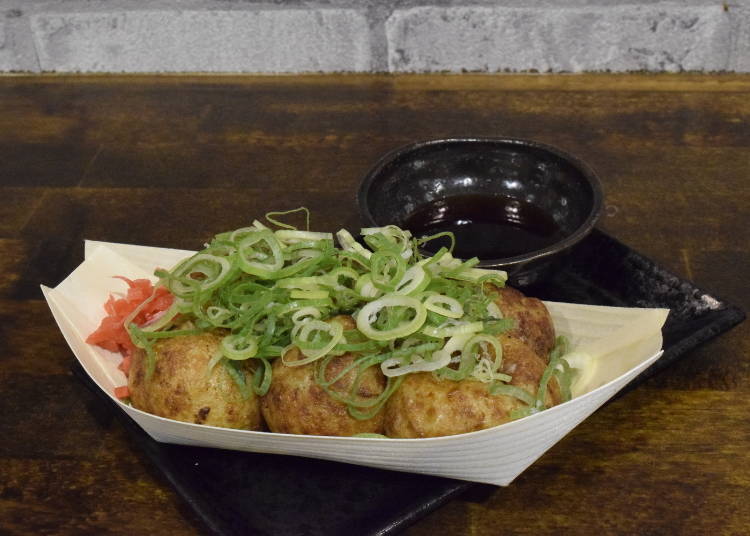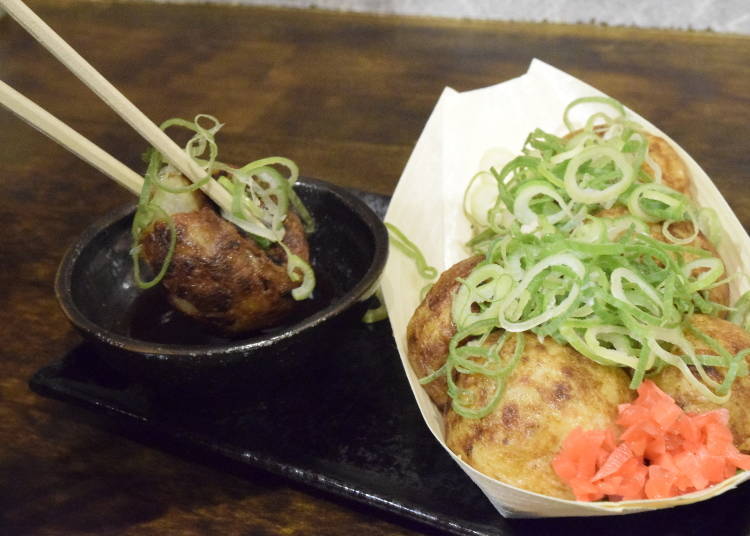 Rather than a saucy topping, yuzu citrus ponzu acts as a dipping sauce that complements the dashi broth in the dough. It's a clean flavor that, paired with standard takoyaki doused in takoyaki sauce, makes for a good bounce-between.
4: Western-style "sauce cheese" flavor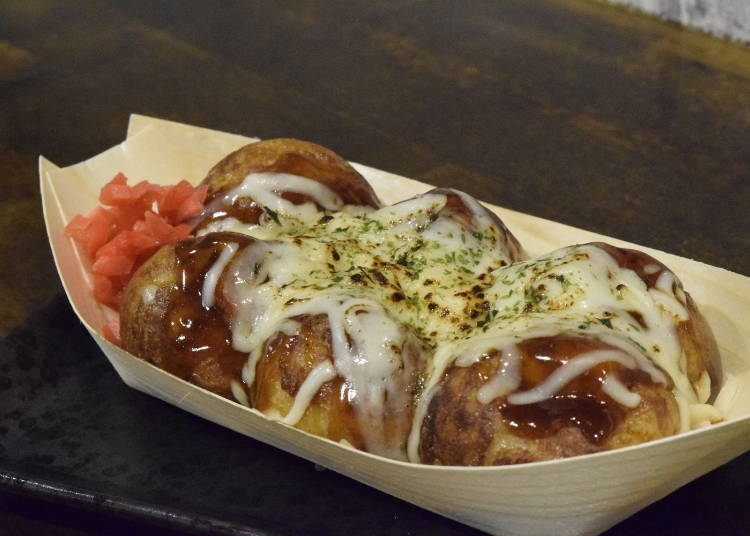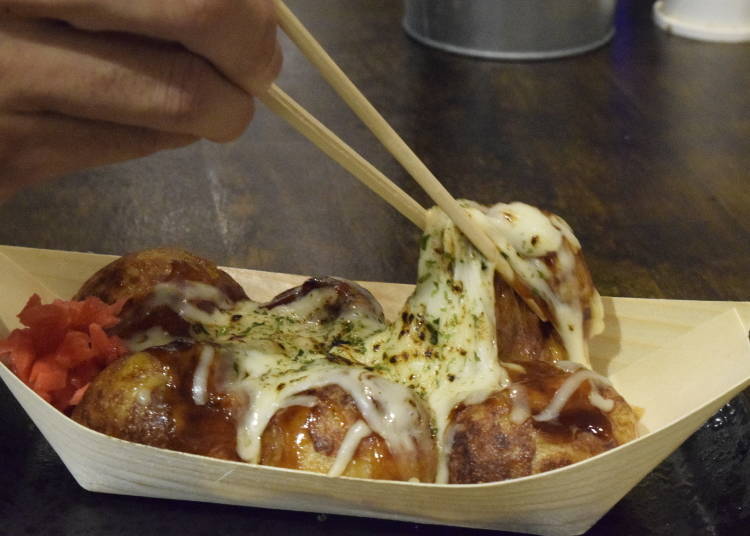 Takoyaki topped with takoyaki sauce and then a layer of cheese, which is melted with a cooking torch to add a creamy and aromatic finishing touch. For visitors who have grown up on foods like mac and cheese, it's a familiar sort of variation.
#5: Holding up the rear, a rare ingredient: fried tripe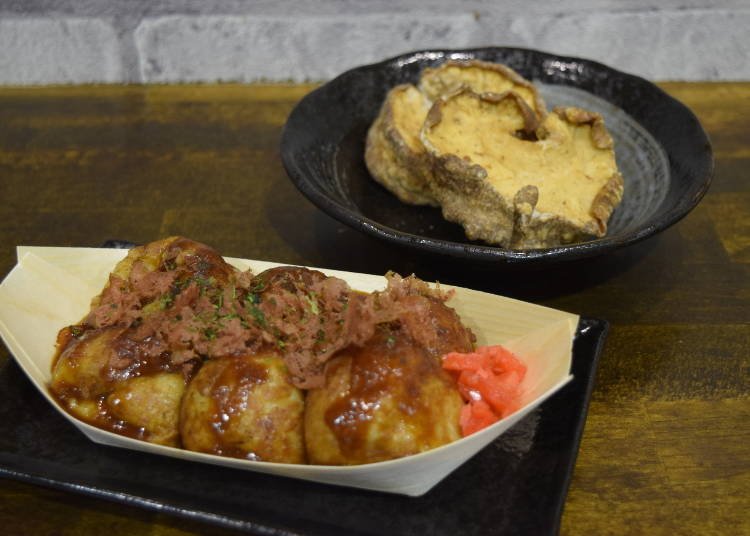 Known as "aburakasu" in Japanese, this form of tripe is the edible lining of cow intestine. It's known for its deep flavor and chewiness. As a filling, it's chopped up finely and and accompanies the cut of octopus.
Konamonya Hachi can be found anywhere along a Kansai trip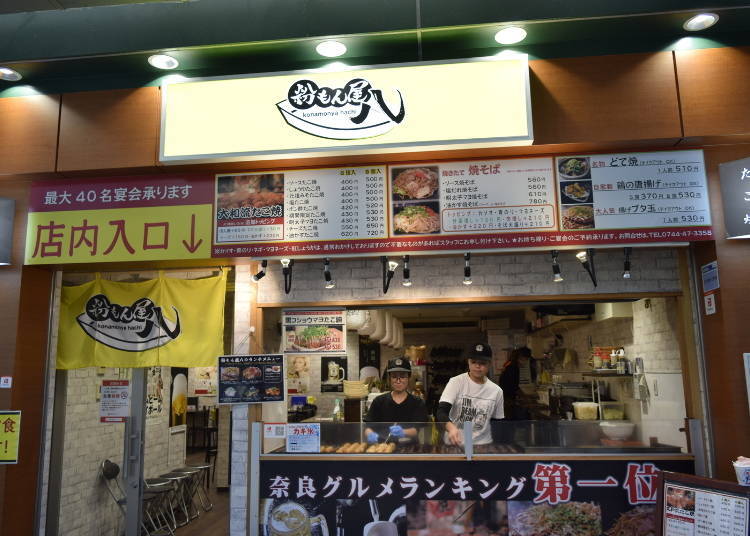 Kashiharajingū-mae Station branch
Some takoyaki vendors are just stands, some are full-fledged restaurants.

The Konamonya Hachi chain has both types of establishments in convenient locations like inside and near stations. They're great for a meal while waiting for a train or for take-out.

For this article, we visited the Kashiharajingū-mae Station branch, a location inside said station. As with all locations, you can get takeout there, but a number of people eating and drinking beer and highballs could be seen. Some eat in lively groups while others, men and women alike, enjoy their takoyaki alone. The cheery voices of the restaurant staff are another comforting attribute.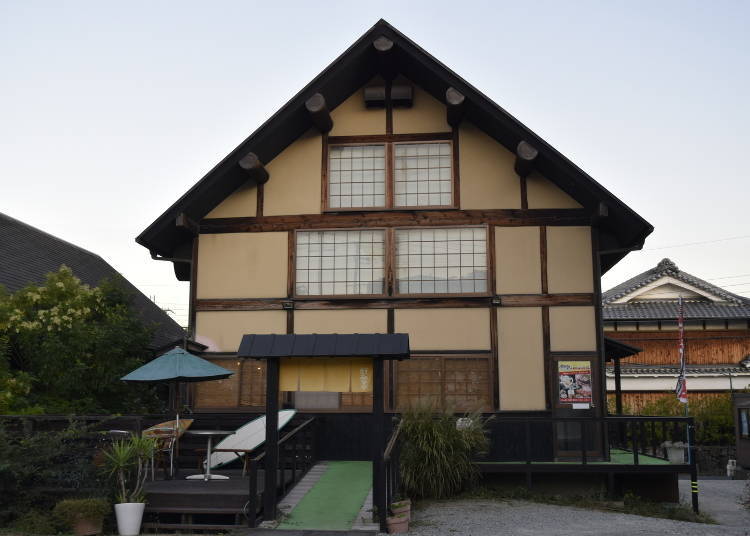 Mamigaoka main branch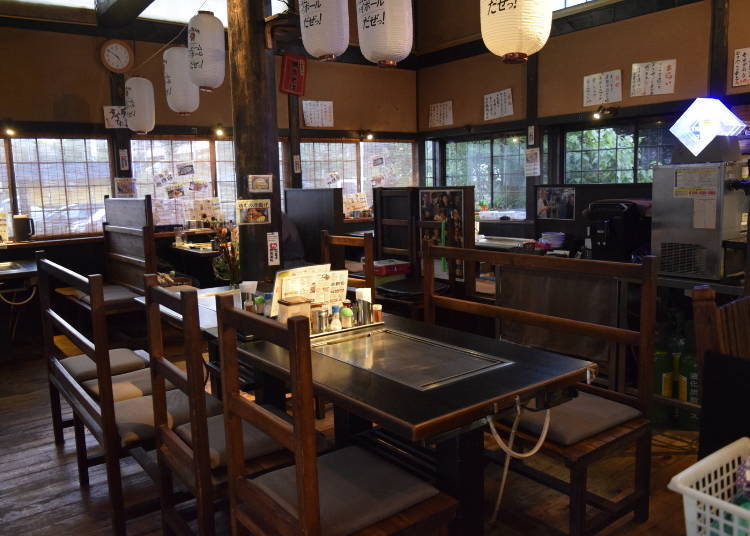 In contrast, the Mamigaoka main branch is a roadside location in a residential district. With a spacious parking lot, it sees a lot of traffic from families. Apparently, even those who would usually get takeout from a station location occasionally go out of their way to visit the main branch.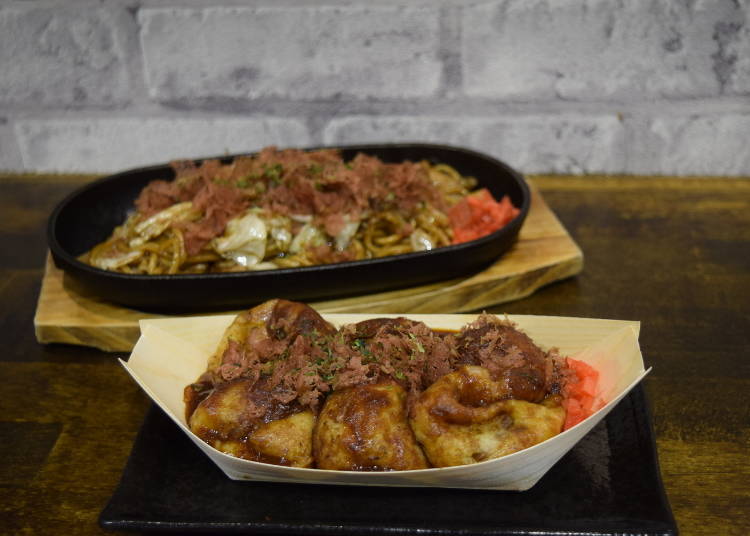 The main branch has a wide variety of non-takoyaki offerings, including okonomiyaki, yaki-udon, and negi-yaki. It's the perfect place to relax and enjoy a meal. Reportedly, international visitors tend to order yakisoba to go with their takoyaki. Konamonya Hachi has both locations for takeout only, and locations where you can eat inside. In addition to Nara, there are plenty of locations in Osaka, Kyoto, Shiga, Hyogo, and Okinawa, so you might find a location where you're hoping to go sightseeing.

For more information, visit Konamonya Hachi's official website.(https://www.konamonya-hachi.com/ )

Depending on the vendor, you'll find takoyaki in a wide variety of flavors. What will you find? If you're ever in Kansai, make sure to taste takoyaki in its homeland.

Text by:WESTPLAN
konamonya hachi Mamigaokaten

粉もん屋八 真美ケ丘店

Address

1-6-2, Umamiminami, Kouryo-cho, Kitakatsuragi-gun, Nara, 635-0833


Nearest Station

Goido Station (JR Wakayama Line)


Phone Number

0745-55-6886
konamonya hachi Tenriekimaeten

粉もん屋八 天理駅前店

Address

1F,690, Kawaharajocho, Tenri-shi, Nara, 632-0016


Nearest Station

Tenri Station (JR Sakurai Line)


Phone Number

0743-69-4988
konamonya hachi Kobemotomachiten

粉もん屋八 神戸元町店

Address

1-11-5, Motomachidori, Chuo-ku, Kobe-shi, Hyogo, 650-0022


Nearest Station

Kyukyoryuchidaimarumae Station (Kaigan Line (yume-kamome))


Phone Number

078-335-7689
konamonya hachi Nishikujoekimaeten

粉もん屋八 西九条駅前店

Address

3-15-26, Nishikujo, Konohana-ku, Osaka-shi, Osaka, 554-0012


Nearest Station

Nishikujo Station (JR Kansai Main Line / JR Osaka Loop Line / JR Sakurajima Line (yumesaki Line))


Phone Number

06-6110-5458
Konamonya Hachi Naramochiidonoten

粉もん屋八 奈良餅飯殿店

Address

Rice cake meal center street,42, Mochiidonocho, Nara-shi, Nara, 630-8222


Nearest Station

Kintetsunara Station (Kintetsu-nara Line)


Phone Number

090-9887-0809
konamonya hachi Shinomiyaekimaeten

粉もん屋八 新大宮駅前店

Address

2-11-1, Shibatsujicho, Nara-shi, Nara, 630-8114


Nearest Station

Kintetsunara Station (Kintetsu-nara Line)


Phone Number

0742-36-1808
konamonya hachi Kashiharajingumaeekiten

粉もん屋八 橿原神宮前駅店

Address

618, Kumecho, Kashihara-shi, Nara, 634-0063


Nearest Station

Kashiharajingumae Station (Kintetsu-minamiosaka Line / Kintetsu-kashihara Line / Kintetsu-yoshino Line)


Phone Number

0744-47-3358
*This information is from the time of this article's publication.
*Prices and options mentioned are subject to change.
*Unless stated otherwise, all prices include tax.
Limited time offer: 10% discount coupons available now!