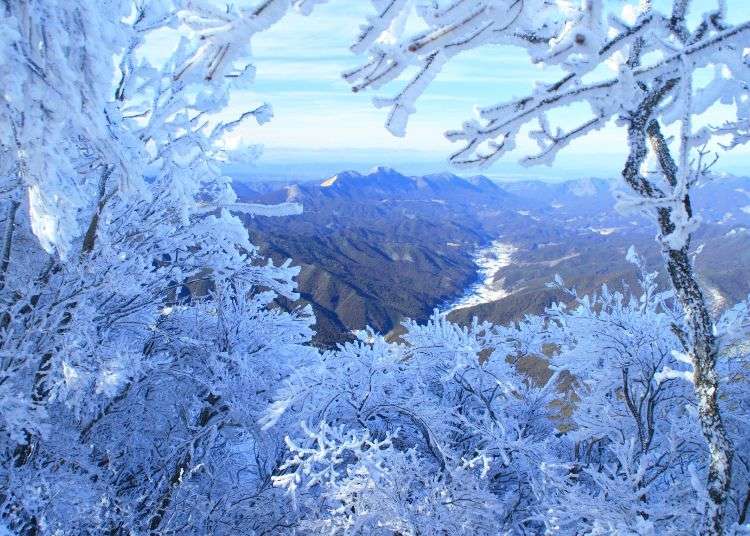 Mt. Miune, located in the southeastern part of Nara Prefecture, is home to spectacular "muhyo" features – rime ice created by water vapor that freezes on the branches of trees near the mountain's summit.

Along with the rime ice itself, another highlight of the season is the Miuneyama Muhyo Matsuri (Mt. Miune Rime Ice Festival), organized by the Mitsue Tourism Association to host winter mountain climbers.

Taking place at the Mitsue Youth Travel Village, the event includes interesting demonstrations and good food. After enjoying this cool event, you can warm up at a nearby hot spring!
Natural Ice Formations at Mount Miune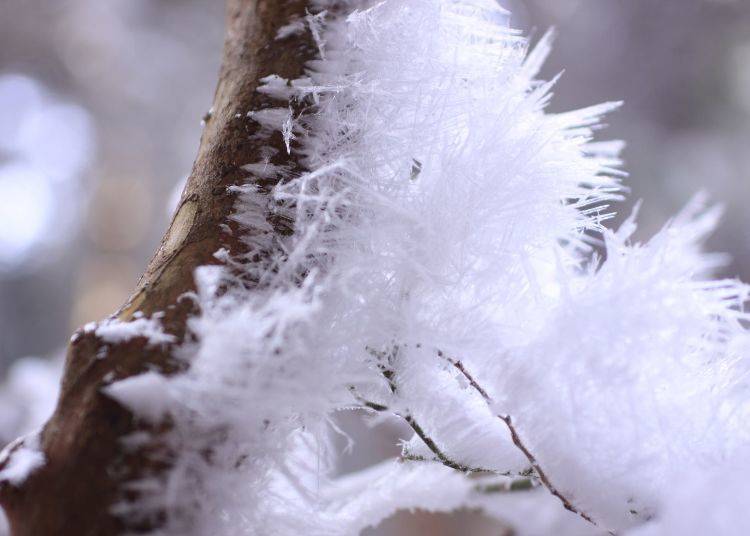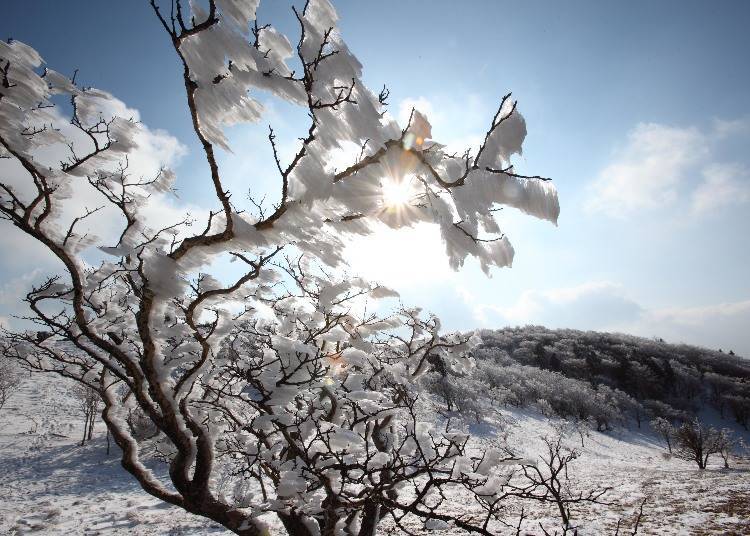 Mt. Miune is located in the Muro Akame Aoyama National Park and has a height of 1,235 meters. One of the top 300 mountains in Japan, it offers spectacular views in all seasons, from white azaleas in early summer and beautiful autumn leaves to the winter rime ice.

That particular phenomenon occurs during severe winter weather from January to March and creates an other-worldly atmosphere when water droplets in fog and clouds freeze on trees.
Mount Miune is Perfect for Winter Mountain Climbing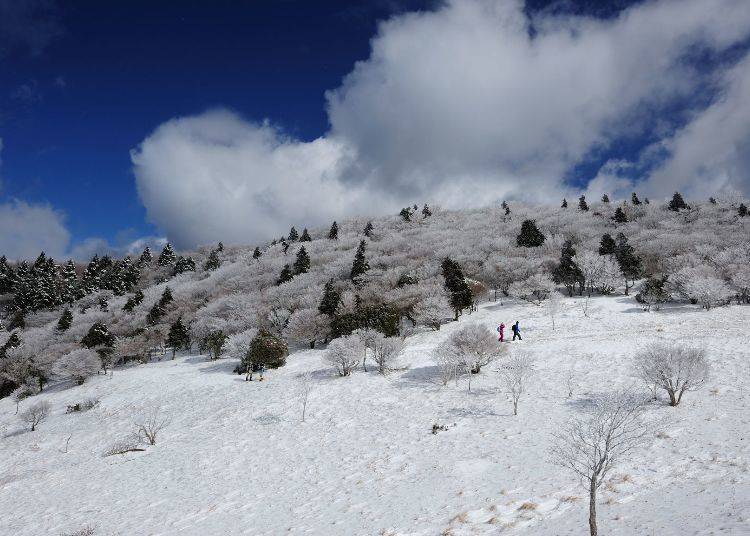 Mount Fuji seen from Mount Miune
Miuneyama is perfect for climbing with family and friends, and is easily accessible from the Kinki area. Due to the ease of its trails, the mountain has been called the "Debut Winter Mountain." During the rime season, about 10,000 climbers of all ages and skill levels come to hike and take photos.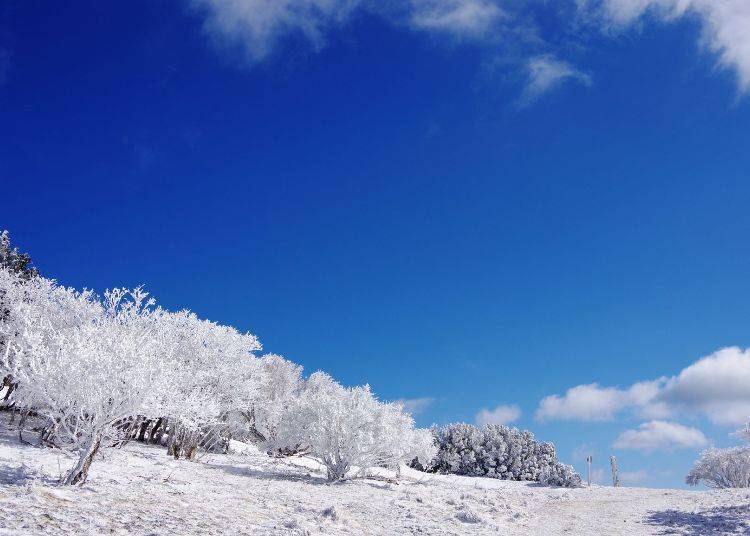 This unique crystalline world offers a number of wonderful sights like the shining white ice and the bright blue sky or walking through a tunnel of rime-covered tree branches. The open view of gentle the mountain pass and Hatchodaira from the Mie Prefecture side of the summit is truly superb.

If weather conditions permit, Mt. Fuji can even be seen from the observation point near the summit, which has increased Miuneyama's popularity in recent years.
A Variety of Events and Hospitality for Climbers
The hike to the top of Miuneyama takes four to five hours, and is a round trip of approximately 11km. For climbing mountains in Nara in winter, cold weather gear and crampons are essential. The journey begins and ends at Mitsue Youth Travel Village.

The Travel Village is also the main venue for the Mt. Miune Rime Ice Festival. Organized by the Mitsue Village Tourism Association, the next installment of the festival will take place on Saturdays, Sundays, and holidays from January 23 to February 21, 2021.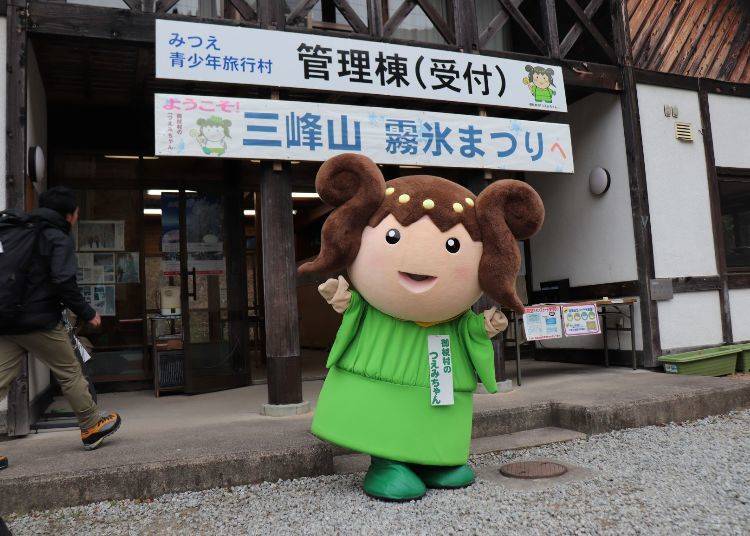 This is Mitsue's own cute character, "Tsuemi-chan"!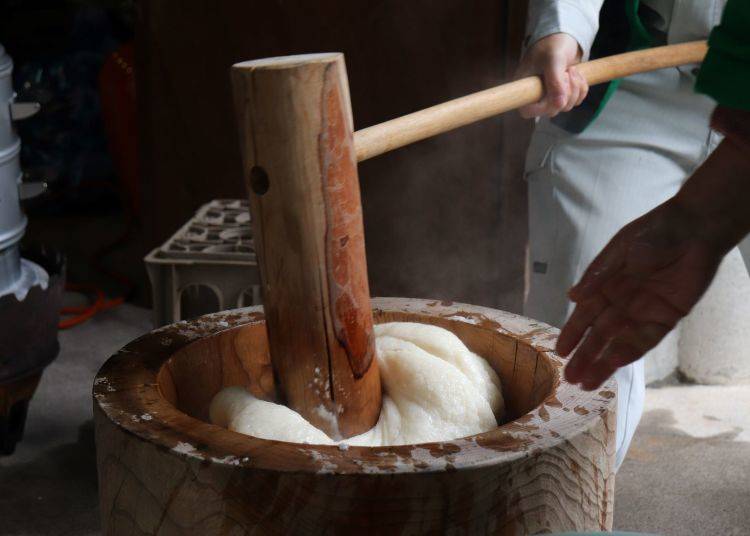 Mochi making (from previous year)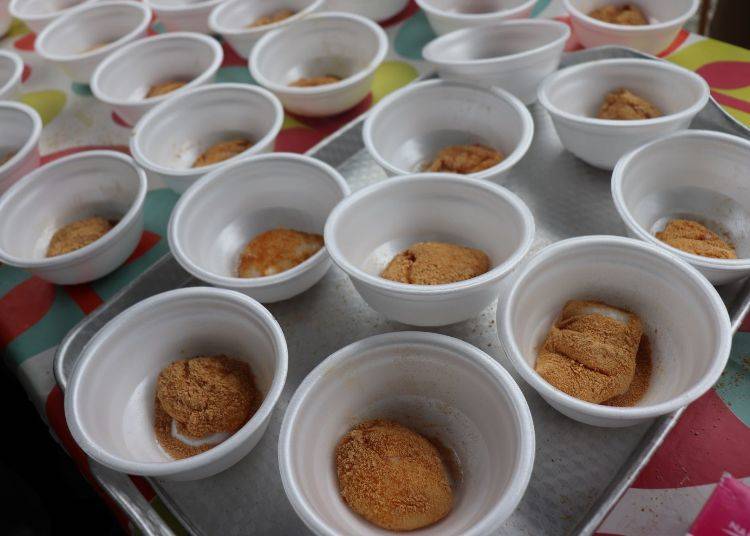 Kinako mochi (from previous year)
In typical years, the festivities opened with zoni (ceremonial soup) service, and ended with a clean-up event and coffee. Some days included servings of sweet sake or mochi following a mochi making competition.

In 2021, food and drink will not be sold as a countermeasure against the Covid-19. Mochi will be distributed on Thursday, February 11, but since there is no space for eating and drinking, it is available only for takeout.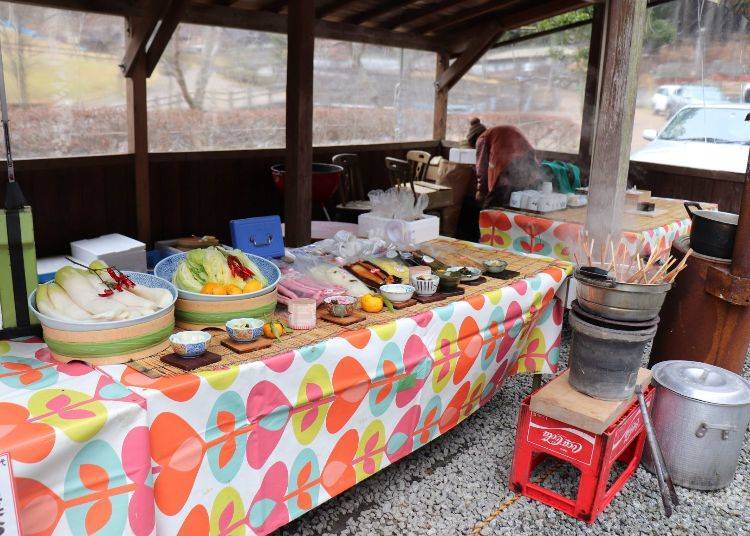 Local pickles for sale
In addition, other special products are sold and prizes like badges signifying a hiker's number of climbs are presented.
Warm Your Cold Body in a Hot Spring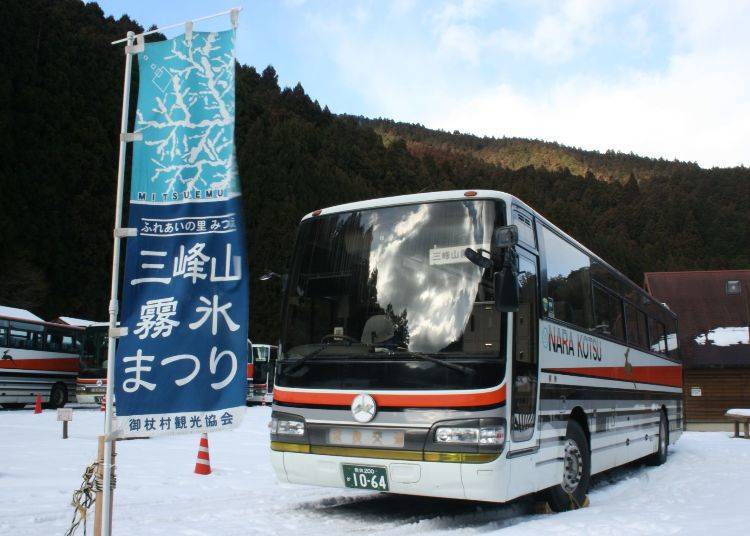 "Muhyogo" bus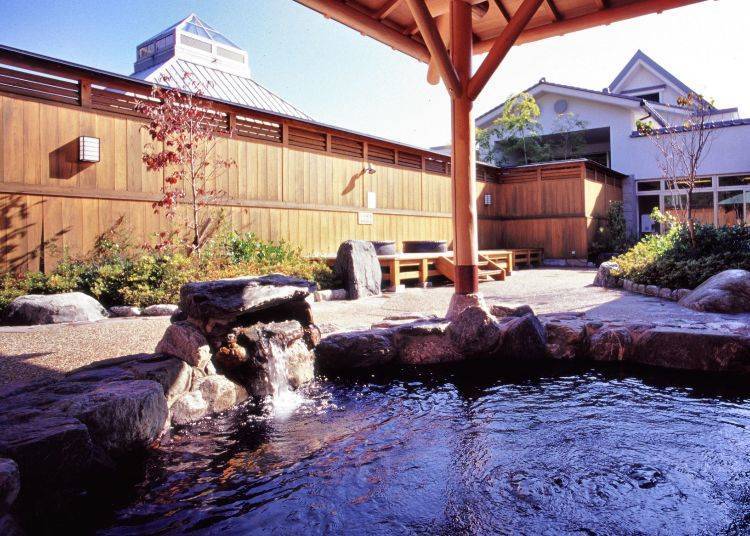 Mitsue's "Himeishi no Yu" hot spring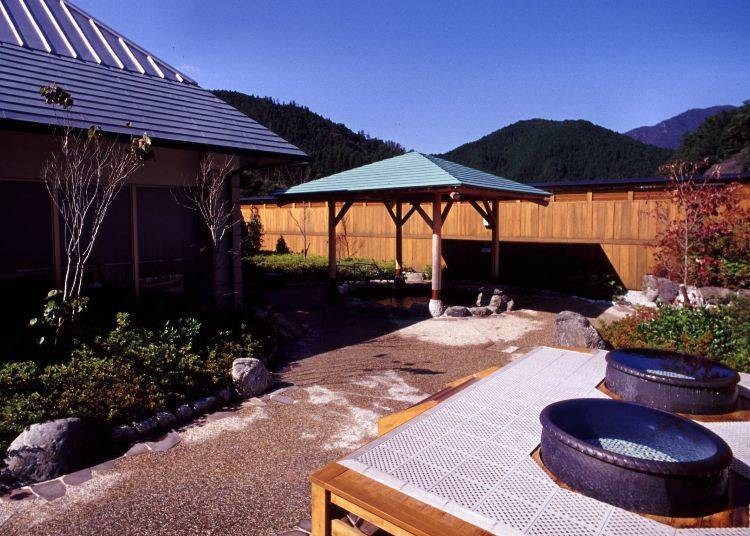 Nara Kotsu Bus Lines operates a temporary "Muhyogo" bus that runs from Kintetsu Osaka Line Haibara Station to Mitsue Youth Travel Village on festival days, making access from Nara in winter very convenient.

In addition to being offered a discount ticket for bathing at Himeishi no Yu onsen at Ise Honkaido Mitsue rest area, climbers who use the Himeishi no Yu shuttle also receive a free towel.

A rare and spectacular view, warm hospitality, and a natural hot spring are sure to relax the body and mind. Why not come to the Mt. Miune Rime Ice Festival and experience it for yourself!

* The event may be canceled or changed depending on the Covid-19 situation.
* Please submit a mountain climbing notification and be sure to wear winter mountain equipment when climbing. Please be sure to take your garbage home with you.
* If you have any concerns about your physical condition, please review the climbing date.
* Please avoid "3 C's" in the whole process, use a mask, disinfect your hands, and use the official contact tracing app, COCOA.
Mitsue Youth Travel Village

みつえ青少年旅行村

Address

1790 Kōzue, Mitsue, Uda-gun, Nara 633-1301

・Held: January 23, 2021 - February 21, 2021; Saturdays, Sundays, and holidays (11 times in total), 1-5pm
・Admission: Free

◆ Nara Kotsu Temporary Direct Bus "Rime"
・Operating days: Saturdays, Sundays, and holidays during the rime festival
・Hours: 8:15 from Kintetsu Haibara Station, 16:00 from Mitsue Youth Travel Village
・Fare (one way): Adult / 1,380 yen Child / 690 yen (tax included)
Written by: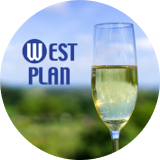 *This information is from the time of this article's publication.
*Prices and options mentioned are subject to change.
*Unless stated otherwise, all prices include tax.
Limited time offer: 10% discount coupons available now!