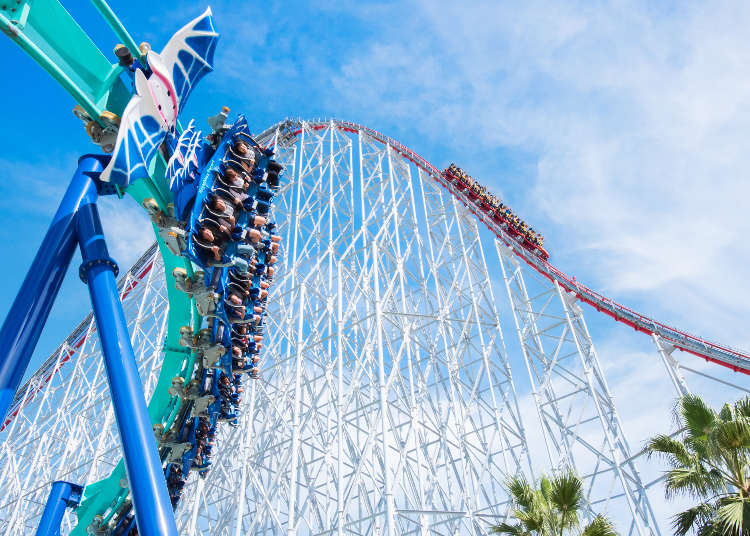 Nagashima Spa Land is a huge amusement park featuring a water park and some of the best roller coasters in Japan. Let's see what some of those rides are really like through the eyes of a few foreign friends who've tried them out!
What is Nagashima Spa Land?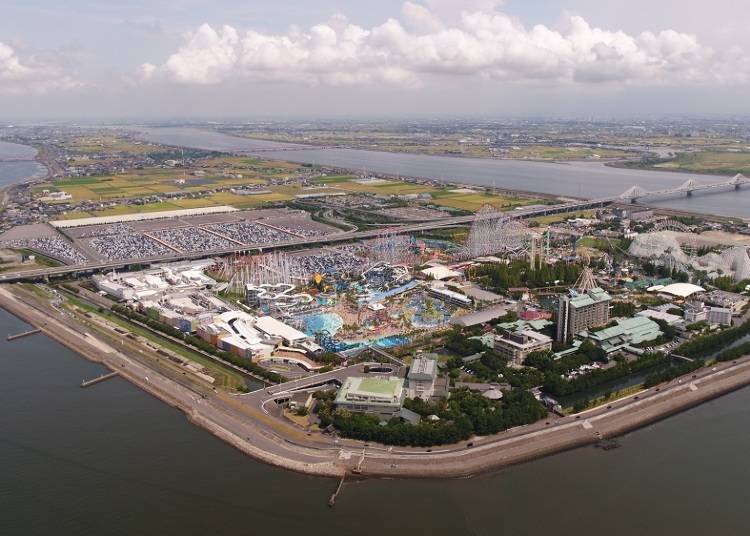 Nagashima Spa Land is an amusement park that is part of a larger leisure park known as Nagashima Resort, located in Mie Prefecture's Kuwana City. Besides Spaland, the leisure park also features other amusement facilities like a jumbo-sized pool filled with seawater, flower and food park, onsen hot spring, hotel, and more! These child-friendly attractions are suitable for people of all ages, making this a great place to spend with friends and family.

Nagashima Spa Land is one of Japan's top amusement parks, and it contains a large variety of popular attractions. The thrill rides - especially the roller coasters - are among some of the most exciting you'll ever experience.

Each shake or tremor of the machine will make you shriek at the top of your voice despite yourself! We've ranked each of the attractions being introduced in this article with a Fear Level rating and asked for the opinions of some foreign visitors who have actually taken the ride. It'll be a handy reference during your visit for sure!
Fear Level 1: A refreshing water thrill ride choreography with the Flying Coaster Acrobat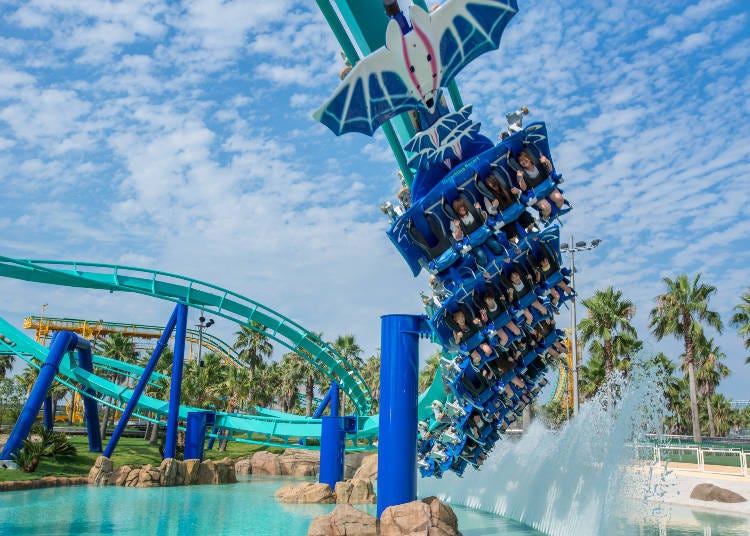 Let's start with something mild...the Level 1 Flying Coaster Acrobat. You lie on your stomach for this ride, which goes up to a height of 43 meters, or about 141 feet, then does an abrupt drop while looping around 360 degrees!

If you've ever wanted to feel like a bat, here's your chance! The well-choreographed ride takes you through refreshingly close brushes with the water, and the excitement never wears off no matter how many times you take it!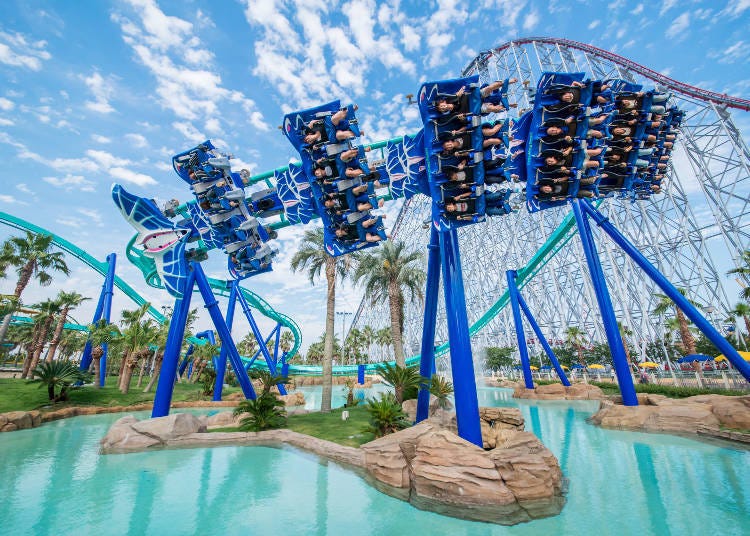 Riders lie stomach-down on inclined seats
Here's the opinion of a Taiwanese woman who's taken the ride before: "You really feel like you're soaring through the air because of the lay-down seats! In those brief minutes, you become a bird or bat hunting for prey."

The unforgettable sensations of rushing through the air as if you're flying is an intoxicating experience indeed. Since the ride will pass over water surfaces quite closely, you should be prepared to get a little wet!

You must be 135 to 198 cm tall (about 4'5" to 6'6") to ride on the Acrobat.
Fear Level 2: Swing and shake in a Giant Frisbee!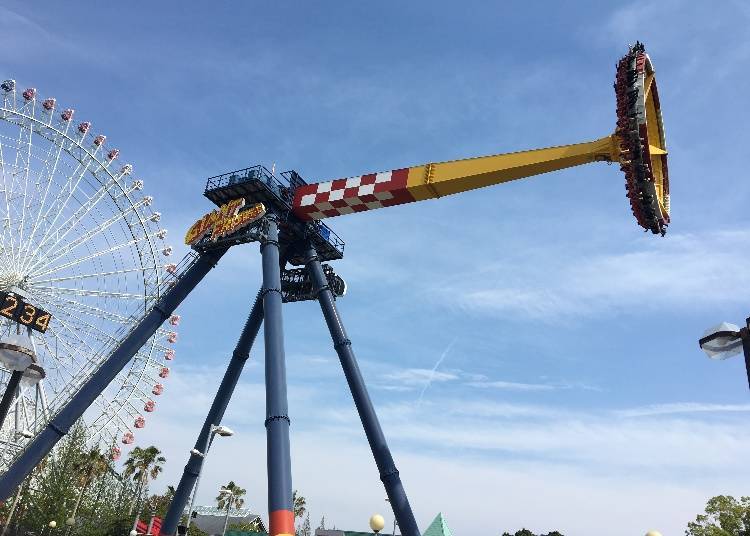 This disc-shaped ride shakes and spins you around 240 degrees and up to heights of 43 meters, or about 141 feet! All seats in the ride face outwards, so you'll feel like you're being thrown about in the sky from the centrifugal forces the shaking and spinning creates.

According to an American man who's taken the ride before: "I thought I was gonna die, but the group I went with made it out in one piece and we had a lot of fun while we were at it. The view was great at night too. I don't mind going again!" Looks like the ride is as addicting as it is thrilling!

You must be at least 140 to 195 cm (about 4'7" to 6'5") to ride on the Giant Frisbee.
Fear Level 3: The simply terrifying Free Fall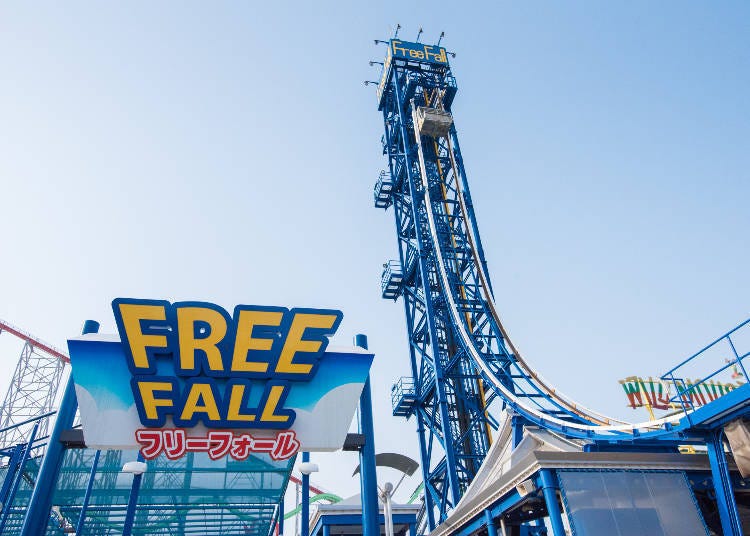 Though just one rank above the previous ride, the terror you'll feel on this Fear Level 3 ride has gone up exponentially! The concept of Free Fall is very simple - you're taken high up into the air and then dropped down - but because all the terrifying sensations are compressed into a single moment, it's a lot scarier than it sounds!

The ride goes up to a height of 45 meters, or about 147 feet, and drops you down at a maximum speed of 90 kilometers per hour, or about 56 miles per hour, giving you a terrifyingly breathtaking moment of weightlessness before everything comes falling down.

Here's what an American woman who went to Nagashima Spa Land on a date had this to say: "My boyfriend really didn't like rides like Free Fall, so I actually took it by myself. I didn't know my voice could go so high!" If you, too, are looking for a way to test the limits of your vocal range, Free Fall is a ride you do not want to miss!

You need to be at least 110cm, or about 3'7" to ride on Free Fall.
Fear Level 4: Experience 4D Windstorm-like Sensations with Arashi!
The seats on this ride are not affixed to a single angle, meaning they oscillate freely and wildly 360 degrees as they move rapidly along the tall tracks, giving riders an intriguing four-dimensional experience.

You won't see the rails from your open seat whether above or below you, and the non-stop spinning and swinging will undoubtedly thrill you to no end.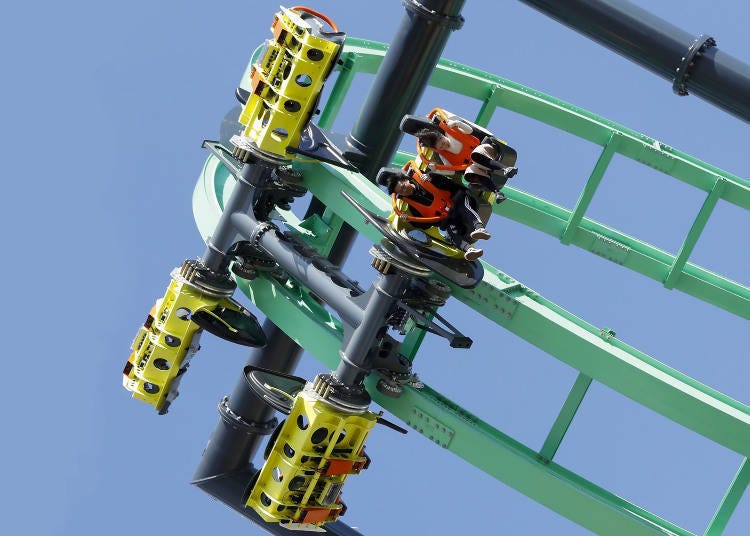 An almost weightless experience
The seats are in suspended compartments that do not have a roof or floor, meaning your legs will either dangle from the seat or be thrown into the air, depending on which side gravity has decided to swing you. You may really feel like you've been caught up in an intense windstorm!

"You can't predict which direction you'll be rotating to next, and that's exciting! It's like the pleasant surprise of an unseen gift!" remarks a Taiwanese woman. If you're feeling adventurous enough to try something you've never tried before, then this ride is for you!

You must be at least 120 cm, or about 4 feet tall to ride on Arashi.
Fear Level 5: Want to knock the wind out of your sails? Try White Whale Hakugei!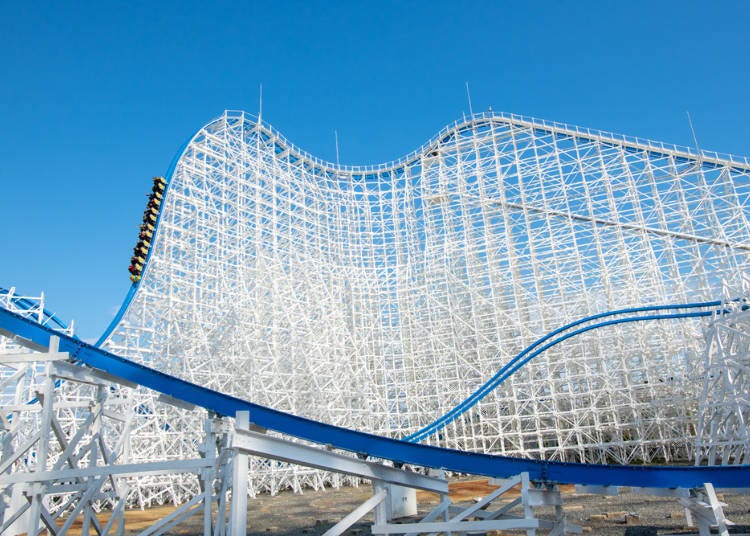 Fear Level 5 is a ride that's so terrifying, even thrill ride enthusiasts think twice about challenging it! This is the roller coaster called Hakugei, or White Whale because of how its white ramp structure resembles the shape of a whale.

After the coaster climbs to a height of 55 meters, or about 180 feet, it drops down at a gradient of 80 degrees, and you're virtually falling headfirst! As the roller coaster powers through the winding rails and sways you in all directions at an incredible speed of 107 kilometers per hour, or about 66 miles per hour, you might even feel like you're about to black out!

Before you're allowed to return the land of the living, however, you'll have to sit through the final leg of the course, consisting of a 360 degrees coarse screw twist before finally rolling back into the starting point of the ride with wide eyes, a racing heart, and vocal cords sore from all that shouting!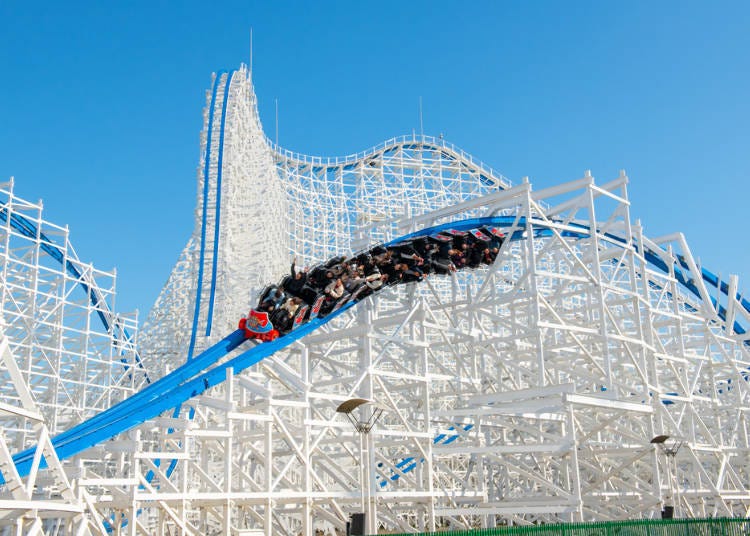 Glide along the tracks almost horizontally!
Hakugei features a complicated layout that was designed for maximum thrill. A Korean woman who took the ride says of it: "I got goosebumps just looking at it! Since the structure is white in color, it does make you feel like you're riding above clouds and frankly, I'm too afraid to ever take it again."

Since this is one of the scariest thrill rides in Japan, it would be remiss of you to skip it while you're visiting, wouldn't it?

You must be at least 130 cm, or about 4'2" tall to ride on Hakugei.
Fear Level 6: Experience the thrilling sensation of flight with the Steel Dragon 2000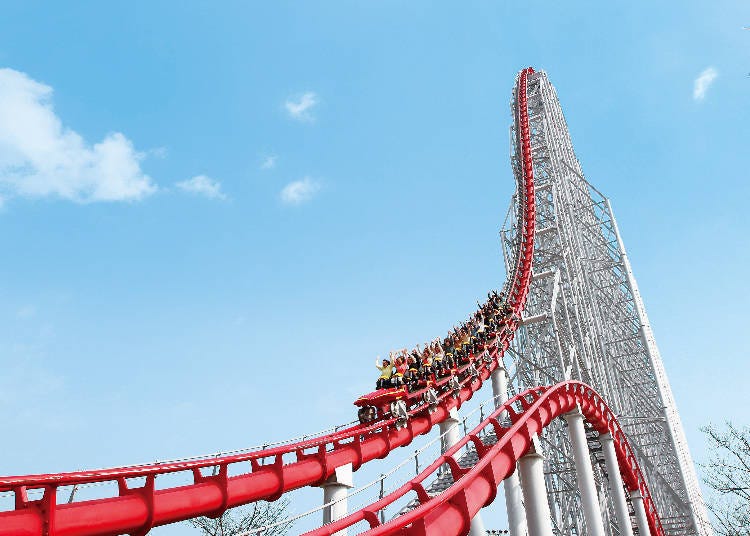 Introducing the scariest roller coaster ride in the park with a Fear Level of 6: The Steel Dragon 2000! At a total length of 2,479 meters, or about 8,100 feet, this is also the longest roller coaster in the world and has the highest drop in Japan!

The tallest part of the structure stands at 97 meters, or about 318 feet, making it even taller than most Ferris wheels. Now, just imagine rushing down at a 68-degree angle from that height! The thrill factor here is definitely off the charts. You're placed in a bucket seat that has your feet dangling off the ground, adding to the fear and suspense.

The thrilling ride takes you through close shaves with the ground at extremely high speeds and other exhilarating setups. The roller coaster certainly lives up to its namesake as riders bound to feel like they're soaring through the air on the arched back of a dragon!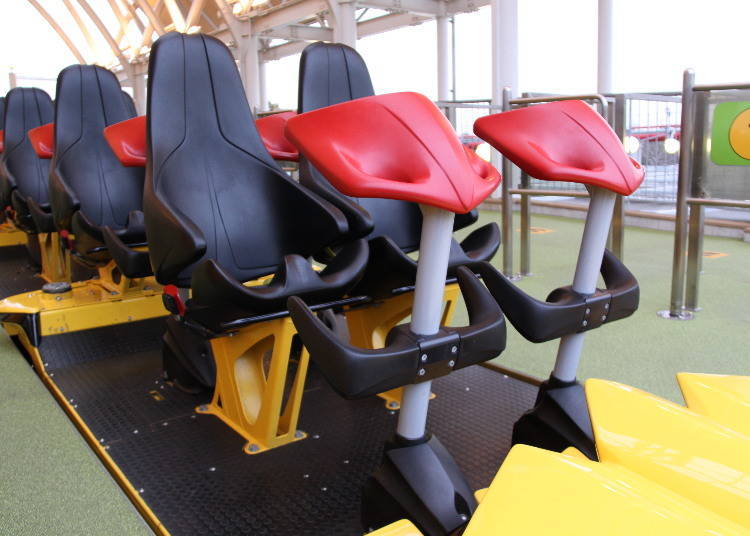 No safety harnesses?!
The seat configuration is simple - it's literally just seats mounted on top of the roller coaster's chassis! This open design adds to the intense sense of speed during the ride.

According to an American man: "This is the mother of all scary rides for sure. The photos from the ride were hilarious. I tried to make a smiling face but ended up screaming anyway."

Like him, you're more than likely to find yourself letting out screams of fear despite your best efforts on this utterly terrifying thrill ride!
Nagashima Spa Land has plenty of other attractions!
Other than the thrill rides mentioned, you'll also find attractions like the Space Shuttle that turns you upside down in mid-air, or the Jumbo Viking that swings you to and fro with dynamic force! In total, there are 19 rides you can choose from in Nagashima Spa Land.

If you're keen to try out some slower attractions, there's always the Jet Ski facility where you can ride on water bikes, the Big Ferris Wheel where you can take in the beautiful scenery of Mie at a glance, or a Jet Coaster that runs gently through a forest.

The large variety of rides here ensures that every demographic is catered to, so bring your family and friends out for a fun-filled day at Nagashima Spa Land today!
Address

333, Nagashimachourayasu, Kuwana-shi, Mie, 511-1135
View Map

Nearest Station

Kuwana Station (JR Kansai Main Line)
20 minutes by bus


Phone Number

0594-45-1111
Text by:WESTPLAN
English translation by: Huimin Pan
Don't forget these useful tickets for Japan!
Make your trip extra memorable by booking train tickets on our partner site, Voyagin!
*This information is from the time of this article's publication.
*Prices and options mentioned are subject to change.
*Unless stated otherwise, all prices include tax.