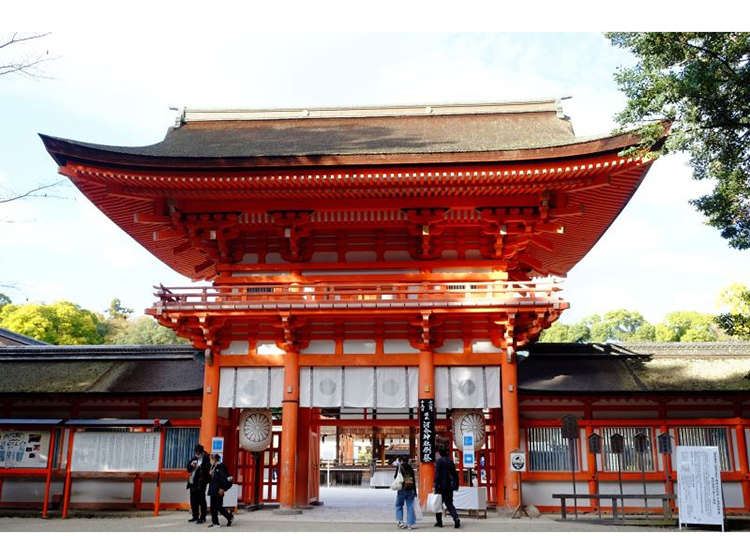 Central Kyoto (or Rakuchu) is at the heart of the city. Here you'll find several historical sites and buildings with great relevance to Japan's history, their grand architecture mingling with natural splendor.

We recommend touring central Kyoto by bicycle, as you can move about at your own pace and get off or on the bike whenever you please. Here, we'll explain how to use rental bicycles and share some of the best sightseeing spots you won't want to miss when bicycling in Kyoto.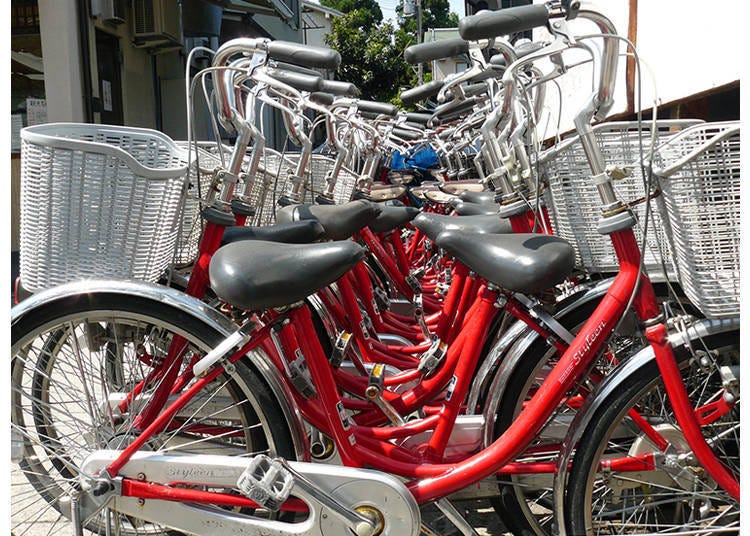 Image: PIXTA
You can rent a bike at shops marked as bicycle rental stores, or rentacycles. Most stations will have a few rental shops nearby, making for useful synergy with bus and train transportation.
City-authorized shops provide service in English and bicycle liability insurance, so you can rest assured that your rental experience will be smooth. We recommend sticking to Kyoto City Authorized Bicycle Rental Stores.
How to rent a bike in Kyoto
First, inform a staff member at a rental shop that you wish to rent a bicycle. Better yet, tell them what kind of bicycle you'd like to rent, as there are gear-shift bicycles, power-assist electric bicycles, and gearless "city cycles" available. So long as they have it in stock, they'll help you get one. To rent, you'll have to fill out a form with your name, address, phone number, whether you're on a day trip or staying overnight in the city, and the name/address of the hotel you're staying at (some shops will have different kinds of forms).

How to pay
Some rental shops accept only cash, while others accept credit or even payment apps. We recommend bringing some Japanese yen notes, just in case. The price will depend on the shop and the type of bicycle, but a single day will cost you around 1,000 to 2,000 yen.

How to return your bicycle
Most shops will require you to return your bicycle to the same place you rented it. Some shop chains will allow you to return your bike at any of their establishments. Ask the rental shop staff to find out what they allow.

The site below has information on Kyoto's rental bicycles, including the locations of authorized rental shops.
The best bicycle for touring the Rakuchu area
Rakuchu is Kyoto's central district. The streets are flat and well-suited for bicycling, so a city cycle or gear-shift bicycle will suffice. You'll want to be careful around the main Kawaramachi-dori and Shijo-dori streets, however, as they are frequently crowded with pedestrians and have sections off-limits to bicycles between 8:00 and 9:00 in the morning.

We recommend cyclists use the nearby Karasuma-dori, Oike-dori, and Kawabata-dori streets. Rest assured that none of the sightseeing spots discussed below will require you to take Shijo-dori.

You'll also find lovely little stores and restaurants on shopping streets like Shinkyogoku-dori, Teramachi-dori, and at Nishiki Market, but don't forget that as with the rest of Japan, such shopping arcades require you get off your bicycle when inside. Park your bicycle at the nearest parking area and roam where you want to. You're bound to make some fun discoveries. Check out the website below to find bicycle parking areas in central Tokyo.
How to use your bicycle
Gear-shift bicycles will have gear controls at the handlebars. Power-assist electric bicycles may catch you off guard, as they tend to accelerate with a jerk when you start pedaling. Take care when you begin pedaling until you're used to its assist function.
Now, let's go explore Kyoto by bicycle!
Image: PIXTA
The Rakuchu area just 10 minutes away from Kyoto Station by subway or 20 minutes by bus, but even by bicycle, it's only about fifteen minutes.

A symbol of Kyoto, the Kamogawa River flows through this central area. Traveling along the Kamogawa northward, you'll find spots to rest favored by locals, like Kyoto Gyoen National Garden and Kamogawa Park. There's also Shimogamo Jinja, a shrine registered as a World Heritage site, and a bit to the west is the Former Imperial Villa Nijo Castle, which was the scene of many important events in Japanese history.

Another Rakuchu spot famous with visitors to Japan is Kyoto's "Kagai" districts, where geisha and maiko, entertainers similar to the geisha and maiko in Japanese history, can still be found. Gion, in particular, features architecture that will recall ancient Japan.
Rakuchu has it all: classical buildings, beautiful natural scenery, and healthy commerce. Traveling by bicycle will let you take it all in at your own pace.
1. Rent a bicycle near JR Kyoto Station and head for the Rakuchu area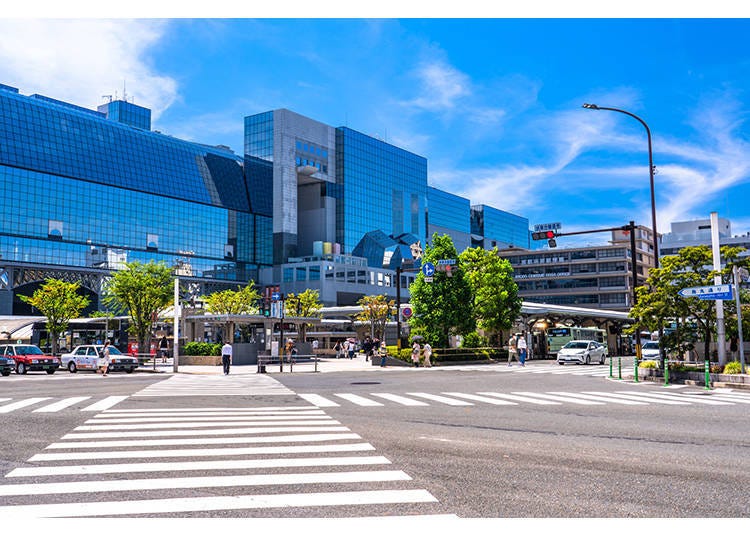 Image: PIXTA
JR Kyoto Station is the gateway to sightseeing in Kyoto. Only a step outside are department stores, appliance and PC stores, emporiums for cameras, cosmetics, and more, hotels, places to eat, places to buy souvenirs, and whatever a tourist might hope to find. There's also Kyoto Central Post Office, a useful stop for anyone wishing to ship their souvenirs or other purchases home.

And, of course, there are multiple bicycle rental shops available near the station, so let's get a bicycle and get going.
JR京都駅

Address

8-3, Higashishiokoji Takakuracho, Kyoto Shi Shimogyo Ku, Kyoto Fu, 600-8214

・Bicycle parking: Near Kyoto Station Hachijo Gate (West), near Kyoto Central Post Office
2. Head down Karasuma-dori while being careful of pedestrians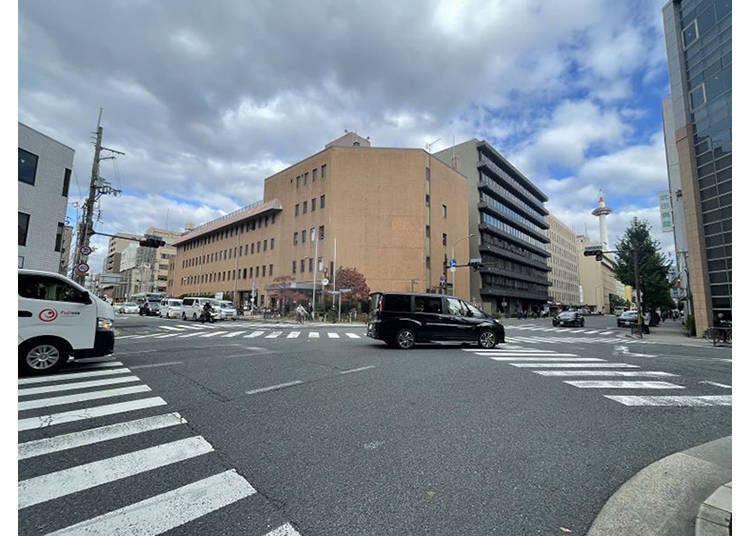 Karasuma-dori is one of Kyoto's main streets, going right through its middle, south-to-north. Traveling northward on this street, you'll pass by turns onto the west-to-east Shijo-dori and Sanjo-dori, the commercial districts they sandwich, and right by Kyoto Gyoen National Garden.

The road is wide and easy to bicycle on, but is consistently crowded, especially around Shijo and Sanjo. If the road is too busy for cycling, take it slow on the sidewalks. Also, from the intersection of Shijo-dori and Karasuma-dori all the way up to Yasaka Jinja, Shijo-dori is off limits to bicycles between 8:00 and 9:00 in the morning.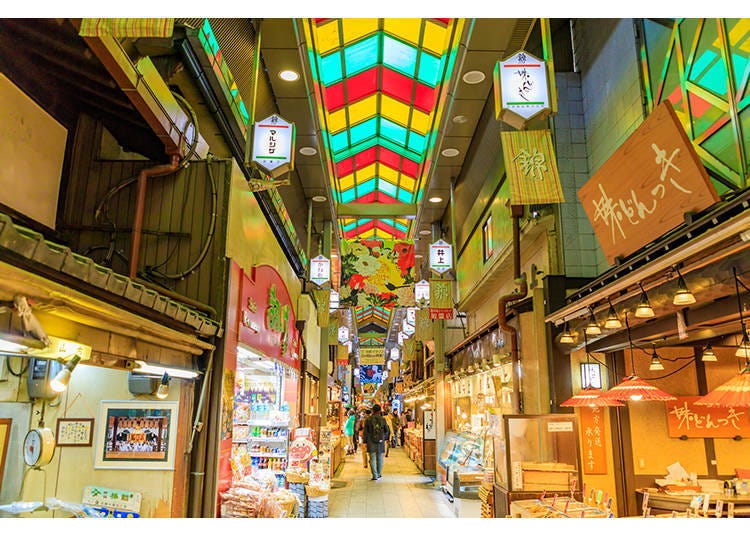 Image: PIXTA
Again traveling north on Karasuma-dori from Kyoto Station, one street past Shijo-dori is Nishikikoji-dori and its 400-meter-long Nishiki Market, a food market famous on the national level.

The street narrows down here, just enough for two rows of people. It would be hard to even push a bicycle through it, so use the city-run parking area (paid) nearby, underneath Misayama Park.

You can find out more about this bicycle parking area at the website below.
You could take a stroll here to experience a local's point of view, and perhaps grab a quick bite to eat from a shop, or take a moment longer at a sit-down restaurant and taste the mild flavors of Kyoto cooking. Bear in mind that you're not supposed to walk and eat at the same time, so finish your food in or near the place you purchase it.
烏丸通

Address

Nanakannoncho, Kyoto-shi, Nakagyo-ku, Kyoto

・Access: Next to JR Kyoto Station
・Required sightseeing time: 15 minutes
・Bicycle parking: Near Karasuma Oike subway station and more
3. Take a break at Kyoto Gyoen National Garden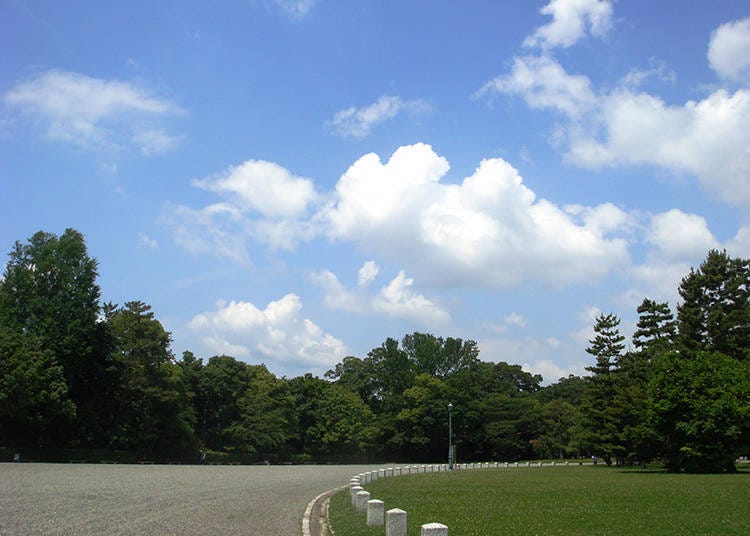 6. See incredible shogunate artifacts at the Former Imperial Villa (Nijo Castle)
Now let's head further north up Karasuma-dori to Kyoto Gyoen National Garden. Around 1,200 years ago, during the Heian Period, Japan's imperial emperor lived here, at the Kyoto Imperial Palace. Kyoto Gyoen is thus its grounds, where imperial family and nobility lived. Today, it's a park beloved by the citizens of Kyoto.

Bicycles are not allowed on the Karasuma-dori pedestrian path near Kyoto Gyoen National Garden, with the exception of older adults and children. Keep to the left side of the street.
There are entrances to the park on each side. Away from Karasuma-dori, however, bicycle riding is permitted in the park, so you can ride through or find a bicycle parking area and spend a leisurely time inside. If you walk your bicycle through the Nakadachi-Gomon Gate on Karasuma-dori, you'll find a bicycle parking area just inside the park that's free. Note that the park paths are paved only with gravel. Don't hesitate to get off your bike and park it if you find it difficult to bike on.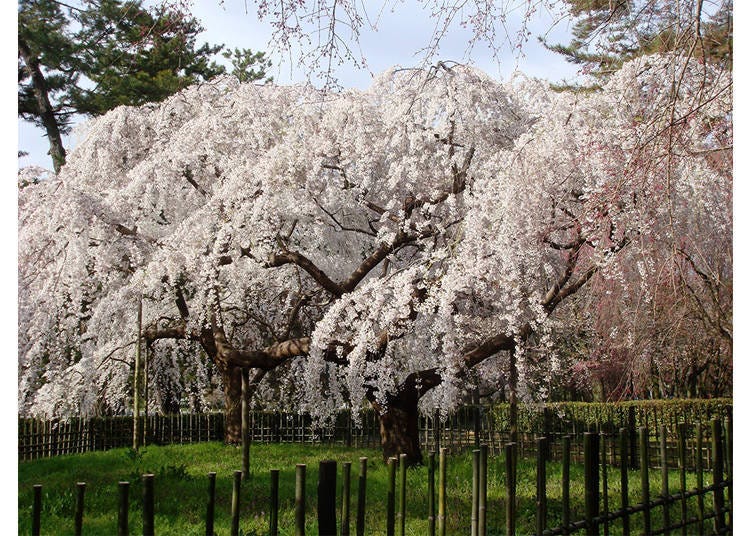 Photo provided by the Kyoto Gyoen Management Office, Ministry of the Environment
A team of gardeners ensure the park's trees and flowers are beautifully presented all around the year, so whenever you visit, you're bound to have a relaxing time. Spring in particular is when the park's shidare-zakura and yama-zakura cherry blossom trees bloom, and in fall the vivid colors of Japanese maples and Ginko trees are similarly big draws for visitors.
Address

3, Kyotogyoen, Kamigyo-ku, Kyoto-shi, Kyoto, 602-0881
View Map

Nearest Station

Imadegawa Station (Karasuma Line)
8 minutes on foot

4. Find peace at Kamogawa Park and in the Kamogawa scenery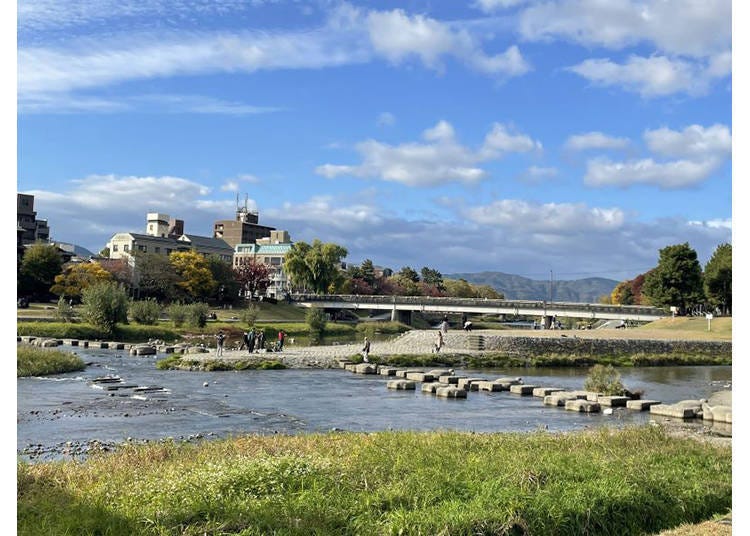 The Kamogawa River flows through the center of Kyoto, and the paths on some of its banks are paved for bicycle riding. If we depart from the northeast corner of Kyoto Gyoen National Garden and travel east for five minutes, you'll find Kamo Bridge, just below where the river splits. The river closest to Kyoto Gyoen is Kamogawa, and the stretch of land on this bank of Kamogawa is Kamogawa Park.

There's a convenience store near this bridge. Keep it in mind if you want drinks or snacks for a riverside picnic. The river provides many relaxing scenes: waterfowl on the river, jogging citizens, children skipping stones.
鴨川公園~鴨川の風景

Address

Kyoto-shi Kita-ku, Sakyo-ku, Kamigyo-ku, Higashiyama-ku, Nakagyo-ku, Fushimi-ku, Minami-ku, Kyoto-fu, Japan

・Access: Five minutes from Kyoto Gyoen National Garden
・Required sightseeing time: 30 minutes
・Bicycle parking: Kyoto City Demachi parking lot, etc.
5. Take a stroll around Shimogamo Jinja (Kamomioya Jinja), a World Heritage site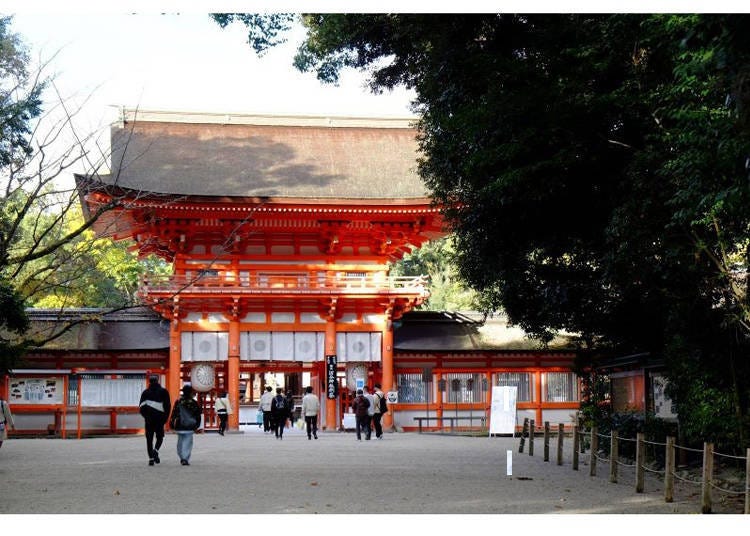 Next, we head five minutes up the river delta from Kamogawa Park to a world heritage site. This shrine, surrounded by greenery, is also known by locals as "Shimogawa-san." If local legends are to believed, this shrine was first built more than two thousand years ago. It enshrines Kyoto's protecting deity, Kamotaketsunumi-no-Mikoto, and the deity's daughter Tamayorihime-no-Mikoto.

The tale of Tamayorihime-no-Mikoto's childbirth appears in Japanese legend, and so the shrine is believed to be a good place to pray for match-finding, child-raising, and childbirth. The interior shrine Aioi no Yashiro on its grounds is particularly popular with people hoping to find love.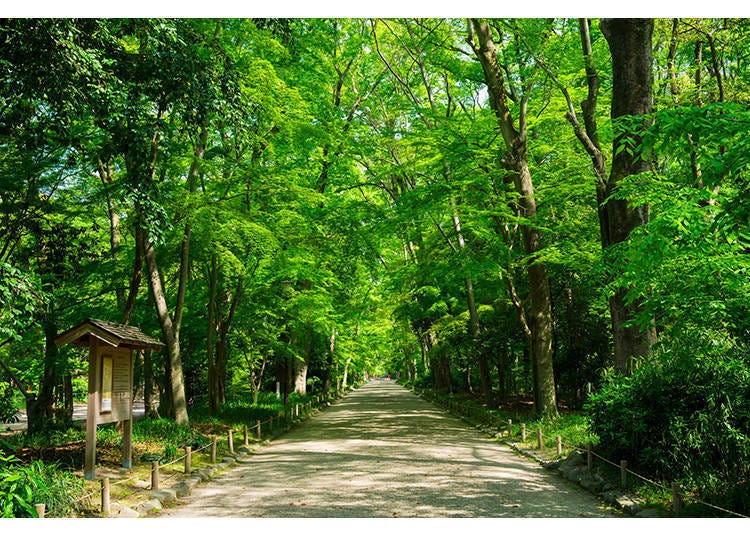 Image: PIXTA
Visitors to the shrine should first walk the "sando" worshipper's path through the vast "Tadasu no Mori." This forest and its trees, some four hundred years old, are popular with international tourists as a spiritually stimulating location.
However, this is a sacred path: gods are said to walk the center of "sando," so don't even try to ride a bicycle on it. You'll find a bicycle parking area to the left of the entrance to the forest (sando) at Kawai Jinja, so park there first.
Address

59, Shimogamoizumigawacho, Sakyo-ku, Kyoto-shi, Kyoto, 606-0807
View Map

Nearest Station

Demachiyanagi Station (Eizan Dentetsu Eizan Line)
10 minutes on foot


Phone Number

075-781-0010
6. See incredible shogunate artifacts at the Former Imperial Villa (Nijo Castle)
Next, we take a 20-minute bicycle ride over to the Former Imperial Villa Nijo Castle, constructed by the famous first leader of the Edo shogunate, Tokugawa Ieyasu. This historically valuable World Heritage site saw both the rise and the fall of the Tokugawa clan. The rock walls at Nijo Castle's front gate, Higashioote-mon, and its Tonansumi-yagura / Seinansumi-yagura watch towers, accurately represent the castle's original walls.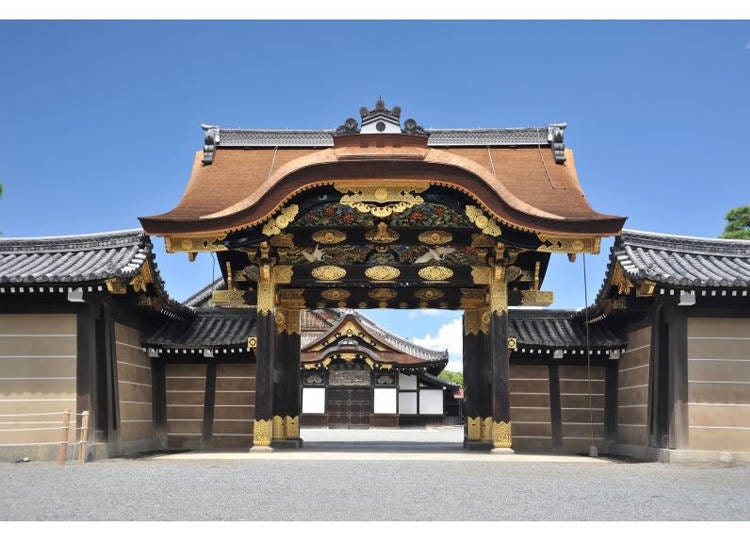 Photo credit: (C) Kyoto City Former Imperia Villa Nijo Castle Office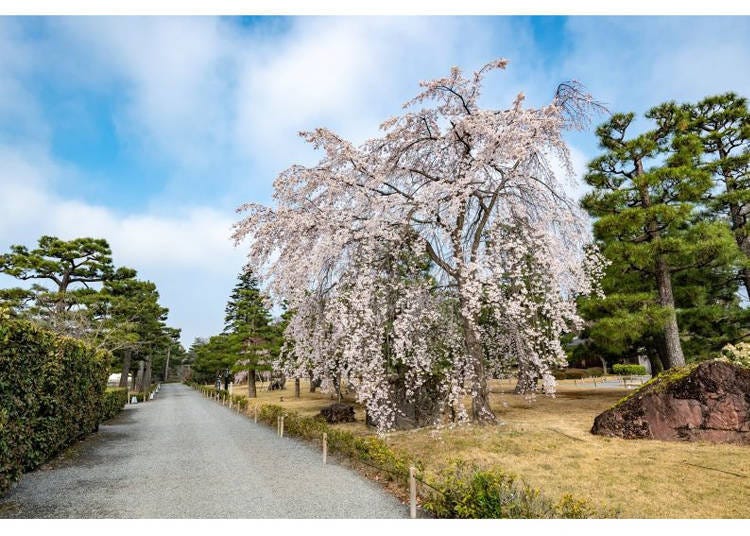 Photo credit: (C) Kyoto City Former Imperia Villa Nijo Castle Office
Park your bicycle and enter the castle grounds, then pass through the exquisitely decorated Kara-mon gate. Deeper into the grounds is Ni-no-maru Goten, built as a resting area for the shogun. The Oohiruma here is a hall where he would give audience to his "daimyo" lords, and you can go inside to see its decorations, like room partition paintings of pine trees, tigers, panthers, and hawks: all symbols of the shogun's authority. You won't want to miss the overwhelming splendor of its construction, which point to the might of the Tokugawa clan. It's also a popular place to see cherry blossoms in spring.
Address

541 Nijojocho, Horikawa Nishiiri, Nijo-dori, Nakagyo-ku, Kyoto-shi, Kyoto, 604-8301
View Map

Nearest Station

Nijojomae Station (Tozai Line)


Phone Number

075-841-0096
A historic Rakuchu bicycle trip through bustling streets and beautiful nature
Kyoto is full of wonder, and you'll want the ability to wander where the moment strikes and pause to take in the beautiful scenery. That's what makes sightseeing by bicycle so nice.
Consider taking a leisurely bike ride through the Rakuchu area to take in everything from modern Japanese shopping to nature and historic sites.
Follow traffic safety rules and have fun
The freedom and gentle pace of bicycling are perfect for traveling through Kyoto. It also means taking responsibility for yourself to prevent injury and accidents. You wouldn't want to ruin your fun trip. So follow traffic safety rules, have good manners, and bicycle safely, and your trip will leave memories for a lifetime.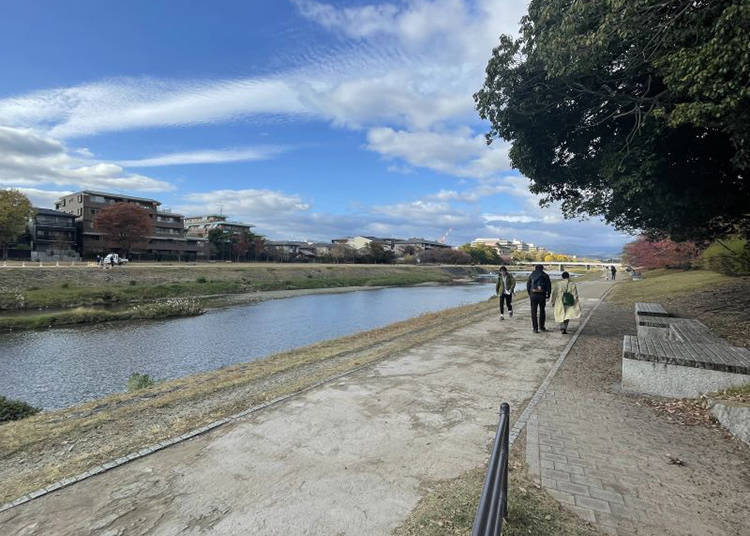 *This article was produced at the request of Kyoto's municipal government to promote bicycle rules and manners to Kyoto visitors.
*This article reflects information available in November 2022. For the latest information, visit official websites.
*This information is from the time of this article's publication.
*Prices and options mentioned are subject to change.
*Unless stated otherwise, all prices include tax.
Limited time offer: 10% discount coupons available now!