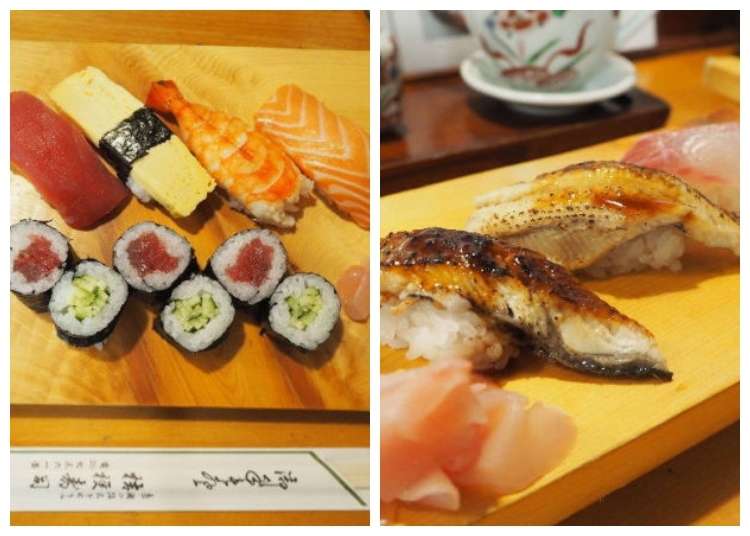 When visiting Kyoto, you will undoubtedly want to try traditional dishes like kaiseki, but Kyoto sushi makes a fantastic meal. Kyoto sushi also has such a pricey reputation that it may feel intimidating to drop in a shop - even if you make reservations.

But actually, in Kyoto, you can eat delicious sushi at a very reasonable price if you know where to look! Here are some recommended Kyoto sushi restaurants where you will not spend a lot of money.
1. Kikyo Sushi (Marutamachi)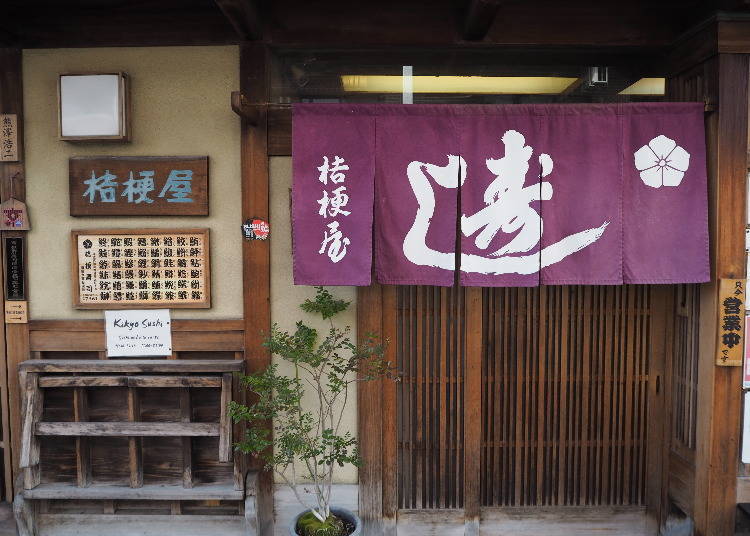 This Kyoto sushi restaurant is less than a 10-minute walk from the Karasuma Line and Marutamachi Station in front of Kyoto Imperial Palace.

In a short, narrow alley from Marutamachi Dori is Kikyo Sushi, which celebrates its 60th anniversary this year. In the old days, it was a famous shop where many people in the kimono and dyed goods industry visited. Now, it is a popular place for tourists.

In addition to sushi, there is also tempura and grilled fish, so even those who are not a fan of raw fish will find delicious food.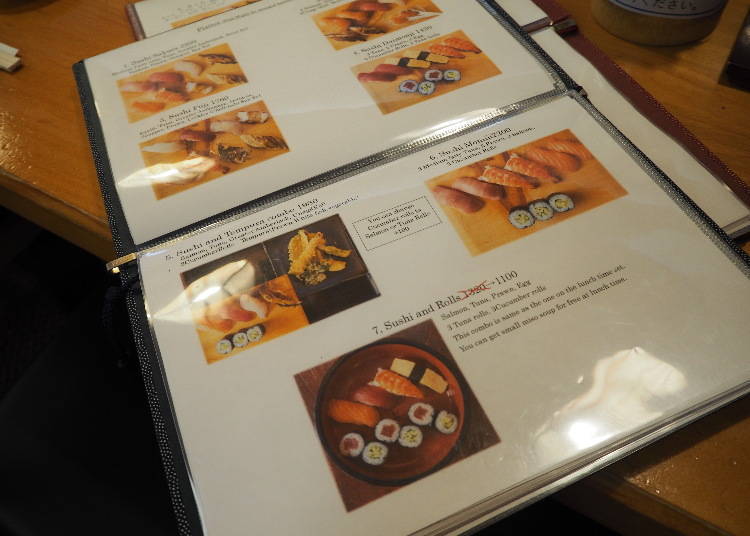 The 3rd generation young master is fluent in English from studying abroad. There are an English menu and customer service in English available. If you have allergies, you can eat assured that they understand this issue. In addition, the second-generation shop owner goes to the Kyoto Central Market to purchase ingredients. He designs the menu to be as delicious and simple to eat.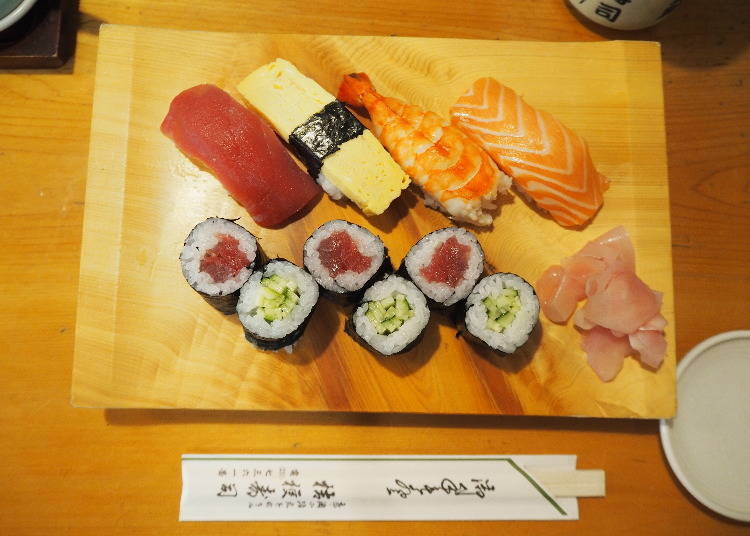 The recommended menu is Nigiri and Komaki Set (1,000 yen plus tax). There are 10 sticks and rolls including popular salmon. The lunch is smaller.

The sushi rice (called 'shari') is firmly wrapped, so it is easy to eat even if you are not good at chopsticks. The sushi is thickly sliced and delicious, and the umami of fresh fish will delight your taste buds. At 1,000 yen we could hardly believe it!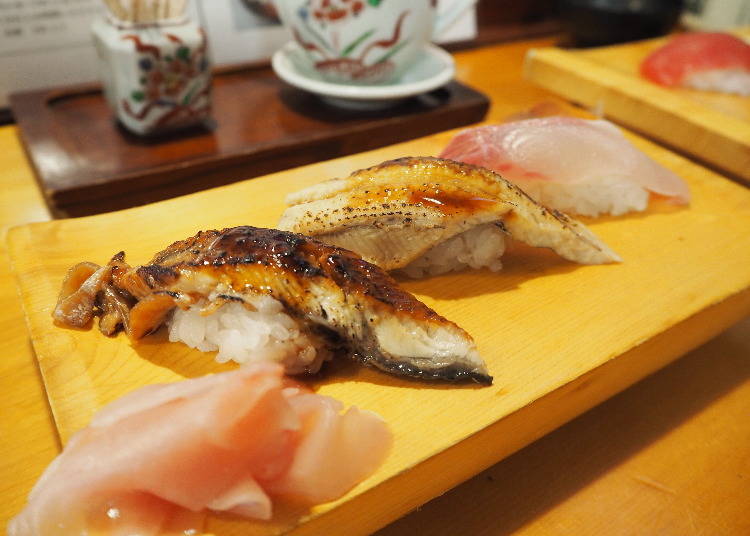 If you want to taste more varieties of this delicious Kyoto sushi, you can order more individually. We ordered eel, anago, and kanpachi individually, so that together with our previous set only came to 1800 yen (without tax). Roasted eel and scallop are fragrant, and sweet sauce is the best one to use for these foods.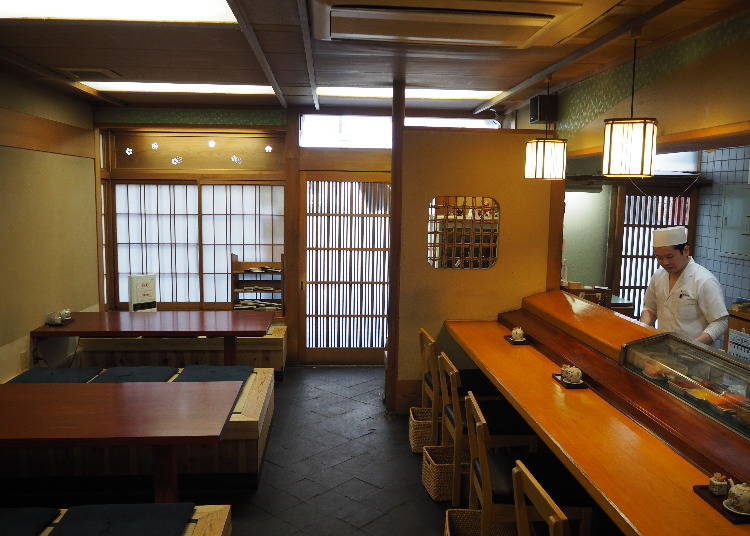 There are six counter seats and three tables that seat six people each. At the counter, you can have fun while chatting with the friendly young shopkeepers. If you are not sure about your order, please ask for what they recommend.
桔梗寿司

Address

43, Daimonjicho, Maruta-cho, Ayukoji-dori, Nakagyo-ku, Kyoto 604-0071, Kyoto

Phone Number

075-231-7361

Business hours: 11:30am - 1:30pm, 5 – 9pm
Fees: Nigiri and Komaki set 1,000 yen (excluding tax), Sushi "Sakura" 2,000 yen (excluding tax), etc.
Regular holiday: Wednesday (Tuesday irregular holiday)
2. Kaitenzushi Chojiro Kyoto-Avanti (Kyoto Station)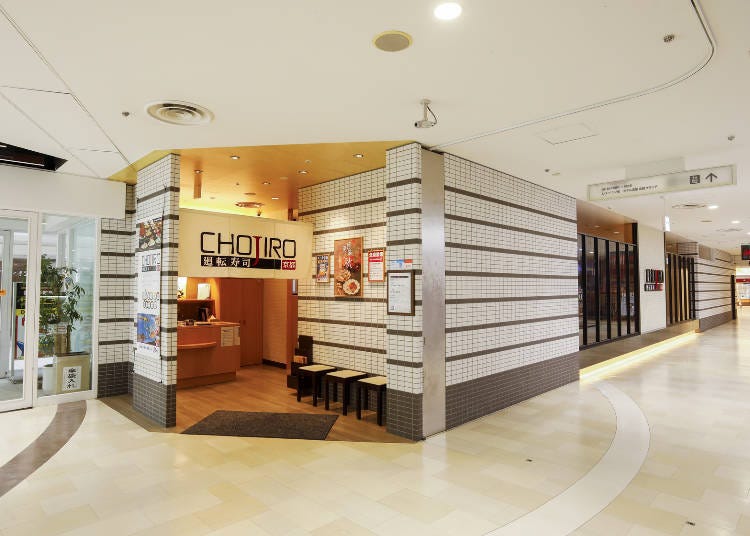 Right next to Kyoto Station's Hachijo Exit, which is the gateway to Kyoto, is Rotating Sushi @ Kyoto CHOJIRO Kyoto Avanti. The main attraction is an ikesu in the store, which serves up a fresh cut from the live fish swimming in front of you.

The veteran chef works hard to make sushi and values the balance of fresh ingredients, shari, and seasonings.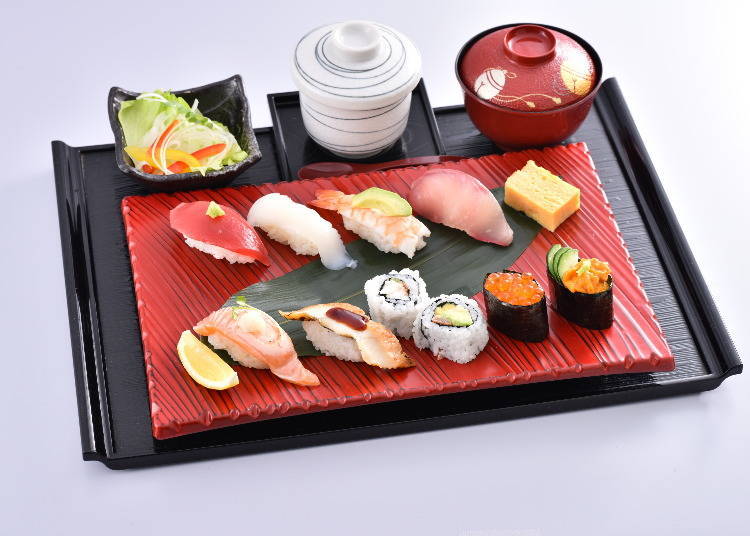 Sushi can be ordered on a plate-by-plate basis, but the popular menu is Sushi Gozen Hana Hitohira (1,480 yen, excluding tax). It includes salads, steamed bowls, and soup.

Options are based on seasonal seafood with seasonal flavors. Vinegar and soy sauce has a rich and sharp balance that enhances the taste of sushi.

In addition, try the "Swimming horse mackerel nigiri" (920 yen, excluding tax), which is taken out of the tank and freshly cooked for each order. There are plenty of menu items such as "Hon Tuna Sanmai" (810 yen excluding tax), where you can eat and compare large toro and lean meat.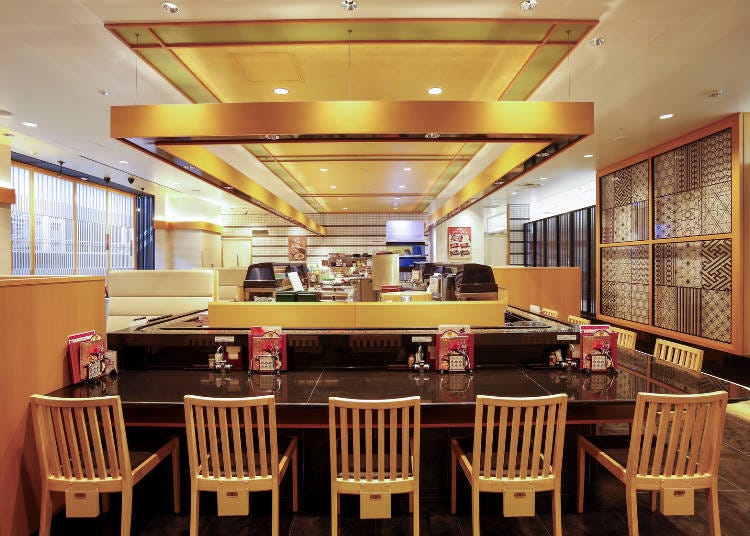 The Kyoto sushi restaurant's interior is based on the style of ancient Kyoto and has a calm atmosphere. There are tables for two, four, and six people and nine counter seats. The seats that overlook the chef at work are fun to sit at. You can expect delicious food at this restaurant.

There is a multi-language touch panel on the table, and you can switch languages by just tapping each language. Available in English, Chinese, Korean, and Spanish. Foreign tourists can enjoy sushi without worrying about communication.
Kaitenzushi Chojiro Kyoto-Avanti

廻転寿司 京都 CHOJIRO 京都アバンティ店

Address

Kyoto Avanti B1F, 31 Higashikujo Nishi-Sannocho, Minami-ku, Kyoto City, Kyoto Prefecture 601-8003

Phone Number

075-644-9644

Business hours: 11am – 10pm
Fees: Sushi Gozen Hana Hitohira (excluding tax: 1,480 yen), Swimming and horse mackerel sashimi (excluding tax: 920 yen), etc.
Regular holiday: Regular holiday of Kyoto Avanti
3. Nishiki Sushi Shin (Karasuma)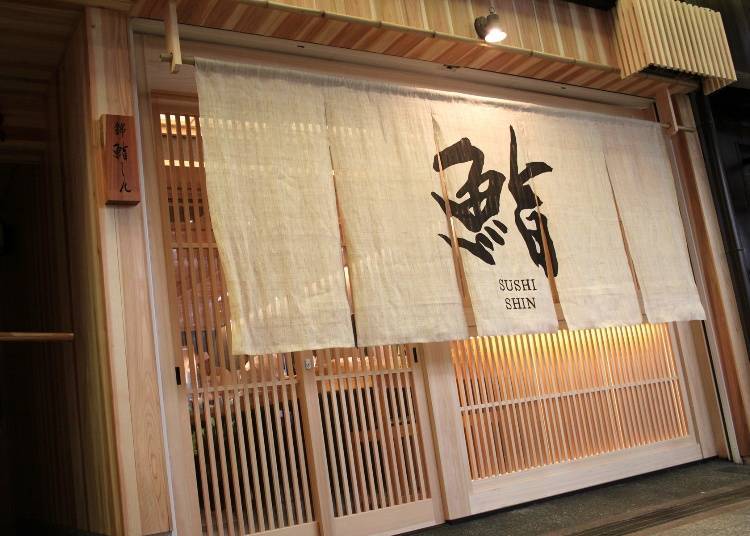 Nishiki Sushi Shin is located on the Hankyu Kyoto Line, approximately halfway between Karasuma Station and Kyoto Kawaramachi Station. It is an Edo-style sushi restaurant in Nishiki Market. It has been popular as a kitchen for about 400 years and is popular with tourists. You can taste seasonal and carefully selected fresh fish purchased daily from the Kyoto City Central Wholesale Market.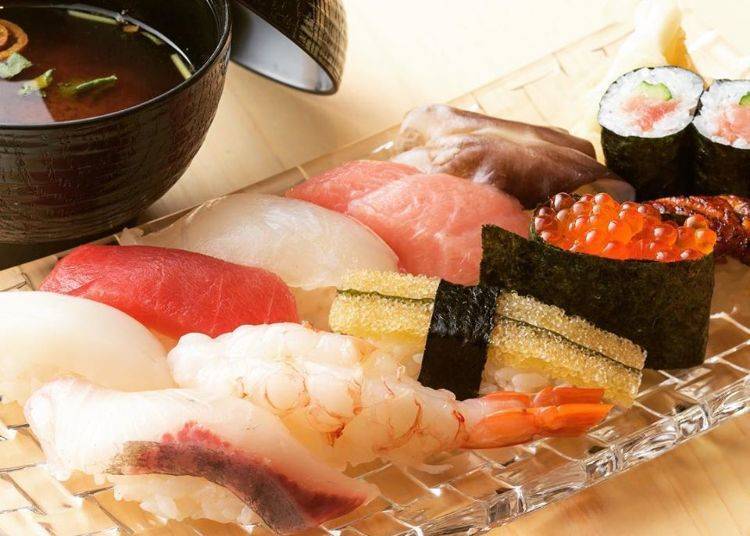 Lunchtime is a popular time for tourists to eat here. There is a Lunch Set Top (2,200 yen including tax). There is another menu for dinner. The lunch menu is a great value menu with sushi of 10 sticks such as tuna, bream, squid, salmon, and even red soup stock. The shari is soaked, making it perfect for fresh ingredients. For foreign tourists, the Kyoto sushi shop's menu offering is somewhat limited, but it is possible to order an additional handful of items individually.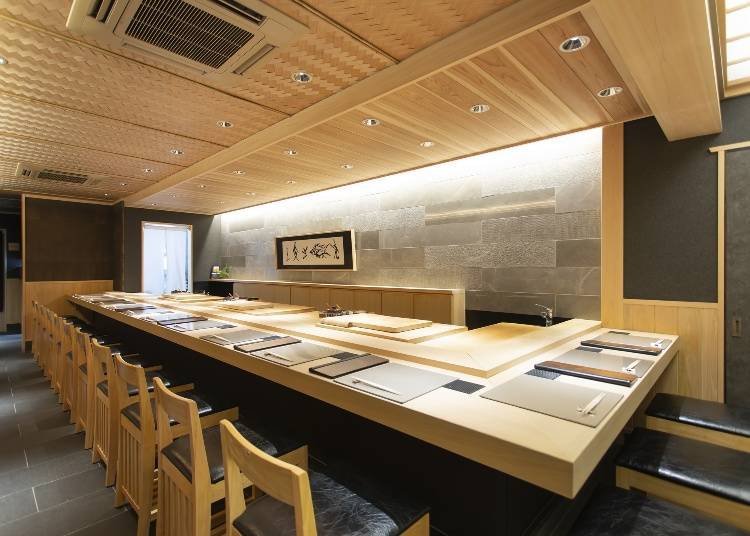 There are only 14 seats at the counter (12 at night). You can enjoy the atmosphere of a real sushi restaurant while in a casual atmosphere. Food and drinks have English notation on the menu, and simple English is available. This restaurant is ideal for enjoying delicious sushi after sightseeing in Nishiki Market.
錦 鮨しん

Address

169-2 Higashiuoyacho, Nakagyo Ward, Kyoto, 604-8055

Phone Number

075-223-3355

Business hours: 12pm – 2:30pm, 6 - 9:30pm
Price: Lunch 2,200 yen (tax included)-(tax included), Dinner 9,900 yen (tax included)-
Regular holiday: Wednesday
How do you choose a restaurant that suits you and the experience you are looking for?
Sushi is one of the most popular meals to eat while sightseeing in Japan. We introduced three high-quality Kyoto sushi shops, each of which has its own history and characteristics.

You can choose where to eat based on who you want to eat with, the atmosphere you like, or what you want to eat.

In addition, since all of these are popular stores, they may become crowded at lunchtime. If you don't want to wait in line, you should at least take a moment to see inside.

Text by: Masafumi Mikawa
Book a Kyoto sushi restaurant now!
We also recommend these restaurants in addition to those above. Save time and hassle - book your table online today!
*This information is from the time of this article's publication.
*Prices and options mentioned are subject to change.
*Unless stated otherwise, all prices include tax.