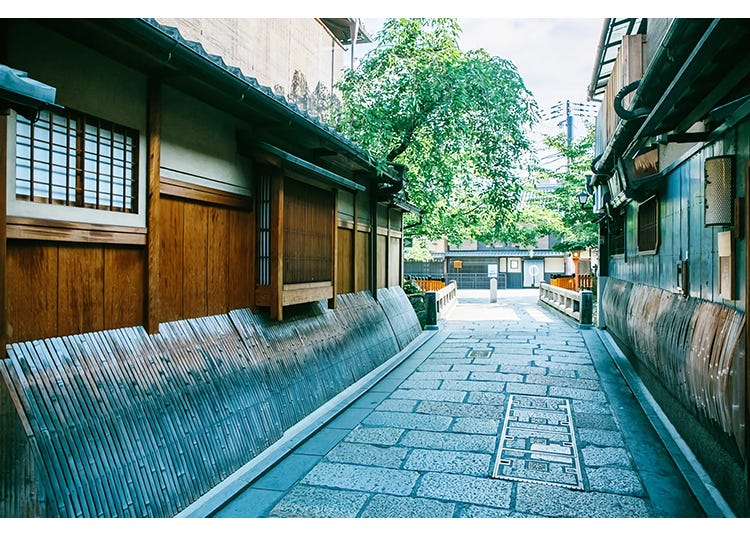 Kyoto is one of Japan's most iconic tourist destinations. Gion, Arashiyama, and a plethora of other historical sites exist today just as they did hundreds of years ago. Strolling through the city while gazing at beautiful traditional buildings, shrines and temples is one of the most enjoyable aspects of visiting Kyoto.

But don't forget that people are living in these areas, too. Before the pandemic, Kyoto grappled with congestion and unruly behavior from tourists. To prevent the re-emergence of these problems, Kyoto City has put together the Code of Conduct for Sustainable Tourism in KyotoKyoto Tourism Code).

We hope that tourists, people working in the travel industry, and Kyoto's citizens will uphold these principles together. Here, we'll introduce the Kyoto Tourism Code that we ask you to follow when sightseeing in Kyoto.
Kyoto Tourism Principle 1: Respecting Local Culture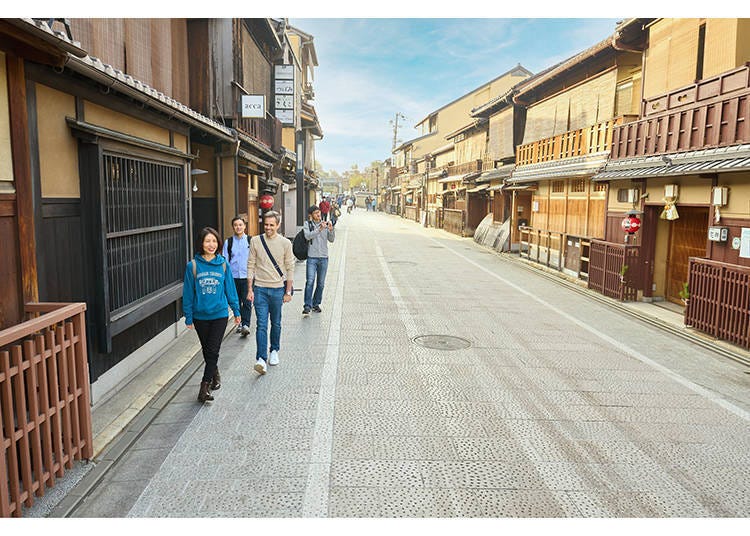 Where do you want to visit in Kyoto? Many tourists want to visit religious and historical sites and streets lined with traditional Japanese buildings. But all of these places are also deeply important to residents, so please be considerate.
・Please respect Shinto and Buddhist beliefs when visiting shrines and temples
On the grounds of shrines and temples, please refrain from speaking loudly, making phone calls, or live streaming. Also, when visiting shrines, there are some rules pertaining to the path running from the shrine's gate (called a torii gate) to the main building that you should keep in mind. The middle of this path is called seichu and is a space for gods to walk, so it is proper etiquette to walk on the sides instead. Though the lovely torii gate and the shrine's main building may seem photogenic, please don't stand in the middle of the path to take photos or videos, as this is frowned upon at many shrines.
・Check for no-photography signs
There are places throughout Kyoto where taking photos or videos are prohibited in order to protect the privacy of residents, artists' copyrights, etc. No-photography signs will be posted in areas where photography and video recording are not allowed, like Hanami-koji Street in Gion. Even in areas where photography is allowed, don't use tripods or selfie sticks to take pictures, as the streets are narrow, and you may become a nuisance for passersby. Also, remember that the traditional townhouses lining Kyoto's streets are actually the homes and businesses of those who live and work there, so respect their privacy. While you enjoy your stroll, be considerate of the neighborhood by staying quiet and make sure you aren't getting in anyone's way.
・Learn and experience Kyoto's culture and history
Kyoto is full of historic buildings and religious sites that are regarded as national treasures and have maintained their beauty for centuries, all thanks to the city's residents who have diligently protected them. In Kyoto, there are a wide variety of sightseeing tours where a guide will introduce you to the city. Many of these tours are available in foreign languages. As your guide shares their wisdom about the local sights, you can take a journey through Kyoto's past and experience the famous hospitality of the hanamachi (geisha districts). You will surely fall even more deeply in love with Kyoto.
Kyoto Tourism Principle 2: Protecting the environment and the beautiful city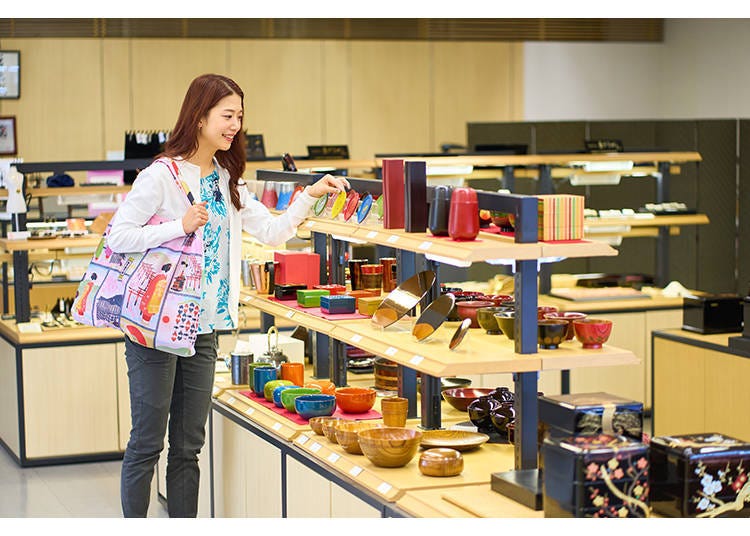 When you visit Kyoto, you'll be amazed by the beautiful scenery. Keep sustainability in mind during your travels so you can help protect the environment and this stunning city.
・Carry a reusable shopping bag
To protect the environment, stores across Japan began charging for plastic shopping bags from July 2020. Most shops in Kyoto charge for shopping bags. We recommend bringing your own bag when you go shopping.
・Don't litter
Many residents of Kyoto keep the areas in front of their homes or stores clean, and Kyoto's streets are famously spotless because of their efforts. Trash cans are purposefully scarce in many areas as not to spoil the scenery, so even if you can't find a trash can, do not litter. Instead, keep your trash with you. We recommend carrying a reusable bag to store trash. This little act of thoughtfulness is a significant contribution to keeping Kyoto beautiful.
・Don't waste food
Kyoto's gorgeous food and desserts are truly works of art. Please don't waste food by ordering something just to take photos or out of curiosity. Leaving food uneaten is considered rude in Japan, and food waste is a major issue. Only order as much as you can eat and share portions with your group.
Kyoto Tourism Principle 3: Interacting with people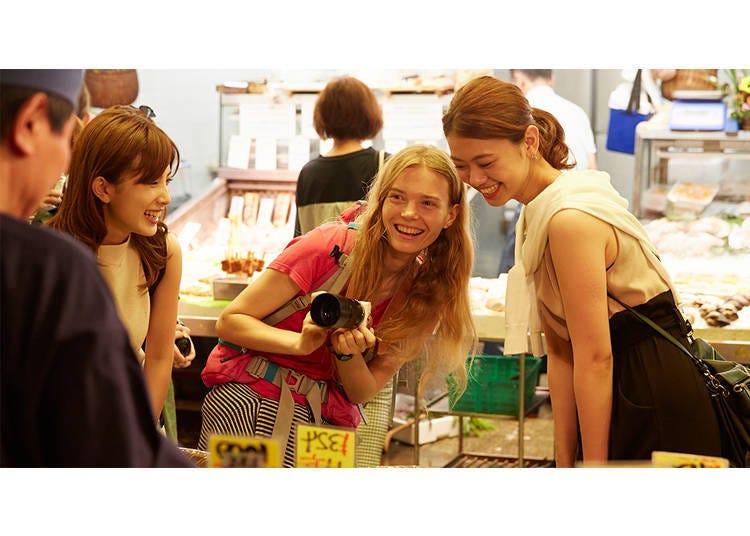 With over a thousand years of history, there's charm in every corner of Kyoto. Interacting with local people will deepen your knowledge of the culture and make sightseeing even more enjoyable.
・Ask hotel staff for recommendations
Ask your hotel or guesthouse staff about interesting places to visit nearby. They might be able to recommend unique spots that are beloved by locals but not listed in guidebooks.
・Interact with locals and learn about Kyoto's history
You can enjoy a wide variety of walking tours and other experiences hosted by Kyoto's residents. Tea ceremonies, Zen meditation, and home-cooking lessons using local ingredients are some of the experiences that will show you a whole new side of Kyoto.
Kyoto Tourism Principle 4: Staying prepared, just in case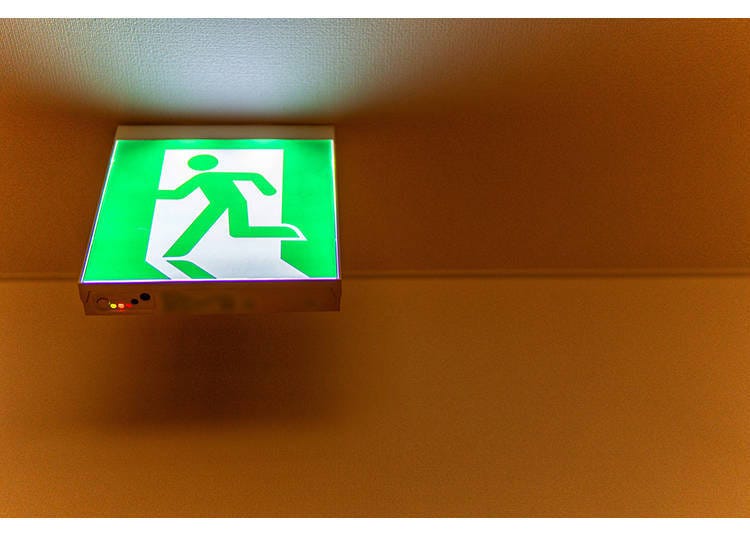 Even on vacation, you never know when a disaster might occur. By preparing for emergency situations, you can rest easy and enjoy your trip to the fullest.
・Familiarize yourself with your accommodation's evacuation routes and nearby evacuation sites
Every accommodation will have pre-determined evacuation routes. Be sure to locate emergency exit signs. Ask the staff where you're staying about the closest evacuation sites, both near your hotel and near places you plan on visiting. In addition, Kyoto City provides disaster safety information online in multiple languages, including weather updates, train operation status, assistance returning home, and much more. Be sure to take advantage of this wealth of disaster preparedness information.
・Plan your trip so you can avoid crowds
To limit overcrowding and promote safe sightseeing, congestion forecasts for major tourist spots are available up to two months in advance on the Kyoto City official website. The projected crowd levels are broken down by the time of day and rated on a scale of 1 to 5. In addition, cameras in ten locations throughout the city stream live on YouTube 24 hours a day, which you can reference when planning your travels.
Upholding sustainable tourism principles to create an unforgettable experience in Kyoto
Kyoto's beautiful, historic townscape has been immaculately maintained for generations by the city's residents. Following principles of sustainable tourism is the least visitors can do to express gratitude and respect for their hard work. In addition to the principles listed above, remember that being a tourist is no excuse for being a nuisance! Be considerate and help us preserve Kyoto for the next generation.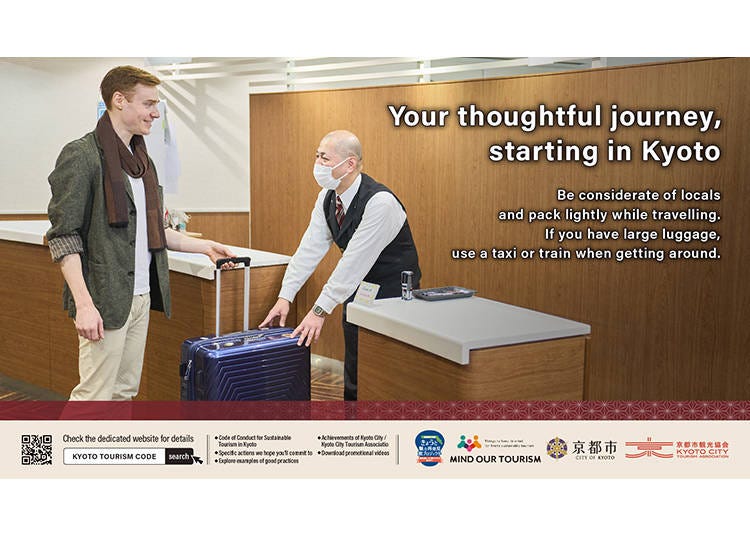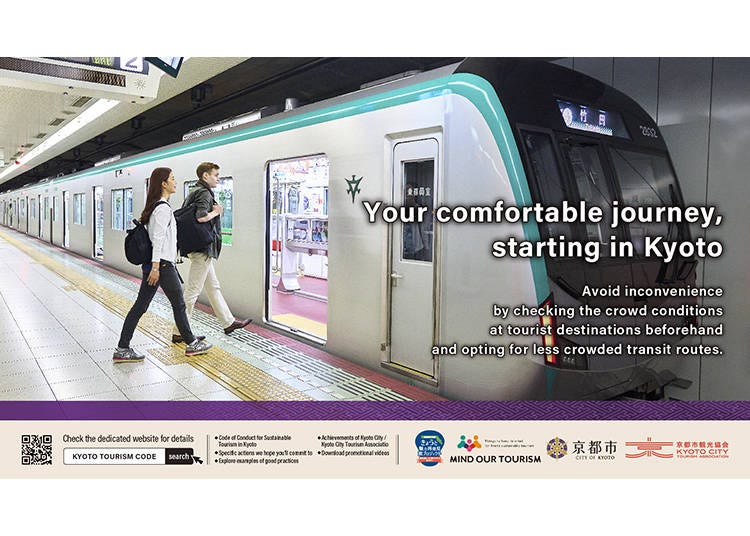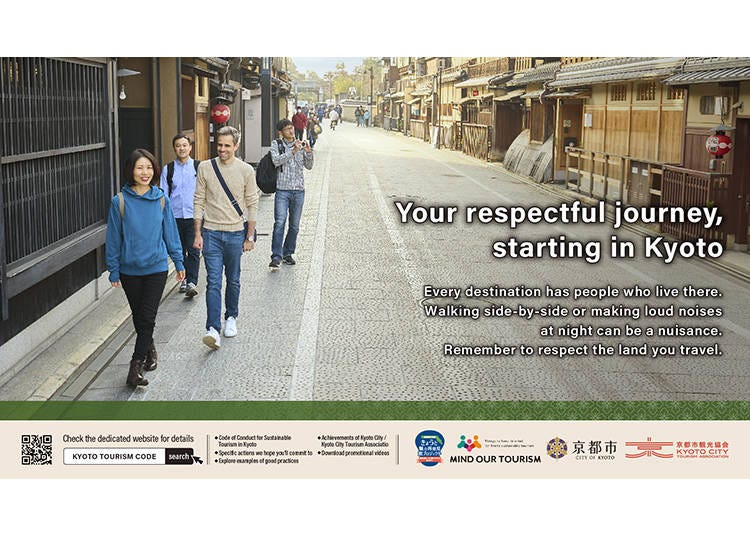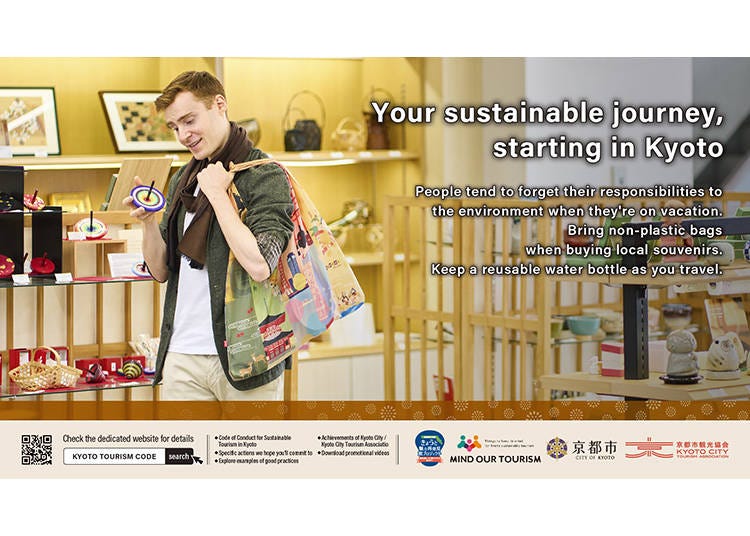 *This information is from the time of this article's publication.
*Prices and options mentioned are subject to change.
*Unless stated otherwise, all prices include tax.
Limited time offer: 10% discount coupons available now!