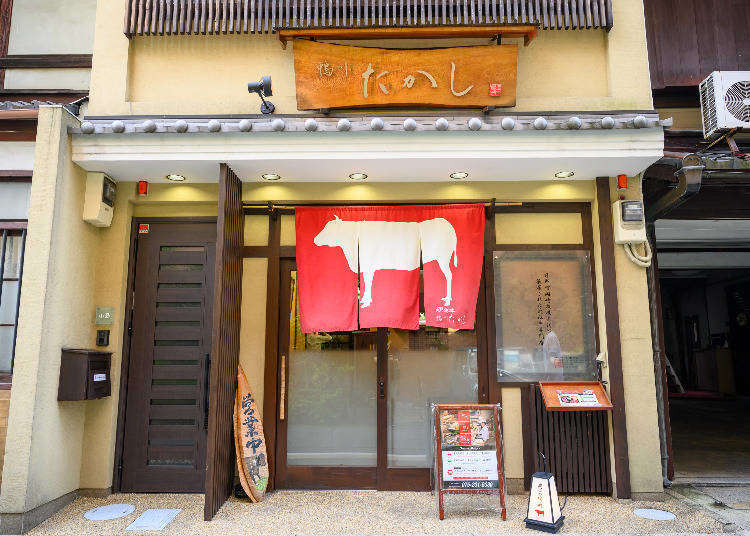 When you're looking for lunch in Kyoto, try a leisurely meal at a traditional Japanese-style restaurant! There are many places in Kyoto where lunch costs over 1,000 yen ($10), so we've scoured the city and found two astounding lunch deals that'll make your trip truly special.

Both restaurants are easily accessible as they are close to stations and popular tourist spots.
1. Kamogawa Takashi: Exquisite Omi beef bowl lunch in Kyoto for only 500 yen!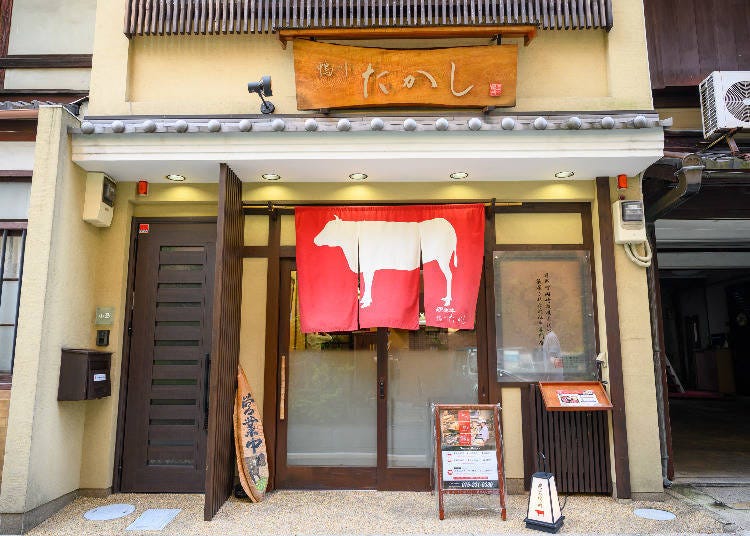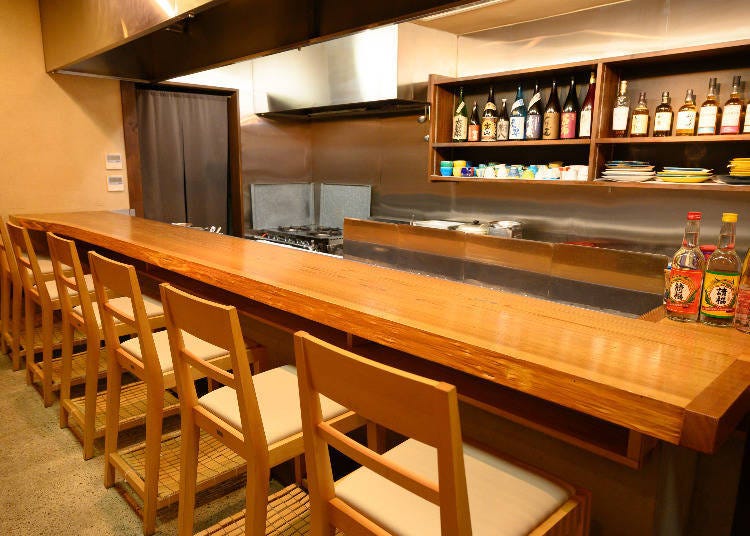 Kamogawa Takashi is a restaurant nestled in a quiet residential area close to the Kamogawa River that runs through the center of Kyoto.

Here you can enjoy the Omi Hino Beef brand in yakiniku and kaiseki (traditional multi-course Japanese dinner) style dishes. Omi beef is considered one of the top three wagyu brands, along with Kobe beef and Matsusaka beef.

At Kamogawa Takashi, which is in the style of a long, traditional Kyoto merchant house, there are counter seats where you can observe up close meat being grilled over charcoal; table seats by windows looking out on to the patio garden; and a private room in the very back. It makes for the perfect relaxed lunch in Kyoto!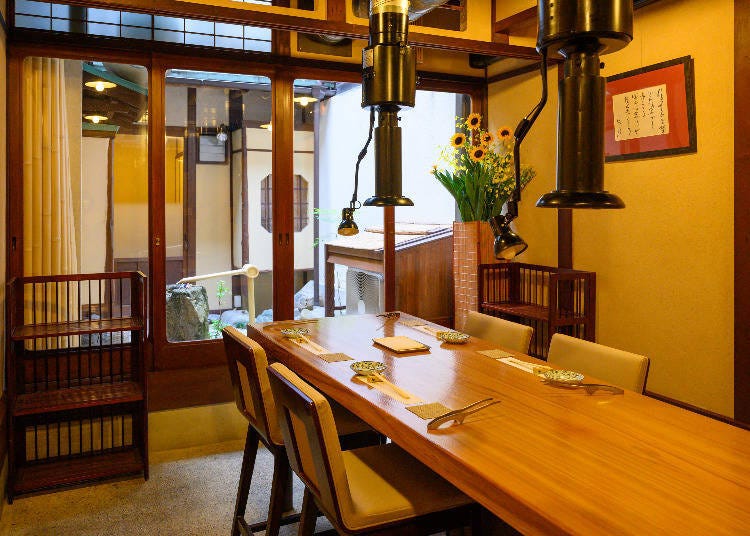 All the tables in the store are made of single solid planks, which blend with the Japanese furniture to create a calm atmosphere. It has the feel of a well-established Kyoto restaurant, and yet it also offers a tremendous 500-yen lunch.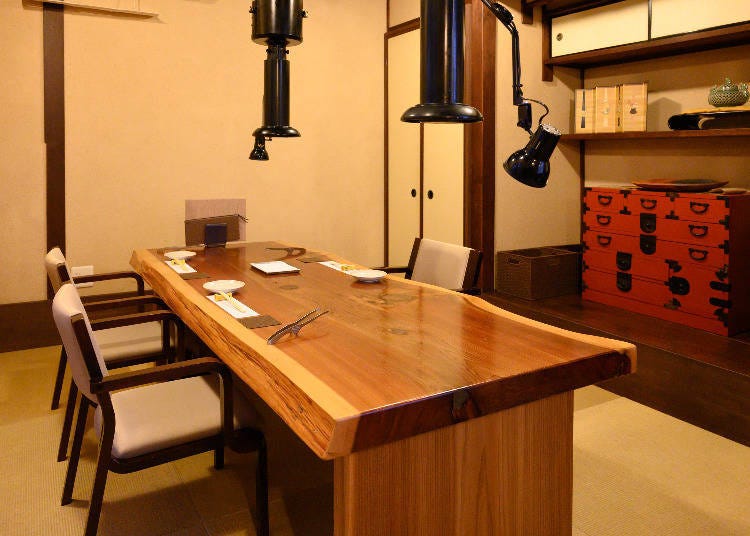 Various styles of aged Omi Beef that has been fattened for 36 months or longer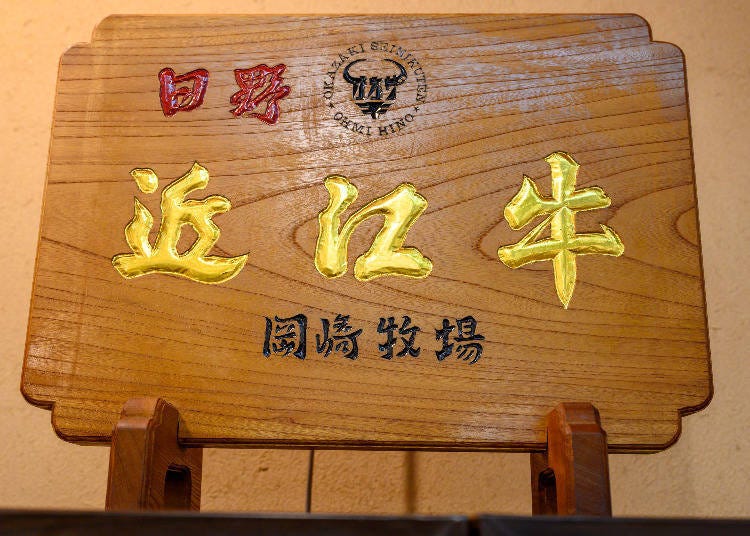 Not only for dinner but also for the exceptional lunch in Kyoto, all the beef used here is the fully aged Omi Hino Beef raised on the Okazaki Ranch in Hino-cho, Gamo-gun, Shiga Prefecture.

It is an exquisite product that has increased the original flavor and rich aroma of the meat by raising it for a year to one year and three months longer than usual in a climate suitable for raising cattle and one blessed with good water quality.

In addition to charcoal grilling of each cut, such as top sirloin cap, tongue, and flap meat, you can savor this high-quality meat in your favorite style, such as grilled top sirloin cap sukiyaki, which is quickly roasted and dipped in egg, together with other delicacies such as dagger-tooth pike conger in summer and crab and blowfish in winter.

All this excellent quality for the cost of a single 500-yen coin!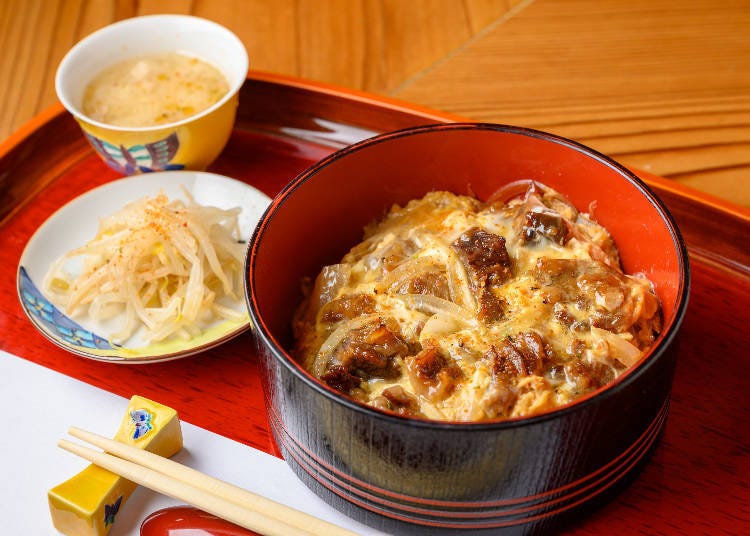 This affectionately called "one-coin" lunch is an Omi Beef bowl average serving for only 500 yen (including tax).

It's a terrific value set consisting of a bowl of Omi Beef cooked with a secret sauce that is sweet and spicy and bound with eggs, served with a beef tallow miso soup and namul-style bean sprouts. Many people, such as those on school excursions, come to this store from afar.

Because it uses the fat with meat that comes out when preparing a chunk of meat, you can enjoy the taste and texture of different parts in one bowl, such as round, rib fingers, and boneless rib. Be sure to make a reservation before you go as this dish is limited to only 20 servings. There is an extra-large portion for 700 yen (tax included).

Omi Beef is carefully cooked with sauce constantly being added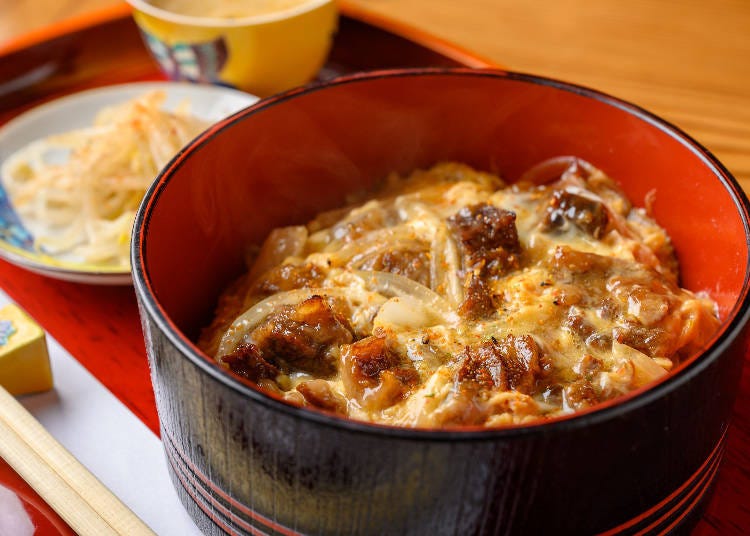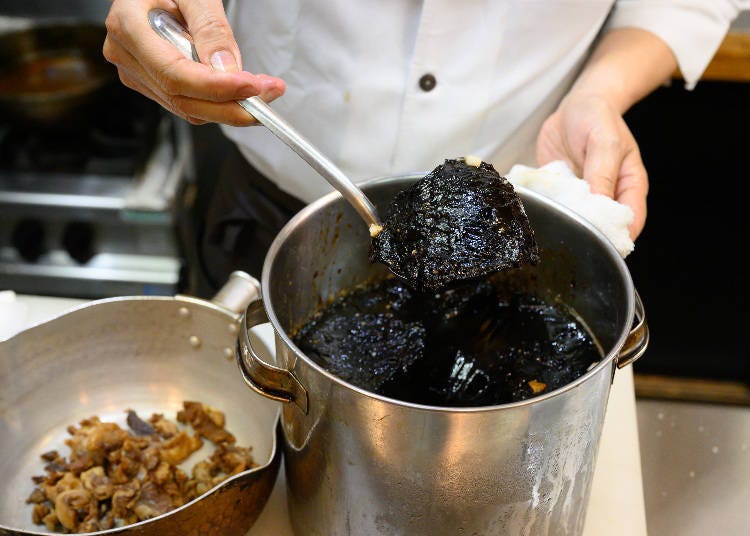 The decisive factor for the taste of the Omi Beef bowl is the sauce that has been used since the shop opened. When the meat is cooked, this sauce, which looks like boiled meat with fat and umami, is added to the pan together with selected seasoning and brought to a boil.

At this time, not only the amount of meat and seasoning but careful attention is also paid to the cooking time and the strength of the fire.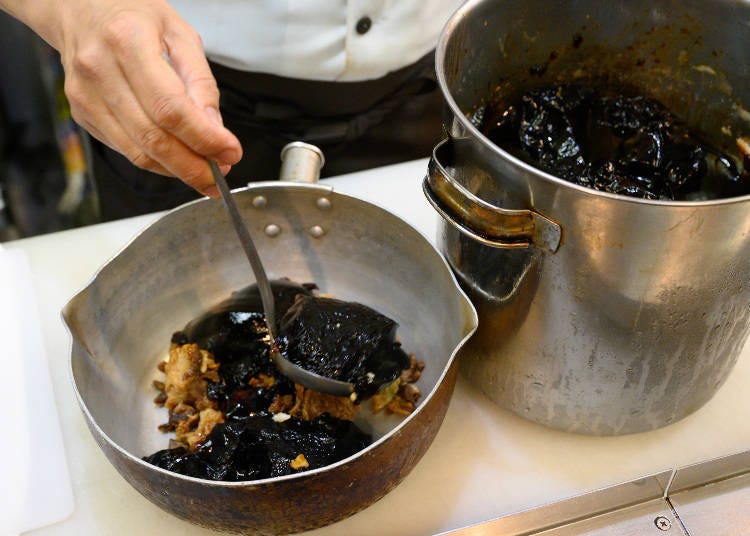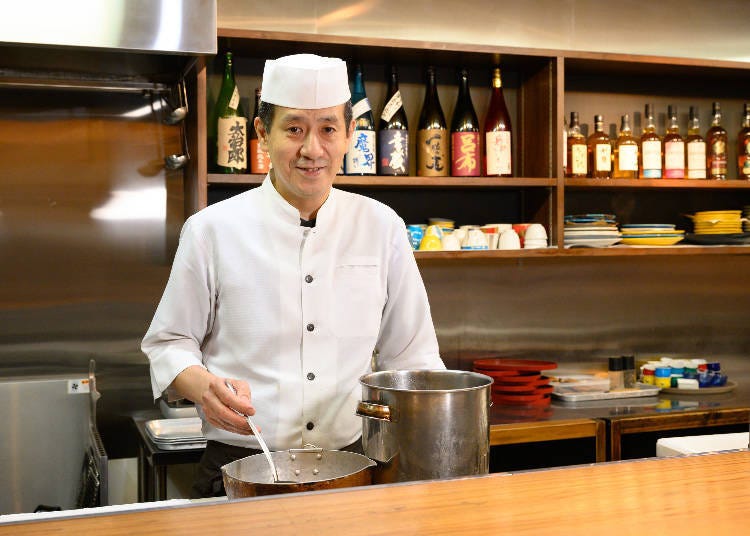 Daizo Hiroshi, the head chef
After it has simmered, it is set aside with the broth until it cools, and it is done once the Omi Beef has been fully infused with flavor. It is said that this is also used in chawanmushi (Japanese-style egg custard).

Head chef Daizo Hiroshi commented, "When preparing Japanese dishes, you have to pay close attention to the finest details. Doing that ensures that the flavor will always be the same."

The slightly lavish lunch is also popular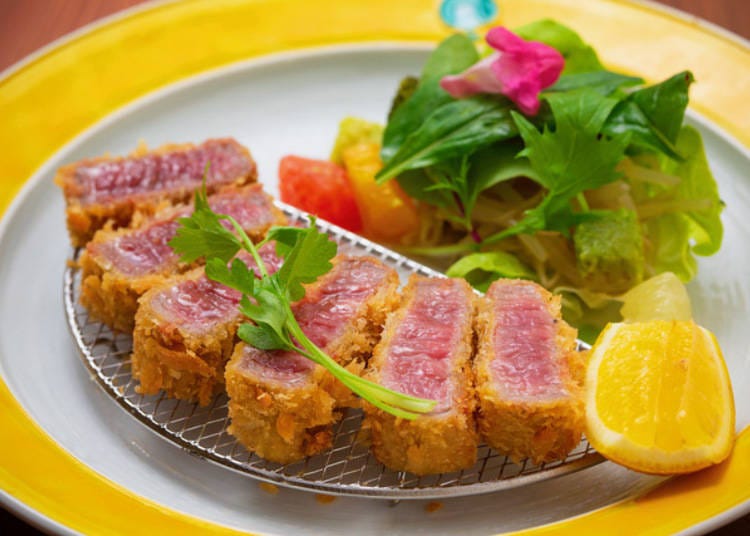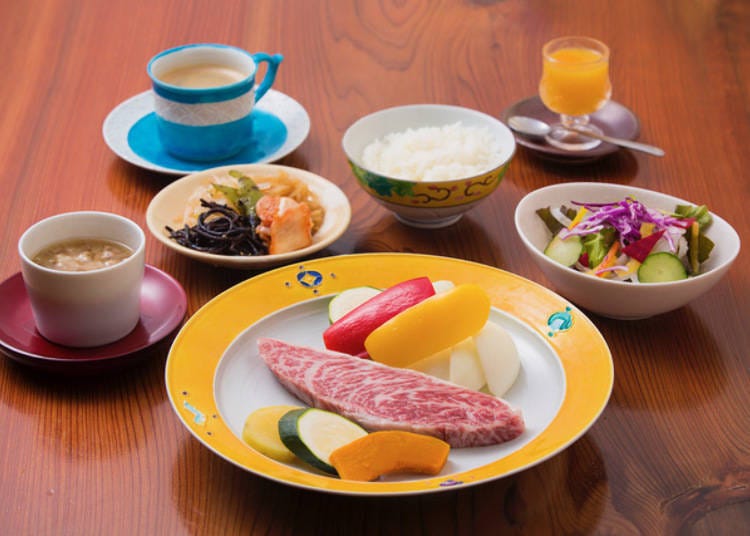 In addition to the one-coin lunch, the top-grade beef cutlet set, Beef Cutlet Takashi, costing 2,600 yen (tax included, reservation required), and the aged Omi Beef charcoal-grilled steak lunch Top Sirloin Cap Steak, costing 3,900 yen (tax included), are also popular.

Both come with rice, miso soup, salad, namul, and dessert, and the steak lunch is also served with after-meal coffee. In addition to the steak lunch set, rump, costing 3,300 yen (tax included), and rib roast, costing 5,500 yen (tax included) are also available.
Foreign staff are also available. Coronavirus countermeasures are strictly enforced.

Foreign tourists are welcome as in addition to the Taiwanese staff who can speak English and Chinese. There are also menus in Chinese and English. For telephone reservations, English is always possible, and Chinese is possible if there is a Chinese-speaking staff member present. As coronavirus countermeasures, the number of seats has been reduced, the premises carefully disinfected, and vents above the table grills are placed to ensure proper ventilation.
完熟近江牛 鴨川たかし

Address

265-1, Suemarucho, Kyoto Shi Nakagyo Ku, Kyoto, 604-0901

Nearest Station

6-minute walk from the Keihan Jingu-Marutamachi Station


Phone Number

075-231-6336

Open: 11:00 a.m. ~ 2:00 p.m. (L.O. 1:00 p.m.), 6:00 p.m. ~ 10:00 p.m. (L.O. 9:00 p.m.)
Closed: Tuesday, third Wednesday *may vary at times
2. Restaurant Patio: Located in a business facility used by researchers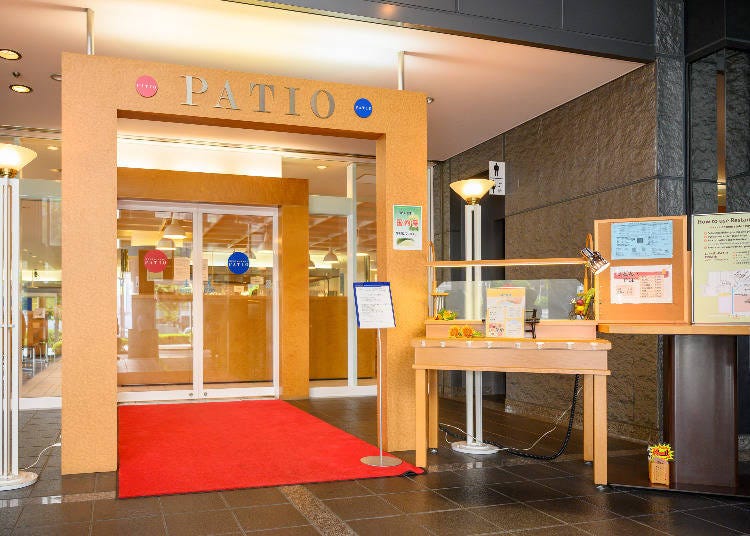 Restaurant Patio is located in Kyoto Research Park, a facility housing businesses and research institutions and where international conferences are held.

It is open to everyone and not just the tenants in the building. There are two entrances, one is from the hall facing the gates, and the other is facing the road, which is convenient for general customers.

Here, in addition to three set meals having different content, are also offered various lunches such as curry, bowls, noodles such as udon and soba, as well as small bowls and salads that change daily.

During lunch hour, it is self-service!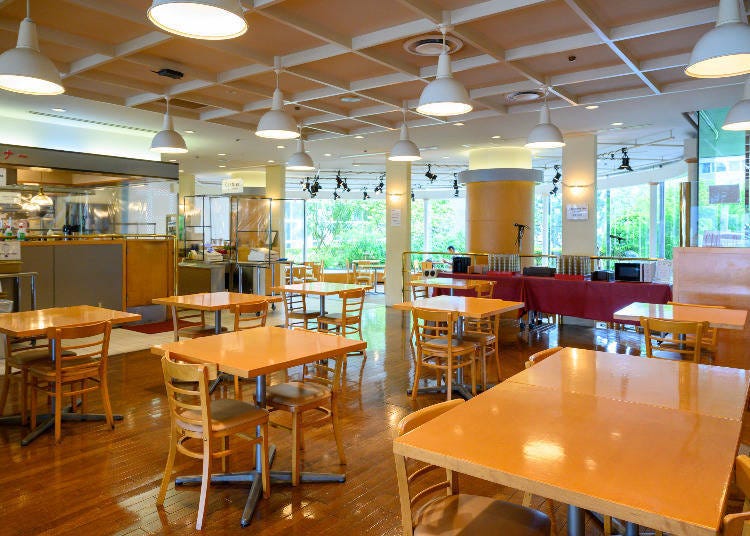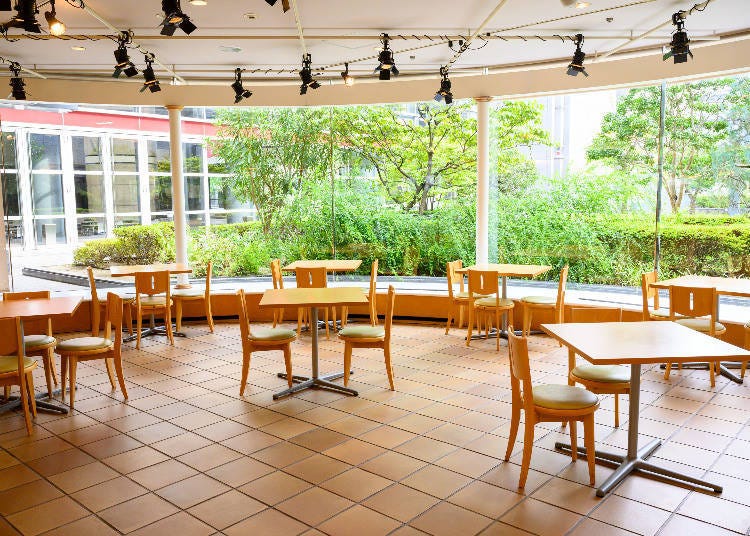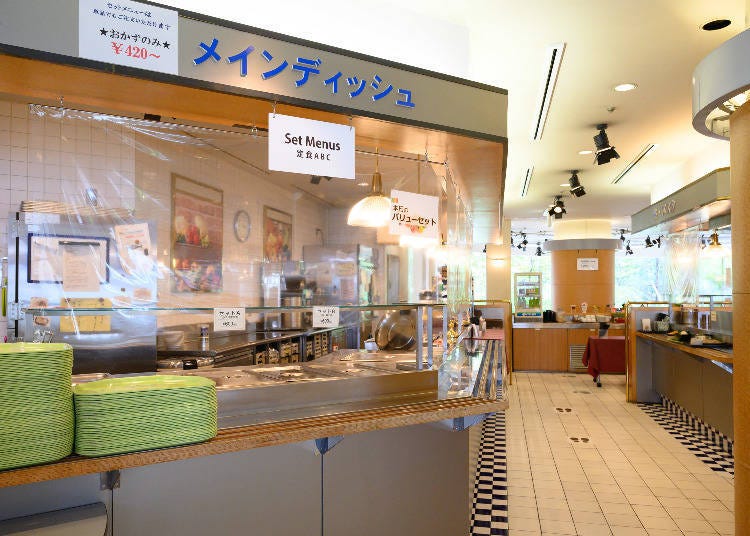 It is quite spacious. Most of the seating is at tables. However, near the windows, there is counter seating for individuals, and the area can be used for enjoying your lunch in Kyoto as well as short tea times.

The most popular area is the glass-enclosed space facing the lush courtyard. Bright and bathed in sunlight, it can be rented for private events other than at lunchtime.

At lunchtime, it is self-service style, so you can select whatever you like at the counter and then take it to your seat. With the set meal, you can order okazu (a side dish to accompany rice) not in a set or, if you prefer, other small dishes that are changed daily such as potato salad, stewed dishes, and cold tofu, each for only 100 yen (tax included). Unlike at lunchtime, at teatime, you can order from your table or where you are sitting.

Get a filling meal just for a single 500-yen coin!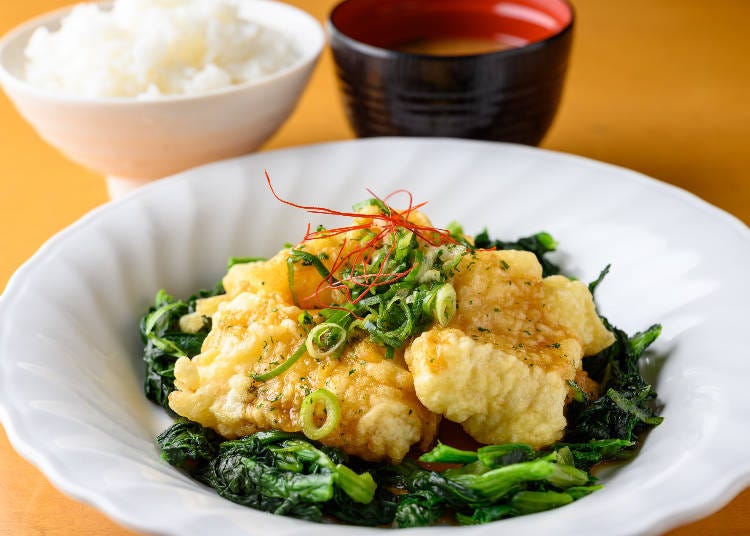 A 500-yen (tax included) Value Set has been offered since July 2020, which consists of an okazu that changes each day, plus miso soup and rice in a set. When we visited, this consisted of a serving of 5 large pieces of deep-fat fried white fish. The meat was succulent and fluffy and had a Chinese-style sweet-and-sour sauce that went perfectly with the rice. Consideration had been given to making this a nutritional meal as it also contained lots of spinach. Also, there will also be other types of okazu, such as chicken, pork, and katsudon (breaded pork on rice).

This is something you definitely must see! Two types of set meals that are changed daily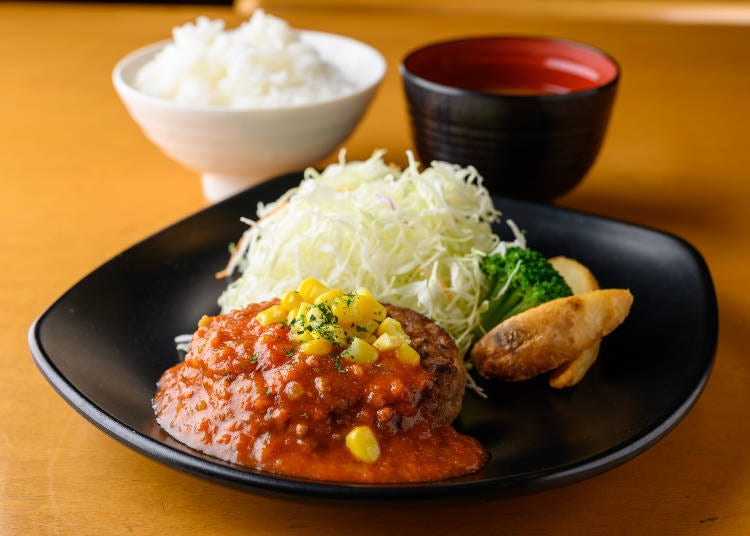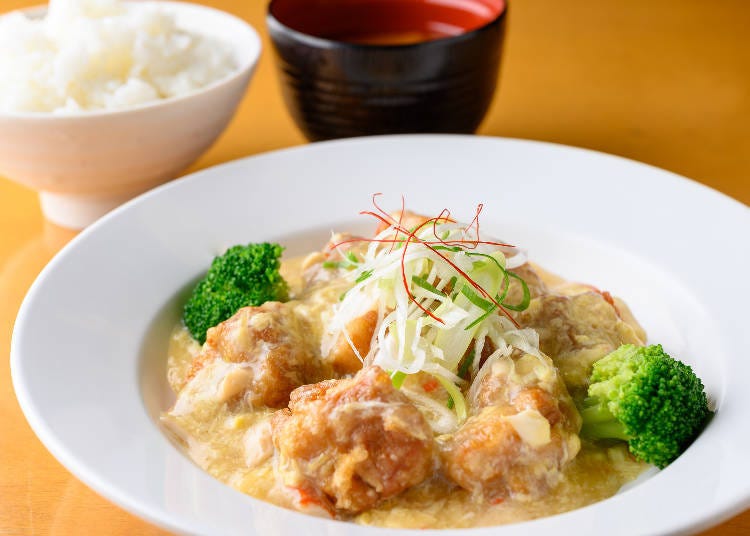 In addition to the value set, set meals are available in which the okazu in the A set and B set, each costing 600 yen (tax included), is changed daily. On this day, these were a meaty Hamburg patty in a tomato sauce and juicy fried chicken smothered in an egg ankake (thick sauce).

There seem to be more kinds of okazu for the daily changes than you can count, so it is improbable you would get tired of eating here every day. Happily, of the three different set meals, one will include fish. Those that are popular are the one with ankake and the other with tomato sauce.

Though inexpensive, portions are reasonably sized and look great, too!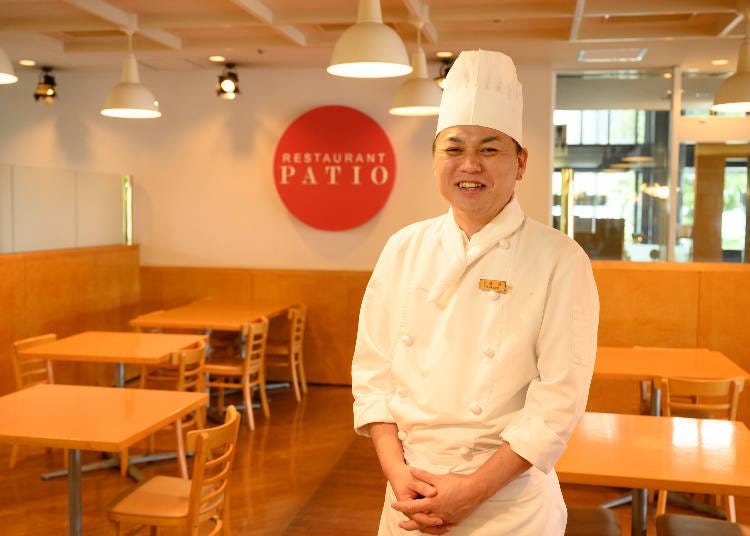 Manager Ryo Nakahashi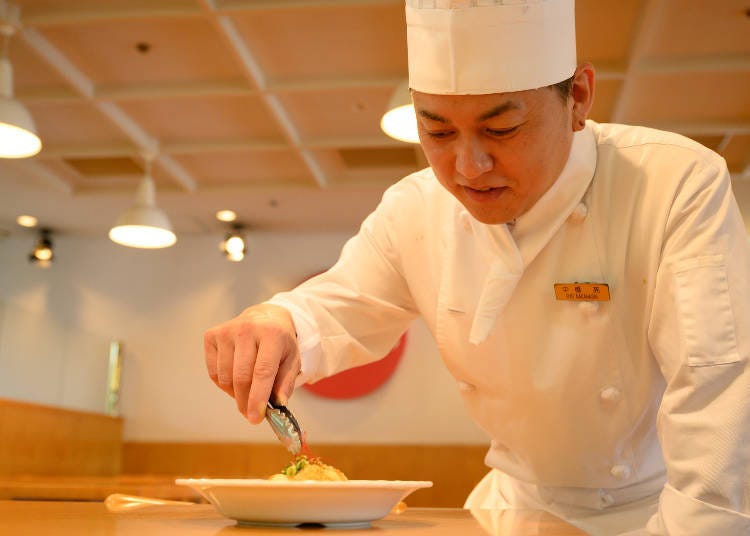 Mr. Ryo Nakahashi is the manager of Restaurant Patio which gets about 300 people for this famous lunch in Kyoto every day.

"Even though the number has decreased because of the coronavirus, I want those who do come to be satisfied," he said, so he decided to offer one of the three types of the 600 yen set for 500 yen.

"It was absolutely necessary to offer one for the cost of a single 500-yen coin. Even though it's cheap, it doesn't look bad, and I purposely made the portion large. Occasionally some even remark that the portion is too large. (laughs) Thanks to those who continue to come, though, it sells out almost every day," he happily said.
Every effort is made to provide foreign language support and countermeasures are taken against COVID-19.

The menu is written in English as well because it is visited by many foreign visitors who attend international conferences held here. As countermeasures against the coronavirus, in addition to using disinfectants, vinyl sheets have been placed at the counter and cashier, and the number of seats has been reduced.

Previously some of the food was presented buffet-style. However, to more strictly guard against infection, now all the small dishes of food are individually wrapped. "In the future, I would like to keep the prices around 350 to 500 yen for just okazu and also provide takeout," said Mr. Nakahashi.
レストラン パティオ

Address

Kyoto Research Park 1F, 134, Chudoji Minamimachi, Kyoto Shi Shimogyo Ku, Kyoto, 600-8813

Nearest Station

Access: 5-minute walk from JR Tambaguchi Station


Phone Number

075-326-6006

Hours of operation: 9:30 a.m. ~ 5:00 p.m. (L.O. 4:30 p.m.; Lunch 11:30 a.m. ~ 2:00 p.m.
Closed: Saturday, Sunday, national holidays
These budget-friendly places for lunch in Kyoto are treasures awaiting to be discovered. Be sure to visit these two shops where you will be treated to delicious dishes at very low prices. Also check out the surrounding tourist spots.

Text by: Efeel
*The information in this article is as of August 2020.
*This information is from the time of this article's publication.
*Prices and options mentioned are subject to change.
*Unless stated otherwise, all prices include tax.