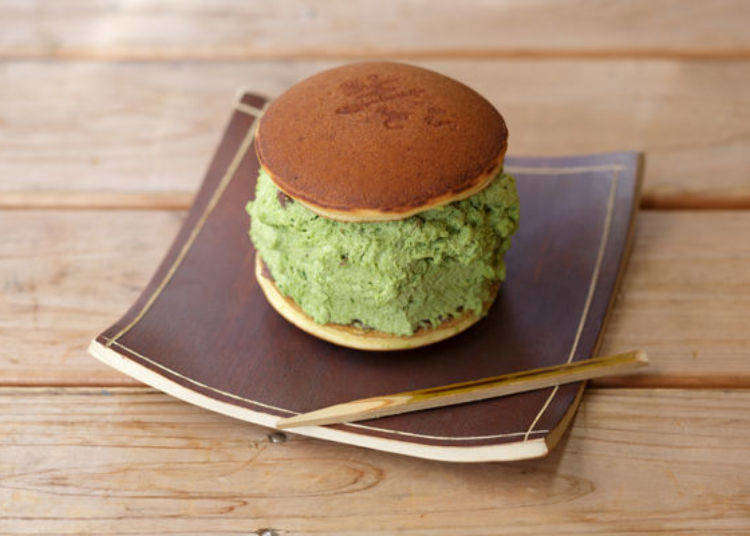 Kyoto matcha desserts are a must-try when visiting Japan's historic city. Just to Kyoto's south is Uji, a small city famous for its green tea, much of which ends in Kyoto's many historical tea houses or inside the famous Kyoto matcha desserts.

We've selected a few that you're sure to remember. They're so good that after taking one bite you will want to let someone know about it!
Tsuen: Offering Kyoto matcha desserts for over 800 years
First, we arrived at Tsuen, which, opened in 1160, is the oldest tea house in Japan. The shop first started when the Uji Bridgekeeper began providing tea to travelers, and praying that they would have a safe journey – a custom dating back 860 years.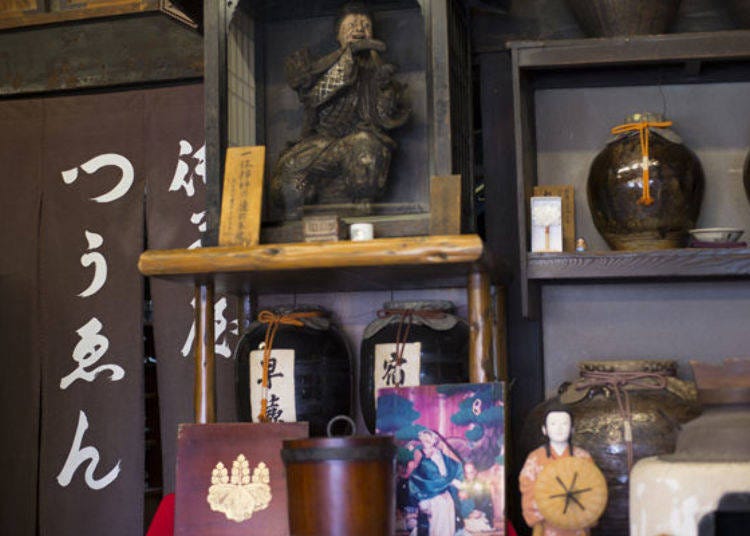 The store is decorated with many historical objects such as a wooden statue of the founder of Tsuen, gifted by the famous Buddhist monk Ikkyu. Many daimyos and famous historical figures including Ashikaga Yoshimasa, Toyotomi Hideyoshi and Tokugawa Ieyasu have been Tsuen customers.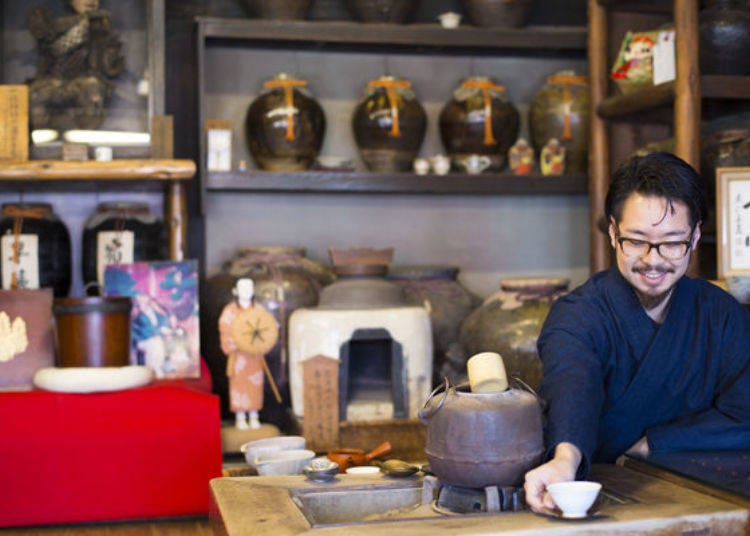 We spoke with the 24th generation owner Tsuen Yusuke who, when he was a child, would help out at the store. After studying tea at a research center in Kyoto, he took over the operation of the historical store. The tea he served us was delicious and you could feel the history passed down in the tea.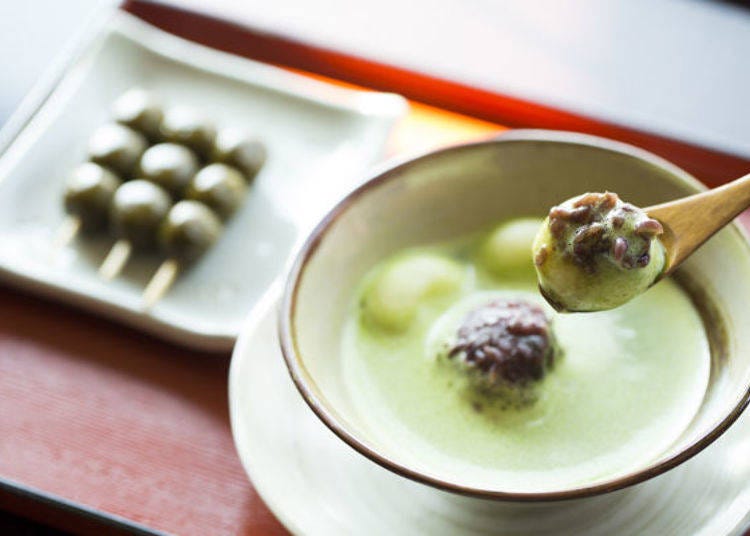 ▲Matcha zenzai (served cold) and cha-dango (tea rice dumpling) set 'Sawarabi Set' 900 yen (tax included)
We ordered the matcha zenzai made with Uji matcha blended for sweets. For this Japanese style sweets, each tea is made to order and is served with homemade shriatama (rice-flour dumpling) and tsubu-an (coarse sweet red bean paste).

First, we had the plain matcha. The lukewarm tea, although slightly bitter, has a strong impression of umami and provides a sense of relaxation. Next, we added some tsubu-an to the tea. The moderately sweet tsubu-an and refreshing matcha tea creates an excellent harmony. The jiggly shiratama is also a nice addition.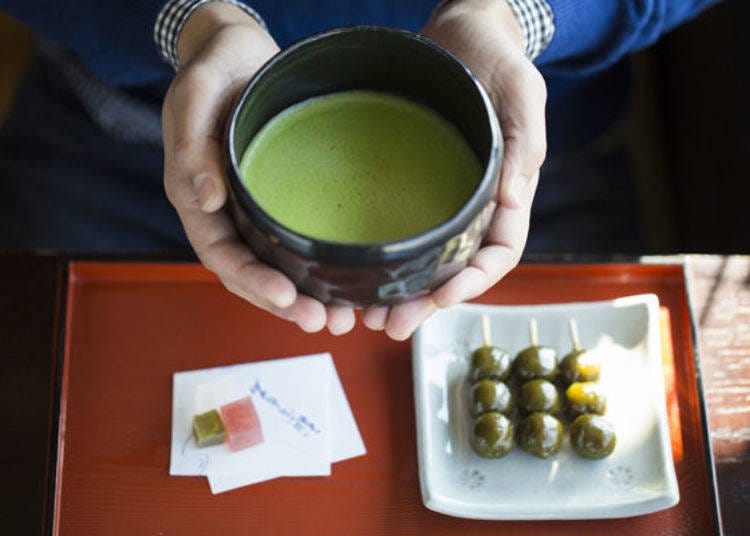 ▲With the Premium Tea and Sweets set (840 yen tax included) you can enjoy the premium Taiko-tsutsumi matcha harvested from the Uji River by Taiko-san. The cha-dango perfected through the years is simple but delicious.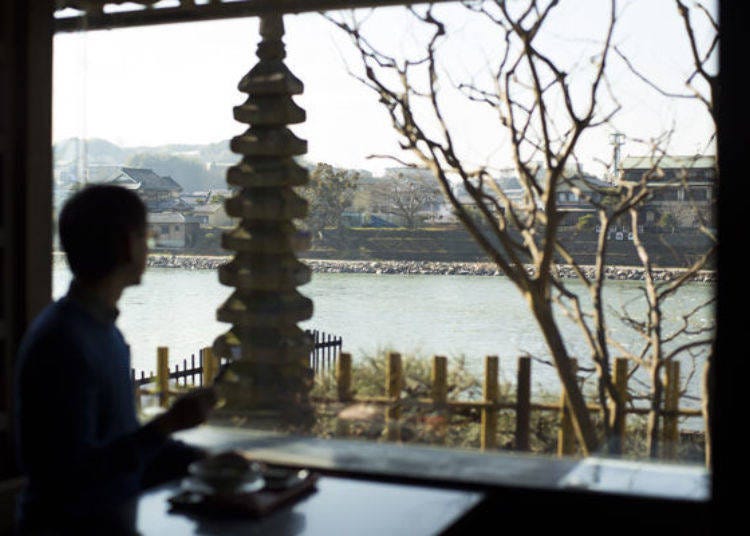 From the large window you can take in the picturesque view of the Uji River while enjoying your warm, delicious cup of matcha tea.
通圓(つうえん)

Address

1 Higashiuchi Uji, Uji-shi, Kyoto-fu

Phone Number

0774-21-2243

Hours: 10:00 AM – 6:00 PM (LO 5:30 PM)
Closed: None
Oboroya Zuiundo: Namadorayaki, Filled with So Much Matcha Cream!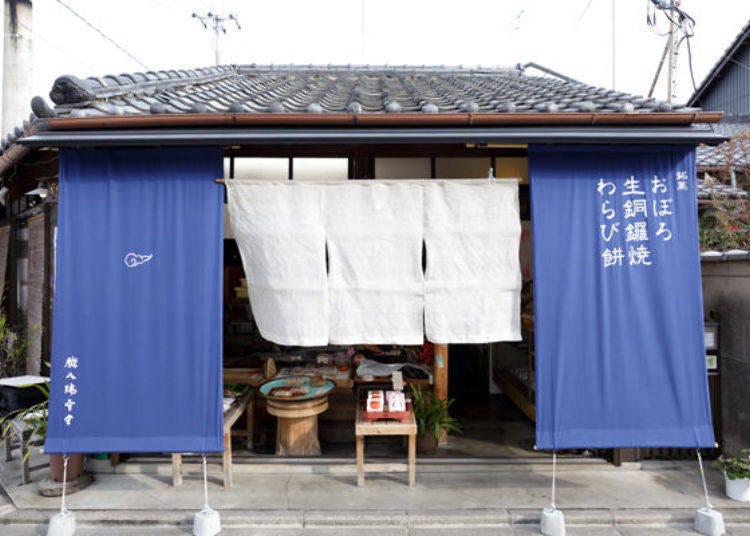 Next, we arrived at Oboroya Zuiundo in Kyoto's Kita-ku. It is a Japanese sweets shop located in a renovated home in a quiet neighborhood. The owner, Mr. Kawamura, said, "We were looking for old homes for our shop, and this place had a raised floor seating area and was perfect," providing this cute and cozy store with elegance.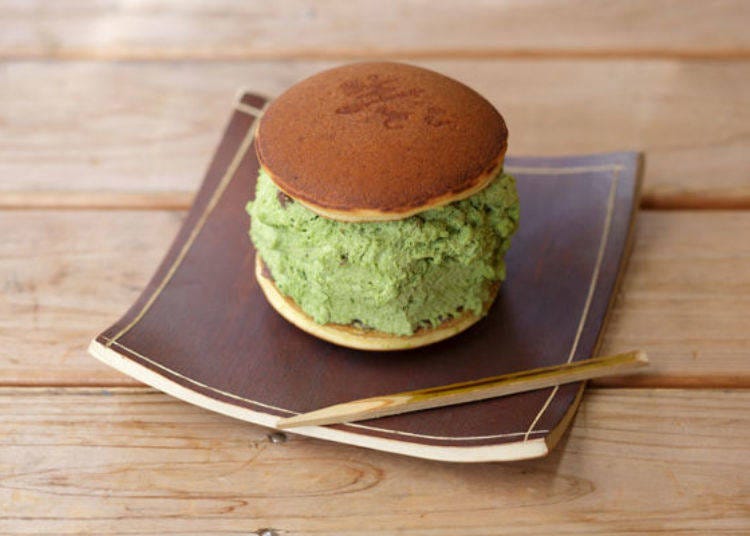 ▲Nama-dorayaki Matcha flavor 340 yen (tax included)
Mr. Kawamura told us that sometimes the nama-dorayaki is sold out within two hours after the store opens. With so much cream, it's hard to tell that it is a dorayaki at first. It is 7.5cm tall, and many people come all the way to Kyoto to get their hands on it!

We asked Mr. Kawamura why their nama-dorayaki is so big. He explained that "At first we used to make normal-sized nama-dorayaki, but it didn't do so well. We experimented and placed the leftover cream in the nama-dorayaki, and it was delicious. So we decided that if we are going to have leftovers, we might as well put it in from the beginning." Thanks to this stroke of genius, the nama-dorayaki became a huge hit.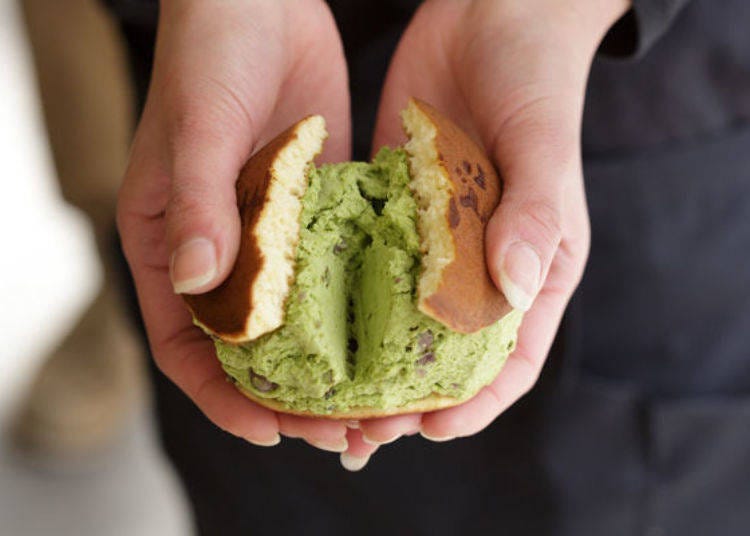 ▲You can really see how much cream is in the nama-dorayaki.
The cream has moderate sweetness and a good matcha aroma. Like most wagashi (Japanese sweet) it is low fat, and has a marshmallow-like texture. Since it isn't heavy some young couples who have two each!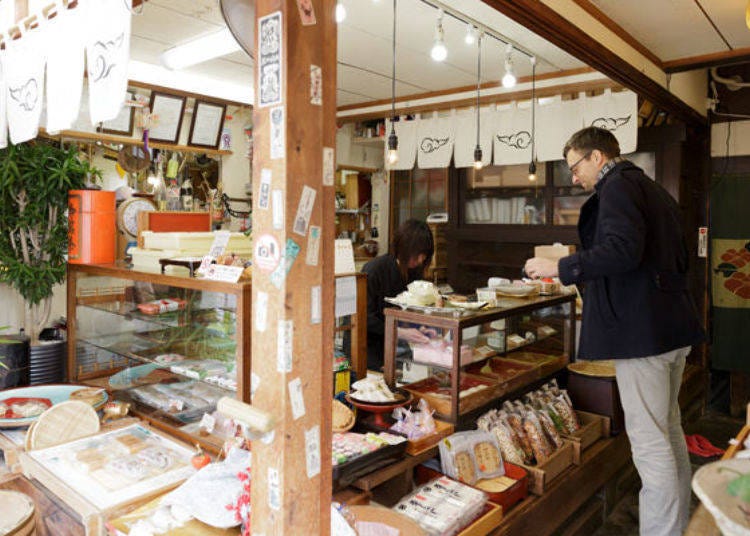 The other wagashi in the antique showcase on the raised floor section are also popular. Oboroya Zuiundo is a wagashi shop where customers of all ages and nationalities enjoy visiting to buy delicious sweets. If you have the opportunity, stop by and try the matcha sweets before they run out.
朧八瑞雲堂(おぼろやずいうんどう)

Address

43-1 Shichiku Kamitakaedonocho, Kita-ku, Kyoto-shi, Kyoto-fu

Phone Number

075-491-6011

Hours: 09:00 AM – 7:00 PM
Closed: Tuesday
Umezo CAFÉ & GALLERY: Kyoto Matcha Pancakes So Soft, They Melt in Your Mouth!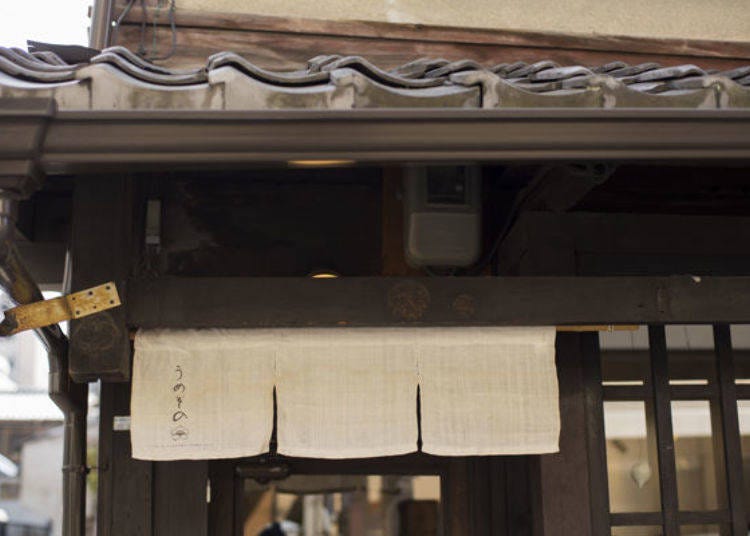 Our last stop was Umezo CAFÉ & GALLERY. The Japanese café is on Takoyakushi-dori, a10-minute walk from Karasuma Station on the Hankyu Kyoto Main Line. It is the sister store of the long-established Kyoto matcha dessert shop Umezono, which opened in 1927.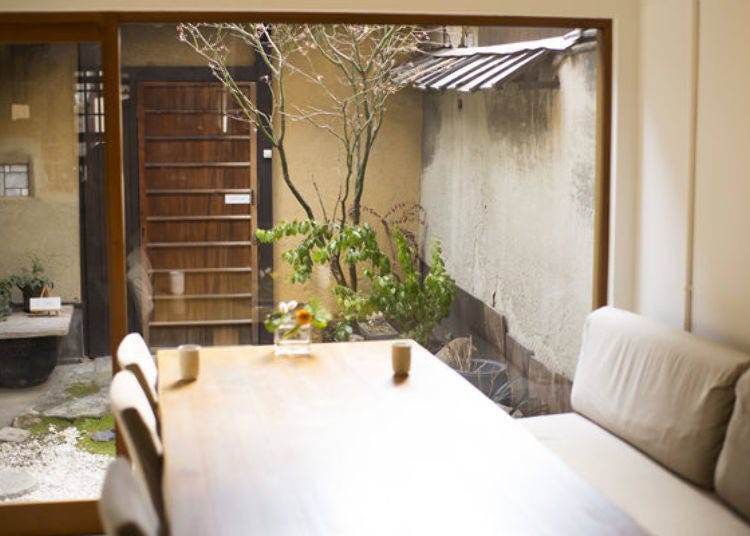 ▲Located in a renovated home, the shop has a small courtyard, which provides sunlight to create a relaxing atmosphere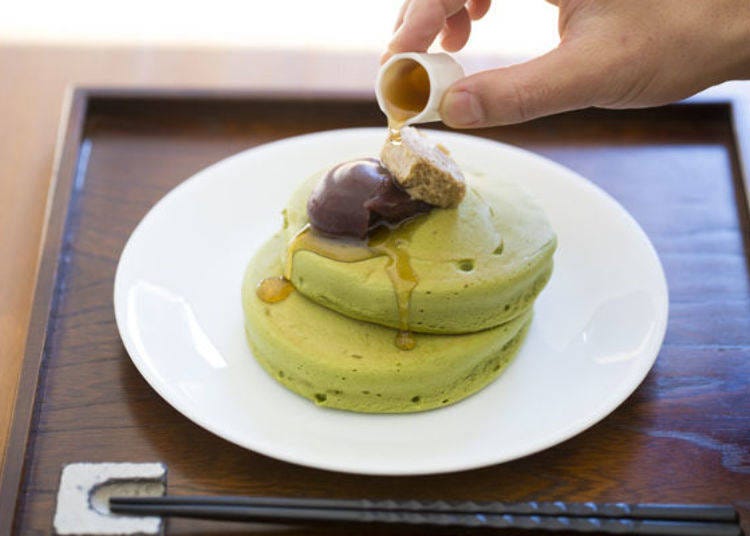 ▲Matcha Pancake 930 yen (tax included)
We ordered the cute green pancake. It comes with homemade brown sugar butter and koshi-an (strained red bean paste) on top with some syrup. On the tray there is a pair of chopsticks that is fitting for a Japanese sweets.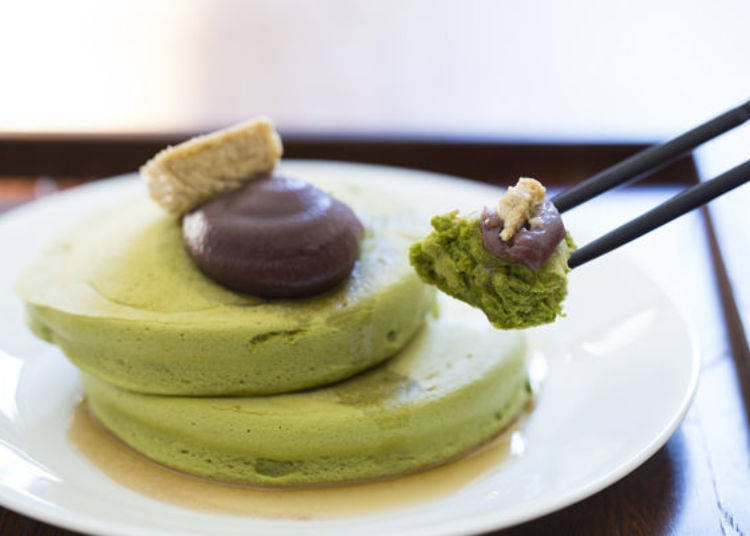 Taking a bite of the spongy pancake, you can smell the matcha and flour. The unique texture is light and very smooth, and it melts in your mouth. Eating the pancake with brown sugar butter and koshi-an creates a surprisingly delightful fusion of Japanese and Western sweetness.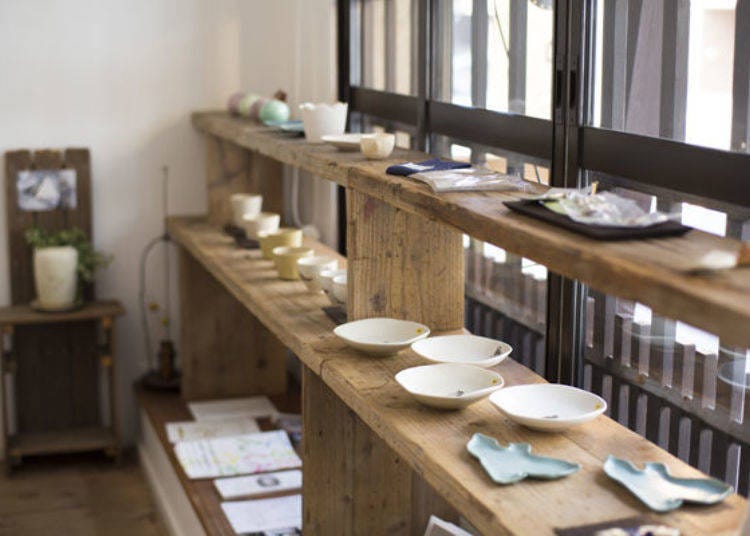 The pancakes are freshly made with each order. While you wait you can look around the gallery space by the entrance and on the second floor.
うめぞの CAFE & GALLERY

Address

180 Fudo-cho, Nakagyo-ku, Kyoto-shi, Kyoto-fu

Phone Number

075-241-0577

Hours: 11:30 AM – 7:00 PM (LO 6:30)
Closed: None
We hope that during your visit to Kyoto, you'll have the chance to try out these unique Kyoto matcha desserts!
Text by:Myogaya Nobuhisa
Book an unforgettable experience in Kyoto!
Make your trip extra memorable by booking one of these recommended tours on our partner site, Voyagin!
*This information is from the time of this article's publication.
*Prices and options mentioned are subject to change.
*Unless stated otherwise, all prices include tax.