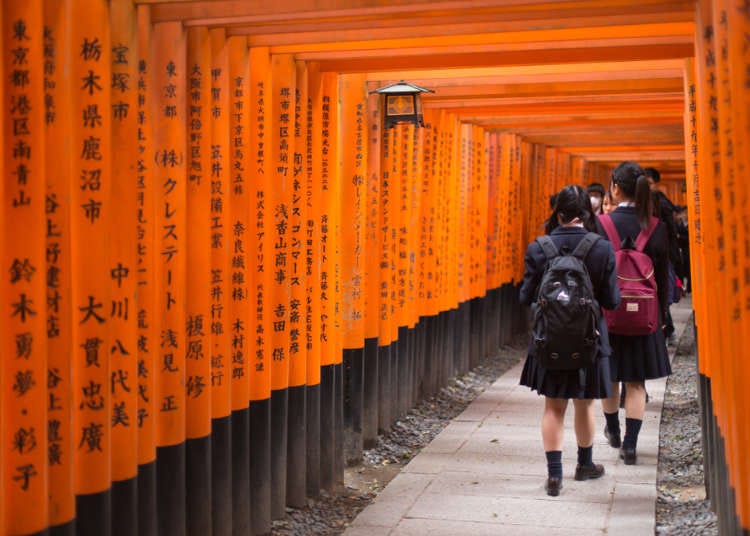 Visited by many tourists, Kyoto shrines and temples are some of the city's biggest draws for international tourists.

While Japanese locals are naturally familiar with Kyoto shrines and temples, how do overseas visitors view them? What do they think about the city of Kyoto and its locals? Today we interview travelers from Britain who share what shocked them when visiting the temples and shrines of Kyoto. (This interview reflects the personal opinions of the interviewees.)
What's the Difference Between Kyoto Shrines and Temples? Both Are Mysterious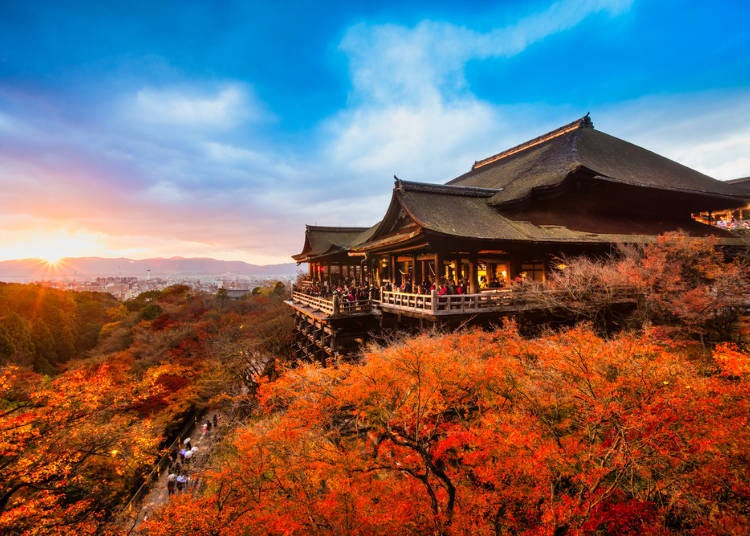 There are many famous temples in Kyoto, such as Kiyomizu-dera and Kinkakuji Temple. But there are also many famous Kyoto shrines, such as Fushimi Inari Shrine and Yasaka Shrine.

Do tourists from overseas feel they know the difference between Kyoto shrines and temples?

"I don't really understand the difference between temples and shrines. I wonder if it's similar to the way Catholicism and Protestantism are different, but both parts of Christianity?" (Female, UK)

The difference between Kyoto's shrines and temples can be challenging to get your head around. Within Japan, we have both Buddhism and Shintoism. There are many teachings in this single country, and many Japanese people practice both. But generally, the main (and easiest to remember) difference is that temples are Buddhist and shrines are Shinto.

The variety of sceneries you can see at the temples and shrines of Kyoto allows visitors to feel the mystical side of Japan. It must certainly be an exciting sight for tourists, as well.

"A monk was reading a sutra at a small temple I visited. His voice was peculiar and a little scary, but I thought it was fascinating. Another thing I saw for the first time was that some places have an area where you can wash your hands and rinse your mouth with water. I thought it was weird that some people used it, but some didn't." (Female, UK)

Even some Japanese people may not fully understand the etiquette and meaning behind the handwashing practices at shrines, so some may not participate. Generally, the idea is to purify yourself, making yourself clean before entering a place of worship.

The sight of the monks standing in silence reading sutras, as well as the distinct sound of their voice, is also a pretty fascinating sight. Even Japanese people would be sure to stop and listen.
Beautiful Traditional Japanese Streetscapes, Good Manners, and Cleanliness!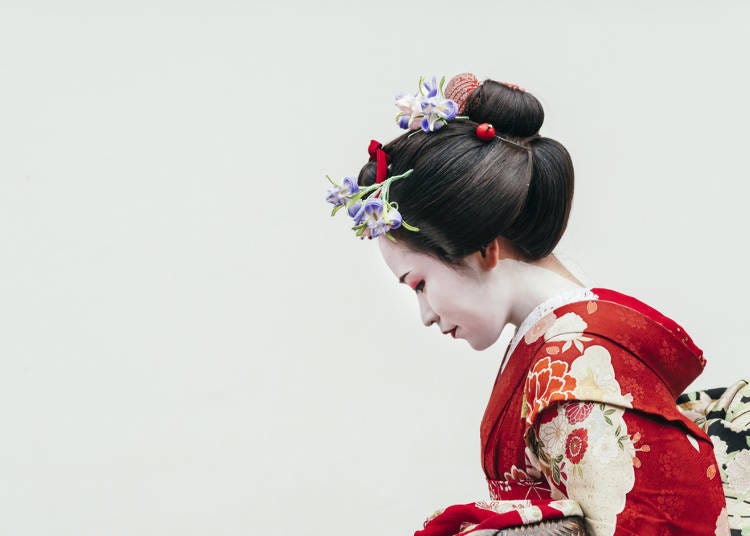 Over 80 million tourists visit Kyoto every year, from both within Japan and all over the world. The famous shrines and temples can also become extremely crowded, depending on the season. What impressions of Kyoto do travelers have from abroad?

"Kyoto is the most authentic-feeling Japanese place in all of Japan. Maiko walk the streets, and the cityscape has many ancient wooden structures. You can really feel the traditional Japanese atmosphere here." (Female, UK)

"I was surprised at how clean the air was. I didn't see any smokers. In the UK, smoking is strictly forbidden indoors, but there are many places outdoors where people smoke and throw their litter on the ground. I was impressed by the good manners of the Japanese people. You can tell they have great respect for such a sacred place." (Female, UK)

It seems to be the traditional Japanese cityscape of Kyoto, along with the sacred atmosphere of temples and shrine, that are very popular with visitors.

Another thing that grabs many foreign tourist's attention is the fact that it is so clean and well-maintained, despite being such a popular tourist destination. Not only the shrines and temples but also other popular tourist spots, as well. Cleaning and maintenance are so thoroughly carried out, neither Japanese locals nor foreigners would dare be tempted to litter or smoke there.
Students on School Trips Are So Serious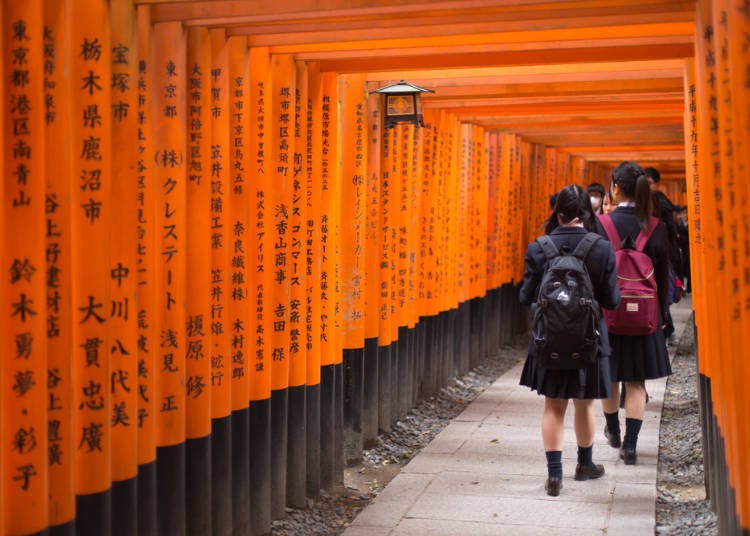 Quality Stock Arts / Shutterstock.com
It also seems that foreign tourists have taken interest not only in the behavior of Japanese adults but in that of students on class trips, as well.

"I went to see a Japanese rock garden. As I was on the veranda looking out at the garden, I was surprised to see so many students come. I guessed that students must also be interested. However, even though there were so many people, everyone quietly stayed in line, taking notes and photos. I was surprised at how well behaved they were." (Female, UK)

Students in Japan often take pictures and notes on school trips, even when visiting temples and shrines. Perhaps this is because Japanese schools tend to put more emphasis on learning during school trips. Students may have to write a report on their findings later on, which is why you'll see them working hard, even when visiting the temples and shrines of Kyoto.

Such a sight must be pretty impressive for tourists visiting from abroad. It may not necessarily be something shocking; however, it may strengthen the impression many foreigners have about Japanese people being serious.
Many Kyoto Shrines and Temples Are Hard to Access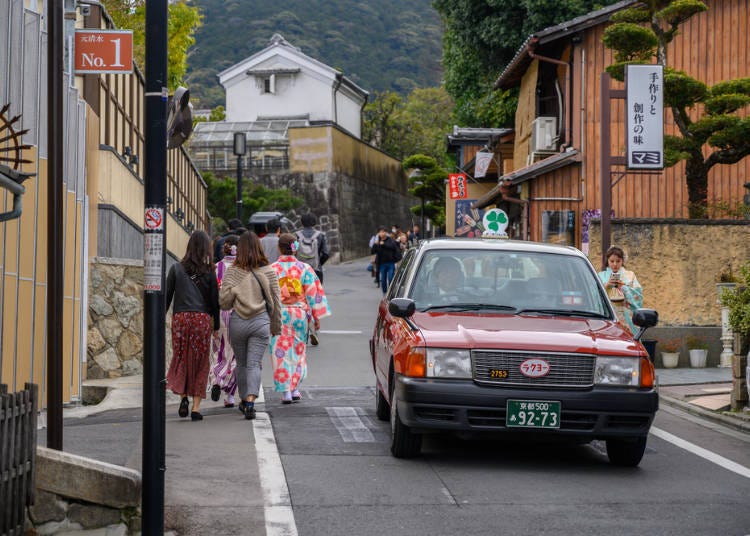 chakkraphong jinthawet / Shutterstock.com
Another opinion we heard was that as a tourist destination, Kyoto could sometimes be inconvenient.

"I often had to take buses or walk a long distance from the station, which made some places inconvenient to get to. It was difficult to visit many Kyoto shrines and other places in a day." (Female, UK)

In Kyoto, there is a one-day bus pass that you can use for the sightseeing bus. However, indeed, some Kyoto shrines and temples are a bit far from the bus stops. They may also be crowded during tourist seasons. If you want to relax and enjoy the beauty of Kyoto at your own pace, make sure to plan your schedule with plenty of time in between.

It may be more costly; however, if you want to visit many popular tourist destinations, you may want to consider a taxi. Many tourists were able to create many good Kyoto memories by getting around by taxi.

"The taxi driver was very friendly. As I was riding back to the hotel after a day of sightseeing, he suggested visiting another temple since there was still time. Then he took me there! I was surprised by his kindness." (Female, UK)

To have such a kind of experience, even with a taxi driver, would surely leave a great impression when visiting a tourist destination. This could only be possible for a taxi driver in Kyoto, who is used to carrying tourists every day. Anyone experiencing such kindness would surely want to go back to Kyoto again.
An Impressive Photo Book of Buddhist Sculptures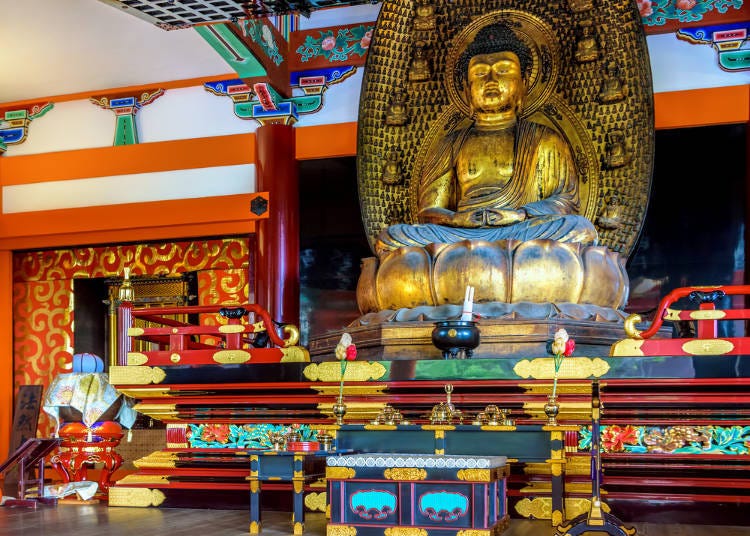 Zoran Karapancev / Shutterstock.com
Buying a souvenir is an indispensable part of any trip. What kind of souvenirs do tourists buy at temples and shrines in Kyoto?

"I bought a photo book that shows all the Buddha statues in the temple. I've seen brochures and postcards before, but that was the first time I had seen such a photo book. I just had to have it! Even my friends back home were impressed by these powerful Buddha sculptures when I showed it to them." (Female, UK)

A Buddha photo collection may seem like an unusual gift to some Japanese people. Still, it can be a memorable souvenir for travelers from overseas experiencing Japanese culture for the first time.
Kyoto is Very Popular with Both Japanese Locals and Tourists
And there we have it, the impression of Kyoto's temples and shrines from the perspective of foreign tourists. Though they shared many surprises, as expected, none of these were terrible impressions. It was very surprising and moving.

The cityscape of Kyoto and the temples and shrines really convey an authentic Japanese atmosphere, and the kind nature of Japanese people who live in this ancient capital seems to leave a warm impression on foreign visitors.

As you can see, it is more than just the beautiful scenery, temples, and shrines that make Kyoto such a popular travel destination. The kindness and warm welcome to visitors from abroad also leave a lasting impression.


Written by: Dali Corporation
Book an unforgettable experience in Kyoto!
Make your trip extra memorable by booking one of these recommended tours.
*This information is from the time of this article's publication.
*Prices and options mentioned are subject to change.
*Unless stated otherwise, all prices include tax.