While Kyoto is a great place to enjoy traditional Japanese food, Smile Burger Japan should be at the top of your bucket list as well. It's the best place to try something completely out of the ordinary - a super-large gourmet dish!

You'll find Smile Burger right at the base of Kiyomizu-dera Temple, a hamburger shop noted for its towering burgers. These Kyoto burgers perfectly combine juicy beef patties with spongy buns and are so addictively delicious, you'll wish you had a shop in your neighborhood back home!
Smile Burger Japan - For Real Burger Lovers!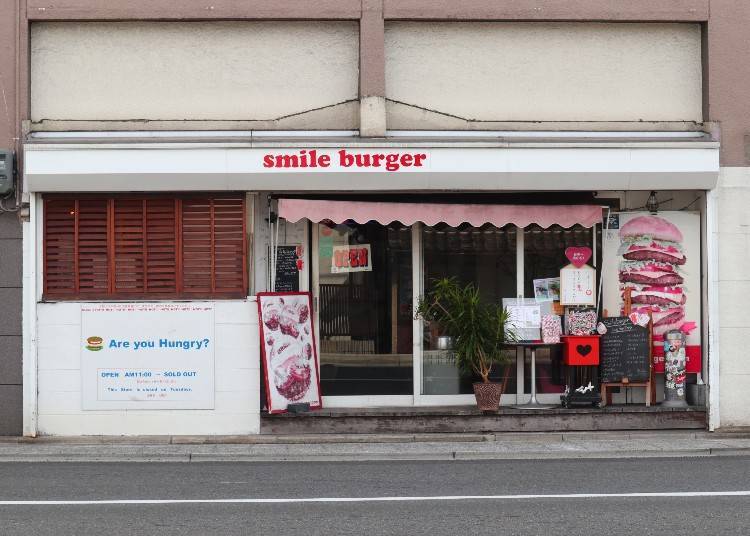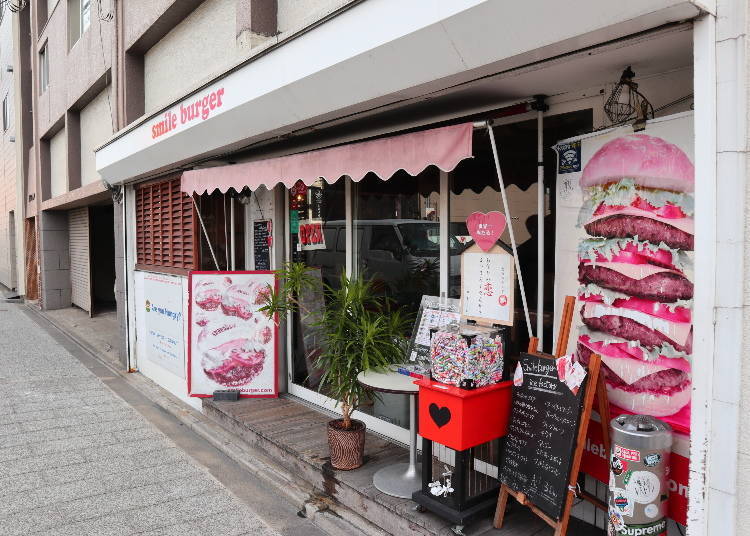 The area around Kiyomizu-dera Temple, which is very popular with tourists visiting Japan, as well as Sannenzaka, Ninnenzaka and Chawanzaka, fully evokes the atmosphere of the ancient city.

Smile Burger's shop is located just between the Kiyomizu Michi and Gojozaka bus stops. Tucked away in an area effusing Japanese traditional charm you'll find this amazingly incongruous shop offering an American-style hamburger in an atmosphere to match.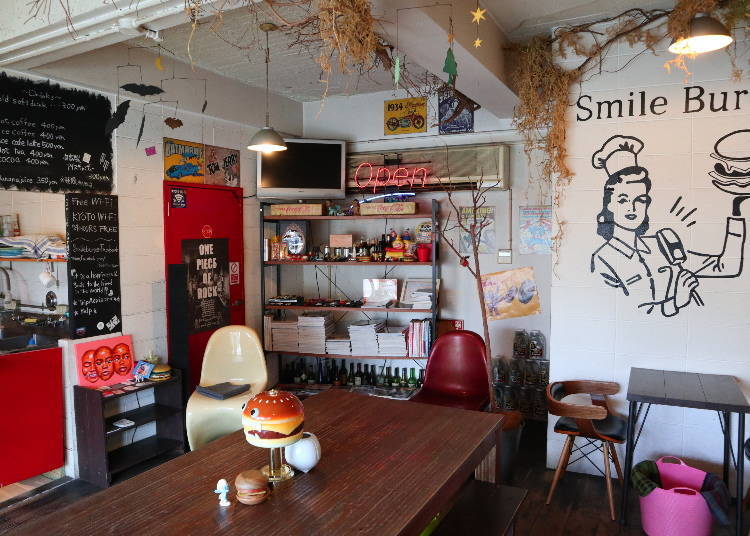 Smile Burger Japan has an American pop culture feel about it and the burgers here are truly monstrous. The shop, facing Higashioji-dori, is easily recognizable by the large banner advertising hamburgers at the entrance. The menu is also in English and is visited by quite a few foreigners.
The burgers here are definite heavyweights in terms of sheer size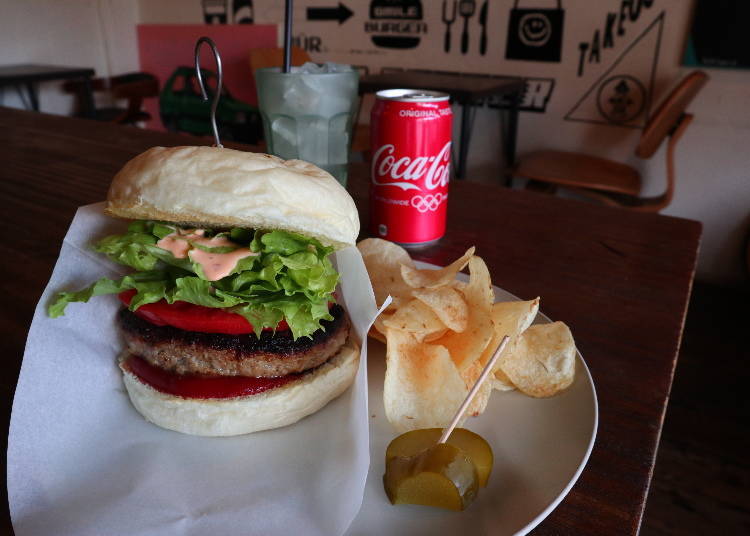 Smile Burger 1,150 yen (including tax)
Smile Burger gets its name from the concept of "eating this burger will put a smile on your face" and the "regular" size here is gigantic. Each 100% beef patty weighs about 190 grams. That is almost double the size of 100-gram patties used in most other burger joints.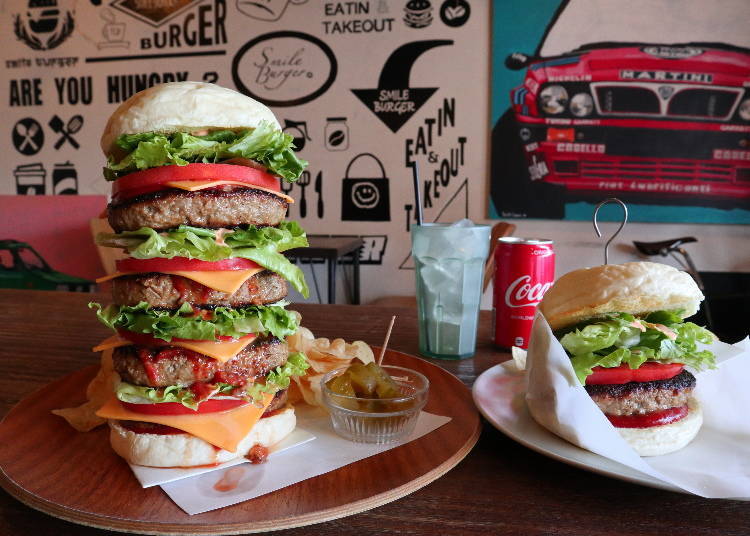 The Smile Burger quatro uses four of these patties in a towering configuration. It towers over the regular size when placed beside it. To go with these thick, juicy patties, specially made white buns having a spongy texture admirably hold their own and enhance the flavor of the patties.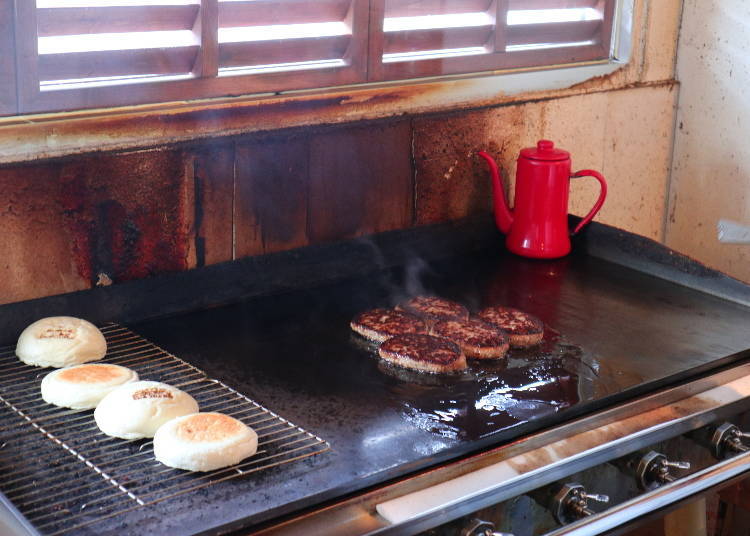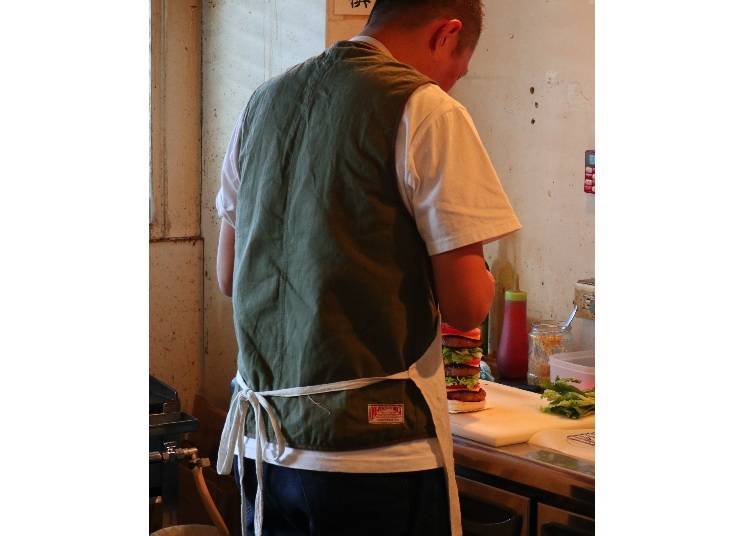 You cannot help but look over the counter in eager anticipation as the burger is being prepared in the kitchen.
Now for the taste test! How should I describe the flavor?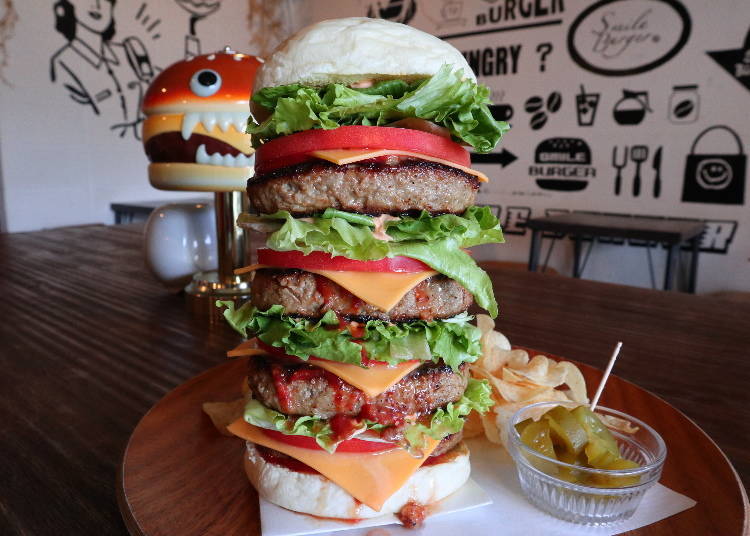 Smile Burger quatro 3,300 yen (including tax)
The challenge with this burger standing more than 20 centimeters tall is in how to eat it. The advice given was to "start at the top and work your way down".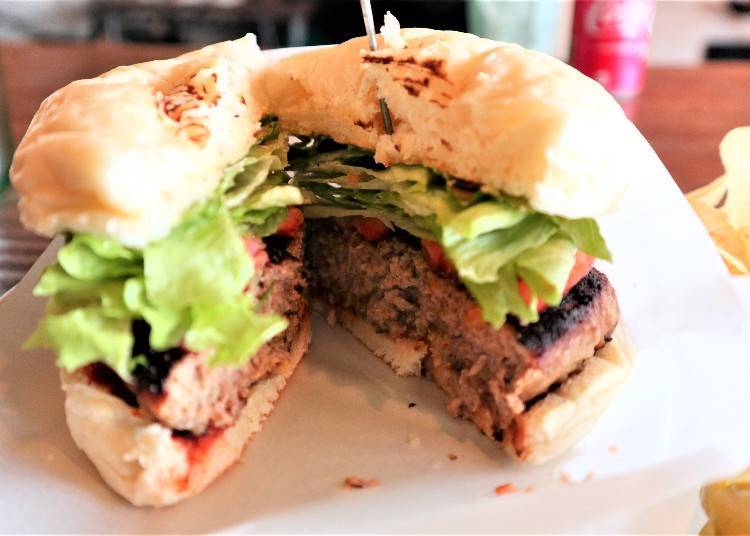 Sinking my teeth into that first bite I was amazed by how tender and juicy the patty was. This burger with just the right amount of spiciness delivers on both flavor and volume. The burger is also loaded with plenty of lettuce and tomatoes, and the homemade honey mustard further adds to the overall flavor making it difficult to stop eating once you dig into it.

It comes with potato chips instead of fried potatoes because for a burger of this size potatoes would be too heavy. The light, crispy chips also help bring out the flavor of the burger better. In addition to the chips the burger also comes with a slice of dill pickle.
Smile Burger take out is possible - and don't miss their ice cream bar!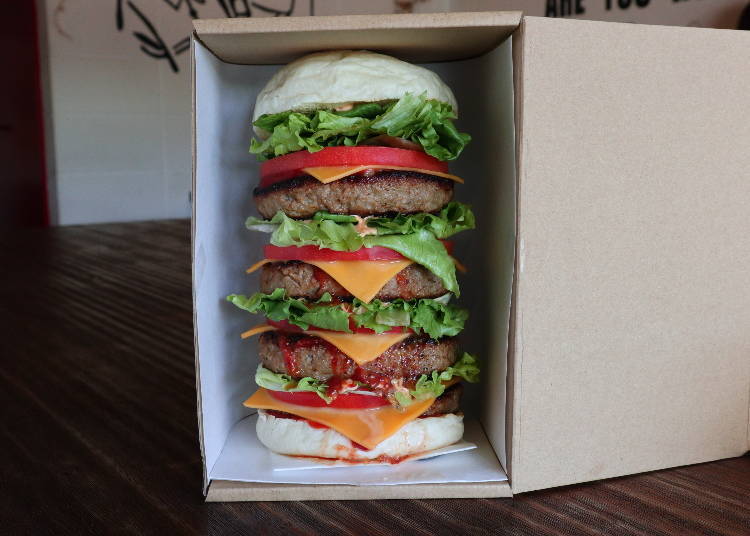 The Smile Burger quatro weighs a hefty 1.2 kilograms, so if you are not sure if you can eat the whole thing alone, it is OK to share it with friends. If that is what you decide to do you can order extra buns (300 yen, tax included) to divide it up into separate burgers. Take out is also possible and quite a few customers buy them for parties.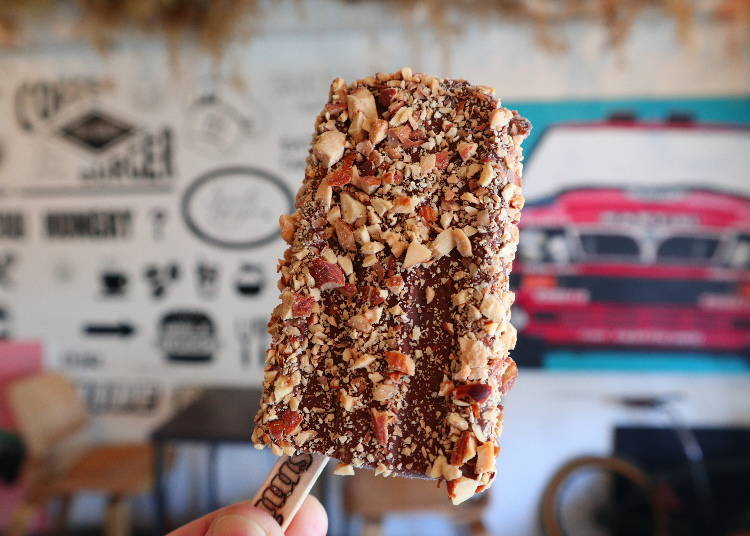 Ice cream bar 300 yen (tax included).
I recommend you also try Smile Burger's homemade ice cream bar in addition to the burger. There are about 20 flavors at all times, including classic and limited editions.

One of these flavors you will not be able to find anywhere else is the Chocolate Yuzu Pepper flavor that has a rich, sweet, tangy and refreshingly spicy flavor that is to die for. I highly recommend it. In summer, shaved ice topped with fruit syrup is also popular.
Experience a new food culture in Kyoto where old traditions live
Smile Burger offers delicious hefty burgers making it very popular with foreign visitors. If you take a commemorative photo with the tower-class Smile Burger quatro, it will definitely be a great topic of conversation as well as a good memory of your trip. Kyoto is a land where old traditions live on and new cultures are positively embraced. Smile Burger is a shop that adds to the culinary tradition of Kyoto that welcomes the new.
smile burger

Address

4-188-1, Kiyomizu, Kyoto Shi Higashiyama Ku, Kyoto Fu 〒605-0862

Phone Number

075-551-1418

Hours: 11:00 a.m. until sold out
Closed: Tuesday
Text by: word
*This information is from the time of this article's publication.
*Prices and options mentioned are subject to change.
*Unless stated otherwise, all prices include tax.