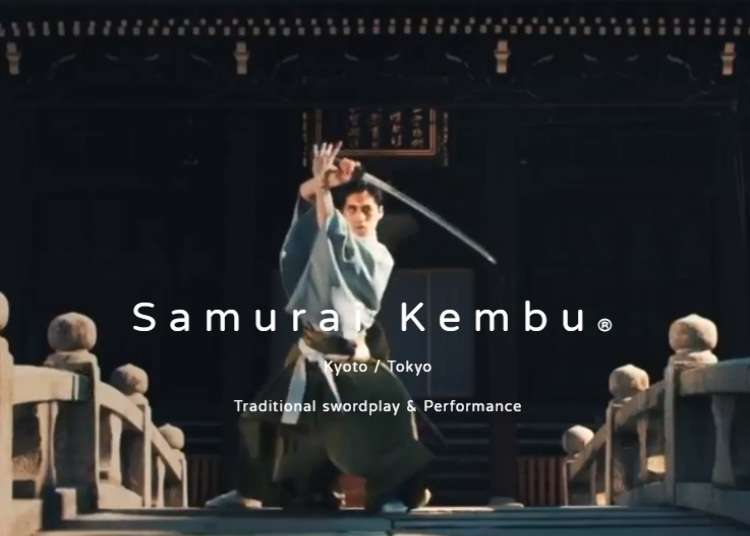 Kyoto, the ancient capital of Japan, had been the stage for countless historical events and uprisings is also famous for samurai culture.

These model examples of cool composure have inspired many around the world, and we're going to introduce you to Samurai Kembu Theater, a place where you can transform into one of these heroes of yore and experience this aspect of Japan's culture on a more intimate basis.
Enjoying the cool side of Samurai culture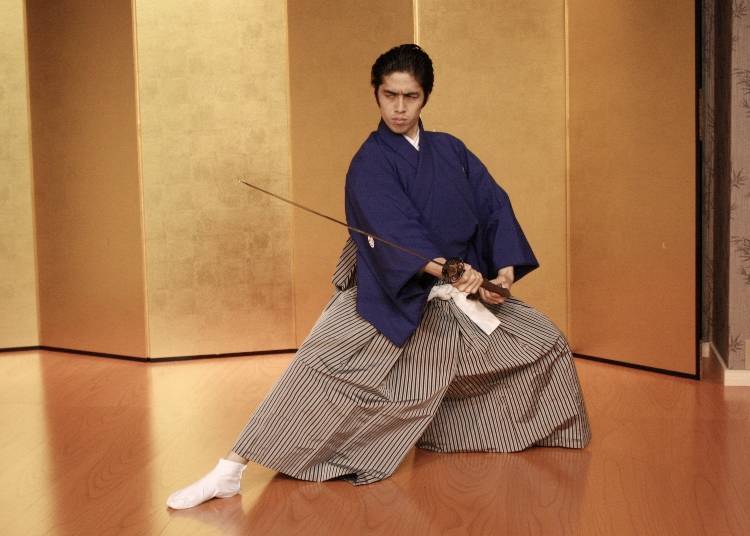 Samurai and ninja are iconic fixtures from Japan's culture that is well-known around the world. Samurai originally belonged to armed vigilante patrol groups that were formed with the purpose of protecting the land of the master they served.

Soon, they gained enough power and came to be called bushi, or samurai warriors, marking their transformation into the important characters dominating the annals of Japanese history that many around the world have come to know and love.

As Japan modernized itself, traditional samurai slowly disappeared as a social rank, but their suave sword skills, steadfast loyalty, and stoic ways of life continue to live on in the minds of modern people, garnering quite an army of admiring fans!

Would you like to learn a little more about samurai culture through the activities of samurai in the ancient city of Kyoto from the distant Heian period (794 C.E. to 1185 C.E.) down to the more contemporary Edo period (1603 C.E. to 1868 C.E.)? Here's an activity that might interest you!
Samurai Kembu dance: Mesmerizing sword and paper fan play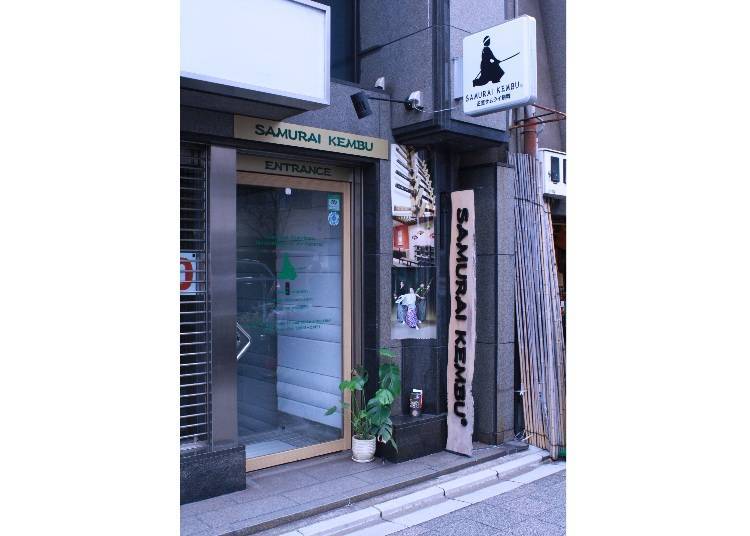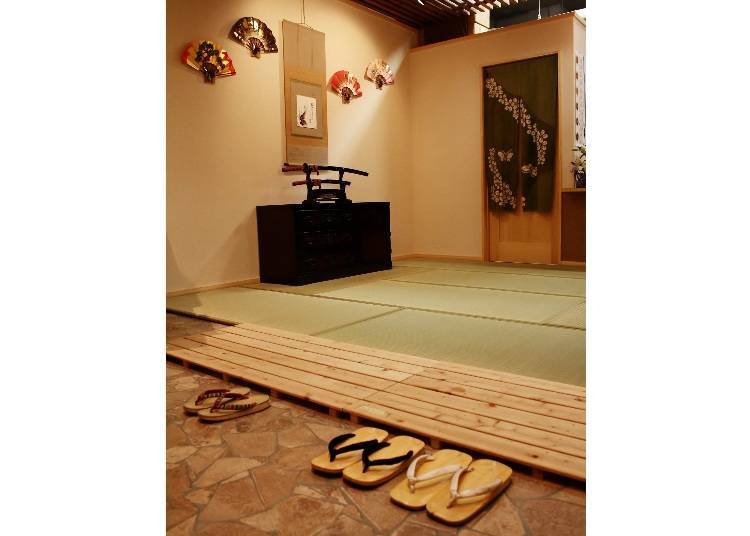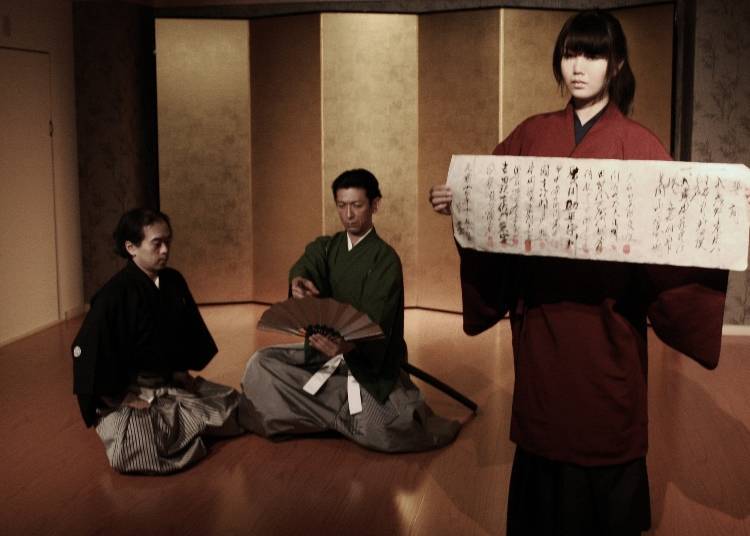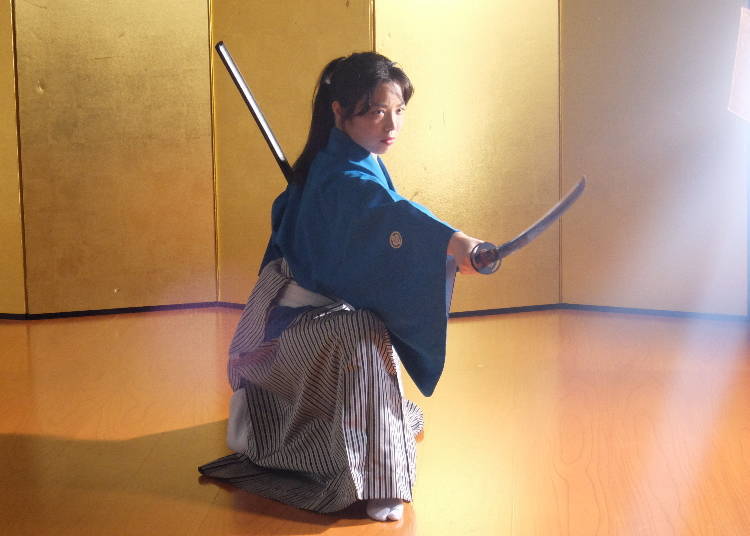 In the basement of a building that's about a 5-minute walk towards the east from Sanjō Bridge is an experience zone that transports you into the traditional world of samurai and the countless years of bushido (samurai code of honor) and culture that come with it - all presented in the form of a stage performance. This space is known as the Samurai Kembu Theater.

The theater strives to convey samurai culture to its audiences through graceful sword dances that are performed in conjunction with the recitation of classical kanshi (Chinese poetry) or waka (Japanese poetry).

Dancers are dressed in hakama (traditional Japanese divided skirt) adorned with family crests. They fluidly perform familiar samurai moves such as sword-drawing, paper fan manipulation, and spear-wielding in the form of graceful dances.

It's as if the samurai of the olden tales have emerged from the pages of the records they appear in and are now moving about before your very eyes. Trainers who have achieved mastership in their individual samurai school styles also double up as lecturers who are happy to share with you their knowledge about the world of samurai.
Joining samurai culture at Samurai Kembu Theater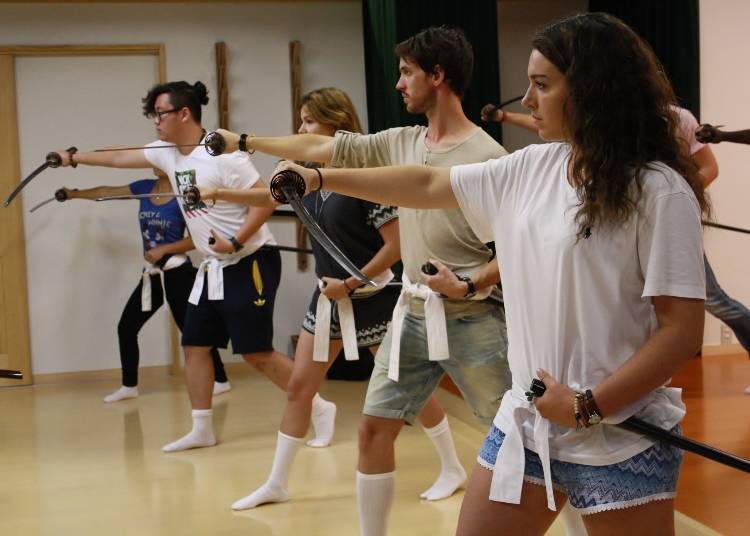 Samurai Kembu Theater has plenty of packages available for international visitors to choose from. Besides demonstration shows with English interpretation, lessons on how to perform your own samurai sword dances are also available.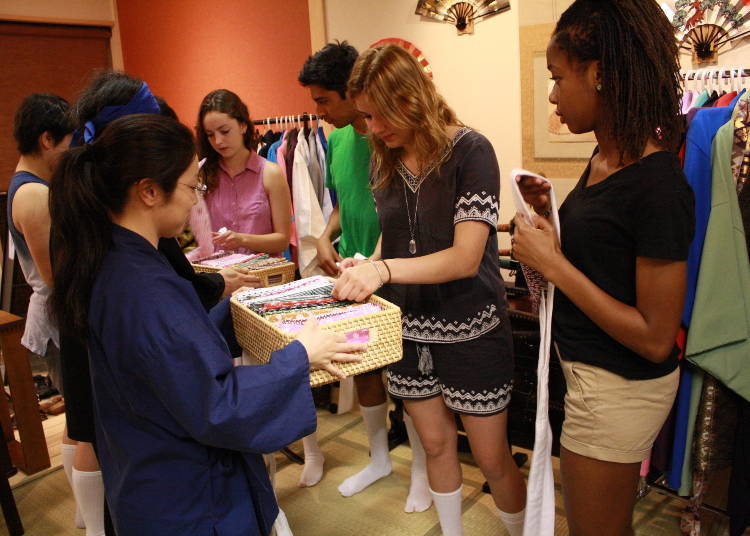 All lessons that come with English interpretation start with the basics: how to draw a sword and how to swing it properly. Once students understand the unique properties of a katana, or Japanese sword and how to handle it properly, they'll be allowed to proceed to the dancing part of the lesson.

Students thus come into contact with the samurai spirit as embodied in different forms of activities. Dressed in hakama with family crests and being fully focused on getting each swing of the sword right has proven to be a great way to experience the samurai way of sharpening one's mental senses.

Finally, the entire class gets to take a commemorative photograph together. Students will also be taught Japanese etiquette and how to bow properly during the lesson, immersing them further into the samurai world where good manners and civility are highly-esteemed qualities.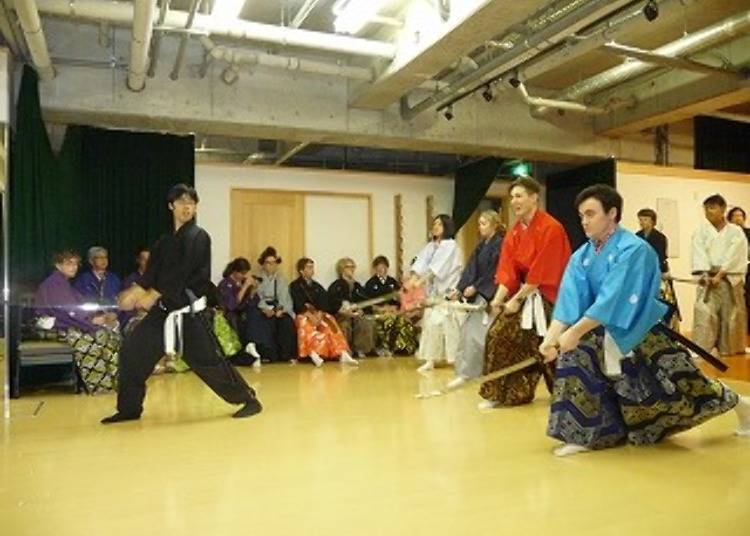 Lessons will last for 60 minutes or 90 minutes, depending on the package you choose, and you may also decide whether or not to put on the clothing provided. Reservations can be made from the facility's homepage, and inquiries via email or telephone.

Have fun listening to the explanation about the activity, but treat the sword you'll be wielding with respect and you'll be thoroughly drawn into a unique world that can't be found anywhere else.
Recommended bushido experiences
Samurai Kembu Theater is well aware that tourists want to experience the cool side of Japan during their visit and has planned their activities in response to those needs. The installations in the building reflect this as well, having been placed there after careful consideration on how best to convey the samurai spirit to onlookers.

You may also choose to simply observe the demonstrations on display, but if you've already traveled there, why not go for the full experience, complete with sword props and samurai costume? The traditional Kembu dance experience is a rare opportunity to understand the olden samurai spirit and culture that lives on even during these modern times, and will undoubtedly enrich your time in Japan.
Text by:word
Book an unforgettable samurai culture experience in Kyoto!
Make your trip extra memorable by booking one of these recommended experiences on our partner site, Voyagin!
*This information is from the time of this article's publication.
*Prices and options mentioned are subject to change.
*Unless stated otherwise, all prices include tax.