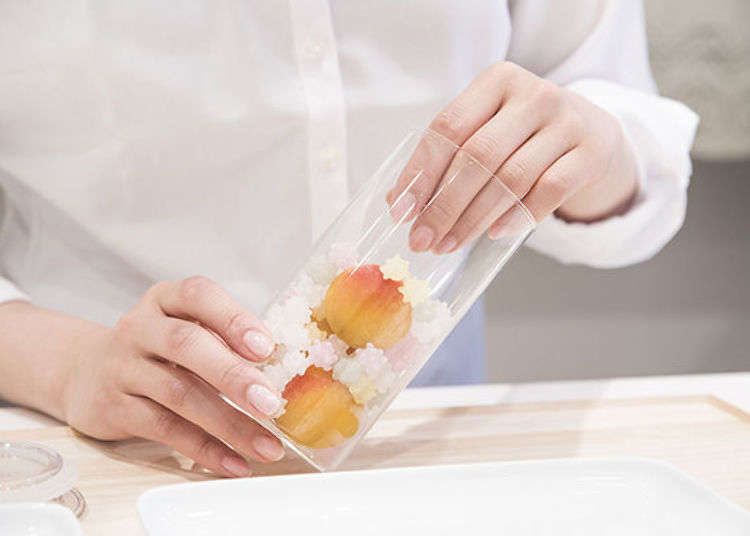 The world's first umeshu (Japanese plum wine) and ume (plum) syrup making store Ume Specialty Shop Choya, opened in Kyoto. At this stylish store, you can make over 100 types of original umeshu and various ume syrup.
Japanese Plum Specialty Shop: Choya Kyoto
Ume Specialty Shop Choya Kyoto opened in Kyoto in April 2018, it is the first ume experience type store in the world. Ume was introduced to Japan about 2,000 years ago and through the ages, the ume culture of individual households making umeshu and ume syrup was created. In order to pass on this culture to the future generations, Choya Umeshu Co. Ltd. produced this shop.

The shop has gained popularity from women for being able to make original umeshu and ume syrup with many variations, currently, it is so popular that it is hard to get reservations.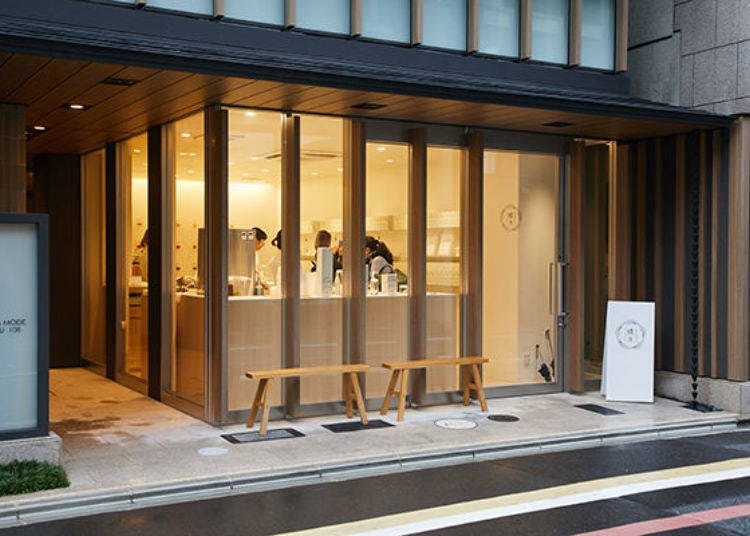 Choya is sandwiched between Kawramachi-dori (dori = street) and Karasuma-dori to the east and west, and located a little north from Shijo-dori on Rokkaku-dori.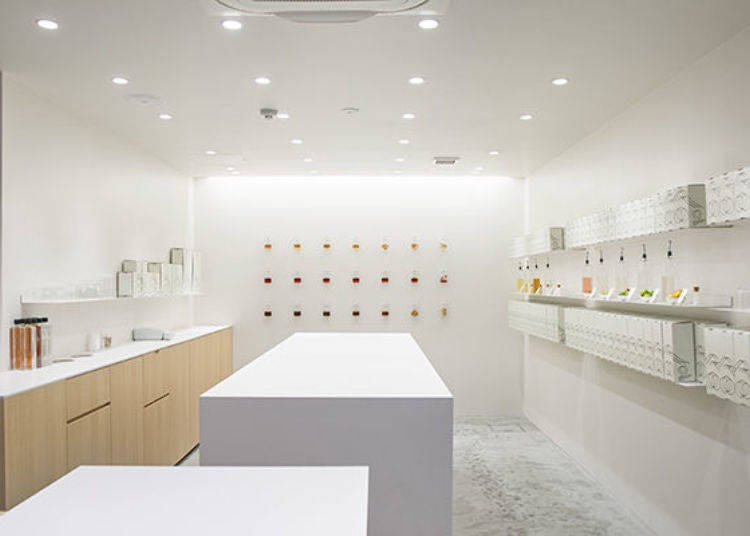 The inside of the store has white interior with a stylish atmosphere. The simple and clean space gives a futuristic laboratory impression.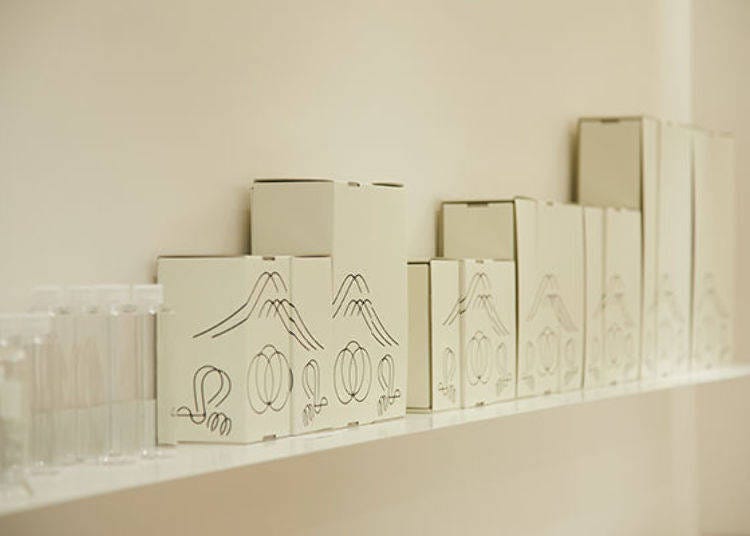 In the store, there are glass jars to make umeshu plum wine and ume syrup in display cases. The logo is the motif of a mountain, plum flower, and bumblebee. This represents a bumblebee carrying pollen from a plum forest and plums growing. There is a deep meaning behind the stylish design!
Fun and Deep Ume Experience, Make Your Own Unique Combo!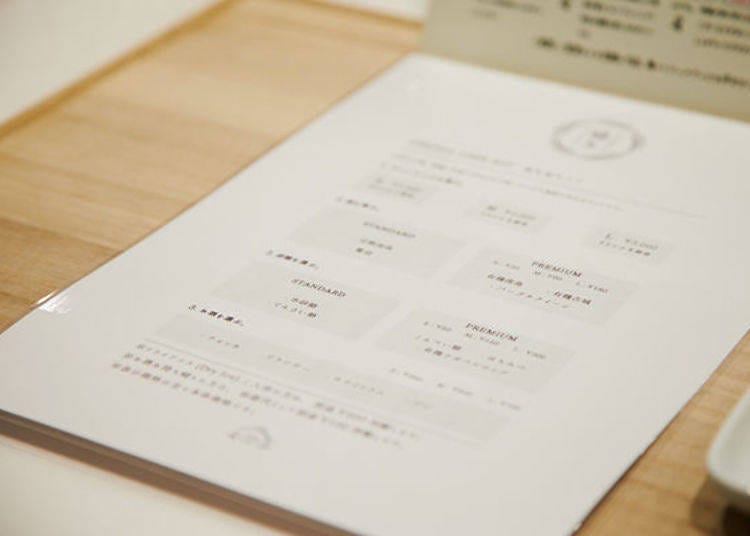 The 40-minute workshop to experience umeshu and ume syrup making requires a reservation. The reservation can be made on their official website from 2 weeks to a day in advance.

Once you enter the store at the designated time, you will be seated. At the seat, there is a menu with different types of me plums, sugar, and liquor.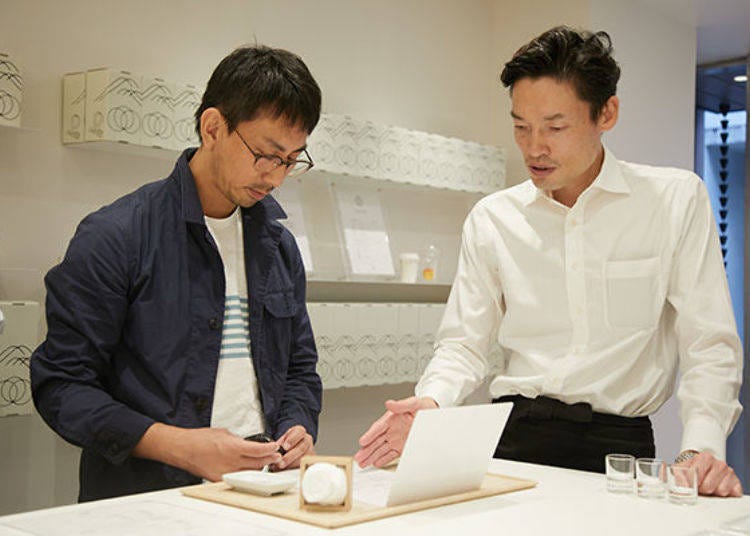 ▲Ume concierge like Mr. Suga (right) will give detailed explanations of ume
Once the workshop starts Japanese plum professionals called ume concierge will explain the process of making umeshu and ume syrup.

This is the simple rundown of the workshop. There are 5 types of ume, 5 types of sugar and syrup and for making umeshu there are 4 types of liquor. To make one cup of umeshu and ume syrup, it takes one ume. Ume syrup is made from ume and sugar or syrup, if you add liquor it creates umeshu.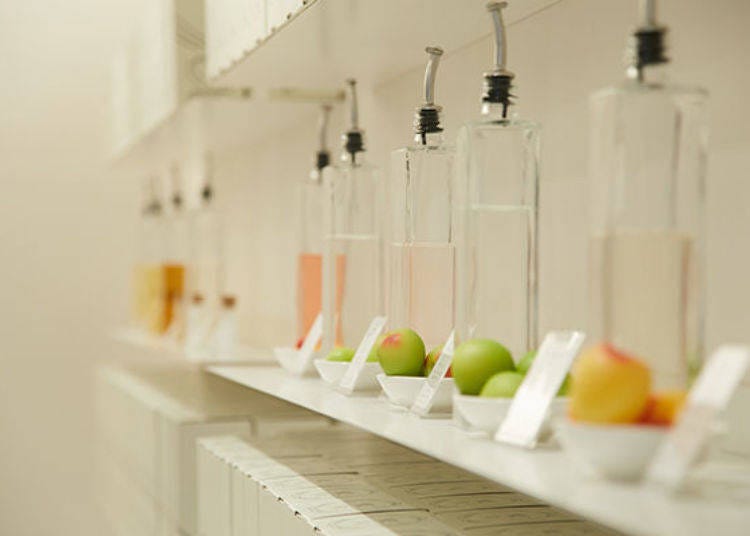 Before selecting the ingredients, there is an explanation and tasting time to try out each flavor.

First, you try out ume drinks made from 5 different ume and select one. Most ume plums are from Wakayama Prefecture such as the Nankou-ume, Gojiro-ume, and Purple Queen, which are rare to be seen on the market.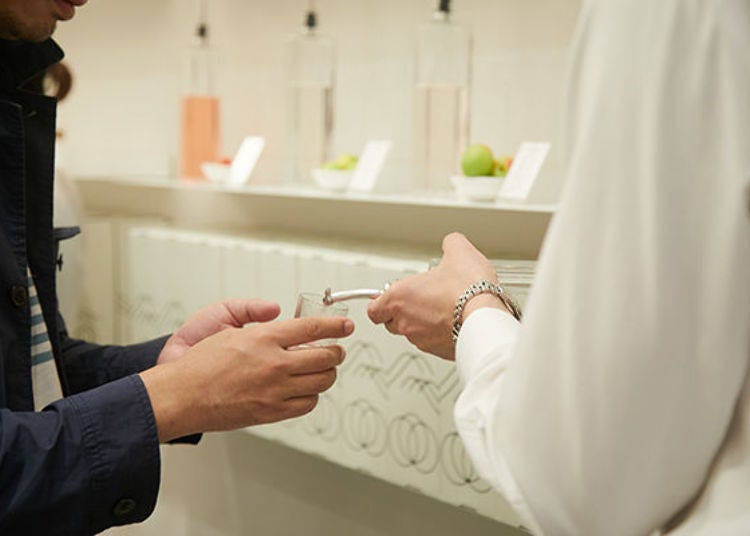 Most people don't really focus on the difference between the types of ume, but there is quite a difference and was an eye-opening experience! Some had a cherry leave aroma, green apple, peach, and cherry blossom flavor. A good experience to learn the differences in plum types.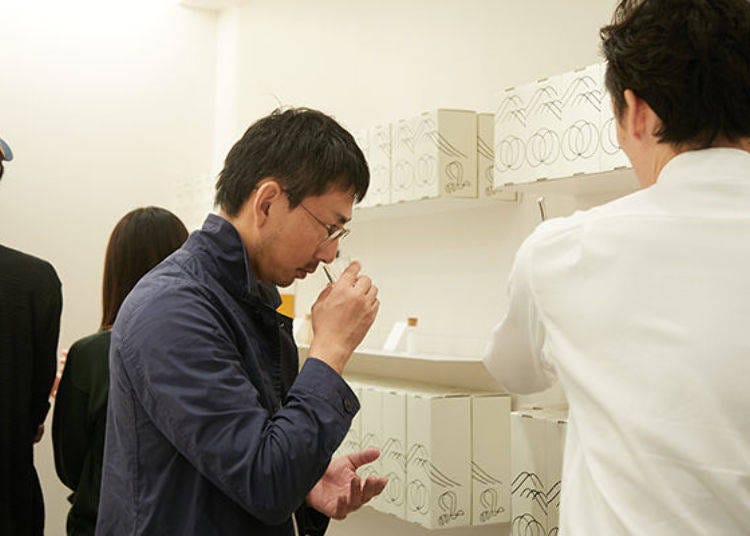 ▲Tasting different ume while receiving explanations on features of the ume and where they are from. Quite surprised by how unique they are
Ume is harvest is limited in early summer, at the workshop the harvested ume is quick frozen to minus 40 degrees Celsius.
▲The only ume from Nara Prefecture, Oushuku (middle), has a clean taste and goes down smooth
Next you select the sugar and syrup by tasting 5 different ume drinks made from different ingredients. They have basic rock sugar and konpeito (Japanese sugar candy), a very Kyoto like ingredient too. They all tasted great and is hard to pick one.
▲Organic agave syrup made to use tequila. Since it is organic, it is popular to people who are health conscious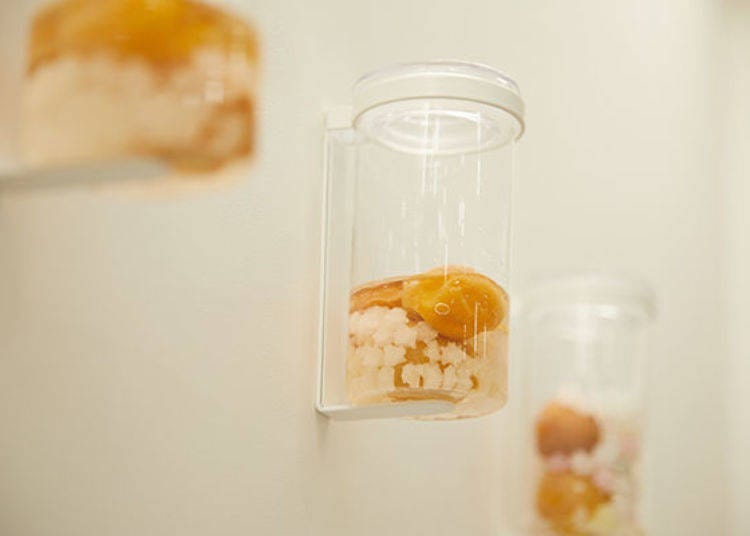 After the tasting is done, you will see the steps of how ume syrup is made on display. This display is actually very colorful and beautiful! On the day we visited there were other people in the workshop and they were taking many pictures on their phone.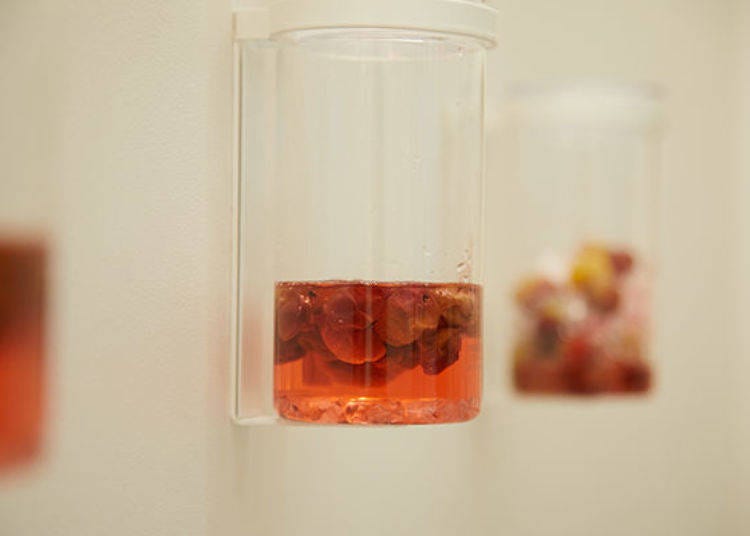 ▲Depending on the combinations, it can look like this
Umeshu takes about 1 to 1 and a half years to age. At this workshop, they have a special recipe to make ume syrup in a week and umeshu in one month to match the needs of young people. It is always nice to be able to taste something you made sooner!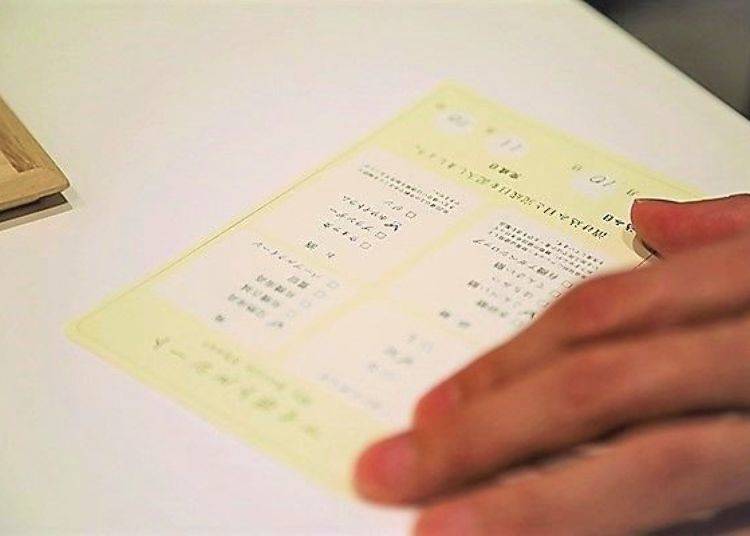 After tasting time, you will move onto making your own original umeshu or ume syrup. The writer loves liquor so this time we picked umeshu right away! For umeshu, you get to choose between brandy, vodka, gin, and white rum. This means that there are 100 different variations between 4 types of liquor, 5 types of me, and 5 types of sugar, a tough decision!

If you are not sure, ask the professionals! This time we created Mr. Suga's recommendation Nankou-ume, konpeito, and white rum.
▲The Choya Ume Kit we selected this time. M size 2,000 yen, additional 150 yen for M size konpeito, and 500 yen for M size white rum, totals to 2,650 yen (all without tax)
The price varies depending on the ingredients you select. The Choya Ume Set, includes ume, sugar or syrup, and a bottle. Depending the on the size the price varies to the following, 1 ume (S size 1,000 yen without tax), 3 ume (M size 2,000 yen without tax), and 5 ume (L size 3,000 yen without tax).

The kit includes standard ume and sugar, however, if you select premium ingredients, additional fees will be needed. This time we have selected premium sugar, konpeito, and cost additional fees. Also, all liquor requires additional fees.
Making Umeshu Plum Wine is Super Simple! Put the Ingredients in the Bottle and Wait
Time to make umeshu! All the equipment in the kit are original items and very fancy. First clean your hands with the towel.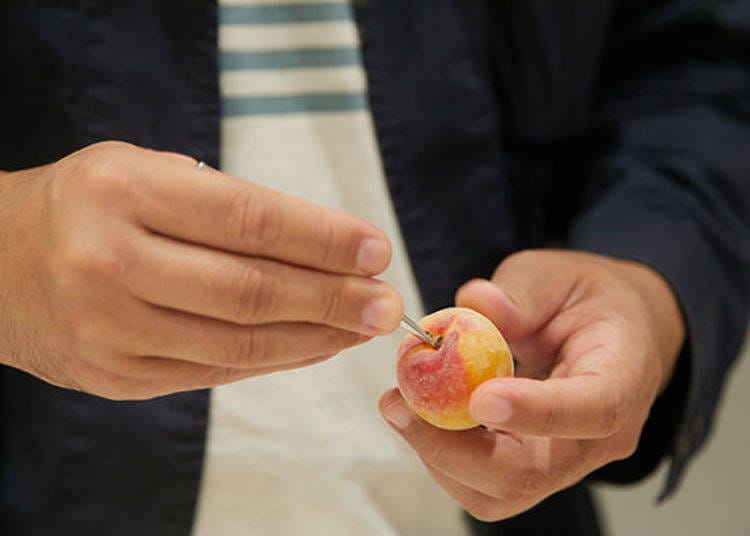 Then take out the frozen ume from the bag, and take off the stem with the tool that looks like an ear cleaner. The stem isn't that hard and comes right off.

The tools used in the kit are the same tools that the workers at Choya factory use. Since Choya is a big company, we thought everything was mechanized, however, the workers clean each ume by hand. The veteran workers can take off the stems at lightning speeds, without looking down.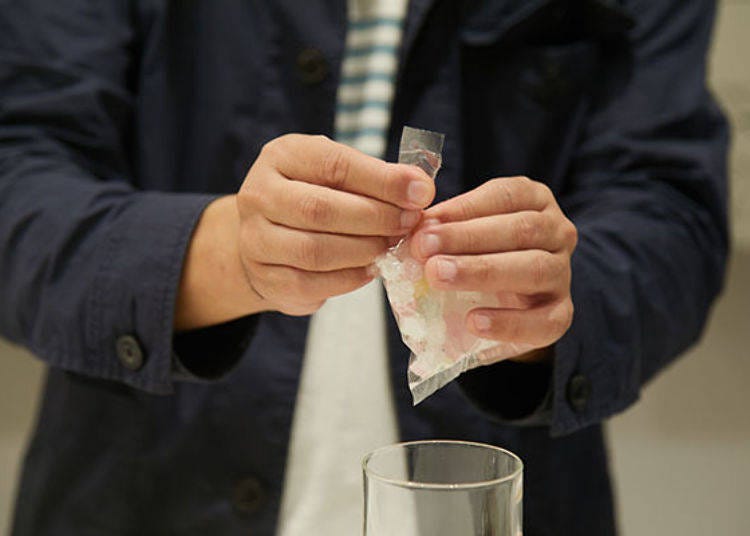 Next we put in the konpeito. The hand made konpeito takes about 1 to 2 weeks. The colorful konpetio in the bottle adds more excitement.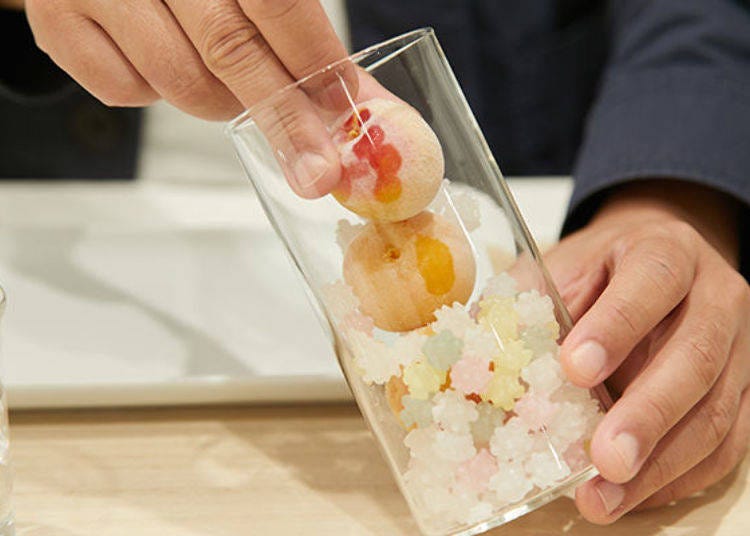 Fill the bottle in the order of konpeito, ume, konpeito and ume, to create a nice balance.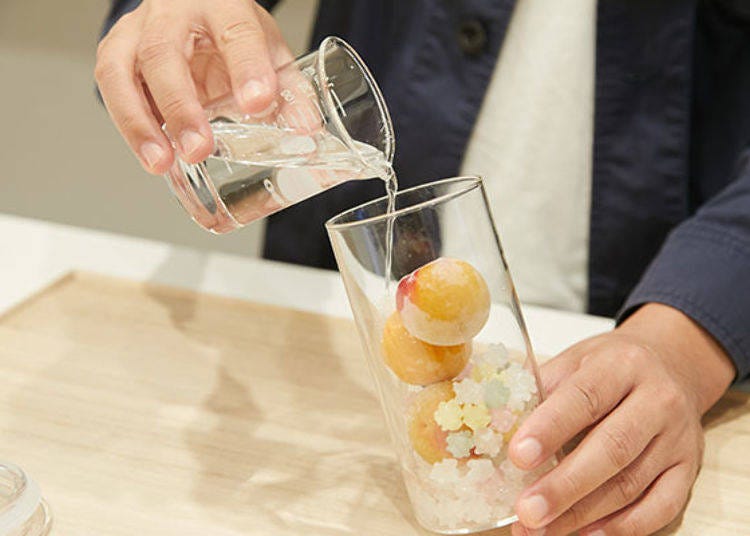 At the end slowly pour in the white rum and secure the lid aaaand finished! Very simple isn't it? Now you just wait for the ingredients to mix for the delicious umeshu. Can't wait for the result!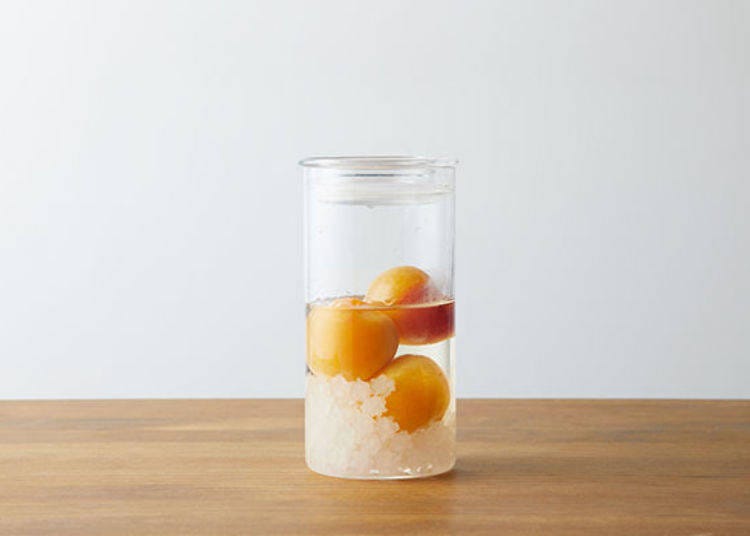 ▲After an hour pouring in the liquor, the color form the konpeito disappears.
Once you are finshed, all you have to do is take the bottle home and shake it once a day.

For people who thought, "Wow this is easy and I can do this at home," we have some good news! Choya sells ingredients to customers who has visited twice. When you try to make umeshu on your own, it is hard to find places that sell ume in small quantities and end up making a lot. However at Choya you can purchase one ume at a time, which allows you to make small amounts of umeshu at home.

After we finish our umeshu, we would like to try out another blend!
Enjoy a Refreshing Umedrink after the Workshop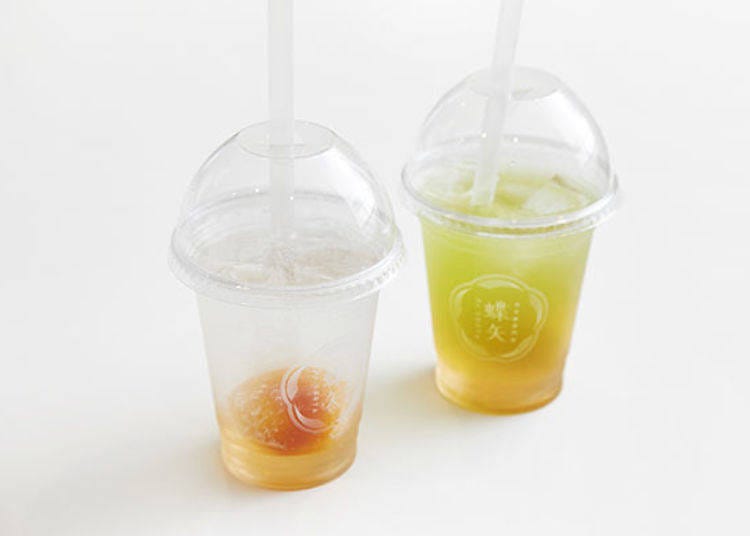 ▲Most popular ume syrup with soda (left) and amazingly good green tea with ume syrup (right) *500 yen without tax each
The store also offers takeout ume drinks. These don't require a reservation to purchase, also there are benches in front of the store to sit and relax.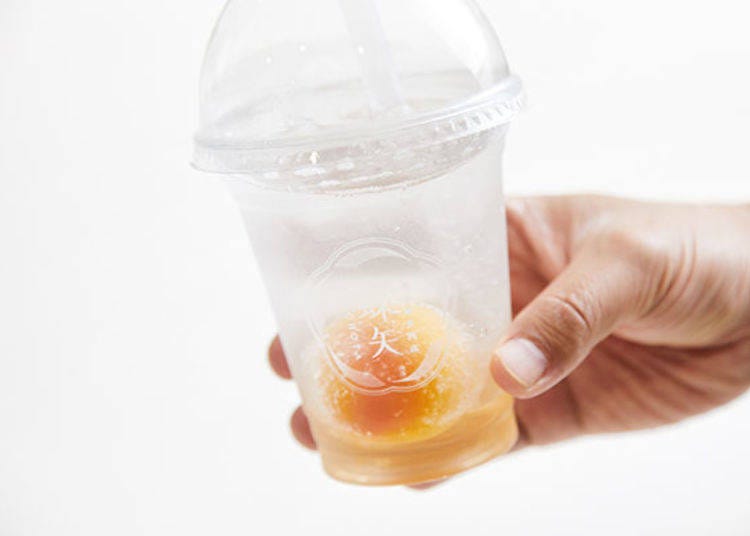 A large Nankou-ume in the drink. We recommend drinking the mixed drink about 2/3 then crush the ume. The drink will fill your body with nice sourness to blow any fatigue away!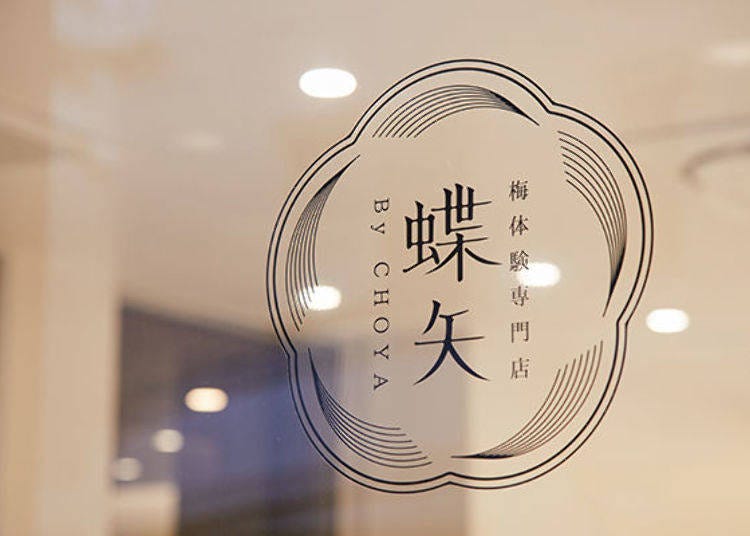 A very unique ume culture of Japan. How about making umeshu and ume syrup in Kyoto, the ancient center of Japan where culture prospered.
Ume Specialty Shop Choya (Ume Taiken Senmonten Choya)

梅体験専門店 蝶矢

Address

108 Higashiiru Horinogami-cho, Sakaemachi, Rokkaku-dori, Nakagyo-ku, Kyoto Prefecture CASA ALA MODE ROKKAKU 1F

[Hours] 11:00AM – 7:00PM
[Closed] End of the year to New Year's, Obon holiday. Other irregular holidays
[Price] Instore workshop "Choya Ume Kit" starting from 1 plum (S size) 1,100 yen without tax
*Reservation is possible from 2 weeks to a day in advance from their official website
*This information is from the time of this article's publication.
*Prices and options mentioned are subject to change.
*Unless stated otherwise, all prices include tax.