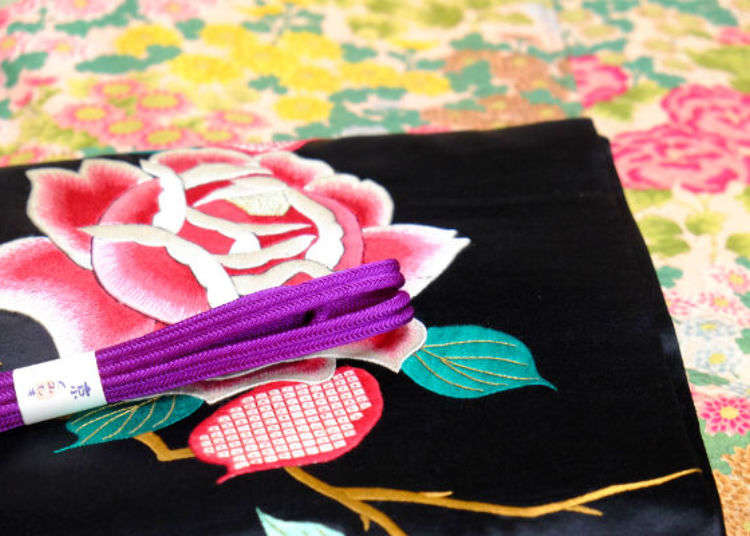 In Kyoto, the tradition of Japan takes on a life of its own. After seeing so many people walk around in them, you might wonder where to buy kimono in Kyoto.

There are many kimono shops in Kyoto where you can shop to your heart's content. Yes, you just may be tempted to spend all your money on such lovely pieces!

Instead, why not pay a visit some of Kyoto's more reasonably priced antique kimono shops instead? Allow me to introduce some recommended shops along Sanjo and Shijo, where unexpected and fun encounters await!
1. Daiyasu: Classic Kyoto kimono shop that is perfect for beginners
The first second-hand kimono shop I visited was Kimono Daiyasu in its landmark blue building. The customers of this shop span generations, including Kyoto kimono fans from their 20s to their 60s. It is a shop adored by the locals.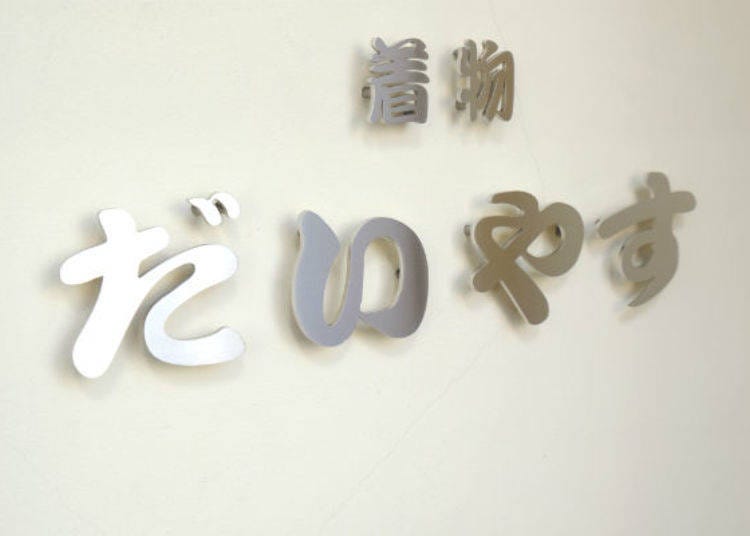 ▲ Shijo-dori is about 5 minutes away on foot from Shijo Subway Station along the Karasuma Line. The shop's big signboard is a landmark
On the first floor, you will mostly find traditional kimono accessories. I go up to the second floor in search of the perfect antique kimono...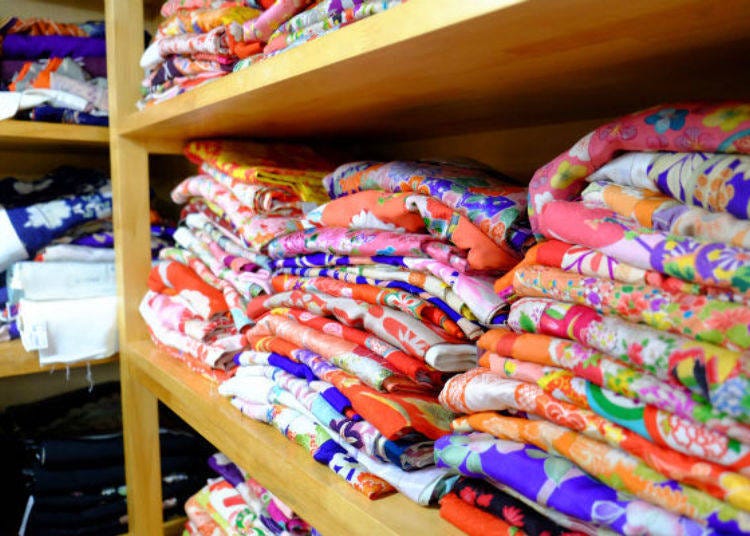 ▲ I really love the vivid coloring!
Kimono and obi sashes completely line the shelves and tatami flooring! It seems as if there are at least several thousand items, maybe even more. From new to old items, Daiyasu is known to have a wide variety.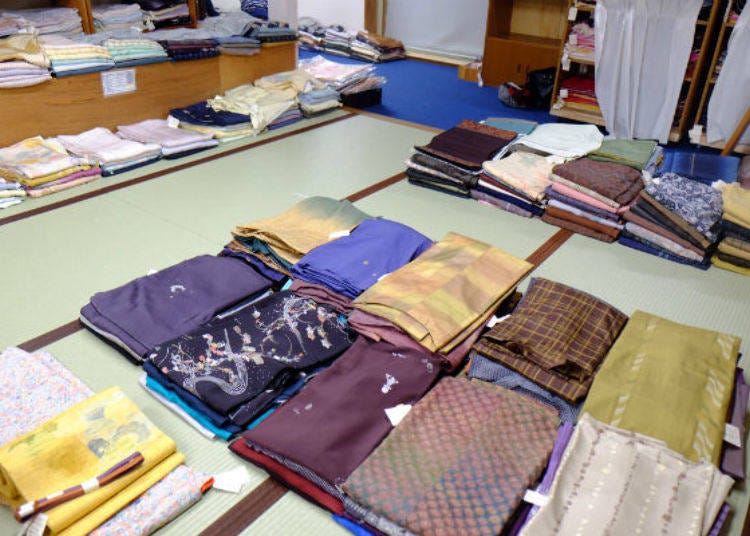 ▲Kimono and obi sashes completely line the shelves and tatami flooring! It seems as if there are at least several thousand items, maybe even more. From new to old items, Daiyasu is known to have a wide variety.
Daiyasu defines a portion of the second-hand Kyoto kimono and antique kimono they sell as "pre-war, kimono made before the war that have been recycled."

Although a natural concern about recycled kimono is about cleanliness, the items at this shop are carefully selected according to (1) having as little dirt or stains possible, and at a size that fits modern people, as well as (2) high-quality silk.

Also, since they make sure to explain about the antiqueness of the items before you purchase, even those not used to shopping for kimono can shop with confidence.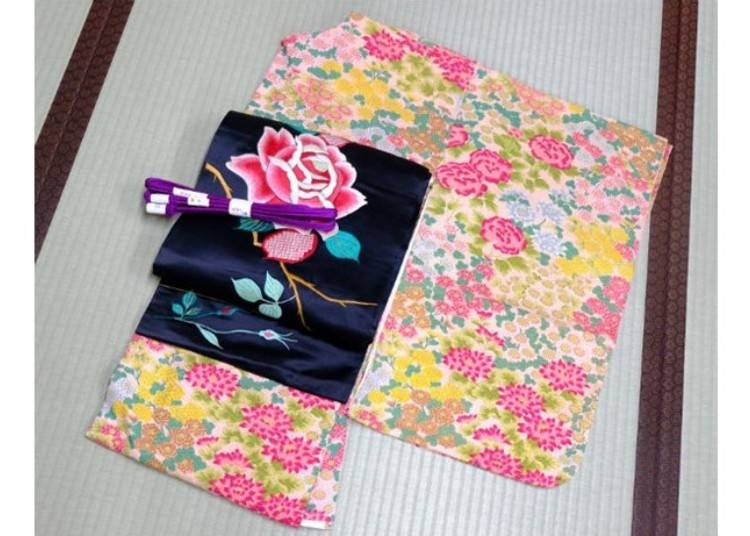 ▲Antique Kyoto kimono from the early Showa Era: ¥32,400; obi: ¥6,480; obi string: ¥5,940 (tax included)
The shop representative, Ms. Kako Naomi, gave me some tips on coordination.

"A good tip is to match an old kimono with an old obi because it is easier to match similar styles. On the contrary, it can also be fun to experiment combining an older obi with a modern kimono," explains Kako.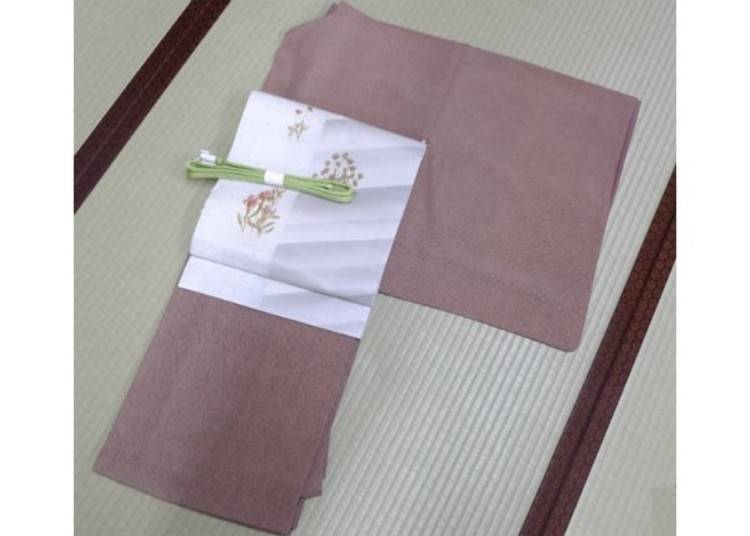 ▲I caught a glimpse from a distance of a rather plain looking new Edo-komon piece at ¥7,560, with an antique obi at ¥14,040. *No longer in production. It would look great paired with the obi string (¥5,940, tax included)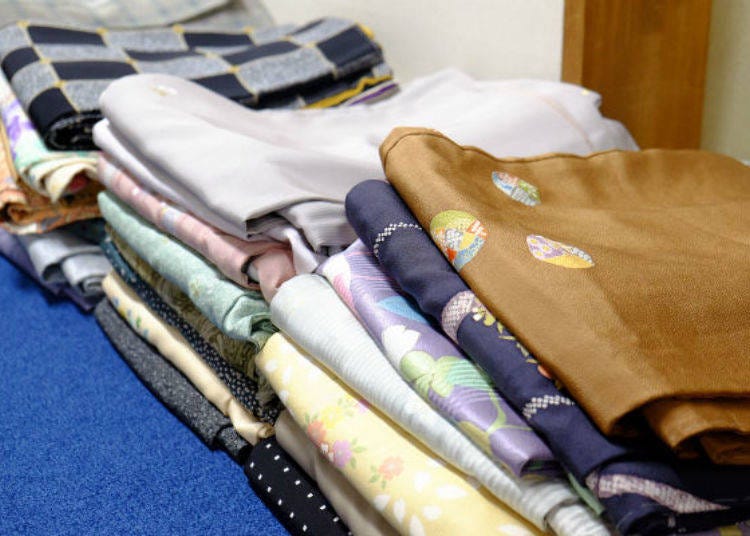 ▲ It is also a nice idea to try on some of the more expensive kimono that may be a little more confusing to wear than the older kimono, which are easy to wear.
Whether you're looking for where to buy kimono in Kyoto or just want to hop in and have a look around, the staff are very welcoming. And if you are interested in buying, you can set a budget, such as "up to ¥10,000," and plan a kimono coordination that meets those conditions.

"Please do not hesitate to consult the staff," Kako reminds me. In a shop such as this, even beginners can feel free to try on kimono without any hesitation and can even consult the staff for help with coordination.
着物 だいやす

Address

41 Kasabokocho, Shijo-dori, Nishinotoin Nishi Iru, Shimogyo-ku, Kyoto-shi, Kyoto-fu

Phone Number

075-213-1113

Hours: 10:30AM~6:30PM
Closed: Open daily (except New Year's Holiday and Obon)
2. Ochikochiya: Makes Antique Kyoto Kimono Fun
The next shop I visited was Ochikochiya, located in a Buddhist Temple on Karasuma-dori, which I went down from Shijo-dori. It is a reputable Kyoto kimono shop amongst kimono fans.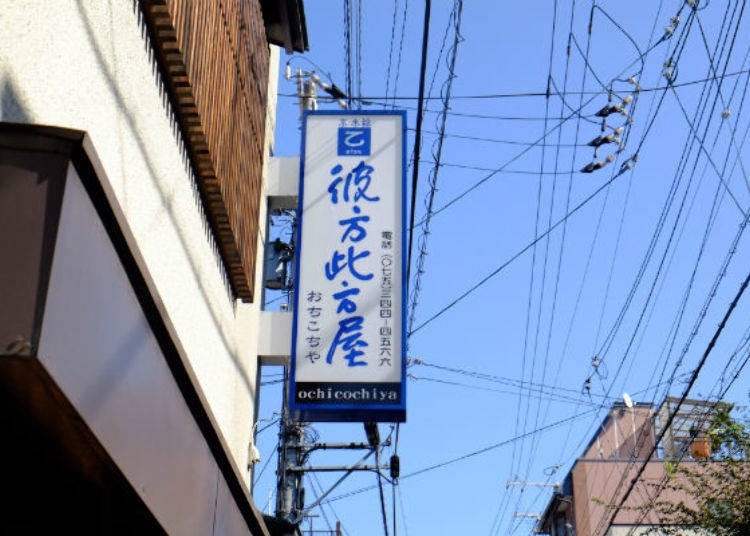 ▲It's about a 5 minute walk from Shijo Subway Station on the Karasuma Line
The shopkeeper, Ms. Kyoko Tanaka, was originally a homemaker who loved kimono. As her love for kimono increased she decided to open her own shop.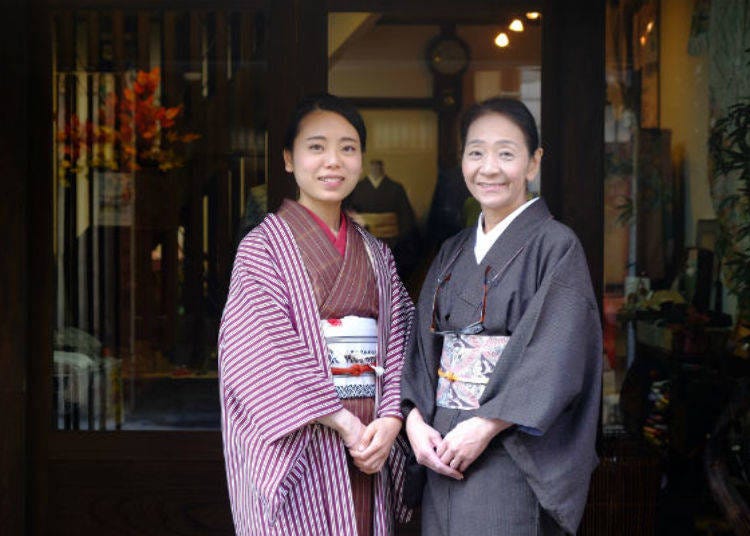 ▲The staff who greeted me, and the shopkeeper, Ms. Tanaka (right)
"A kimono is not something you can just throw away," states Tanaka. "Long ago, Japanese people used to say, 'Never throw away a cloth that can hold at least three beans,' and so growing up following that habit, I would alter and use old cloths, too." It is a nice to know that the kimono have been carefully handed down for generations.

Taking advantage of the good quality of such kimono, this shop also sells "sakiori" bands and accessories hand-woven with used kimono fabrics.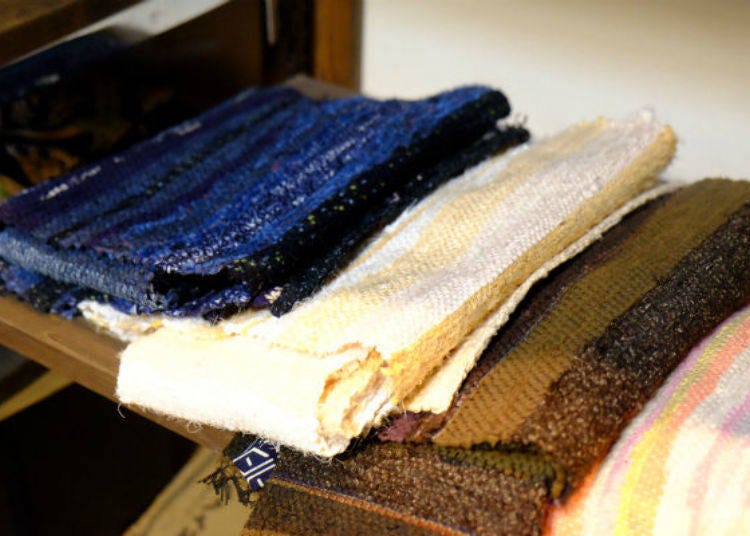 ▲It is impossible to think that such a beautiful sakiori band was made from old, worn-out kimono fabrics.
There are also kimono and obi as old as 90 to 100 years lining the shop. There are also many reasonably priced items such as kimono from ¥1,000, and obi from ¥3000.

Because Tanaka herself was once a "kimono buyer," she says, "I want familiarize you with the kimono at affordable prices, because I want you to use it carefully without throwing it away." It seems she tries to keep the prices as low as possible. When you can get these items so easily and affordably, you will have more fun coordinating your kimono.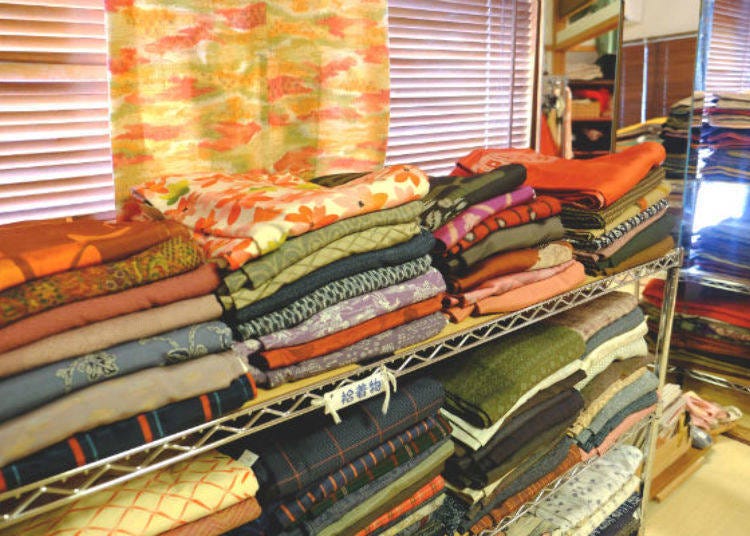 ▲Kimono made of cotton and wool, which are easy to use, even for beginners, are also available
According to Ms. Tanaka, the atmosphere of a kimono can change just by changing the obi. For example, look at the two pictures below. Even though it is the same kimono (¥7,020, tax included), you can wear it in a wide range of styles, simply by changing the obi.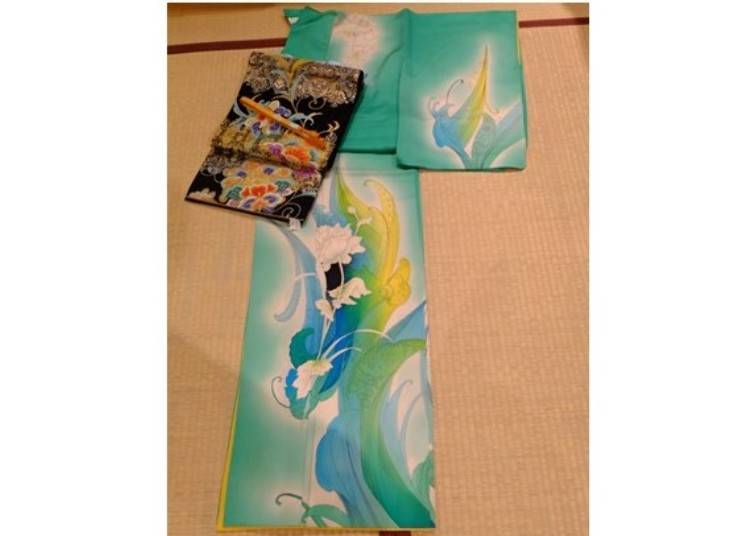 ▲This black obi has a rather fancy image with its gold thread. Recommended for hotel feasts and alumni associations. Obi ¥62,640 (tax included).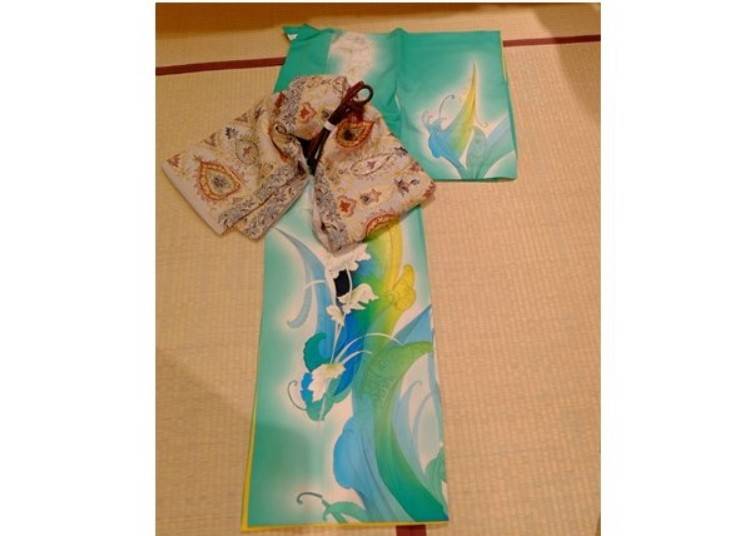 ▲On the other hand, this obi has a beige colored Western-style pattern. It is classy with a gentle color, and perfect for art and theater. Obi ¥4,104 (tax included) *No longer in production
As I talk with Ms. Tanaka, my interest in kimono deepens. You can also have them help you coordinate an outfit according to your budget and usage. If the length of the kimono you want is off, her surprising suggestion was to "Just add kimono cloth to the waist to extend the length." Another suggestion was to "use a scrap cloth with a pattern you like as an obi sash."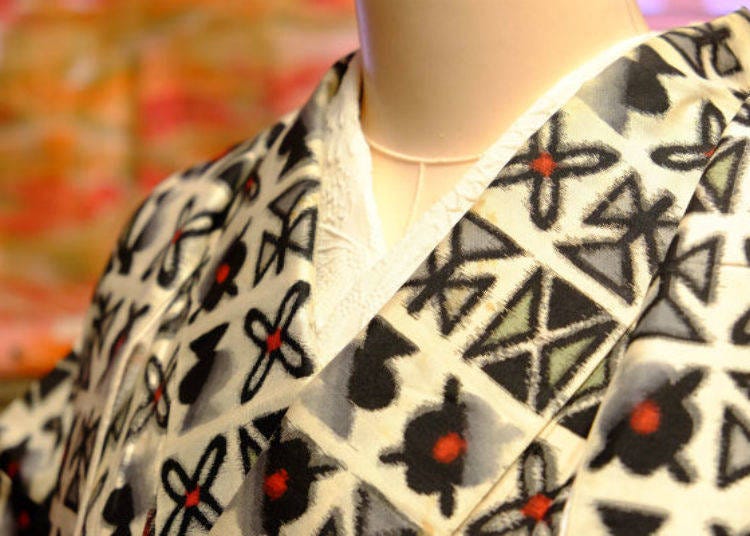 ▲The mannequin's coordination was pretty helpful as well
You will have a nice time here chatting with Tanaka, with a gentle personality, and answering any questions you may ask. Thanks to her helpful kimono consultation, you can shop her with confidence.
彼方此方屋

Address

112-1 Bukkoji Higashimachi, 柳馬場 Higashi-iru, Bukkoji-dori, Shimogyo-ku, Kyoto-shi, Kyoto-fu

Phone Number

075-344-4566

Hours: 11:00AM~6:00PM
Closed: Mondays, Second Tuesday
3. CHICAGO Kyoto: Western Clothes in an Antique Kyoto Kimono Shop!? Boasting Over 6,000 Items!
Teramachi-dori is the street that runs north and south between Shijo-dori and Sanjo-dori. I had intended to visit a kimono shop right here on this street when I saw it... What!? Jeans at a Kyoto kimono shop! Yes, this shop is a long-established used-clothing store CHICAGO, which even has a branch in Tokyo.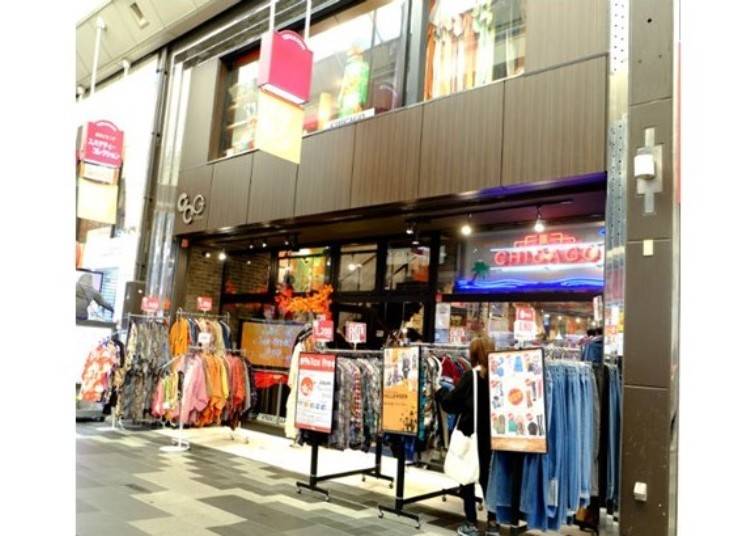 ▲Go east on Bukkoji-dori. When you reach Teramachi-dori, head north to Sanjou-dori. It will take about 10 minutes on foot.
When you hear the word "Chicago," many people probably think American casual. Who would imagine that it is actually a Kyoto shop with 6,000 kimonos! Their product lineup is also the best of the best within the city. The entire second floor only has kimono.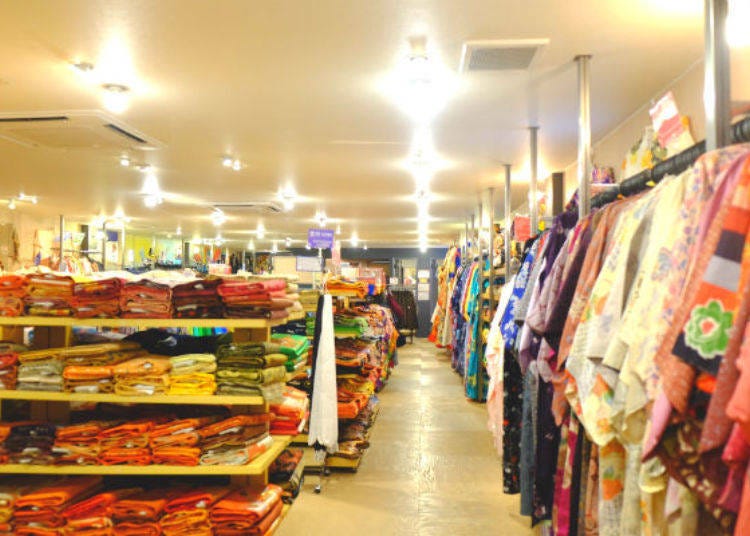 ▲I was overwhelmed by the amount of kimono that filled the 2nd floor! The prices of the kimono are from ¥2,000 and up. Their lineup includes kimono for formal visits as well as bridal, and they even have for men and children.
Because you can freely go between both floors, you can enjoy creating mixed coords with western clothes. For example, you can even combine vintage hats and accessories with your kimono.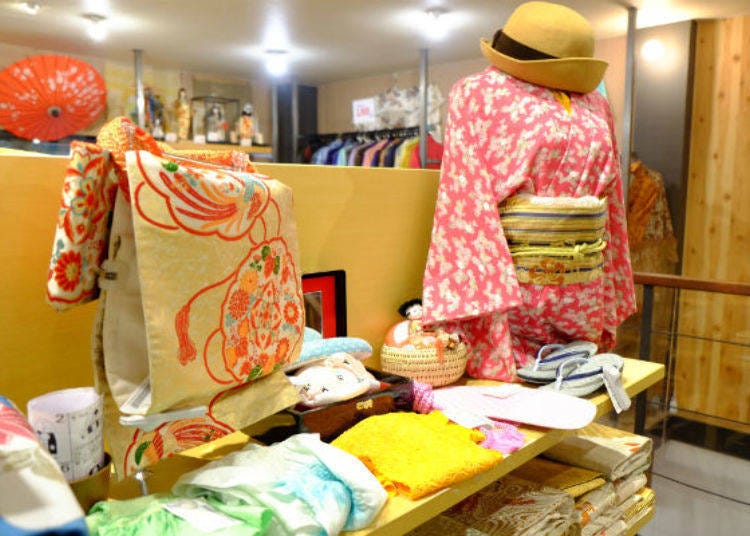 ▲A kimono and hat combination must be unique only to a western style kimono shop.
Because it is operated as both a western-style clothing store and a kimono store, the display is quite different from your average kimono shop. For example, some kimono are hung on hangers so you can pick quickly like western clothes. I was also relieved not to have staff calling out to me, so I could focus on trying on and coordinating my clothes as I pleased.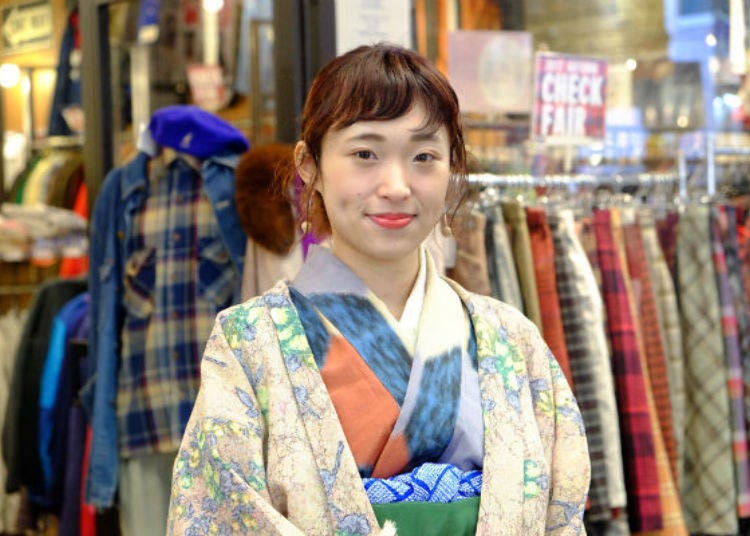 ▲Staff member who coordinated her kimono, obi, obi sash, and haori in blue
On the day I came here, the staff who assisted me was wearing fur sandals along with her kimono. This was her technique to include only smaller items that are western style. I would really like to imitate her style!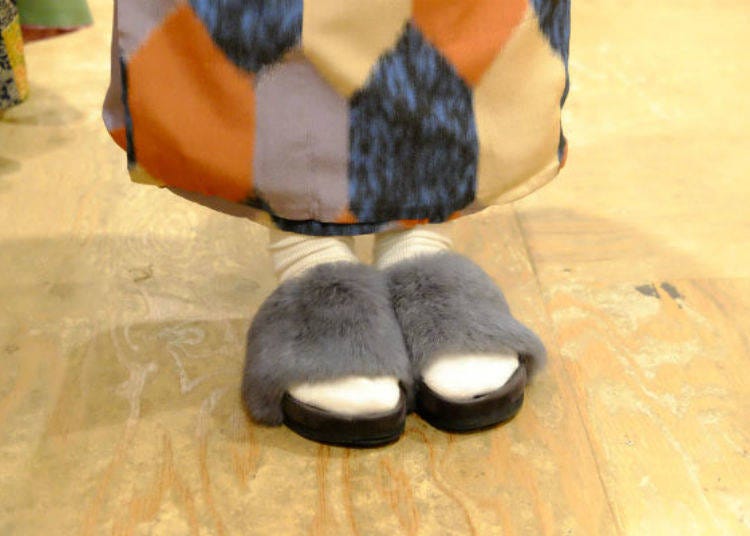 ▲This combination with fur sandals is cute! (the sandals are her own personal item)
CHICAGO is a shop where you can freely choose items just as you would in any large clothing store. There seems to be some customers who wear coords such as a kimono haori over a western one-piece dress, or an obi in place of a denim belt.

You may drop in for a quick peek, or spend time to focus on coordinating an outfit. Why not pick and choose until you find your favorite one?
CHICAGO 京都店

Address

258 Shikibucho, Teramachidori Rokkaku Sagaru, Nakagyo-ku, Kyoto-shi, Kyoto-fu

Phone Number

075-212-5391

Hours: 11:00AM~8:00PM
Closed: January 1
4. "Ichi · man · ben": Popular Vintage Kimono Shop in Kyoto
Ichi · man · ben, a vintage kimono shop along Sanjo-dori which is also frequented by foreign tourists, sells all kinds of recycled kimono, regardless of year and age. Kimono and obi are available from ¥10,000 and up.

With good transportation as well as being a popular sightseeing spot, I have also passed by the shops of Sanjo-dori. The mannequins wearing kimono certainly grab the attention of passers-by. Drawn in by its cuteness, many customers just walk right in.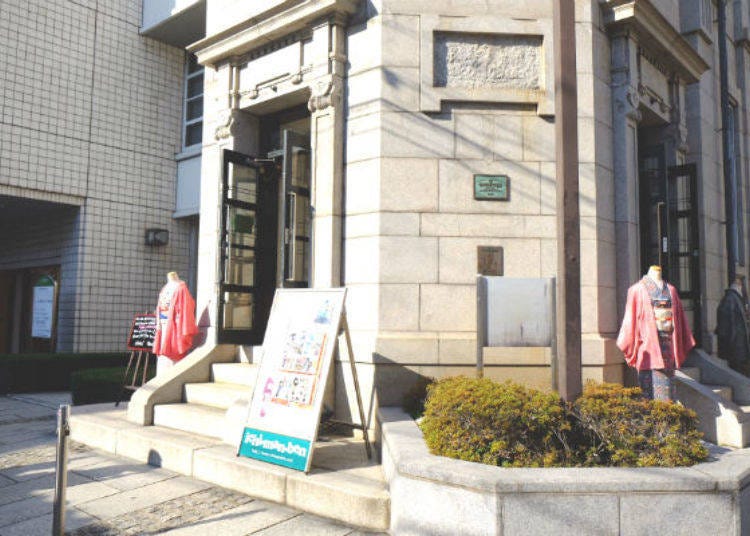 ▲Go north on Teramachi-dori, then westward on Sanjo-dori. It is about 5 minutes on foot. The shop is on the ground floor of a stone building.
This cozy shop houses plenty of kimono, obi, and accessories. It is known for its wide assortment that guarantees you will never tire of coming here.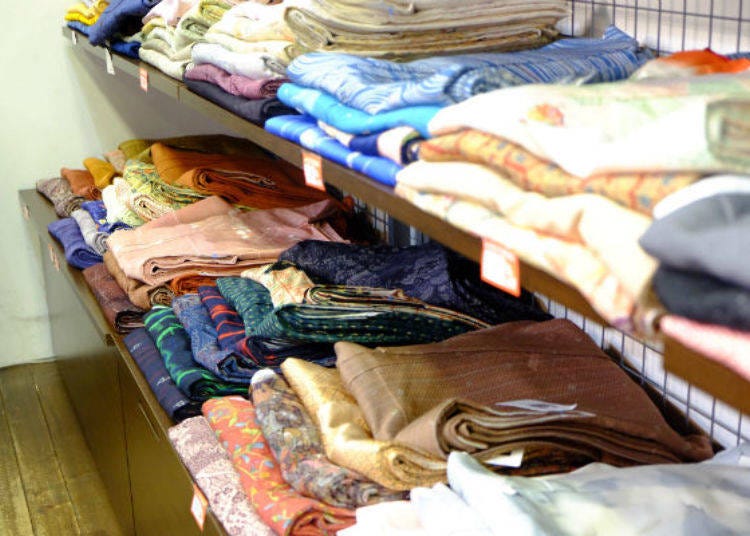 ▲Along with kimono there are Japanese accessories as well. Nearly 4,000 items are available.
The best trick to coordinating your kimono is to unify the colors in the kimono pattern with the color of the obi. For example, if a kimono has a pink pattern, the obi should include a similar color.

On the contrary, if matching kimono and obi with opposing colors, picking shades that stand out will add a unique finish to the outfit.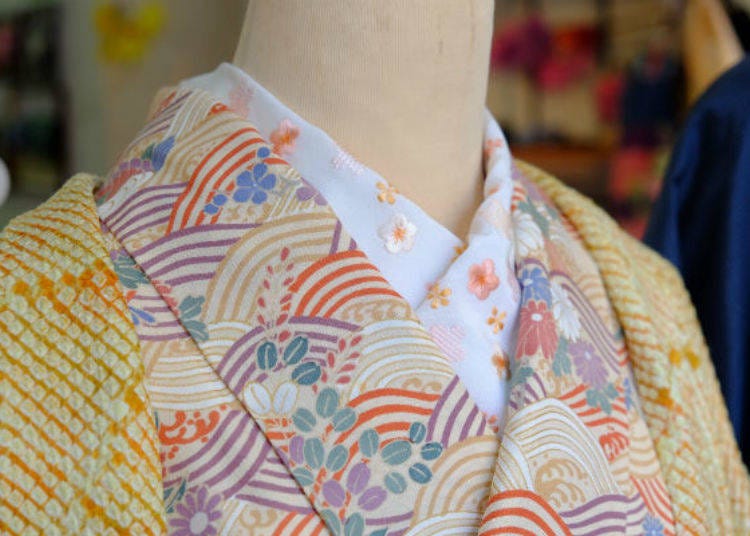 ▲This coordination has a gentle mood, with a focus on light tones. Kimono, ¥10,800 (tax included)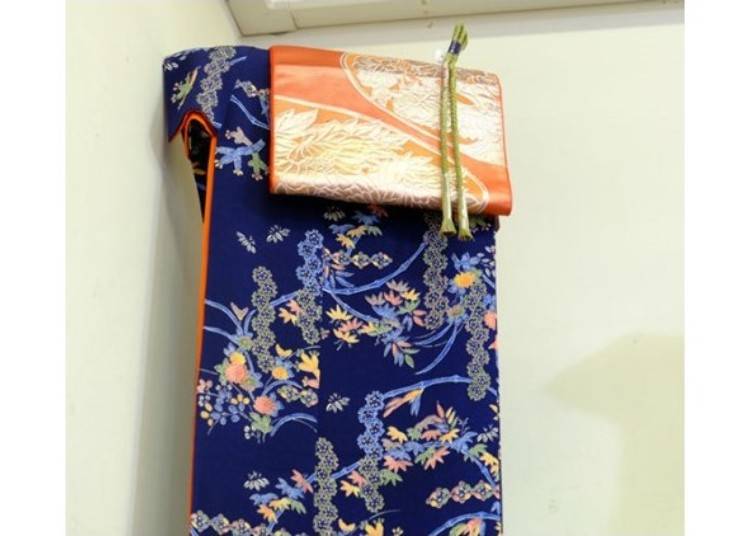 ▲For those have trouble coordinating, the kimono debut set (¥10,800, tax included) is recommended, and includes a kimono and obi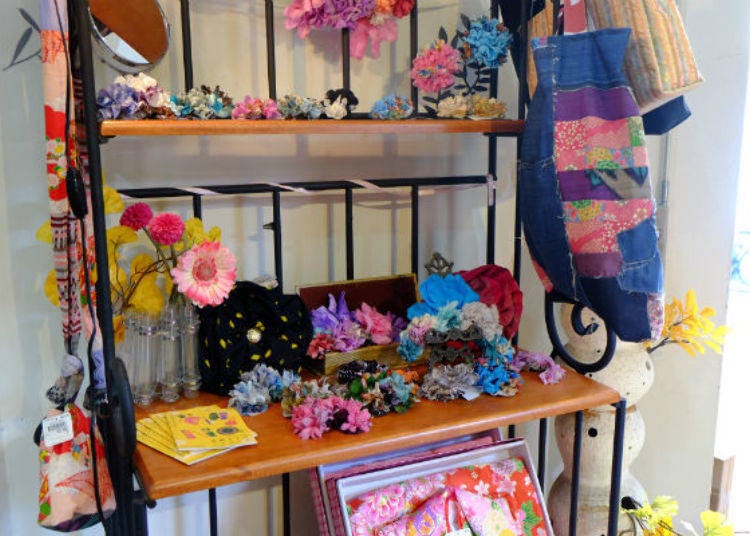 ▲In addition to kimono, small items such as bags are also available. Corsages from ¥800; bags from ¥3,024 (Both prices include tax)
In addition to kimono accessories, they also sell things like corsages that are made from kimono cloth scraps.

Even if you don't wear kimono, it is a western-style accessory that can be easily incorporated into your usual outfit. There is also a fitting room in the back of the shop, so you can coordinate your outfit with the assistance of a clerk.
ichi.man.ben

Address

Keio Kyoto Sanjo Bldg, 1F, 75 Masuyacho, Sanjo-dori Yanagi Baba Nishi Iru, Nakagyo-ku, Kyoto-shi, Kyoto-fu

Phone Number

075-256-8282

Hours: 11:00AM~8:00PM
Closed: Open daily
How to Buy Your Vintage Kyoto Kimono
In closing, I would like to share two points you should know when choosing an antique kimono.

● Open Up the Kimono and Try it On:
With kimono, it's hard to know how it fits unless you actually try it on. If there are vintage kimono that interest you at the shop, you could simply open it and hold against your body and check it with a full-length mirror.

● When the Length is not Right:
Because antique kimono were made according to the stature of older Japanese people from quite long ago, the length will likely not be suitable for your height. In such cases, there are methods you can use to fix it, or you can consult with the staff to help you find the perfect one.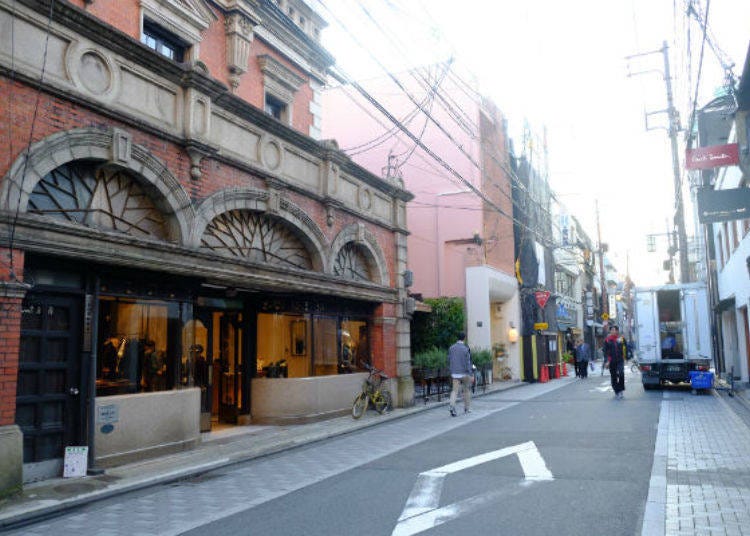 ▲Sanjo-dori, where old buildings still remain
Because they are antique kimono, you will most likely never encounter one of the same kind. That is the real thrill of antiques. When looking for where to buy kimono in Kyoto, why not seek out your own favorite clothes as if it was a treasure hunt? Check out the kimono shops as you enjoy the best sightseeing spot in Kyoto City!
Text by:kurashisa
Book an unforgettable experience in Kyoto!
Make your trip extra memorable by booking one of these recommended experiences on our partner site, Voyagin!
*This information is from the time of this article's publication.
*Prices and options mentioned are subject to change.
*Unless stated otherwise, all prices include tax.