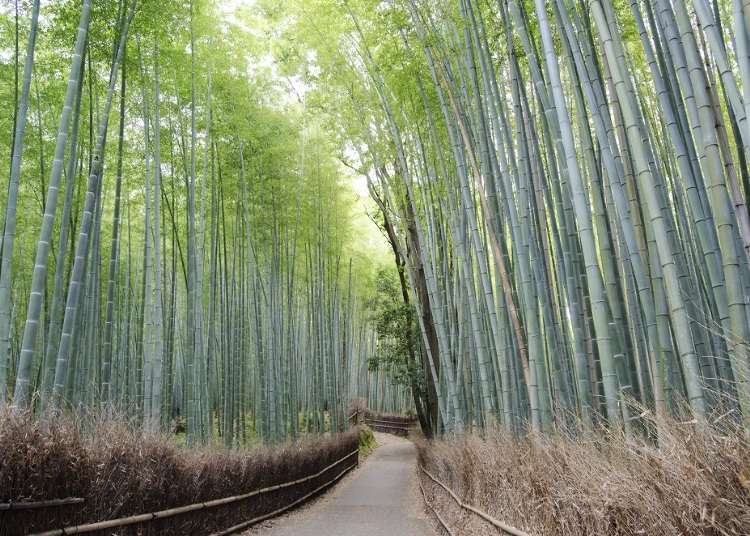 While there are many Kyoto bike tours where you can hire a guide, it's equally easy to drop by a bike rental shop and explore on your own. As Kyoto is relatively flat, it's easy to get around by bicycle.

This self-guided Kyoto bike tour, starting in Arashiyama, will take you around some of the most popular sights in the area. With so many temples, souvenir shops, and natural sceneries, there are plenty of highlights. Take your time enjoying the Arashiyama area, from the easily-accessible shops to the more solemn temples of Okusaga.
The first stop on our Kyoto Bike Tour: Ranbura Rental Cycle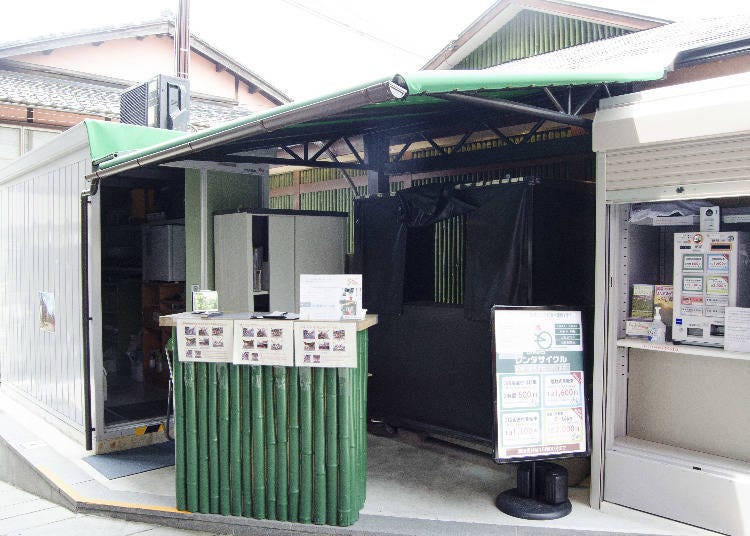 Today we rented a bicycle from Ranbura Rental Cycle, located right inside Arashiyama Station. As you can rent a bicycle immediately upon arrival, it is the perfect base for a Kyoto bike tour around Arashiyama.

First, you can select the type of bicycle you want to rent and the length of usage time. Purchase your rental ticket and the vending machine, and give it to the receptionist.

Be sure to check the warnings for riding your bike. Do not ride bicycles on the sidewalk. If the facility you are visiting does not have free bicycle parking, you can use the paid parking, or walk your bike if there are many pedestrians.

There are three kinds of bicycles. The City Cycle has three speeds and is affordable at 600 yen for 2 hours or 1100 for the day (tax included). The Electric Bicycle is also recommended, at 1600 yen per day (tax included).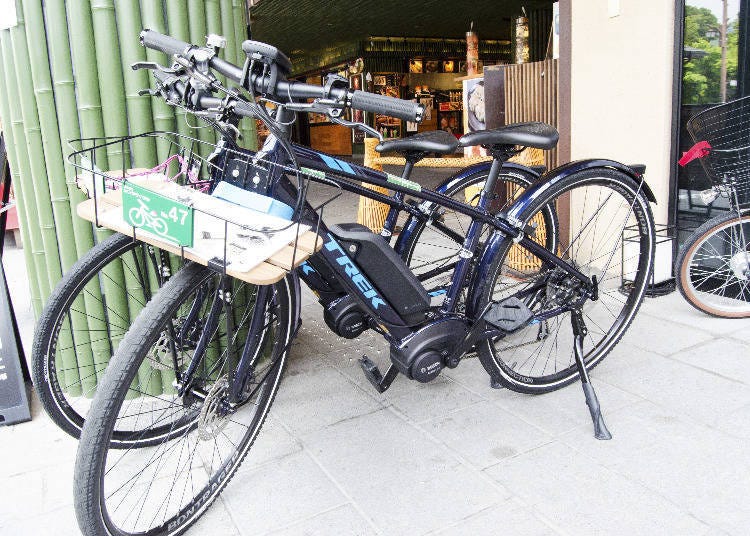 For those who are more active, there is the electric E-bike (seen in photo). If you're not accustomed to riding a bike, we'd recommend this type as the pedal assist function will help you stay fresh and not tire you out as much, even over long distances. The motor assists the force applied when pedaling, making it easier to climb uphill. It also has excellent disc brakes. It is 2,000 yen for the day (tax included).
らんぶらレンタサイクル

Address

20-2 Sagatenryuji Tsukurimichicho, Ukyo Ward, Kyoto 616-8384

Phone Number

075-882-5110

Hours: 9:00AM-5:00PM *Rentals until 3:00
Closed: Open daily
Kyoto Bike Tour: Arashiyama Course
1. Kimono Forest: The Vivid Colors and Patterns of Kyo-Yuzen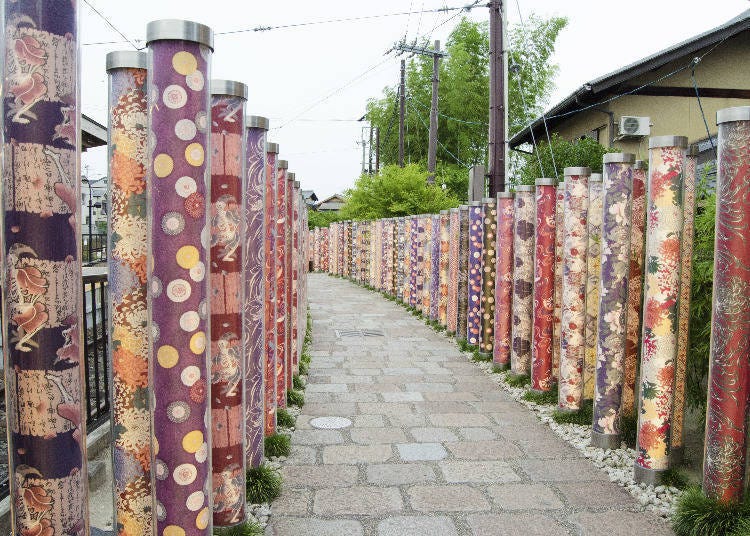 To properly get into our Kyoto bike tour, we're heading straight to the Kimono Forest. The Kimono Forest is located right next to Arashiyama Station. There are approximately 600 poles of Kyo-Yuzen-dyed cloths lining the station yard, the small paths, the cherry blossom garden on both sides of the track, and the maple garden. There are 32 kinds of colorful patterns, including Kanjincho patterns, dragons, and Karajishi Botan (Guardian Lion and Peony) patterns. They are all from the brand Pagong, operated by the Kameda-Tomisen Factory, founded in 1919.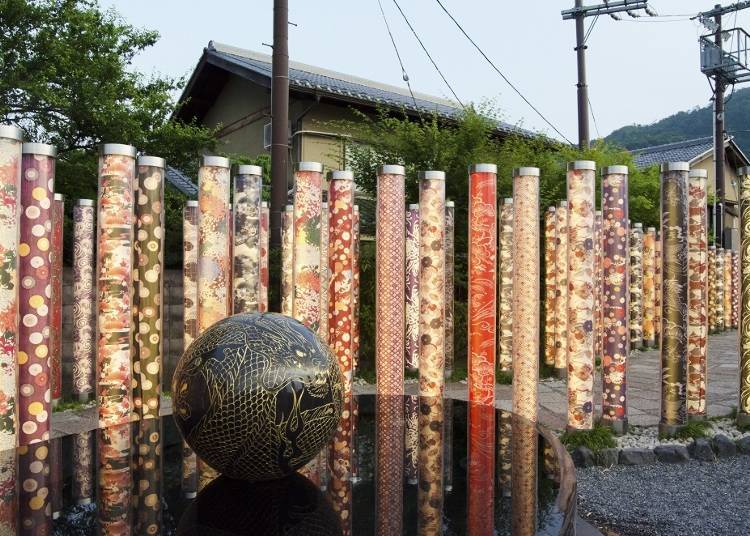 Passing through the Kyo-Yuzen forest from the station, you will see Ryu-no-Atago Pond. It is said that you can find happiness just by soaking your hands in this water and praying to the dragon. It is also lit up every evening, creating an even more fantastical world.
キモノフォレスト

Address

20-2 Sagatenryuji Tsukurimichicho, Ukyo Ward, Kyoto, 616-8384

Phone Number

075-882-5110

Hours: Open anytime (Light-up from evening till 9:00PM)
Closed: Open daily
2. Togetsukyo Bridge: A Symbol of Arashiyama Visited by the Emperor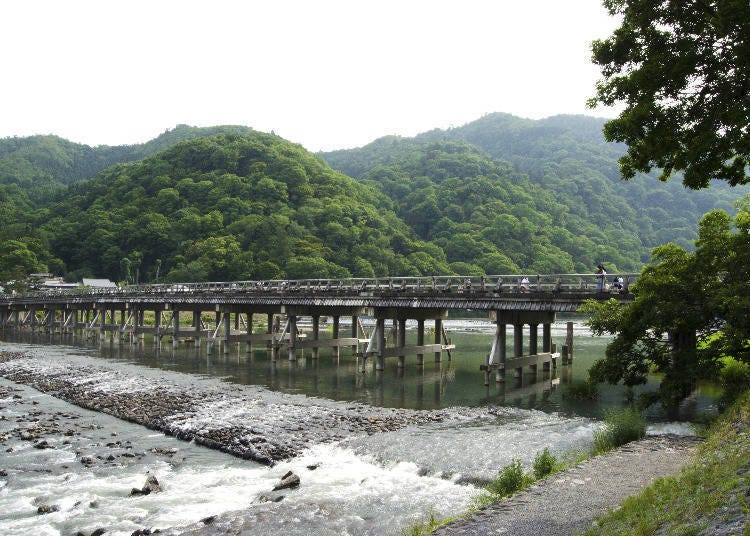 Next on our Kyoto bike tour, we headed to the Togetsukyo Bridge over the Katsura River, which stretches 155m long. It is an Arashiyama landmark and is often seen in movies and on TV. There are parks and benches along both banks, which are good places to take a break from cycling.

The Togetsukyo Bridge (whose name literally means "moon-passing bridge") is said to have gotten its name in the Kamakura Era, when Emperor Kameyama, looking up at the moon, said it looked as if it was passing through along the bridge. The bridge is famous for its spring and autumn backdrops of Arashiyama, dyed with cherry blossoms and autumn leaves; however, it also looks beautiful in its green season.
渡月橋

Address

Saganakanoshimacho, Ukyo Ward, Kyoto 616-8383

Hours: Always open
Price: Free
Closed: Open daily
3. Bread, Espresso and Arashiyama: Homemade Bread in a Historic Japanese House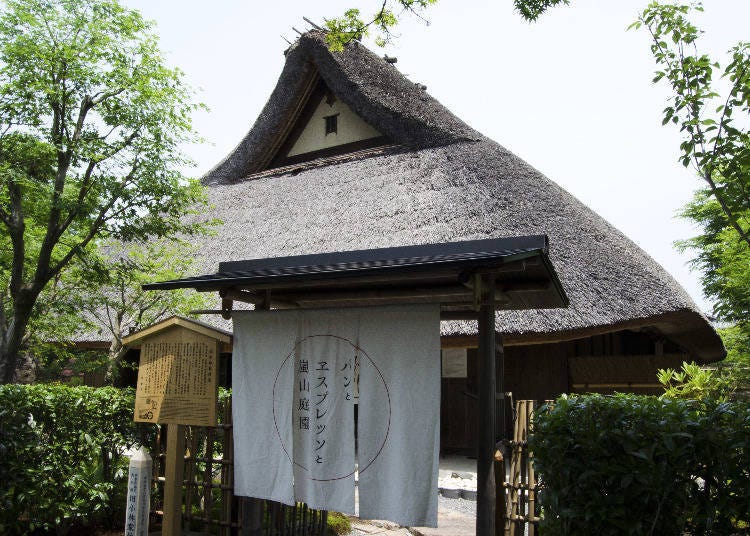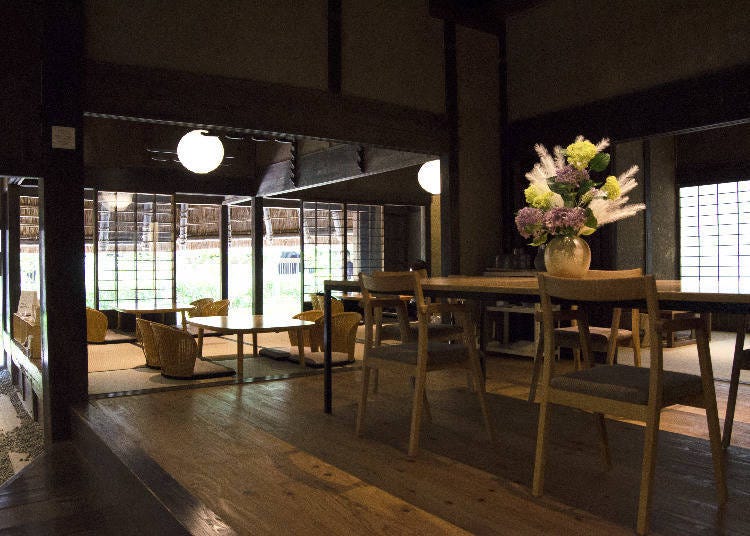 Time to take a break. I visited Bread and Espresso, the first Kyoto branch of the chain's 13 stores in Japan. On the large site with a well-kept garden is the cafe, "Espresso-to," and the bakery, "Pan-to." There is also a bicycle parking space in front of the store.

The 210-year-old mansion is registered as a tangible cultural property by the prefecture. It has been renovated into a cafe with a thatched roof, dirt floors, and tatami mats for an authentic traditional Japanese atmosphere. Here you can enjoy homemade breads and their limited-edition matcha toast.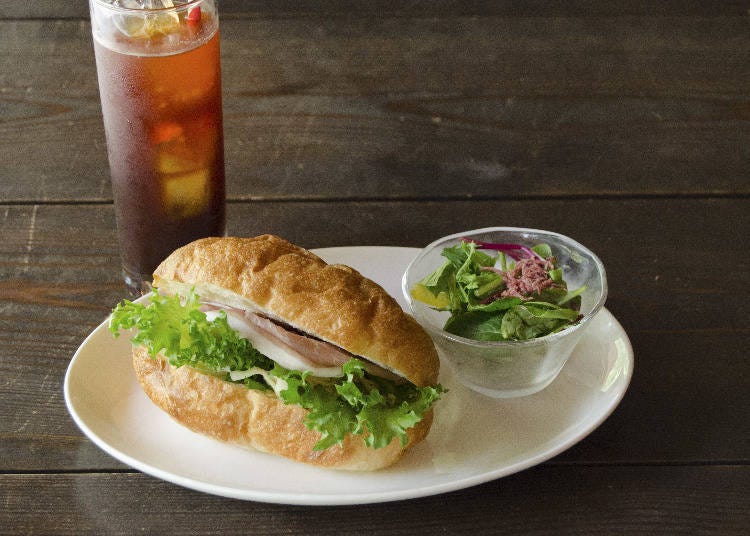 The popular Panini Set (1300 yen, tax included) includes a drink, such as a latte or an espresso. It's the perfect place to stop for a quick lunch or coffee break. The homemade panini is made using kelp and bonito, giving it a subtle Japanese flavor—the perfect break on your bike tour.
Bread, Espresso and Arashiyama

パンとエスプレッソと 嵐山庭園

Address

45-15 Sagatenryuji Susukinobabacho, Ukyo Ward, Kyoto 616-8385

Phone Number

075-366-6850

Hours: 10:00AM-6:00PM
Closed: Irregular holidays
4. World Heritage Site Tenryuji and its Beautiful Gardens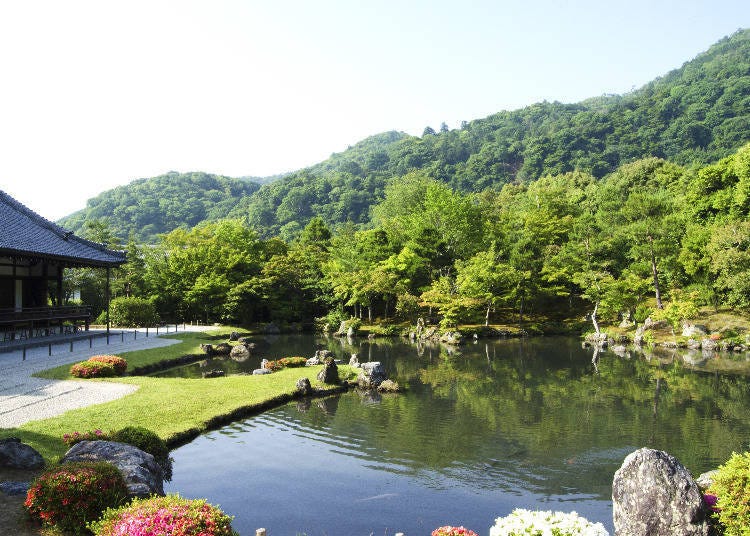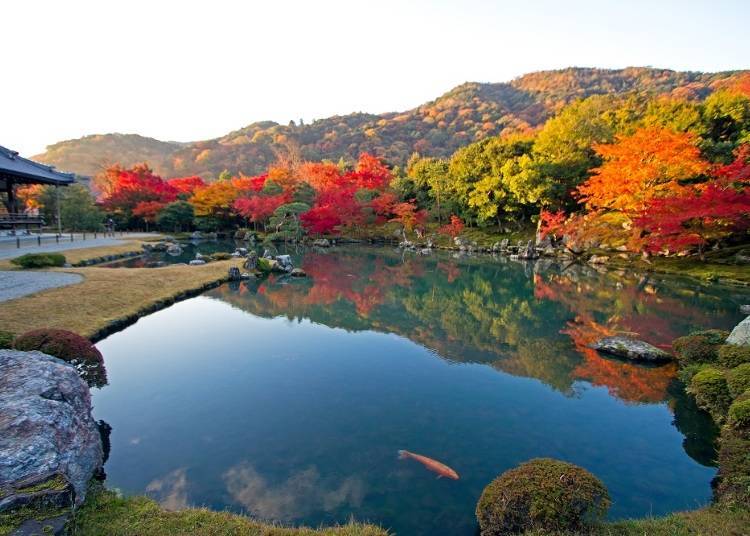 Tenryuji is one of the must-see places of Arashiyama. It is a short walk away from Randen Station, however, it also has free bicycle parking for visitors, perfect for you and your rental bike.

Tenryuji Temple was founded by Ashikaga Takauji and built by Buddhist monk Muso Soseki in 1339. The Sogenchi Garden, also built by Muso Soseki, was designated as Japan's first Special Place of Scenic Beauty. It is especially famous for its beautiful autumn foliage in the fall, and its spring scenery of nearly 200 cherry blossom trees.

Sit back, relax, and look out over the garden and its amazing view of Arashiyama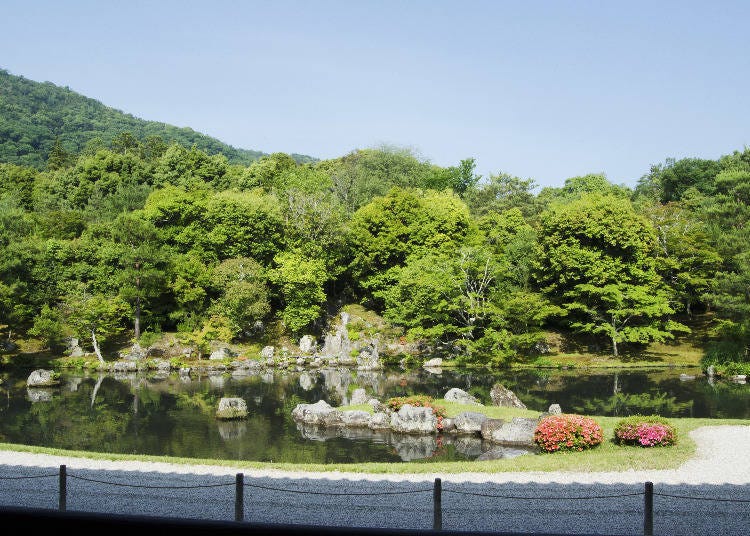 The Sogenchi Garden, designed by Muso Soseki, skillfully fuses the elegance of the dynasty's culture with the ruggedness of samurai culture. The huge rock in front of the priest's chamber is called Ryumon-no-taki Falls, and the stone on the left-center side is the Koi Fish Stone.

The garden is beautiful when looked at from any direction. However, if you sit in a zazen position (the seated meditation position), you can look at the Koi Fish Stone and the surrounding scenery from an eye-level point of view. Calm yourself and experience the sounds and scenery woven by nature.

There are many other highlights in the vast temple grounds, such as the Darumazu (Bodhidharma Painting) in the back of the warehouse and the Unryuzu (Cloud Dragon Painting) on the ceiling of the temple hall. By all means, please visit and check them out.
Address

68, Sagatenryujisusukinobabacho, Ukyo-ku, Kyoto-shi, Kyoto, 616-8385
View Map

Nearest Station

Arashiyama Station (Keifuku Dentetsu-arashiyama Line)


Phone Number

075-881-1235
5. Nonomiya Shrine: The Deity of Matchmaking Surrounded by Saga Bamboo Forest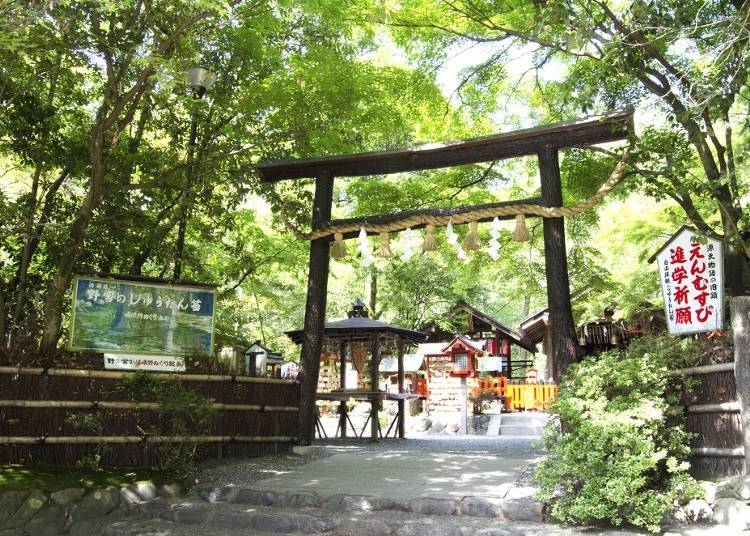 Next on our Kyoto bike tour, we head to Nonomiya Shrine, which houses the deity of education and marriage. It is nestled in the middle of the bamboo forest. This is the place where the Saio, or Ise Shrine Priestesses, who served the Emperor during the Heian period, underwent their purification. The shrine is also known to have appeared in the Tale of Genji.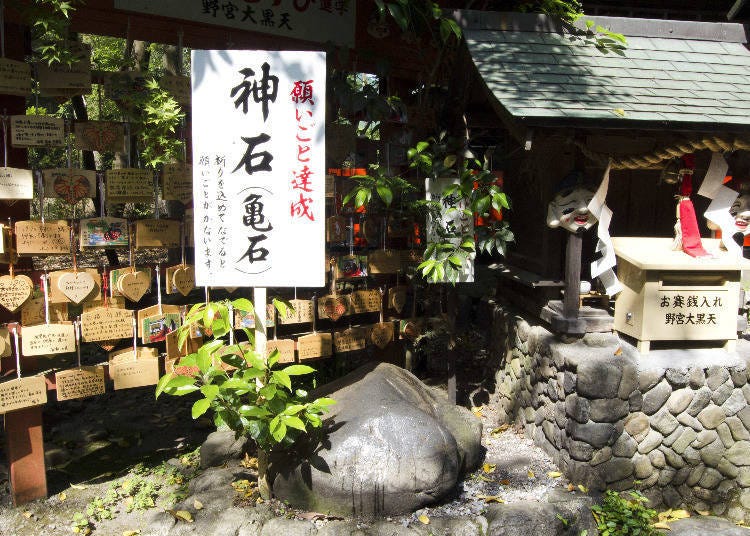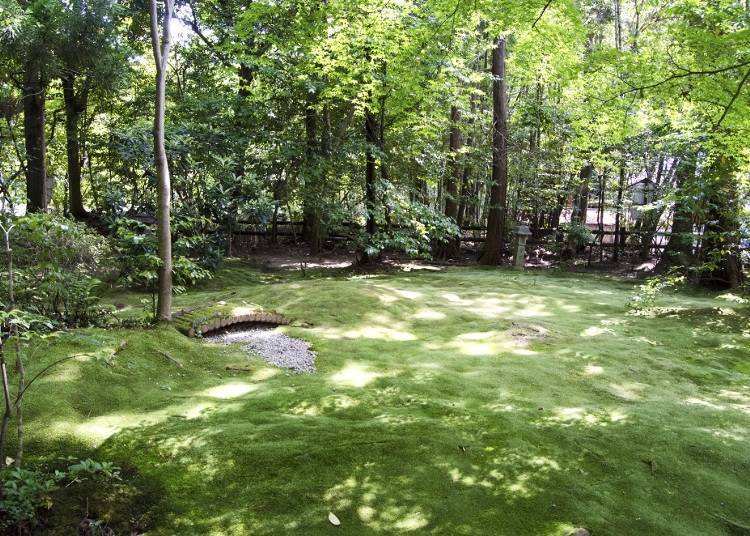 The green temple grounds are full of highlights, including the oldest torii in Japan made of kunugi tree, Kuroki-no-torii, and Kame-ishi, the giant stone said to grant a wish if you touch it. The moss garden appears to be covered in a green carpet and maintains a lush look all year round. It is said to be the best rich, mossy scenery in Kyoto.
Address

1, Saganonomiyacho, Ukyo-ku, Kyoto-shi, Kyoto, 616-8315
View Map

Nearest Station

Arisugawa Station (Keifuku Dentetsu-arashiyama Line)
2 minutes on foot


Phone Number

075-871-1972
6. Arashiyama Bamboo Forest: A Narrow Walking Path with Cool Greenery Overhead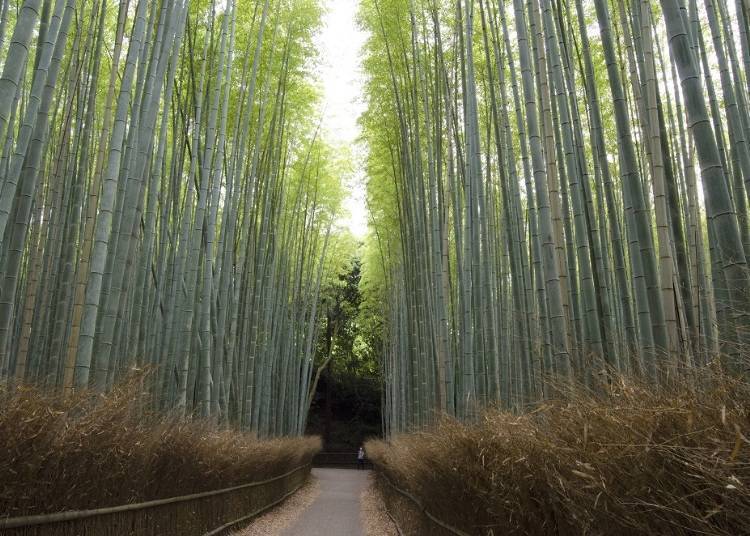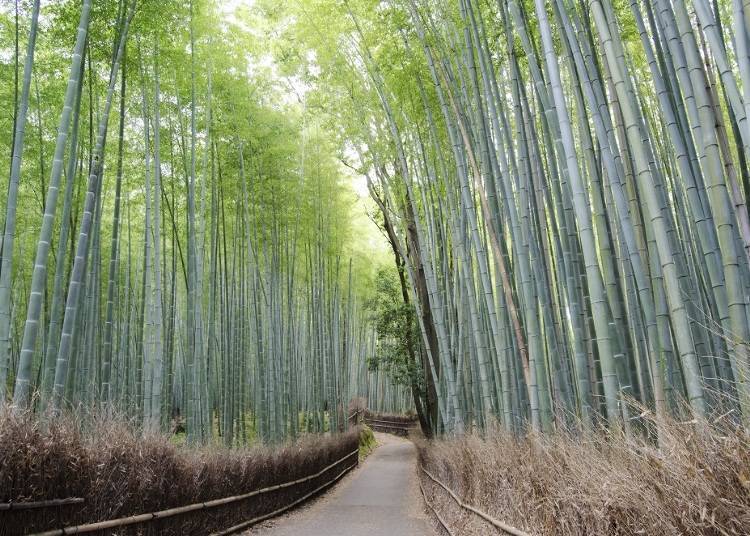 Ready to move on? Time to take your rental bike to the north of Tenryuji Temple and west of Nonomiya Shrine, to the Arashiyama Bamboo Forest Path, a top-rated attraction with tourists. It is one of Arashiyama's most scenic spots.

Follow the path through the lush bamboo for nearly 400 meters to the Okochi Sanso Garden. It is a continuous slope, so it is recommended to use an electric-assist bicycle to proceed easily.

The sunbeams pouring through the green trunks and leaves are an especially beautiful sight. To get a good photo, be sure to turn your camera angle a little up. In the early winter, there is also a light-up that has become characteristic of Arashiyama. If you visit at a regular time, we recommend taking an early morning walk to feel the cool air without the crowd.
Address

Saga Ogurayama Tabuchiyama Town, Ukyo Ward, Kyoto City, Kyoto Prefecture, 616-8394
View Map

Nearest Station

Torokkoarashiyama Station (Sagano Sight-seeing Tram)
1 minute on foot


Phone Number

075-213-1717
7. Nison-in Temple: A Mountain Temple Surrounded by Peaceful Nature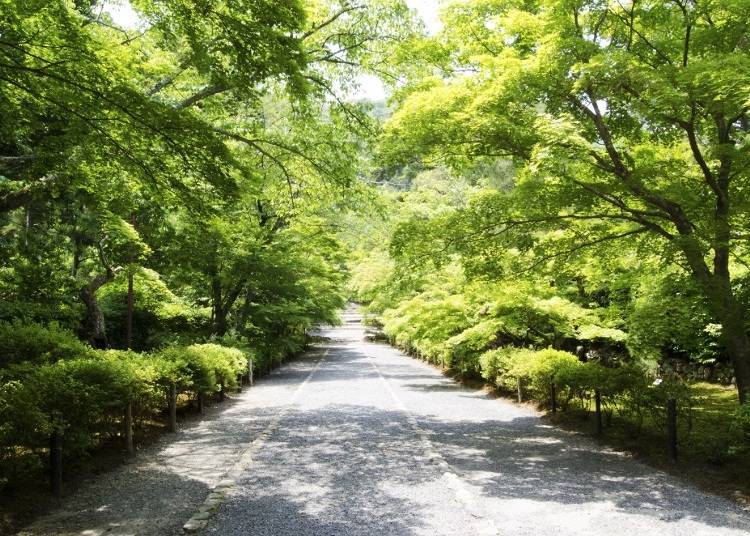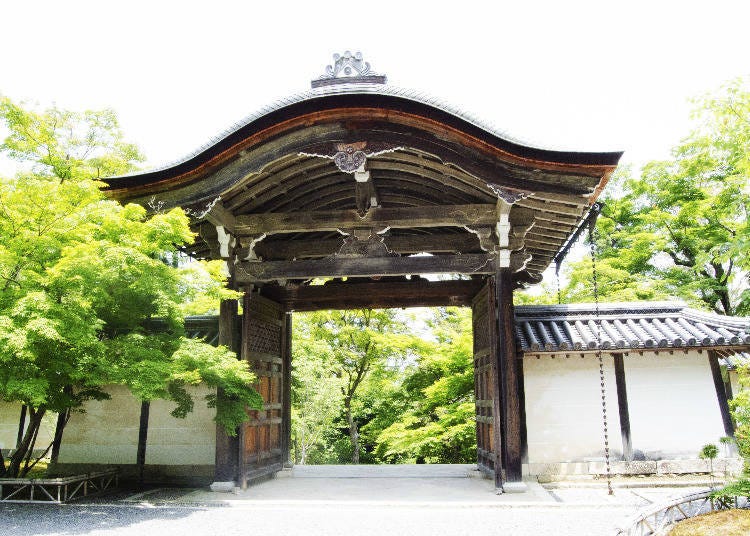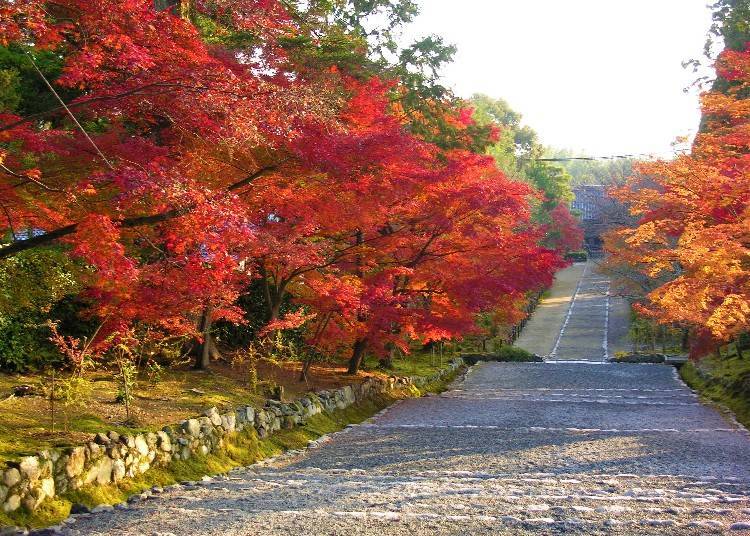 This is an ancient temple of the Tendai Sect at the foot of Mount Ogura. As its name implies, it enshrines two principal images: Shaka Nyorai and Amitabha Nyorai. It is famous for its autumn foliage and spring cherry blossom sceneries.

There is a wide variety of natural elements throughout the precincts, such as Momiji-no-Baba, an approach wide enough for horses to run through. The structures are colored in nature, from the Imperial Court to the Main Hall that was used by the Emperor's messengers.

It is located in Kyoto's western area, and reminiscent of the Saigo Gokuraku Joudo (Western Pure Land) of Buddhism. Feel the harmony with nature and the tranquility of Buddhism in the heart of Arashiyama.

The lush, green foot of Mount Ogura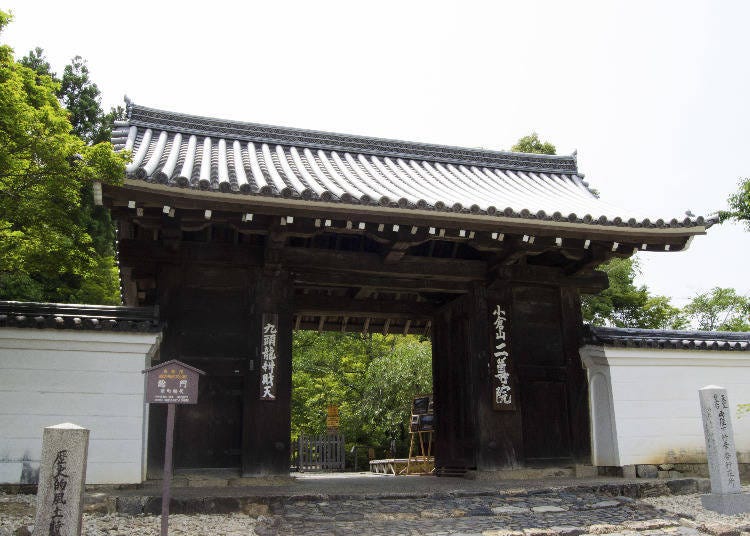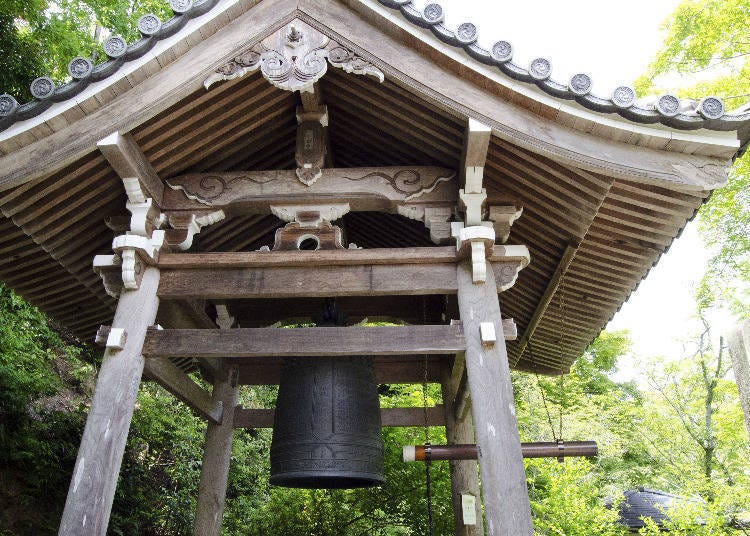 Listen to the sounds of frogs and insects in the nature-rich precincts. Visit the Shiawase-no-Kane bell, which you can freely ring, and Shigure-tei, where you can overlook the city from the top of the mountain path.

Go up northwest from the Arashiyama Station area. It is located along a small path, so it is relatively empty of crowds outside of the foliage and cherry blossoms seasons.

It's a bit far from the station, but it does have a place to store your bike, so it is most convenient to access it by bike.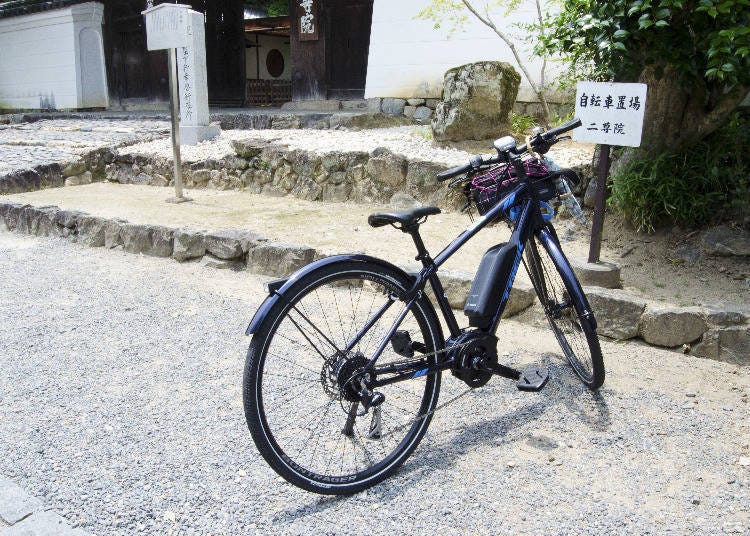 In front of the soumon gate is a flat road that extends straight from the Rakushisha, or "Hut of Fallen Persimmons." It is recommended for a nice leisurely stroll to enjoy the rich, surrounding nature. It is closed to cars on Sundays and holidays from 10:00AM to 7:00PM, so you can cycle more safely.

North from Nison-in Temple are even more temples, scattered throughout the quiet land and surrounded by rich nature, such as Gion-ji Temple and Adashi-no-nenbutsu-ji Temple. They are a bit of a distance away, however you can easily reach them by bike.

Around the Saga Toriimoto area, near Adashi-no-nenbutsu-ji, you can enjoy the old townscape of thatched-roof buildings. It is over 30 minutes on foot from Arashiyama Station, so it is not usually crowded. Because there are continual slopes, an electric-assist bicycle is recommended.
Address

27, Saganisoninmonzenchojincho, Ukyo-ku, Kyoto-shi, Kyoto, 616-8425
View Map

Nearest Station

Torokkoarashiyama Station (Sagano Sight-seeing Tram)
7 minutes on foot


Phone Number

075-861-0687
8. Daikakuji Temple: A Beautiful Temple with Over 1200 Years of History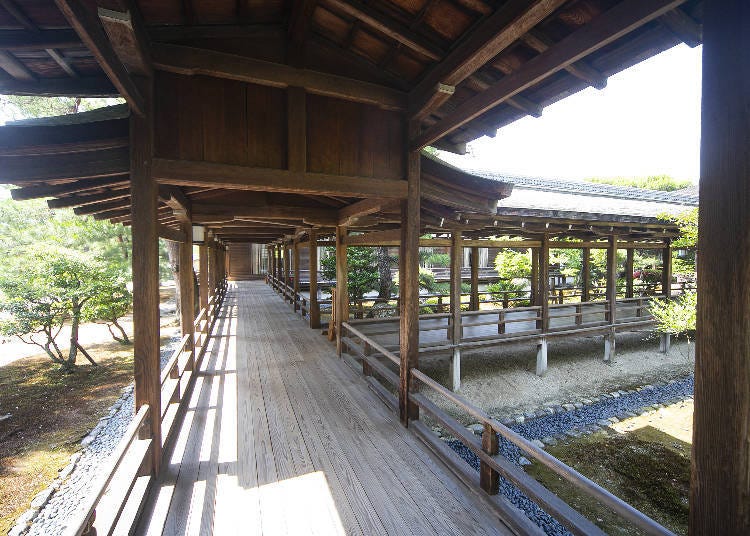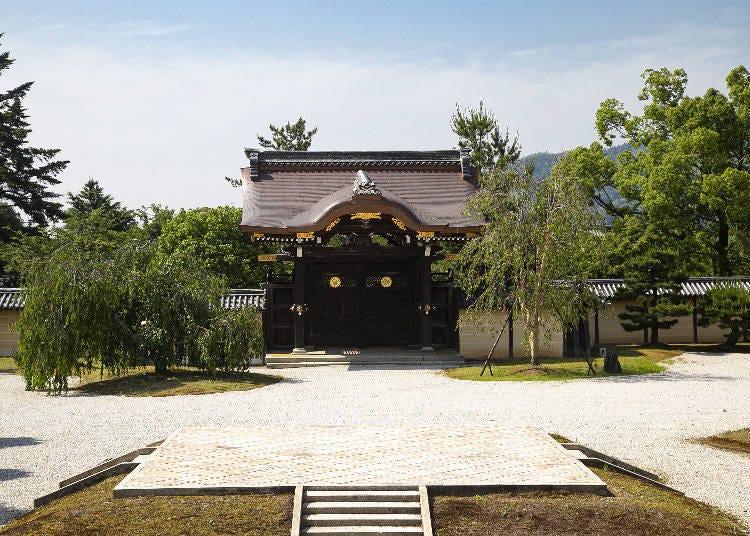 The final stop on our Kyoto bike tour is the main temple of the Daikakuji school of the Shingon Sect. It is a temple with over 1200 years of history, built as the palace of Emperor Saga.

Not only is it a famous filming location for movies and historical dramas, it is also known as the temple where Ikebana Saga Goryu, the school of ikebana, originated.

There are many historical and valuable structures around the precincts, including the Chokushimon (Imperial Envoy Gate), the Main Shrine, the Shinkyoden (Mikagedo), and Godaido (Main Hall).

The corridor that connects the shrine and Shinkyoden (Mikagedo) is called the Murasame-no-Roka (rain corridor) for its vertical rain columns and right-angled corridors. The ceilings were very low for protection, to prevent people from swinging swords. The floor is upholstered to appear dull. To the south-front of Shinkyoden (Mikagedo), opposite the Ishibutai, you can see the Imperial Envoy Gate. It was only opened for the Emperor himself or his Imperial Envoy.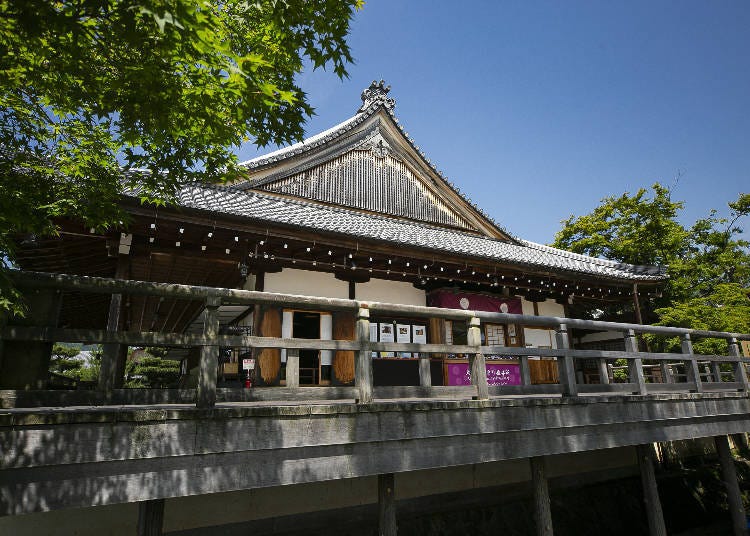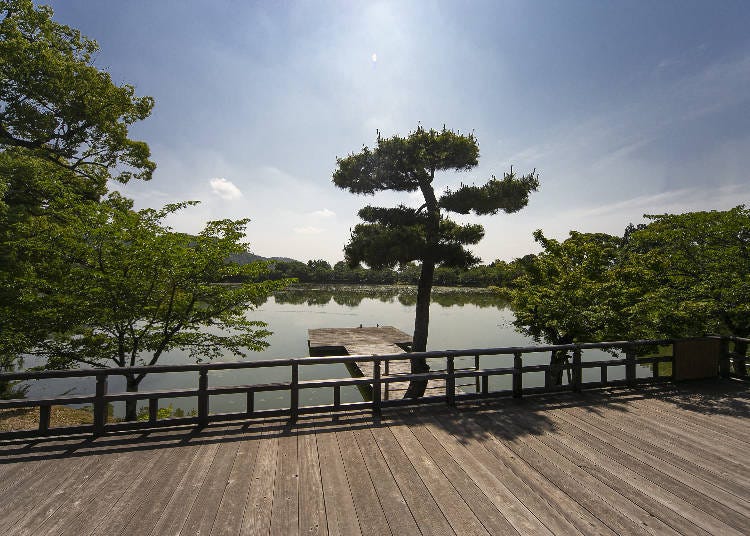 Godaido Temple is the Main Hall of Daikakuji Temple. To the east is Osawa-no-ike Pond, Japan's oldest artificial pond. The view of Osawa-no-ike from the Kangetsudai platform of Godaido is breathtaking.

There are many other attractions surrounding the pond, which is 1km around including Tenjin Island, Kikugashima Island, and the Teiko-ishi stone, as well as the Nakoso-no-taki Falls to the north of the pond.

Take note of the various events that are held throughout the year at Daikakuji Temple. For example, autumn's Kangetsu-no-yube, an event that began when Emperor Saga floated in a boat under the mid-autumn moon, the Saga Kiku-ten, an event to admire the elegant Saga chrysanthemums, and the Shinku-no-Mizukagami, a nighttime illumination event that surrounds the Osawa-no-ike with spectacular lights. Many people come to enjoy these events each year.

It is located about 30 minutes on foot from Randen Arashiyama Station, so it is recommended to go by bike - lucky for you you've got your rental bike with you! There is also free bicycle parking for visitors.
Address

4, Sagaosawacho, Ukyo-ku, Kyoto-shi, Kyoto, 616-8411
View Map

Nearest Station

Sagaarashiyama Station (JR Sagano Line / JR San-in Line)
16 minutes on foot


Phone Number

075-871-0071
Explore another side of the area on a Kyoto bike tour!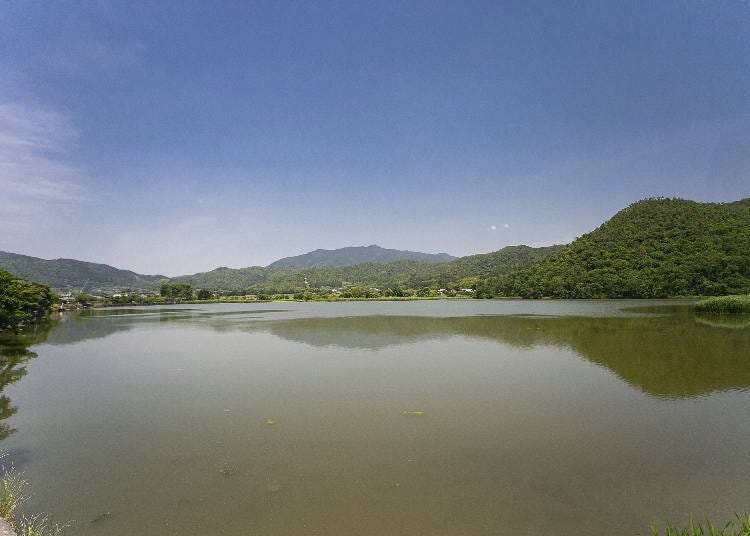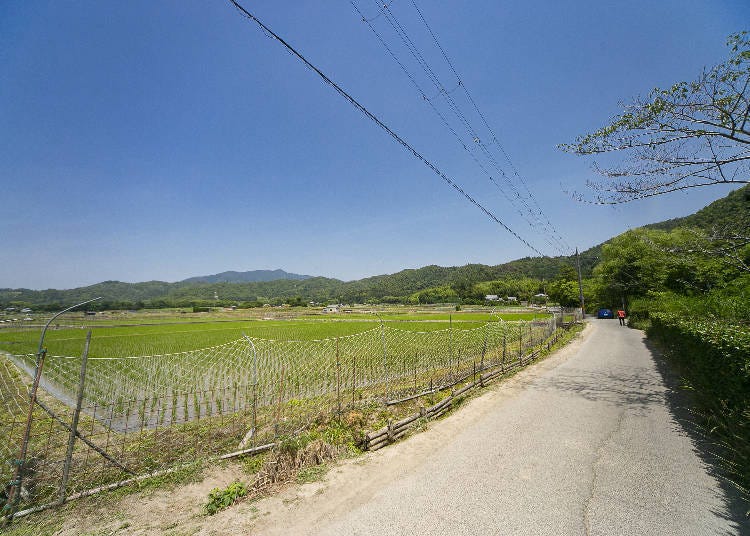 About 1km east from Daikakuji Temple is the peaceful rural scenery surrounding Hirosawa Pond, one of Japan's "three swamps of Kyoto." It can be difficult to walk, and inconvenient to get to by the bus that runs along the main street, so it is recommended to use a bike so you can go at your own pace. You can also go through the back roads that are not accessible via public transportation.

When visiting Arashiyama, don't just hang around the station. Be sure to check out the various temples and shops, too! If you choose to use a bicycle, you will be able to see many more different sceneries, from magnificent nature to relaxing cityscapes.

Text by: Efeel
*This information is from the time of this article's publication.
*Prices and options mentioned are subject to change.
*Unless stated otherwise, all prices include tax.
Limited time offer: 10% discount coupons available now!