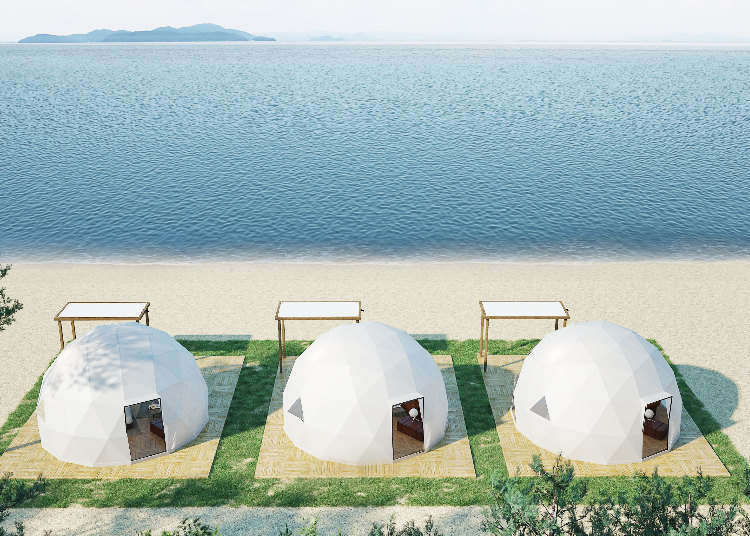 These days, people are starting to get more and more interested in trips around nature and leaving the city behind. But many of us still want the comforts of home! That's where these glamping domes come in...
Japan's Largest Glamping Ground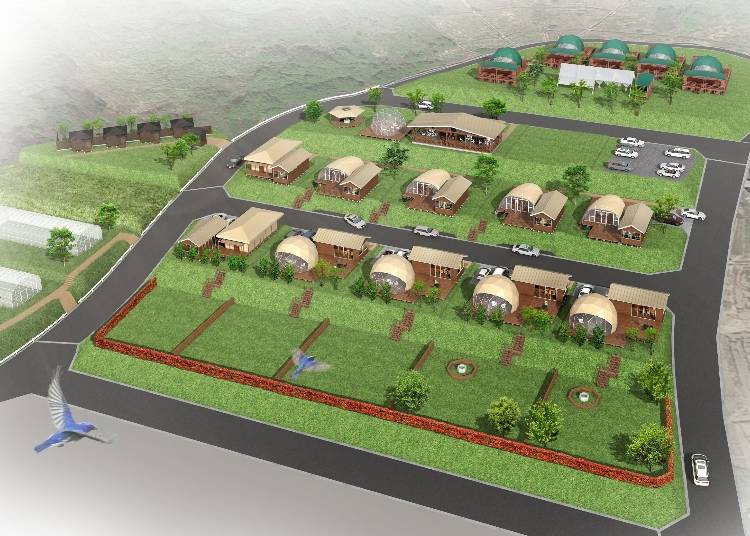 One set of these opened in July, at what is now Japan's largest glamping ground.

In Kyoto's Amanohashidate area, the glamping village known as Hajime opened to invite more people to try their hand at glamping. The idea behind it is to allow first time campers and families with small children to have their first expedition together, staying true to the word "glamping."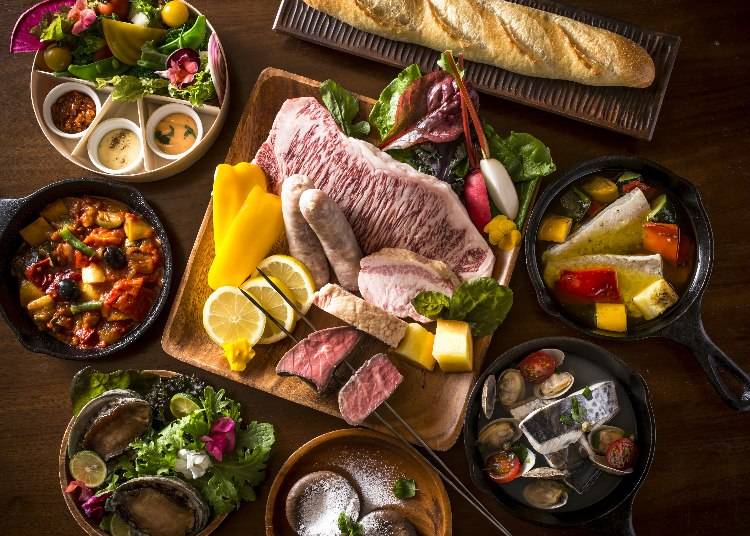 And it's true! The beautiful 1500-square-meter grounds are set in an area surrounded by mountains, lakes, and all the fresh air you could ask for, but are also set up with some luxury comforts. They have onsen hot springs and a dedicated BBQ space, but of course the most luxurious of all is the rooms themselves...
4 Types of Glamping Accommodation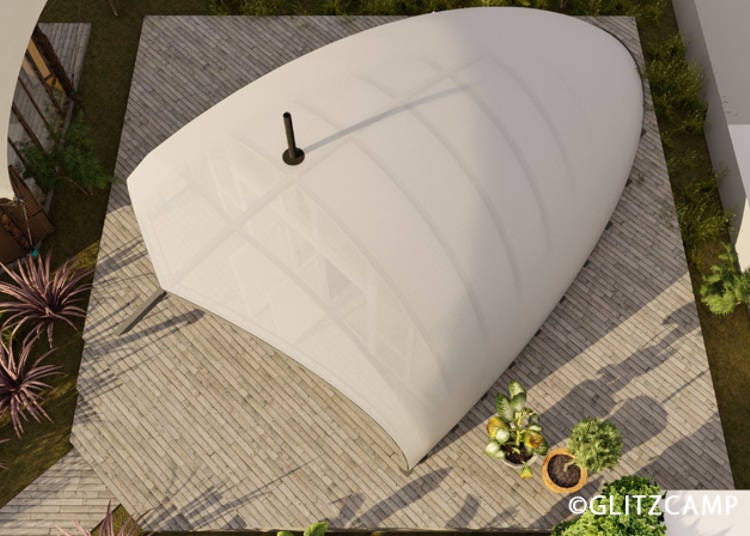 Sure, you could sleep in a cramped tent, wake up uncomfortable and mildly confused, or you could have a wonderful night's sleep, wake up for a bath and have all the energy you need for your day's hike! I think I know which I would prefer.

In lieu of that, the Hajime Glamping Village offers four different types of "tent." Those are: the Cocoon (コクーン), the Original Safari Tent(オリジナルサファリテント), the Sky Dome (スカイドーム), and the Private Garden Dome (プライベートガーデンドーム).

All of the tents are equipped with air conditioning – which trust us, you will want in the summer!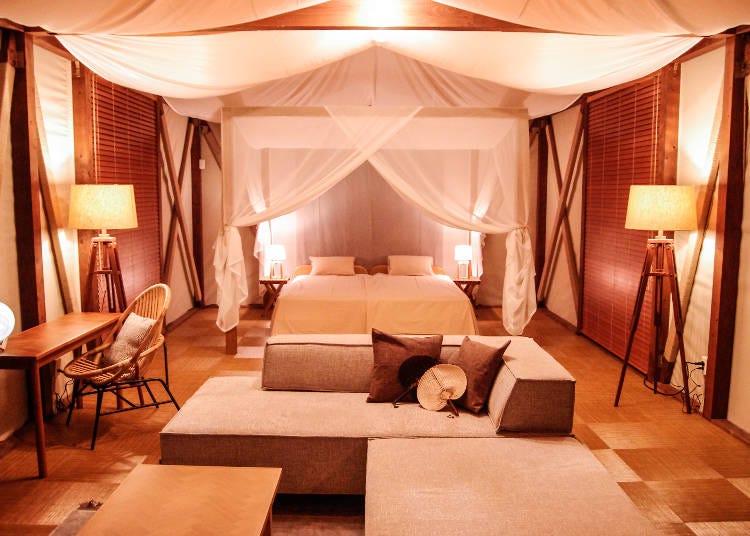 The Original Safari Tent is on another level in terms of luxury – with its canopy bed you can feel like a queen out to battle. Fancy, but ready for the day.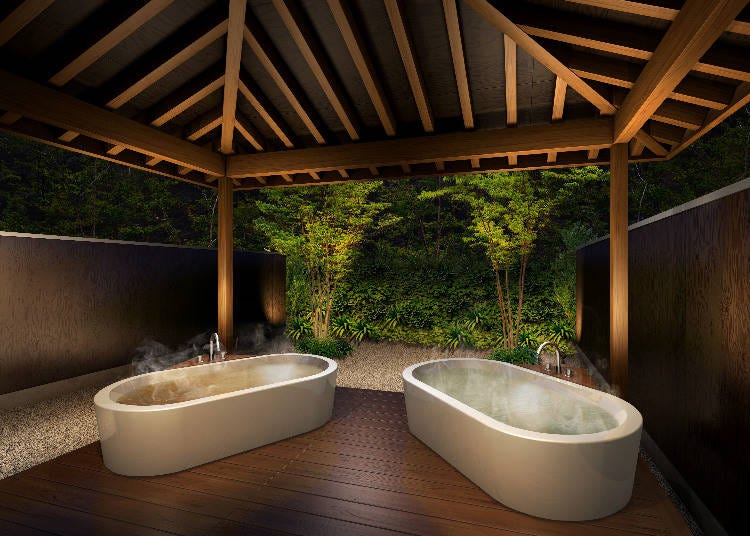 There are even private onsen-style baths with hot running water. This is an extra luxury at 2,000 yen for 40 minutes, but you can soak in the bath after all your outdoorsy activities and stare in wonder at the night scene. (Yes, towels and soaps are available!)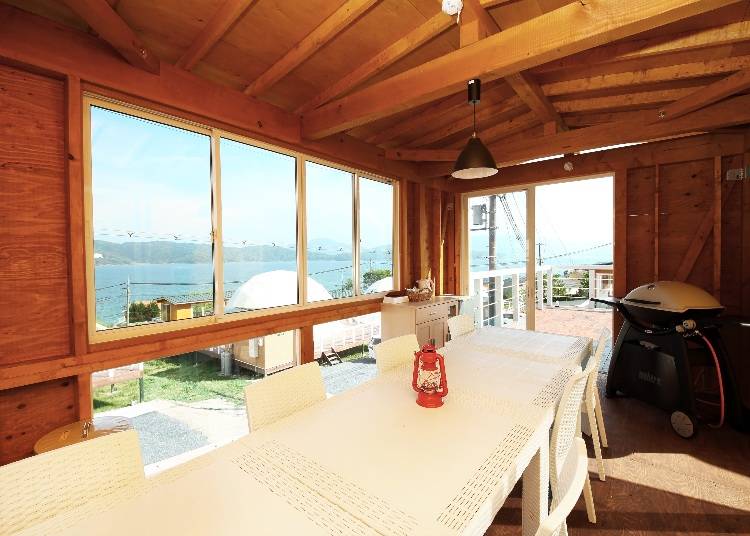 Of course you can eat outside and eat in the BBQ space, but if it's raining you can come into the dining area and cook your glamping food with peace of mind indoors. (No more worrying that fire is going to get put out!) They even have kettles and microwaves alongside kitchenware.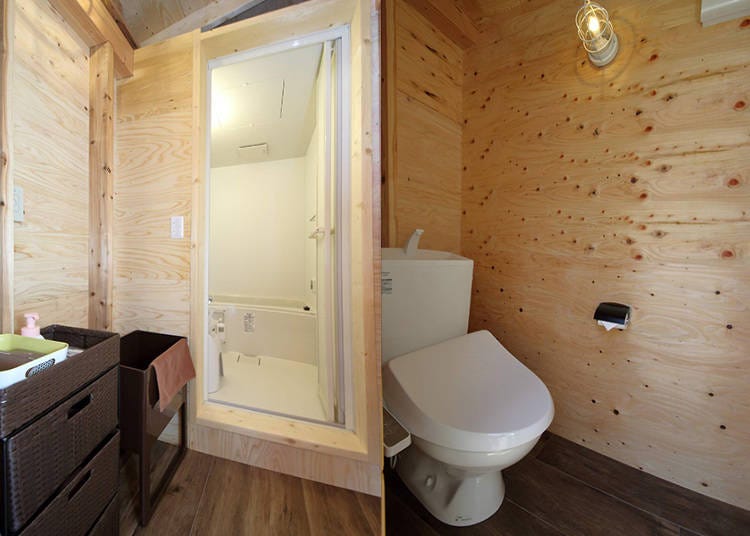 And there is of course an indoor bathroom with free amenities.

Because they're encouraging new campers and families to try out glamping first, the Hajime Glamping Village is also equipped with baby changing facilities and products, including rental of diaper pods, baby baths, and sales of baby food and drinks.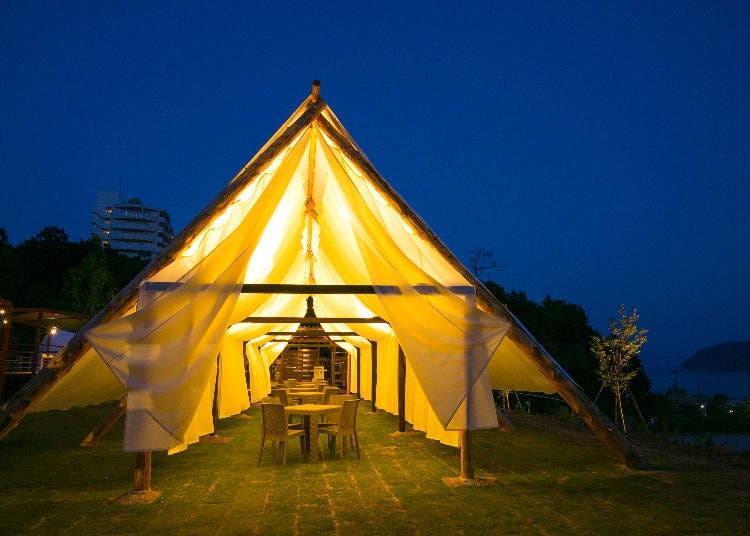 There's even a gorgeous tent for spending time with your loved one sipping drinks under the stars.
グランピングヴィレッジHAJIME

Address

3700-73, Hioki, Miyazu, Kyoto Prefecture

Site area: Approx. 1,500 meters squared
Number of buildings: 15
Fees: from 14,800 yen (per person, excluding meals, excluding tax)
Meals: Dinner from 8,000 yen、Breakfast from 1,500 yen (per person, tax not included)
Check-in until: 3pm
Check-out until: 10am
Biwako Glamping Ground: A Beach by the Lake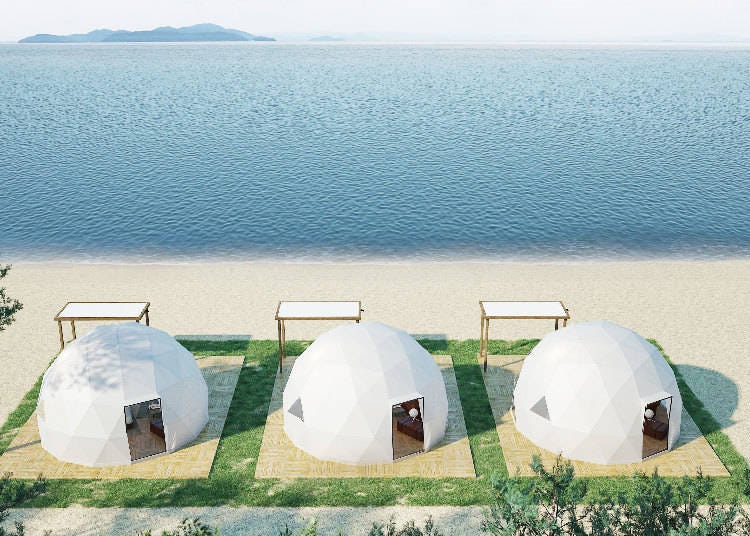 Another spot where these glamping domes has popped up is by Japan's famous Lake Biwa. Right from the comfort of your room you can see the beautiful lake, and feel as though you're right on the beach.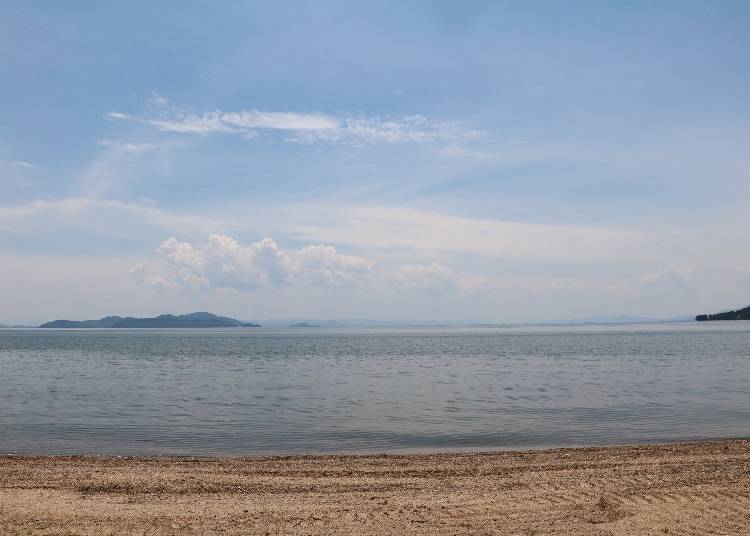 These ones are a step even further away from civilization, with only three domes being set up on the lakeside.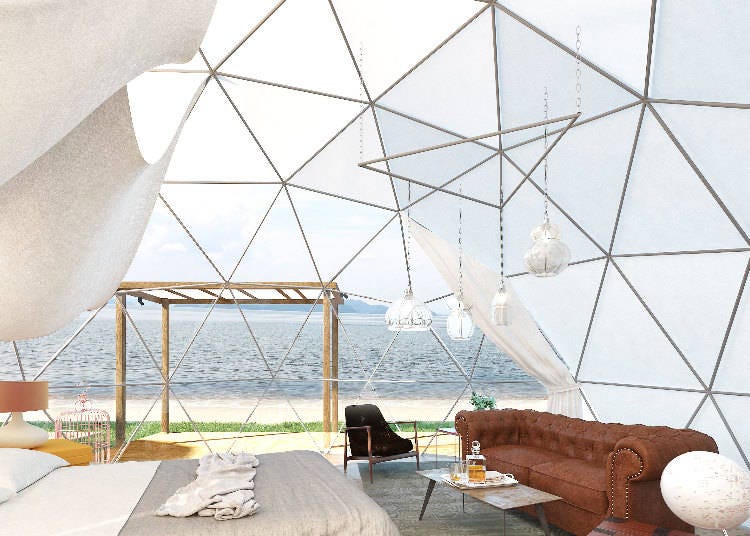 However, each is fully equipped with air conditioning and the comforts of home.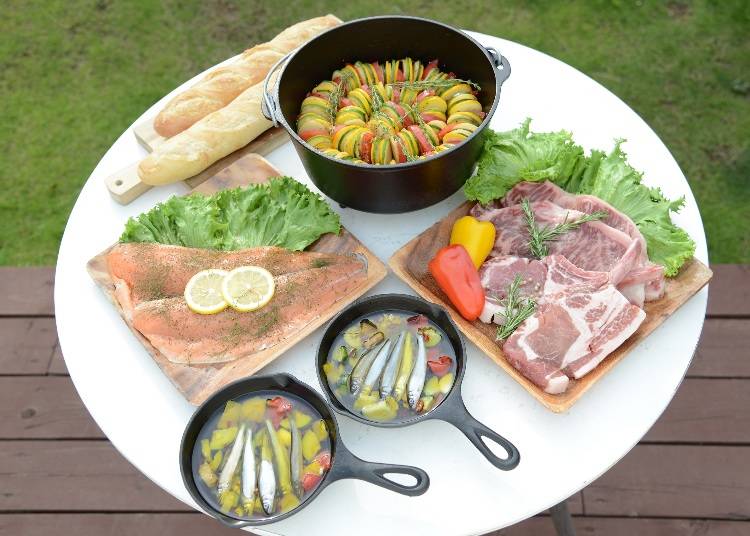 You can also make use of the glamorous BBQ, using local products and the fancy Omi beef. The BBQ set comes complete with meat, fish, veggies and even dessert. So you can fully enjoy your dinner by the lake. You can also of course cook your own food.

Source: PR Times
Beach Glamping Dome Shiga Takashima

ビーチグランピング‐グランドーム滋賀高島

Address

Shirahamaso Auto Camping Ground 2300 Adogawacho Shimoogawa, Takashima, Shiga 520-1223

No. of tents: 3
Room types: 2 beds, 4 beds
Price (1 room for 4 people) : From 10,800 yen (excluding tax, excluding meals)
Area: Approx. 800 meters squared
Official website: https://shiga-glamping.com
Written by:
*This information is from the time of this article's publication.
*Prices and options mentioned are subject to change.
*Unless stated otherwise, all prices include tax.