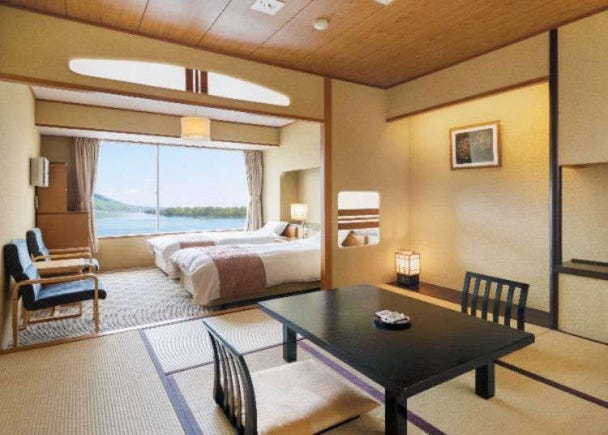 Amanohashinodate, on the Miyazu Bay in the northern section of Kyoto, is a thin beach about 20-170 meters wide that stretches out 3.6 kilometers. Its unique shape and the 8000 pine trees that line its surface make it one of the three great sights of Japan.

Thus there are plenty of Amanohashidate hotels, with establishments that provide a view of the scenery from guest rooms and baths being particularly popular! In this article, we'll take a look at three places to stay we recommend.
1. Hotel and Resort Kyoto Miyazu: A Full View of Miyazu Bay
Amongst the area's largest resort hotels
This hotel across from Amanohashidate stands atop a wide-open highland with a perfect side-view of the famous sightseeing spot.

The lush, green garden has a pool for swimming and relaxing in summer, all while enjoying the Miyazu Bay scenery. The hotel sells souvenirs and sponsors seasonal events, such as strawberry picking. And don't worry, its international cast of staff members provide helpful support. (Please inquire regarding international staff shifts)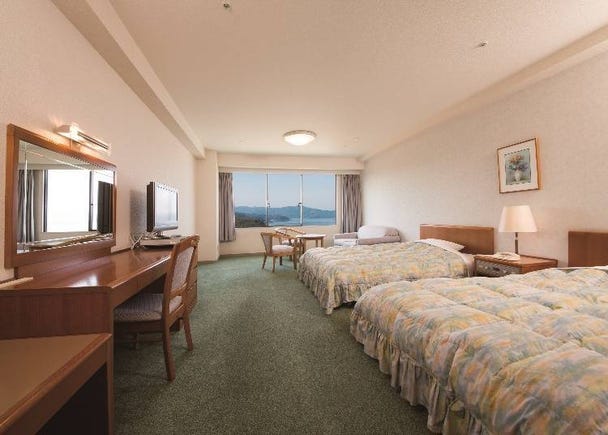 Western-style Twin Room
The large, stylish guest rooms also impress. The standard twin room is a broad 36 square meters, and the beds are very relaxing semi-double sizes. The hotel boasts a variety of rooms: 4-person family rooms that include tatami-floored spaces, suite rooms, pair suite rooms, and more.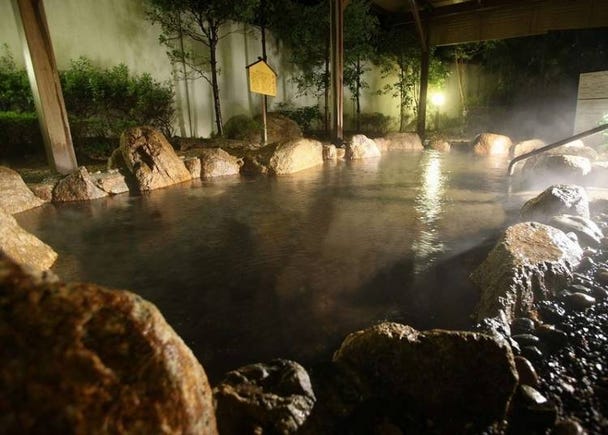 Outdoor-themed Rock Bath
You can take your baths in the in-house hot spring. The outdoor bath space uses water fresh from Yura beach, and the footbath on the observation deck with a view of the scenery is a must-try.

There's also a large indoor bath as well as a sauna, so this is where you want to go to get in that valuable relaxation time.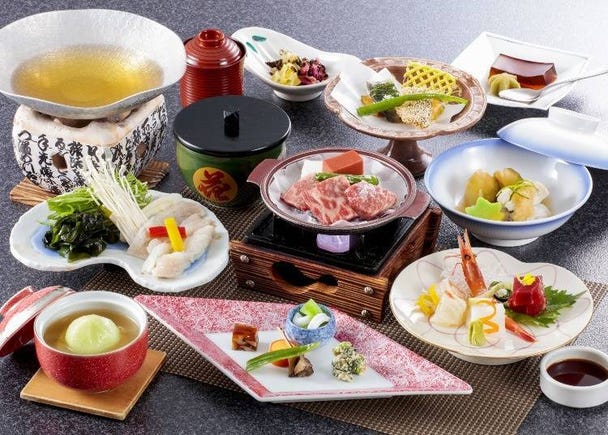 Feast on the bounty of the mountains and seas!
Many restaurants are present in this Amanohashidate hotel, with establishments of Japanese, Chinese and French cuisine overlooking the Miyazu Bay, as well as an izakaya and bar.

The Tango region, of which Amanohashidate and Miyazu are a part, is blessed with bountiful seas and mountains, meaning whichever restaurant you visit, it will have food made with the freshest seasonal ingredients.
Hotel and Resort Kyoto Miyazu

ホテル&リゾーツ 京都 宮津

Address

58 Koaza-Iwamoto Aza-Tai Miyazu-shi Kyoto 626-8510

Nearest Station

12-minute drive from Kyoto Tango Railway Miyazu Station


Phone Number

0772-25-1800

Hours: Check In 3PM or later, Check Out by 11AM
Price: 1 night + 2 meals 15,000 yen

Vacancy search, reservation

from

13,400JPY

1room, 2adults

Check with our partner site as the latest rates, rate details, and guest room requirements may vary.
2. Amanohashidate Hotel: The Natural Hot Springs and Dining are a Must!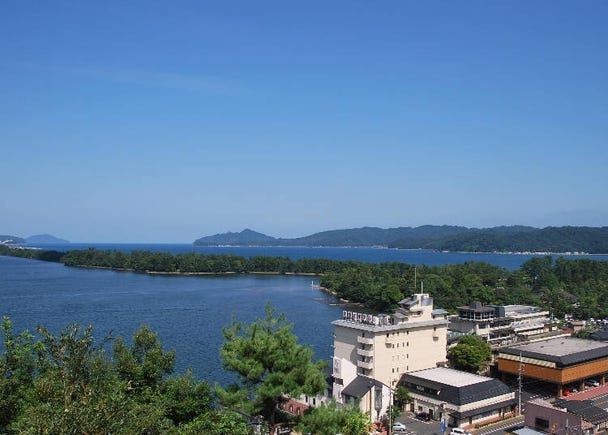 Enjoy a view of Amanohashidate and the sea from the guest rooms through the seasons.
Amanohashidate Hotel is only a minute's walk from Kyoto Tango Railway's Amanohashidate Station, and as the name suggests, it has a clear view of the whole strip. Not only from the guest rooms, either - you can see it from the hot springs, from the footbaths by the coast, and multiple other locations.

There are souvenir shops to peruse and karaoke booths to enjoy, and the signs in the hotel have English on them.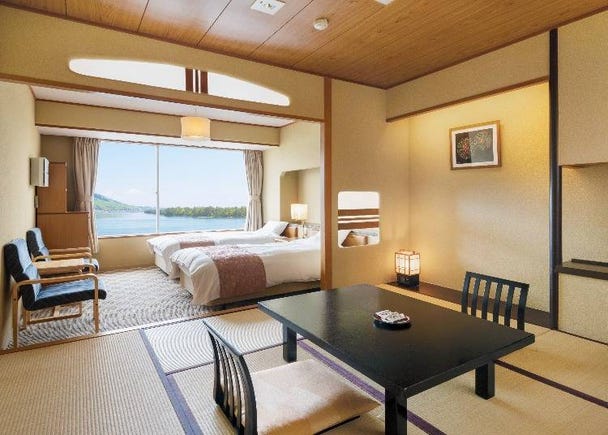 Standard Japanese and Western-style Room
Of the 52 rooms available, 48 face the sea, allowing you to get a relaxing view of natural wonder. Aside from Japanese and Western fusion-styled rooms, there are Japanese rooms, Japanese beds, Western rooms, and rooms with (non-hot spring) outdoor baths.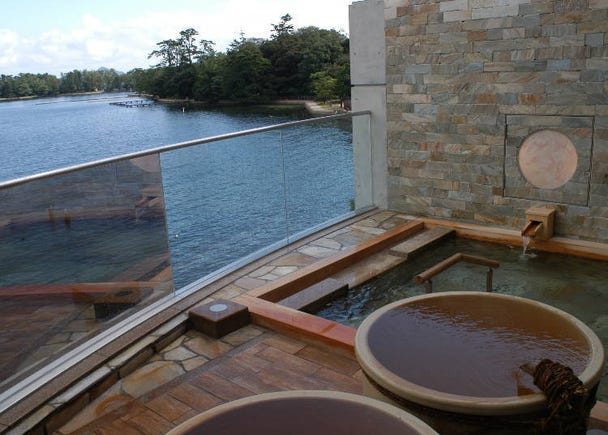 Outdoor single bath, the Amatesu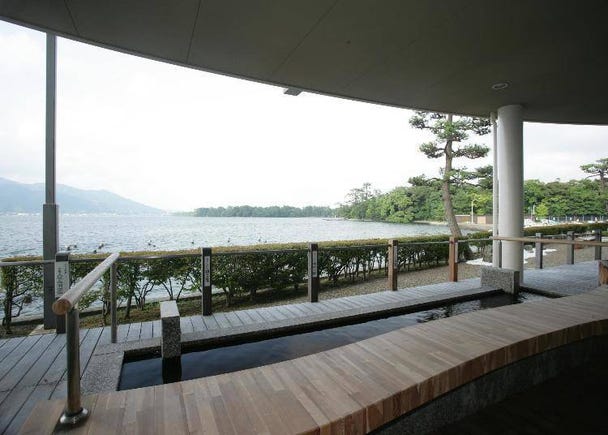 Nakatsukuni Footbath, with a clear view of Amanohashidate
The hotel's natural hot spring, Amanohashidate Onsen, has 13 bathing facilities to be enjoyed depending on the day and time.

The outdoor baths, Amatesu and Tsukuyomi, are named after the mythical Japanese deities Amaterasu Omikami and Tsukuyomi no Mikoto and have a view of Amanohashidate.

The large common bath has many variations within, including a lying bath, a sitting bath, a leaning bath, a sauna, a steam bath, and more. Non-guest visitors can also use the Nakatsukuni Footbath for free, so if you're in the area during a walk, give it a try!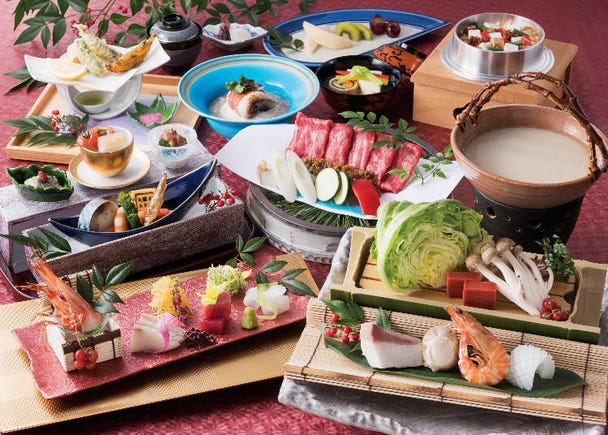 Japanese cuisine that changes with the seasons!
The food, emblematic of Tango's seasons, is as luxurious as can be. Beautifully presented fresh sashimi, beef teppanyaki, small nabe, the works. There's also crab to enjoy when winter comes.

And if it's western food you're after, you can visit the Auberge Amanohashidate, the adjacent hotel, and go to their French restaurant on the ground floor.
天橋立ホテル

Address

310 Aza-Monjyu Miyazu-shi Kyoto 626-0001

Nearest Station

A 1-minute walk from Kyoto Tango Railway Amanohashidate Station


Phone Number

0772-22-4111

Hours: Check In 3PM and later Check Out by 10AM
Price: 1 night + 2 meals 19440 yen per guest (With 2 guests in 1 room)
3. Hotel Kitanoya: Enjoy a Garden Bath and Guest Room Outdoor Baths!
Located on a plateau a 7-minute walk from Amanohashidate Station.
This relaxed, Japanese-style ryokan in Amanohashidate has a wonderful view of Amanohashidate to the east. It's known for all 30 of its rooms having a view of the sight and its hot spring's beautifying effects on the skin: it boasts a garden hot spring and outdoor baths in the rooms.

Check out the facility "Relaxation: Yumekokochi" for their massages, too!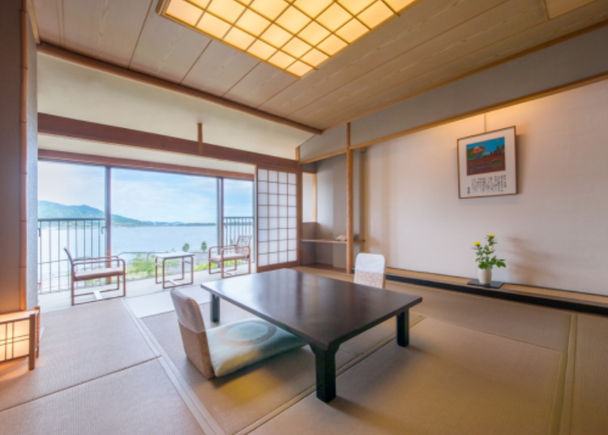 Japanese-style with tatami mats.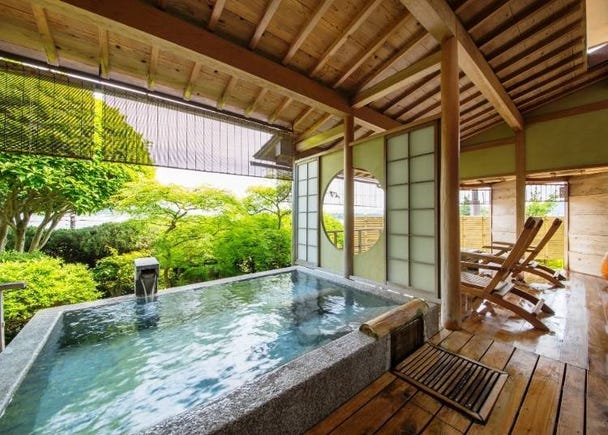 A Japanese room with an outdoor bath on the terrace.
The rooms afford their guests a panoramic view of Amanohashidate and are available in a variety of types. From standard Japanese rooms to rooms with outdoor baths and more Japanese/Western fusion-style rooms, you'll be sure to find a suitable place to stay.

Rooms with outdoor baths have them on wooden decked terraces, Japanese rooms have granite bath tubs, and the fusion rooms have Shigaraki-made bathtubs, giving you a wonderful bathing experience at any time of day.
The large garden common bath
The shared common bath is expansive. While there are indoor baths, this facility has a unique garden bath, with a full view of the trees surrounding the hotel.

We recommend the rental outdoor baths for families and couples (paid, reservation needed) - they provide an amazing view of the scenery from refreshing hot waters. Enjoy them to your heart's content and find out why their baths were picked as one of Japan's top 100 hot springs.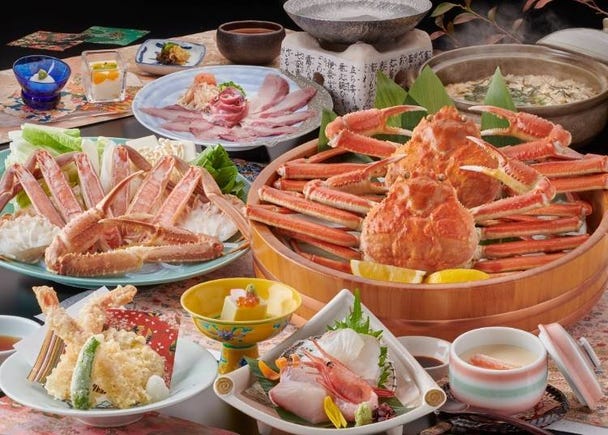 Luxurious winter dishes
You'll dine in the hotel restaurant, with banquet dishes made from the finest local ingredients. The cooking here feels like true, traditional Japanese, making good use of fresh, seasonal seafood.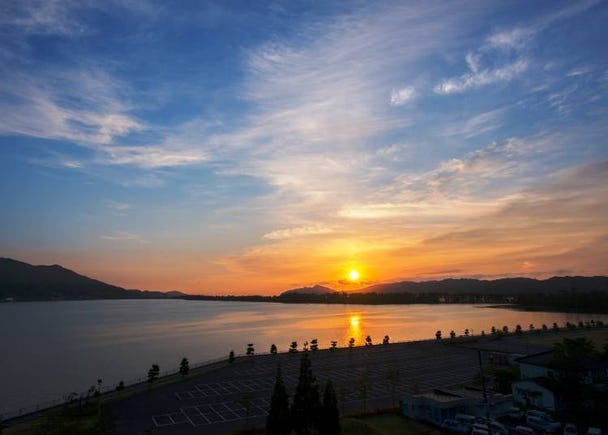 Amanohashidate's mystical silhouette in the morning
There's a perfect spot for watching the sun rise over Amanohashidate within walking distance from the hotel, as well. While you can enjoy the sight from your room, we have to recommend taking a morning walk. The sight is well worth waking up early, and this hotel truly makes you look forward to the next morning!
ホテル北野屋

Address

100 Monjyu Miyazu-shi Kyoto 626-0001

Nearest Station

A 7-minute walk from Kyoto Tango Railway Amanohashidate Station


Phone Number

0772-22-126

Hours: Check In from 3PM, Check Out by 10AM
Price: 1 night + 2 meals 18000 yen per guest (tax not included)

Vacancy search, reservation

from

25,000JPY

1room, 2adults

Check with our partner site as the latest rates, rate details, and guest room requirements may vary.
Text by:Bikoo-System
*This information is from the time of this article's publication.
*Prices and options mentioned are subject to change.
*Unless stated otherwise, all prices include tax.