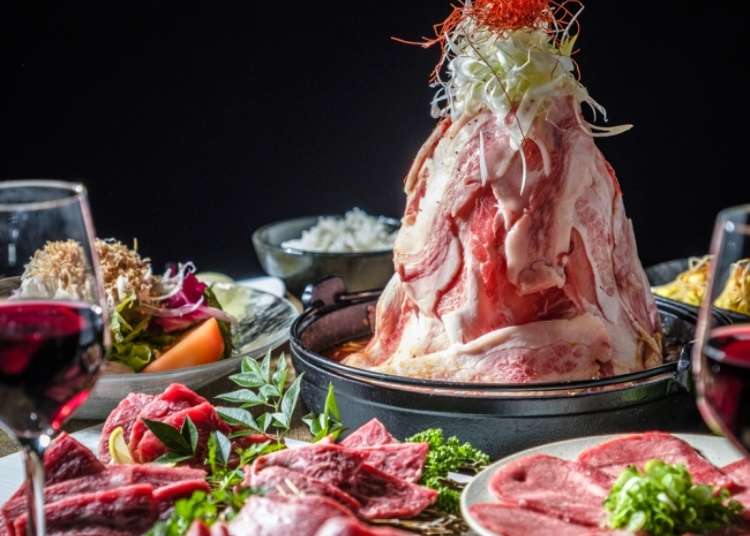 When in Kobe, you need to head to a Kobe beef restaurant in order to savor a true Japanese delicacy.

Kobe Beef is highly acclaimed by connoisseurs all over the world. Only Tajima Beef, Japanese black beef raised in Hyogo Prefecture that have preserved the pedigree over generations, and which have passed strict quality screening standards, can be called Kobe Beef.

The meat is marbled with fine fat called "sashi" and has a tender and savory flavor.

Although Kobe beef can be rather expensive, our team of foodies found 3 budget-priced Kobe beef restaurants serving all the premium yakiniku and shabu-shabu you can fit in your belly.
1. Nikunabe-ya Biidoro: Charcoal-grilled and hot-pot Murata beef [Sannomiya, Kobe]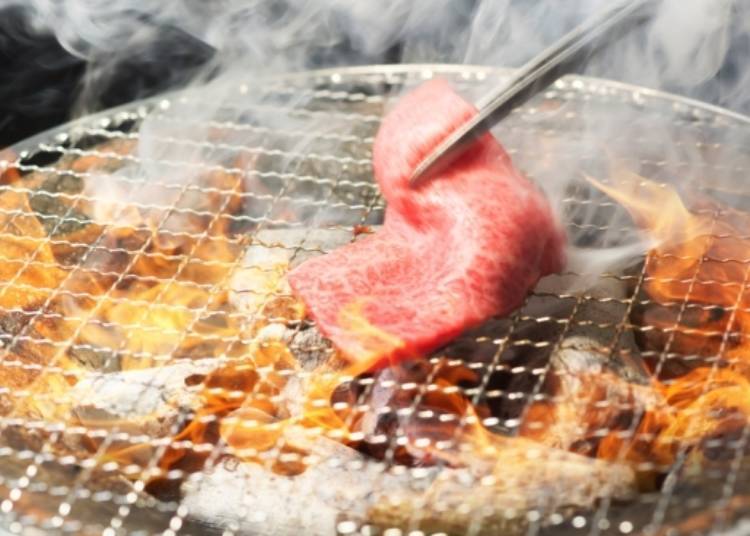 Murata beef yakiniku
Just north of Hankyu Kobe-Sannomiya Station, on the 6th floor of a building in a lively area with many Kobe beef restaurants, you can enjoy all-you-can-eat Murata beef known for its rich flavor at Charcoal Grilled Meat and Meat Hotpots Biidoro.

We recommend you try the Meat Pot and All-You-Can-Eat Murata Beef Premium Course (3,980 yen). For this amazingly low price you can eat all the beef you like within a two-hour time period (L.O. 90 minutes).

As for the yakiniku, all 11 types of meat, such as Murata beef boneless short ribs, premium boneless short ribs, Geta boneless short ribs cuttings, and carefully selected marbled lean, are roasted on a charcoal grill mounted on the table.

Eating Kobe beef yakiniku style best brings out its savory flavor! You can enjoy it with about 20 kinds of side dishes such as sausage, chicken thighs, garlic grilled in foil, and grilled vegetables.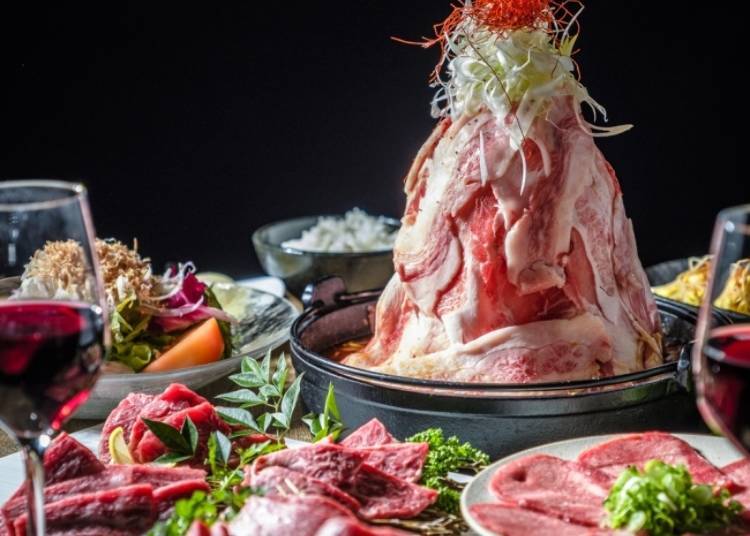 In addition, this course comes with a specialty meat pot, and you can choose from three types: red pot (Sichuan pepper), white pot (pork bone soup), and black pot (black pepper). The pot comes to the table with Kobe beef rib slices and pork shoulder slices stacked 28 cm tall in its center! This is definitely an eye-opener for first-time customers.

The inside of the meat tower is filled with beef tendons, offal, and vegetables. The soup gains a savory flavor from the meat and vegetables making it hard to stop eating once you begin.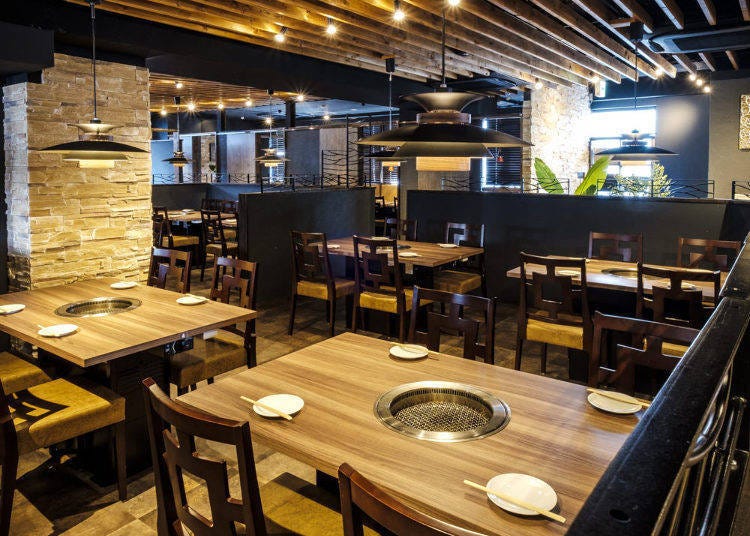 The modern interior of this distinctive Kobe beef restaurant creates a relaxing atmosphere perfect for a leisurely meal with family or friends. In addition to the premium course, there is also a more affordable standard course (2,980 yen).

For an additional 1,500 yen, you can also have unlimited drinks. There are soups, salads, and other dishes such as namul and kimchi, cold noodles, and shime gohan (rice finale) such as bibimbap, and desserts. There is also an English menu which foreign visitors will appreciate.

Kitanozaka restaurant is near the Sannomiya restaurant, and here you can find more affordable and luxurious courses featuring even more carefully selected Kobe steak. Be sure to check both restaurants out.

* All prices mentioned do not include tax.
炭火焼肉・にくなべ屋 びいどろ

Address

6F New Kouyou bldg. 1 Chome-5-1 Kitanagasadori, Chuo-ku, Kobe, Hyogo 650-0012

Phone Number

078-599-8129

Open: 5:00 p.m. ~ 12:00 a.m.
Prices: All-you-can-eat (120-minute) Standard Course is 2,980 yen; Premier Course is 3,980 yen *tax not included in either price
Closed: only December 31 ~ January 1
2. Shabu-no-ya: Shabu-shabu-style Kobe beef with a choice of four kinds of dashi [Kobe Sannomiya]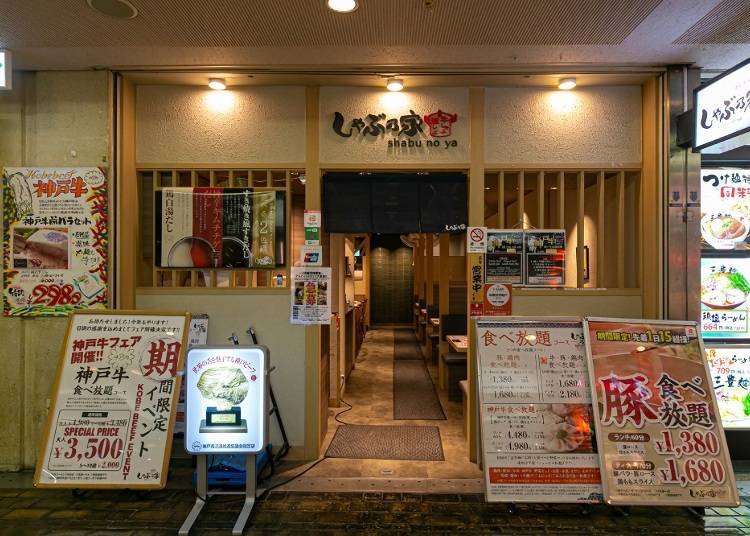 Sannomiya, Kobe is serviced by JR, Hankyu, Hanshin, and subway lines. Shabu-no-ya, a shabu-shabu restaurant located in the basement of the Sun Plaza building, which can easily be reached from any of the stations serviced by those lines, has an all-you-can-eat Kobe beef menu.

This Kobe beef restaurant is popular with both locals and out-of-town visitors as a place where you can eat your fill of meat, vegetables, and rice during either the 60-minute lunch course or 70-minute dinner course.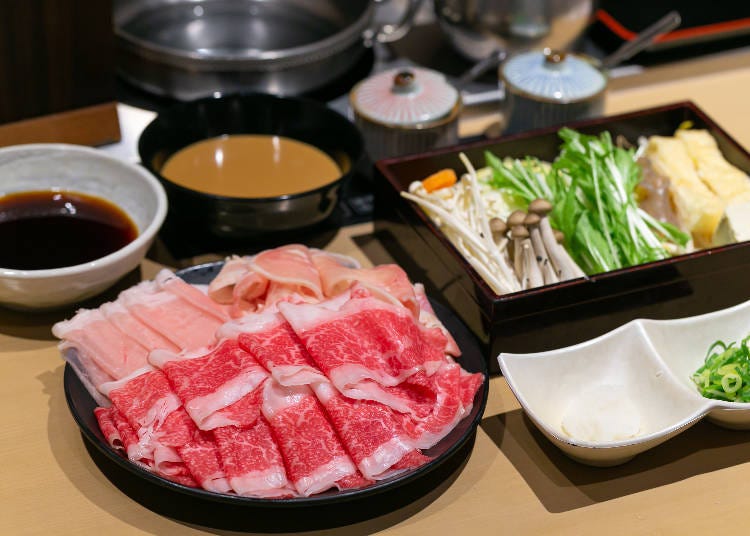 All you-can-eat Kobe beef course
Konbu (kelp) is primarily used for the soup stock at Shabu-no-ya. In shabu-shabu, you take a slice of Kobe beef, swirl it around in the boiling soup, and then after it has cooked, dip it in either a ponzu [citrus-based sauce] or goma [sesame] sauce.

You can add other ingredients to the soup to make a sukiyaki-style soup (additional 150 yen), a kimchi-style soup (100 yen extra), or a toripaitan [creamy chicken broth] type of soup (100 yen extra). The sukiyaki-style soup has a sweet and sour flavor, and the meat after being cooked is dipped in beaten egg. The kimchi jigae soup is recommended for those who like it spicy, while those who prefer a milder chicken flavor might enjoy the toripaitan.

The first plate of Kobe beef rib comes with pork loin and chicken thigh meat, but after that, most people just request more Kobe beef. You can also have all the vegetables and rice you can eat, too.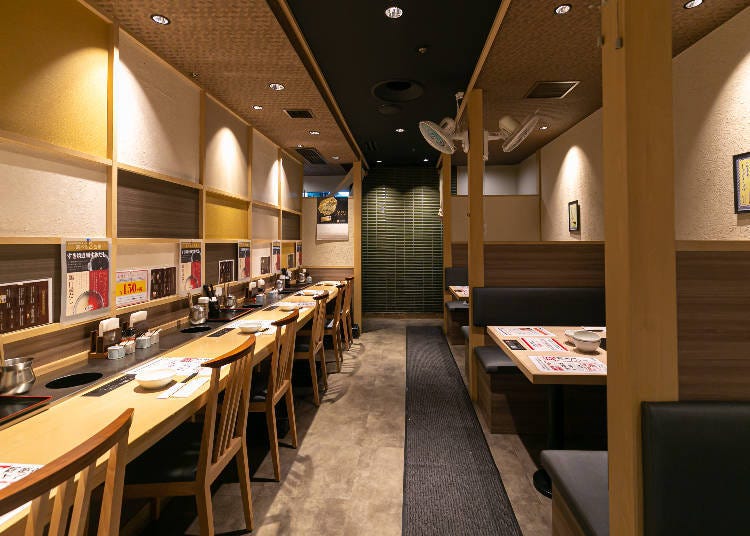 Counter seating is for customers eating alone. In the case of couples who wish to order two small pots, it is also possible for them to sit at the counter. A unique pot designed to hold two different types of soup is used for the seating area, and usually, these are the standard kelp flavored soup and the sukiyaki-style soup, enabling you to enjoy both at the same time.

The price for both lunch and dinner plans was 3,500 yen for a limited time when we visited in the course of writing this article. The regular price is 4,480 yen for lunch and 4,980 yen for dinner, but various discount plans are offered depending on the season, so be sure to check these out when you visit. There is also an English menu which foreign visitors will appreciate.

* All prices mentioned do not include tax.
しゃぶ乃家

Address

B1 SAN PLAZA 1 Chome-8-1 Sannomiya-cho, Chuo-ku, Kobe, Hyogo 650-0021

Phone Number

078-393-2288

Open: Lunch: 11:30 a.m. ~ 4:00 p.m. (L.O. 3:30 p.m.), dinner: 5:00 p.m. ~ 9:00 p.m. (L.O. 8:30 p.m.)
Price: 3,500 yen for a limited time only. Normal prices are 4,480 yen for lunch and 4,980 yen for dinner.
Closed: always open
3. Wanomiya: Enjoy the highest grade A5 Kobe beef [Namba, Osaka]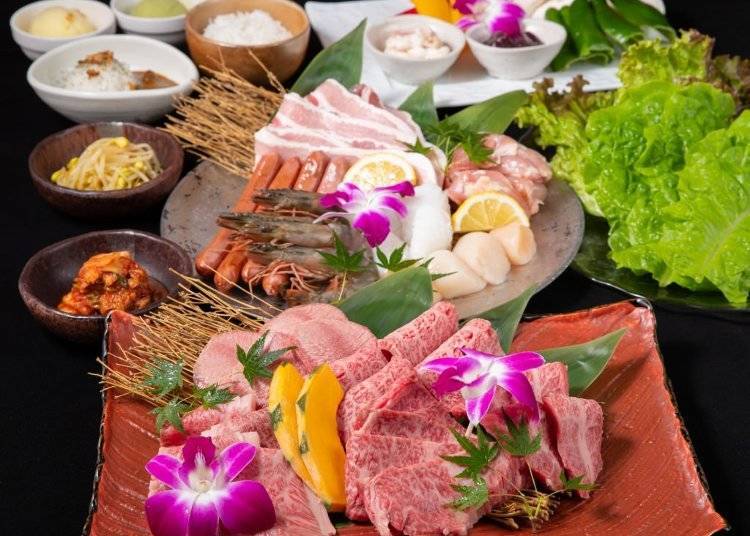 The Wanomiya Namba Midosuji shop is an extremely popular all-you-can-eat Kobe beef restaurant serving the highest A5 grade Kobe steak. 98% of Tajima beef is designated as Kobe beef by the Nakanishi Ranch and this restaurant purchases the equivalent of a single animal from it.

Nakanishi Ranch has a reputation for producing the most delicious Kobe beef due to its excellent environment and technology used in the fattening up of its cattle. You will be able to eat more of this high-quality beef than usual because it is not greasy. A good way to enjoy it is by tasting and comparing the flavor of different cuts.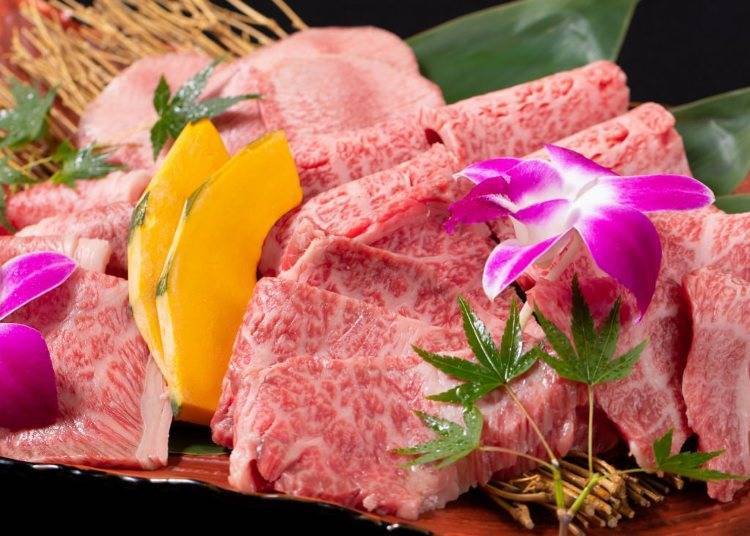 The all-you-can-eat Kobe beef barbecue menu includes a variety of cuts and parts such as Kobe beef boneless short ribs, lean, tongue, tetchan [beef large intestine], and liver, as well as seasonal namul, kimchi, tanshio [salty beef tongue], and sanchu [Korean lettuce]. Enjoying kimchi, namul, and white rice with your Kobe beef is of course delicious, but for another treat try the Kobe beef mini-curry.

The all-you-can-eat yakiniku course is for 90 minutes (last order at 70 minutes) and costs 6,000 yen. If you want to have free-flowing drinks with it, too, then it would cost 7,500 yen. At these very reasonable prices you can eat your fill of the finest Kobe beef there is.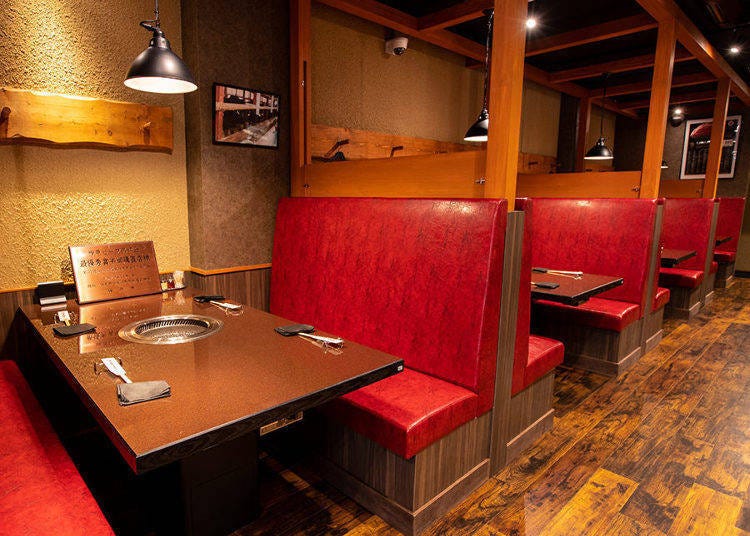 The Wanomiya Namba Midosuji shop is located very near the No. 14 exit of Kintetsu Osaka Namba Station and Osaka Metro Namba Station. The neighborhood is an old downtown area of Osaka called "Minami" and is visited by many tourists every day.

The restaurant has a classy atmosphere and depending on the number of people in the party, you can sit comfortably at a table or if you are alone or with someone, at the counter. The menu is also in English, Chinese (simplified and traditional), and Korean. Enjoy all-you-can-eat Kobe beef and sightseeing at Wanomiya Namba Midosuji, which is near such famous Minami spots as Dotombori and Hozenji Yokocho.

All-you-can-eat Kobe beef courses are also offered at the Steak Sakura Shochikuza shop and Kobe Beef Miyabi Nihonbashi Main Branch which are both members of the same KISSHO Group. Be sure to check out both restaurants.

* All prices mentioned do not include tax or table fees.
和ノ宮

Address

1 Chome-7-8 Nanba, Chuo-ku, Osaka, 542-0076

Phone Number

06-6213-8129

Hours: 11:00 a.m. ~ 11:00 p.m.
Prices: All-you-can-eat Grade A5 beef yakiniku course (90 minutes) 6,000 yen (tax not included; 5% service charge added after 4:00 p.m.)
Closed: always open
Kobe beef is proudly Japan's world-class premium beef. While yakiniku and shabu-shabu are simple ways to eat meat, they nevertheless are great ways to experience the deep, savory flavor of Kobe beef.

When you come to Kansai, the home of Kobe steak, you really should visit these famous Kobe beef restaurants to sample the finest cut of meat that has been tenderly raised on ranches in the region.
*This information is from the time of this article's publication.
*Prices and options mentioned are subject to change.
*Unless stated otherwise, all prices include tax.