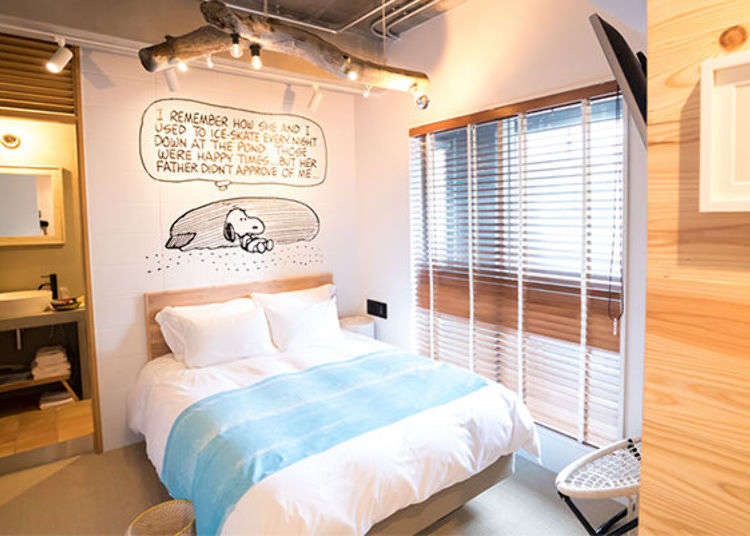 The Peanuts Hotel Kobe opened in 2018 as the first hotel in Japan designed based on the internationally loved Snoopy! Each floor and guest room has a different theme featuring the adorable Peanuts characters.

Join as we share the charm of the Peanuts Hotel firsthand and check out Snoopy in Japan!
Not just Snoopy in Japan - See all your favorite Peanuts characters at Peanuts Hotel Kobe!
Peanuts Hotel Kobe is located near the intersection of Kitanozaka and Odori, around 7 minutes on foot north of the JR Sannomiya Station on the Hankyu-Hanshin Line.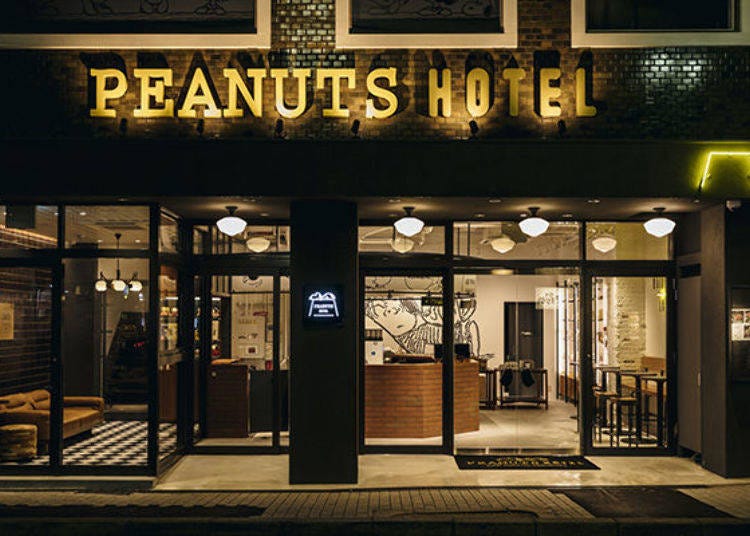 ▲First floor entrance. Where cuteness and the world of comics come together.
While Peanuts is so popular in Japan, it is the name of the comic by Charles M. Schultz, an American picture book author and comic artist.

The main character is Snoopy the beagle, and the personality-rich characters and stories are beloved by both children and adults, with high popularity even in Japan.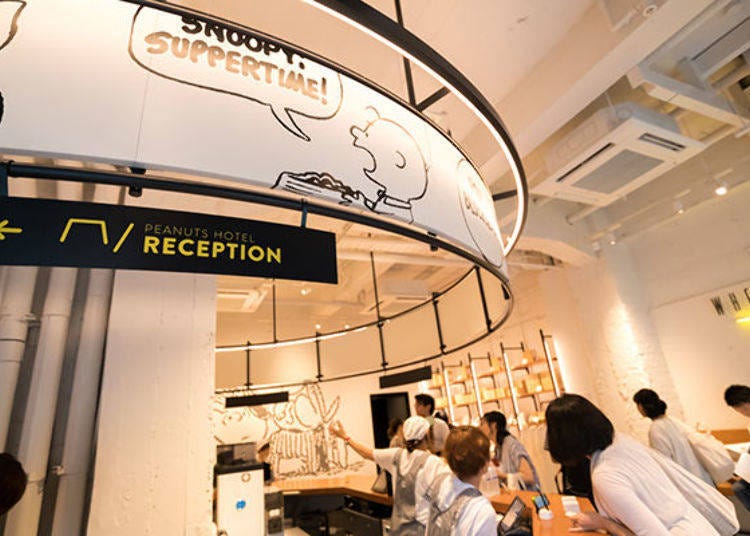 ▲Peanuts characters are there to greet you even at the reception desk.
Peanuts Hotel is a 6-story building, with reception and a shop on the first floor, as well as 'Peanuts Cafe Kobe,' a take-out cafe. The second floor is for employees only, the third is the restaurant, and from the fourth to sixth floors are the guest rooms. Let's get straight to the guest rooms!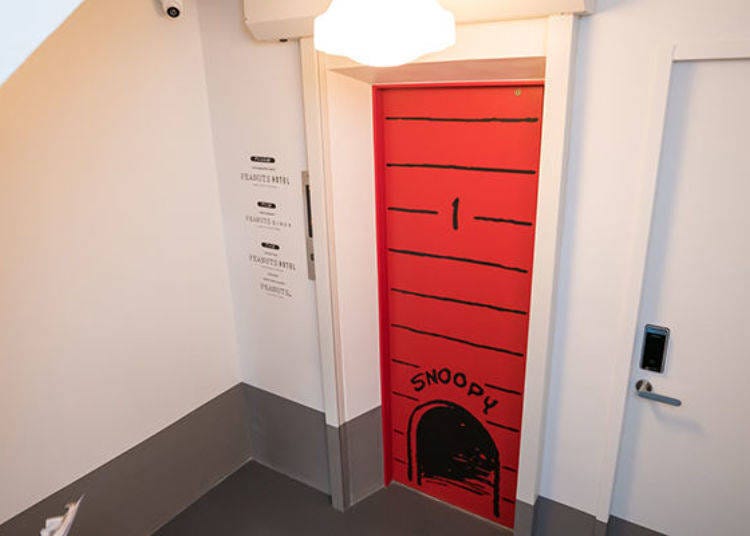 ▲An elevator designed with Snoopy's doghouse travels between each floor. The excitement to see the rest of Peanuts Hotel's interior grows!
Every room has a different and unique design!
Peanuts Hotel Kobe has a total of 18 guest rooms between the fourth and sixth floor. Each floor has its own theme: "Imagine" on the fourth, "Happy" on the fifth, and "Love" on the sixth. Additionally, each room has a completely different layout, based on a different comic concept. Let's take a look at all 18 rooms!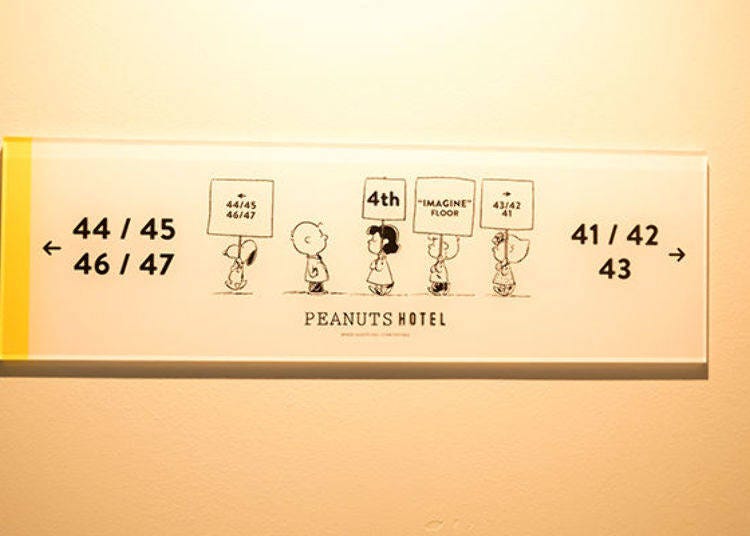 ▲There are 4 double rooms and 3 twin rooms on the fourth floor, for a total of 7 rooms.
The theme of the rooms on the fourth floor is "Imagine," as transformed by Mr. Schulz's life philosophies and imaginative world view.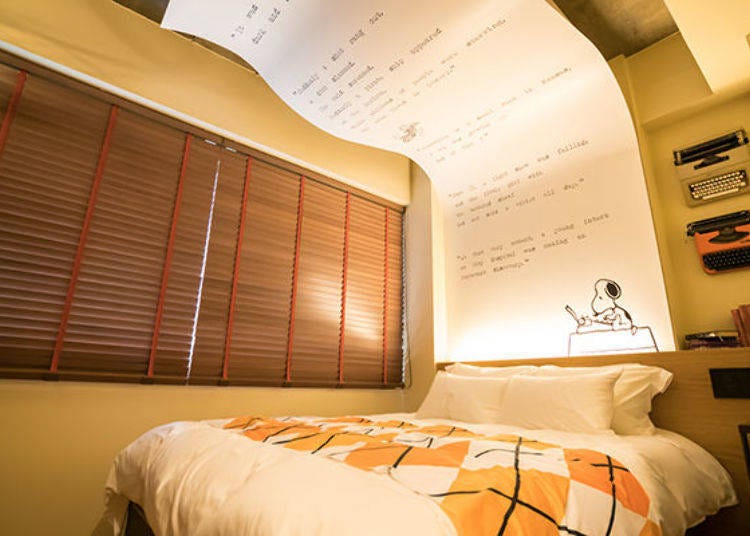 ▲Room 41, a double room, is designed with the concept "It was a dark and stormy night" and shows an image of Snoopy typing a story on the wall.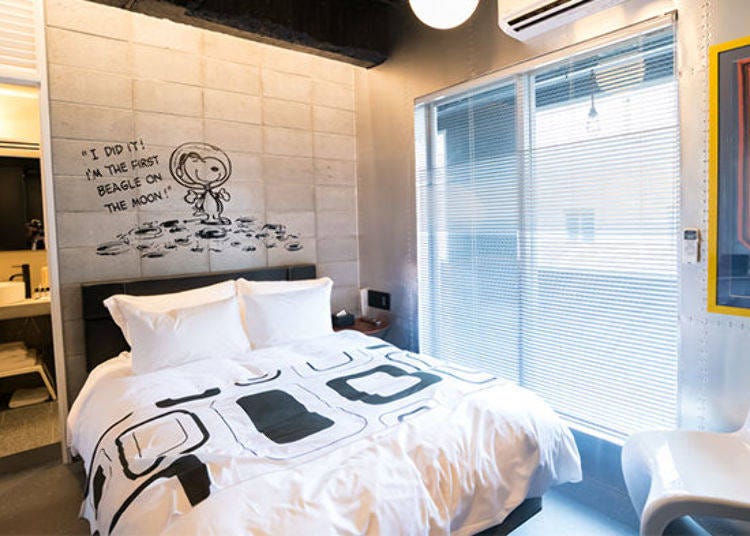 ▲In double room 42, Snoopy walks on the moon! Snoopy became an official mascot of NASA in 1968. The vessel that landed on the moon in the following year, Apollo 10, is also known as "Snoopy."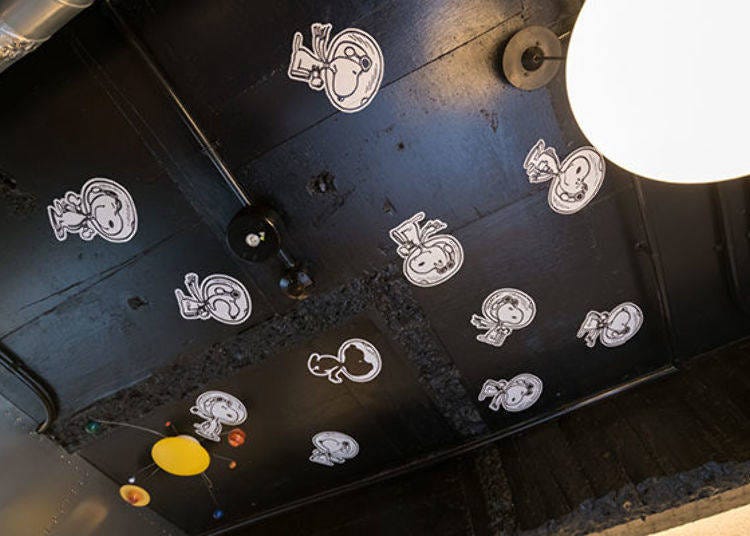 ▲When you lie down on the bed, you can see Snoopy on the ceiling! Will you dream of floating in space together tonight?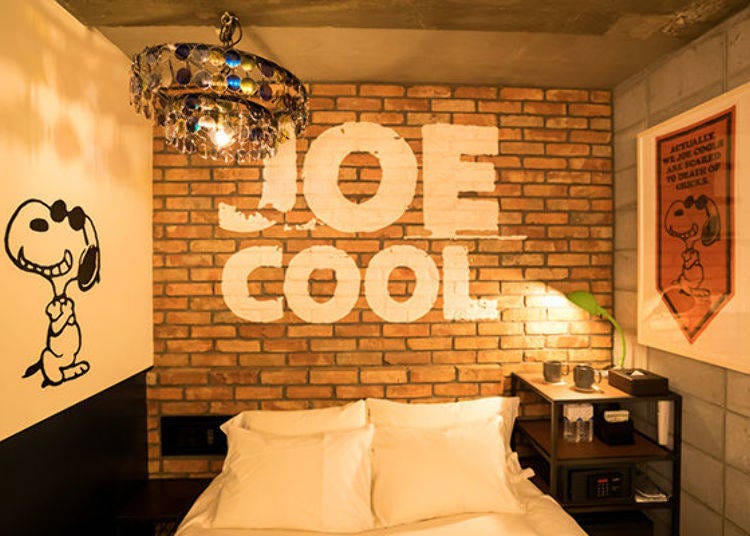 ▲Room 43 is a little hideout designed with character Joe Cool and his trademark sunglasses. The name "Joe Cool" is written on the brick wall in giant, impactful letters, and the chandelier of sunglasses hanging above is also really cool.
Twin room 44 is the widest on the fourth floor, at 25 square feet, and is designed in the concept Snoopy in Japan taking on the role of a pilot to fight his nemesis the Red Baron. Staying in this room, you may begin to feel like a pilot yourself.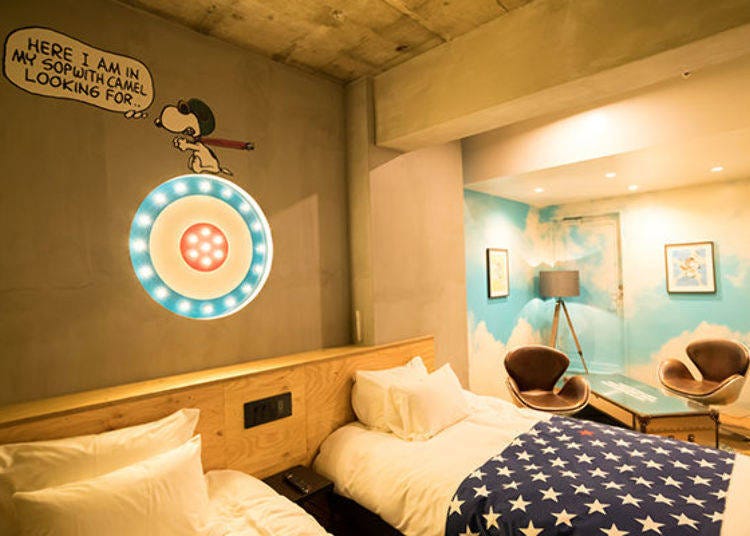 ▲With a wall of sky and clouds, you can really feel Snoopy flying through the sky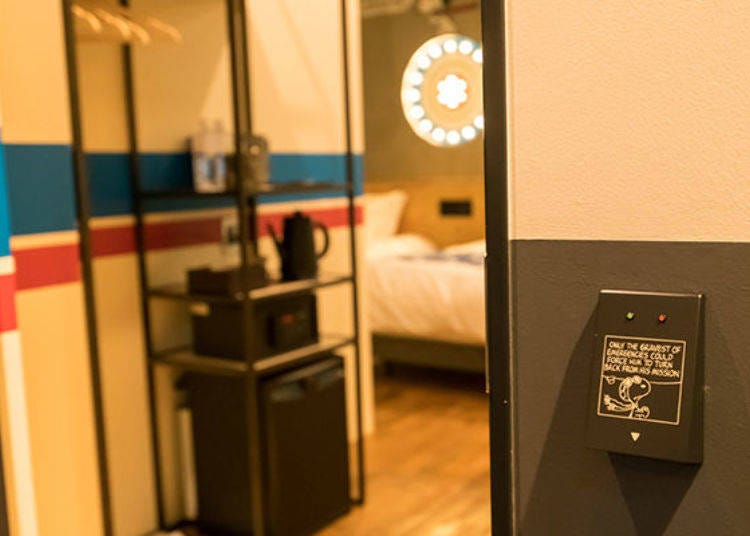 ▲Snoopy also decorates the card key cover in the hallway. There are Snoopies hiding everywhere, so have fun looking around for them!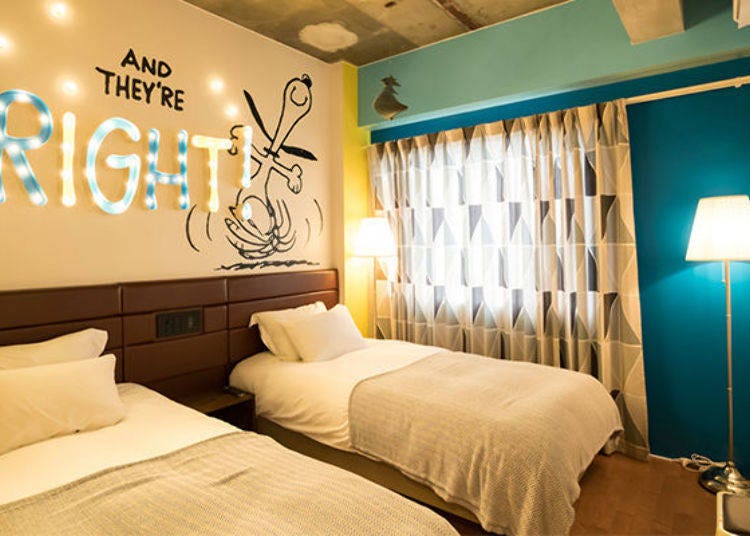 ▲"AND THEY'RE RIGHT!" Snoopy is drawn big and bright, happily dancing on the wall of Room 45.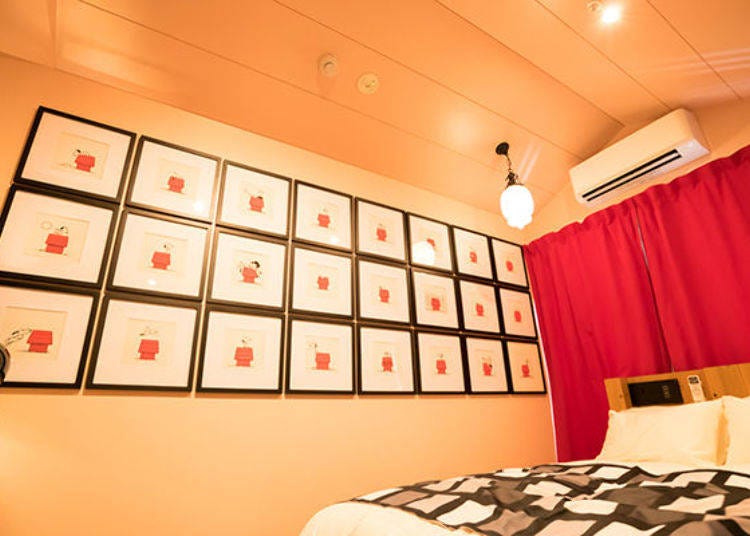 ▲Double Room 46 is in the shape of a doghouse with a triangular ceiling.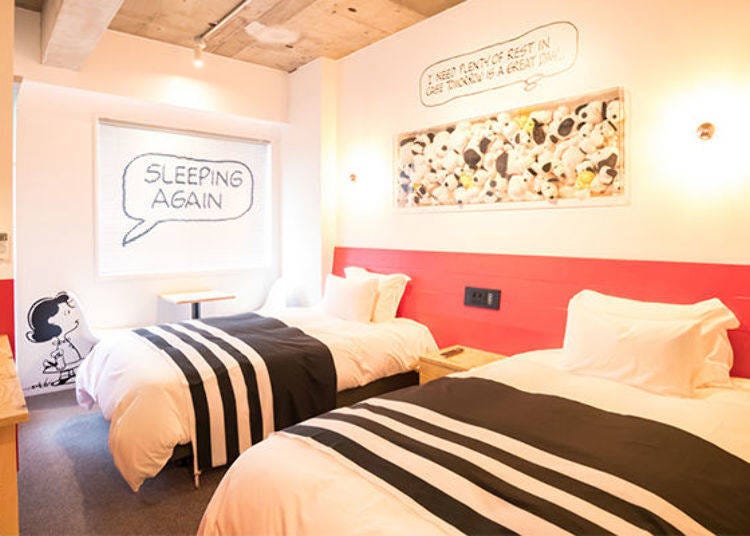 ▲In spacious twin room 47 is Snoopy, and a puzzled Lucy asking "Sleeping again?"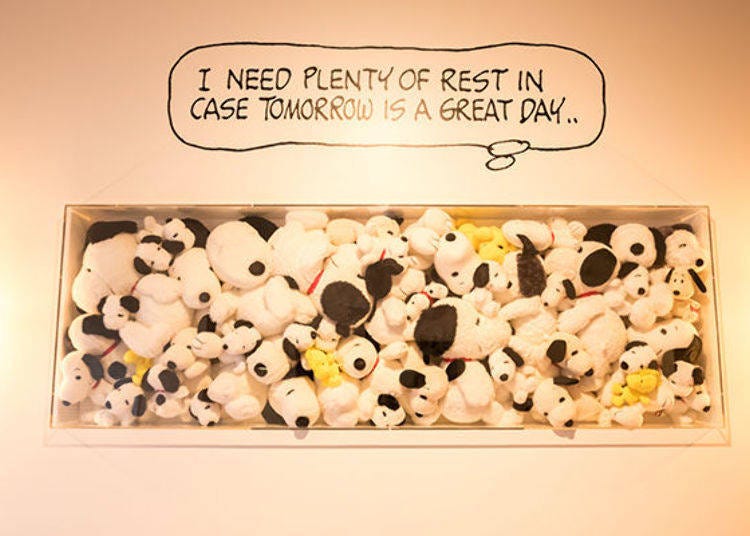 ▲This impactful wall shows Snoopy's response: "I need plenty of rest in case tomorrow is a great day."
Every room here has such a cute design! Now let's take a look at the fifth floor.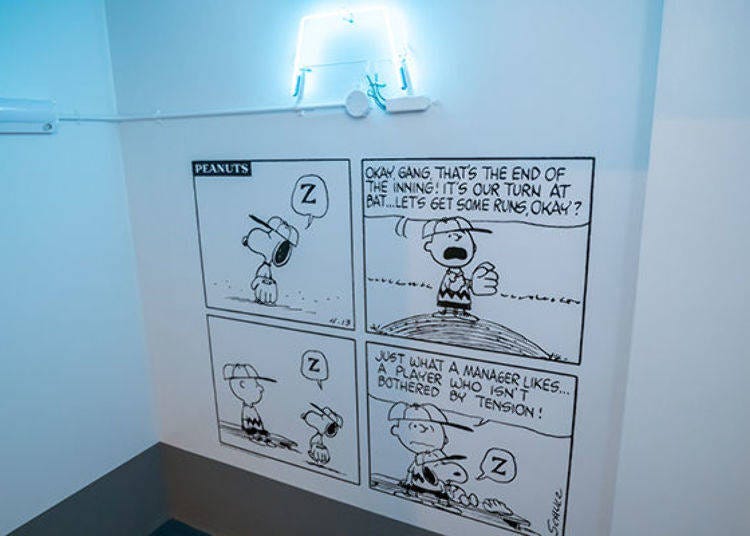 ▲Even the walls of the staircase were decorated with Snoopy.
Peanuts Hotel 5th Floor: Completely adorned in Peanuts' Happy World!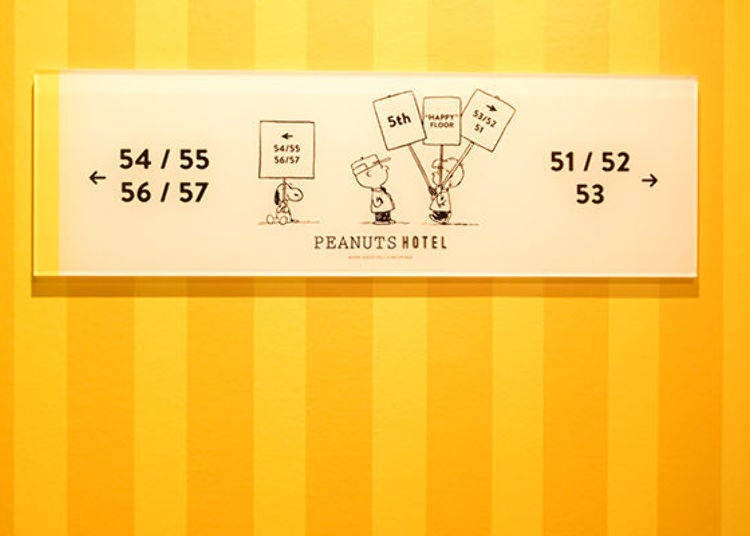 ▲There are also 7 rooms on the fifth "Happy" themed floor, with 4 double and 3 twin rooms.
The theme of the fifth floor is "Happy." Sports, dancing, taking a trip... It is full of all kinds of fun episodes from Peanuts!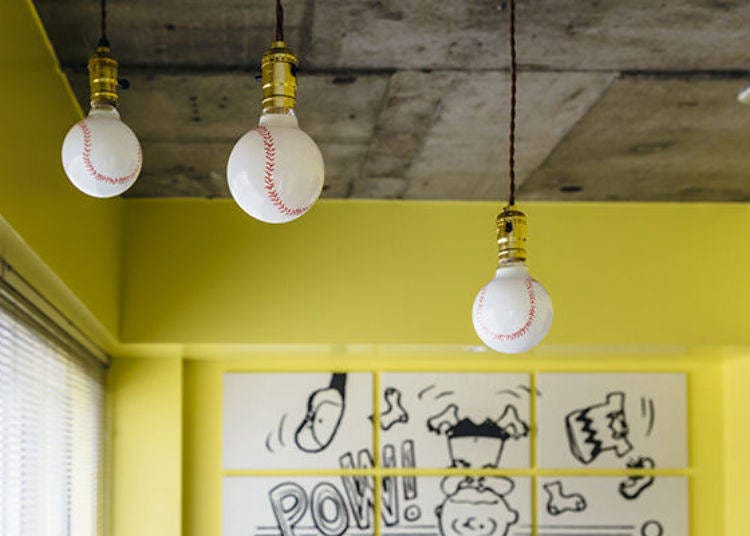 ▲Double Room 51 is impressive with its bright yellow walls and images of Charlie Brown, who will never give up on his love for baseball, no matter how many times he loses.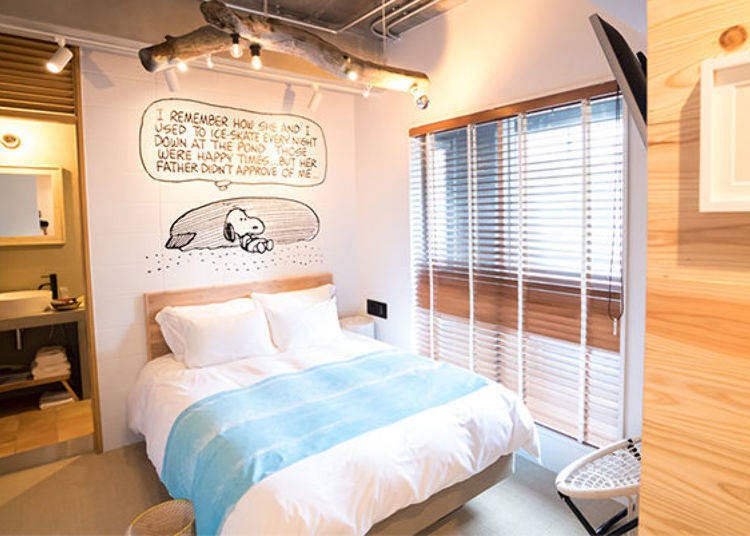 ▲Double Room 52 is designed with a sailor theme and the word "Cowabunga!" and shows Snoopy riding the waves in various places throughout the room.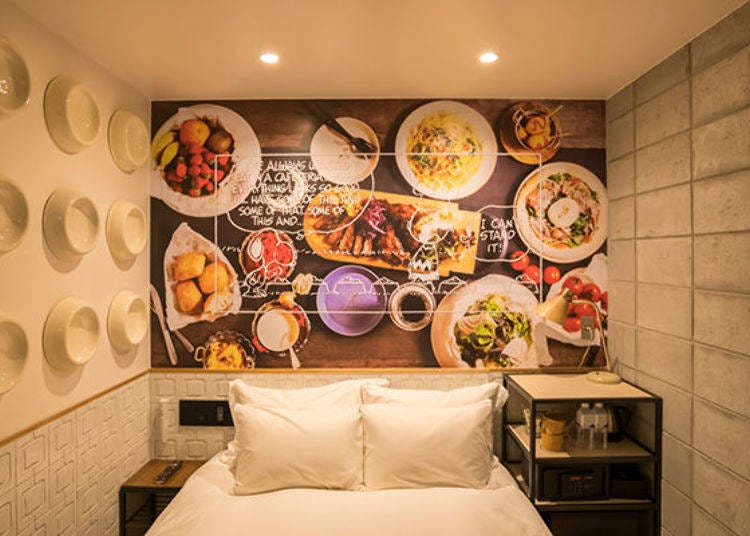 ▲The concept of Room 53 is "One of the greatest pleasures in life is good conversation, and good dinner." The design of dog dishes decorates the wall.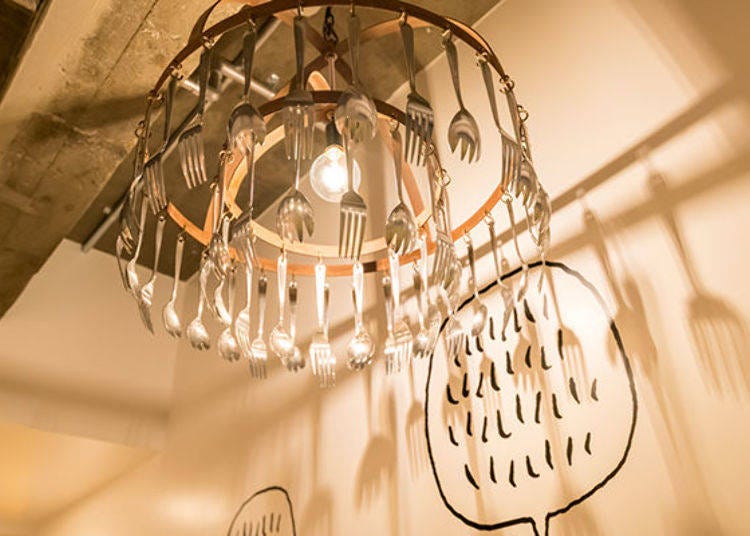 ▲This fork and spoon chandelier creates a fun atmosphere.
Room 54, the widest room on the fifth floor at 25 square meters is the only Japanese style room in Peanuts Hotel. The bold pink Mount Fuji and plum blossoms really bring you that "Happy" feeling.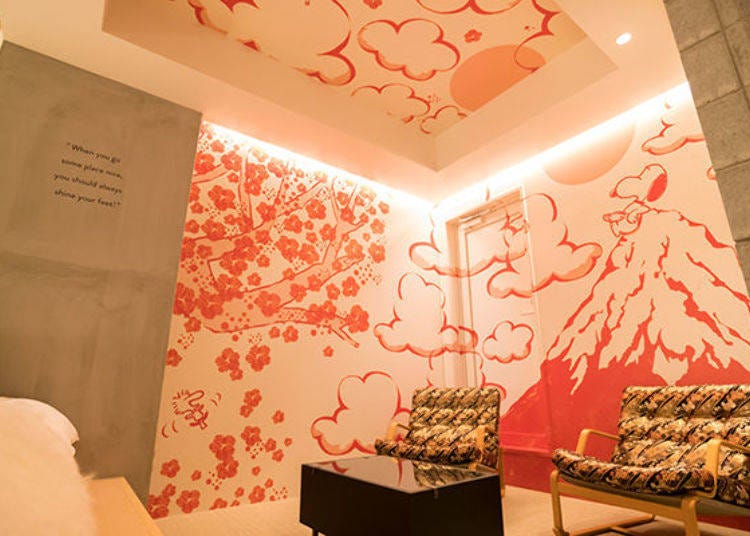 ▲On the wall is an illustration of Snoopy in Japan relaxing at the summit of Mt. Fuji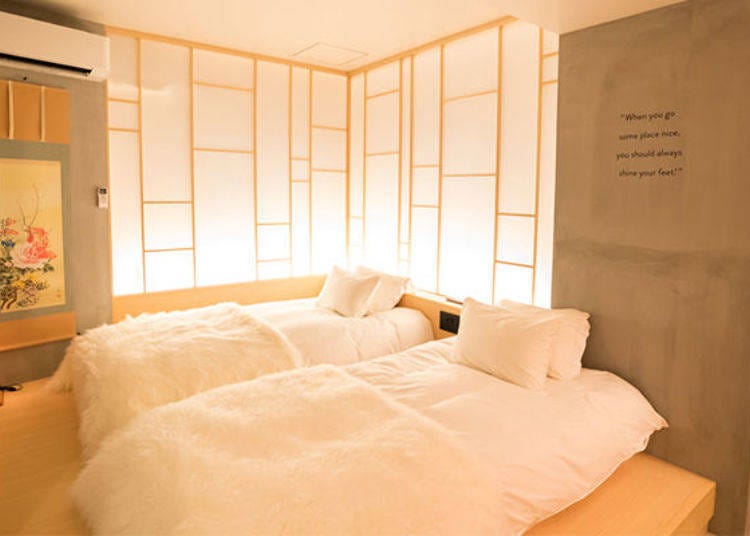 ▲This is the best room in Peanuts Hotel Kobe to unwind and relax. It looks like you can really sleep soundly by wrapping yourself up in these pure white futons.
The theme is "Whenever you go somewhere nice, you should always clean your feet." In this room where you don't have to worry about wearing any shoes, the image of Snoopy scrubbing even the bottom of his feet goes perfectly.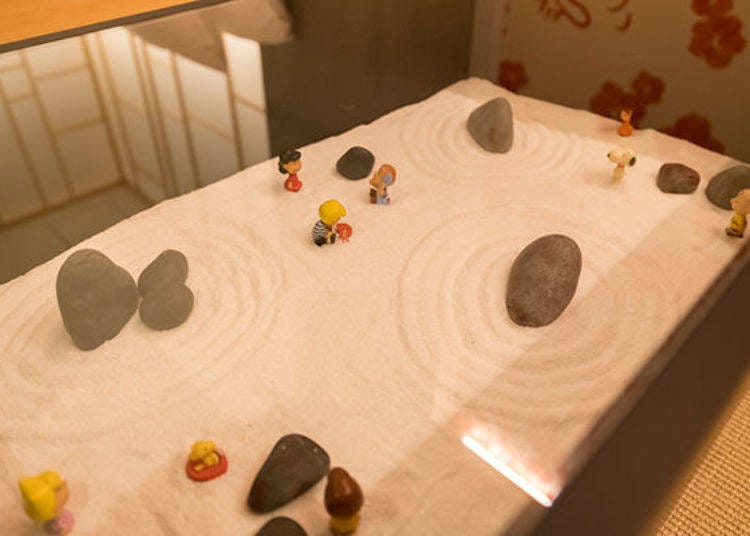 ▲When you peer through the glass top table, you can see Snoopy and friends gathered together in a Japanese rock garden! It's pretty amazing!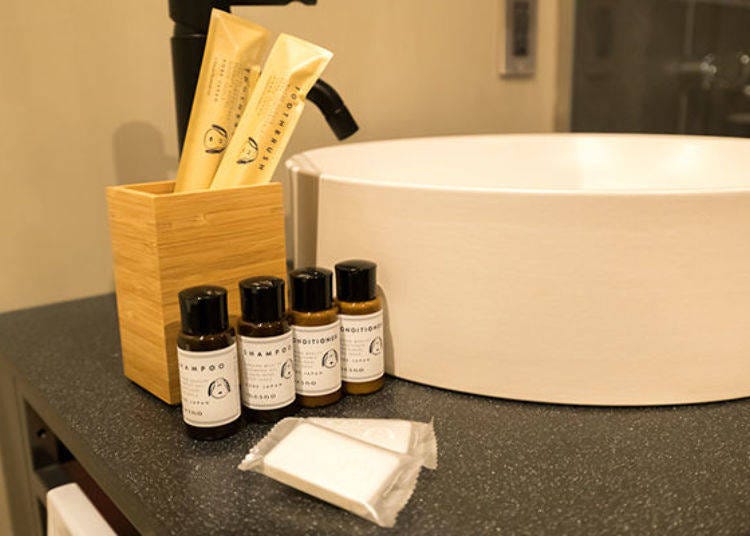 ▲It seems like even all the toiletries in each room have a Snoopy design.
The adventures continue with Snoopy outdoors!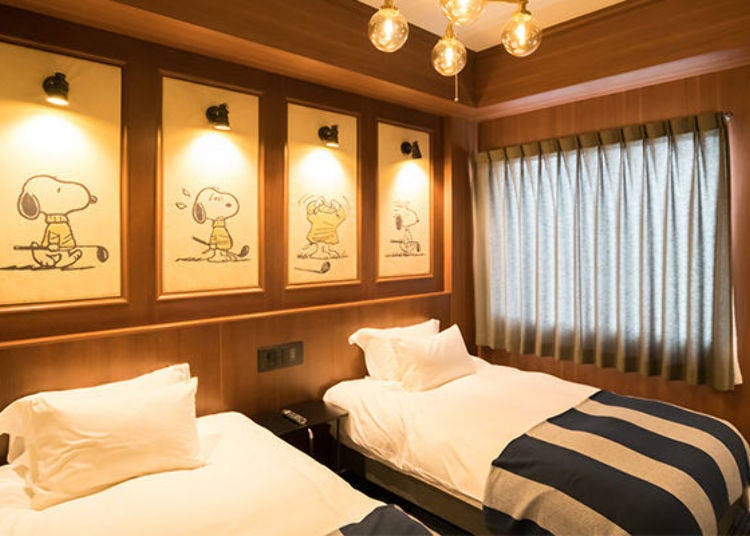 ▲In Twin Room 55, Snoopy visits the golf course in a turtleneck, regretfully showing his messy hair when he takes it off.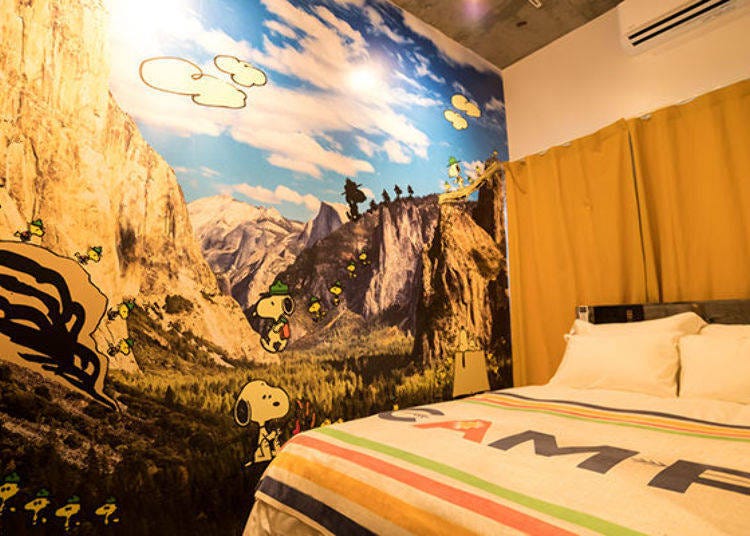 ▲Room 56 depicts the excursion of Snoopy and the Beagle Scouts climbing the mountains.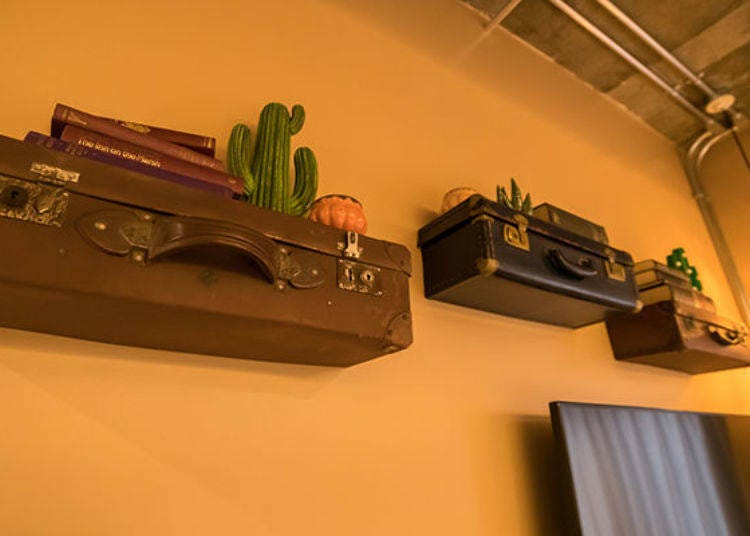 ▲Room 57 is created in the image of a cottage visited by Spike (Snoopy's older brother) during his travels. It shows the friendship between Spike and his best friend Joe Cactus, who is a cactus. Its decor is innovative, with trunk shelves lined with books and cacti!
On the 5th floor showcasing so many active, happy Snoopies, you will also get the sense of being HAPPY. Now let's take a look at the sixth floor, the top floor of Peanuts Hotel.
The 6th Floor: Peanuts Hotel's key concept room!
On the sixth floor is the theme that represents the entire hotel, the concept of "LOVE." The guest rooms each depict heart-warming stories of the characters, such as family, friendship, and... LOVE!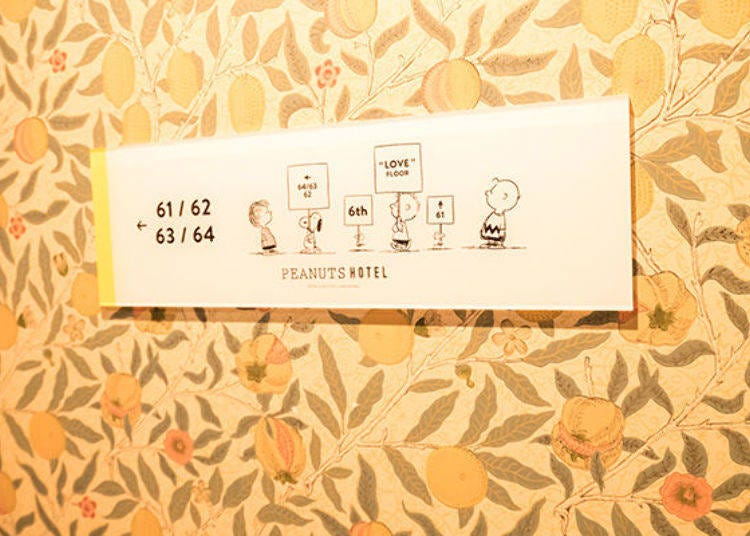 ▲There is one double room and three twin rooms on the 6th floor of "LOVE"
Amongst these, Room 61 is a special room showing Snoopy with the little birds asleep on his doghouse, thinking "It's nice to have a home where your guests feel comfortable." It design is the concept that embodies the theme of the entire Peanuts Hotel Kobe.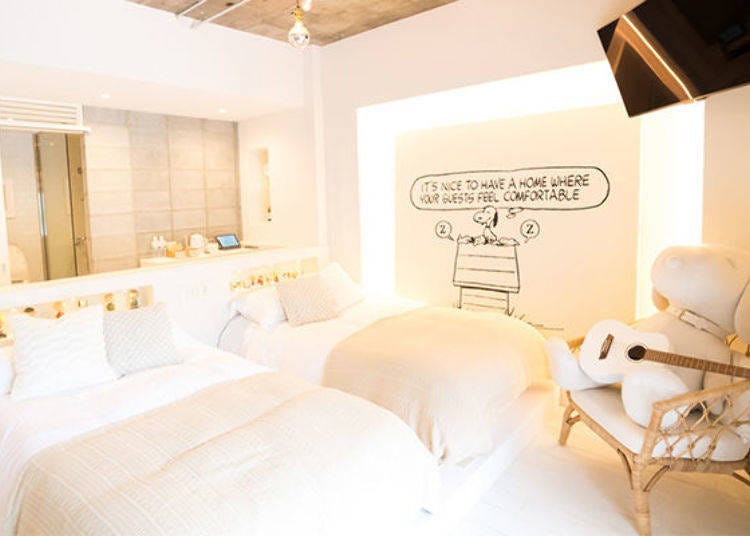 ▲A Snoopy stuffed animal sits on a chair watching over the guests. And when you look closely, you can see his friends lined up at the bedside, too!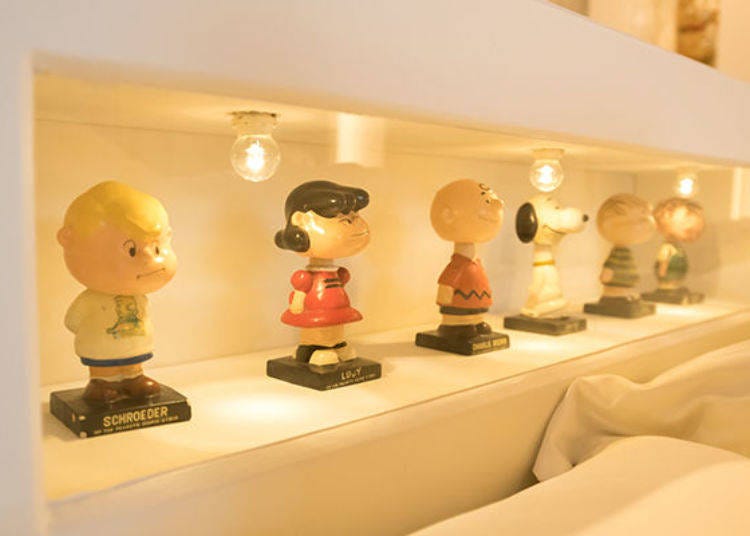 ▲With the expressive faces of all the characters right by your head, surely you will have pleasant dreams.
This is the largest room at 31 square feet and the only one with its own bathtub. There is even a rooftop terrace. The interior is decorated in monotone colors, with a little more emphasis on white.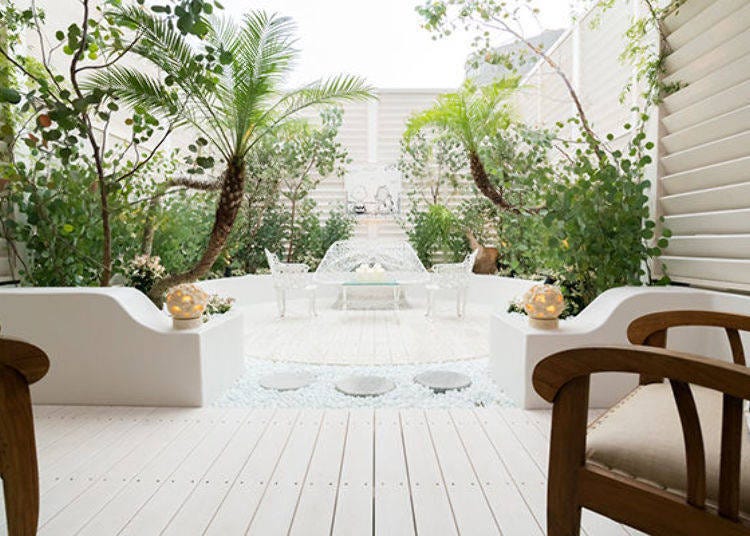 ▲Roof top balcony of Room 61. Why not come here and take in the romantic view of the night sky over Kobe?
The fun with our friends from Peanuts continues in the other rooms!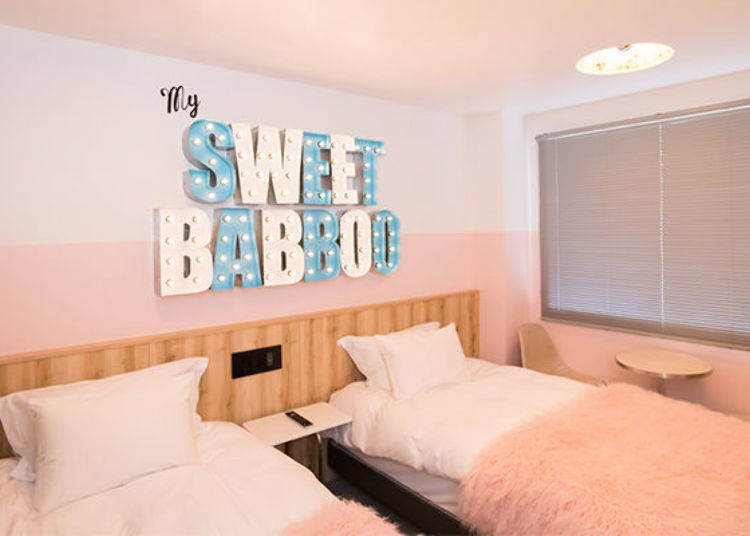 ▲Room 62 is decorated with images of Linus, and Charlie Brown's sister Sally who calls him "My sweet baboo."
▲Room 63 is centered around the 1950s, the time period when the Peanuts comic was born, and designed in a mid-western style. It is loaded with antique figures and books!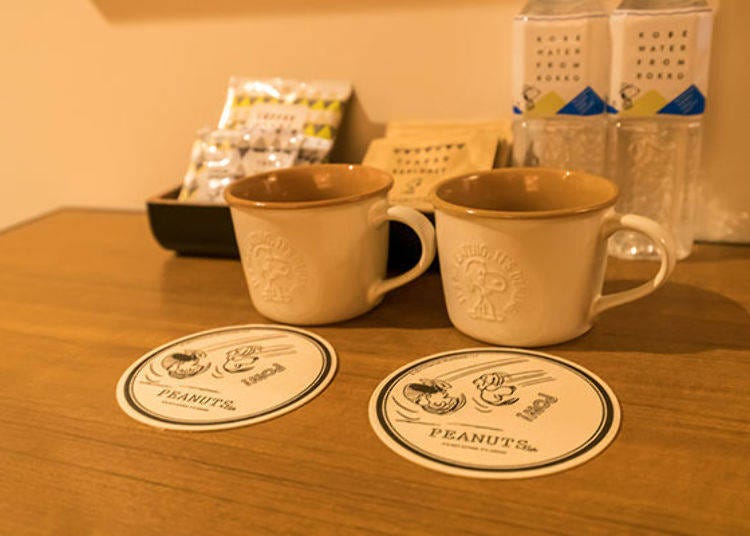 ▲The cups and coasters in all the rooms have illustrations drawn on them.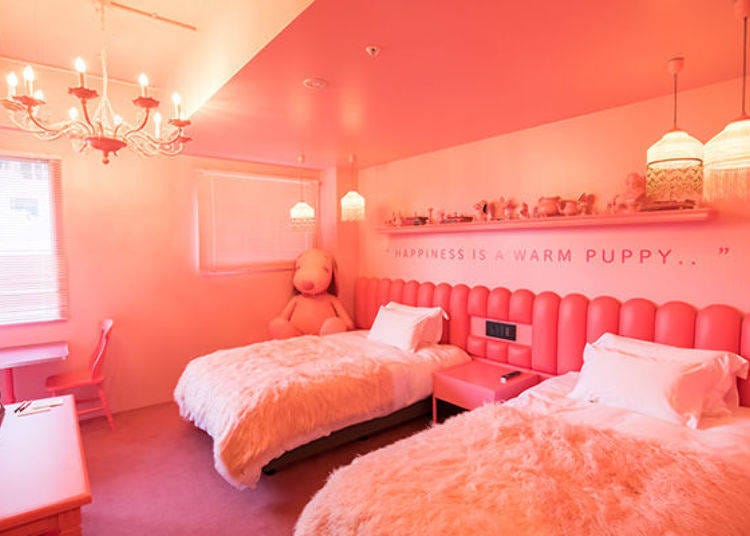 ▲Room 64 is very pink! The reason for that is…
▲Though Lucy might not like getting "dog germs" from Snoopy's kisses, she still loves to hug him because he is so warm! The pink color that dyes the room certainly feels like love is in the air.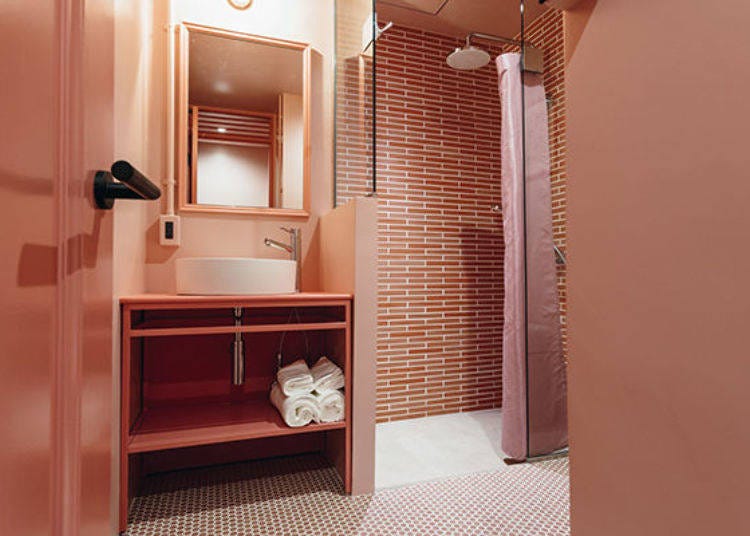 ▲Of course, the bathroom is also pink in color. The toiletries, as well as the towels and slippers, can even be brought back home with you as a memory of your stay.
And with that, you have now had a glimpse of all 18 rooms in Peanuts Hotel.

Since the colors and layouts are all unique to each room, you will probably want to spend a night in each one! The life philosophies of Charles M. Schulz, as well as his thoughts on love and friendship, are all conveyed in his original comics. If you stay in a room featuring these concepts, you may be able to empathize with his deep, unique philosophies for yourself.
Peanuts Diner Kobe: Heading up to the gourmet floor!
Now that we're done checking out all of the rooms, let's enjoy some Kobe gourmet at the restaurant on the third floor, named 'Peanuts Diner Kobe' after the comics.

This venue is where breakfast is held for hotel guests. For all other visitors (non-hotel guests), you may enter between 11AM and 11PM.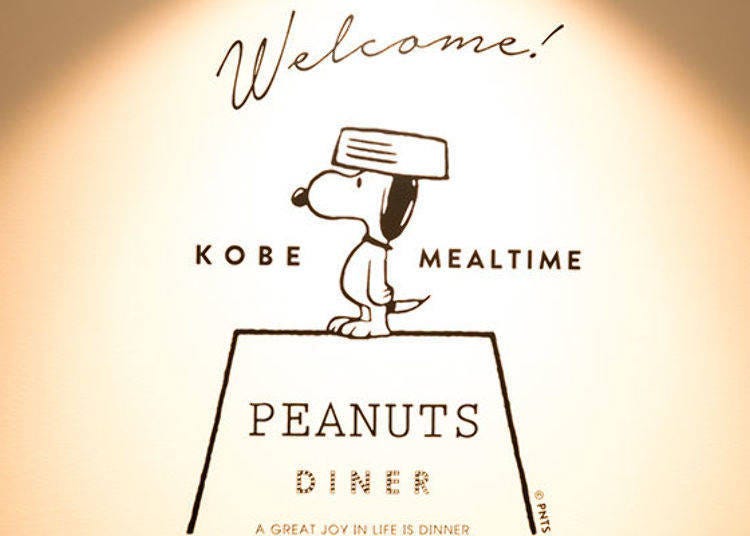 ▲"Kobe Mealtime" - The Peanuts Diner Kobe logo
Though it is a restaurant designed to look like a Peanuts-themed seaside diner on the American West Coast, it has a full-fledged menu of Kobe cuisine to enjoy. Lunch is from 11AM~5PM, dinner is from 5PM~11PM. (Last order 10PM, course order is until 9:30PM)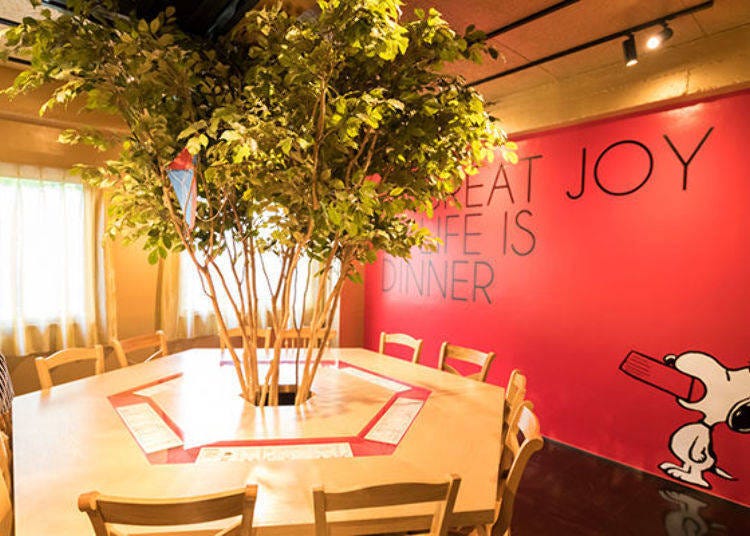 ▲The restaurant has 48 seats, and a ton of Snoopy!
There are 8 unique recommendations, including Snoopy's favorite pizza, the 'Snoopy Margherita' (¥1500), which is seasoned with basil from Awaji Island, and the 'Spiked Tuna Casserole Kaze Pizza,' which uses lots of Awaji Island plum tomatoes.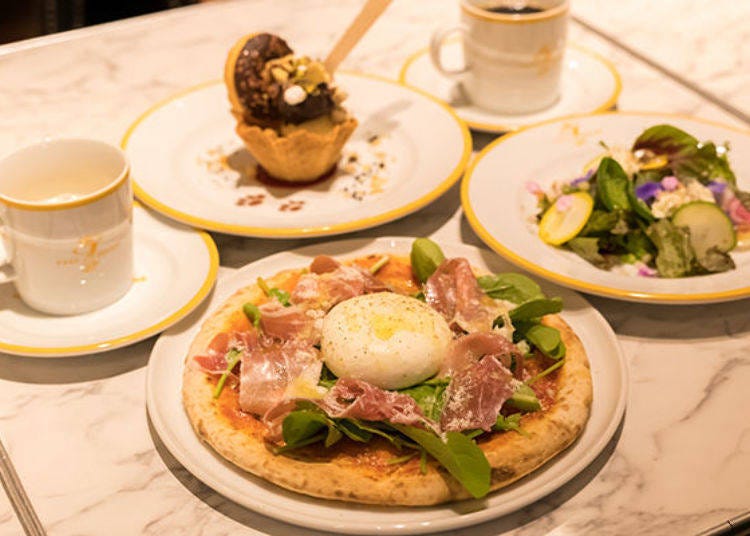 ▲The 'Charlie Brown Special Parmesan Pizza.' It is a luxurious piece (single item, ¥2500), expanding on a scene in which Charlie Brown asks an appetite-less Snoopy "What's missing?" Lunch Course is ¥2800, and Dinner Course is ¥3500. (Image shows Lunch Course)
There are also a variety of other dishes, such as meat and pasta. There are great a la carte dishes to share with a group, as well as delicious course dishes.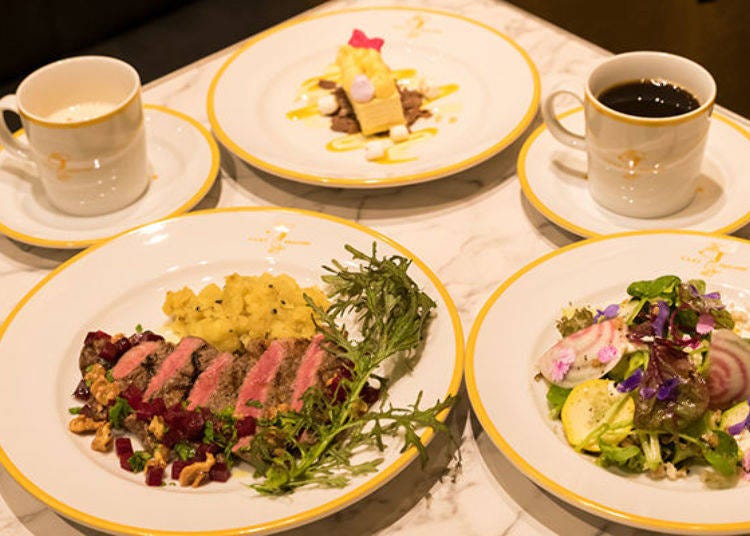 ▲In this course you can choose from meat or fish. Soup, salad, dessert, and drinks are also included. (Photo shows dinner course)
'Chef Woodstock's Steak - Truffle and Potato Écrasé' is the steak Snoopy orders "Medium Rare!" from Chef Woodstock, after being drawn in by the delicious smell.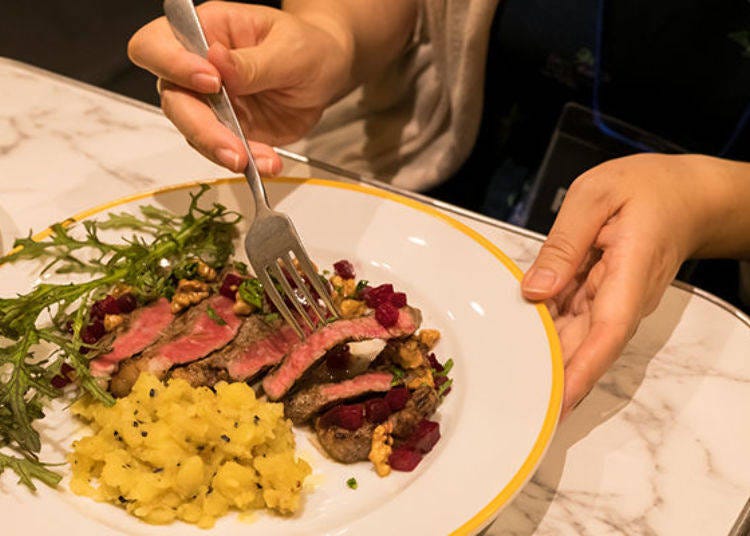 ▲The light steak seasoned with coarse salt has a great compatibility with the sweet mashed potatoes. (Single item ¥3000, Lunch Course ¥3800, Dinner Course ¥4500)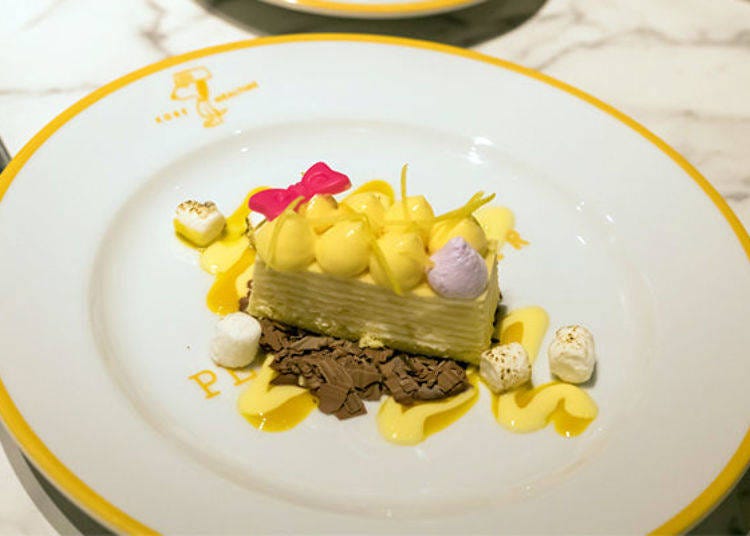 ▲Mille Crêpe (¥900 each), made in the image of Woodstock and his little feathered friends. There are other desserts in the images of Snoopy and Lucy as well.
The menu also shows unique stories featuring the Peanuts characters. Just looking at the illustrations in the menu is fun!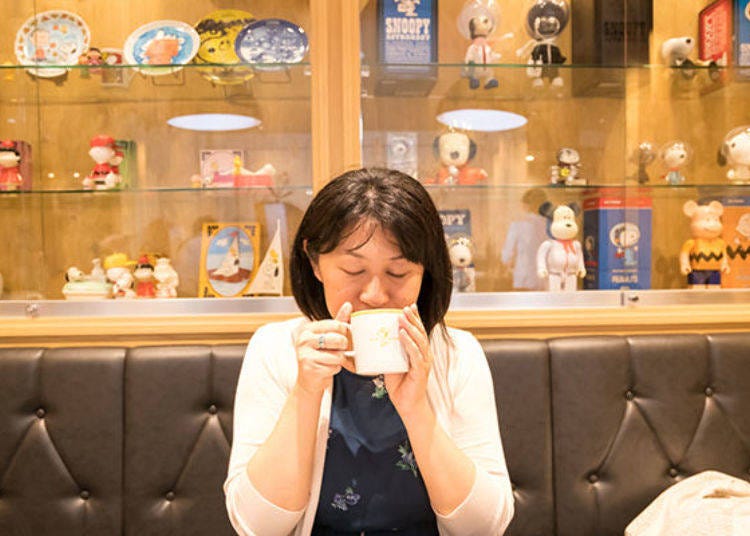 ▲Enjoying a happy tea time under the watch of Snoopy and all his friends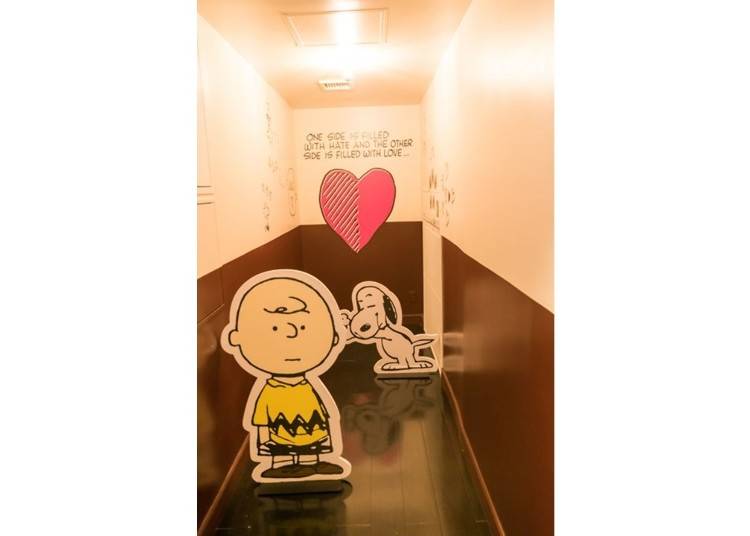 ▲Don't forget to stop by the photo spot near the entrance of the Peanuts Diner Kobe on the 3rd floor
There is also the 'Peanuts Cafe Kobe' by the reception on the first floor, a take-out cafe stand that can be easily accessed by outside guests as well. You can enjoy coffee, lemonade, hot dogs, and more.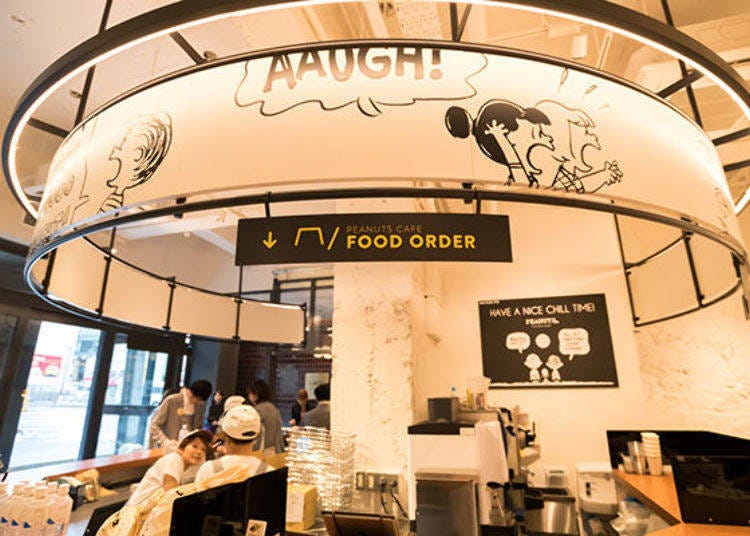 ▲Peanuts Cafe Kobe is open from 10AM~11PM
Don't Miss Peanut Hotel's Original Merchandise
Behind the first floor reception is also an area where you can purchase goods (open 10AM~11PM). You can find goods such as toiletries that are only available at the Peanuts Hotel Kobe. We asked the staff for their recommendations.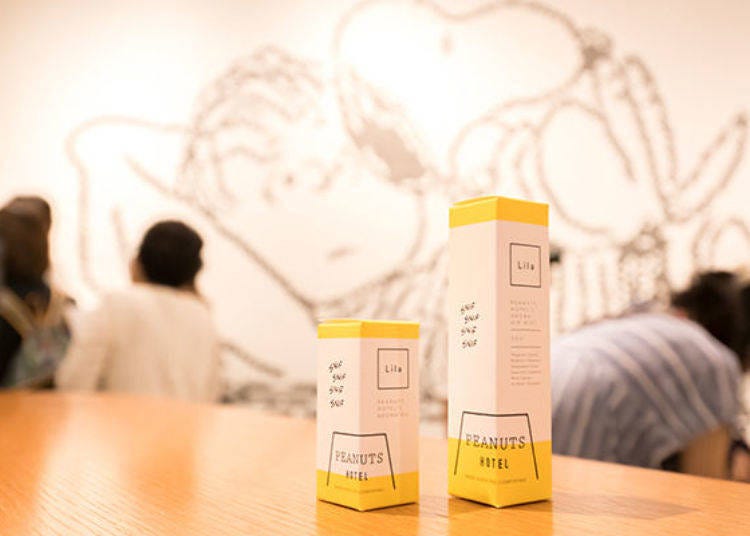 ▲Peanuts Hotel has its own original aroma series called 'Lila.' You can smell the pleasant fragrance even outside in the hall. Lila Aroma Essential Oil (Left, ¥2300), Lila Aroma Air Mist (Right, ¥2200)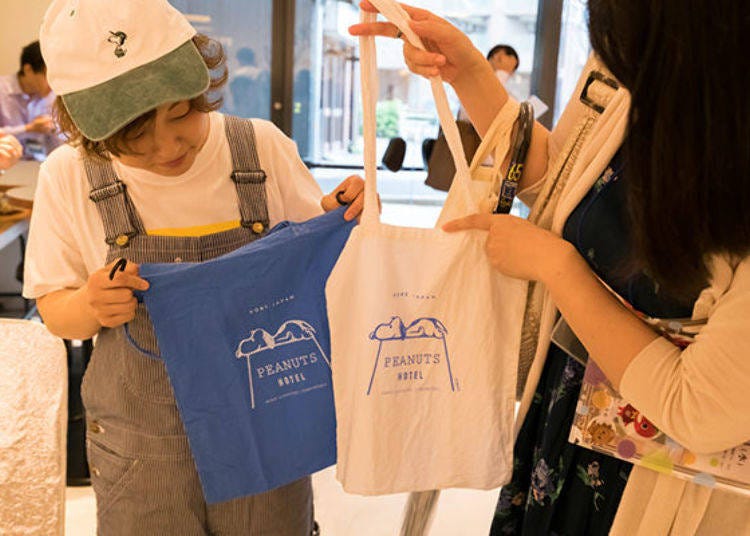 ▲There is a variety of convenient 'Peanuts Hotel Grand Opening' Eco Tote Bags (Blue and White, ¥1500)
▲The Woodstock face towel (¥1800, left) and bath towel (¥3200, right) are hotel originals. They are towels made by Imabari, popular for their great water absorption.
There are so many items that can only be found here, including the tableware used at Peanuts Diner Kobe! This shop is also accessible to outside guests, so you can even stop by in the middle of your Kobe sightseeing.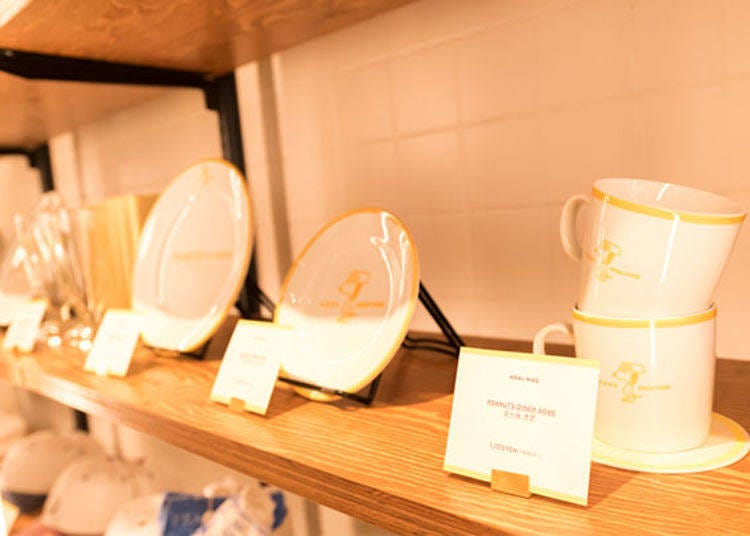 ▲Tableware as used in the third floor restaurant. From right to left: Meal Mug (¥1700), Meal Plate, 17cm (¥1500), Meal Plate, 24cm (¥3000)
Peanuts Hotel Kobe: Sure to bring out the inner child of any adult!
Kobe, a city transformed by tourism since the opening of the Meiji port, exudes an exotic atmosphere with its old settlements and foreign buildings. It is an atmosphere quite similar to the good, old-fashioned streets of Santa Rosa in America, where the original author Shultz himself lived, and one of the reasons why the Peanuts Hotel was opened here.

This hotel which designed its entire building with the characters of Snoopy and his friends is probably the first of its kind in the world. Because it is located in Kobe, with its many tourists from abroad, it is a popular spot for both local guests as well as guests from overseas.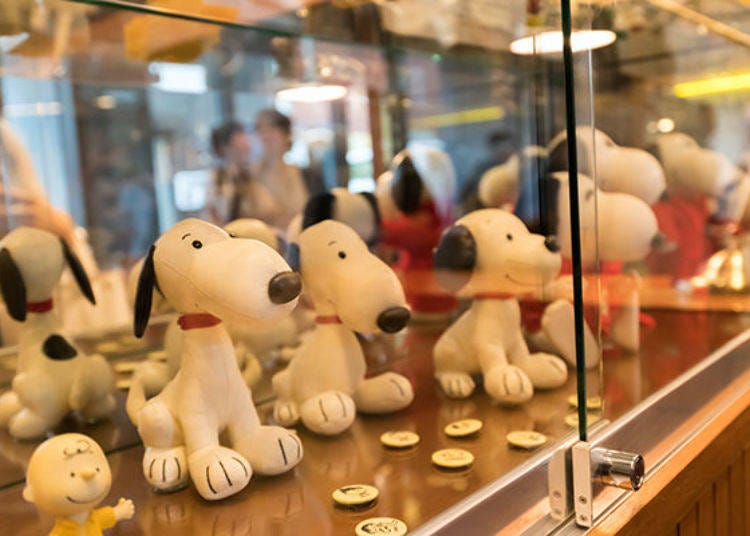 ▲The figures next to the reception on the first floor are all from collectors from Kobe. You can feel the warm connection between fans.
Because of the casual environment, children and adults alike will enjoy staying at this hotel. As someone who lives in the suburbs, I would also like to stay here at least once. Along with the third floor restaurant, it is recommended to stop by the first floor shop and cafe as well. Whatever you do, should you get the opportunity, please make sure to visit this brand-new Kobe landmark, the Peanuts Hotel!
PEANUTS HOTEL

Address

1-22-26 Nakayamate-dori, Chuo, Kobe, Hyogo

Phone Number

078-200-5848

Check-in: From 3PM, Checkout: From 11AM
(Late checkout fee, pay at reception)
Room Charge: ¥30,000/night (breakfast included)
Reservation: Reservation via Peanuts Hotel Official Website (https://www.peanutshotel.jp/en/) (No reservations by phone)
Restaurant Peanuts Diner Kobe Hours: 11AM~11PM (Last order 10PM), Peanuts Cafe Kobe: 10AM~11PM
Closed: N/A
* All prices in the article are not including tax.
© 2018 Peanuts Worldwide LLC
*This information is from the time of this article's publication.
*Prices and options mentioned are subject to change.
*Unless stated otherwise, all prices include tax.