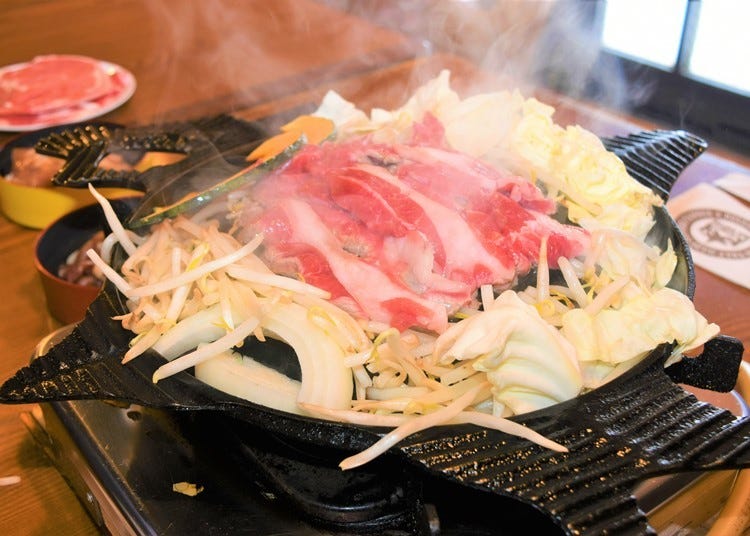 Jingisukan is a barbecued lamb dish popular throughout Hokkaido and the Tohoku region. Sapporo Beer Garden in Sapporo, Hokkaido has been serving all-you-can-eat Jingisukan since it opened in 1966. The historic building, built in 1890, is a popular spot for tourists and local residents alike.
Just a 7-minute walk from the nearest station, or take a bus directly from Sapporo Station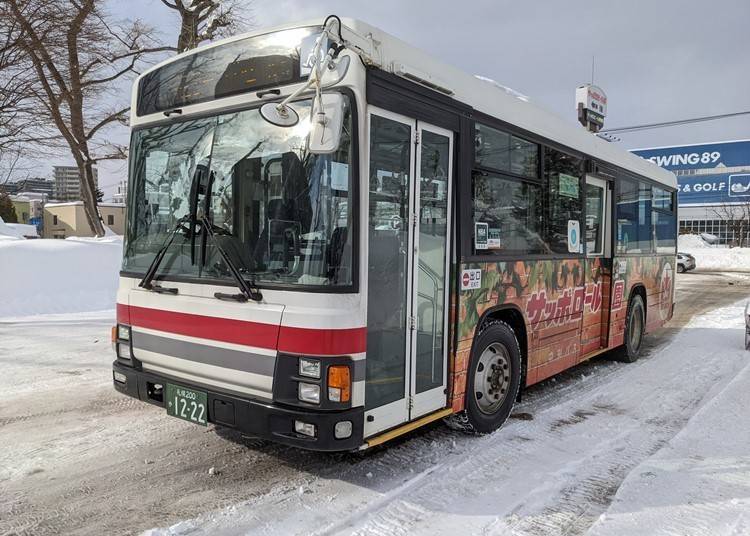 Direct bus service from the north exit of Sapporo Station
Sapporo Beer Garden is about a 7-minute walk from the north exit of Naebo Station on the JR Hakodate Main Line. Alternatively, direct shuttle buses depart every 30 minutes from Sapporo Station's north exit (Line 188) and south exit (Loop Line 88). The ride takes about 10 minutes (210 yen, one-way) and the shuttles are decorated with Sapporo Beer Garden graphics, making the correct buses easy to spot.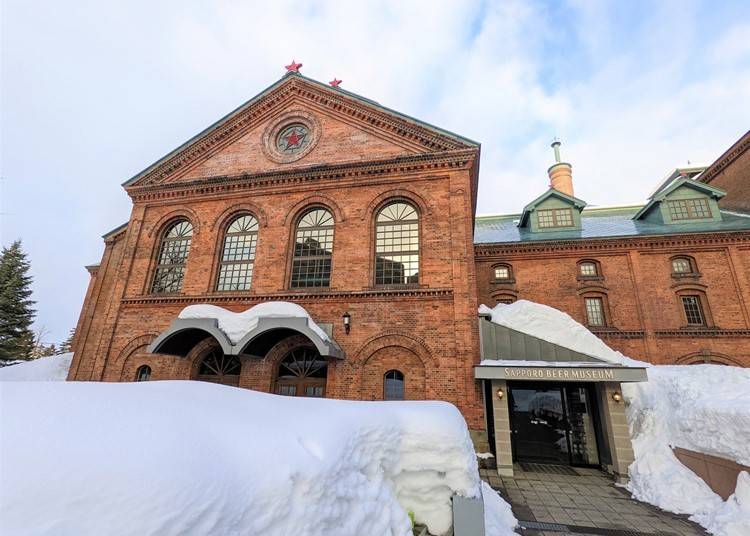 Confirm your reservation at the Sapporo Beer Museum
In 2003, the site of the Sapporo Breweries factory was redeveloped as "Sapporo Garden Park." The large complex covers a vast area of about 11 acres and includes the Sapporo Beer Museum, Sapporo Beer Garden, a mall, and a professional baseball practice field.

Upon arrival, first confirm your reservation at the reception desk in the Sapporo Beer Museum, which is adjacent to the Beer Garden itself. Online reservations can be made (in Japanese) on their official website up to four days before your desired date.

Please note that same-day, next-day, or day-after-next reservations can only be made by phone. Phone reservations can be made in Japanese or English.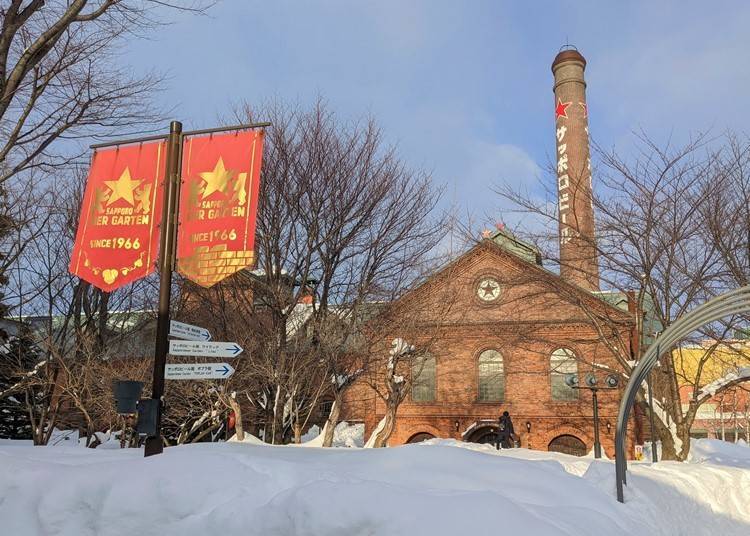 The "Pioneering Embassy" retains the look and feel of the original brewery
Next, head to the Sapporo Beer Garden. The beer hall opened on July 1, 1966 with seating for 100. The Pioneering Embassy is a brick building constructed in 1890 and the towering chimney is a remnant of its time as a brewery. Since the brewery was still in operation when Sapporo Beer Garden first opened, the catchphrase at the time was "Have a refreshing draft beer just made fresh at the factory next door!"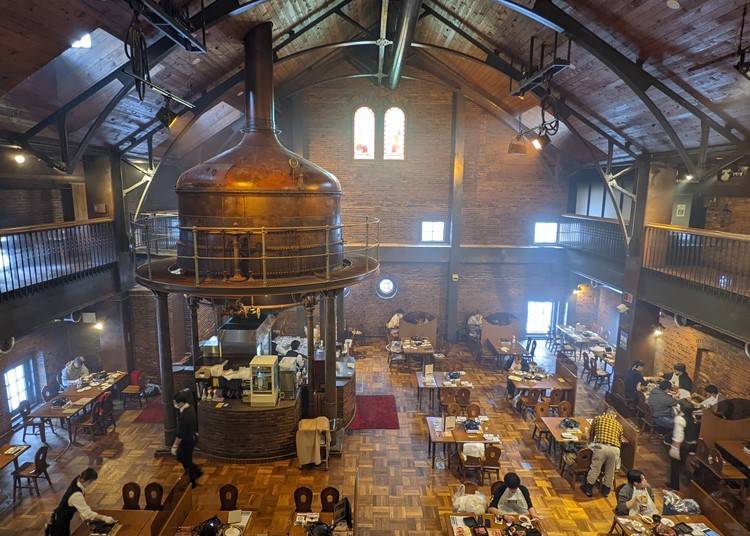 A large kessel stands in the hall
The Kessel Hall, which offers all-you-can-eat Jingisukan, is located on the second floor of the Pioneering Embassy. There you get a feeling of history and tradition from the huge beer kettle (kessel) manufactured in 1912.

It's ideal for those who want to sample a variety of fresh draft beers and eat Jingisukan, or who want to immerse themselves in the atmosphere of an old-fashioned beer hall.
100 minutes of all-you-can-eat Jingisukan with 4 kinds of meat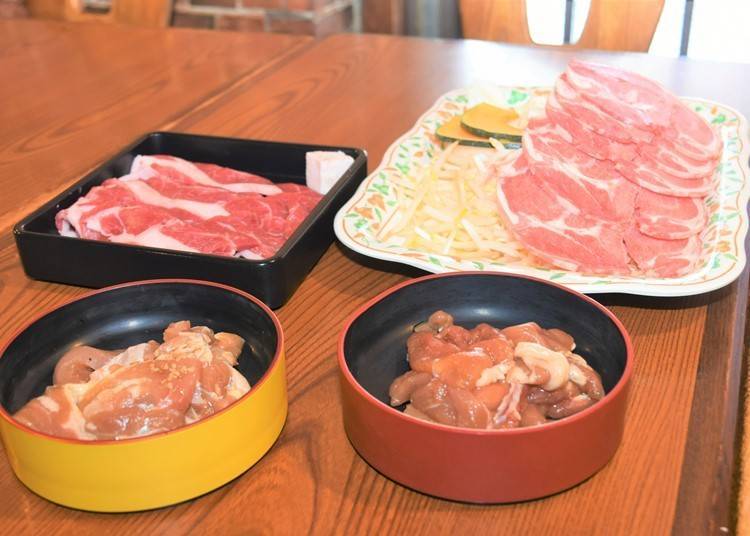 Four kinds of meat
We were able to try the "Standard!" all-you-can-eat course (3,400 yen, tax included) which will be available from April 2022. This excellent course gives diners 100 minutes to enjoy all-you-can-eat lamb (shoulder and roll), chicken, and pork.

(Note: As of February 2022, they are offering a different all-you-can-eat course ("4-Kinds King Buffet for 100 Minutes").)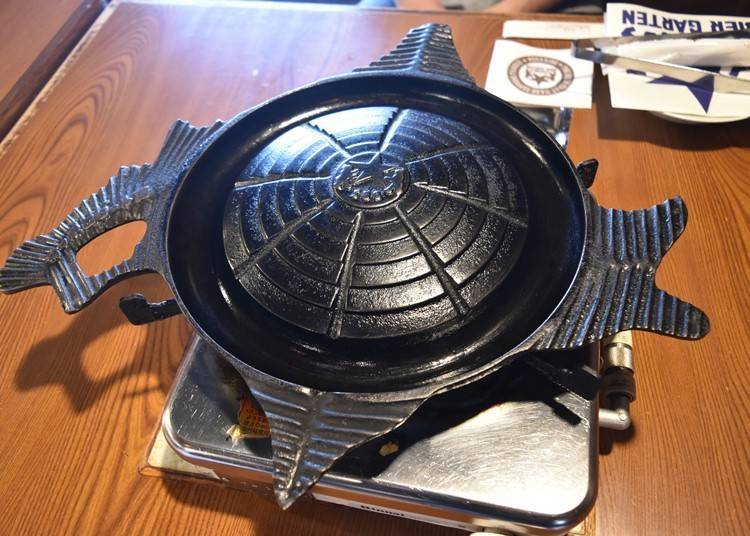 A distinct pan in the shape of Hokkaido
Jingisukan is typically a dish made with lamb. The meat and vegetables such as bean sprouts and onions are cooked together in a special pan with a unique helmet-like shape. It is said that the convex shape of the pot serves to enhance the flavor of the vegetables.
The basic method of grilling is "meat on top, vegetables on the bottom"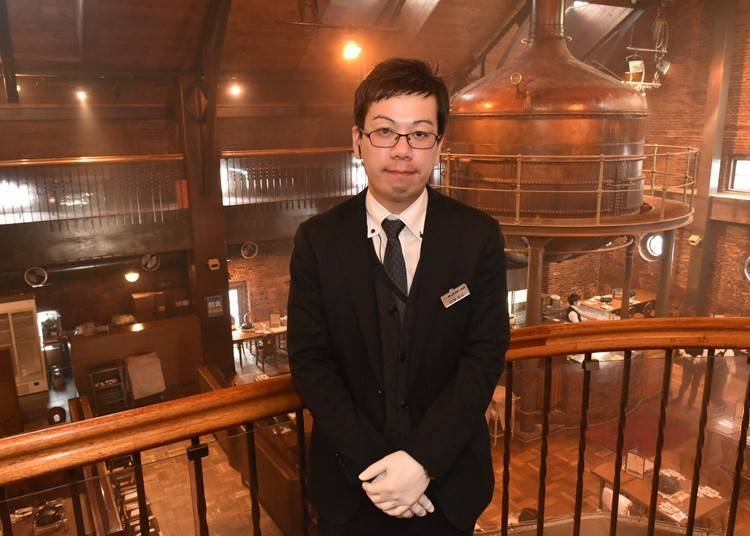 Teaching us how to cook a delicious meal
The basic method for grilling Jingisukan is "meat on top, vegetables on the bottom." To learn the best way to make it, though, we asked Masahiro Katsura, the hall manager, to teach us how to make delicious Jingisukan.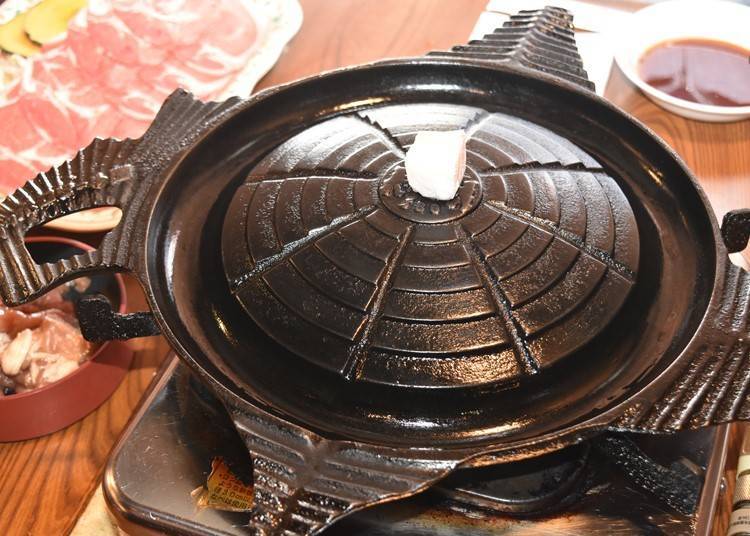 Start by letting the fat melt into the pan.
First, warm the pan well, then place beef tallow on top and coat the pan in fat to prevent the meat from burning. Lamb fat has a strong odor, so beef tallow is used instead.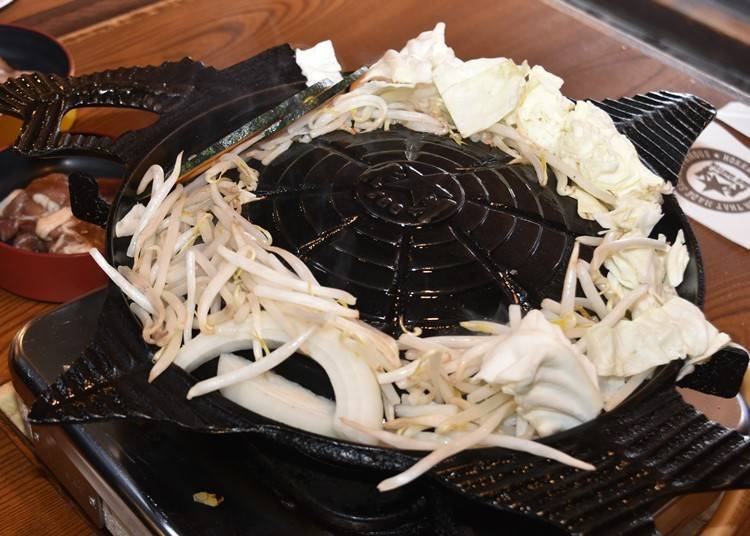 Next, add the vegetables
When the pan is hot enough to smoke, adjust the heat and use tongs to place the vegetables around the edges of the pan.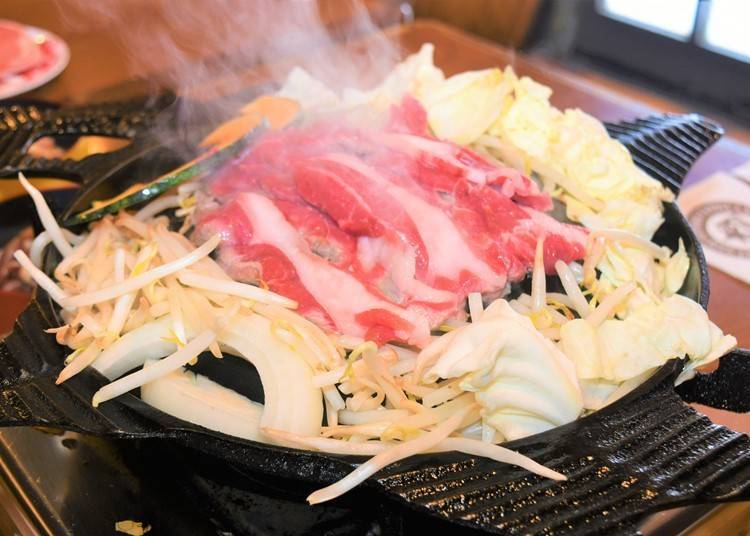 The last step is to add the meat.
Finally, put the meat in middle of the pan. A Jingisukan pan's unique rounded shape causes the grease to run down so the vegetables can soak in the flavor of the meat.
Two Tasty Styles: Lamb Shoulder Jingisukan & Traditional Jingisukan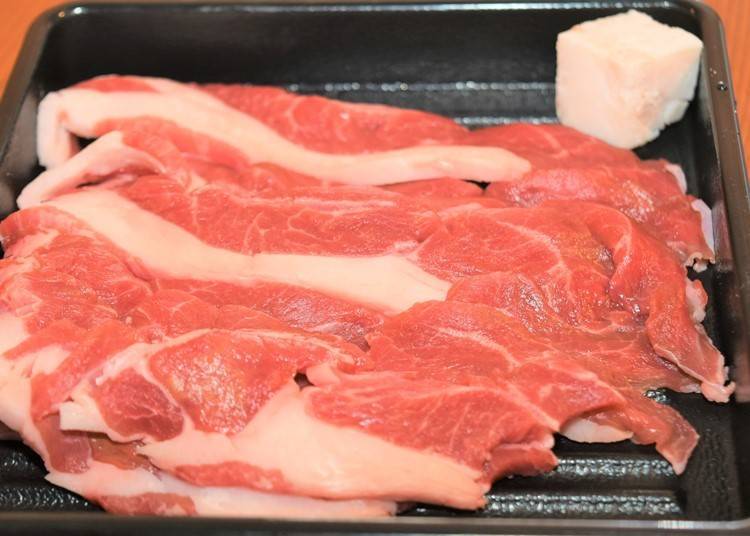 Light and delicious shoulder meat
The set menu's lamb shoulder comes from sheep less than one year old. It has almost no odor, and the taste is light. Lamb is called "mutton" when the sheep is 2 to 7 years old. It has a stronger taste, but not many restaurants serve it due to lack of popularity so Sapporo Beer Garden uses lamb.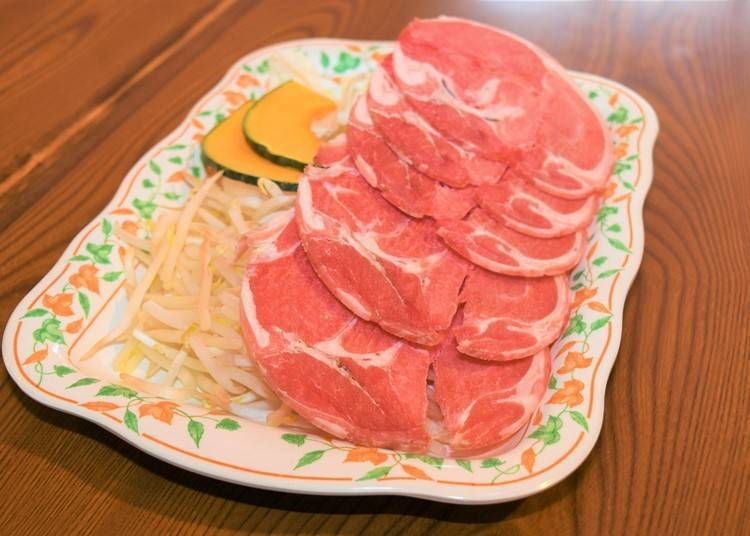 The roll meat has a traditional taste
Lamb rolls are made by rolling up various cuts of meat, compressing it, and slicing it into thin slices. Because young sheep are small and have less meat, rolling was developed as an effective way to serve larger portions of lamb.

Before the use of refrigeration, this was the common style of lamb and is still considered "Jingisukan" at Sapporo Beer Garden.
Original seasoning that brings out the meat's flavor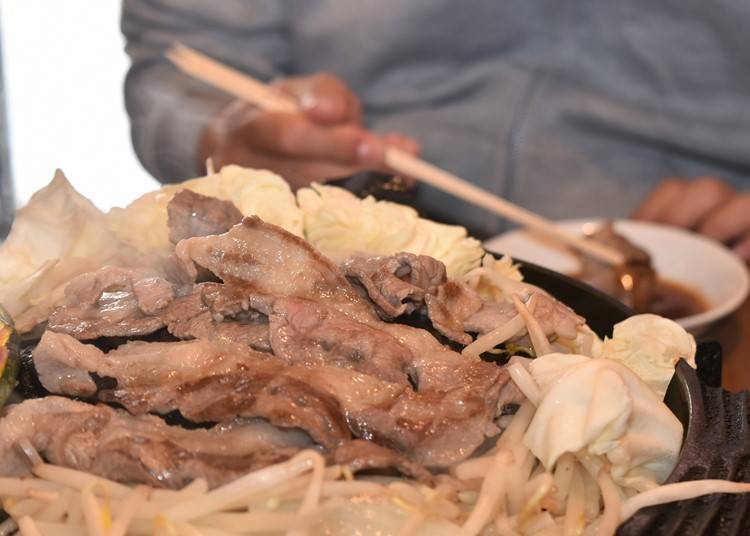 The special sauce is the key
Jingisukan is seasoned with a special sauce and Sapporo Beer Garden's unique blend uses apple and lemon to bring out the meat's flavor.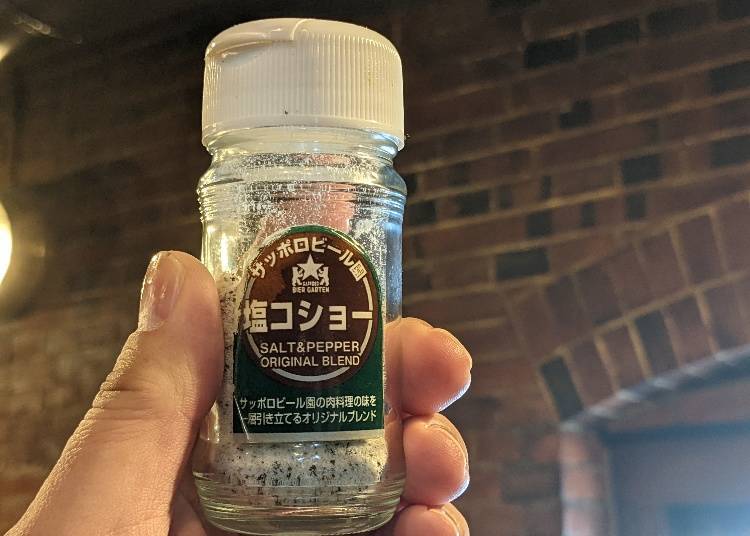 Shio Kosho is also recommended
Sapporo Beer Hall's original "Shio Kosho" is a blend of salt and pepper that goes especially well with the shoulder meat. The fact that even simple seasonings are deliciously ample is evidence of good quality meat and allows you to fully enjoy the fullest flavor of the meat.
Seasoned chicken and pork are also tasty
If you don't enjoy lamb, try chicken or pork. They're also well-seasoned with special sauce and you can order as much as you like.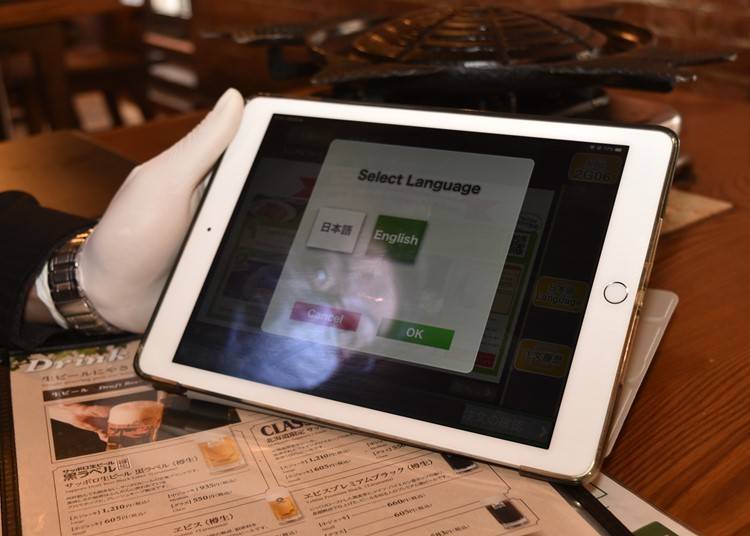 Additional orders are easy with tablets
Since Sapporo is a popular destination for international tourists, the menu is available in English and additional orders can be made via tablet.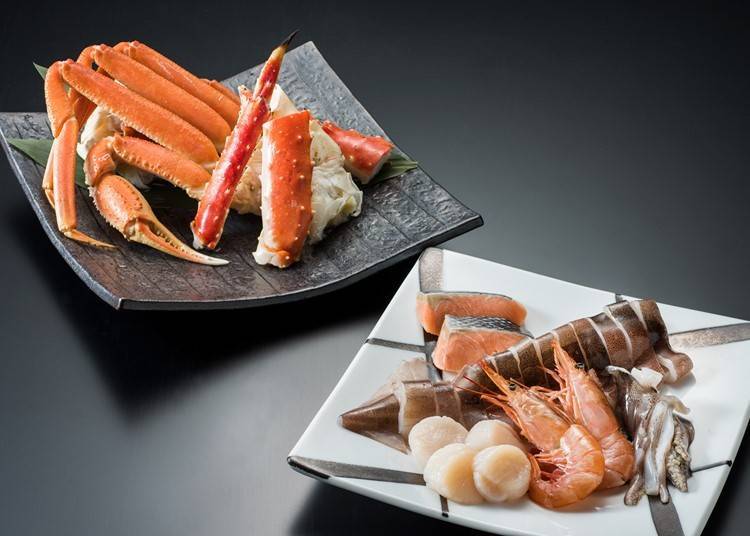 All-you-can-eat on weekdays and a la carte dishes
A great 100-minute all-you-can-eat lunch is available only on weekdays. The "4 Kinds Specialty King" (3,740 yen for adults, including tax) is a luxurious meal of lamb Jingisukan (shoulder or traditional), beef ribs, pork Jingisukan, and chicken Jingisukan.

The "Specialty King" (3,410 yen for adults, including tax) includes all-you-can-eat lamb shoulder, traditional Jingisukan, and beef ribs.

For a taste of Hokkaido's famous seafood, king crab and snow crab are served a la carte with various other seafood as "Assorted Crabs" (8,250 yen, including tax).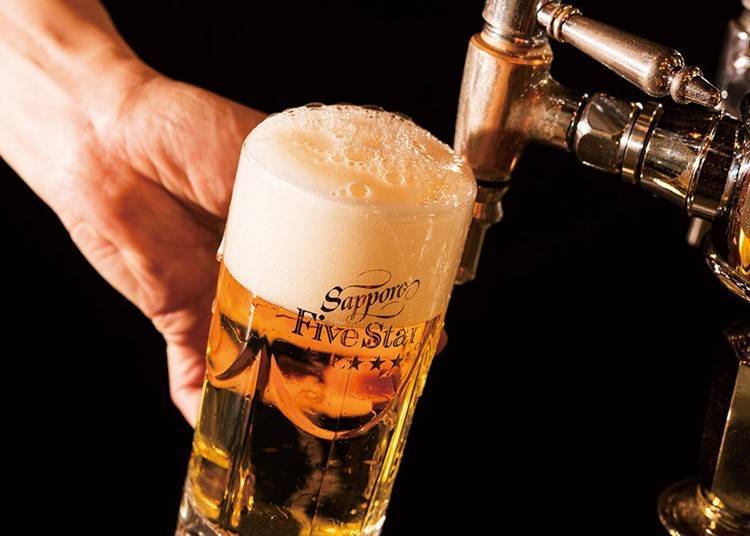 Beer that can only be found here
Sapporo Beer Garden has a variety of fresh Sapporo beers. Among them, "Sapporo Five Star Mug" (748 yen, including tax) is a limited edition draft beer that is only available at Sapporo Beer Garden.

It is characterized by its light sweetness, mellow aroma, and bitter hops that bring it all together. There's an all-you-can-drink course too, so be sure to try some Five Star as the best pairing with Jingisukan.

And don't forget to offer the standard Sapporo Beer toast: simply stating "Sapporo!"
Jingisukan is the signature lamb dish of Japan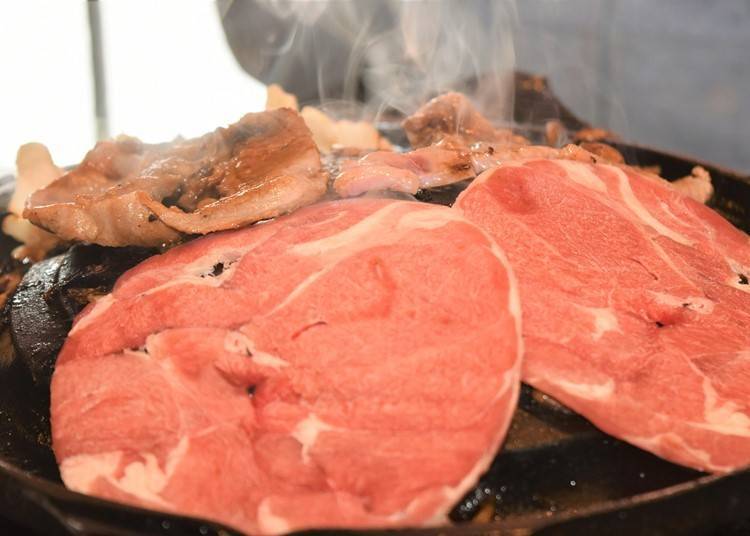 Around the world, various lamb dishes like chops, skewers, or stewed dishes are common. We hope that you enjoy "Jingisukan," a lamb dish that originated in Japan, to your heart's content during your next visit!

Health & Safety Measures
Disinfection, sterilization, and cleaning measures taken - Sanitizer installed - Ventilation measures in place - Staff wear masks, gargle, wash hands regularly, and monitor body temperature - Customers asked to wear masks
サッポロビール園

Address

9-2-10, Kita 7 Johigashi, Higashi-ku, Sapporo 065-0007

・Phone number: 0120-150-550 (Sapporo Beer Garden General Reservation Center)
・Hours: 11:30 a.m. - 9:00 p.m. (last order 8:40 p.m.)
・Closed: December 31st
Text by: Masakazu
*The information in this article is accurate as of February 2022. Please check the official website for the latest information.

English translation by Gabriel Wilkinson

▼ This article is also recommended ▼
*This information is from the time of this article's publication.
*Prices and options mentioned are subject to change.
*Unless stated otherwise, all prices include tax.