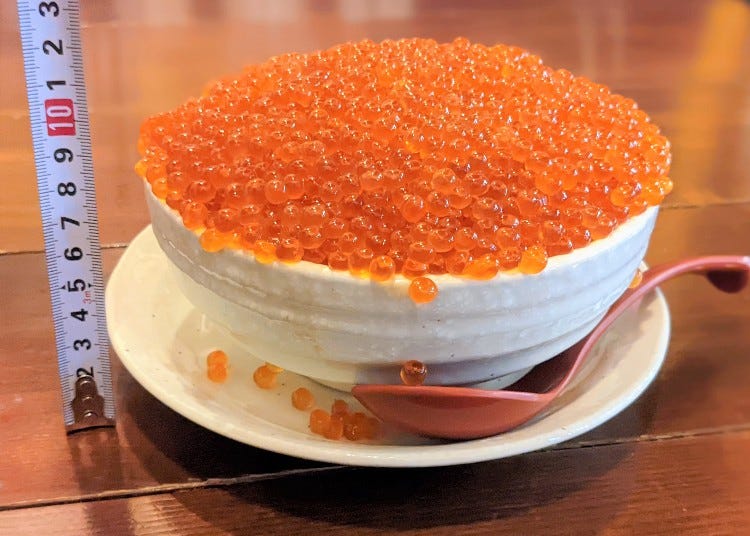 Hokkaido is one of Japan's seafood meccas. Surrounded by the ocean, there are loads of renowned fishing spots gifting seafood markets fresh, high-quality hauls daily.

The cream of the crop is salmon roe, known as "ikura" in Japanese. Glittering like rubies, they burst with juicy, savory flavors that explode in the mouth, making them extremely addictive!

Let's take a look at the irresistible ikura offerings at "Umi Hachikyo Ikura Goten," an esteemed seafood izakaya in Sapporo.
The sights and tastes of the sea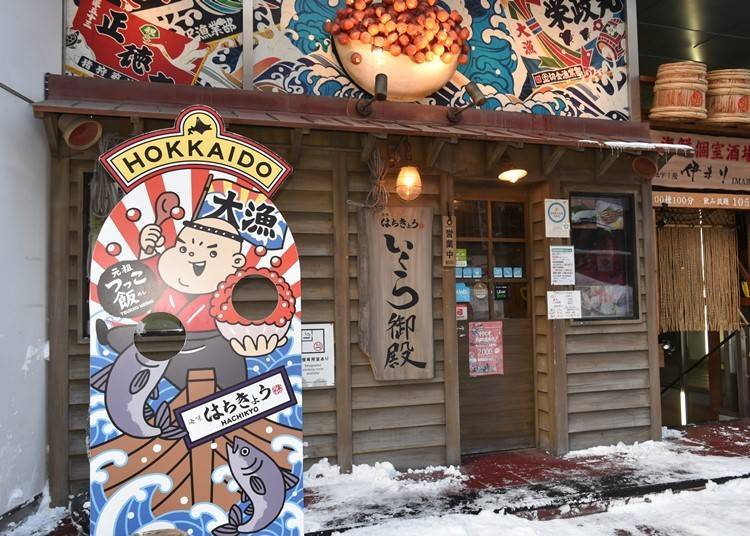 Look for the unmissable "face-in-hole" signboard.
Umi Hachikyo Ikura Goten is a 3-minute walk from Susukino Station on the Subway Namboku Line. Its rustic wooden boards and flamboyant signboard stand out among modern surroundings, making it impossible to miss.

They have also expanded across Sapporo, making it easy to visit even if you're not in Susukino. Including the mezzanine, there are 60 seats, allowing a sizable number of customers to sit and chow down on dishes like sashimi, sushi, kaisendon, roasted fish, and more - all carefully curated from the freshest seafood Hokkaido has to offer.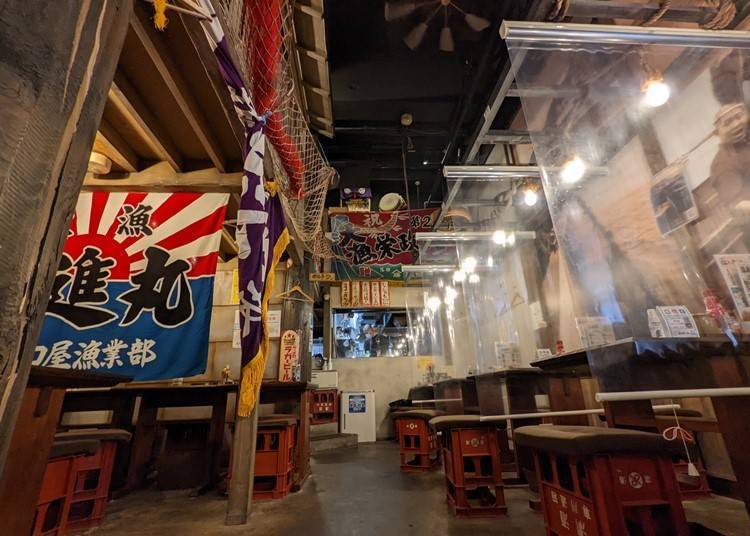 Customers are welcomed with a hearty greeting.
Upon stepping into the restaurant, we were immediately greeted with a hearty, energetic cheer. The name "Hachikyo" comes from the former-fisherman owner's boat, which was called the "Daihachi Kyouei Maru."

The restaurant was designed to resemble a traditional lodge where fishers would rest their bodies. The "tairyo-bata" fisherman's flag (used to announce a good haul) gives the interior a jovial ambiance similar to a bustling port.
Hachikyo's specialty: Tsukko Meshi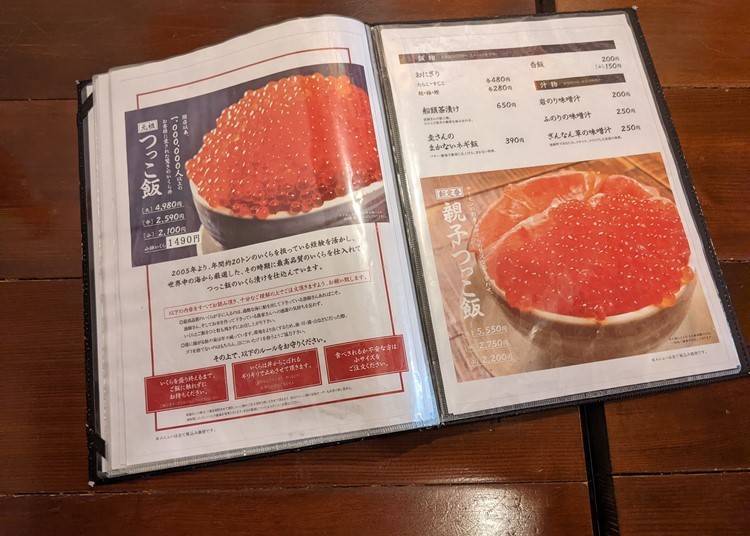 The pictures on the menu make it easy to order.
The pride of the seafood bowl-based menu is the ever-popular Tsukko Meshi (overflowed salmon roe rice bowl). While the menu is Japanese-only, each item has an accompanying image, making it easy to find what you want.

As this local favorite often sells out, we recommend booking in advance. The official website has extensive English and Chinese pages to give you a better idea of their dishes and style.

Interestingly, the word "ikura," which means the eggs of salmon in Japanese, actually comes from the Russian word "икра(ikra)," which refers to all fish eggs.

In Russia, many people will spread ikura on bread to eat, while Japanese people prefer it flavored with soy sauce or mirin and set upon rice. If you've ever been to a sushi restaurant in Japan, you've likely already encountered it.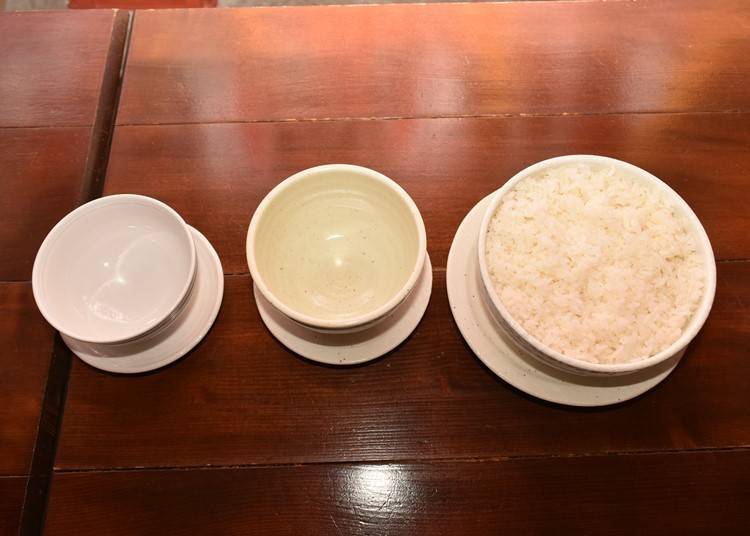 A comparison of the small, medium, and large bowls.
The dish comes in large (4,980 yen), medium (2,690 yen), small (2,290 yen), and the even smaller "small pot" (1,490 yen, all prices including tax).

Generally, the medium is enough for one person, while the large is often shared between a group. For this article, we ordered the large size. We waited patiently for our massive rice-filled bowl to be topped with a serving of fresh salmon roe.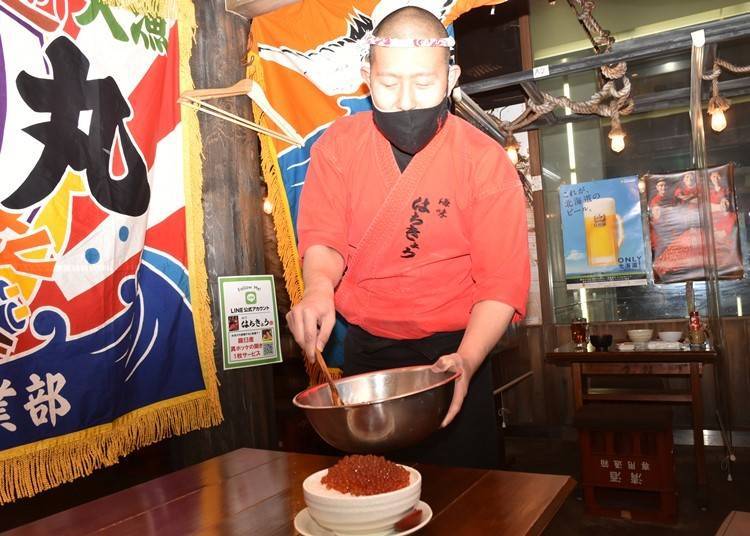 The salmon roe is stacked with shouts of "oisa, oisa!"
The waiter, wearing a towel twisted into a headband in classic Japanese fisherman style, appeared by our table holding a bowl packed with salmon roe - the Tsukko Meshi performance had begun!

Incidentally, the name "Tsukko Meshi" comes from the Japanese phrase "ikura wo tsukkomu," which roughly translates as "to cram in salmon roe."

With a chant of "oisa, oisa!" the waiter quickly buried the rice under a voluminous helping of bouncy salmon roe. And fear not, COVID-19 countermeasures are in full swing, such as the waiter double-masking during the performance and more.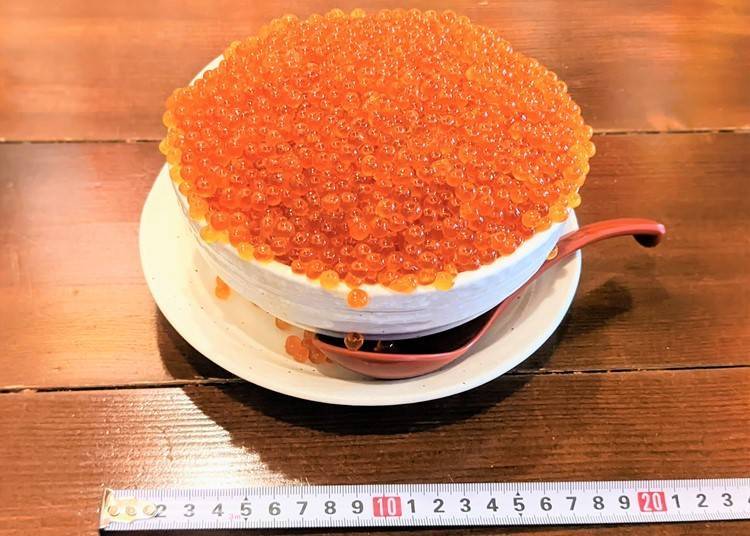 Feels twice as big as a regular bowl!
And just as tall too!
The "Special Mega Tsukko Meshi" came in at approximately 500 grams of salmon roe and 400 grams of rice in a whopping 20-centimeter-wide and 12-centimeter-tall bowl!

You wouldn't be blamed for mistaking it as a hoard of precious jewels with its grand, dazzling appearance. As balls of salmon roe began literally spilling off the sides, we figured it was high time to get stuck in!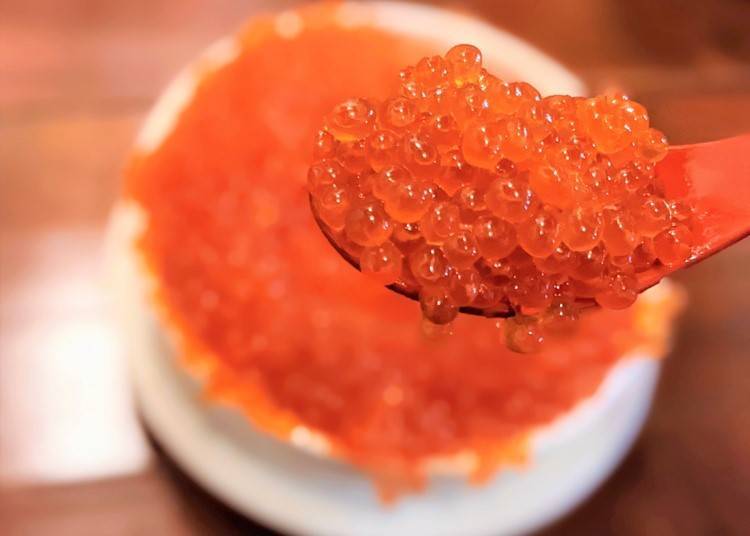 The massive helping of salmon roe.
Scoop after scoop, our spoons were still yet to break through the layer of salmon roe into the white rice hidden beneath.

Hachikyo flavors their precious salmon roe, which is gathered before being spawned, by soaking it in a specially-made "tare" sauce with a soy sauce base for an entire day to draw out the "umami."

The plump balls explode between your teeth, releasing a piquant symphony of flavor incomparable to any other food!
Relish new flavors using the condiments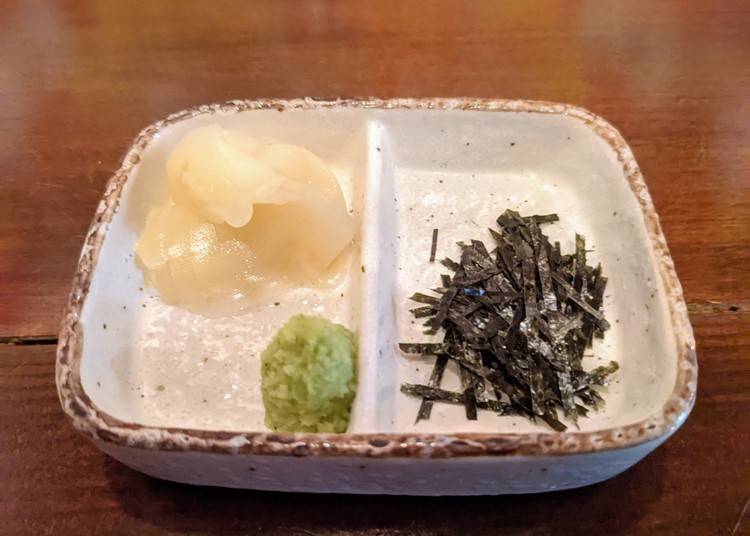 Use the condiments to change the flavor.
If you wish to experiment and alter the flavor a little, feel free to use the provided condiments.

The "nori" seaweed gives off pleasant hints of the seaside, while the wasabi ramps up the intensity with a kick up the nose. Just be careful not to throw in a lot at once - start slowly to appreciate the plethora of potential tastes fully.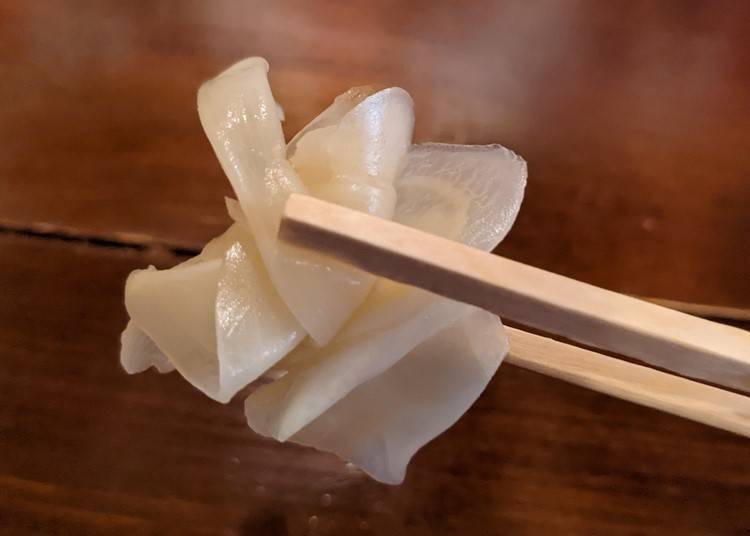 Eat a little sliced ginger for a palate cleanser.
Common at sushi joints, "gari" is thinly-sliced ginger pickled in sweet vinegar. Its name in Japanese comes from the onomatopoeia sound of the crunchy texture, expressed as "gari gari."

It works to cleanse and reset the palate for the next dish while also removing the fishy smell from seafood. Try a little between switching condiments to ensure your taste buds are working at full capacity.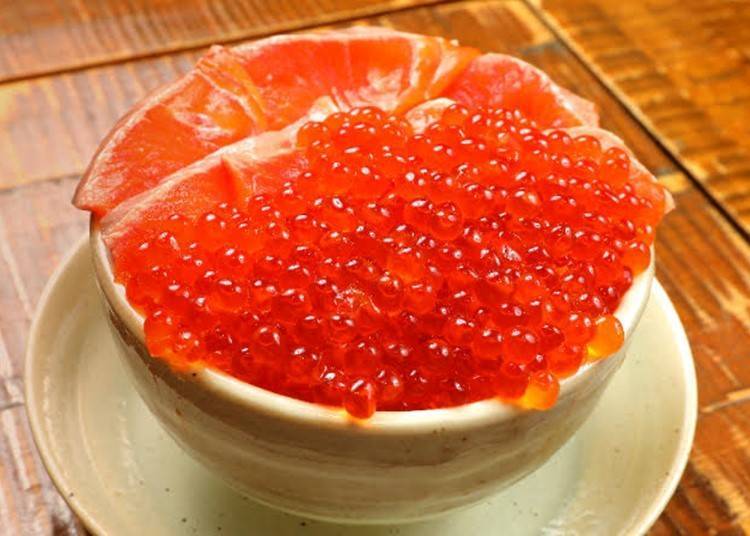 The New-Standard "Oyako Tsukko Meshi."
For those seeking a seafood bowl with a little more variety, we recommend the "Oyako Tsukko Meshi," which boasts a helping of salmon sashimi complementing the roe (large 5,550 yen, medium 2,750 yen, small 2,200 yen, all including tax). Choose the size based on your budget and appetite.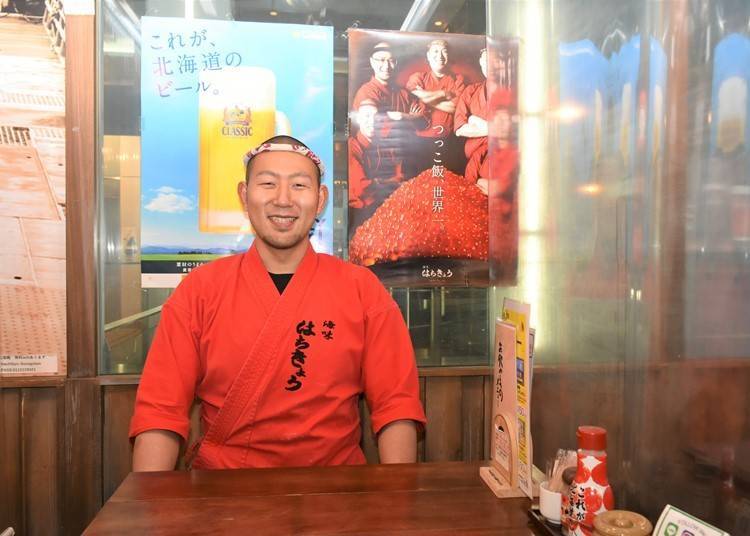 Yuma Goto, the young manager of Umi Hachikyo Ikura Goten.
Umi Hachikyo Ikura Goten strives to ensure top-quality seafood sourced from the ports of Hokkaido is expertly flavored to reach its full potential. The manager of Hachikyo, Yuma Goto, highly recommends visitors try the "hokke" (Okhotsk atka mackerel, from 2,590 yen).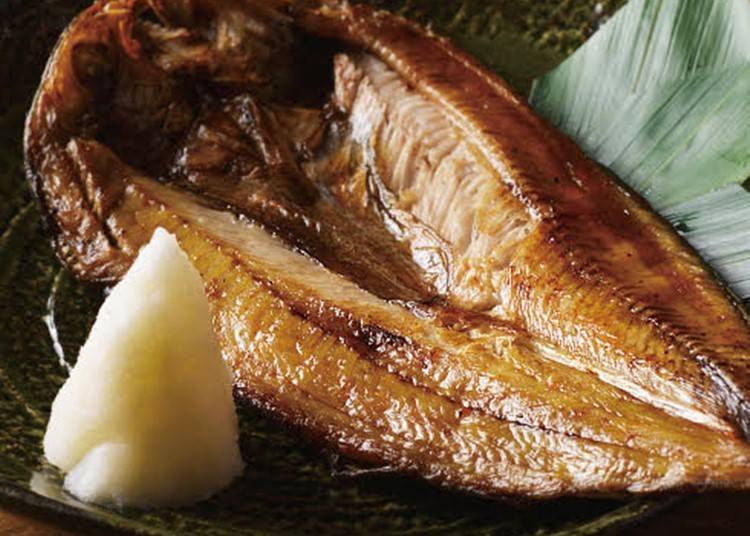 Another classic Hokkaido flavor.
Hokke is one of the most famous local fish of Hokkaido, with over 95% of domestic catches sourced from the region. Hachikyo primarily serves "ma-hokke" caught at Rausu in the Sea of Okhotsk.

With the ocean waters remaining cold all year, the hokke caught here are renowned for their fine, fatty meat. You'd be surprised at just how delicious they become once fried!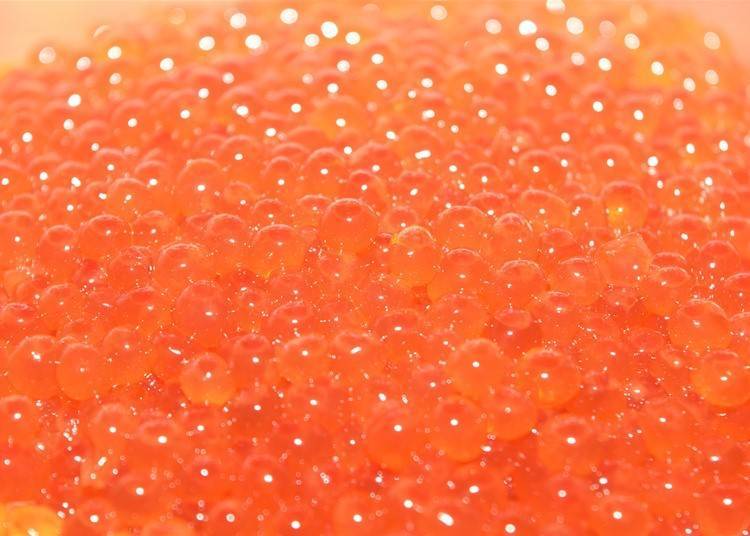 Yuma: "I'd love to make Tsukko Meshi popular overseas, so I'd really appreciate it if international customers could post about our dishes on social media. We'll take good care of all those who come!

"The large size can be enjoyed alone or shared with a group - just promise us you won't leave even a single piece of salmon roe behind and will help us keep the oceans clean by picking up any trash you see.

"Salmon and other aquatic resources are declining by the year, and fishing is always a dangerous job. We hope we can work together to pay our respects to the ocean and fishermen by relishing the bounties they present."

Health & Safety Measures
Cleaning, disinfection, and sterilization of facilities in the building / Sanitizer installed / Implementation of regular ventilation / Staff wear masks, wash hands, disinfect, gargle, and monitor their temperature / Customers are requested to wear masks

*Due to COVID-19, opening hours may change and unscheduled closures may occur. Please confirm the latest with the restaurant before visiting.
海味はちきょう イクラ御殿

Address

1st Floor FA-S3 Building, 3-14-2 Minami Sanjo Nishi, Chuo-ku, Sapporo 060-0063

Phone Number

011-522-8921

Hours: 6:00p.m. - midnight (last order 11:00p.m.)
Closed: Open daily
Text by:Masakazu
*The information presented in this article is accurate as of February 2022. Please confirm the latest details on official websites.

Recommended Articles
*This information is from the time of this article's publication.
*Prices and options mentioned are subject to change.
*Unless stated otherwise, all prices include tax.
Limited time offer: 10% discount coupons available now!