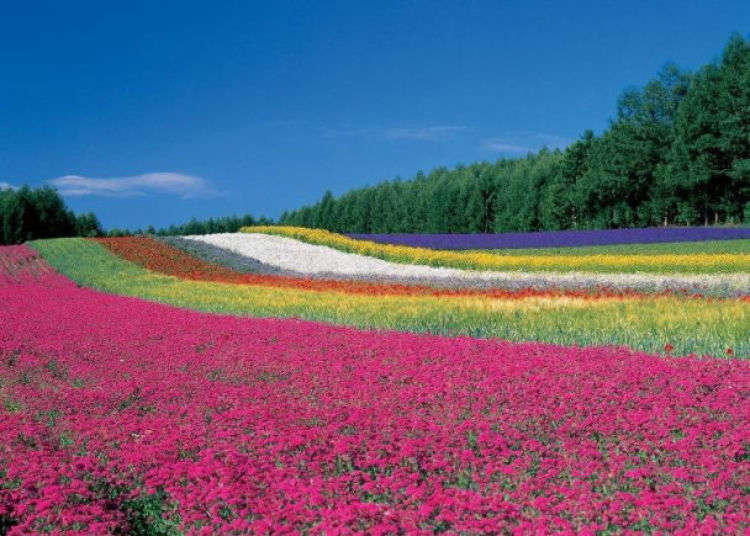 Hokkaido flowers are incredibly breathtaking in summer, the best season! Being so far up north, Hokkaido has long winters, so Hokkaido flowers only bloom around May - much later than in areas in the main island of Honshu.

However, this lateness also results in them blooming back-to-back all summer long, as if they have been impatiently waiting for this moment. Immersed in the lush flora, the cacophony of colors the different flowers boast as they sway gently in the wind make the view a beauty that words alone do no justice.

And there is another important point about Hokkaido flowers. For one, the flower fields occupy quite a large area, and Hokkaido has many of these with flowers blooming in the hundreds.

Here, we will be recommending some spots that are a must-see between June and August that boast a view of the flowers worthy of a masterpiece. What better place to experience the majesty of life?
Best 5 flower fields in central Hokkaido
1. Takino Suzuran Hillside Park: Being greeted by a sea of lovely flowers!
The Takino Suzuran Hillside Park, located within the Sapporo City area, is popular with locals and tourists alike. Roughly 400 hectares large, the nature-abundant park grounds are so big it includes a forest and streams.

The park interior has about 240,000 bulbs of 128 different kinds of tulips and 50,000 lilies located in various places around the park, the perfect eye candy for when you are taking a walk. Annually they hold a "Tulip-and-Lily Fest" in around May to June as well.

(May 28, 2021: Note that park is temporarily closed due to Covid-19.)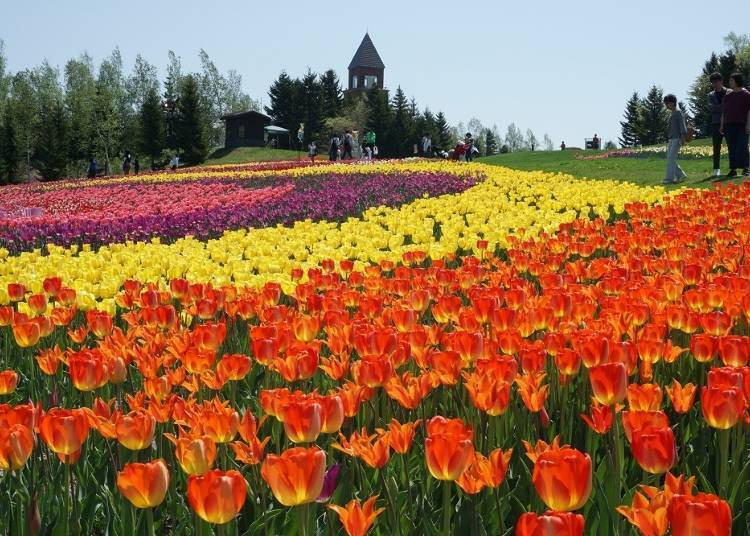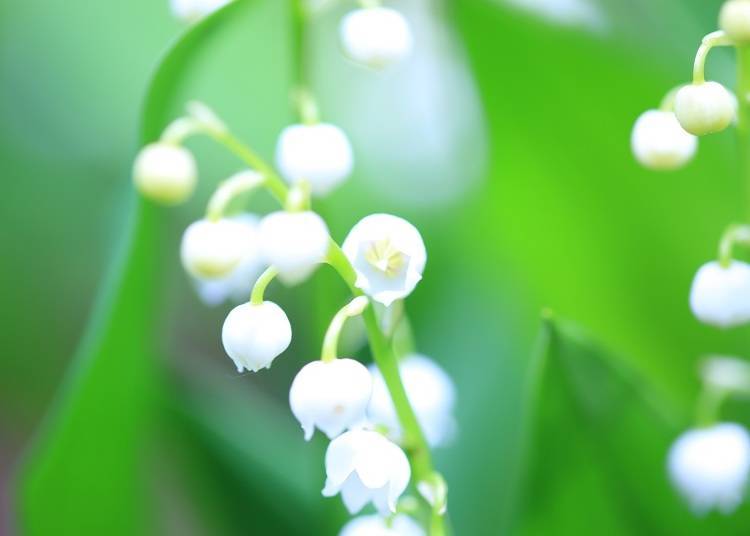 Other flowers can be found in Takino Suzuran Hillside Park as well. Blue flowers such as Allium, Nepeta, and Meconopsis are nicknamed "Takino Blue" in Takino Park. This enjoyable sight can only be seen in late June.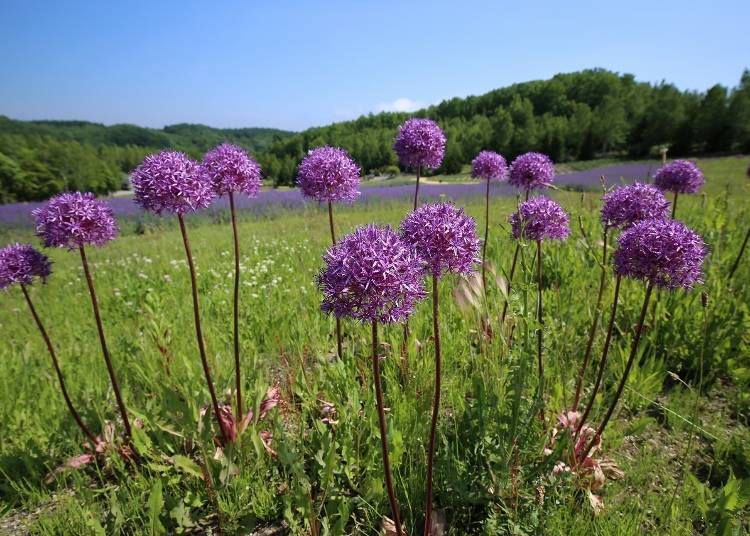 Alliums. The balls you see in the picture are made of 1500 tiny flowers.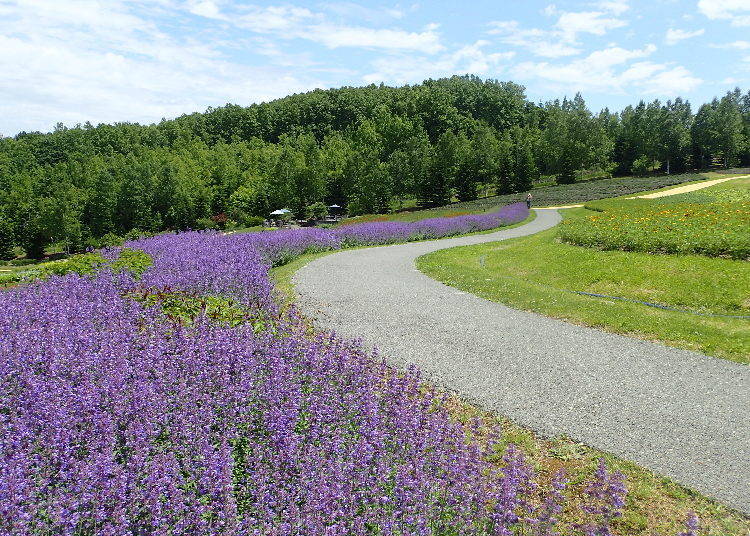 Nepeta. These flowers remain in bloom much longer than other flowers, and the best time to catch them is during the tail end of June.
Address

247, Takino, Minami-ku, Sapporo-shi, Hokkaido, 005-0862
View Map

Nearest Station

Makomanai Station (Namboku Line)
35 minutes by bus


Phone Number

011-592-3333
2. Yuni Garden: Ever-changing seasonal flowers and verdant greenery abound!
In the town of Yuni, a 1-hour drive away from Sapporo, you will find the eponymous Yuni Garden, a soothing garden designed with an English garden in mind.

The 14 hectare-large park grounds have 15 named checkpoints, such as Kochia Hill, Rose Garden, and Hydrangea Alley. There are also spots centered on herbs, where you can see a wide variety of plants.

(May 28, 2021: Note that park is temporarily closed due to Covid-19.)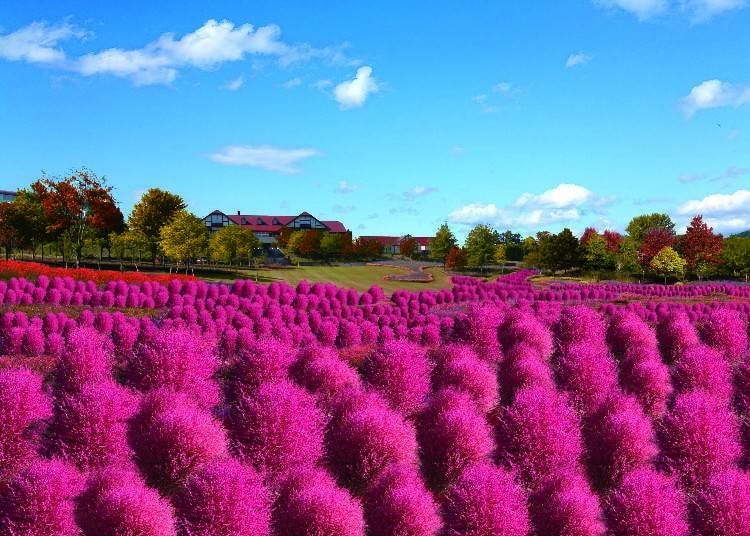 Hill of Kochia (*This is a stock image)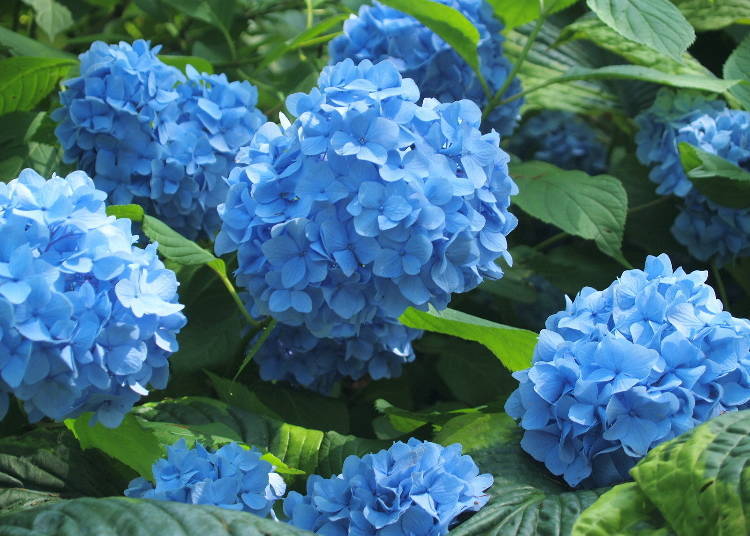 Near the end of July, about 400 hydrangeas dot Yuni Garden beautifully. It is also recommended to take a round-trip bus for a leisurely tour around the park.
ゆにガーデン

Address

Fushimi, Yubari Gun Yuni Cho, Hokkaido, 069-1218

Phone Number

0123-82-2001

Hours: 10:00 - 16:00 (For April and October 5-18); until 17:00 (Between June 1 and August 31); until 16:00 (Between May and October 4)
Entry fee: 400 yen for 13 y/o and above, free entry for those younger (for April and between October 5 to October 18)
700 yen for 13 y/o and above, free entry for those younger (between May to October 4)
Regular holidays: April 1-19, November 11 to December 22 (Open on April 19 and December 22 if Sundays)
Open daily throughout the operation period
3. Farm Tomita: Fragrant flowers and rich history at Hokkaido's famous lavender fields
Furano is a popular tourist destination for its lavender fields. Among these, Farm Tomita has one of the larger ones with a cultivation area of ​​5 hectares. The lavender usually blooms from late June to early August.
Image Source: Farm Tomita
Farm Tomita's lavender fields are the oldest in Japan. Furano lavender became famous nationwide after being featured in a picture of a Japanese National Railways (now JR) calendar. On top of the lavender fields, the "Irodori field" where colorful flowers such as Baby's-breath, poppy, and the Sweet William catchfly are arranged neatly is also a must-see! The different lines of colors are reminiscent of a rainbow.

The establishment also has shops and cafes, selling items like lavender-flavored soft serves, potpourri, dried flowers, and other fashionable goods.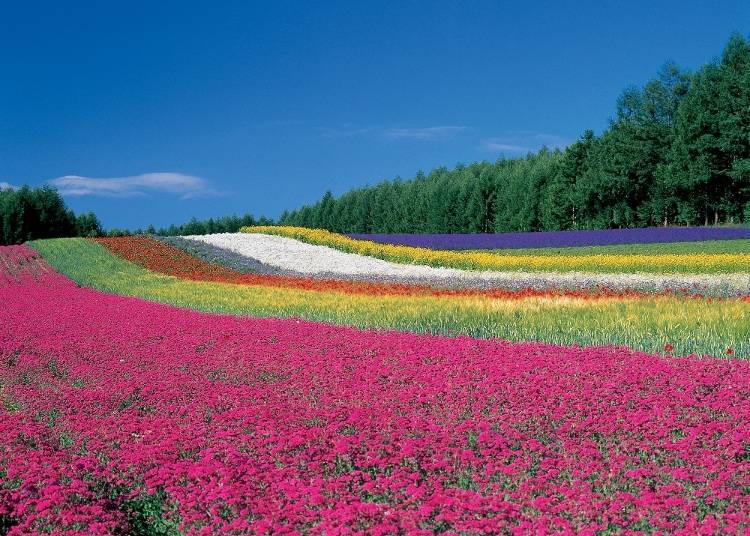 The vividly colored flowers lined up in the "Irodori Field" (Source: Farm Tomita)
Address

15, Kisenkita, Nakafurano-cho, Hokkaido, 071-0704
View Map

Nearest Station

Naka-Furano Station (Furano Line)


Phone Number

0167-39-3939
4. Hokuseiyama Lavender Garden: Magnificent views of Hokkaido flowers while 'strolling' in midair!
One of the best things about the Hokuseiyama Lavender Garden is that you can enjoy the flower garden sitting on the slope while riding the one-person chair lift (which is used as a ski lift in winter).

You can enjoy a variety of flowers such as four species of lavender, sunflowers, marigolds, and salvia. At the same time, you ride to the top of Mt. Hokuseiyama, a mountain that is also the symbol of Nakafurano Town.

The observatory at the mountain top also boasts a panoramic view of the flower fields, Tokachidake Mountain Range, and the Furano Basin.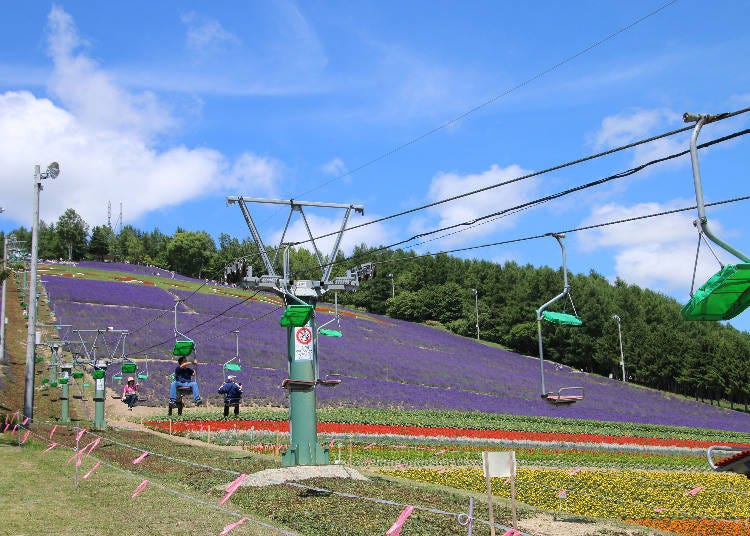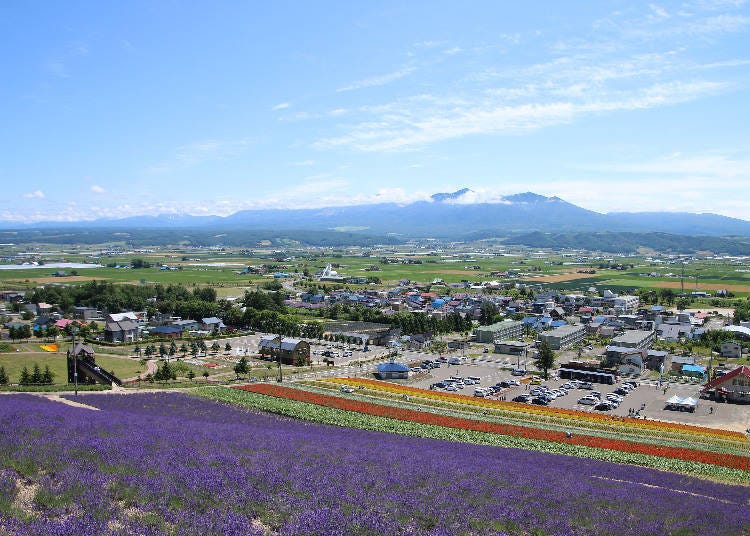 Hokuseiyama Lavender Garden

北星山ラベンダー園

Address

Miyamachi, Sorachi Gun Nakafurano Cho, Hokkaido, 071-0714

Lift Operation Hours: 9:00 - 18:00
Lift Fees: Free for kids aged 6 and below, 200 yen for kids aged between 7 and 15, 400 yen for anyone aged 16 and above/
Opened daily during the operating period
5. Otaru Kihankan (The Old Aoyama Villa): Large flowers brilliantly bringing color to a Japanese-style garden
The Old Aoyama Villa is a historic building in Hokkaido and has been designated as a national tangible cultural property. It is the Aoyama family's villa, a family that prospered with herring fishing during the Meiji era to the Taisho era. Presently it serves as a tourist attraction of Otaru that is also known as "Otaru Kihinkan."

The mansion, built over a span of 6 and a half years, is luxurious both inside and out, and you can see how the place was a symbol of prosperity in the olden days. It is also no surprise that the garden in the courtyard is also a sight for sore eyes, with various flowering trees blooming every season, such as cherry blossoms in spring and hydrangea in summer.

(May 28, 2021: Note that park is temporarily closed due to Covid-19.)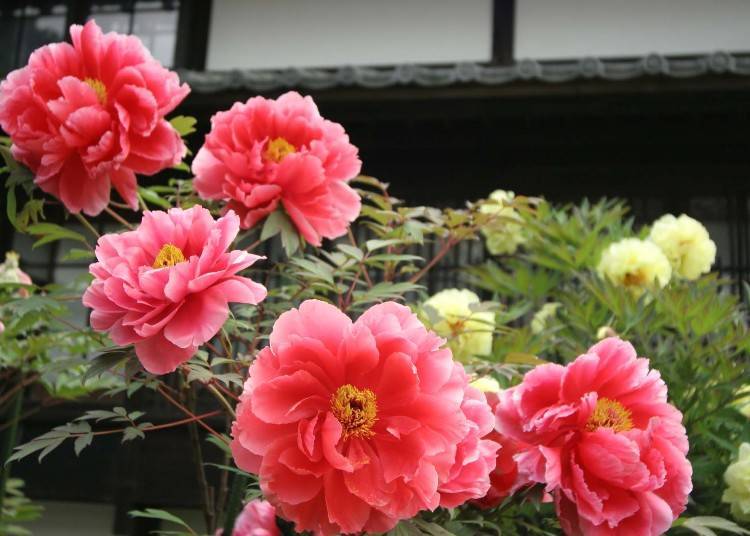 Approximately 400 peonies and 250 Chinese peonies will be in full bloom at the "Peony Garden," which will be held from May 21.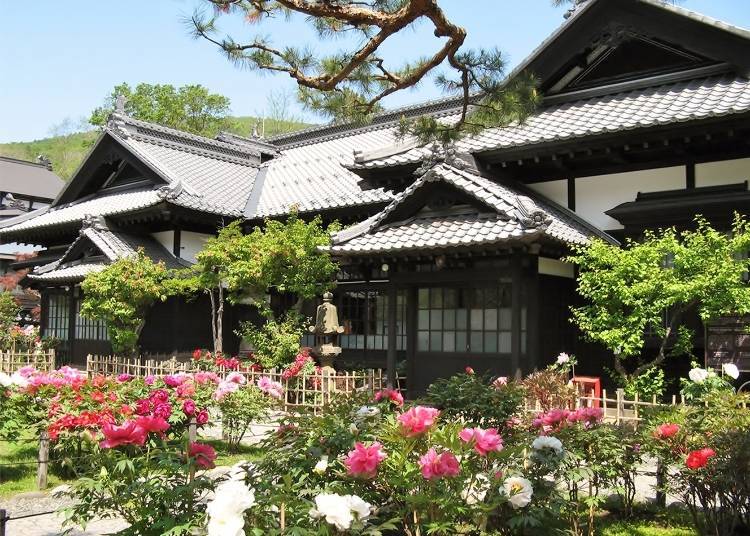 Otaru Kihankan (The Old Aoyama Villa)

小樽貴賓館

Address

Shukutsu, Otaru Shi, Hokkaido, 047-0047

Phone Number

0134-24-0024

Hours: Old Aoyama Villa - 9:00 - 17:00 (for April to October), 9:00 - 16:00 (for November to March), 9:00 - 15:00 (for December 29 to December 31)
Entry fee: Old Aoyama Villa - 1,100 yen (for 13 y/o and above), 550 yen (for 12 y/o and younger)
Closed between 1st to January 7
Best flower gardens in the Northern Hokkaido area!
6. Shibazakura Takinoue Park: Be greeted by a sweeping carpet of pink moss phlox
The town of Takinoue in the northern part of Hokkaido is home to the Shibazakura Takinoue Park, one of Japan's most extensive. The shibazakura moss phlox started with one mandarin orange box worth of seedlings, which has been in use for over 60 years and now blooms over a vast area of ​​10 hectares.
The moss phlox blooms from early May to early June, and the best time to see it is around late May. Helicopter flights can also be applied for a limited time, where you can enjoy a whole new view from the sky.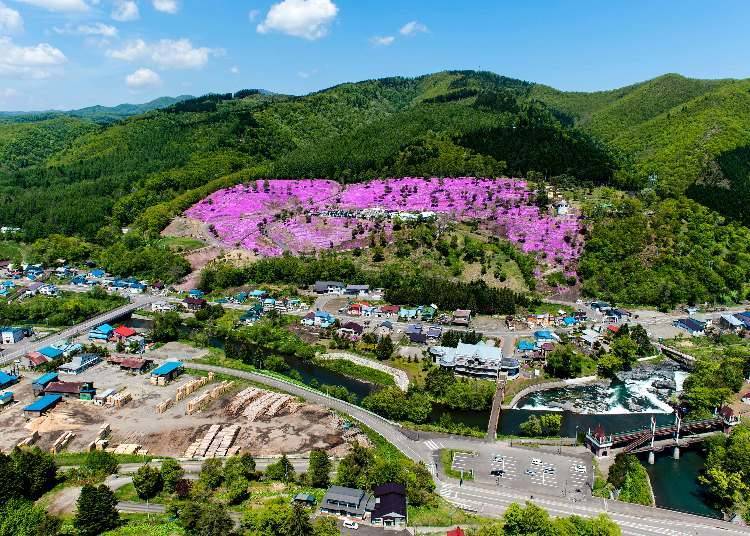 The view from atop the sky, the sheer enormity hits even harder with a bird's eye view
Address

Motomachi, Takinoue-cho, Monbetsu-gun, Hokkaido, 099-5604
View Map

Nearest Station

Asahikawa Station (Soya Main Line / Hakodate Main Line / Furano Line)


Phone Number

0158-29-2730
7. Hokuryu Sunflower Village: An endless field of sunflowers stretching to the horizon
The Hokuryu Sunflower Village is another large-scale flower garden located in the town of Hokuryu, which holds the moniker "the town of sunflowers." From the middle of July to the end of August, over 2 million sunflowers are in full bloom over the park's 23 hectare-large area.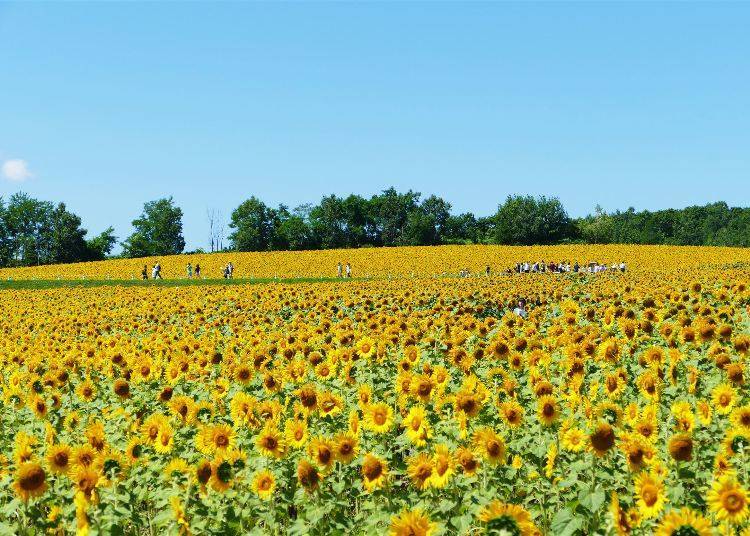 In addition to a corner that collects sunflowers from around the world, such as red and orange, the sunflower maze is also a popular attraction. As a means of transportation, the "Himawari-go" sightseeing car and the "Sunflower bicycle" rental bicycle services are also available. The "Hokuryu Sunflower Festival" will also be held when the sunflowers are in full bloom.
Hokuryu Sunflower Village

北竜町ひまわりの里

Address

Itaya, Uryu Gun Hokuryu Cho, Hokkaido, 078-2511

Phone Number

0164-34-2111

Hours: Open 24 hours
Entry fee: Free
Open daily during the operating period
Finally: the two best flower gardens in the Eastern Hokkaido area!
8. Koshimizu Flower Garden: Where you can appreciate the naturally grown rare wild plants
The Koshimizu Flower Garden, which has been selected as a heritage site of Hokkaido, is located in a narrow 275-hectare sand dune between the Sea of ​​Okhotsk and Lake Tofutsu. Approximately 200 species of flowers bloom throughout the season, and various wildflowers such as the black lily, Ezo daylily, Ezo Squash Lily are raised here.
The flowers here bloom one after another from May to October, and you can enjoy about 40 kinds of flowers at peak blooming from mid-June to late July. From the top of the relatively modest sand dunes, you can see the natural yellow and orange wildflowers as well as Mount Shari, Shiretoko Mountains, and Mount Mokoto. You can rent a bicycle at the information center (for a price), so cycling is recommended.
Address

Hamakoshimizu, Koshimizu-cho, Shari-gun, Hokkaido, 099-3452
View Map

Nearest Station

Genseikaen Station (Senmo Main Line)


Phone Number

0152-63-4187
9. Kiritappu Wetland: Experience the nature of Hokkaido from plants to wild birds
Hamanaka Town, home to approximately 800 kinds of flowers. The Kiritappu Marshland, which spreads out in the center of this town, is one of the largest marshlands in Japan, with an area of ​​3,168 hectares. It was registered as a Ramsar site under the Ramsar Convention in 1993 and as a Hokkaido Heritage in 2001 due to the abundance of nature it preserves.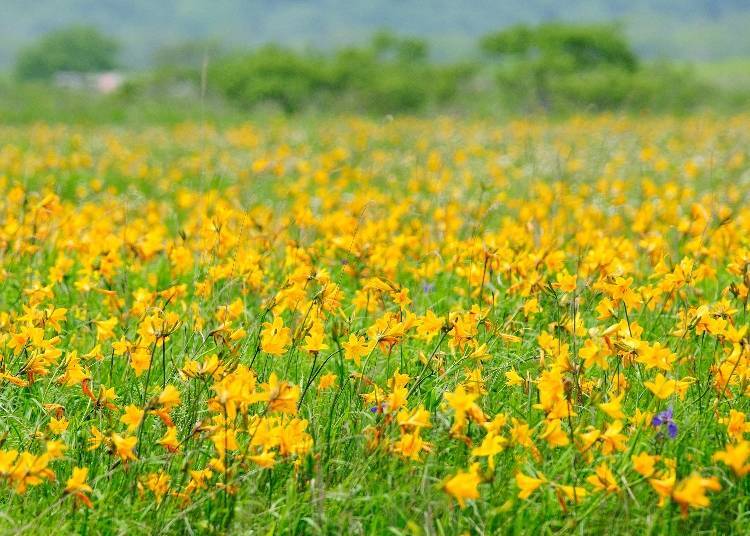 A cluster of Ezo-kanzo, a kind of licorice plant
Another name for the Kiritappu Marshland is the "Flowering Wetland," due to the variety of flowers that bloom here. From late June to mid-July, various flowers such as the cotton vetch, the Ezo-kanzo, and the iris setosa are in full bloom.

Moreover, what makes the Kiritappu Marshland so amazing is that it is home to crowberries and bog cranberry, which generally only grow in high-altitude mountains. It is a valuable place where alpine plants can be found without climbing up mountains.

You can also see about 300 types of wild birds, such as the whooper swan, Steller's sea eagle, and a protected species, the Japanese crane. An excellent spot for those who love nature.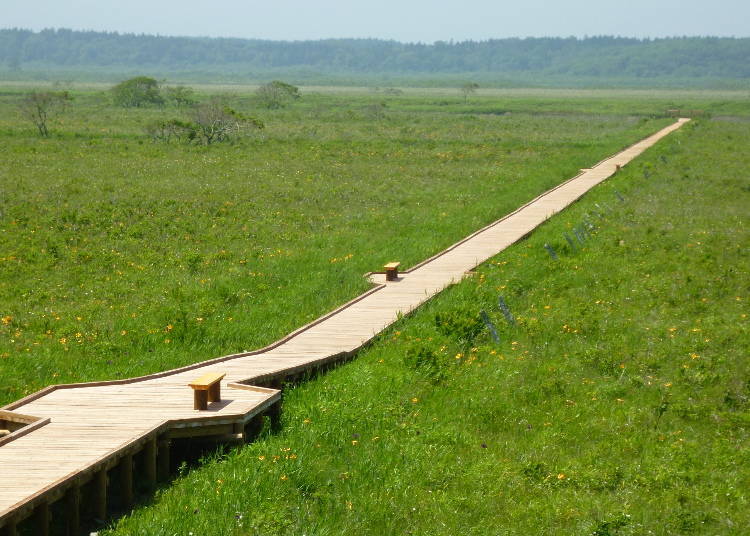 A wooden bridge in the Kiritappu Marshland
Closest facility:
Kiritappu Marshland Center
Address:
20 Yobansawa, Hamanaka Cho, Akkeshi-gun, Hokkaido, 088-1304
Contact No.: 0153-65-2779
Hours: 9:00 - 17:00
Entry fee: Free
Closed on Tuesday (from October to April)
Closed during Winter (from 2nd to January 31)
Open Daily (from May to September)
*Please contact the center in advance if you have any inquiries as it may be temporarily closed.
霧多布湿原

Address

Kiritappushitsugen, Akkeshi Gun Hamanaka Cho, Hokkaido, 088-1561
Only in Hokkaido is it possible to enjoy a wide variety of flowers on this large of a scale, from Hokkaido flowers grown with tender care by human hands to wildflowers that live in the fields. Which heart wouldn't be healed from the sight of a sea of flowers stretching to the horizon?

Text by: Mina no Kotobasha

*The above article is based on information from May 2020
*This information is from the time of this article's publication.
*Prices and options mentioned are subject to change.
*Unless stated otherwise, all prices include tax.