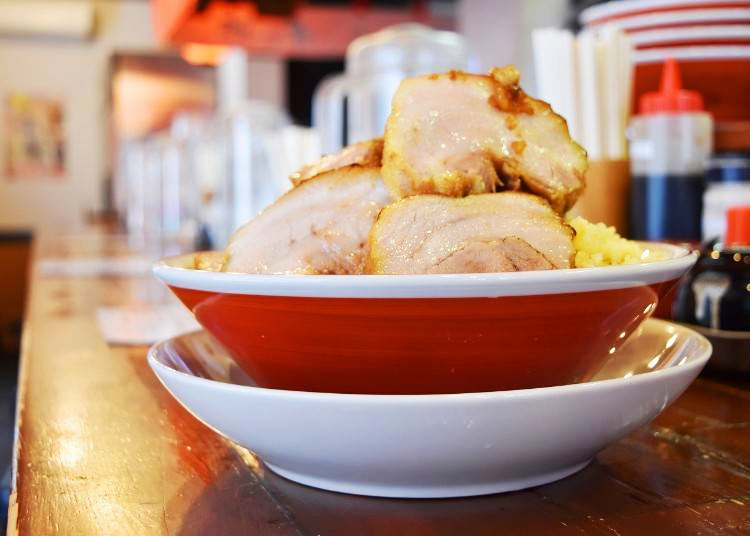 For the past few years, "dekamori" ("huge serving") ramen has been all the rage among ramen lovers. Originating at Tokyo's Ramen Jiro, it's also known as "Jiro Series" and is available at ramen shops all across Japan – like Ramen Koichiro in Sapporo.
Supersize Us! Filling Dekamori Ramen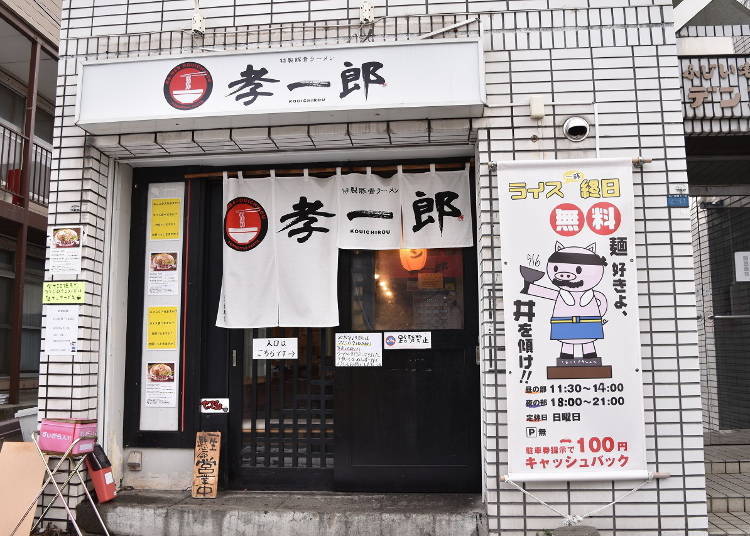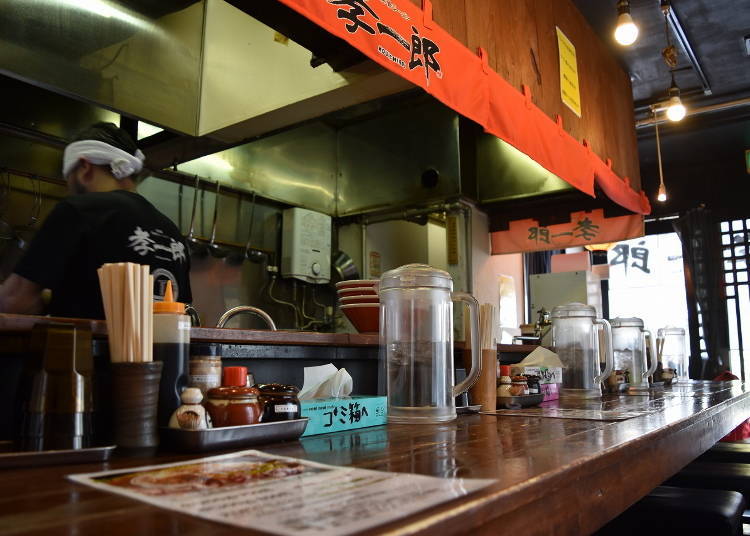 About a 3-minute walk from Kitanijuyojo Station (about 5 minutes from Sapporo Station on the Namboku subway line), Ramen Koichiro is a popular ramen shop near Hokkaido University. "Kojiro" (small 750 yen, medium 850 yen, large 980 yen), full of thick noodles topped with bean sprouts, is often ordered by students and office workers with hearty appetites.

Koichiro originally opened Ramen Koichiro at a different site and sold non-dekamori ramen, but when the shop moved to its current location the Jiro Series Kojiro became the menu's main attraction.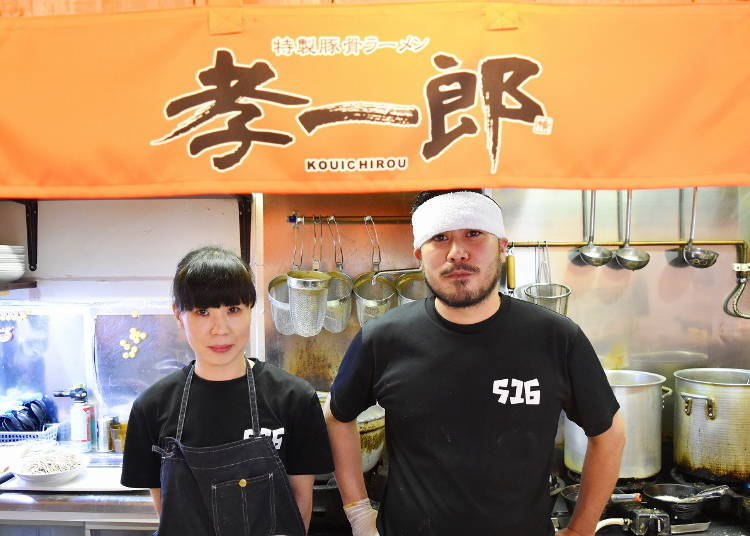 Koichiro's talented owner entered the ramen industry at the age of sixteen, training at famous shops nationwide, and has spent more than half his life making ramen. He "likes ramen more than anyone, and thinks about it all day long." He runs the shop with his wife who says, "Not just ramen; sometimes he pays attention to me too!"
Passionately Prepared Ramen
Upon entering the shop, patrons first buy a meal ticket from the ticket machine and then sit down. The shop has a familiar ramen shop-like atmosphere with its decorative curtains and lanterns, and with only nine counter seats, it fills up quickly. Most customers are locals, but word of mouth sometimes brings tourists to the shop, despite it not often being advertised.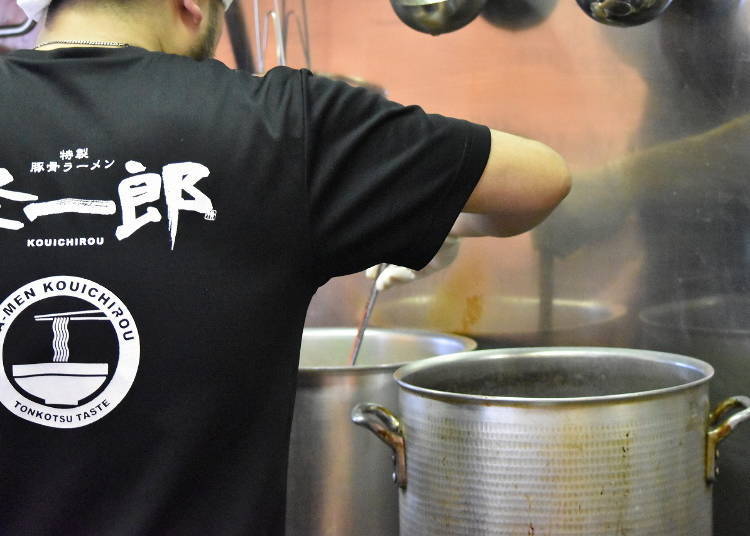 Koichiro's dishes use pork bone soup stock, called tonkotsu. "Hakodate Ramen" and "Hakata Ramen" both count pork bones among their ingredients, but differ in taste and appearance with the latter having a cloudier broth. The different flavor is the result of which parts of the bone are used and how they are cooked. Koichiro's chef says, "When I was training in Hakata, I learned the importance of how the bones are prepared." He pays close attention to the level of heat applied and adjusts the sauce mixture until the taste is just right. Ultimately, he's the judge of when the soup is ready to be served.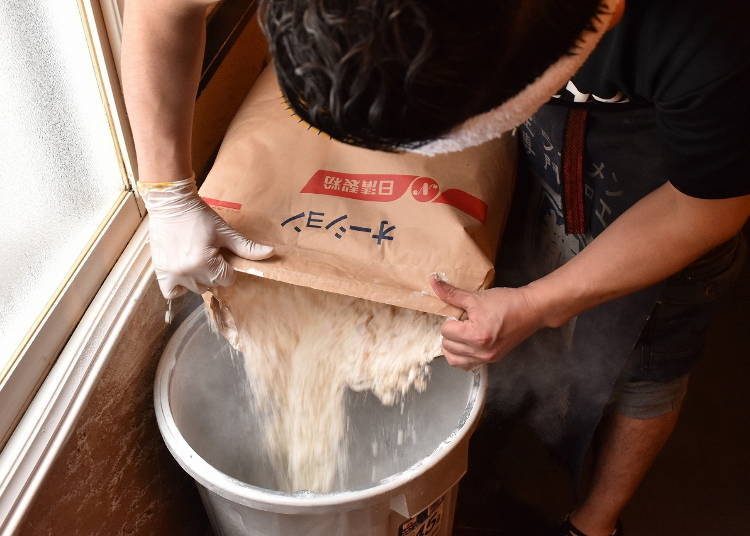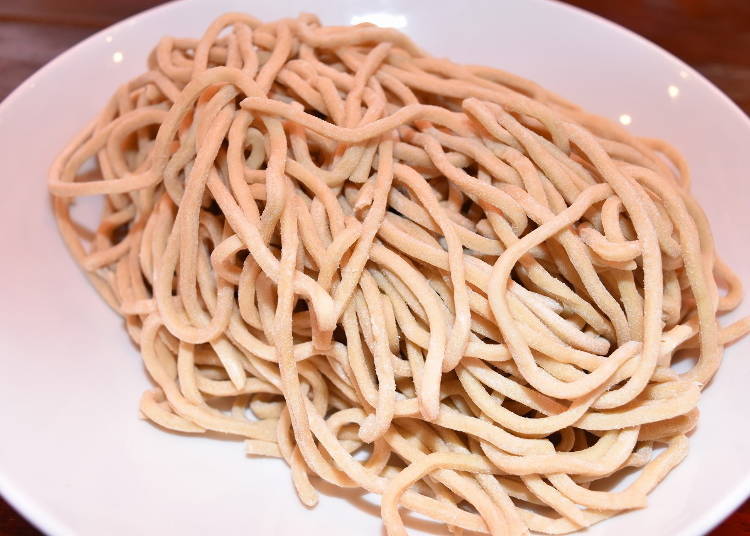 Kojiro noodles are made using a type of flour called "oshon." Primarily used for making bread, it's slightly dark and has a sweet flavor. Sapporo ramen is usually smooth and thick, while oshon noodles are chewy like thickly sliced buckwheat noodles.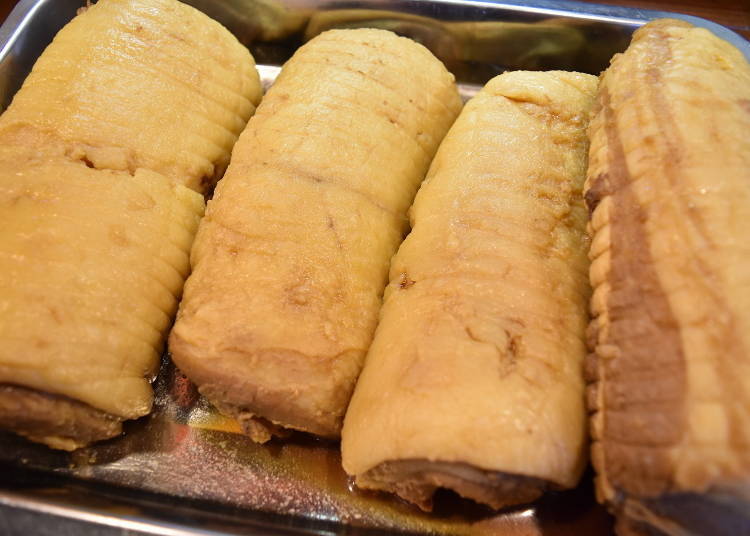 The pork belly used for chashu (braised pork) is boiled for 4 to 5 hours to give it a softness and umami that will melt in your mouth. Large pieces of pork are cut into 1 cm-thick slices and then added to the ramen bowl. The small Kojiro ramen (200 grams) has the least amount of noodles and only three slices of pork, so you might think it's easy to finish, but what about the others..?
What's the Huge Ramen Like?!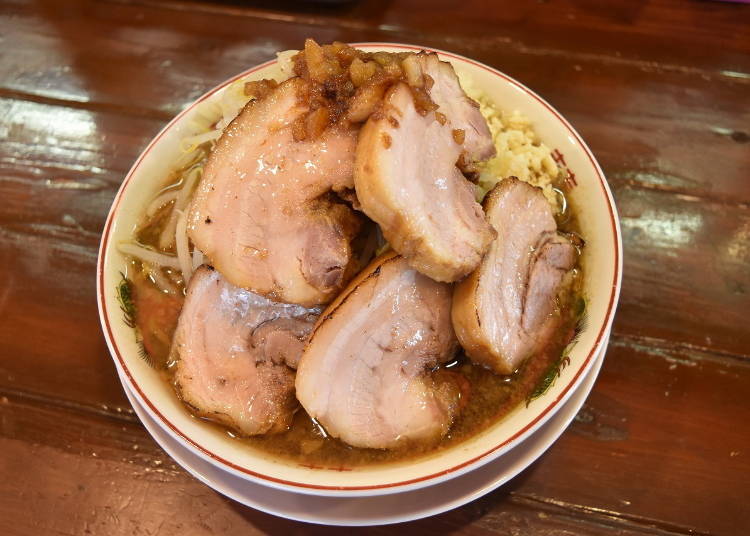 What's brought to the counter is a "mountain of meat" and you almost can't see the noodles or sprouts. The scent of garlic rises from the bowl, and you'll wonder where to begin.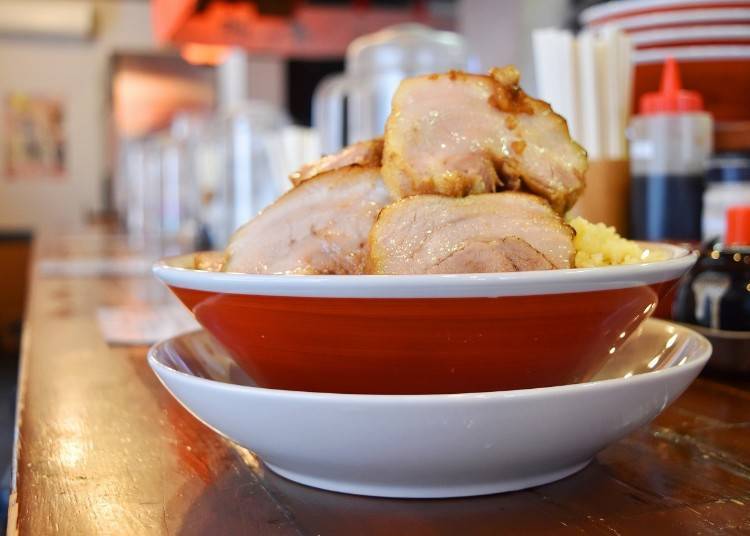 Even viewed from the side, the dish is impressive. The medium (300 g) and large (500 g) portions are even bigger, but many local students seem to have endless appetites and little difficulty consuming them.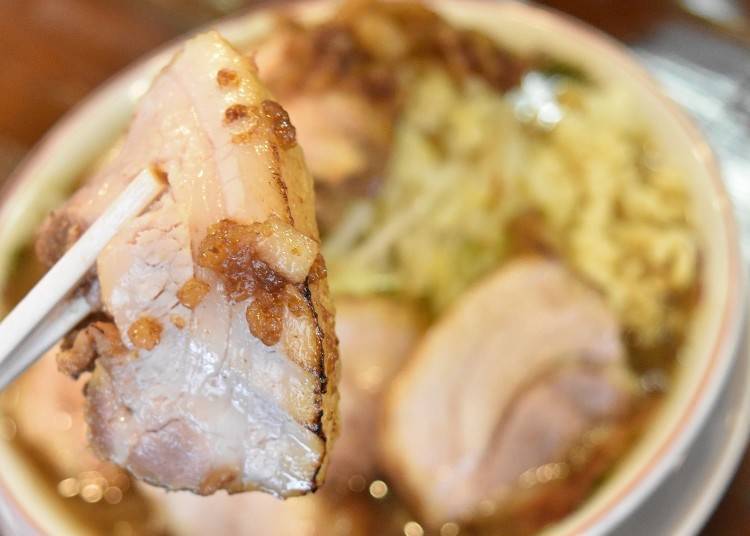 The chashu is so soft that it separates when you pick it up with chopsticks. Chashu is considered the most labor-intensive and expensive ramen ingredients, but Koichiro offers an additional 3 pieces for only for 300 yen, which is easy on your wallet and goes great with beer.
The sauce is a blend of three types of soy sauce meticulously and consistently prepared no matter the type of broth it's paired with. Combined with the noodles and the soup, a truly unique taste is created. Again, it's a taste the shop owner discovered during his training days and says "I thought it was delicious and I want you to experience it too." Kojiro isn't just a big dish, it's a meal that's thoughtfully prepared for each customer.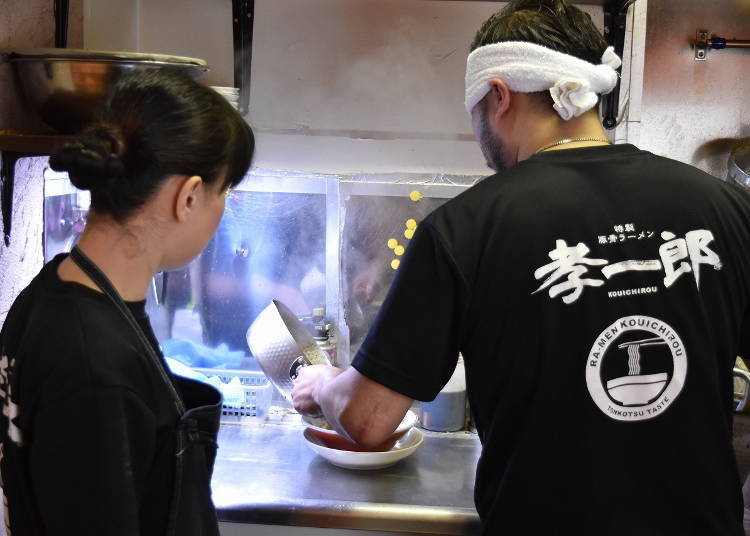 Checked not only for volume, but for taste too.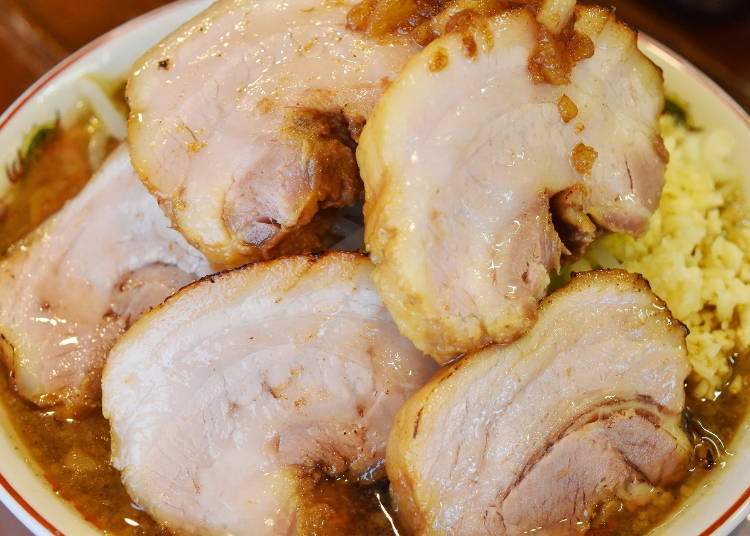 The popularity of Kojiro has begun to spread among overseas tourists, who will often place orders by showing pictures of the dish on their smartphones. The owner responds in English as much as possible, confirming "small size," "big size," "rice service," etc.

The ramen ticket vending machine at the store bears a sign that reads "Please eat as much as you can" and free rice (rice service) is offered, but pace yourself. How much ramen you can handle might not be guaranteed, but the superb taste of Ramen Koichiro certainly is!
ラーメン孝一郎

Address

4-2-41, Kita 21-jonishi, Kita-ku, Sapporo, 001-0021

Phone Number

011-792-8424

Hours: 11:30 - 14:00, 17:30 - 21:00; closed Sundays
Text by:Masakazu
*This information is from the time of this article's publication.
*Prices and options mentioned are subject to change.
*Unless stated otherwise, all prices include tax.
Limited time offer: 10% discount coupons available now!