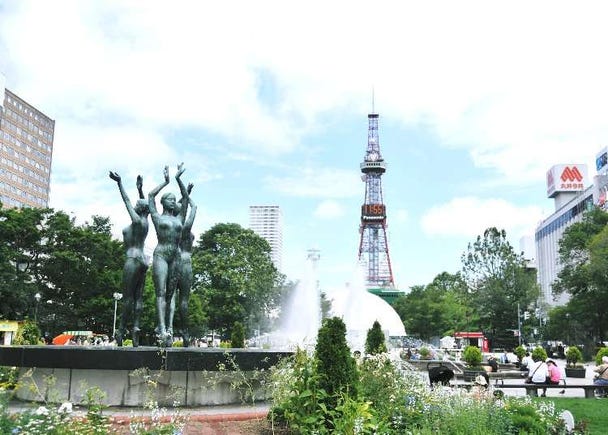 Enjoy some sightseeing after the Hokkaido Marathon, the island's largest marathon.

Summer in Sapporo has a refreshing average temperature of 26 degrees Celsius, and travelers flock to Hokkaido as a kind of summer retreat. It's also a long-awaited season for sports enthusiasts, with clear, pleasant winds and the arrival of marathon season. After watching or participating in a race, you'll surely want to do some sightseeing.

Here are the ten top spots around the Hokkaido Marathon route ranging from famous sites to lesser-known places.
1. Sweets at Ishiya Café (Near the Hokkaido Marathon Starting Line)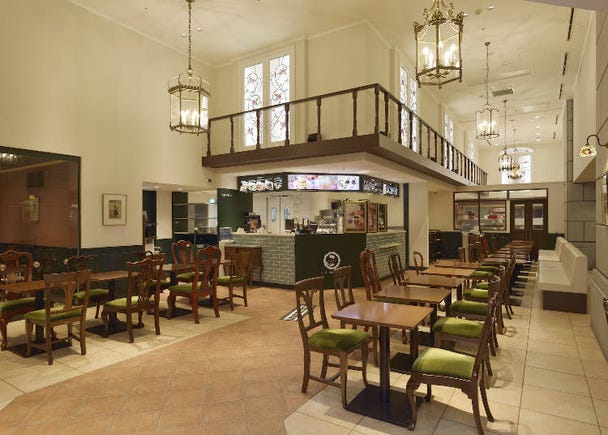 Near Odori Park 4-chome, which is the Hokkaido Marathon starting point, you'll find Ishiya's "Ishiya Café Sapporo Odori Nishi 4 Bldg." Breakfast service begins at 8:00 and includes popular Shiroi Koibito soft serve ice cream (350 yen including tax), hotcakes, and sandwiches.

When you order a coffee, you'll also receive one Shiroi Koibito cookie, so you can relax while waiting for the runners to return. The café is located on the second basement floor, so you can stay cool and comfortable.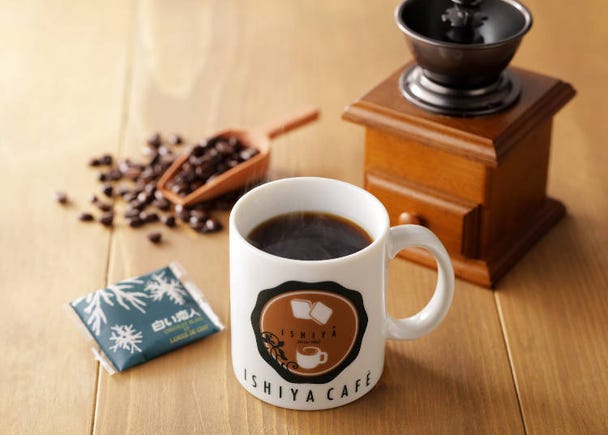 イシヤカフェ

Address

Sapporo Odori Nishi 4 Bldg. 2F, 6-1 Odori 4-chome, Chuo-ku, Sapporo 060-0042

Phone Number

011-231-1487

Hours: 8:00 - 21:00 (last order 20:30), closed New Year's Day
*Information from February, 2020
2. Gorgeous Sunken Garden (Near the Starting Area)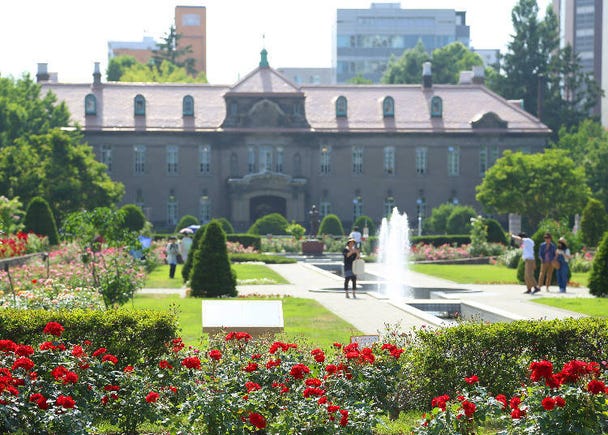 Odori Park runs east to west in the center of Sapporo, and if you walk to Nisi 12-chome you'll find the "Sunken Garden."

This western-style garden is highlighted by 55 types of roses surrounding a small central canal. Just across the street is the Sapporo City Museum, built in 1926 using locally quarried stone and adding a historical backdrop to the romantic garden.
Address

13, Odorinishi, Chuo-ku, Sapporo-shi, Hokkaido, 060-0042
View Map

Nearest Station

Nishi juitchome Station (Tozai Line)
5 minutes on foot


Phone Number

011-251-0731
3. Sapporo TV Tower (Near the Starting Area)
Sapporo's most famous landmark is the TV Tower. Located at the eastern end of Odori Park, the tower's observation deck is situated 90.38 meters above ground. From there visitors have a spectacular view of the park stretching across the city. The tower is illuminated at night, which gives the structure a much different feeling than its daylight impression.

The Sapporo Tourist Information Center is connected to the tower and offers tourist information in multiple languages with staff members who can speak English and Chinese.
4. Nakajima Park's garden and tea room (Southern side of the route)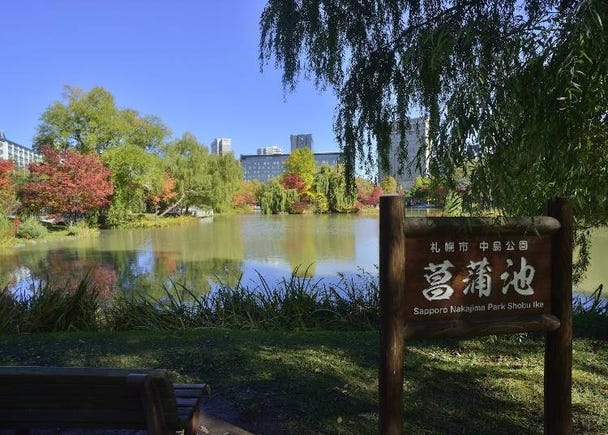 As they pass through the Susukino neighborhood, marathoners will run along Nakajima Park, which has been recognized as one of Japan's Top 100 Urban Parks. A great place for citizens and visitors to relax in summer, the park also offers boat rentals on Shobu Ike Pond and more watery fun in the Sosei River.

Also located in the park is Hoheikan, which has the distinction of being the only hotel built by the Meiji government, and the quaint Hasso-an teahouse, tucked away in a corner of a Japanese garden. Both buildings have been designated as important national cultural properties and are must-see places.
Address

Nakajimakouen, Chuo-ku, Sapporo-shi, Hokkaido, 064-0931
View Map

Nearest Station

Nakajima koen Station (Namboku Line)


Phone Number

011-511-3924
5. Cross the Toyohira River on the Horohira Bridge (Southern side of the route)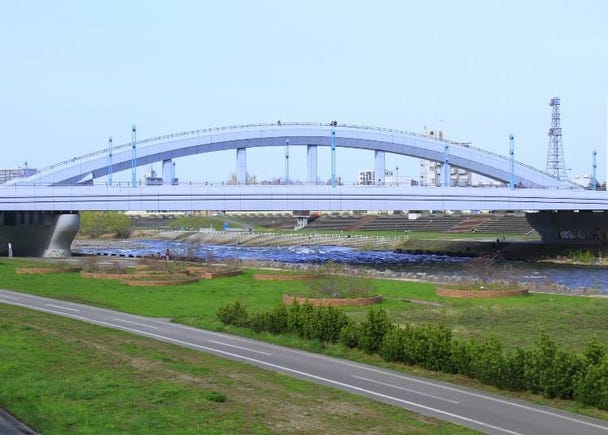 Just beyond Nakajima Park, the wide Toyohira River runs through Sapporo and Hokkaido Marathon participants cross it via the Horohira Bridge. During the race, they use the road, but sightseers can climb the arched footbridge. Portland Square, located at the foot of the arch commemorates Sapporo's first sister city Portland, Oregon USA.
幌平橋

Address

Minami 16-jo Nishi 1-chome, Chuo-ku, Sapporo 064-0916
6. Rich greenery and twin shrines (Southern side of the route)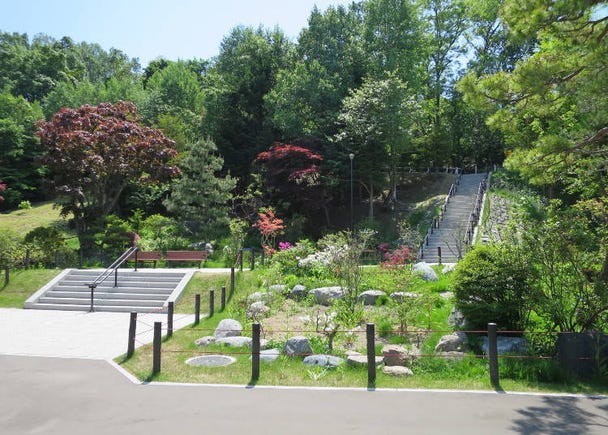 After crossing the river, the race course turns south and along the way it crosses Shiroishi-Kamoiwa Street. Heading east on that street, you'll find Tenjinyama Green Park just south of the road. The park rests on Tenjinyama at an altitude of 85 meters and offers a great view of Mt. Moiwa and the center of Sapporo from the observation plaza.

Artists will find the Sapporo Tenjinyama Art Studio, where you can meet artists observe their works, of interest. Adjacent to the park, there's also a unique "secret" sightseeing spot loved by locals that houses two shrines: Hiragishitenmangu Shrine and Taiheizanmiyoshi Shrine.
天神山緑地

Address

Hiragishi 1-jo 18-chome to 2-jo 16-/17-chome, Toyohira-ku, Sapporo 062-0931
7. Ramen in the Hiragishi area (Southern side of the Hokkaido Marathon route)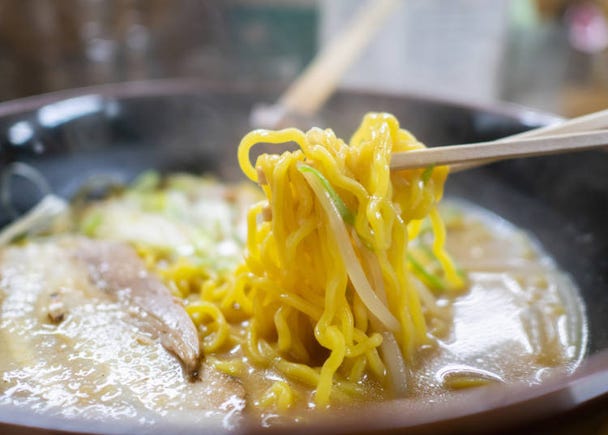 *Stock Photo
As the Hokkaido Marathon passes through the Toyohira Ward, it goes through the Hiragishi neighborhood, which is well-known among ramen enthusiasts. Packed with noodle shops, some of the main restaurants are Sapporo Junren, Yama Arashi, and Men-Eiji. Due to their popularity, there are usually lines to get in, but if you stop by after the lunch rush, you'll be able to enjoy the authentic taste of Hokkaido ramen.
平岸周辺

Address

Hiragishi, Toyohira-ku, Sapporo
8. Hokkaido University's treasure trove of sights (Northern side of the route)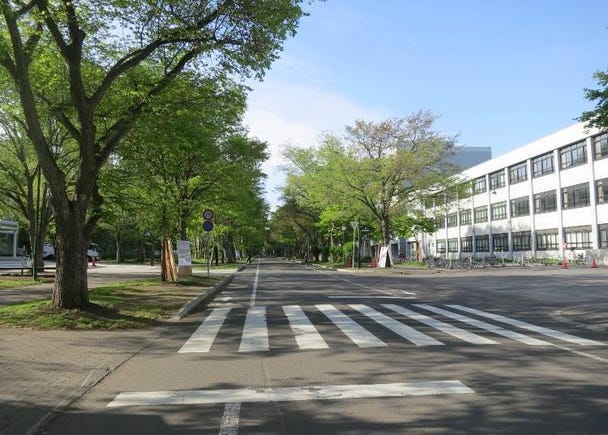 The race course runs through the Hokkaido University campus from Kita 20-jo to Kita 8-jo, and you'll be amazed by the greenery and the length of the university grounds. The campus is the largest in the country, at approximately 1.77 million square meters, and most of it is covered by research farms and forests.

The campus is usually open to the public and is a popular tourist attraction. Here are some recommended sights: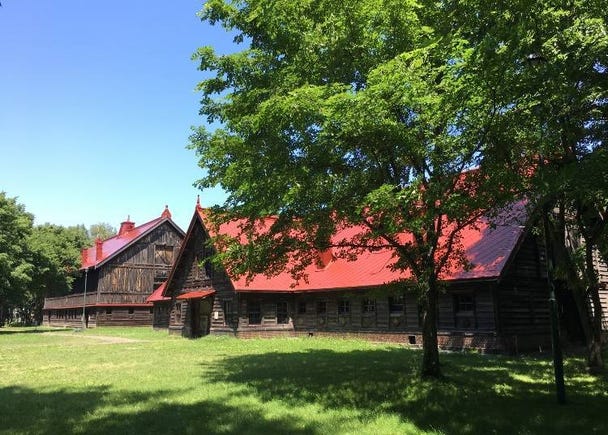 (1) Sapporo Agricultural School Second Farm
Sapporo Agricultural School Second Farm is the oldest Western-style agricultural building in Japan, and served as the prototypical Hokkaido University Farm when Hokkaido University was founded as Sapporo Agricultural School. Built in 1877 under the leadership of Dr. William S. Clark, the school's first president, this dairy farm, symbolic of Hokkaido's culture, remains unaltered and was designated as a National Important Cultural Property in 1969.
Sapporo Nogakko Daininojo

札幌農学校第2農場

Address

Kita 18-jo Nishi, Kita-ku, Sapporo 060-0818

Hours: Outdoors 8:30 - 17:00 year round; Indoors (model cattle ranch, grain storage, cattle barn) 10:00 - 16: 00 April 29 - November 3; closed 4th Monday of every month
Admission: Free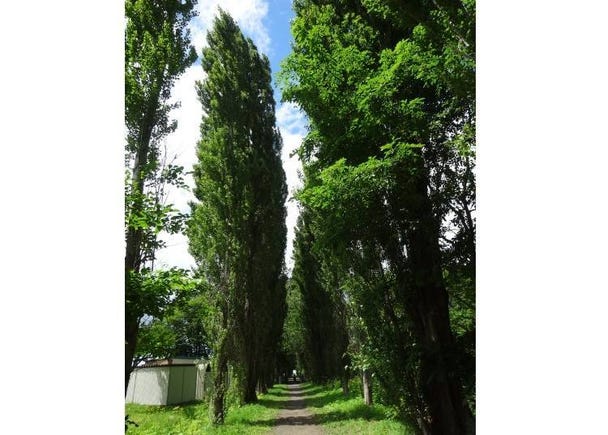 marzipan3 / Shutterstock.com
(2) Poplar Avenue
Hokkaido University's "Poplar Avenue" has long been a popular tourist attraction. The newer "Heisei Poplar Avenue" was planted in commemoration of the university's 125th anniversary and although the trees have yet to reach their full height, they, along with a view of the research farm's grazing cattle form another of Sapporo's sought-after tourist scenes. In summer the trees are leafy and their beautiful shade of green stretches into the sky.
ポプラ並木

Address

Kita 8-jo Nishi, Kita-ku, Sapporo, 060-0808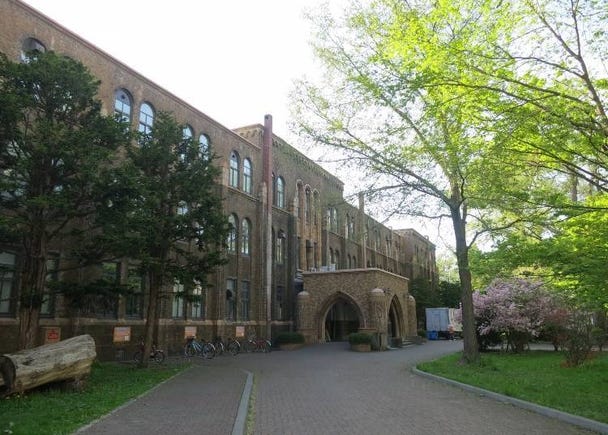 (3) Hokkaido University Museum
At the Hokkaido University Museum you can observe specimens accumulated for university research free of charge. The building, with its stark atmosphere, was built in 1929.

There are a variety of exhibits to pique your curiosity, including opportunities to handle specimens or depictions of the research sites. There is also a café, and you shouldn't miss the Museum Shop which sells unique souvenirs.
Hokkaido University Museum

北海道大学総合博物館

Address

Kita 10-jo Nishi 8-chome, Kita-ku, Sapporo 060-0810

Phone Number

011-706-2658

Hours: 10:00 - 17:00 (until 21:00 on Fridays June – October); closed Mondays (in the case of a holidays, closed the following weekday), December 28 - January 4 & other temporary closures
Admission: Free
9. The Former Hokkaido Government Office Building (Northern side of the route)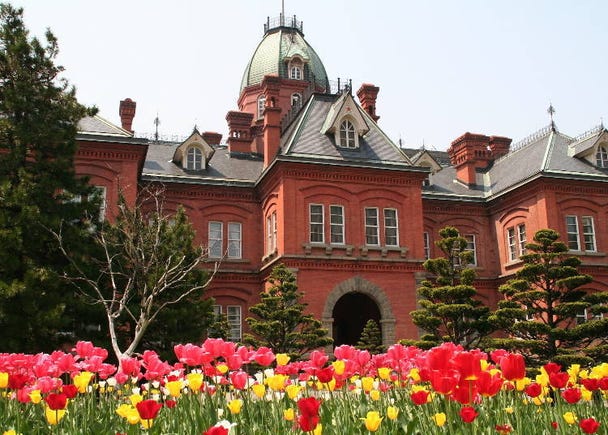 Built in 1888, the former Hokkaido Government Office Building is an American-style neo-baroque building, nicknamed "Red Brick" for its vivid exterior. The building itself is currently closed for renovation, but the front yard, with its pond, various trees, and flower beds compliments the building's color in all seasons. In summer, it's a peaceful place for visitors to cool off in the shade of the surrounding trees.
Address

6-chome Kitasanjo Nishi, Chuo-ku, Sapporo-shi, Hokkaido, 060-8588
View Map

Nearest Station

Sapporo Station (Hakodate Main Line)
7 minutes on foot


Phone Number

011-204-5019
10. Hop into Susukino: Sapporo's neighborhood that never sleeps!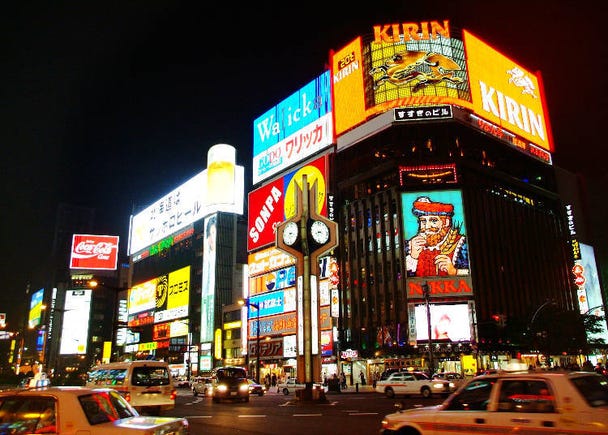 The Hokkaido Marathon starts early in the morning, so convenience stores are your ally if you don't have time for a hotel breakfast. Susukino also has other 24-hour shops where you can buy snacks. Among them, the handmade sandwich shop "Sandria" uses bread and fresh ingredients prepared exclusively for the shop to create hearty sandwiches.
サンドリア

Address

9-758-14 Minami 8-jo Nishi, Chuo-ku, Sapporo 064-0808

Phone Number

011-512-5993

Hours: Open 24 hours, closed December 31 - January 2
By following the Hokkaido Marathon route and going a bit further from the city center, these recommended sights will leave a lasting impression and provide you with unique memories.

Conveniently accessible by subway and tram, you'll be able to fully enjoy your summer trip to Sapporo!

Text by:minna no kotoba sha
*This information is from the time of this article's publication.
*Prices and options mentioned are subject to change.
*Unless stated otherwise, all prices include tax.