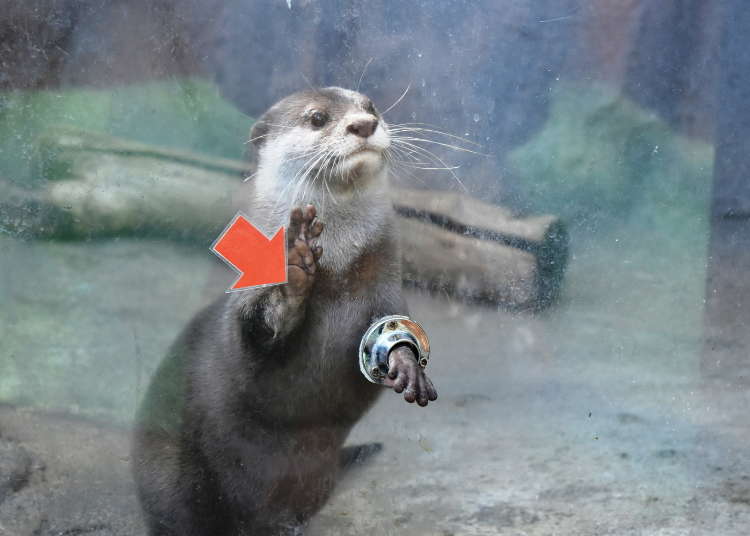 North Safari Sapporo is Hokkaido's hands-on zoo located in, Sapporo. Here you can get to know about the lives of different kinds of animals up close and personal. However, not only is this a place of fun, but it is also known as "the most dangerous zoo in Japan."

It is full of thrilling experiences that you can only find here, including feeding time with the animals, a stroll through the crocodile and piranha pool, and wild food tasting. Get ready for one of the wildest adventures of your life!
North Safari Sapporo: What It Is and How to Get There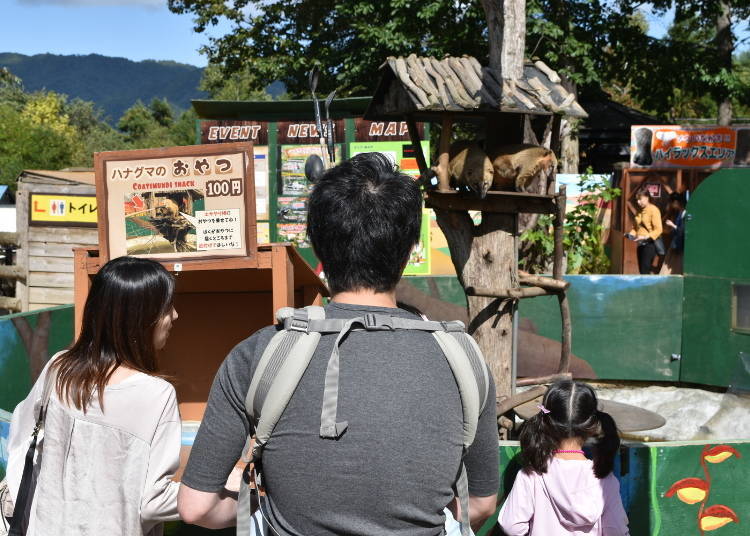 North Safari Sapporo is located in Toyotaki in the Minami Ward of Sapporo, known for its abundant nature. It is only 30 minutes from the city center by car, and is also easily accessible by public transportation.

A free shuttle bus also runs every 15 minutes from Makomonai Station on the Namboku Subway Line. Just board the Jotetsu Bus bound for Jozankei, and get off at Toyotaki Shogakko Bus Stop.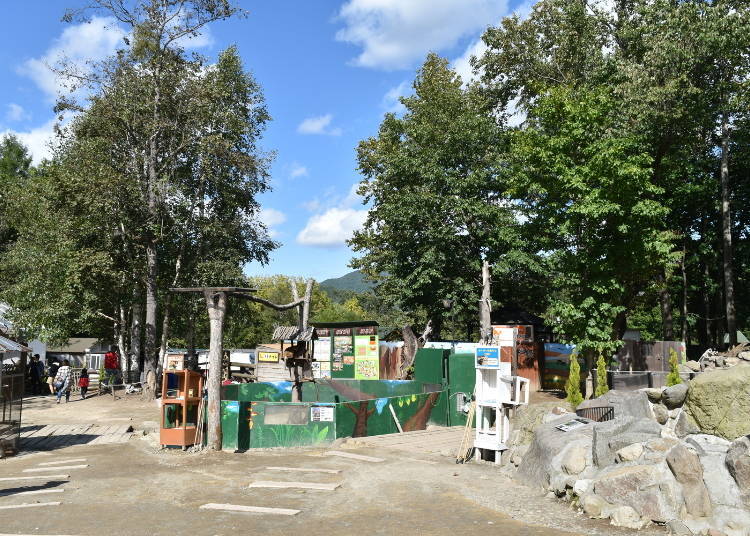 The park consists of three main areas: North Safari, where you can interact with different kinds of animals, North Safari Adventure, where you can experience different hands-on activities, and the Dangerous Forest, where you can see dangerous animals and birds of prey. As soon as you enter the zoo, you will be greeted by signs in Japanese: "DANGER: Not Your Average Zoo."

The concept of this zoo is to be able to have extraordinary experiences with animals normally considered dangerous, "at your own risk." There are also staff members available who can translate into other languages such as English and Chinese.
Eye to Eye with Giraffes! Strolling through the North Safari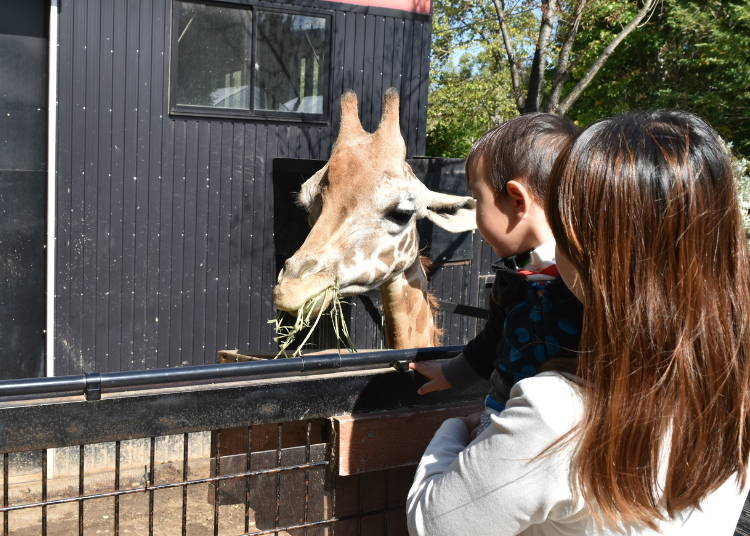 Rest assured that not everything in this zoo is meant to be frightening! In the North Safari there are about 150 different species of animals in the African Animals Zone, such as giraffes, zebras, meerkats, and spotted hyenas. The design of this exhibit gives one a sense of power and pride, especially once you realize you can see eye-to-eye with real, live giraffes!
In the Southern Hemisphere Area you can find red kangaroos, red-necked wallabies, great white pelicans, and cape penguins. For only 100 yen, you can feed the kangaroos.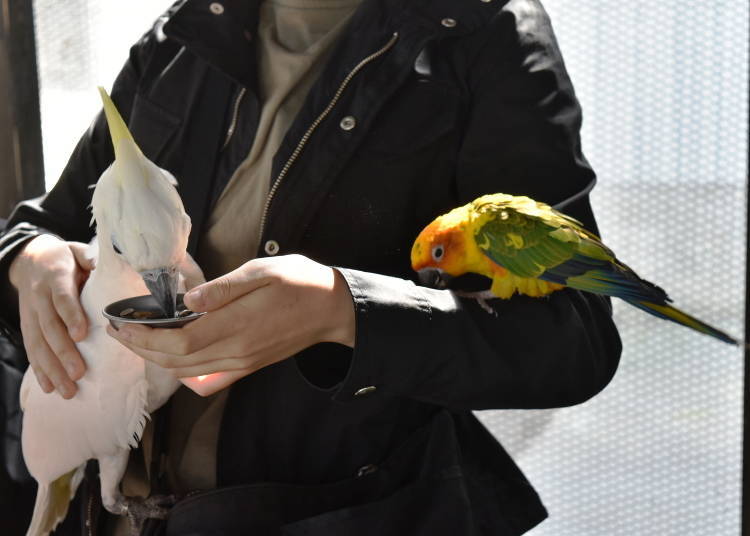 In the Parrot Area, you can surround yourself with all kinds of birds. But be careful, as some of them are quite powerful, and may try to take your stuff..!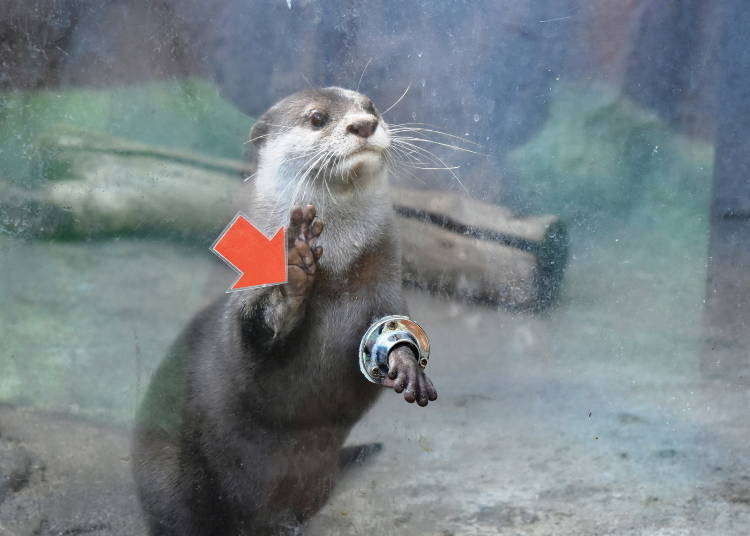 Get a taste of different parts of the world in the Jungle Zone, an area consisting of three forests: the Asian Forest, the African Forest, and the South American Forest. In the Asian Forest, otters stick their tiny hands through a hole in the glass to beg for food. Feel free to give them a treat, available from the coin machines for 200 yen.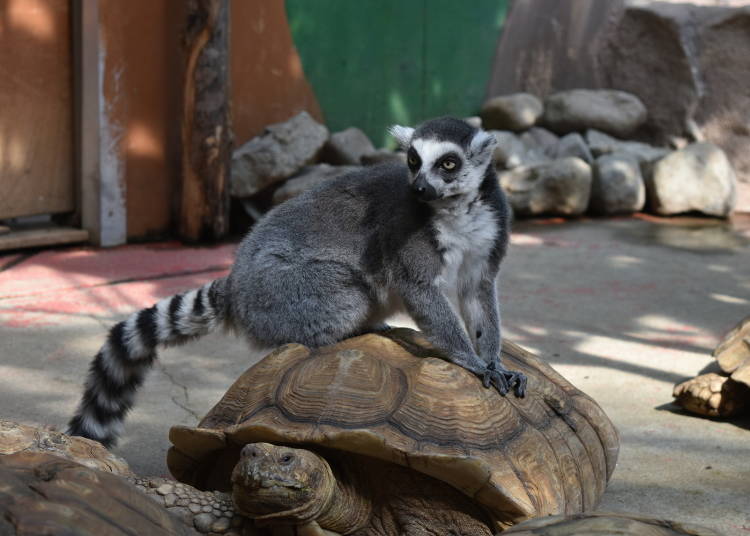 A ring-tailed lemur takes a ride on the back of an African spurred tortoise.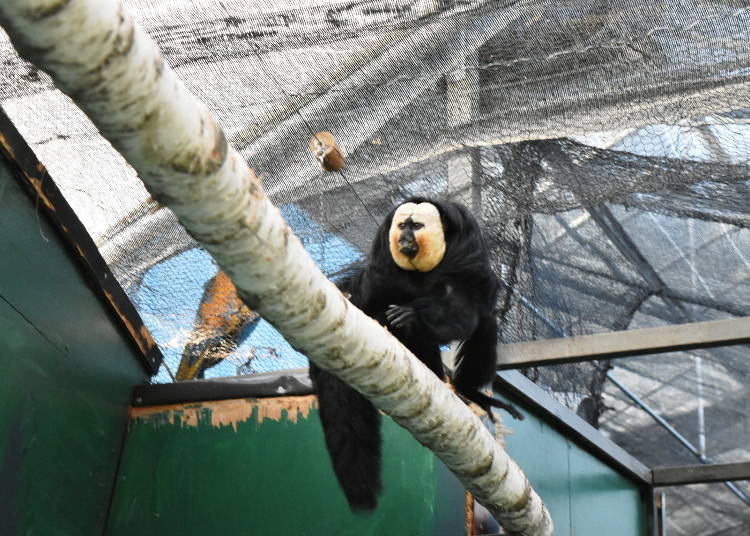 In the largest forest of the Jungle Zone, the South American Forest, birds fly overhead and reptiles and capybaras leisurely lie around. The white-faced saki seen in the photo above is a rare type of monkey that is found in very few zoos.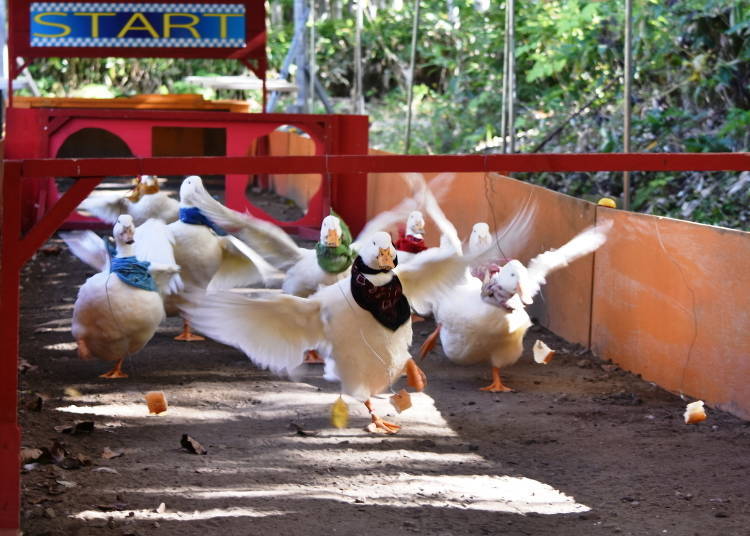 Various events are held at the Event Square, including the Duck Races, where you can watch eight ducks compete against each other and cast votes on the winner (100 yen per vote). If your duck is one of the top two, you can win a Premium Free Experience Ticket! In the winter, goat races are held instead.
Valuable and Thrilling Hands-On Experiences at North Safari Sapporo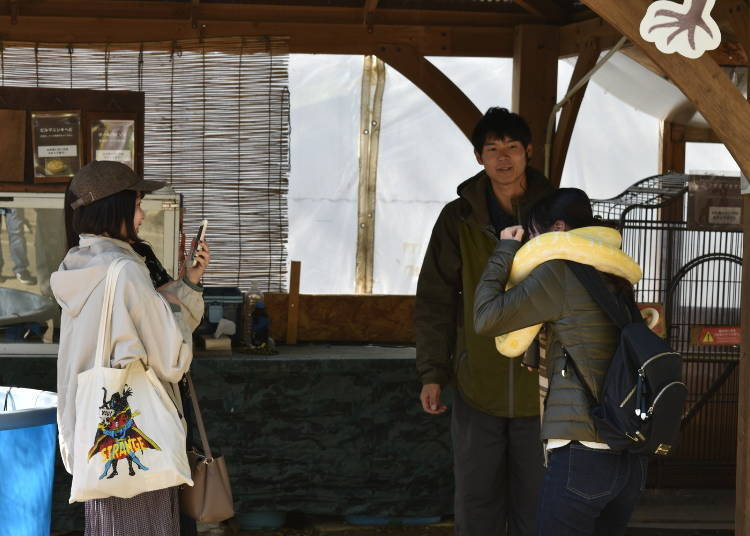 In the Chinju Fureai Corner (Hands-On Corner for Unusual Animals), you can enjoy hands-on activities with some of the animals at no extra cost, such as wearing a gigantic snake around your neck! If you would like to touch one of the animals, just speak to a staff member.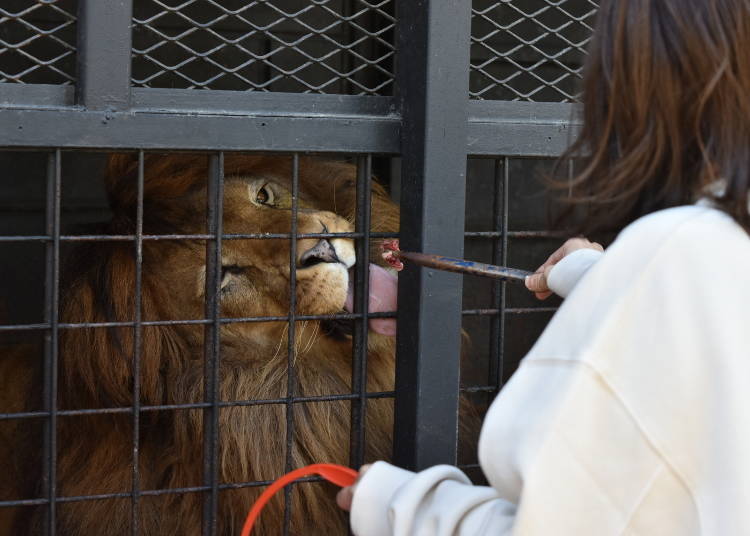 In addition to the free experiences, each area also has various premium activities that you can sign up for on the same day. However, in order to not overwhelm the animals, these experiences are limited in frequency and number of people.

They are very unique and valuable, such as being able to feed and touch animals that you rarely get to see up close.

For 500 yen, you can even feed slabs of meat, still dripping with blood, directly to the lions with the "Lion Direct Feeding" experience! This will give you such a powerful feeling, you will surely understand why they are called the "King of the Beasts."

Another special activity offered is called "Breakfast with Giraffes," in which you can enjoy a meal right next the the giraffes, and give them a snack while you're at it (7,200 yen for adults, 6,200 yen for children from 4 years to elementary school age).
Japan's Most Dangerous Lunch Time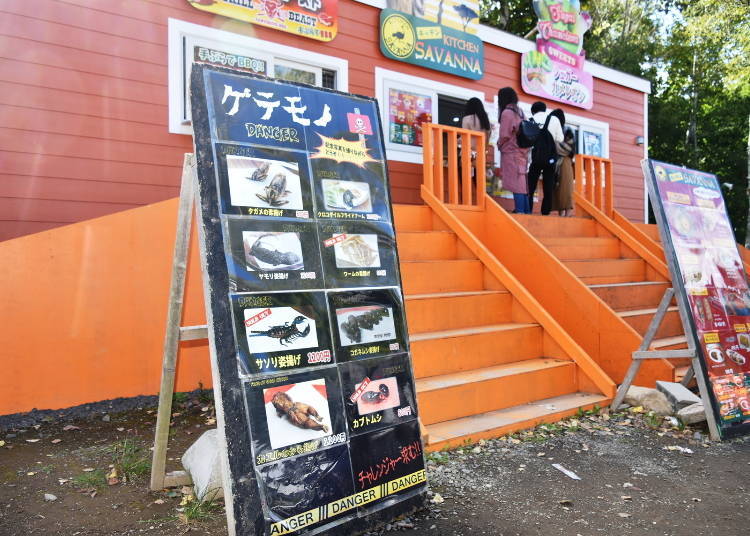 You can have lunch at the "Ngorongoro," a special hands-on food court area located in a slightly remote forest. There is the Tapioca Whip, made in the shape of a giraffe or a pelican (500 yen)... as well as other strange creations. You can challenge yourself to try some truly strange and unique delicacies, such as insects, scorpions, and even lizards!
But don't worry if you can't stomach some of the wilder creations. There are more appetizing items on the menu as well, including curry and burgers made from ostrich and crocodile! Both dishes are low-fat, high-protein, reduced-calorie foods that are well-balanced and healthy. The Crocodile Burger is 750 yen, and is chewy, delicious, and wild!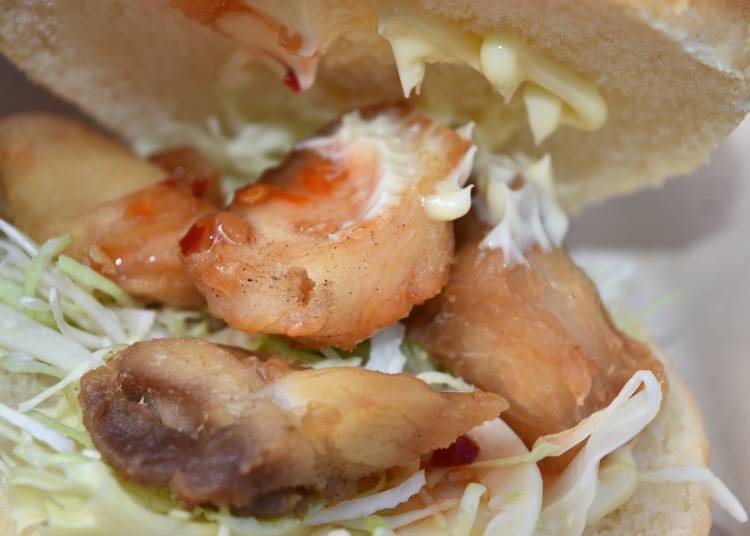 Can You Survive the Dangerous Forest?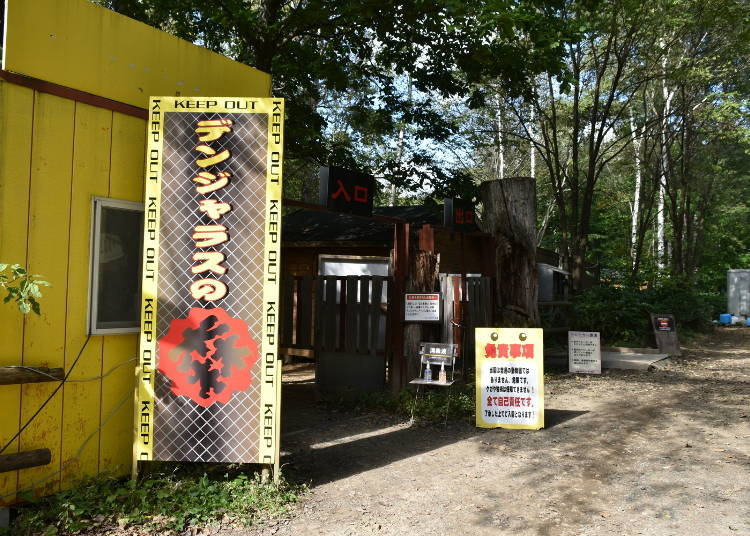 The Dangerous Forest is an adventure experience located in the Danger Zone that is strictly prohibited to children of elementary age and under.

There are skunks, whose odors can cause difficulties breathing when exposed to their secretions, and porcupines whose sharp spines can pierce right through your shoes if you don't tread carefully.

On top of these, you may also pass other dangerous creatures such as piranhas, venomous lizards like the Gila monster, and even crocodiles as you make your way to the goal. Beware, as the passage is a very narrow bridge, barely wider than a balance beam!

There are also some unique 'surprise animals' in the area that are not revealed in the pamphlet. And don't worry - if you decide halfway through that this course isn't for you, there are escape routes along the way so you can return to the safety of civilization with ease.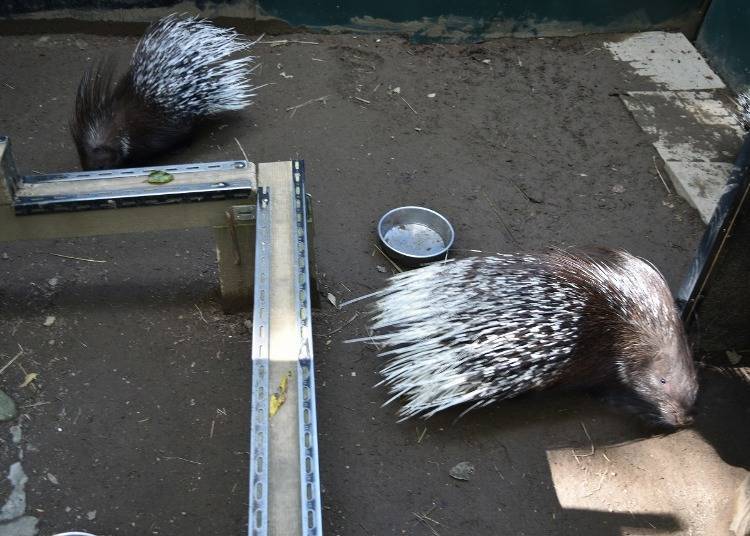 Winter Fun! Activities to Enjoy Year-Round at North Safari Sapporo
About 10 minutes from Parking Lot 1 is the North Adventure Safari, which you can access via free shuttle buses from the lot. There are a number of winter activities available such as snow tubing, snow shoeing, and snow climbing, all for no extra cost. Many tourists come to visit and experience these wintertime activities as well.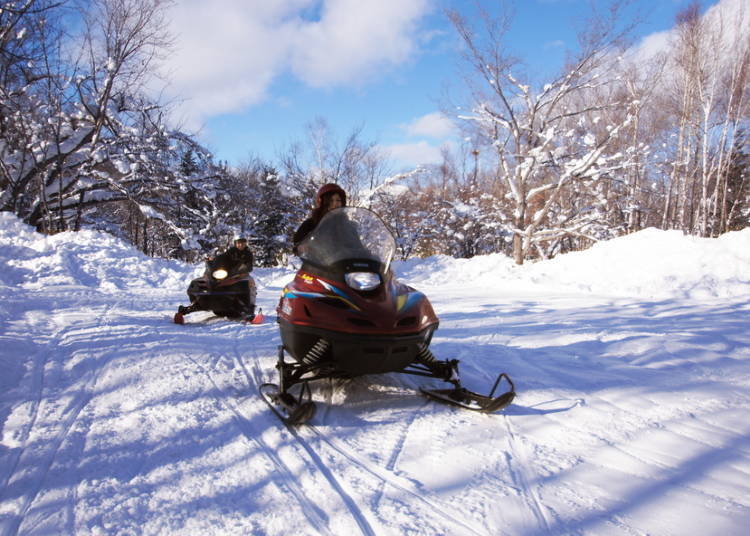 Winter 2020 activities are scheduled to take place from January 4 to March 22, however may end at an earlier date dependent on weather and snow conditions.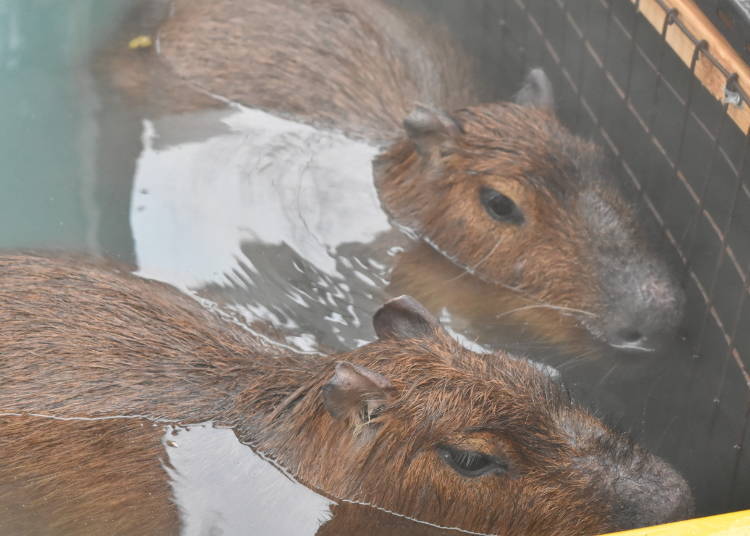 You can also visit the North Safari Zoo throughout the year, and enjoy experiences such as Hokkaido glamping, where you spend the night with the animals in small cottages or tents.

You can watch the capybaras soak in the hot springs in the winter, enjoying an environment completely different from the summertime. Available days and times vary by season, so be sure to check the official website before planning a visit. (English-speaking staff are also available so feel free to send any inquiries by email).
ノースサファリサッポロ

Address

469-1 Toyotaki, Sapporo, Minami-ku, Hokkaido 〒061-2273

Phone Number

080-1869-6443

Business Hours: Sept~Nov 2019: 10:00AM~5:00PM, Weekends/Holidays: 9:00AM~5:00PM (Last Entry 4:00PM); Jan 4~Mar 22, 2020: 10:00AM~4:00PM (Last Entry 3:30PM); for all other times, please check the homepage
Admission:
Summer Hours (until 11/30/2019): Adults: 1,500 yen, Children (elementary age): 500 yen, Age 3 & under free
Winter Hours (1/4/2020~3/22/2020): Adults: 1,200 yen, Children (elementary age): 500 yen, Age 3 & under free
Regular Holidays: 12/1/2019~1/3/2020; weekdays from 1/20/2020~3/22/2020
Text by: Minanokotobasha
*This information is from the time of this article's publication.
*Prices and options mentioned are subject to change.
*Unless stated otherwise, all prices include tax.