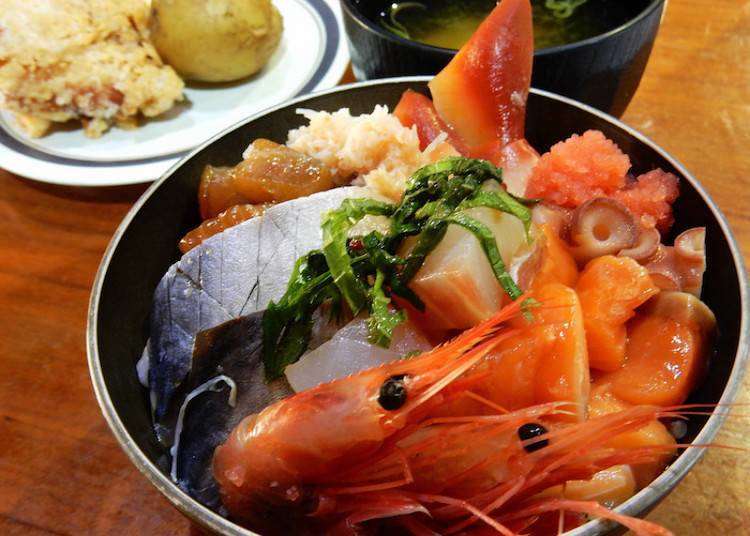 "I want to eat as much Sapporo seafood as possible when I visit!" is the sentiment of many tourists who venture to Hokkaido. From kaisendon seafood bowls to seafood buffets, Sapporo is home to a variety of delicious restaurants serving up fine Hokkaido fish.

Here are five of the best seafood restaurants in Sapporo that serve up seafood bowls and more, as recommended by our local editors!
1. Shiki Hanamaru: Seasonal seafood bowls from Nemuro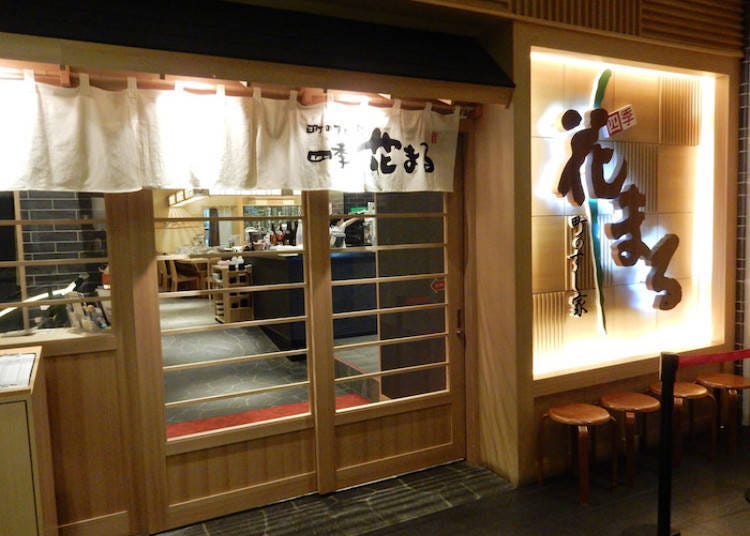 On Route 36 running through Susukino, you'll find Shiki Hanamaru Susukino. At this Sapporo seafood restaurant, which is popular both with tourists and locals alike, you can enjoy authentic Hokkaido sushi at a reasonable price as well as seafood from all over Japan's northern island.

In particular, Shiki Hanamaru offers a delicious selection of seasonal seafood from Nemuro.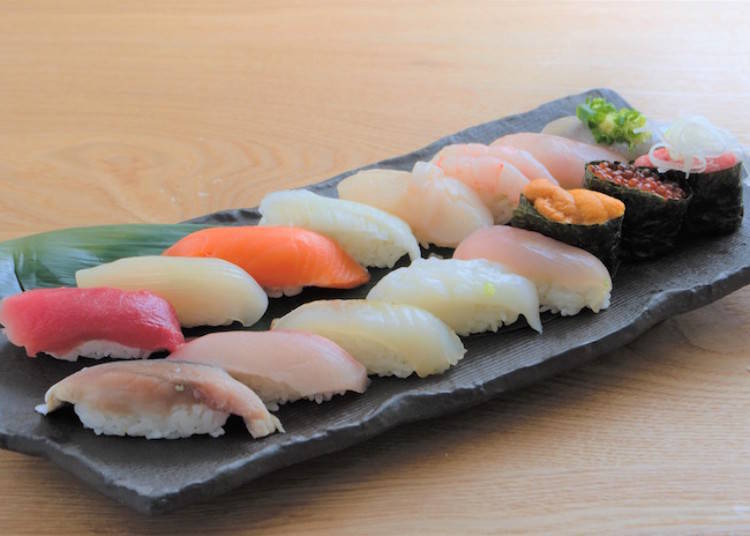 The blackboard menu behind the counter is filled with excellent choices, and you can indulge in sushi prepared by true craftsmen. There's also a wide variety of Japanese sake, including Nemuro's local variety, Kita no Sho, which is perfect for slowly sipping with your meal.

An English menu is available, and during summer and autumn, you'll be able to try freshly caught Pacific saury, a Hokkaido specialty.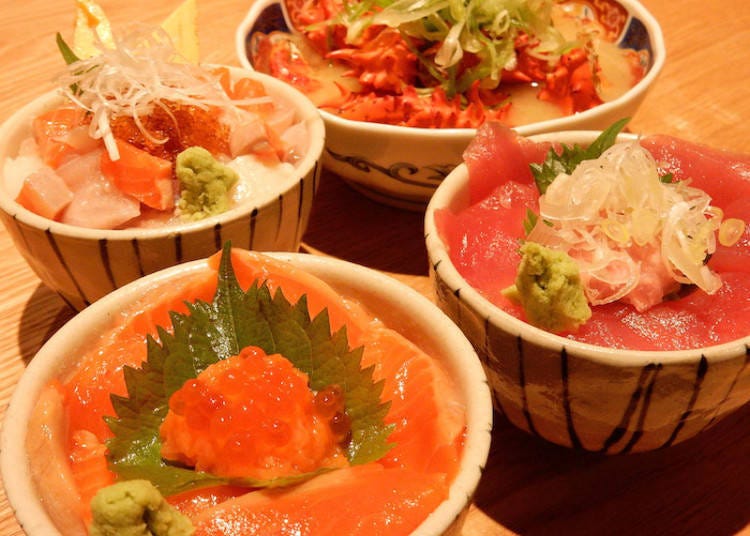 The restaurant's main offerings are nigiri and sashimi, but the lunchtime-only "Manpukudon" seafood bowl (880 yen excluding tax) is a satisfying way to taste three types of seasonal seafood. The side of miso soup changes daily and has a refreshing taste.

The lunch menu also features other hearty and affordable menu items, like the "Hanamaru Lunch" (1,490 yen excluding tax) which includes a variety of small dishes such as tempura.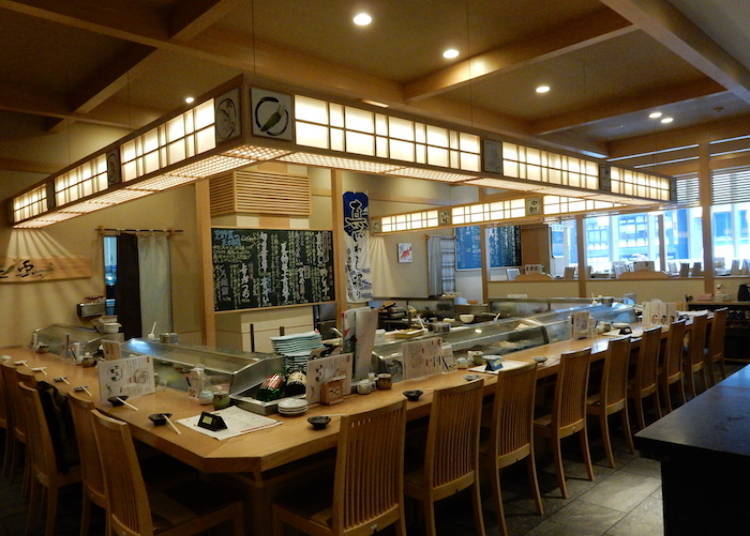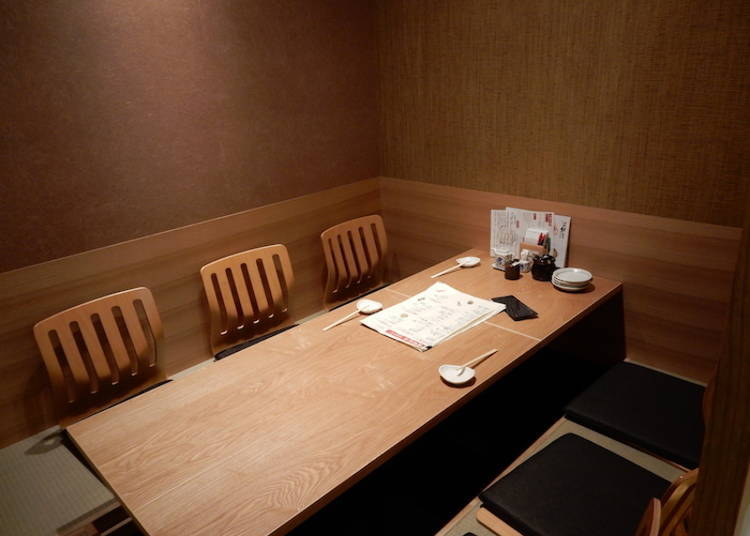 From the counter seats, you can witness the skill of the sushi masters up close. In addition to table seats, there are also small private rooms that are safe for children, and window seats where you can get a glimpse Susukino life as it passes by.
町のすし家 四季花まる すすきの店

Address

RECOLTE Sapporo 2F, 2-2-4, Minami4-jonishi, Sapporo Shi Chuo Ku, Hokkaido

Phone Number

011-520-0870

Hours: 11:00 - 23:00 (L.O. 22:30)
2. Sakana no Anyo Susukino: Enjoy your favorite okonomiyaki with the Sapporo seafood buffet
Another famous seafood restaurant is Sakana no Anyo Susukino. This seafood izakaya is hidden away on a small street one minute from the Susukino intersection famous for its Nikka whiskey sign.

Housed in a historic stone building, the restaurant has a vibrant atmosphere reminiscent of Hokkaido's port towns. At night, it's an excellent place to enjoy local dishes and sake.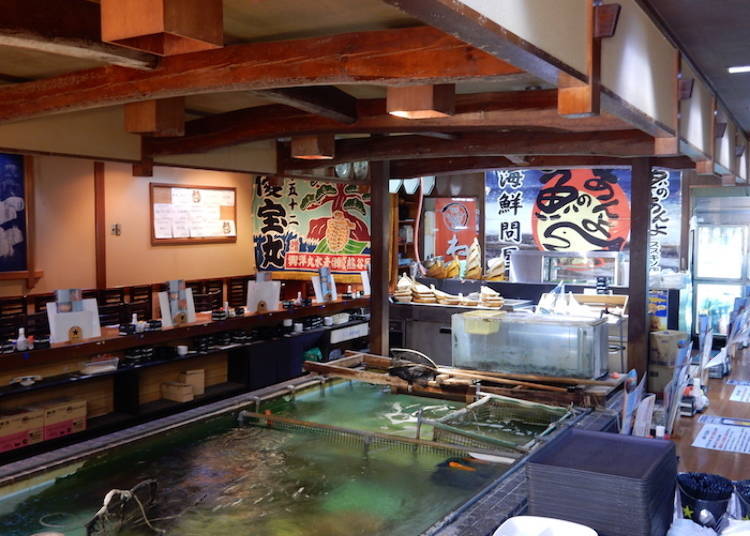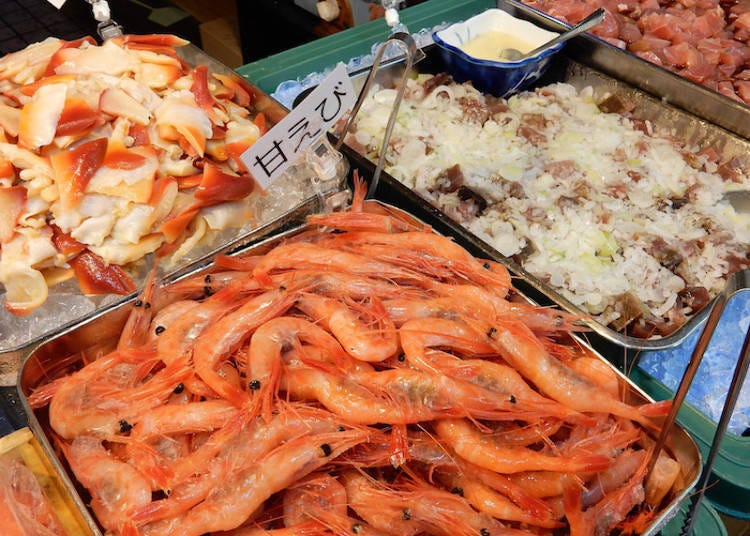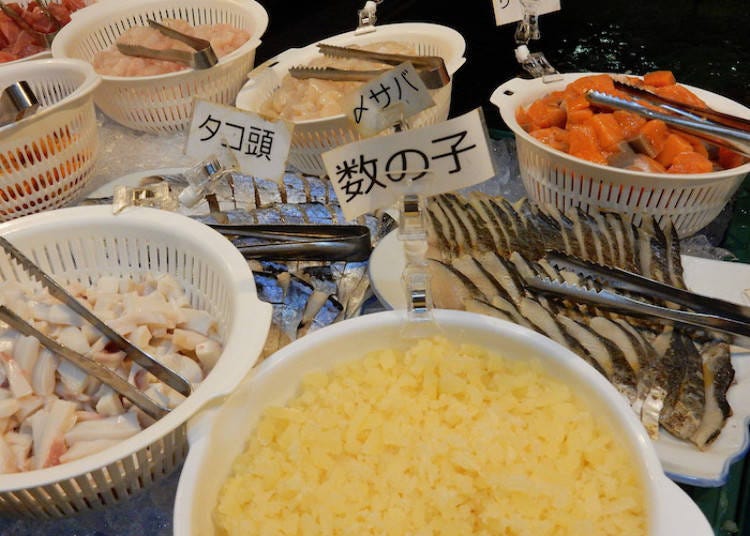 The lunchtime seafood buffet is a great value at only 880yen (tax included) for 90 minutes of dining. After paying, be sure to head straight for the buffet corner! Sakana no Anyo offers one of the best seafood buffets in Sapporo.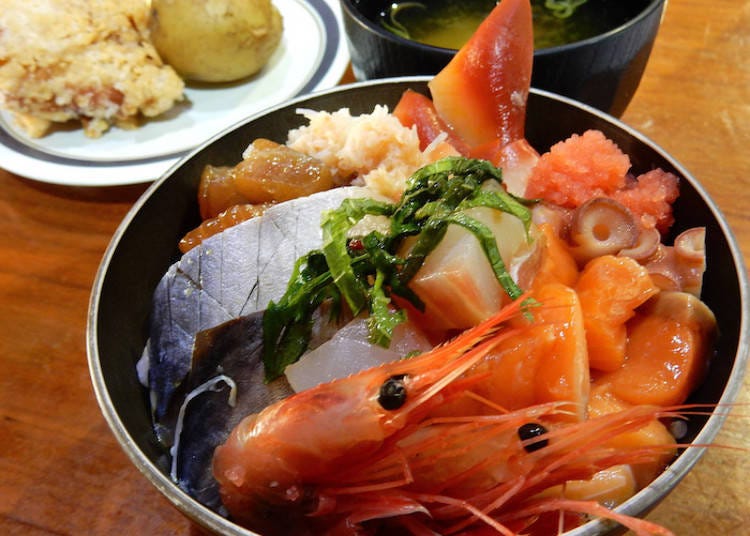 In addition to Hokkaido seafood, such as sweet shrimp and hokki (surf clams), there are about 20 kinds of popular items including pickled tuna, tarako (pollock roe), and crab. You can make your own custom seafood bowl with your favorite items!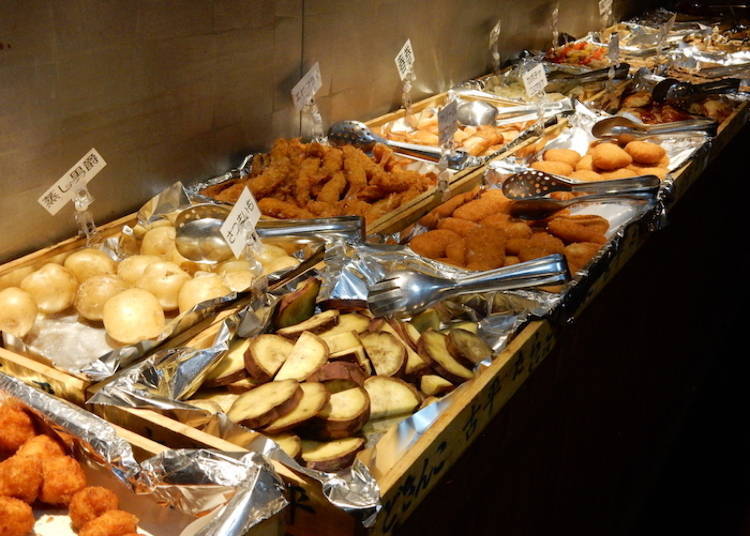 Salads, skewers, and desserts are also available and the large zangi (fried chicken) is especially delicious. With its crunchy outside and juicy inside, it's a hugely popular menu item.

Be careful not to take too much of any one dish so you have room to sample more of the wide variety of dishes. (Also note that you should eat all you take to avoid the penalty fee for leftovers.)
魚のあんよ ススキノ店

Address

4-7, Minami 5-Jonishi, Chuo-ku, Sapporo, Hokkaido

Phone Number

011-511-3252

Hours: Mon. - Sat 11:30 - 15:00 (lunch), 17:00 - 1:00 (dinner); Lunch only on Sun.
3. Donburi Chaya: Perfect for repeat customers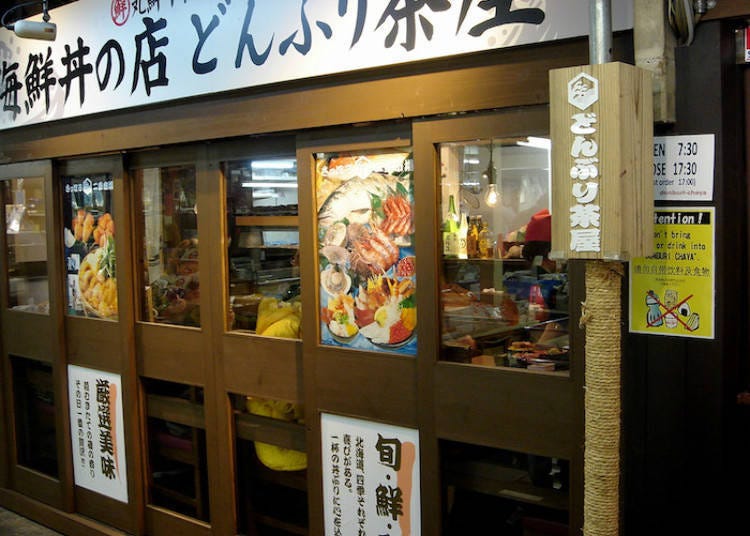 Situated in the center of Sapporo, Nijo Market has a long history and is populated by seafood restaurants, fruit and vegetable stands, and souvenir shops.

Among them, Donburi Chaya combines both ability and popularity. Every morning, seasonal local ingredients are carefully selected, and the menu's simple dishes allow patrons to appreciate the deep flavors of the fresh ingredients fully.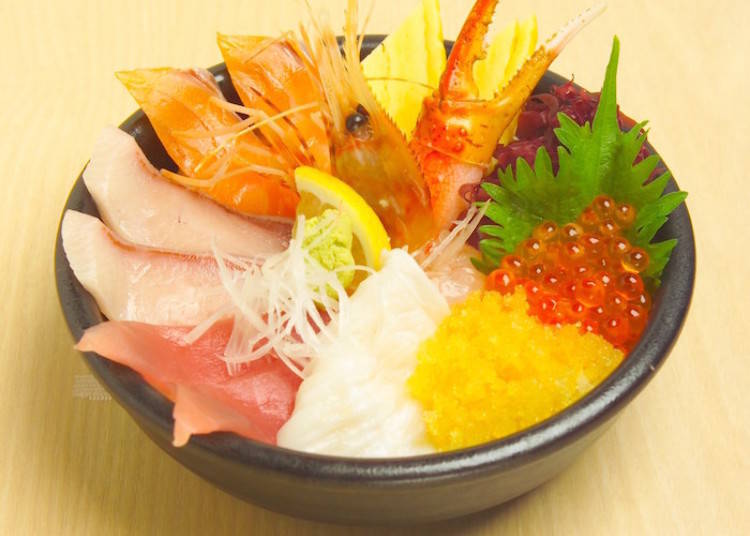 If you want to enjoy a variety of seafood at an affordable price, we recommend the "Tairyo" (1,980 yen, including tax). Nine different types of seafood including button shrimp, crab claws, and salmon are included, and the appearance is gorgeous.
The popular "Salmon Roe and Raw Sea Urchin Two-Color Donburi" (3,680 yen including tax) is also highly satisfying with its large portions of both ingredients.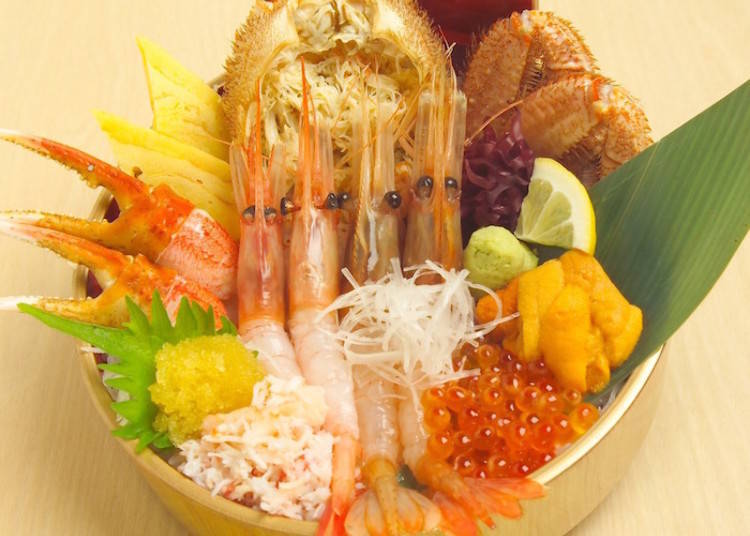 The luxurious "Treasure Chest" (4,280 yen including tax) is a social-media-ready dish of horsehair crab, sea urchin, salmon roe, sweet shrimp, button shrimp, and more served in a large bowl that's perfect for sharing.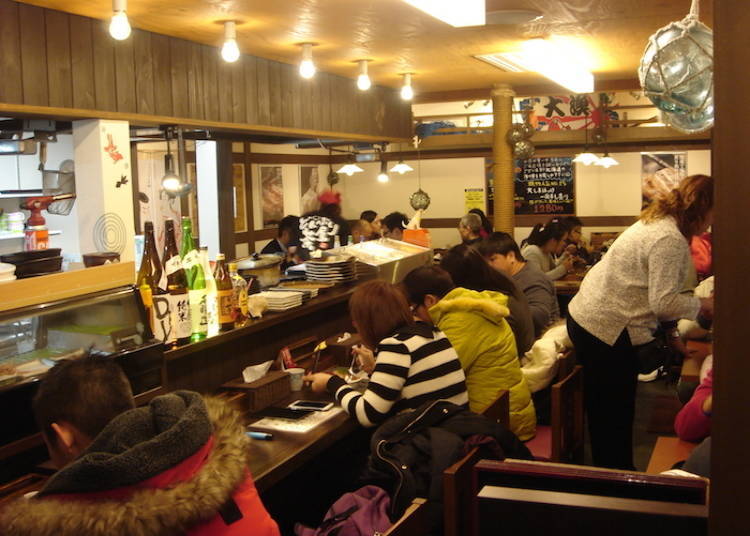 Donburi Chaya has about 20 kinds of seafood bowls typical of Hokkaido, so you can enjoy something different each time you visit. It fills up quickly at lunchtime, but the food and the restaurant's charm are worth the effort to get in.

The menu is available in seven languages including English, Chinese (simplified and traditional), Taiwanese, and Thai so you can order your meal with confidence.
Sapporo Nijyo-Ichiba DONBURI-CHAYA

どんぶり茶屋 二条市場店

Address

1-7, Minami3-johigashi, Sapporo Shi Chuo Ku, Hokkaido

Phone Number

011-200-2223

Hours: 7:30 - 17:30 (L.O.17:00), closed New Year's Day
4. Donbe: Dining in a market atmosphere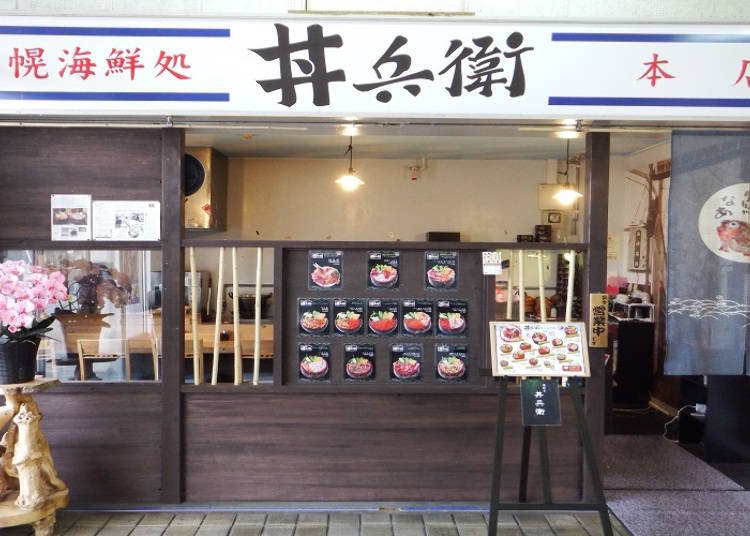 The Sapporo Central Wholesale Market could be considered "Hokkaido's Kitchen" with produce gathered from all over Japan. The areas surrounding the market are also popular tourist draws with many fresh fish shops and fruit and vegetable shops. Donbe provides cost-effective seafood bowls consisting of fresh ingredients purchased daily in the Sapporo Morning Market.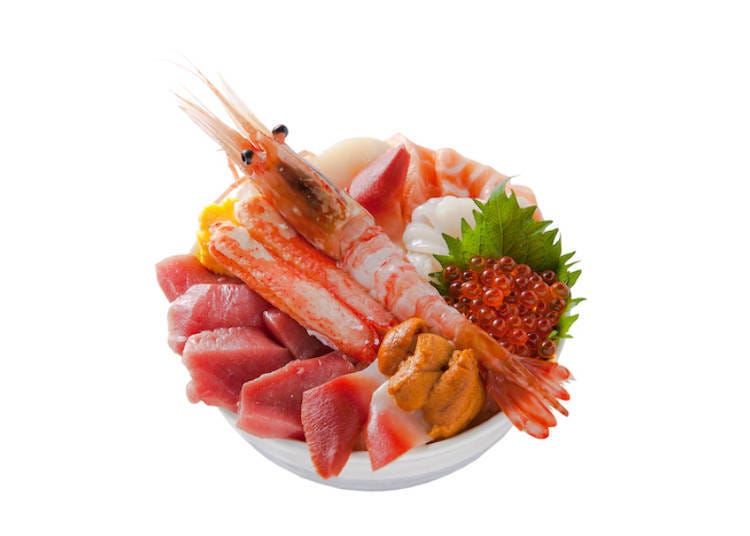 The store's most famous dish is simply called "Satisfied" (2,580 yen excluding tax). An overflowing cornucopia of seafood, you can enjoy ten kinds. Each impressive bite is sure to put a smile on your face.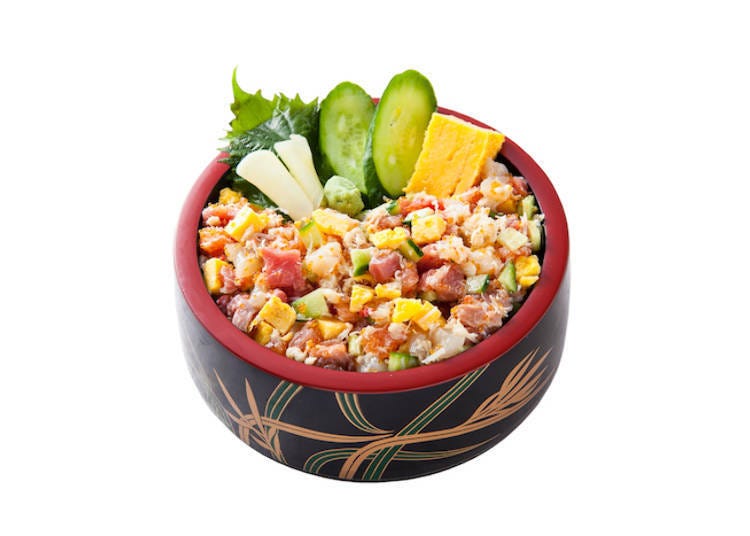 The "Seafood Rose Chirashi" is only 500 yen (excluding tax) and is a colorful arrangement of salmon, tuna, and vegetables. Daily quantities are limited, so you might consider ordering this dish for breakfast.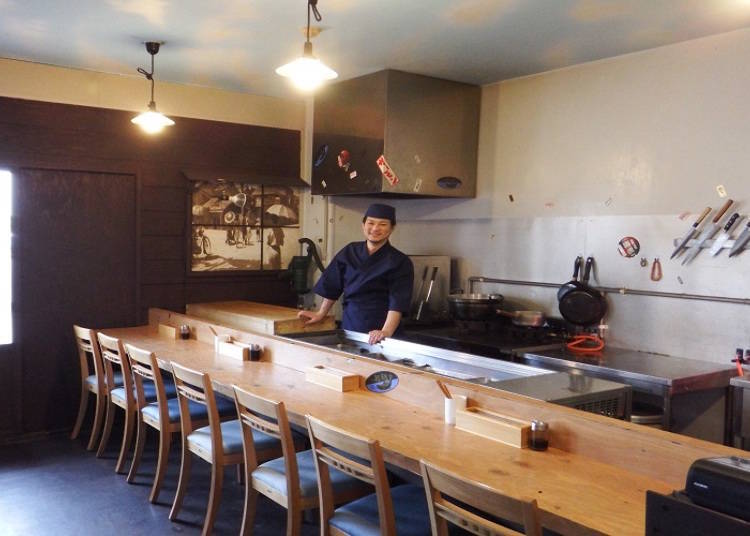 The cozy, seven-seat Sapporo seafood restaurant has a relaxed, retro Showa atmosphere. The kitchen is right in front of the seats, so watching the chef at work makes waiting for your meal fun. The menu is available in English, and a stroll around the market is a great way to follow up breakfast or brunch.
丼兵衛

Address

Sapporo Asaichi, 20-1-20, Kita12-jonishi, Sapporo Shi Chuo Ku, Hokkaid

Phone Number

011-614-6533

Hours: 7:00 - 13:30* (Or ends when daily ingredients run out), closed Sun. and market holidays
5. Hassamu Kaneshige Sengyoten: "Hidden" fame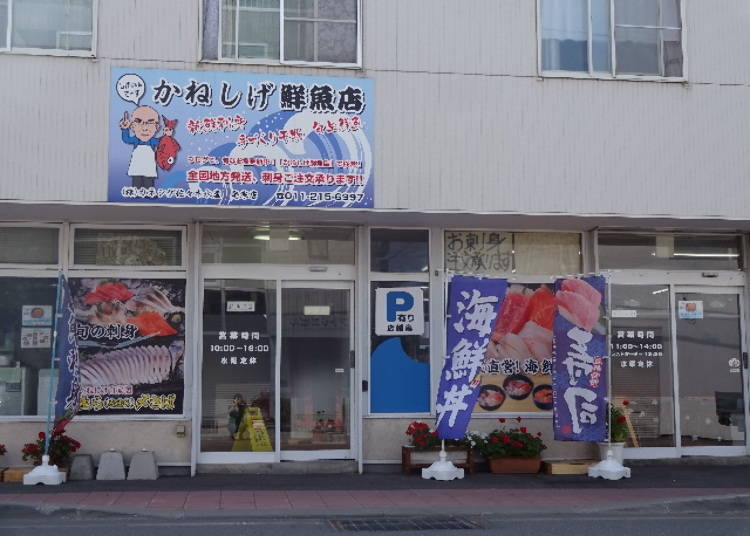 Lastly, a famous Sapporo seafood restaurant found on a charming historic shopping street about a 20-minute drive from the center of Sapporo, Hassamu Kaneshige Sengyoten. Although it's "hidden," the diner is known for its freshness and low prices.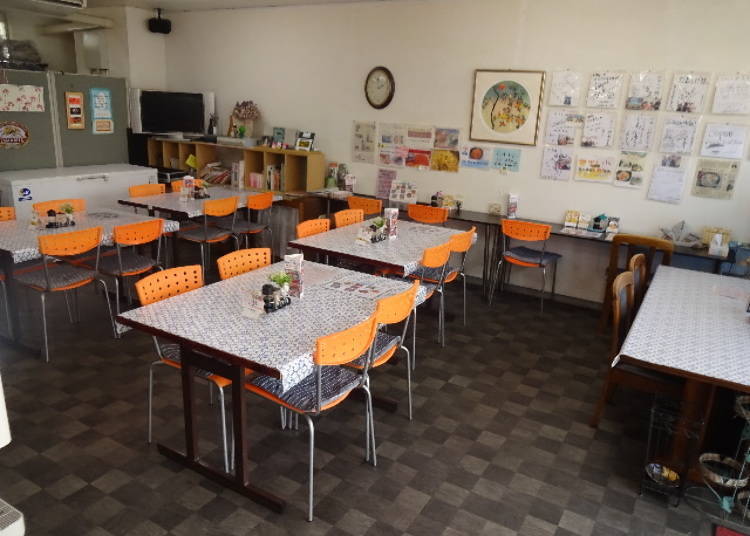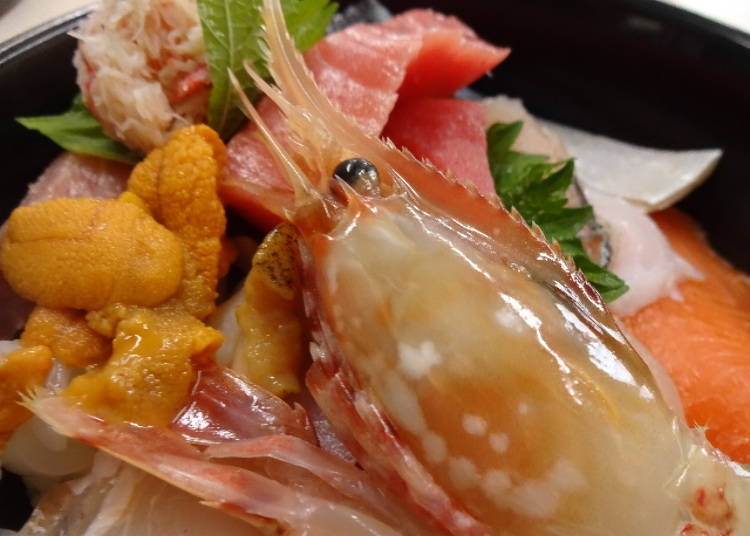 "Seafood Donburi Super Wild" (2,000 yen, including tax) provides the best of the day's catch and is recommended for those who want to sample a good variety of flavors.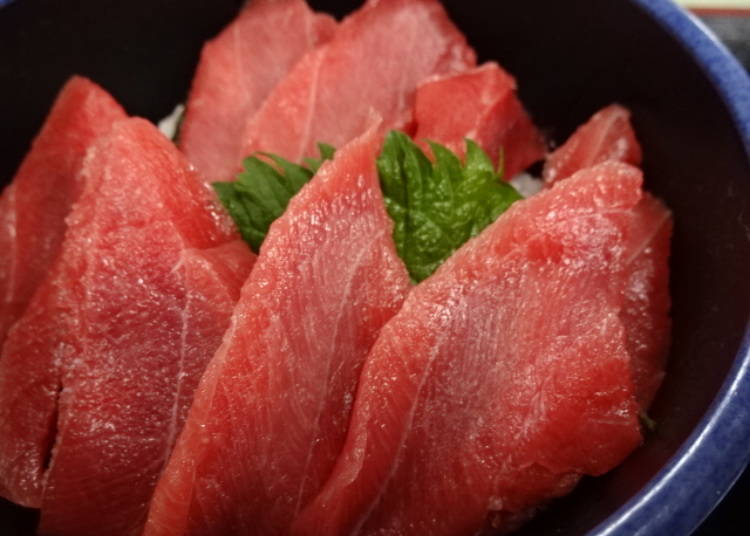 The "Red Tuna Bowl" has a surprisingly low price of 1,080 yen (tax included), so it's no wonder that many guests have become regular customers.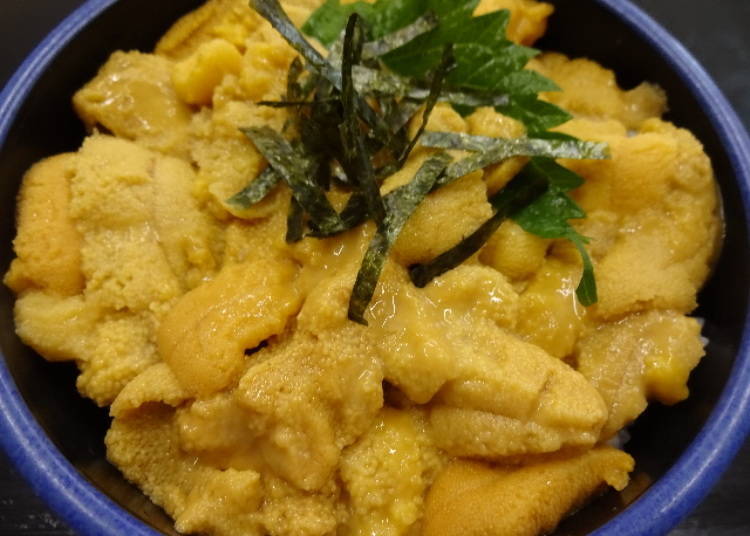 The especially popular is the eat-in area, which is open only during lunchtime, offers high-quality meals like "Sea urchin donburi" at market prices. From June to August, sea urchins from Yoichi and Shakotan are used for the best seasonal taste.

Also, any menu item can be ordered for takeout, and the sashimi buffet boasts an assortment of about 20 types of sashimi.
Hassamu kaneshige Sengyoten

発寒かねしげ鮮魚店

Address

4-2-54 Hassamu 5-Jo, Nishi-ku, Sapporo, Hokkaido

Phone Number

011-215-6997

Hours: Eat-in area 11:00 - 14:00 (L.O.13:30), Fresh fish area 10:00 - 19:00; closed Wed.
* Prices as of August 2019

Text by: minna no kotoba sha
Other Recommended Sapporo Restaurants
Check out the links below and reserve your table today!
鮨 三上

Address

The 21st Keiwa building 1F,Minami 6 Jo Nishi 4-5-10, Chuo-ku, Sapporo, Hokkaido, 064-0806


Nearest Station

Susukino Station (Namboku Line / Sapporo Streetcar Yamahana Line)


Phone Number

011-532-2626
*This information is from the time of this article's publication.
*Prices and options mentioned are subject to change.
*Unless stated otherwise, all prices include tax.
Limited time offer: 10% discount coupons available now!