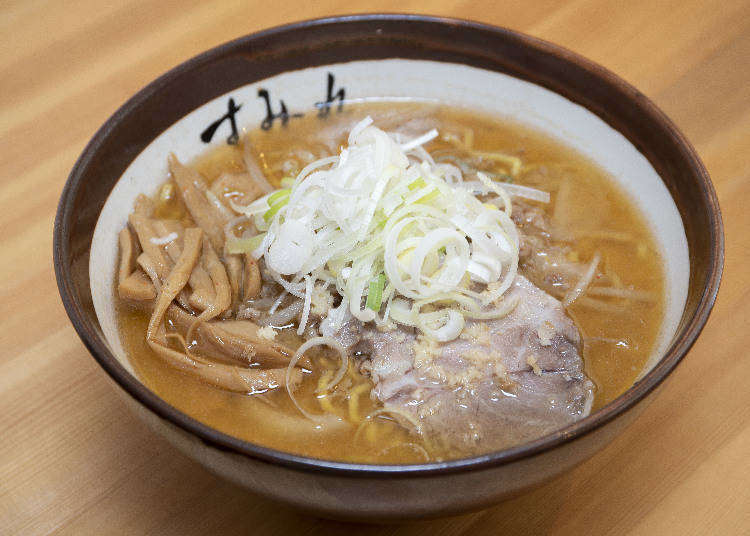 Sumire Ramen is a particularly famous ramen shop located in the highly competitive area of Sapporo and constantly has a line of people waiting to get a bowl of their ramen.

Sumire Ramen is the Sapporo ramen style with rich miso flavor soup, firm-textured thick curly noodles made with eggs, and vegetable toppings such as bean sprouts. It has its roots tied to another ramen shop of the same name which established the Sapporo ramen style. And here, we'll introduce you to this famous ramen shop!
Sumire Ramen: One of Hokkaido's Great Ramen
You might say that Hokkaido is Japan's isle of ramen. In fact, ramen in Sapporo, Hakodate, Asahikawa and Kushiro are known as the "Four Great Ramen of Hokkaido" and are each very popular nationwide. But out of all the different varieties of ramen in Hokkaido, the one most widely regarded is Sapporo ramen.
Miso Ramen Originated from Sapporo – Sumire Ramen is the Shop that Made it Happen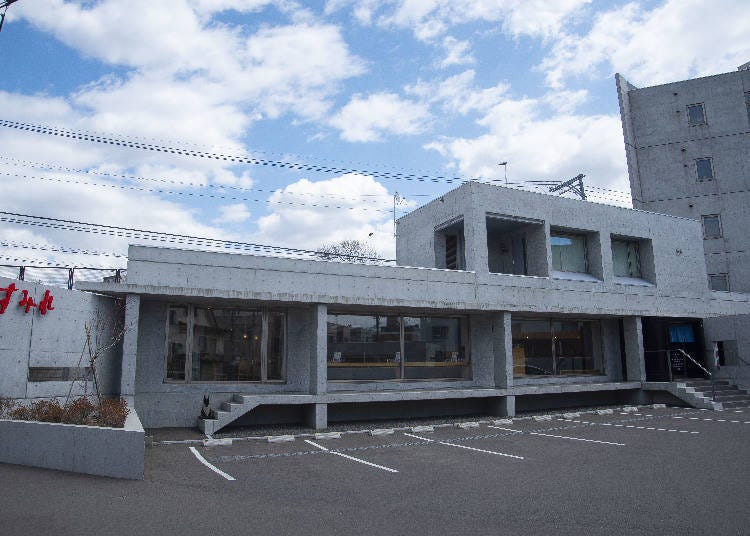 It is said that in the 1950s, a customer at ramen shop Aji-no-Sanpei said "I want to eat noodles in tonjiru (miso soup with pork and vegetables)" - and with that Sapporo became the birthplace of miso ramen.

In 1964 a ramen shop that opened up in Sapporo Nakanoshima created a variation of ramen with such a strong impact that it spread the image of Sapporo ramen across the nation. That store was Sumire, which was located near Sumire Nakanoshima Honten. (Slightly confusingly, both shops were called 'Sumire', however one used kanji characters in its name and the other one didn't.)

At the time the main style of Sapporo ramen was light and simple, but the founder Nakamura Akiko offered ramen with rich garlic and miso flavor. This new flavor started to attract more attention to the point where the media started to interview the shop.
Traditional Flavor Passed Down from Mother to Son and Master to Student
Unfortunately, Sumire closed in 1982, however, the next year they reopened under the name Junren in a different location, which also became a popular shop that formed lines of eager customers.

In 1989 the founder's third son who was a Japanese cuisine chef operating a sushi restaurant at the time, studied the craft of ramen making and opened up the ramen shop Sumire Nakanoshima Honten in the original location. Junren, which was inherited by the eldest son, and Sumire are both well-known Sapporo ramen shops.

Many disciples who trained at Sumire and Junren have inherited the Sapporo ramen culture and evolved the flavor and techniques they have acquired throughout the country.
Sumire Ramen, Known for its Strong Aroma and Spicy Miso
The most popular dish at Sumire Nakanoshima Honten is miso ramen. Ground meat and bean sprouts are stir-fried with garlic in a wok, then the spicy and rich soup made with miso specially made by Sapporo City's only sake maker Chitosetsuru Nipponseishu, is added. You can tell it is delicious from the first sip.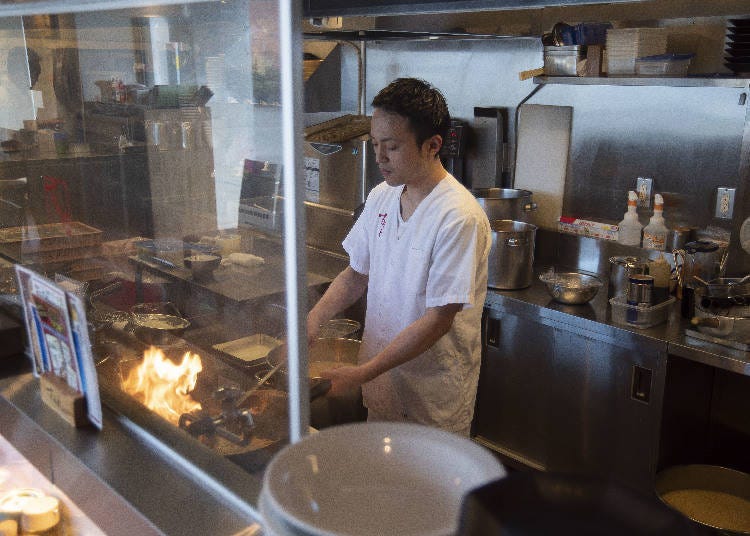 The flames help enhance the aroma in the wok.
The medium thickness, curly noodles match the soup perfectly. The aged noodles soak in the soup. Also putting in ginger at the end is part of Sumire's signature. They emphasize grating the ginger for each bowl of ramen to give it a stronger flavor.

The combination of ginger and miso is popular and has been incorporated by many Sapporo ramen shops. The lard covering the surface helps retain the soup's temperature and keeps the ramen warm to the end.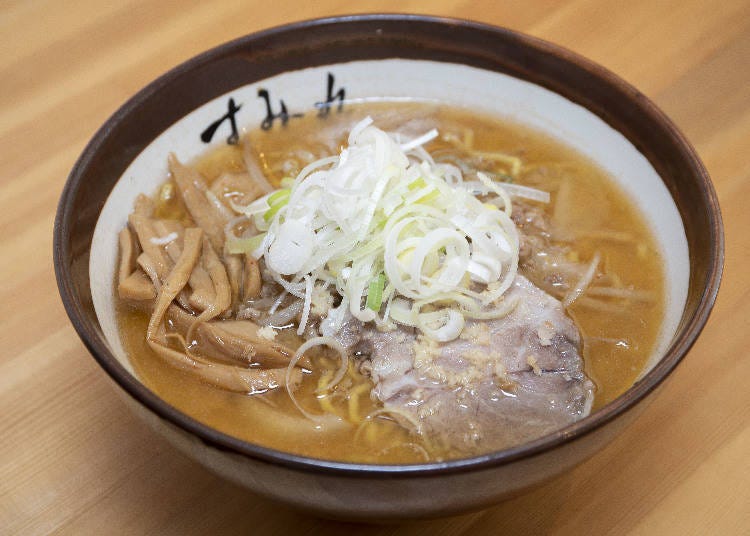 Most popular miso ramen 870 yen, 60% of customers and even 80% on a busy day will order this ramen.
Try the Ever-Evolving Sumire's Ramen
At Sumire the flavor that was inherited by the creator has evolved with the times to pursuit a flavor that is loved by everyone. The Miso Kimchi ramen 980 yen is popular with overseas customers, mainly from Asia. The hot but sweet kimchi mixes with miso and gives the flavor an extra kick.

The shoyu (soy sauce) ramen at 820 yen with its deep flavor is a local favorite. The soy sauce blended by the owner gives it the special taste. Shio (salt) ramen at 820 yen is popular with older men and female customers; the soup is mainly extracted from pork has strong and deep flavor. Recently the plainer taste old fashion shoyu ramen, Mukashi-fu Assari Shoyu (870 yen) is becoming more popular.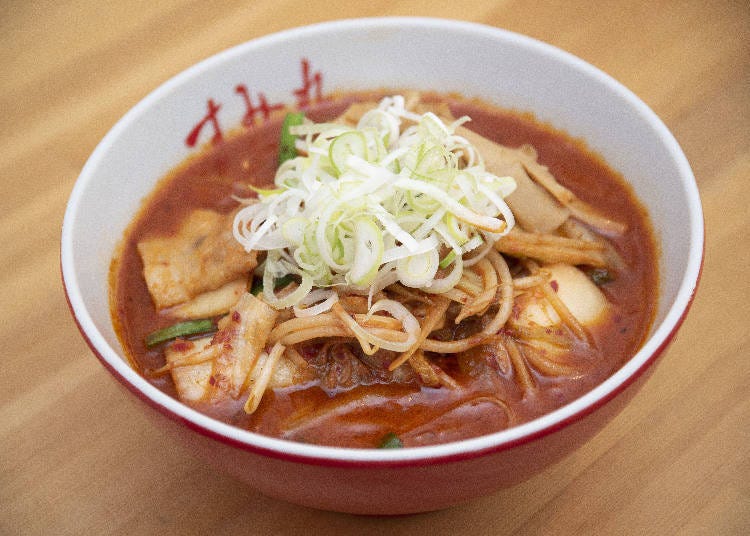 The thick soup is filled with many toppings such as onions, garlic chives, bean sprouts and thinly sliced pork belly.
A Stylish Interior that Doesn't Look Like a Ramen Shop
The Nakanoshima Honten was rebuilt two years ago and the exposed concrete building looks more like a contemporary restaurant. Women give high marks to the bright and clear interior.

The store tends to be packed as the doors open and it is a common sight to see a line of people waiting to get in. It is always great to experience delicious ramen, however if you wish to avoid the crowd, it is best to visit after 2:00 PM and from 4:00 PM - 7:00 PM.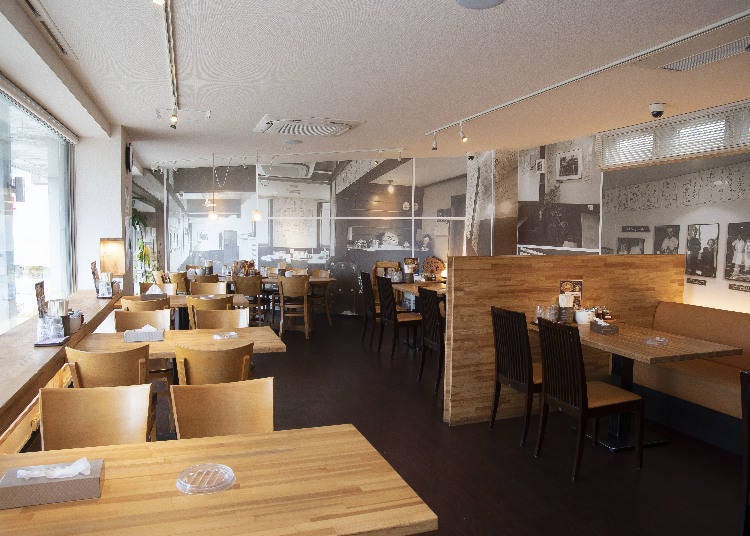 The store interior is a handsome combination of white and brown
Souvenirs to Recreate the Popular Sumire Ramen Taste at Home
At the building next door they sell souvenirs such as instant ramen. They offer dried noodle types shown in the photo, plus raw noodle types too. You can always visit the gift shop to buy souvenirs, and they also deliver to some regions. A perfect gift to share your dining experience in Sapporo with friends and family.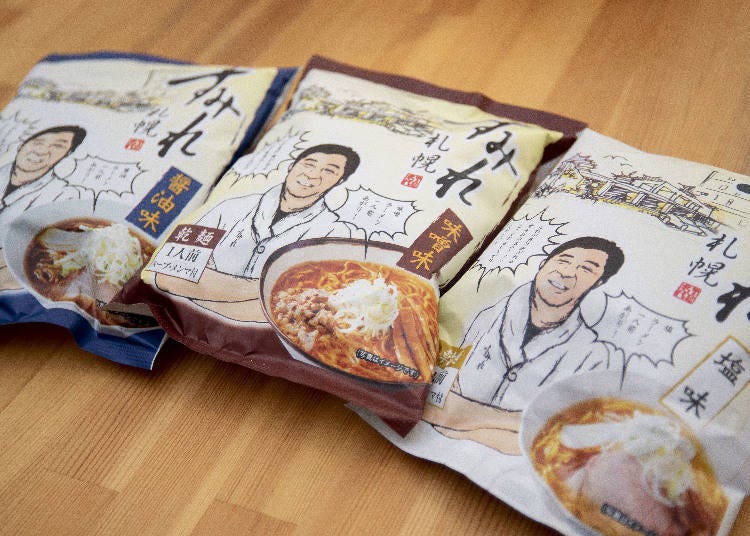 400 yen per severing, flavors come in miso, shio and shoyu
Other than the Nakanoshima Honten, Sumire has two other shops in Sapporo City. The Susukino branch (Minami 3-jo 3-chome 9-2 Pisces Bld 2F, Minaka, Chuo-ku Sapporo City) is open till 3:00 AM on weekdays and Saturdays, which is a perfect place to finish your night out drinking with a bowl of ramen. The Satozuka Branch (Satozuka 1-jo, 4 Chome 15-45 Kiyota-ku Sapporo City) is located along National Route 36 connecting Sapporo City and New Chitose Airport. It is located near the Kitahiroshima Interchange, which is used to access the airport. A great location for busy businesspersons and travelers who didn't have time to eat ramen. Outside Hokkaido they also have a branch in Yokohama (Noge Sark 1F, Noge-cho 26-5, Naka-ku, Yokohama City, Kanagawa Prefecture).
Sumire Sapporo Nakanoshima Honten

すみれ 札幌中の島本店

Address

〒062-0922 札幌市豊平区中の島2条4-7-28 / 4-7-28, Nakanoshima 2jyou, Sapporo-shi Toyohira-ku, Hokkaido, 062-0922

Nearest Station

10 minute walk from Namboku Line Nakanoshima Station


Phone Number

011-824-5655

Hours:
April - October Monday-Friday 11: 00 AM - 3:00PM, 4:00PM - 9:00 PM, Saturdays, Sundays, holidays 11:00AM - 9:00 PM, November - March Monday - Friday 11: 00 AM - 3:00PM, 4:00PM - 8:00 PM, Saturdays, Sundays, holidays 11:00AM - 8:00 PM
Closed: Open daily
Seats: 44
Parking Space: 15 slots
Text by : minna no kotoba sha
*This information is from the time of this article's publication.
*Prices and options mentioned are subject to change.
*Unless stated otherwise, all prices include tax.