Naturally the beer most representative of Hokkaido is Sapporo Beer! When you travel to Sapporo, this is one place you really must visit. As the brick construction testifies to its age, the original brewery, now the Sapporo Beer Garden, was built during the Meiji era. Here you can also experience Mongolian barbecue, locally referred to as "Genghis Khan", with a glass or two of this classic beer.
Perfect place for photos! Take a stroll through the Sapporo garden Park
It is located slightly less than two kilometers east of JR Sapporo Station. Going there by non-stop bus takes about seven minutes and by taxi about two clicks of the meter. The park was built on the grounds of the old Sapporo Beer Brewery after it closed in 2003.

This area has been developed with a goal of connecting the past with the future through preservation of historical red brick buildings built during the pioneering days of the Meiji era. Set in a lush green environment perfect for walking tours you will find the Sapporo Beer Garden, Garden Grill, Sapporo Beer Museum, Ario Sapporo (a commercial complex), and the indoor practice field of the Hokkaido Nippon Ham Fighters baseball team.

This is a shutterbug's paradise where many scenes are ideal for pictures, such as the red brick chimney and other objects used in the brewing of beer, such as copper kettles.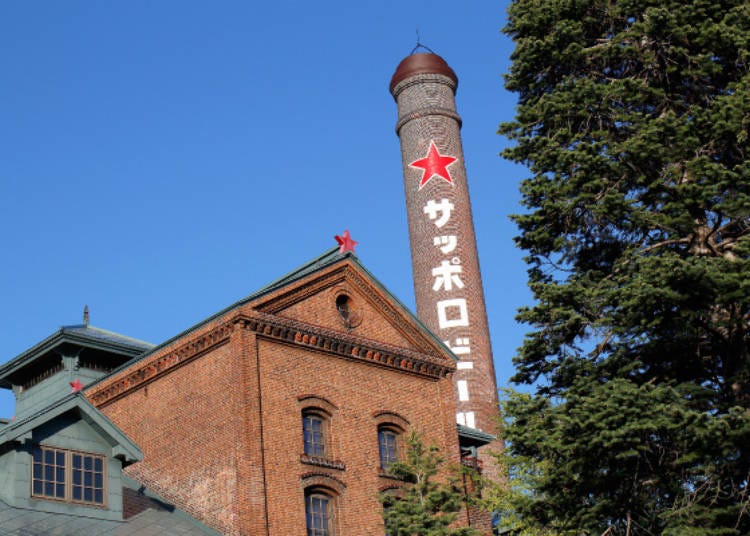 Zoom up on the red star on the chimney, the symbol of Sapporo Beer and now that of the Sapporo Garden Park. The red brick buildings are registered as cultural assets of Hokkaido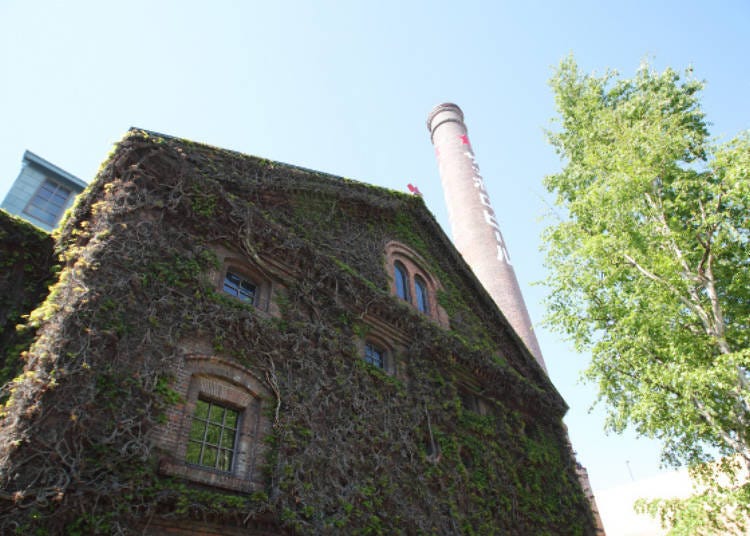 Ivy climbing up the side of the Sapporo Beer Garden building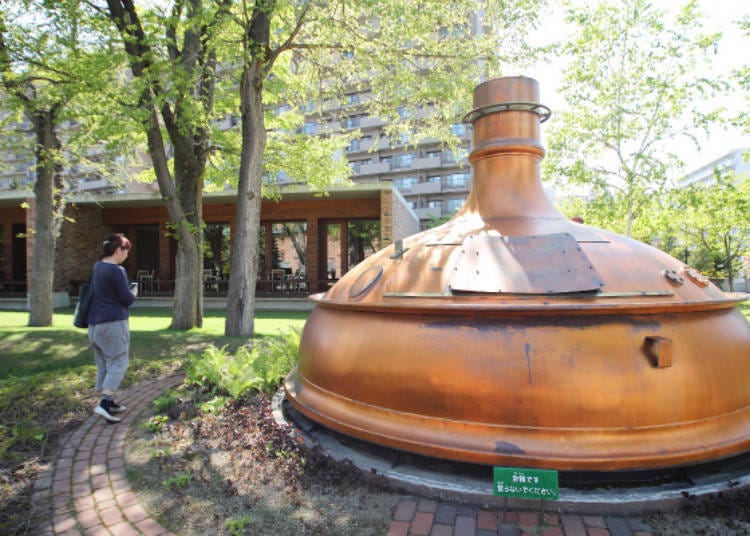 A short distance inside the grounds and on the right there is part of a large kettle that was actually used to brew beer. Malt, hops, water and other ingredients were mixed and heated in kettles such as this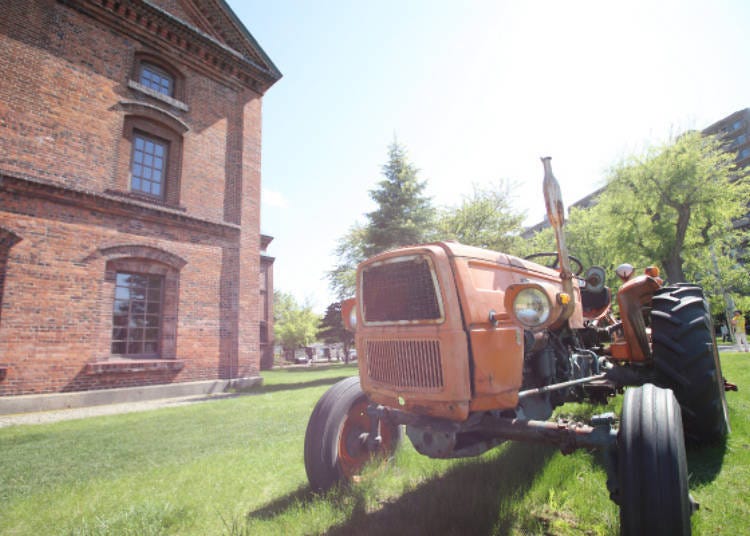 Also on display is farm equipment that was used in the cultivation of hops in Kamifurano Town
Sapporo Beer got its start back in 1876 when it was initially established as the government operated Kaitakushi Bakushu Jozojo (Pioneer Beer Brewery).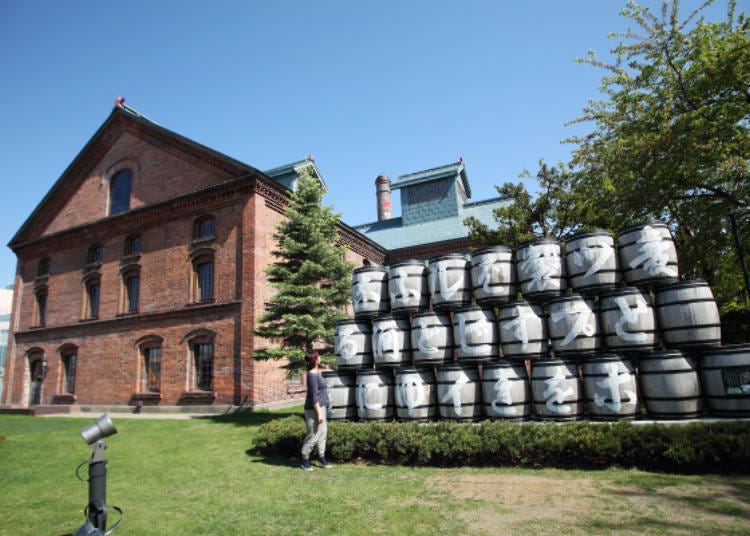 Barrels were stacked up for use in a commemorative photo taken when operations began and on them was written "A liquor called beer is made with malt and hops", just as it is on these replicas.

Later in 1887 this business went private and became the Sapporo Bakushu Kaisha (Sapporo Beer Company). The red brick building in the background of the above photo was constructed in 1890 for a factory of the Sapporo Seito Kaisha (Sapporo Sugar Company). In 1905 it was acquired by the Sapporo Beer Company and converted into a brewery and operated for about 60 years.

This red brick building is now the site of the Sapporo Beer Museum and Sapporo Beer Garden.
Double your pleasure by participating in the Premium Tour!
The Sapporo Beer Museum was renovated in 2016 and the interior of the three-story building was refurbished 11 years after the previous change. All new exhibitions were put on display.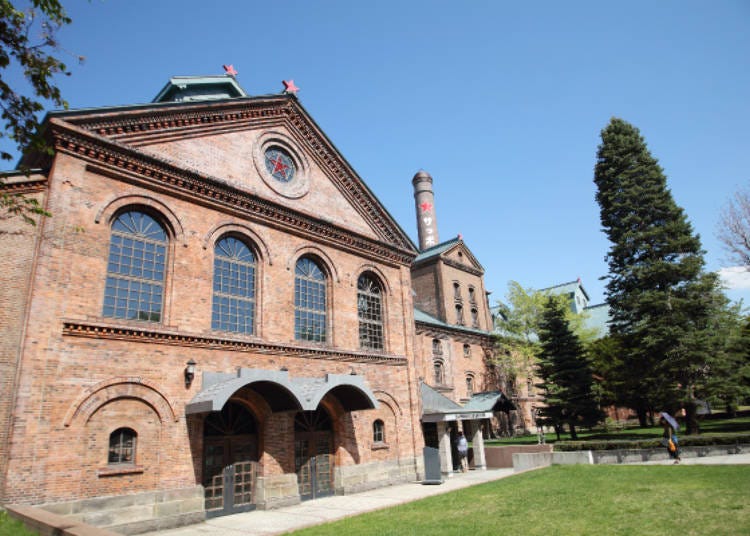 Exterior of the Sapporo Beer Museum
Visitors are free to look around the interior however, we recommend taking the Premium Tour led by guides called Brand Communicators (takes about 50 minutes and costs 500 yen per adult). The highlight is a 6K movie that only tour participants can view as well as sampling of a limited edition beer also only available to tour participants!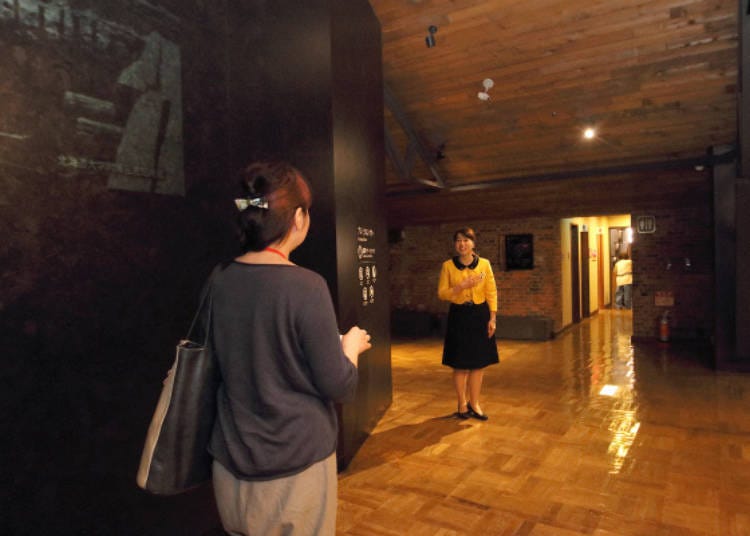 The Premium Tour starts from the third floor waiting room.

The movie, shown on a large screen, lasts about ten minutes and dramatizes how the first brewers created domestic beer.

How the country's first beer made with local ingredients came about is a moving story of two individuals who tirelessly and enthusiastically devoted themselves to the task: Seibe Nakagawa and Hisanari Murahashi who built the Pioneer Beer Brewery in Sapporo rather than Tokyo.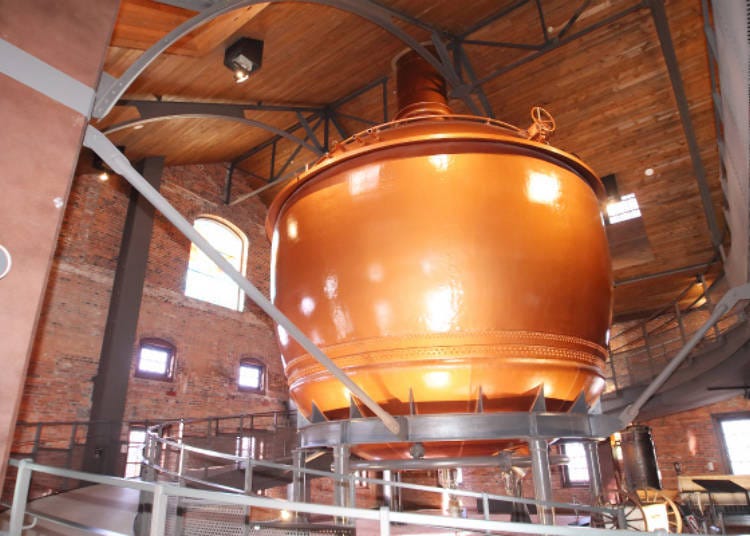 From the waiting room you proceed to the second floor Sapporo Gallery by descending the ramp going around the large mixing kettle. The history of Japan's beer industry, notably that of Sapporo Beer, is presented in easy-to-understand panels on this floor.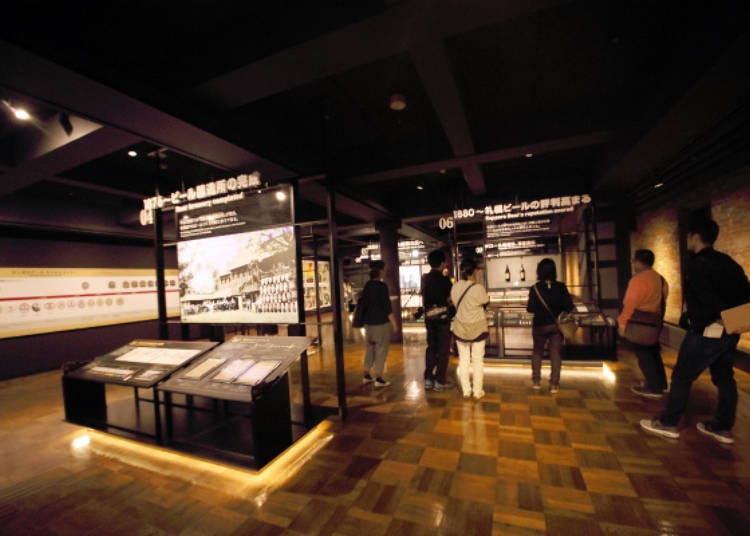 Spacious exhibition area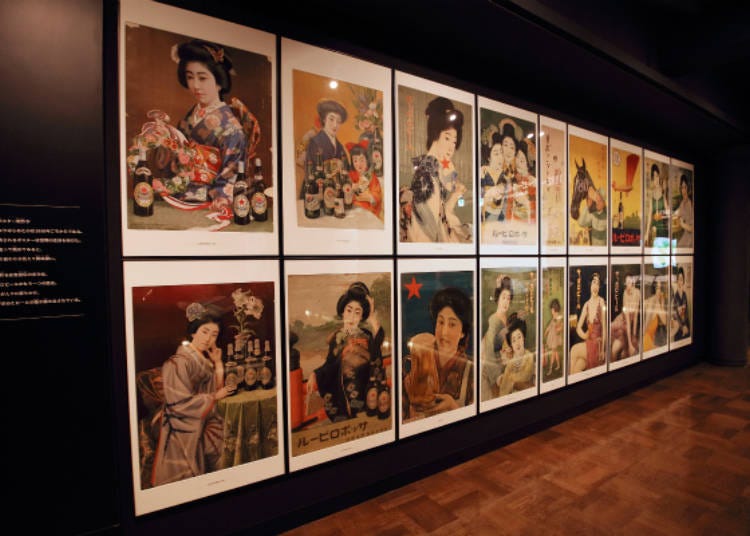 Old original posters advertising Sapporo Beer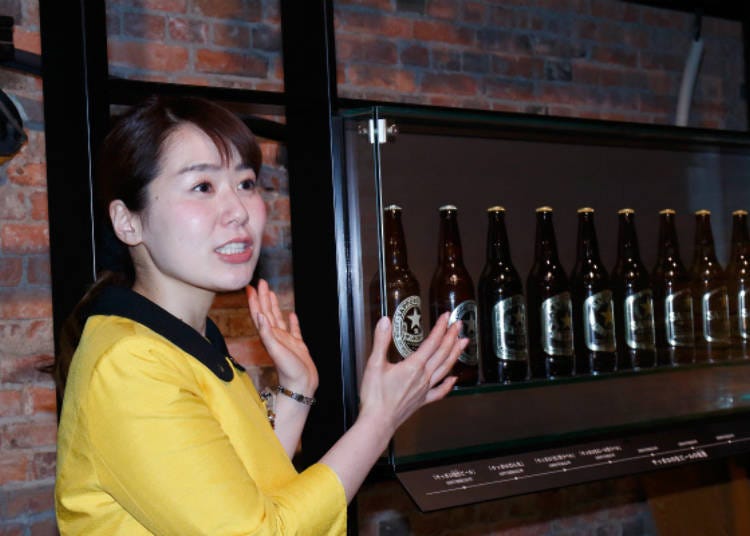 A Brand Communicator explains the history of the beer bottles and their labels. Which of the labels do you remember?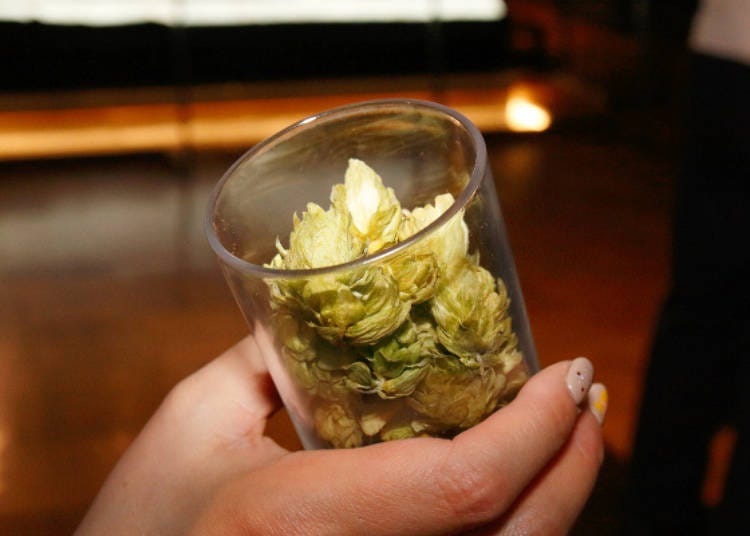 Hops used in the brewing of beer
Last of all you reach the Star Hall on the first floor and are ready to sample taste the product!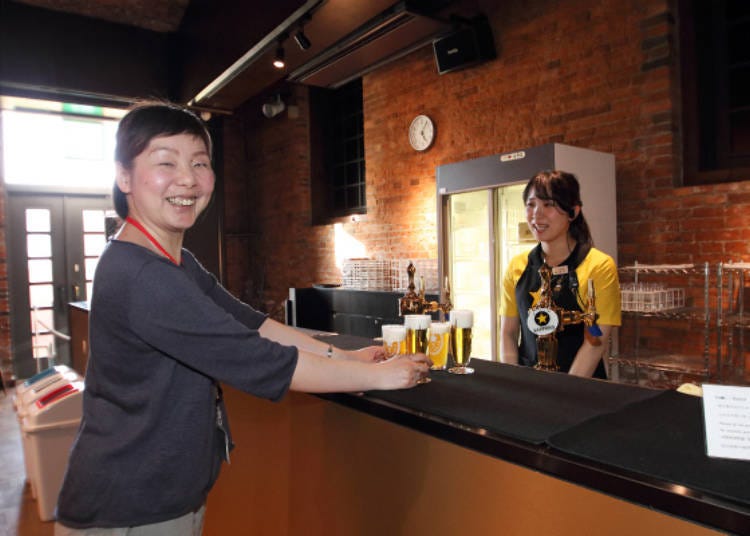 The beer served is Fukkoku Sapporo-sei Bakushu (Reproduction Sapporo Beer), which has been faithfully brewed using the same process as when it was originally made, and Sapporo Draft Black Label.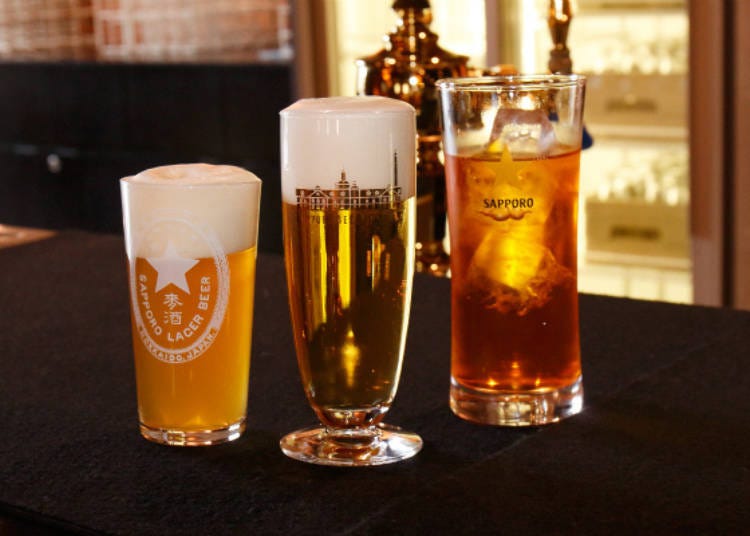 From the left: Reproduction Sapporo Beer, Sapporo Draft Beer Black Label, and for those who cannot drink alcohol and minors who participate, Ribbon Napolin (an orange-colored cider made by Pokka Sapporo and only sold in Hokkaido)
The Reproduction Sapporo Beer is something only the Premium Tour participants can enjoy. It has a slightly bitter taste of hops and is a bit turbid because it is not filtered. Sapporo Draft Beer Black Label, by comparison, has a sharper, clearer taste, as those who have sampled it know. After learning about the beer, there is another delicious surprise. If you did not participate in the tour, you can sample these beers for a fee! (300 yen for the Reproduction Sapporo Beer and 200 yen for the Sapporo Draft Beer Black Label)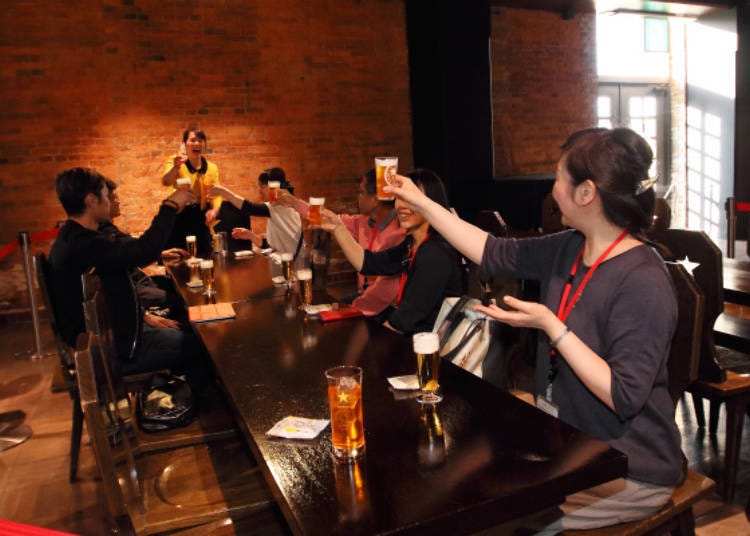 Raising glasses in a toast where "Sapporo!" is said rather than "Cheers!" The cold beer deliciously quenches one's thirst
Next let's stop by the Museum Shop. It offers a variety of original items, like key holders, and the popular Museum Pilsner Glass, Museum Tumbler, and Classic Beer Jelly Chocolate.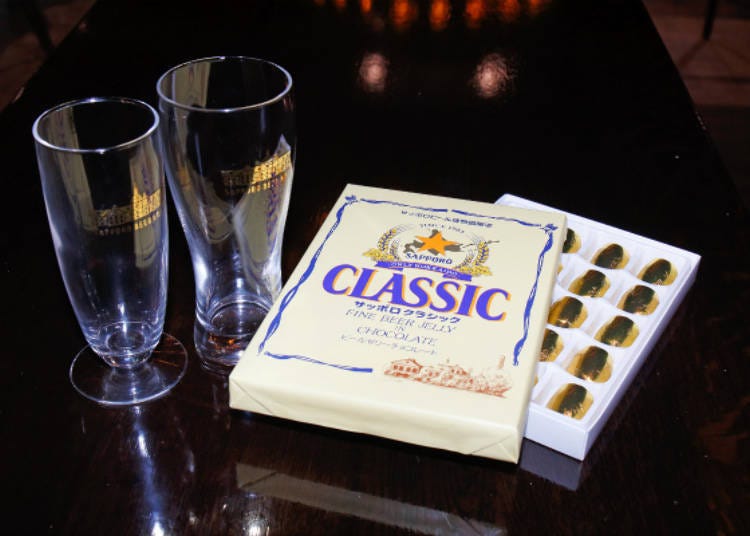 From the left: Museum Pilsner Glass (556 yen), Museum Tumbler (649 yen), Classic Beer Jelly Chocolate (864 yen)
The glass and tumbler have an illustration of the museum on them. The Sapporo Classic is jelly made from Hokkaido Limited Edition Beer that is wrapped in chocolate – a beer version of a whisky bonbon – and quite popular with adults.

After shopping, snap a commemorative photo on the first floor of you apparently being in a gigantic mug of just poured beer!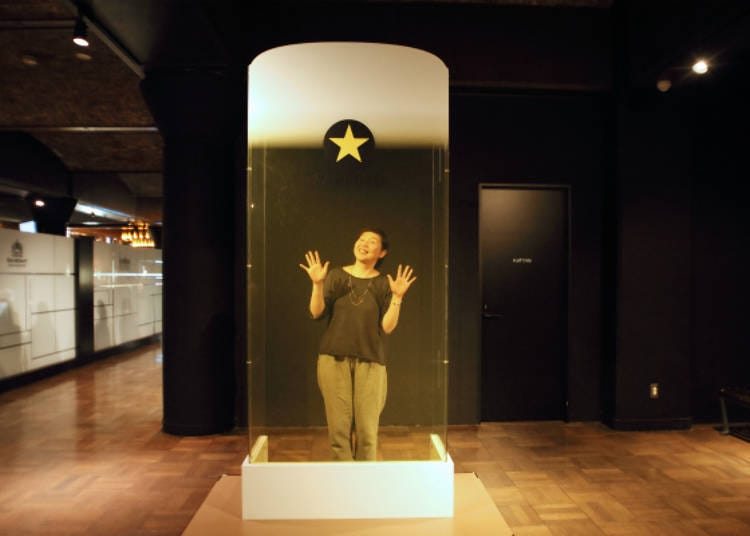 Admission: free
*Premium Tour fee is 500 yen for adults, 300 yen for minors of junior high school age and above, and no charge for minors younger than that. Please visit the website for details.
Hours of Operation: 11:30 AM ~ 8:00 PM (admission and last order until 7:30 PM)
Closed: December 31
*Every Monday (the following day if a holiday falls on Monday); only sightseeing is possible; tasting is not possible.
*Sometimes the museum is closed on unscheduled days, too
Address

Kita seven Jo Higashi 9-1-1, Higashi-ku, Sapporo, Hokkaido, 065-8633
View Map

Nearest Station

Higashi kuyakusho mae Station (Toho Line)
10 minutes on foot


Phone Number

011-748-1876
Try Genghis Khan, Hokkaido's "soul food" – with a cold Sapporo beer!
After leaving the museum why not sample Genghis Khan and a beer in the Sapporo Beer Garden?

The hall in the Sapporo Beer Garden has five distinct sections, each offering different selections; meat selections in one, sushi and crab in another, smokeless roasters, and an outdoor terrace. With such a great selection it may be hard to decide where to begin, so why not first visit the Kessel Hall?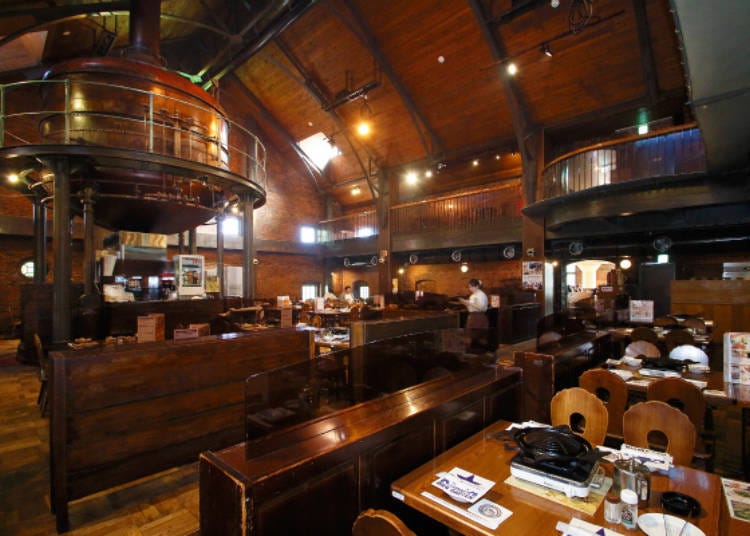 The kessel (kettle for brewing beer) built in 1912 sits beneath the expansive high roof of the hall
Entering the hall you are greeted by the aroma of lamb being grilled, smoke wafting from pots, and an ambience of visitors enjoying themselves.

The main menu is the renowned Specialty King offering all-you-can-eat and drink fresh lamb and beer (4,212 yen for junior high age students and above for 120 minutes). Thinly sliced fresh lamb is cooked in the traditional Mongolian method on a convex grill together with other vegetables. As for the all-you-can-drink beers, Sapporo Draft Beer Black Label and Ebisu Premium Black as well as other types are offered.

Genghis Khan, lamb cooked on a convex iron grill, is considered the "soul food" of the locals. The grills in this restaurant are unique in that they are in the shape of Hokkaido.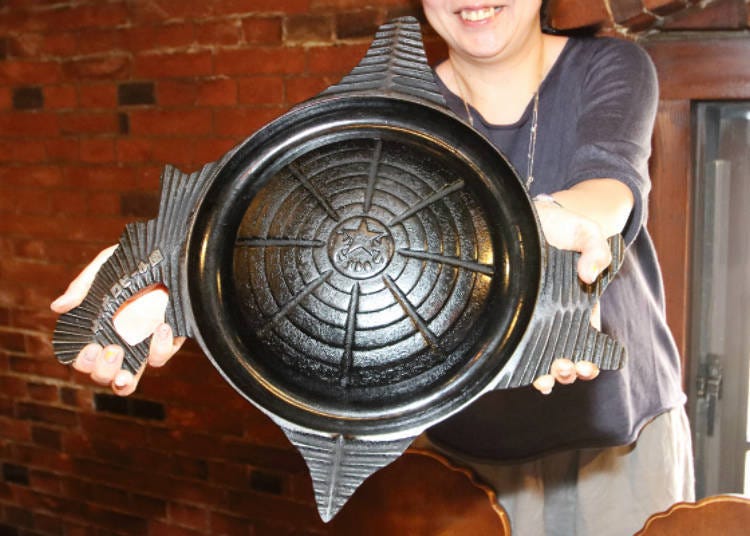 A square piece of fat is placed atop the center…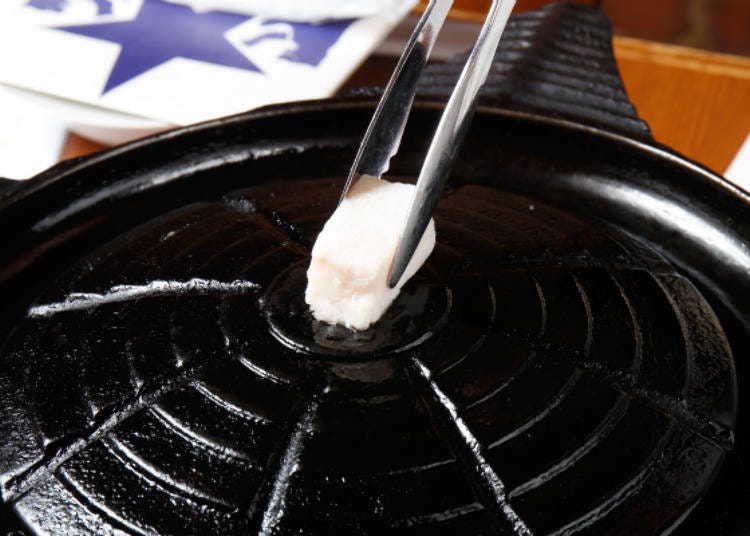 Let the fat melt and then add vegetables…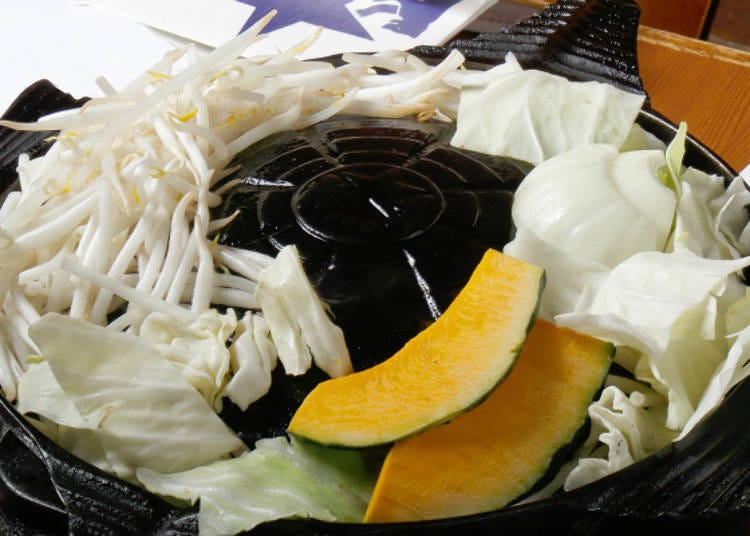 On top of this, grill the meat. This arrangement is known as Hokkaido Style.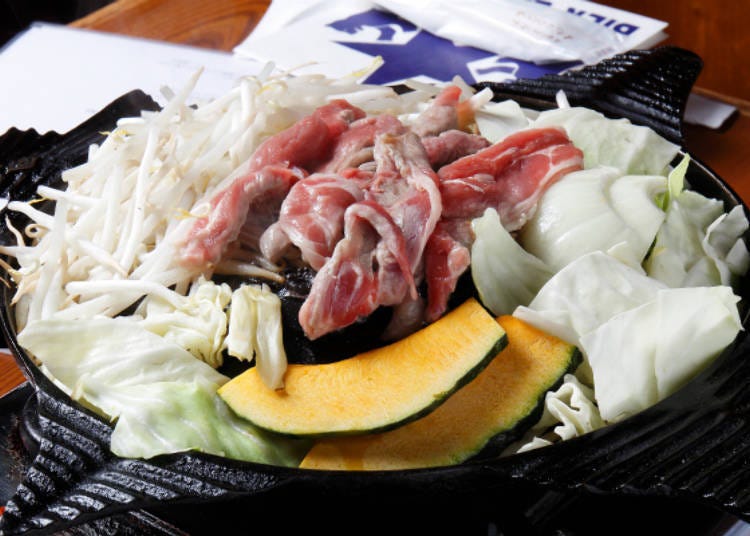 Fresh lamb added to the grill
The grilled lamb is succulent and tender! Dipped in a special slightly sweet soy-based sauce seasoned with spicy chili and special peppers gives it added flavor and making it irresistible. The juices from the meat sauté the vegetables further heightening the experience!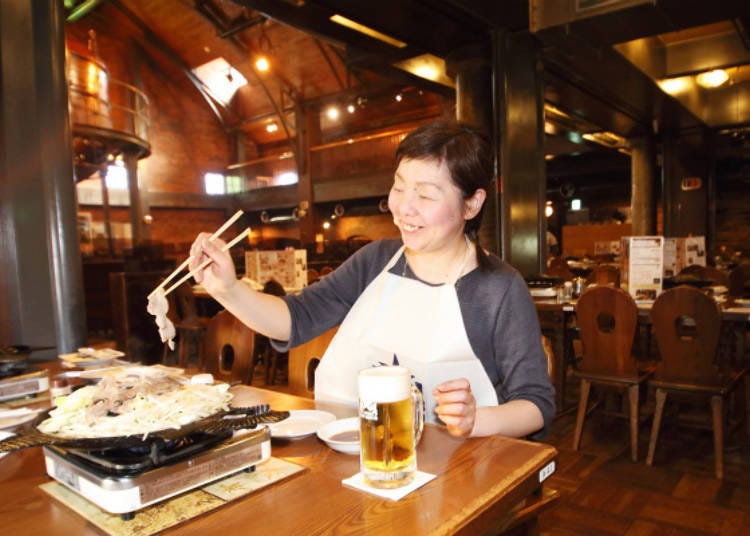 The beer served here is draft beer from the barrel shipped directly from the Eniwa factory and enjoys a reputation for being especially delicious because of the care put into its making by the meisters.

Since you've come this far, we really recommend that you try the Sapporo Five Star beer (539 yen for a glass; 680 yen for a mug)!

This is a reproduction of the premium beer developed in 1967 and which cannot be found anywhere else in the world other than here at the Sapporo Beer Garden. It has a rich, light taste which makes it go down easy and makes you wish you could find it elsewhere, too.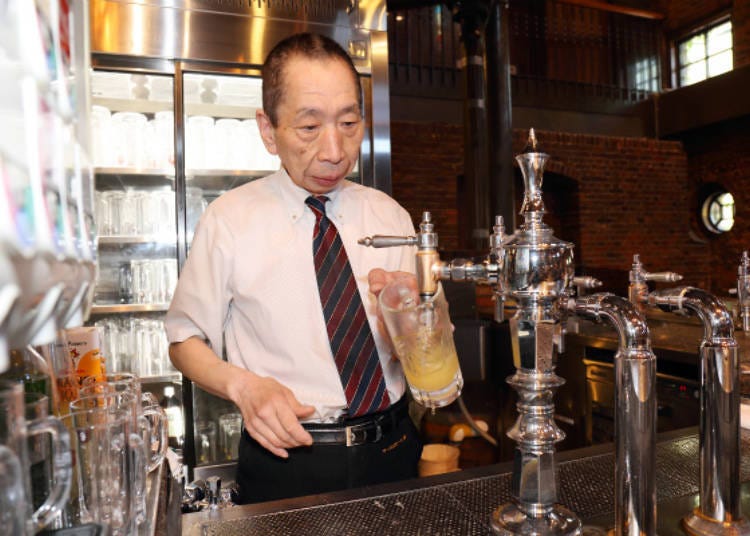 A veteran meister demonstrating his amazing pouring technique
The foamy head is not added later, but naturally forms when the beer is poured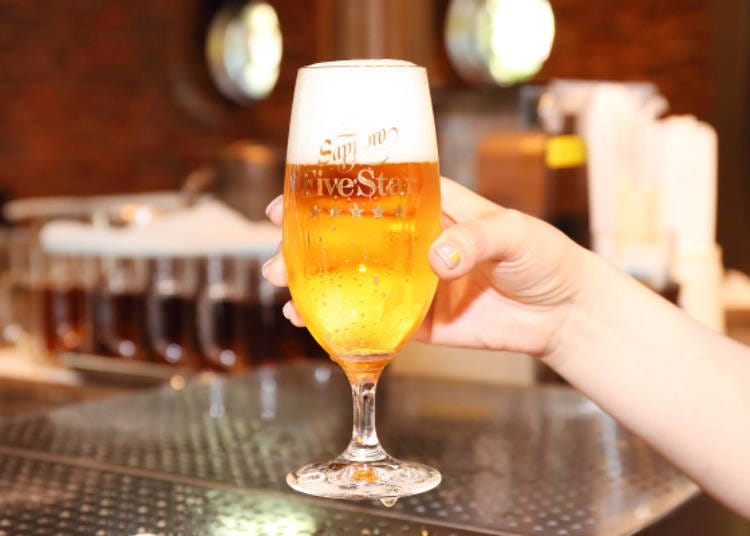 Sapporo Five Star beer which can only be enjoyed here
I hope this introduction gives you some idea of the pleasures awaiting you at the Sapporo Beer Museum and Sapporo Beer Garden! By all means, when you visit Sapporo, please pay them a visit.

* All prices include tax.
サッポロビール園

Address

〒060-0907 北海道札幌市東区北7条東9丁目 サッポロガーデンパーク内/Sapporo Garden Park, 9, Kita7-johigashi, Higashi-ku Sapporo-shi, Hokkaido, 060-0907, Japan

Phone Number

0120-150-550

Hours: 11:30 AM ~ 10:00 PM (last order 9:30 PM) ※ Please visit website for details.
Closed: December 31
Written by:Fumi

*This information is from the time of this article's publication.
*Prices and options mentioned are subject to change.
*Unless stated otherwise, all prices include tax.