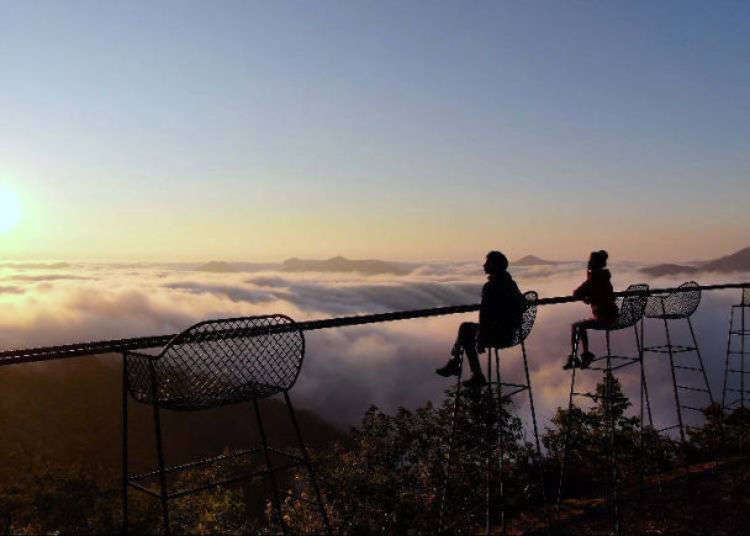 The beauty of Hokkaido's scenery and wilderness is such that is bound to leave a deep impression on all who travel there.

The summers compensate for their shortness in an overflowing landscape of brightly blooming flowers. Winters impress us with mysterious phenomena of snow and ice. Mountaintops offer views of an expansive sea of clouds, while the clear waters of the sea itself reflects the blue of the sky in return.

Sadly, some of these precious landscapes are slowly disappearing, and may one day become nothing more than a scene from a fantasy. Here are a few places to go for gorgeous Hokkaido scenery! And seasonal landscapes you may want to etch into your memory before that happens.
1. Yotei Panorama Terrace: A Majestic Mountain View of Hokkaido Scenery At Its Finest (Rusutsu Village)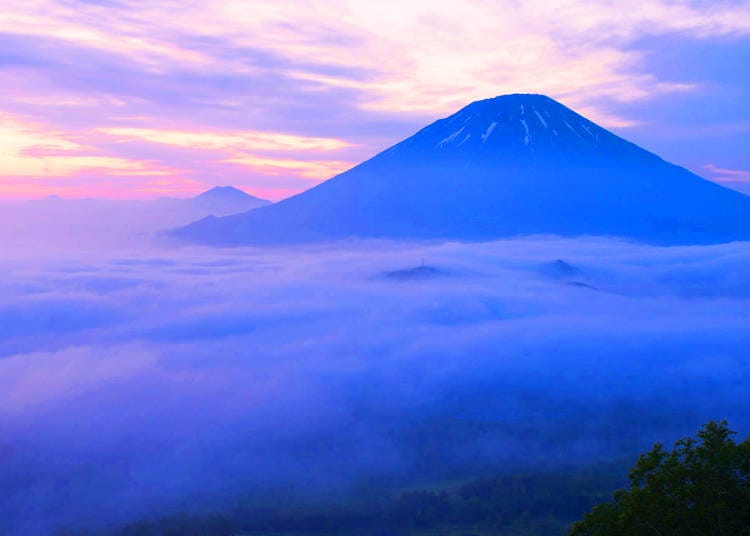 Rusutsu Resort is a facility located in the town of Rusutsu, where there are golf courses and ski slopes, as well as hotels and amusement parks. West Mountain (aka, Mount Sorioi), the site of the ski course in the wintertime, is also home to the Yotei Panorama Terrace, which opens on the mountain summit from spring to autumn.

As the name suggests, here you can see an expansive panoramic view of the famous peak of Mount Yotei, including the foothills area and Lake Toya. According to Feng Shui, West Mountain is considered an auspicious spot along the flowing line of energy that emanates from Mount Shiribetsu.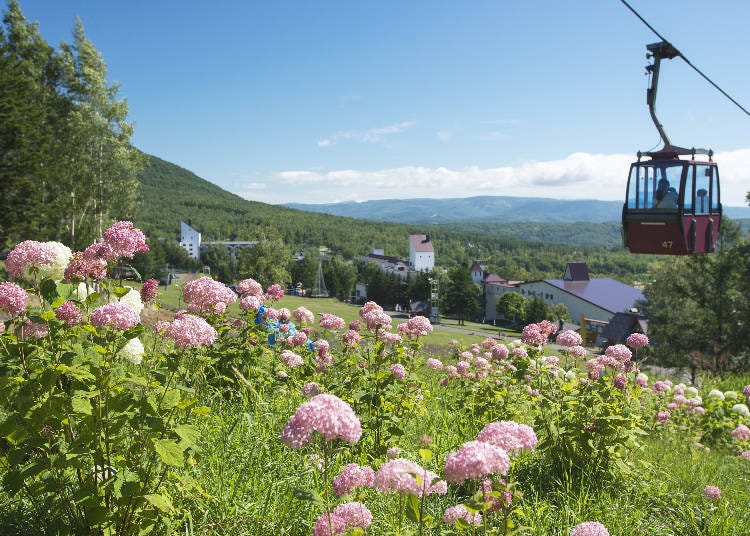 If you are lucky, from June to August, you may be able to get a glimpse of the "Sea of Clouds" early in the morning. Mount Yotei protrudes from the top of this magnificent cloudy sea, illuminated by the morning sun, creating a beautifully majestic atmosphere. The summer sunset is another beautiful sight, with a special gondola that runs until sunset during the summer holiday. It's a magical place to visit in Hokkaido.
羊蹄パノラマテラス

Address

Rusutsu Resort, 13-Izumikawa, Rusutsu, Abuta, Hokkaido 〒048-1711

Phone: 0136-46-3331 (representative), 0136-46-3111 (general reservation center)
Prices:
Amusement Park Admission Ticket holders (*) may ride any number of times during the ticket's validity period. Guests without an Amusement Park Admission Ticket may ride for 1,300 per one round trip. Unfortunately, there are currently no gondola-only day-trip options.
*Amusement Park 1-day Ticket:
Junior High & Up: 5,100 yen (Summer Vacation: 5,600 yen)
Elementary Age: 4,100 yen (Summer Vacation: 4,600 yen)
Children 4 and under: 1,300 yen
60+ years: 1,300 yen (age verification required)
Access: 2 hours from New Chitose Airport via hotel guest bus (reservations required), and from Sapporo via Rusutsu Resort free guest shuttle bus (reservation required); by car, 1 1/2 hours from Sapporo

Yotei Gondola: *Operation Schedule for 2020
Operating Period: April 29 to October 18 *Closed October 12 - 16
Operating Hours:
April 29 to September 30 (Weekdays): 9:00AM - 4:30PM (Last ride boards 4:15PM, arrives 4:30PM)
April 29 to September 29; April 30 to May 1 (Saturdays, Sundays, Public Holidays): 9:00AM - 5:00PM (Last ride boards 4:30PM, arrives 4:45PM)
October 1 - 11, 17 - 18: 9:00AM - 4:00PM (Last ride boards 3:45, arrives 4:00P)
Early Morning Sea of Clouds Ride: (June 6 - August 23, hotel guests only) 5:30AM - 6:30AM (Last ride boards 6:30AM, arrives 6:45AM)
Summer Vacation Sunset Ride (July 23 - August 23): 5:00PM - Sunset
2. Hoshino Resorts Tomamu Unkai Terrace: Swimming in a Sea of Clouds (Shimukappu Village)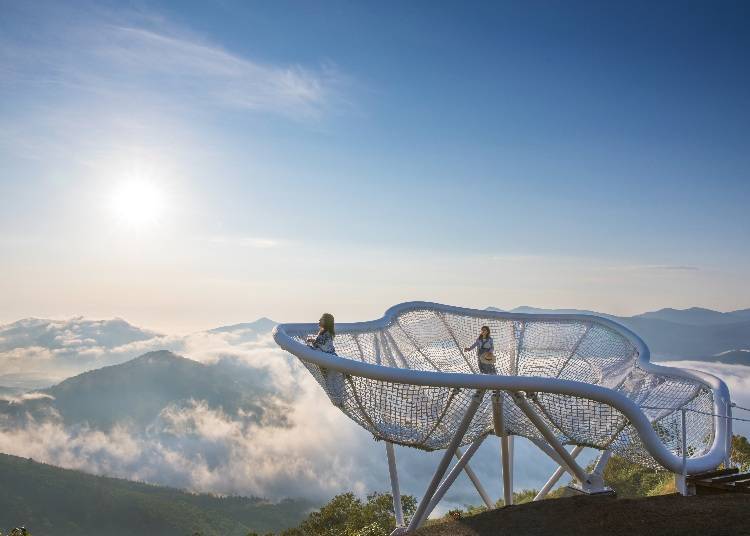 Hoshino Resorts Tomamu, located in Shimukappu Village and one of the largest overnight resorts in Hokkaido, is one of the spots where you are most likely to catch a view of the Sea of Clouds between mid-May and mid-October. Unkai Terrace is an observation deck where you can experience this special view of the Sea of Clouds, together with Hokkaido nature that is quickly gaining popularity with its visitors. It's an incredible place to go in Hokkaido.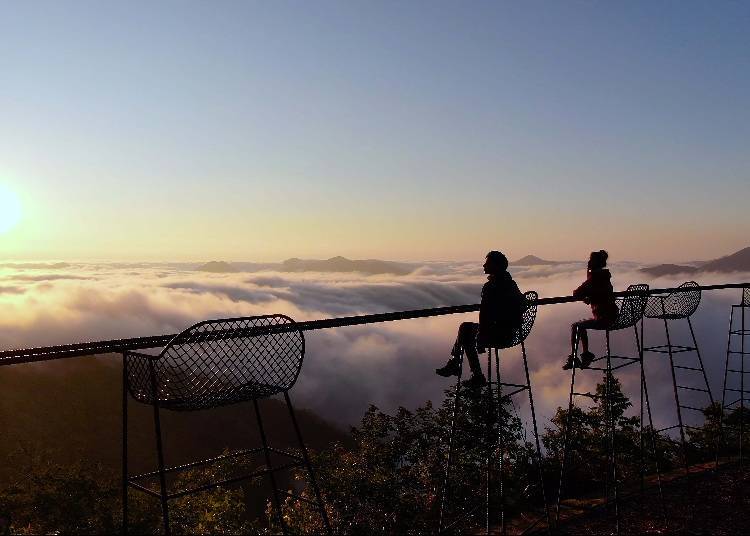 Relax in the Cloud Pool, a hammock that lets you feel as if you are floating above the clouds. Or check out the Cloud Bar, where you can sit in 3-meter high chairs that look down on the Sea of Clouds below. Six facilities have already been developed based on the "Cloud9 Plan," a resort guide that introduces nine ways to enjoy your time at Unkai Terrace.

On average, there is about a 40% chance to be able to see the Sea of Clouds. You can check the Sea of Clouds visibility forecast for the following day on the official Hoshino Resort Tomamu website.
Address

Nakatomamu, Shimukappu-mura, Yuufutsu-gun, Hokkaido, 079-2204
View Map

Nearest Station

Tomamu Station (Sekisho Line)
5 minutes by bus


Phone Number

0167-58-1111
3. Todowara and Narawara: Approaching the End of the World (Betsukai Town)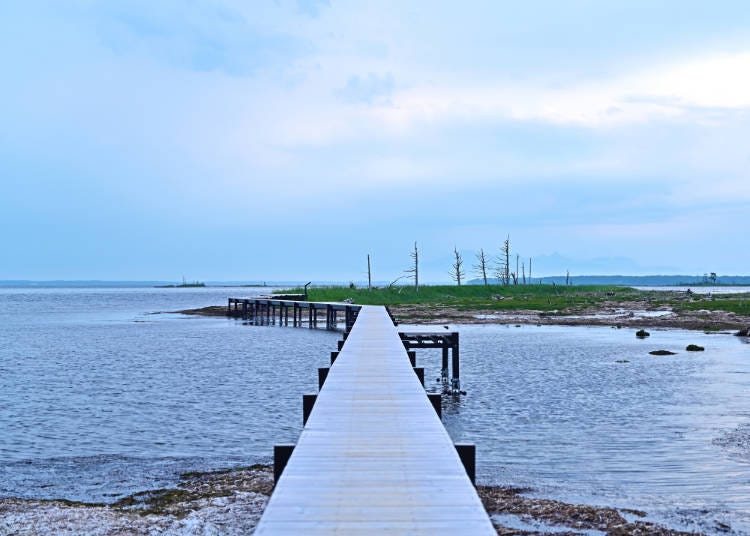 Notsuke Peninsula is Japan's largest sandspit, which protrudes into a large key shape right in between the Shiretoko Peninsula and the Nemuro Peninsula. At the tip stand many dead pines, eroded away by the seawater.

This desolate land is Todowara. It was the severity of this northern region that laid waste to the landscape, which is now often likened to "the end of the world." The erosion has advanced so far ahead in this apocalyptic scene that unfortunately, it is likely that this Hokkaido scenery will never be seen again.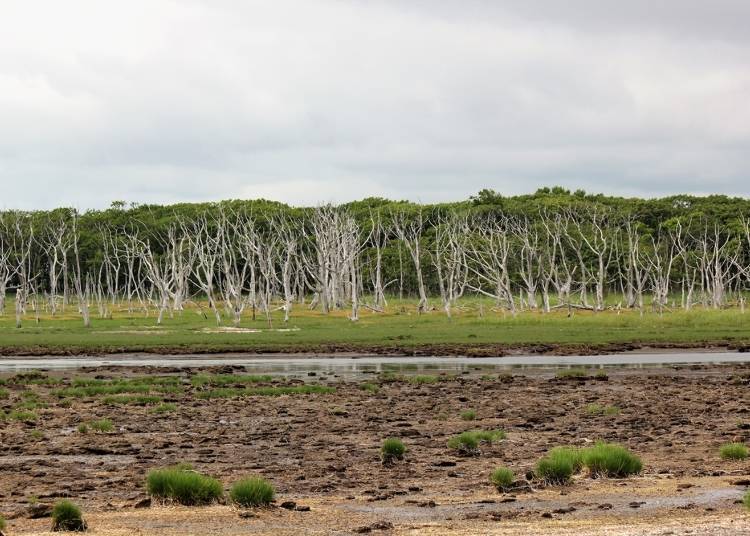 And then we have Narawara, which formed in an area called Flower Road in the middle of Route 950 on the Notsuke Peninsula, where flowers blossomed in the summer. This place has also been withered and eroded by the seawater. Hokkaido scenery's eerie contrast between the vibrant fields of flowers and forests in decay will surely leave you feeling some type of way.
野付半島

Address

Notsuke, Betsukai-cho, Notsuke-gun, Hokkaido

Phone: 0153-82-1270 (Notsuke Peninsula Nature Center)
4. Shakotan Blue: Clear Sea (Shakotan Town)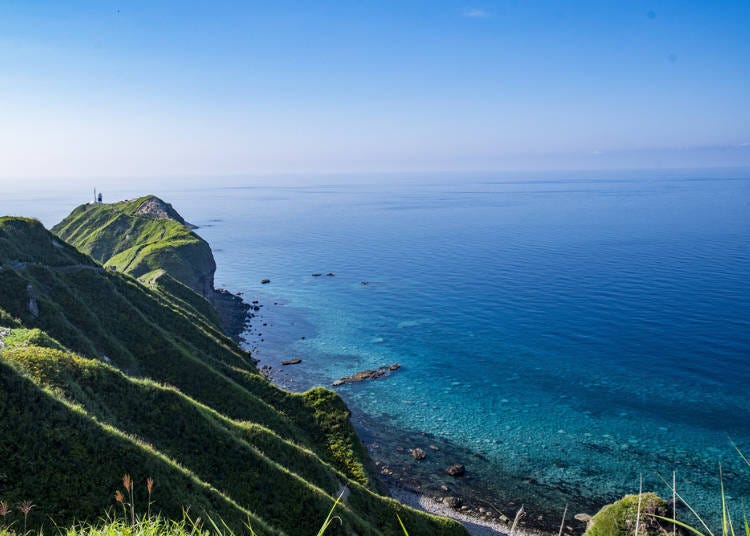 Shakotan Peninsula protrudes off the northwest shore of Hokkaido, and is popular for its dynamic coastal scenery of precipitous cliffs and unusual rock formations. Unlike the waters of any other seas you would expect to find in this region, the surface is so transparent that on clear days, its color becomes dyed a bright, vivid blue. This particular shade has even been given its own name: "Shakotan Blue."

One of the best spots to catch this stunning view is from Cape Kamui, which also juts out into the sea on the western side of the peninsula. There is a promenade that extends to the tip, with an exciting 300 degree panoramic view of the rounded horizon. It takes about 20 minutes to walk each way.
積丹半島

Address

Kamisaki-cho, Shakotan-cho, Hokkaido

Phone: 0135-44-3715 (Shakotan Tourism Association)
5. Lake Onneto: A Mysterious, Mirror-like Lake (Ashoro Town)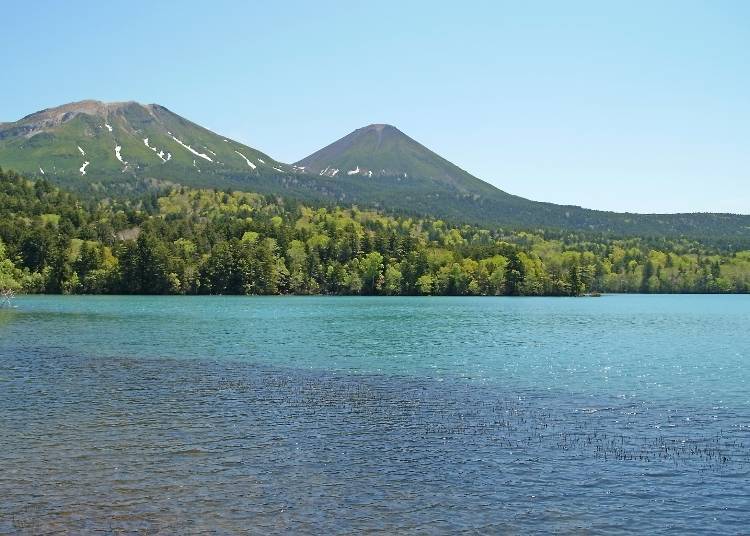 Onneto is a small lake, only 2.5 kilometers in circumference, located in Akan Mashu National Park. It goes by the nickname "Goshiki-numa" (five-colored lake in English), as its color changes from a bright emerald green to deep blue depending on the season, weather, viewing time, and angle.

There is a viewing point with an observation deck on the shore of the lake where you can see Mount Meakan and Mount Akan-Fuji in the backdrop.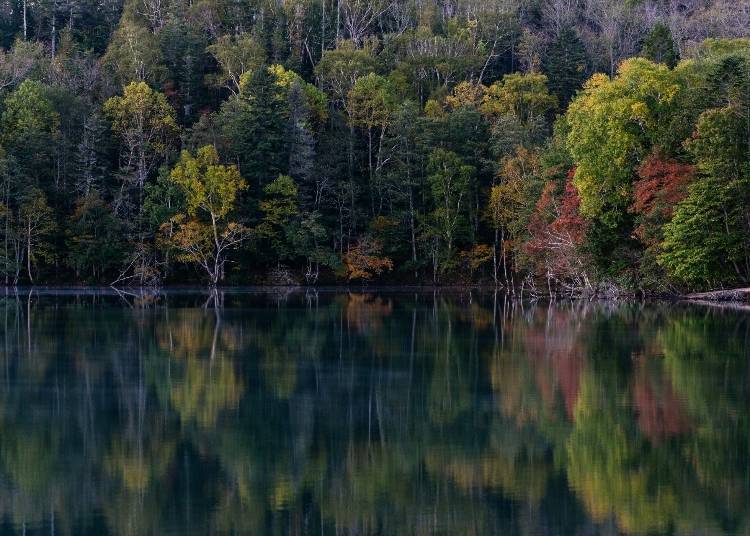 The best time to see Lake Onneto is early morning, when the winds have calmed and the surface is still, reflecting the surrounding Hokkaido scenery like a mirror. Autumn is an especially wonderful time to see this view, as the colorful fall leaves of early October reflect off the lake, creating a scene even more beautiful than ever.
オンネトー

Address

Ashoro, Ashoro-cho, Ashoro-gun, Hokkaido

0156-25-6131 (Ashoro Tourist Association)
6. Lake Nukabirako: A Dammed Lake and Phantom Bridge (Kamishihoro Town)
Lake Nukabira is the second largest artificial lake in Hokkaido, with a circumference of about 34 kilometers around. During summer, this Hokkaido nature-rich area, popular with local fishermen, is also a dam with plenty of water, used for power generation. However, as winter approaches, the amount of water stored gradually decreases, revealing a whole new scene entirely.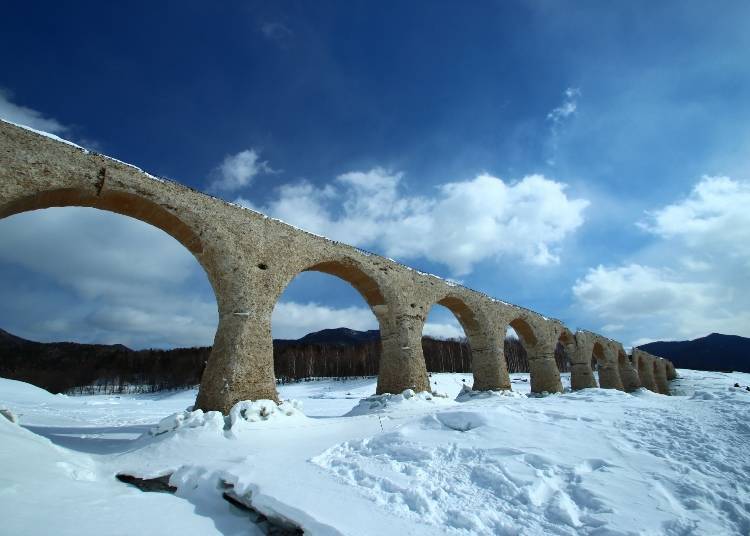 One of these newly visible sights is the Taushubetsu Bridge. Once used by the Ancient Shihorosen Railway, it is a concrete arch bridge built across the Taushubetsu River. The surface of the lake freezes up around December, which breaks up around January, revealing this scene that towers above the snowy field.

Submerged every other time of the year, this exposed bridge resembles an ancient archeological site. The water level reaches its lowest point in early May, when the snow has melted. It gradually rises again in June, and the bridge is completely submerged once again by August.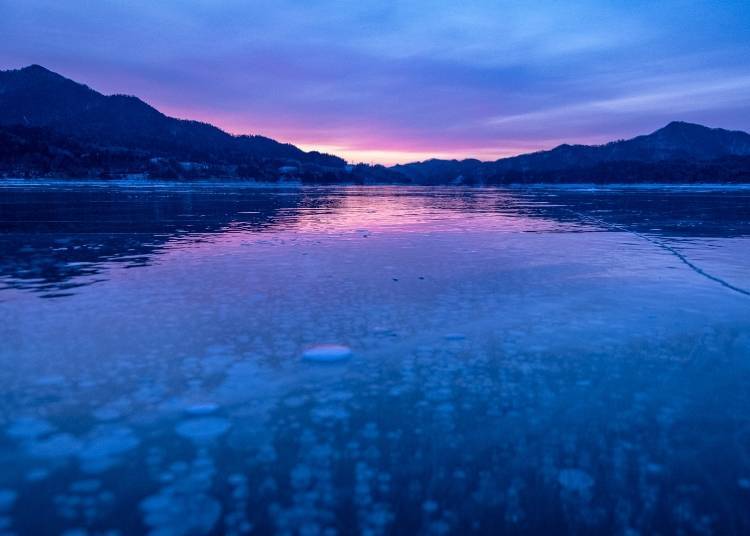 Another sight that can be seen in Lake Nukabira, which is frozen over in the winter, is a phenomenon called "ice bubbles." The bubbles that rise from the bottom of the lake become trapped underneath the ice near the lake surface, creating polka dots large and small floating just beneath the surface.

The lake's surface begins to freeze over in December. However, when it snows, becomes hidden underneath it like a blanket. Because of this, it is recommended to visit during a year when there is less snowfall.
糠平湖

Address

Nukabira Gensenkyo, Kamishihoro-cho, Kato-gun, Hokkaido

Phone: 01564-4-2224 (Kamishihoro Town Tourism Association)
Hokkaido scenery like the Sea of Clouds and mirror lakes are not guaranteed to be seen, as their visibility is dependent on weather conditions.

However, should you be able to catch that chance, you will surely be impressed. Remember to take preventive measures against the cold, even in summer, as high altitudes can drop to very low temperatures.

And if visiting in the winter, be sure to wear proper footwear and winter clothes, so you can take your time and enjoy the magnificent views to your heart's content.

Text by:minna no kotoba sha
*This information is from the time of this article's publication.
*Prices and options mentioned are subject to change.
*Unless stated otherwise, all prices include tax.