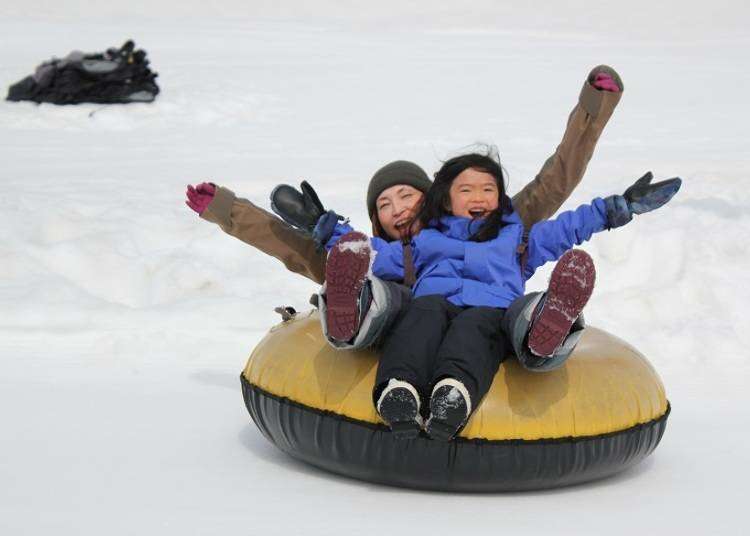 There are activities other than skiing and snowboarding for adults during the winter in Niseko. He are some facilities where adults and children can enjoy thrilling activities and snow experiences that is not available in the city.
The Thrill of Speed! Snow Rafting at Niseko Village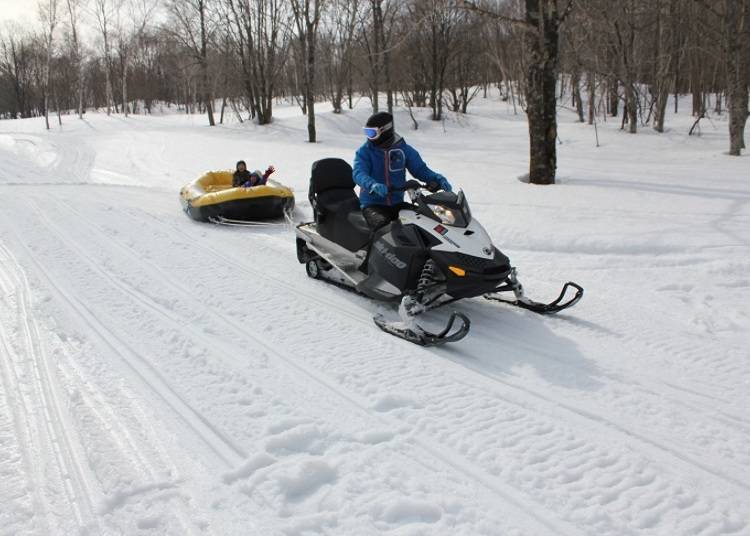 An activity you can experience at Niseko Village is snow rafting, where you sit in a rubber boat that is pulled on a snowmobile through their large property.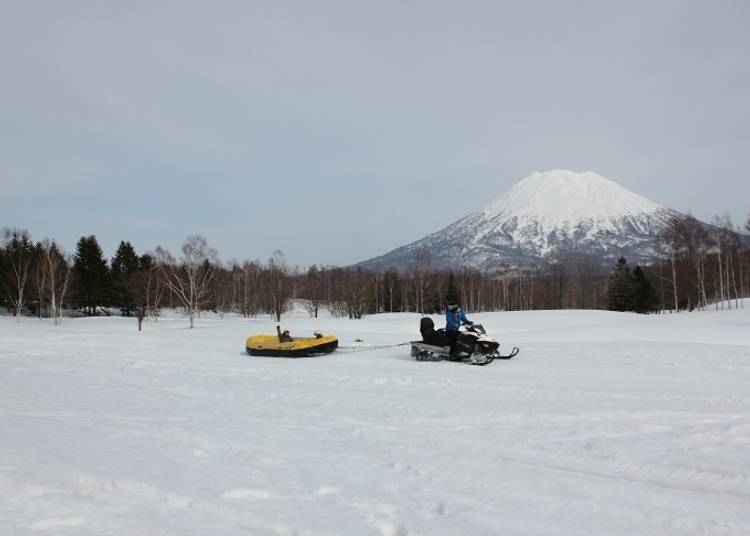 The rubber boat pulled by a guide on a snowmobile, who swerves left to right and hops up and down. The sensation of the speed is thrilling! Even if it feels like you're going faster than you really are, the feeling fully matches that of a roller coaster.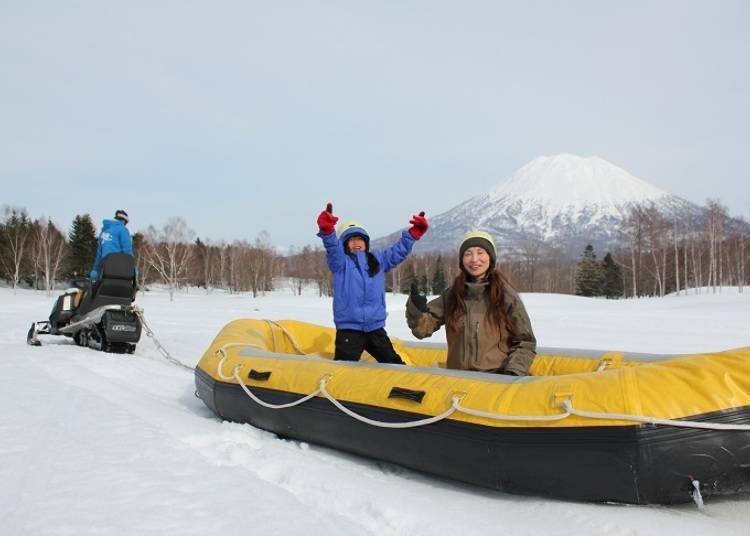 The thrill of the activity is satisfying for all ages. You can let the tour guide know how fast you want to go. If you go at a lower speed, you can really get a great feel for nature all around you.
Playing in the Snow in a Large Isolated Area! Grand HIRAFU Kids Park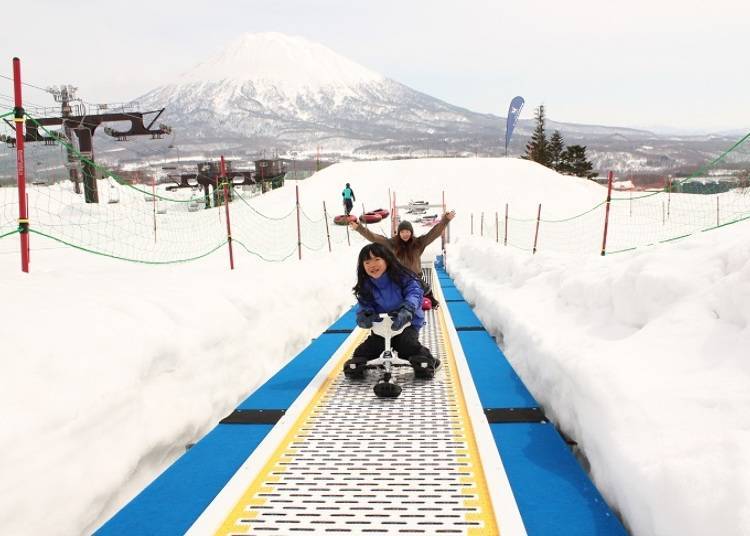 Niseko Mountain Resort Grand HIRAFU has the largest ski slope and one of the largest kids parks in the country. The Kids Park is located in a safe, isolated area where other skiers and snowboarders can't enter.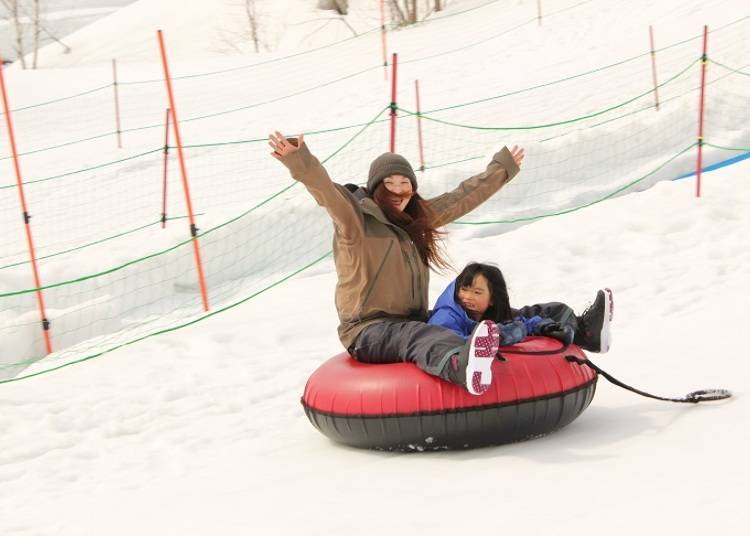 The Kids Park with a great view of Mount Youtei has an area to play with snow, a kamakura (snow hut) area, a course for snow striders, and a tall hill to play with snow tubes and bicycle style sled with breaks and handles.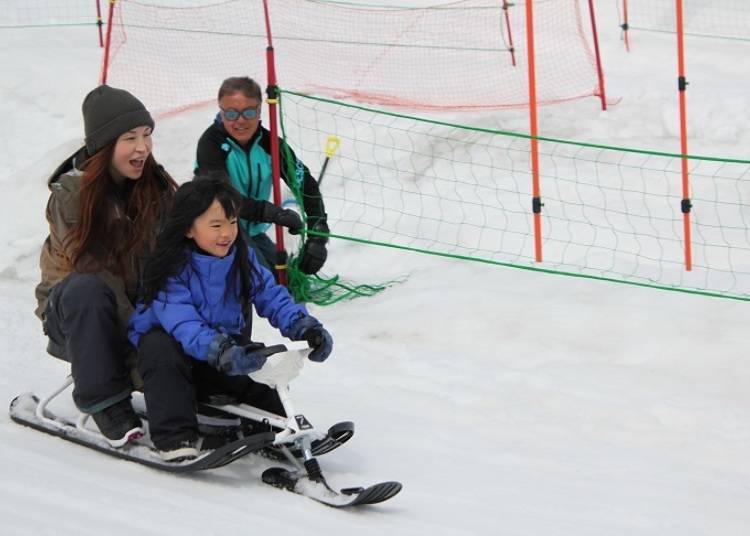 The park is filled with many activities to that will keep you entertained all day. And you can have peace of mind that the staff are always keeping an eye out for safety.
Enjoyed by All Ages! Niseko HANAZONO Resort Snow Tube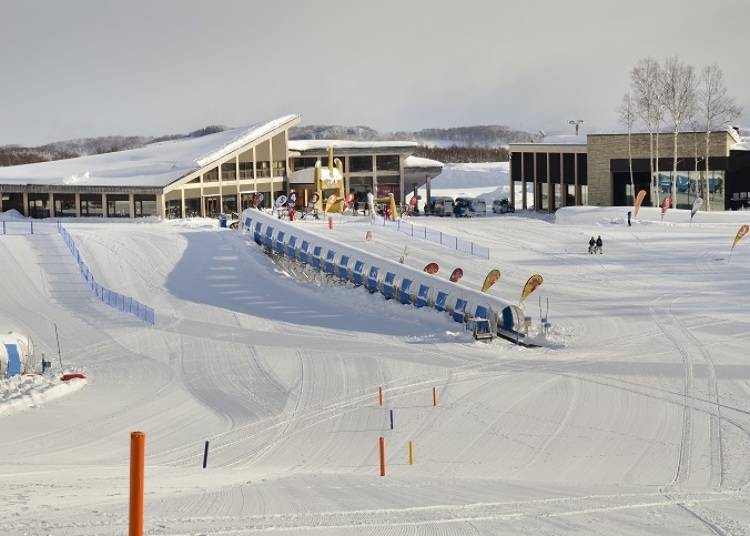 At the base of Niseko HANAZONO Resort, there is a large snow tubing park.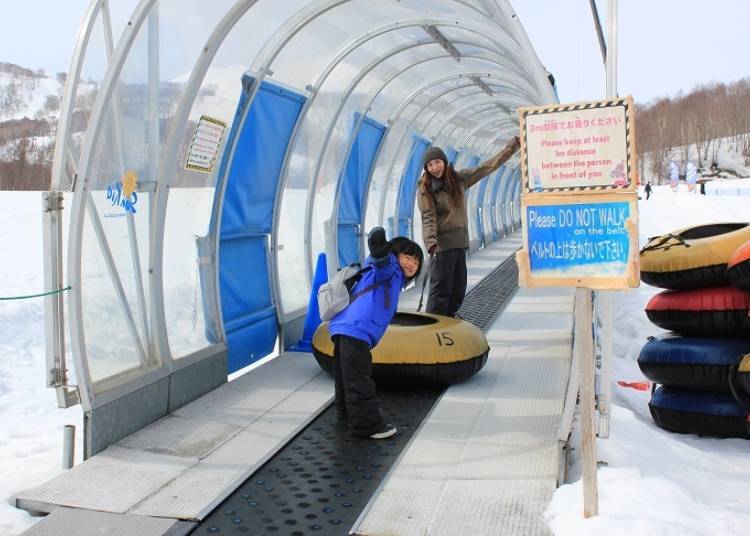 To get to the starting point you take the "magic carpet," an enclosed moving walkway. It is conveniently located near the rest house for taking breaks and using the restroom.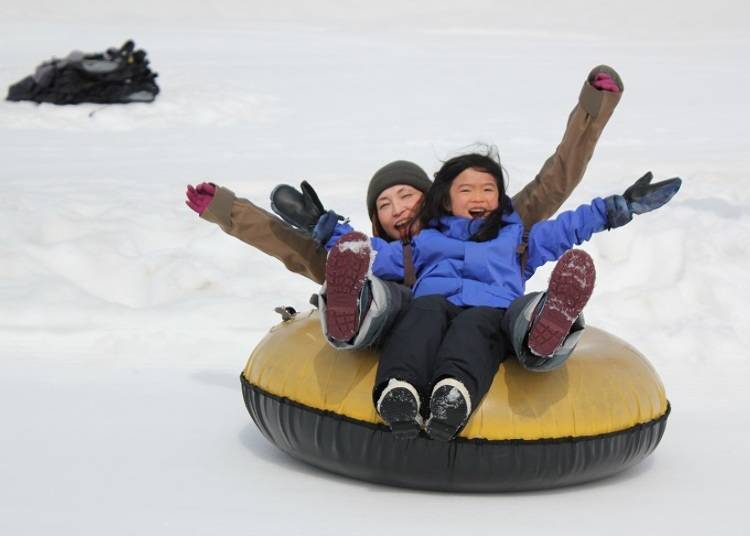 There is special lane just for kids, where they can have fun in a safe environment. The slope isn't that steep, however it feels much faster going down. This attraction is fun for all ages.
Perfect for Families with Small Children! Kids Land and Niseko Annupuri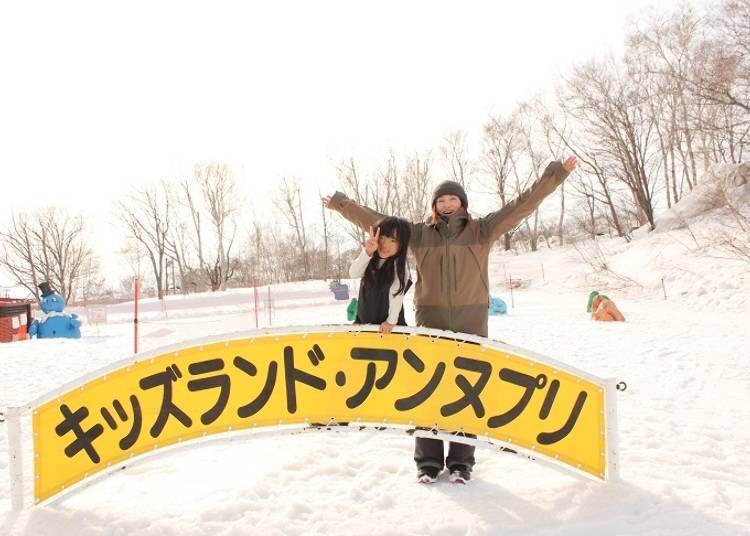 Kids Land, located at Niseko Annupuri International Ski Area, is a popular location that is open to everyone for free. It is a place for children to play with snow and perfect for people new to snow.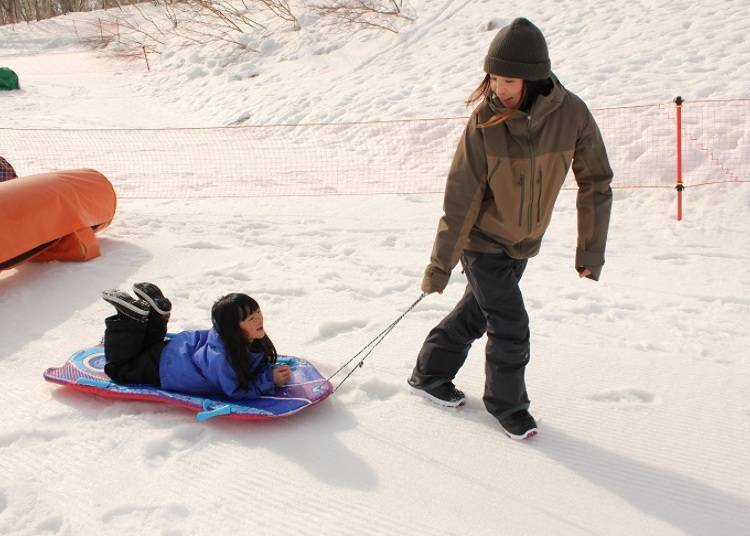 You can hop on the colorful objects on the snow or be pulled by a sled. You get to play how you want—and they also have rental snow tubes.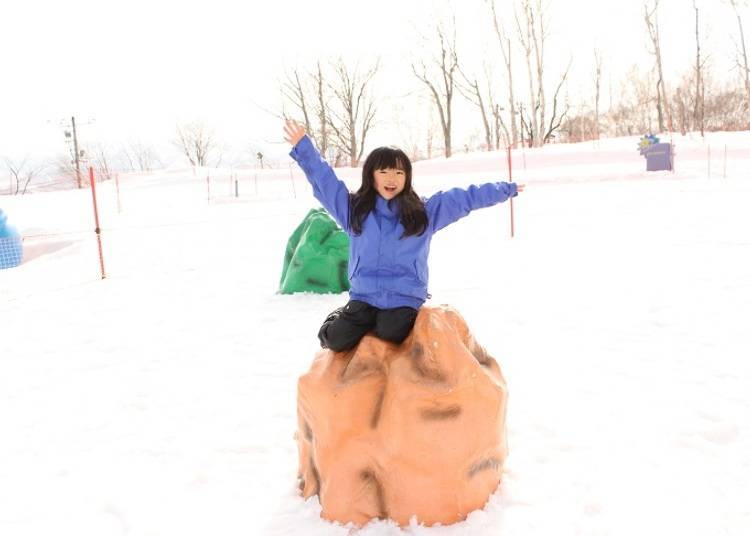 They also have a snow escalator so you don't have to walk up the slope. This is a perfect place for families with small children to play in the snow freely.

photo & text: Natsuko Saito
ニセコHANAZONOリゾート

Address

〒044-0082 北海道虻田郡倶知安町岩尾別328-36/328 Iwaobetsu Kutchan-cho, Abuta-gun Hokkaido 044-0082

Tube Park
Price: 2,500 yen per person (60 minutes)
Niseko Mt. Resort Grand HIRAFU

ニセコマウンテンリゾート グラン・ヒラフ

Address

〒044-0081 北海道虻田郡倶知安町山田204/204 Yamda Kutchan-cho, Abuta-gun, Hokkaido 044-0881

Kids Park
Price: 1 adult + 1 children set 2,000 yen / additional entrance fee 500 yen per adults and 500 yen per children
Niseko Village Ski Resort

ニセコビレッジスキーリゾート

Address

〒048-1592 北海道虻田郡ニセコ町東山温泉/Higashiyama Onsen, Niseko-Cho, Abuta-gun, Hokkaido 048-1592

Snow rafting
Price: 3,000 yen per adult (over 13 years of age), 2,000 yen per children (under 12 years of age)
Niseko Annupuri International Ski Area

ニセコアンヌプリ国際スキー場

Address

〒048-1511 北海道虻田郡ニセコ町字ニセコ485/Niseko 485 Niseko-cho, Abuta-gun, Hokkaido 048-1811

Kids Land
Price: Free entry
*This information is from the time of this article's publication.
*Prices and options mentioned are subject to change.
*Unless stated otherwise, all prices include tax.