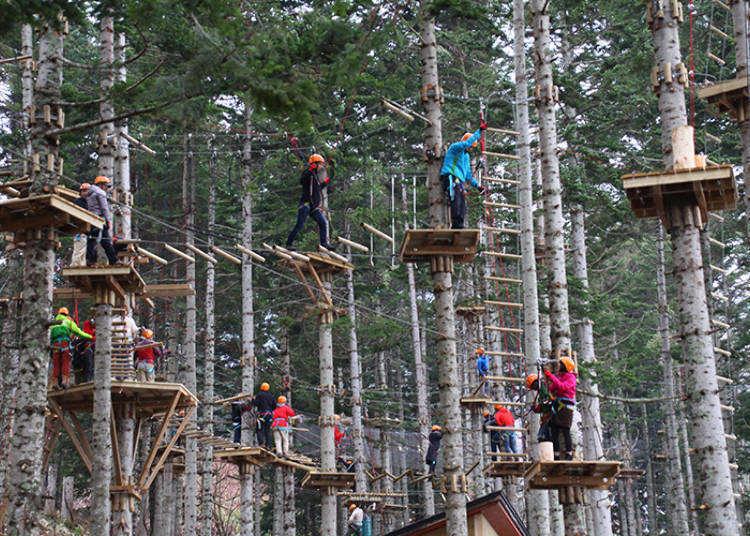 Most people imagine winter when talking about Niseko. It is true that many visitors come to Niseko every year to ski on the superb powder snow. However Niseko has its own charm in the summer. There are many outdoor activities for everyone. We will introduce satisfying outdoor activities for summer.
Enjoy a Wide Range of Summer Activities at NAC (Niseko Adventure Centre)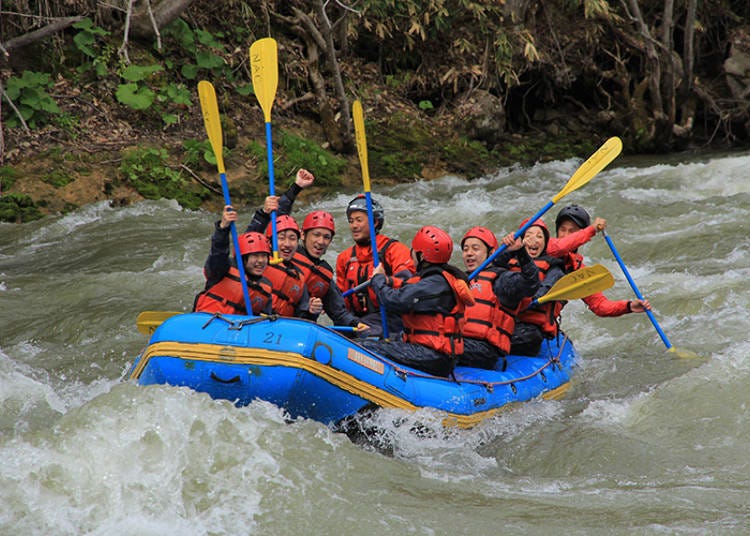 An adventure going down the river with your friends
Niseko is surrounded by mountains and has always been a popular summer retreat due to the cool temperature in the summer. It also has many activities for active people. We recommend NAC (Niseko Adventure Centre) ran by Australian owner Ross Findlay. He is known as a pioneer in rafting, which is popular in Niseko, and he also sponsors various activities such as kayaking and trekking. Also the huge lodge looking NAC center 1st floor has an outdoor gear shop, and the 2nd floor is an open terrace restaurant where you can see Mt. Yotei while eating hamburgers and taco rice. We recommend heading over to feel the wind in an open environment to relax after your activities.
Recommend NAC Activity #1: Rafting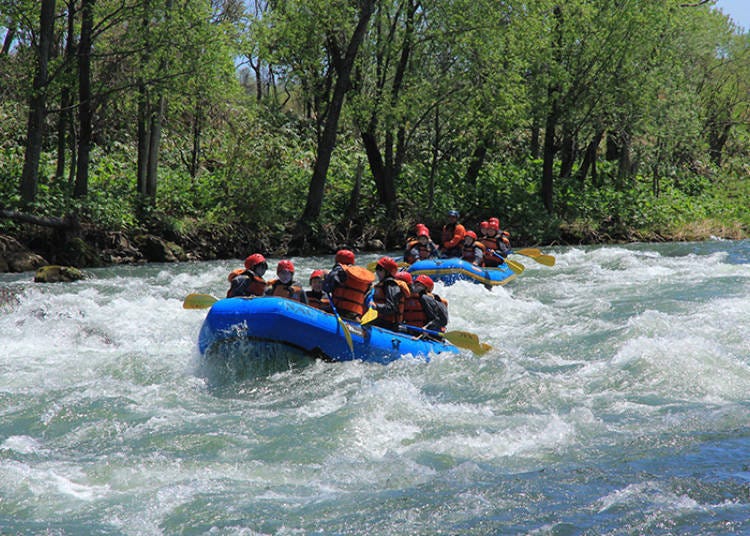 Summer rafting. The feeling of going down stream surrounded by nature is exhilarating!
The most popular activity during the summer season is rafting. Rafting takes place on one of Japan's famous clear stream, Shiribetsu River. During the spring the river's water level increases due to the large amount of melted snow. You raft down a course about 12km on a rubber boat wearing a dry suit. Going down the river with white waves is full of excitement and action! You are bound to have fun going down the river like an action movie! Once the melted snow water calms down in the summer, they head up stream for a relaxing ride to enjoy the view. In areas with calm water, you can jump in and swim around. The activity can be enjoyed by inexperienced people.

Rafting Spring Course
Duration: April 7th (Saturday) ~ early June 2018
Fee: 6,150 yen
Age: 12 and up
Schedule: Morning – 9:30 AM ~ 1 PM, Afternoon - 1:30 PM ~ 5 PM
Summer Course
Duration: June 1st (Friday) ~ November 5th (Monday) 2018 *inquire for dates past November 6th
Fee: Adult 6,150 yen, elementary school student 4,100 yen, 60 years and above 5,150 yen
Age: 6 and up
Schedule: Morning – 9:30 AM ~ 1 PM, Afternoon - 1:30 PM ~ 5 PM *July 7th ~ August 31st 8:30 AM ~ 12 PM, 9:30 AM ~ 1 PM, 1:30 PM ~ 5 PM, 2:30 PM ~ 6 PM runs
Recommend NAC Activity #2: River Kayak & Niseko River SUP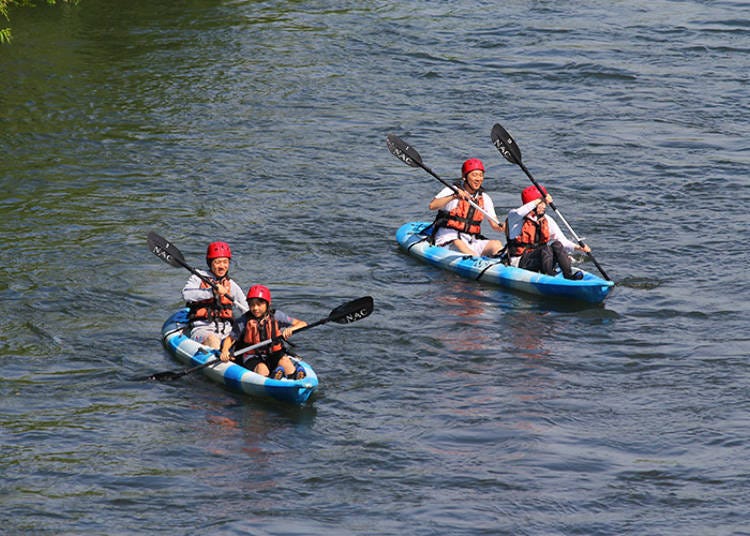 Kayaks leisurely going down stream surround by nature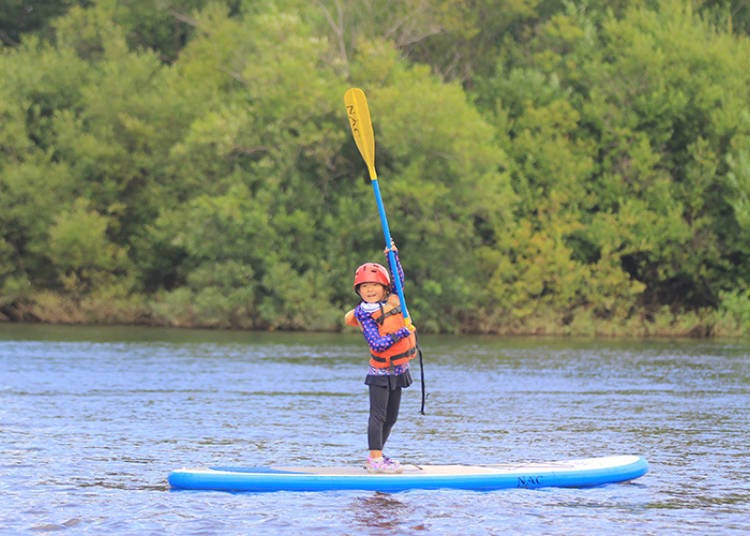 Small children can enjoy river SUP
If you prefer to leisurely enjoy nature, we recommend the River Kayak activity using the double bladed paddle. The activity is conducted in the calm section of Shiribetsu River and it is enjoyable for beginners. There is also the Niseko River SUP (stand-up paddling), where you stand a large boat with high buoyancy and paddle. It's as if you are floating on water. Both activities can be conducted by ages 6 and up.

River Kayak/Niseko River SUP
Duration: June 1st (Friday) ~ October 31st (Wednesday) 2018
Fee: Adults 6,140 yen, elementary school student 4,100 yen
Ages: 6 and up
Schedule: Morning 9:30 AM ~ 1 PM, Afternoon 1:30 PM ~ 5 PM
Minimum number of people: 2 ~ (up to six for River SUP)
Recommend NAC Activity #3: Athletics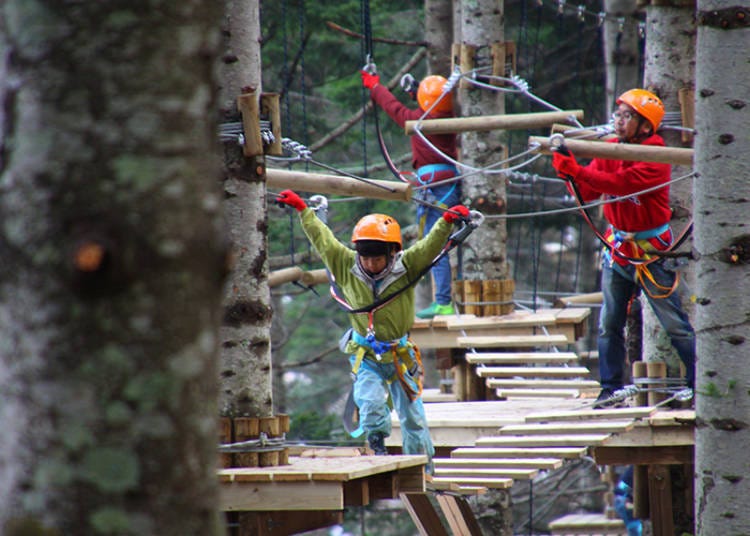 Equip your harness and go on an adventure in the forest!
An activity in Niseko that is gaining major attention is the NAC Adventure Park that opened in 2017. It is Japan's largest tree top park. It is an athletic activity where you go across logs and rope ladders 5 to 13 meters above ground with a harness.
The tree top course is extremely satisfying!
There are a total of 8 courses including 6 different difficulties and 2 advanced courses providing over 100 elements to enjoy, such as diving from trees and using zip lines. The area is 9265㎡ wide and holds a total of 120 people, which is great for groups. Time passes by quickly when you are focused on the activity. It provides a fun moment where you can return to your child hood and go on an adventure in the forest.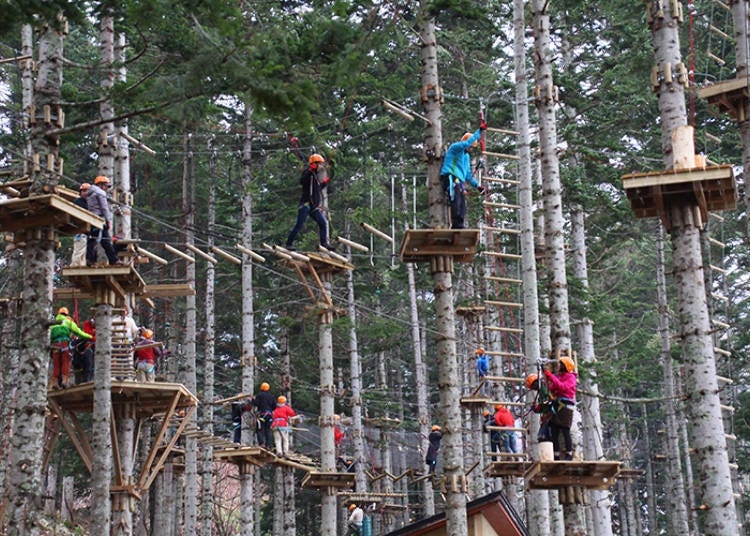 Enjoyable for all ages
NAC Adventure Park
Fee: Adult 4,800 yen, 6 ~ 11 years old 4,100 yen, 60 and up 4,500 yen
Requirements: Over 115 cm for Adventure Course, Over 140 cm for Red and Black Course. Weight – 120 kg, waist – 100 cm. Children under 6 require a guardian.
NAC

Address

〒044-0081 北海道虻田郡倶知安町字山田179-53 / 179-53 Yamada, Kutchan-cho, Abuta-gun, Hokkaido, 044-0081, Japan

Phone Number

0136-23-2093

Hours: 8 AM ~ 9PM
Closed: Open daily
Language Support: English, website is available in English
Access: 11 minute drive from JR Hirafu Station
K2 Stable: Enjoy Niseko's Majestic Outdoors on Horseback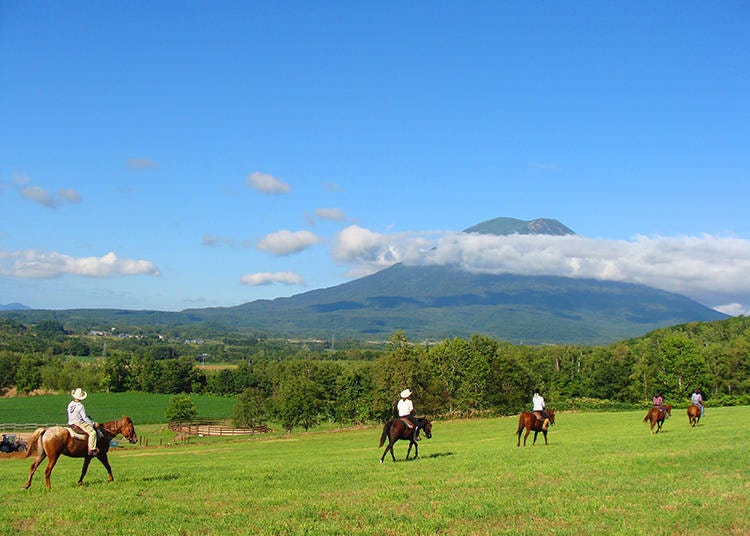 How about an elegant horseback riding experience while feeling the majestic nature of Niseko directly? K2 Stable is a spot where beginners and experienced people can casually enjoy horseback riding.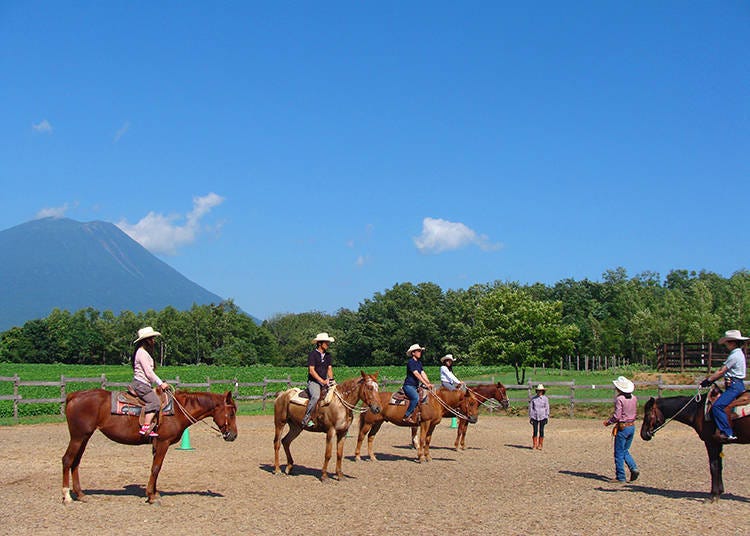 First thing is mastering the basic maneuvers. All the horses are good-natured and you will become friends in no time.
For beginners we recommend the 90 minute Basic Course, which offers horseback riding lessons and a short trek.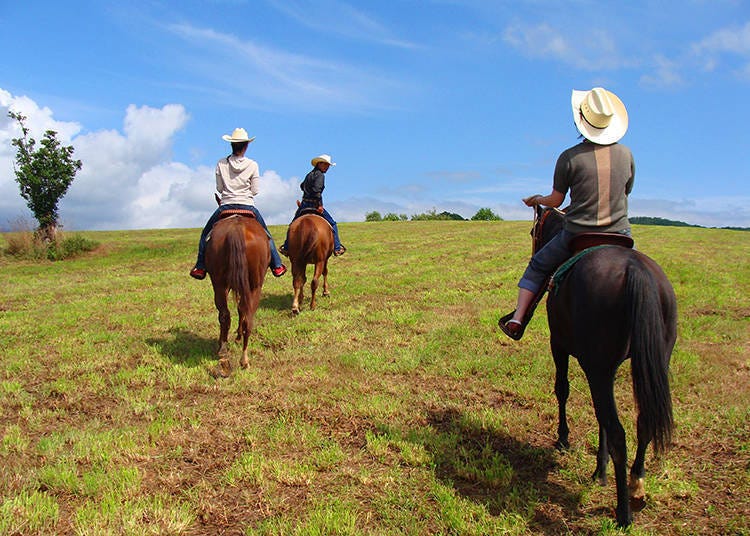 Time to head for the top of the hill!
The first half of the course will be conducted in the arena (fenced area) for safety and to learn the proper technique. The lecture is easy to understand and anyone can learn basics.
The guide will lead the way through the luscious nature
There are also English speaking staff. The latter half of the course will be the trek heading towards the forest at the hills of the mountains of Niseko.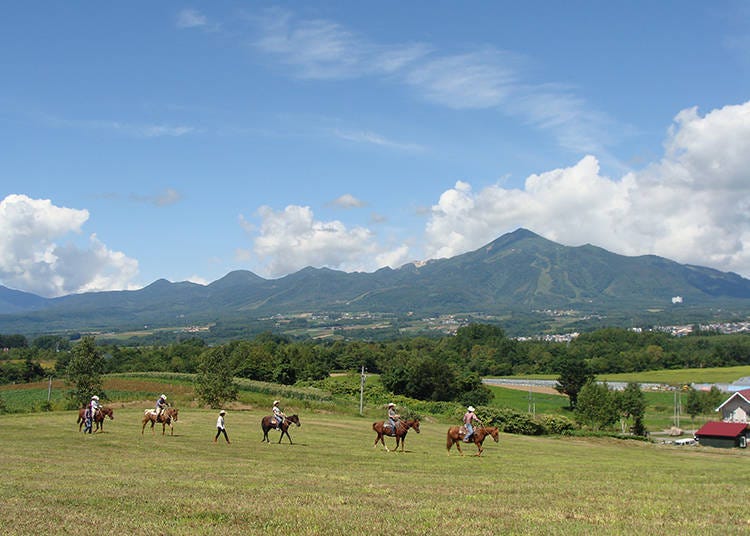 Riding on a horse through the huge natural wonderland is something special!
K2 Stable

Address

〒048-1551 北海道ニセコ町里見238-5 / 238-5 Satomi, Niseko-cho, Abuta-gun, Hokkaido, 048-1551, Japan

Phone Number

0136-44-3788

* For Booking and inquires: 090-9756-5608
Fee: Basic Course 90 minutes 10,800 yen
Hours: 9 AM ~ 4 PM
Closed: Mid-December ~ early April
Language Support: English speaking staff
Access: 12 minute drive from JR Niseko Station
*This information is from the time of this article's publication.
*Prices and options mentioned are subject to change.
*Unless stated otherwise, all prices include tax.
Limited time offer: 10% discount coupons available now!