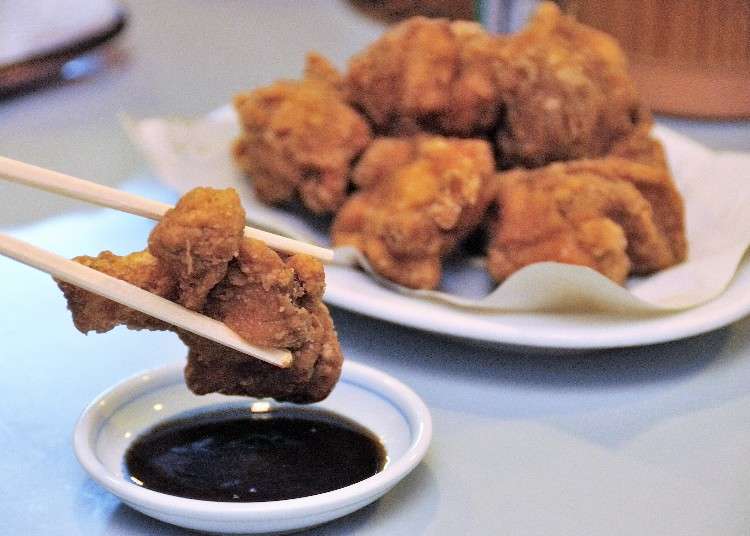 You've probably never heard of zangi chicken, but after reading on you'll positively want to give it a go! Zangi is one of Hokkaido's "soul foods," a deep-fried dish similar to karaage (Japanese-style deep-fried chicken thighs) but made in a different way.

We'll compare delectable bites from three restaurants to have your mouth watering in no time!

First is where it all started: Torimatsu, located over in Kushiro City. Next, we will cover Nabantei, the place that evolved zangi into another dish called zantare. Last but not least we will cover Sumiyakisenka Tamatori, which further evolved the zantare.
Zangi is a classic fried chicken dish at Japanese Izakaya pubs and diners in Hokkaido. These tasty delights are commonly chunks of chicken flavored with soy sauce and other ingredients, then coated with potato starch and deep-fried.

In recent years there are zangi that use new ingredients such as octopus and oysters.

Follow as we find the roots of zangi, at Torimatsu - the place that started this treat!
1. Torimatsu: The inventor of zangi
▲15 minute walk from JR Kushiro Station, Torimatsu is located in the shopping district of Kushiro City. It is in a convenient location to go bar hopping
Torimatsu is a deep-fry specialty restaurant that serves not only zangi, but also tebasaki (chicken wings) and chicken thigh karaage. It first opened as a yakitori (grilled chicken on a skewer) restaurant in 1958.
▲Second-generation shop owner Mr. Takakura
When the previous owner was in charge in the 1960s, there was a sales offer for broilers. After chopping up the bird and deep-frying it, it became an instant hit. After that, they stopped offering yakitori and became a deep-fried Hokkaido chicken specialty restaurant that continues to this day.

He named the popular deep-fried chopped chicken dish "zangi" by taking the Chinese word for fried chicken "zagi" and added the character "n" (運), which is used in the character for good luck. This is how zangi got started.
▲Originally, Hokkaido zangi is chopped chicken that's then deep fried. They used all sections of the chicken with the bone.
At Torimatsu when ordering zangi ("Zangi o kudasai"), boned random Hokkaido chicken sections will be served.
▲Mr. Takakura preparing zangi chicken. When he serves zangi, he tries to make sure that all parts of the chicken is served in a dish.
Although the common zangi is similar to boneless chicken thigh karaage, which is easier to eat, Torimatsu also serves boneless zangi. For an order of the boneless version say "hone nashi zangi wo kudasai."
▲The recommended zangi at Torimatsu is with bone! Zangi (with bone) is 580 yen (tax included) and boneless zangi is 690 yen (tax included).
The original zangi is eaten with a zesty sauce!

There is one more unique feature of the original zangi, which is the sauce (known as tare). The Hokkaido chicken is prepared with salt, however, the proper way of eating zangi is to lightly dip it in the sauce that is on the table next to salt, pepper, and red pepper.
▲Lightly dip the zangi in the sauce. The sauce is similar to a smooth Worcestershire sauce and doesn't ruin the wonderful crispy texture.
The sauce was created by the previous owner who traveled around the country researching different sauces. The sauce recipe is a secret and was passed down to Mr. Takakura.
▲The sauce matches the boneless zangi too. It has a unique flavor with a light hint of sweet and hotness to it. The sauce helps bringing out the chicken's juiciness.
The original way to eat zangi chicken is with the sauce, however, everyone has their own preference. You can eat it as is or use the salt and pepper provided on the table to add a little kick. When you order take-out they will also give you some sauce in a small container.
▲The sauce will stimulate your appetite and you will finish your plate before you know it!
Born in Torimatsu, zangi chicken spread to restaurants in Kushiro City and then throughout Hokkaido. While it spread to other regions, the boneless style became common, also various ingredients other than chicken started to be used.

This also gave birth to a new style of zangi with sauce on it—called zantare. We will cover zantare next!
鳥松

Address

〒085-0013 北海道釧路市栄町3-1/3-1, Sakaemachi, Kushiro-shi, Hokkaido, 085-0013, Japan

Phone Number

0154-22-9761

Hours: 17:00 ~ 00:30
Closed: Sundays, Year-end and New Year holidays.
2. Nanbantei: Where you can taste Zantare chicken, the next generation of Zangi!
▲A 20-minute drive from JR Kushiro Station, Nanbantei is located near Kushiro Shitsugen in Kushiro Town
Nanbantei offers various dishes such as zantare chicken (zangi with sauce), teishoku (set menu), and don (various rice bowls). They opened around 1980 but was first located near the shopping district in Kushiro City. During that time they would offer both a pub menu and party menu.

With frequent hockey player customers, they wanted to provide hearty dishes. They started offering the popular zangi covered with sauce in their party menu. This became a hit and many customers would ask what it was.
▲Nanbantei's zantare 950 yen (tax included). Using 7-8 chicken thighs cut in half, around 700g.
With the sauce (tare) on zangi they named the dish zantare. After putting zantare on the menu for teishoku (set menu) and takeout, it became a huge hit. Now over 80% of Nanbantei's orders are for zantare.
▲For an additional 350 yen (tax included) you can convert it to a hearty portion teishoku! The set includes rice, miso soup, pickles and a small dish. (Soup may vary)
However due to its hearty portion, many people share a zantare and order a different teishoku or don. It is possible to order takeout and it could be a great midnight snack!?

For some this might be the right portion, however if you think it is too big, Nanbantei offers a half-size plate.
▲Half portion zantare for 600 yen (tax included). For an additional 350 yen (tax included) you can convert it to a teishoku.
When the zantare is served there is a unique sweet and sour aroma. The sauce is made from soy sauce, sugar and vinegar. The vinegar matches the hearty deep-fried dish and gives a refreshing taste.
▲Doesn't feel too greasy and easy to eat!
If you want to try a different flavor, we recommend the karatare. The sauce is spiced up with red pepper, Tabasco and some onion slices are placed on top. It is not too spicy and gives a nice kick.
▲Karatare 600 yen (tax included), only in half size. Possible to convert it to a teishoku meal.
Zantare evolved from zangi. There are more stores that offer zantare in Hokkaido with variants like zantare-don (a zantare bowl with rice) and zantare teishoku (meal sets).
There is one more dish that evolved the zantare further in Kushiro City.
南蛮酊

Address

〒088-2145 北海道釧路郡釧路町遠矢1-39/1-39, Toya, Kushiro-cho Kushiro-gun, Hokkaido, 088-2145, Japan

Phone Number

0154-40-3117

Hours: 11:00~21:00 (last order at 20:30)
Closed: Monday, first and third Tuesday (open on holidays and closed the next day)
3. Sumiyakisenka Tamatori: Enjoy the New-Styled Zantare
▲10 minutes by car from JR Kushiro Station, Sumiyakisenka Tamatori is located in the residential area of Kushiro City
Sumiyakisenka Tamatori opened in 1999, it is an izakaya that offers dishes such as kushi-yaki (grilled skewered dish), agemono (deep-fried dish) and tamago ryori (egg dishes).

Tamatori started to gain attention after winning the Kushiro zantare contest in 2015. This is the award-winning zantare!
▲Shirotama zantare 580 yen (tax included), is a salad-like zantare
Shirotama zantare is a creative dish that has diced cabbage on top of 5 zangi with their unique French dressing like sauce drizzled on top. The sauce is similar to dressing but has a sweet flavor instead of sour. It matches rice and has a nice texture and refreshing taste.

Deep-fried food can get heavy and a bit too much, however, you will not get tired of this dish! It is perfect for dinner or as a snack while enjoying some drinks.
▲Also give their egg dishes a try! Their sweet tamagoyaki (omelette) is almost like desert and a perfect dish to finish your meal
炭焼鮮家 たま鳥

Address

〒085-0045 北海道釧路市住之江町12-35/12-35, Suminoecho, Kushiro-shi, Hokkaido, 085-0045, Japan

Phone Number

0154-32-3818

Hours: 1130~14:00, 17:30~2400 (Last Order 23:30)
Closed: Wednesday, Sunday and daytime during holidays.
Seen in diners and izakaya, the zangi and evolved zandare is common in Hokkaido. At a quick glance it looks like karaage.

Once you try zangi at the place of origin, you can tell that they are similar but different. You'll be able to understand why folks in Hokkaido take pride in their tasty invention!
Written by : Nobuhiro Kawashima
*This information is from the time of this article's publication.
*Prices and options mentioned are subject to change.
*Unless stated otherwise, all prices include tax.