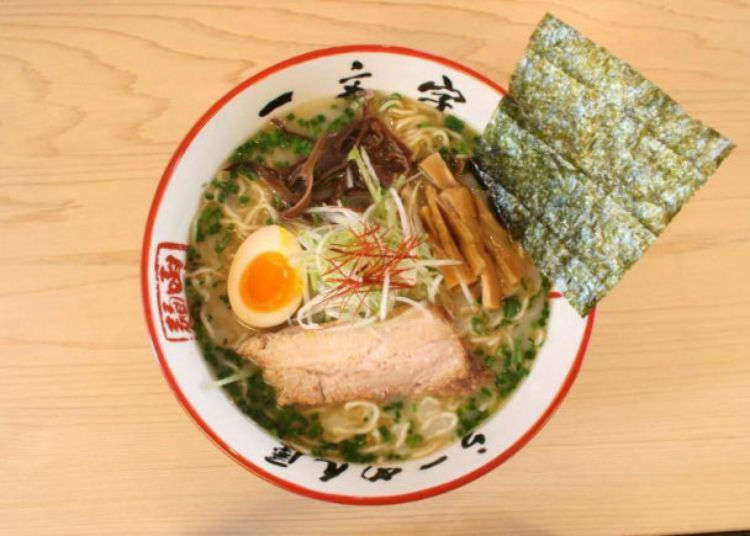 Get ready for some lick-smacking slurpy goodness like you've never tasted before! In Japan, Hakodate Ramen has a long history and is said to be "Japan's first ramen" because an advertisement for it was published in a newspaper in 1884.

The traditional style is one that has a soup with a clear, salty taste that heightens the flavor of the ingredients. Currently, there are about 150 ramen shops in Hakodate City, each offering its own unique flavor.

For this article we have selected three of the most popular and famous of them.
1. Hakodate Ramen Kamome: Offering the traditional taste of old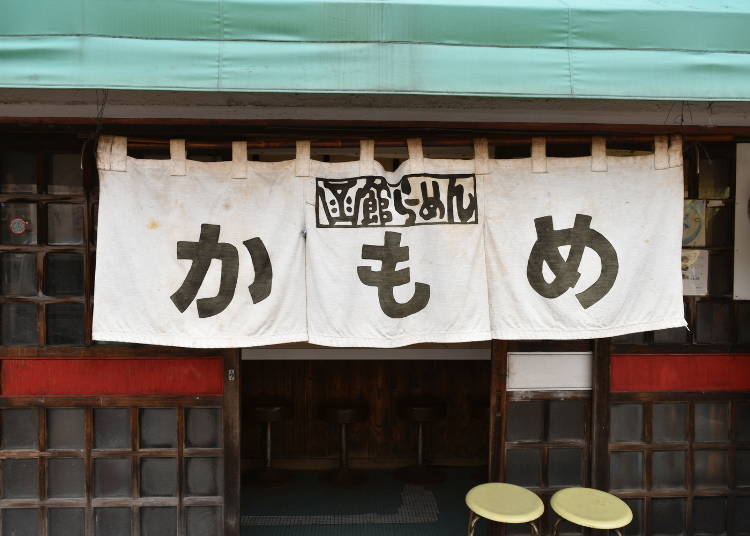 Founded in 1981 near the morning market in Hakodate, it is a popular store that has been serving the same taste for about 40 years. A vocalist of the popular Japanese big band GLAY is a native of Hakodate and has frequented this shop adding to its fame and frequent mention in the media and on TV. As a result, Hakodate Ramen Kamome is visited by many tourists and fans from all over the country.

Being located close to the market, it opens its doors from the morning. So, here you can begin your day with a bowl of ramen.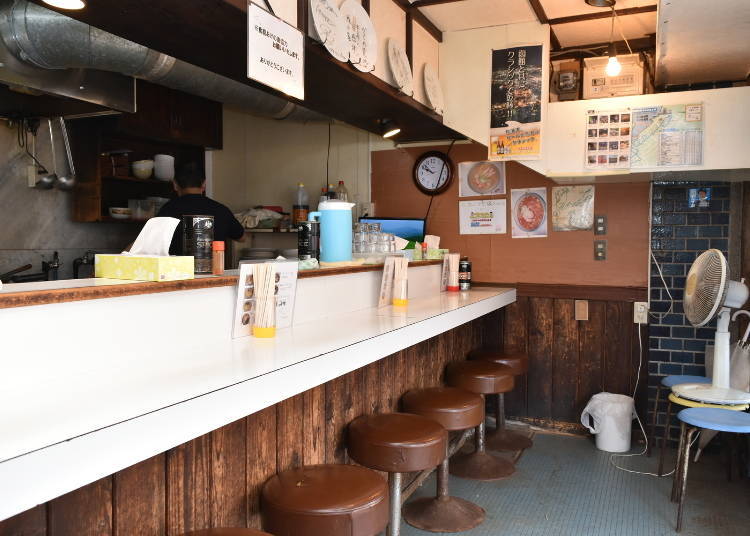 Three flavors are offered at Hakodate Ramen Kamome: miso, salt, and soy sauce; about 80 percent of the customers order the miso flavor. The owner boasts of its "no frills simple salt flavor."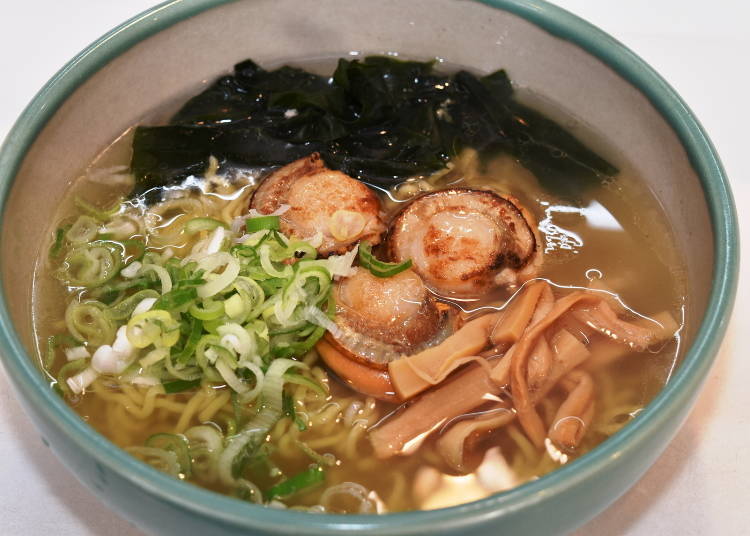 The soup stock is made with chicken bones and pork bones, to which flavored vegetables are added and then allowed to stew for about 2 hours. The umami of the ingredients spreads throughout the crystal clear soup that leaves a refreshing aftertaste.

As is fitting a ramen shop located near the morning market, the scallop salt-based ramen (950 yen including tax) and other ramen bowls with seafood toppings are popular. The seafood ingredients give the soup a rich, satisfying flavor.

When you feel like treating yourself to something special, try the Kamome Ramen (1,300 yen including tax) that includes five different types of seafood including crab and shrimp.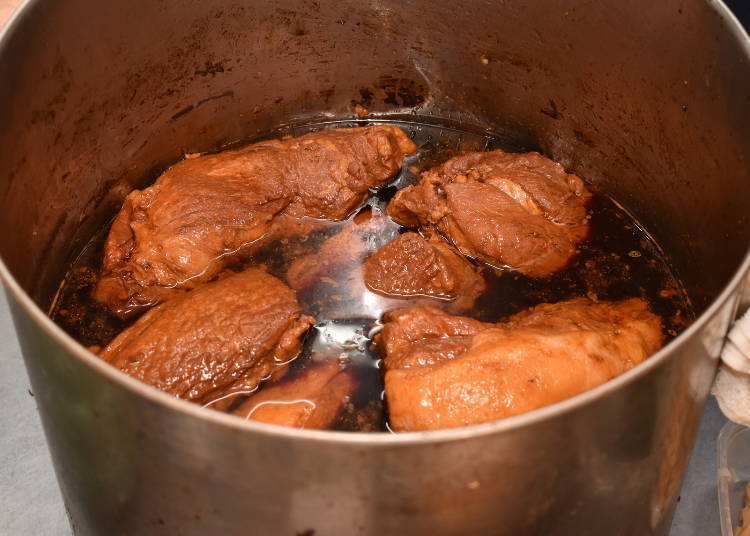 Some people come after sampling various kinds of seafood in the morning market desiring to try something different. While you are there, why not try the homemade slowly simmered chashu pork?

Hakodate Ramen (650 yen including tax), made with specially ordered noodles from Hinode Seimen, a local noodle manufacturer, and topped with its special chashu, laver, menma [Chinese-style pickled bamboo shoots], and chopped green onions has a traditional Hakodate flavor at a bargain price.
函館らーめん かもめ

Address

8-8, Wakamatsucho, Hakodate Shi, Hokkaido 〒040-0063

Phone Number

0138-22-1727

Open: 6:30 a.m. ~ 2:30 p.m.
Closed: unscheduled (twice a month)
2. Hakodate Noodle Kitchen Ajisai: Traditional Hakodate Ramen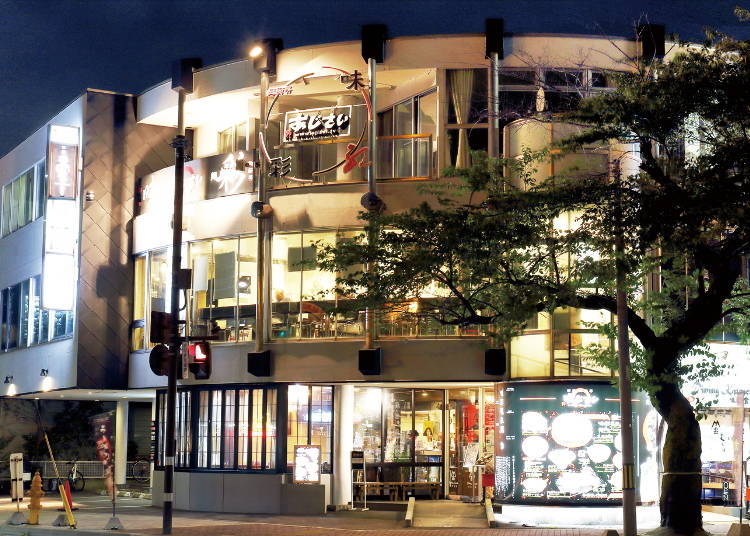 Photo: Hakodate Noodle Kitchen Ajisai
Hakodate Noodle Kitchen Ajisai, a long-established shop that has been in business for more than 80 years, also has outlets in Sapporo and New Chitose Airport and overseas, and is truly representative of Hakodate ramen.

The main store is located near the Goryokaku special historic site, and across from the Goryokaku Tower, making it a convenient place to stop and eat when out sightseeing.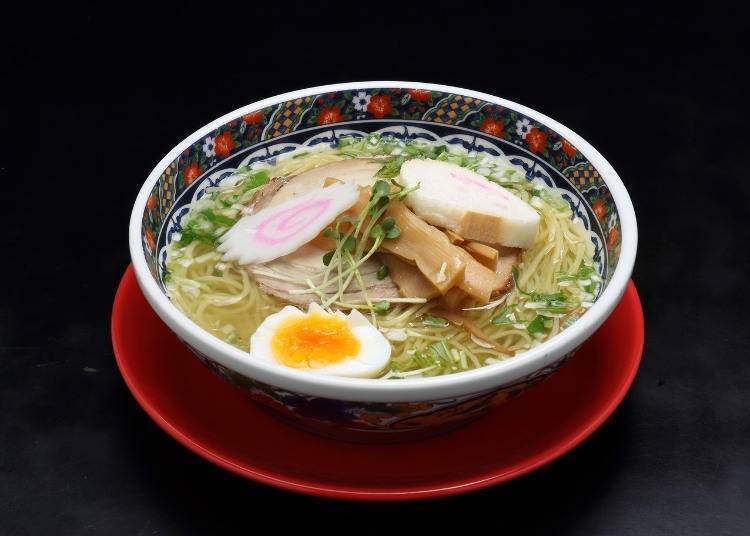 Photo: Menchubo Ajisai
Its signature dish, Ajisai Shio Ramen (800 yen including tax), boasts a soup made from pork and chicken bones in a Hokkaido kelp-based stock. The ingredients all come together perfectly in this clear soup full of exquisite flavor.

It is topped with chopped Japanese leeks, potherb mustard, Chinese-style pickled bamboo shoots, and chashu. The chashu made from slowly-cooked pork belly, is especially tender and melts the moment you put it in your mouth. Straight noodles custom-made by Okada Seimen, a local noodle manufacturer, go perfectly with the soup.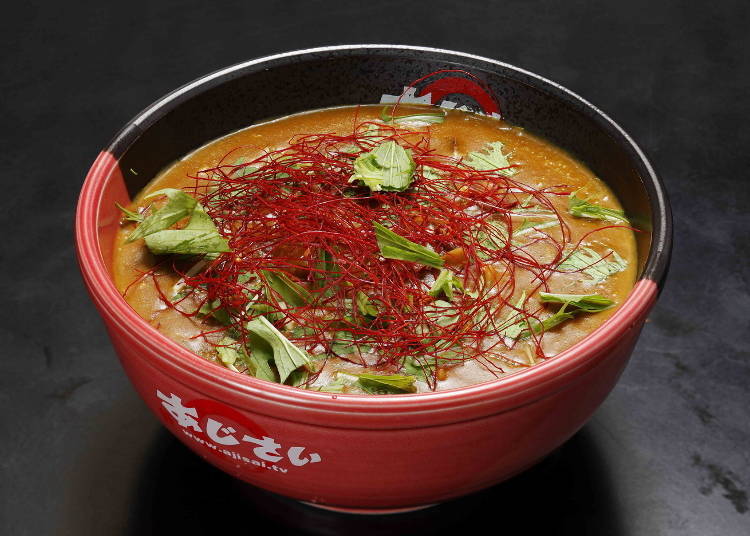 Photo: Menchubo Ajisai
Misai Curry (900 yen including tax) is another typical Hokkaido dish that we recommend. Curry ramen is a new type of Hokkaido ramen that has become well established in areas such as Tomakomai and Muroran. The shop combines traditional soup with carefully selected spices and Hakodate milk much loved by the locals to create a deliciously unique flavor that is rich and spicy. (Please note that menu items and prices may vary accordin)g to shop.
函館麺厨房 あじさい本店

Address

29-22, Goryokakucho, Hakodate Shi, Hokkaido 〒040-0001

Phone Number

0138-51-8373

Open: 11:00 a.m. ~ 8:25 p.m. (L.O.)
Closed: 4th Wednesday of the month (if Wednesday falls on a national holiday then closed the following day)
3. Hakodate Menya Ichimonji Hakodate Main Shop: Two different types of shio ramen
This is a popular ramen restaurant that has four shops in Hakodate, while the main shop is located in the Yunokawa area of the hot springs town.

Traditional Hakodate ramen is said to be an evolutionary ramen that draws a line between "Assa" [plain] and "Kotteri" [rich] flavor styles. In addition to salt, soy sauce and miso, there are other types on the menu as well, such as spicy miso, dandan noodles, and tsukemen [dipping noodles]. It also has a rich side menu of ramen toppings, pork rice bowls, and fried rice and other items.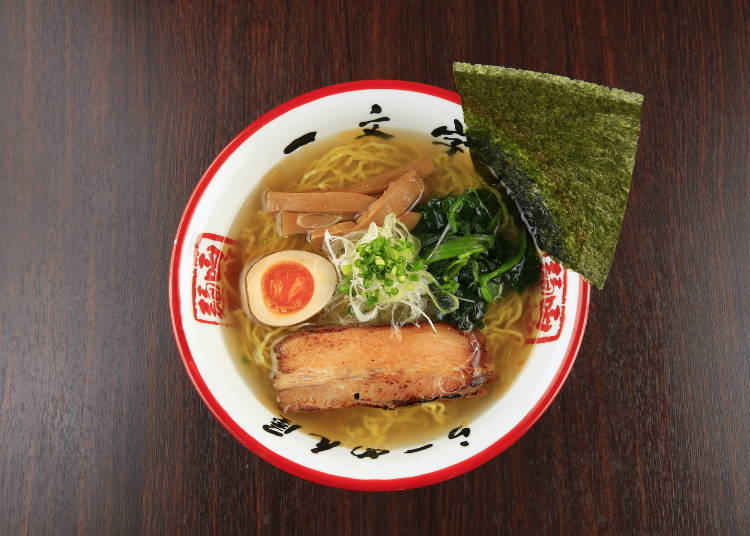 Photo provided by Hakodate Menya Ichimonji
If you are having trouble deciding what to order, go for the light and classic shio ramen (790 yen including tax). The soup is a Japanese-style soup made from chicken bones and high-grade kelp from Hakodate and Minamikayabe. Several aromatic oils are added to enhance the flavor.

Homemade thin, curly noodles made with Hokkaido flour go well with the soup. The chashu is seared over a charcoal flame just before it is put on the bowl which gives it a crisp and aromatic exterior yet keeps it juicy inside. Seasoned egg, Chinese-style pickled bamboo shoots, spinach, and seaweed are added, resulting in a dish in which the portion and flavor are perfectly balanced.

(Currently, shredded chili peppers as shown in the photo are not used for topping.)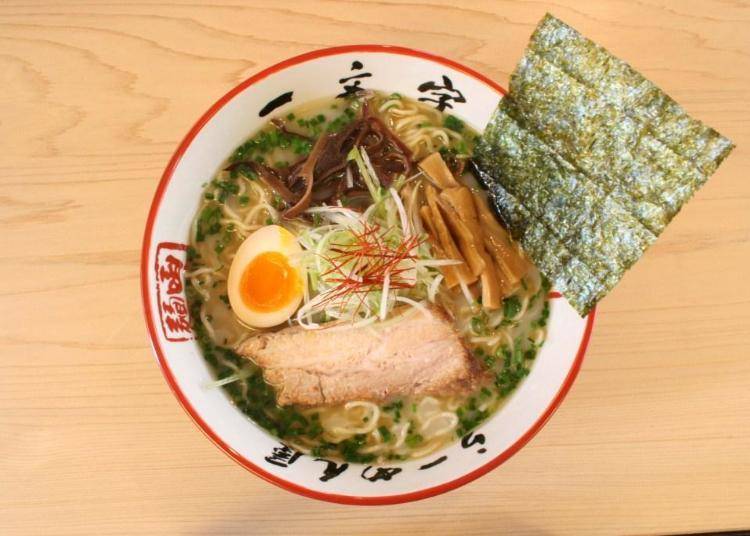 Photo provided by Hakodate Menya Ichimonji
If you would like to try a ramen with a different character, then try the "kotteri" style shio ramen. Tonshio (850 yen including tax) has the same salt seasoning and noodles as standard shio ramen, but the soup is made with stock made from pork bones; garlic oil is added to give it an extra punch resulting in a ramen that is quite different from the typical Hakodate ramen. Yuzu kosho [paste made from chili peppers, yuzu peel and salt] is added to further spice it up giving it a rich flavor that is not too heavy.

This is always popular whether for lunch, dinner, of after a night of drinking as the shop stays open late into the night. If time permits and you can come more than once, try both types of the shio ramen!
函館麺や一文字 函館本店

Address

2-1-3, Yunokawacho, Hakodate Shi, Hokkaido 〒042-0932

Phone Number

0138-57-8934

Hours: 11:00 a.m. ~ 1:00 a.m. (L.O. 12:30 a.m.)
Closed: unscheduled
When you are out walking about, definitely stop by one of these spots for a delicious bowl of ramen!
Each of the three shops mentioned above calls its style Hakodate ramen, but as you can see, each has a uniquely different flavor. There is a saying that "there are as many types of ramen as there are shops" and that is reflected in the unique character of each.

Whether the soup stock is made from chicken bones, pork bones, seafood, or various combinations of them as well as other ingredients, and the difference in salt sauces and noodle types; all combine in an infinite number of ways to give ramen dishes a depth and subtlety that makes each uniquely different.

There are many shops in Hakodate. For lovers of Japanese ramen, this is a city where you can spend the whole day eating ramen as often as you like. During your stay perhaps you will be able to discover a type that you particularly like.

Text by: Minna No Kotobasha
*This information is from the time of this article's publication.
*Prices and options mentioned are subject to change.
*Unless stated otherwise, all prices include tax.