One thing you can't miss when visiting northern Japan is the various Hokkaido ice cream sweets. The most notable of these is the "soft cream" (soft-serve ice cream) made from fresh milk. While the standard flavor is vanilla with a rich milky taste, it's always worth trying unique regional flavors.

Here we'll take a look at six different regional soft-serve Hokkaido ice creams made using local ingredients.
1. Hokkaido Lavender Soft Cream: Enjoy the aroma of lavender and quality sweetness (Nakafurano Town)!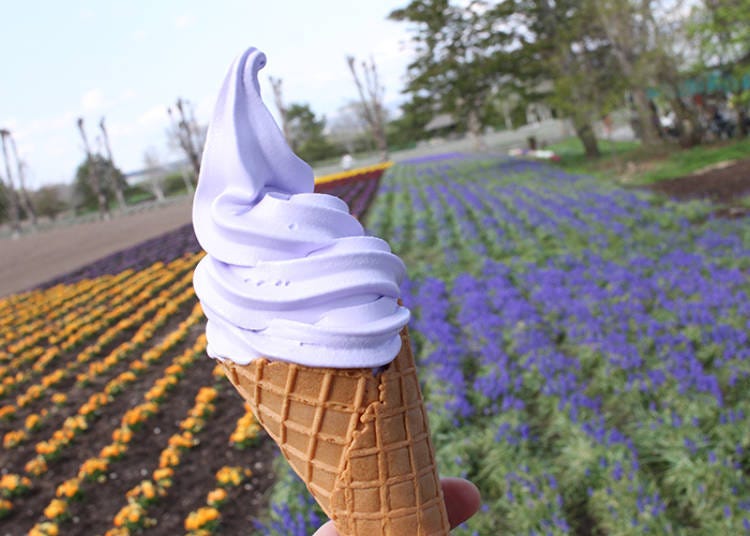 Lavender extract made on the farm is mixed into the cram to create the Lavender Soft Cream, which offers a refreshing taste.
Farm Tomita is the largest lavender farm in Japan. From spring to autumn over 1 million tourists visit the location to view the beautiful lavender and other various flowers. It is a major sightseeing location in Hokkaido.

On the farm, there are a total of 5 lavender fields, which is about 5 hectares. During the peak blooming period of mid to late July, the view of the vivid purple carpet, which covers the farm is magnificent.

If you visit Farm Tomita you must try the original Lavender Soft Cream (cone 300 yen, cup 250 yen), which is only available here. With one bite of the light purple soft cream, the lavender flavor expands in your mouth. The refreshing after taste is perfect for summer. They are sold at various locations in the farm, enjoy the delicious soft cream while you explore the beautiful lavender field.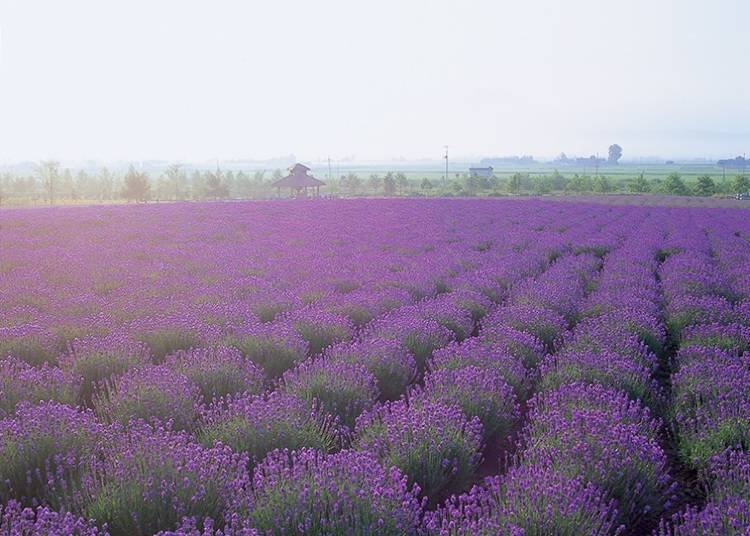 Sakiwai Field located in the center of the farm. You can purchase the lavender Soft Cream at shops around the flower fields
Hours: 9 AM ~ 5 PM (may change depending on the season and facility)
Closed: Open daily
Access: 25-minute walk from JR Naka-Furano Station
Address

15, Kisenkita, Nakafurano-cho, Hokkaido, 071-0704
View Map

Nearest Station

Naka-Furano Station (Furano Line)


Phone Number

0167-39-3939
2. Santa no Hige: Amazing Collaboration of Melon and Soft Cream (Nakafurano Town)!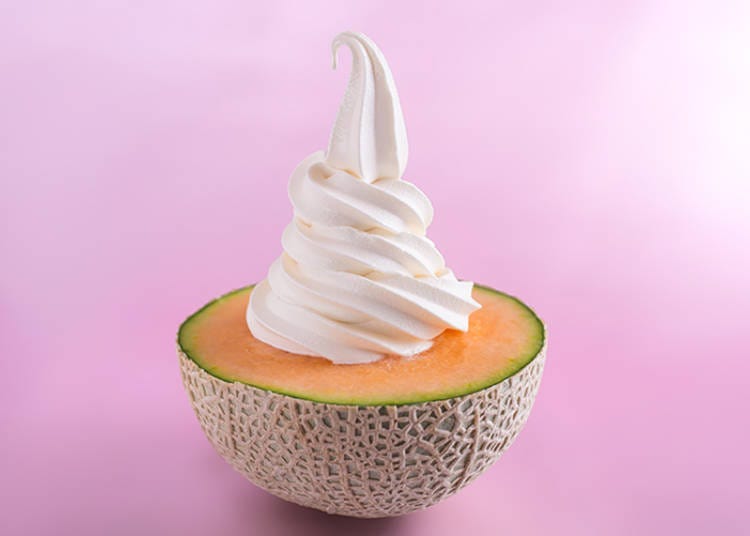 Santa no Hige (large) from 1,400 yen. Refreshing soft cream on melon, which can only be enjoyed here. *Santa no Hige is a registered trademark of Popura Farm
Hokkaido is one of the dominant domestic melon farming areas. The Yubari Melon is a famous Hokkaido melon, however, the melon grown in Furano region taking advantage of temperature difference is starting to make a name for itself. The Popura Farm in Nakafurano Town is famous for the dynamic use of melons for its sweets. They cut a melon in half and add a topping of soft cream, which is called Santa no Hige (Santa's beard).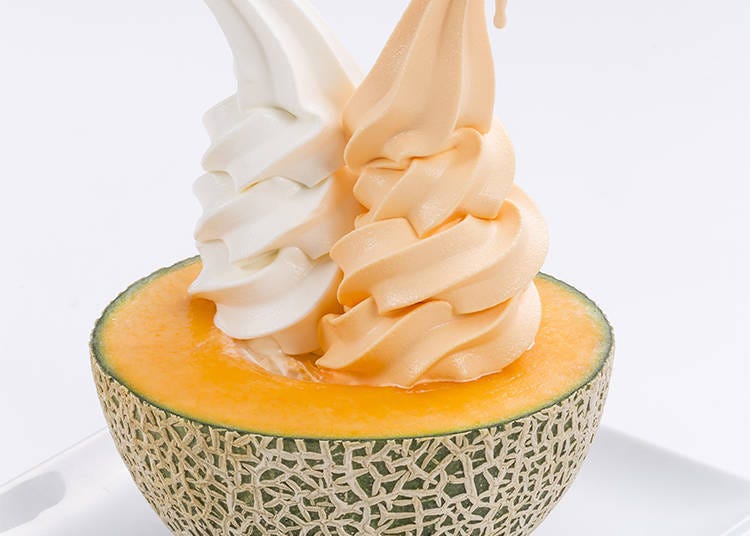 Provided in limited quantity according to season and availability is the Double Santa from 2,000 yen. Best time to try this is after mid-July.
This had attracted the attention of many tourists, as people were then able to enjoy two flavors of Hokkaido ice creams at once. They have two sizes of a quarter cut small size (from 800 yen), and a half-cut large size (from 1,400 yen), which is perfect for sharing with your friends or family. The melons sweetness and the sweet cream provides a fantastic taste.

They also have other styles such as Santa de Melon (large from 1,500 yen) with Hokkaido melon ice cream served on melon, and Godzilla no Hige (Godzilla's Beard) (large from 1,500 yen) with chocolate topping. We strongly recommend stopping by if you are in the area.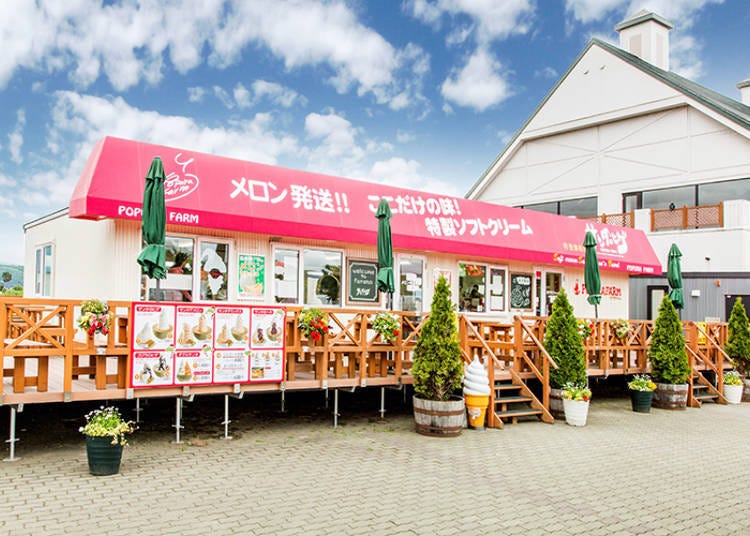 Enjoy your treat on the terrace under the blue sky
POPURA FARM Nakafurano-Honten

ポプラファーム中富良野本店

Address

〒071-0771 北海道空知郡中富良野町東1線北18号/18, Higashi 1-Senkita, Nakafurano-cho, Sorachi-gun, Hokkaido, 071-0771, Japan

Phone Number

0167-44-2033

Hours: Mid-April ~ late October 9 AM ~ 5 PM (last order 4:30 PM)
Closed: Open daily during the season
Access: 5 minute walk from JR Nishinaka Station
3. Aoiike Soft Cream: Vibrant Blue Just Like the Famous Hokkaido Blue Pond (Biei Town)!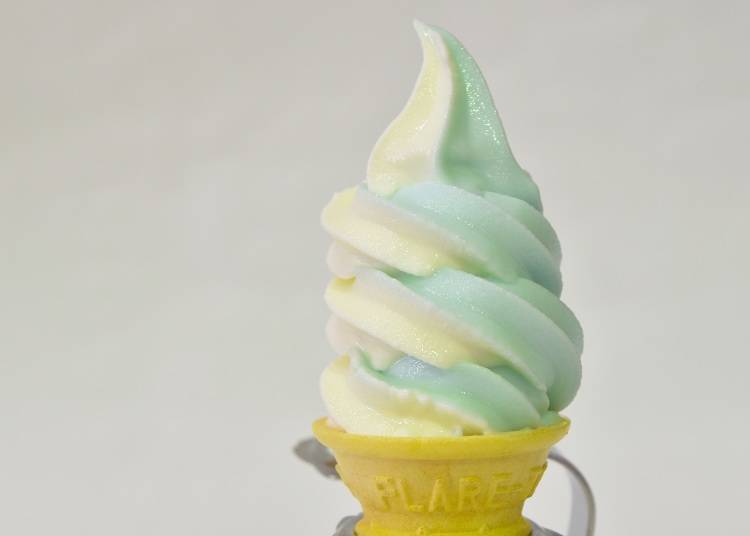 Aoi Ike Soft (Mix) 380 yen. The refreshing sourness of the yogurt and rick milk flavor create a perfect harmony. Only available from July to September
Biei Town is famous for its unique hilly landscape dotted with flowers - the most famous of which known as Patchwork Hill. That is why it Biei is called "Oka no Machi" - the town of hills.

However, there is one place we can't forget, the Shirogane Blue Pond - a.k.a. Aoiike. When the aluminum-rich water from Shirahige Waterfall flows into Biei River, a colloid is created. With this, the reflection of the sun looks blue to the human eye. The view of dried trees sticking out of the blue surface is majestic.

The Aoi Ike Soft (380 yen) is only sold at Biei Mino no Eki Oka no Kura from July to September. The blue soft ice cream with a vibrant color like the pond has a refreshing yogurt flavor. The mixed flavor with Biei Milk Soft (380 yen) is super trendy. Having this Hokkaido ice cream after visiting the Blue Pond will enhance the taste - and your memory of the Hokkaido Blue Pond area.
Michi-no-Eki Biei Oka-no-Kura

道の駅びえい 丘のくら

Address

〒071-0208 北海道上川郡美瑛町本町1丁目9-21/1-9-21 Motomachi, Biei-cho, Kamikawa-gun, Hokkaido, 071-0208, Japan

Phone Number

0166-92-0920

Hours: June to August 9 AM ~ 6 PM, September to May 9 AM ~ 5 PM
Closed: December 31st ~ January 1st
Access: 1 minute walk from JR Biei Station
4. Densuke Watermelon Flavored Soft Cream (Toma Town)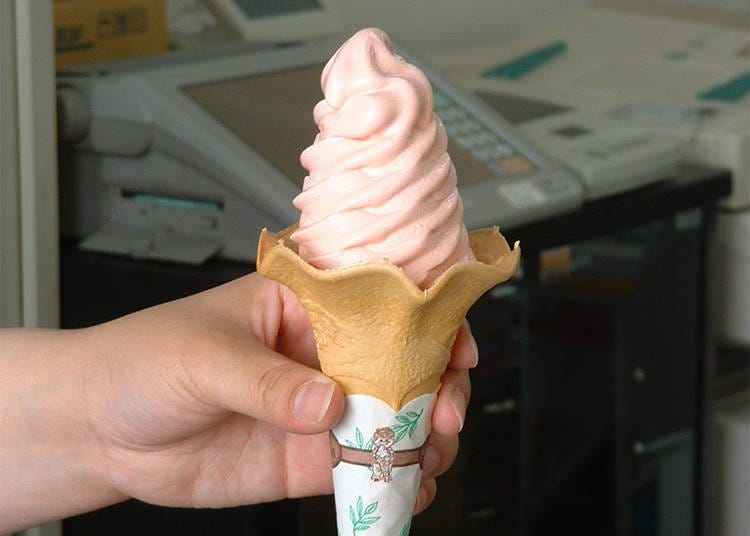 Suika Soft Cream (320 yen) known for its flavor that you won't get tired of
Toma Town, located next to Asahikawa City, started growing the Densuke Watermelon from 1984; it is now a local specialty of Toma Town and well-known throughout the nation.

It is a mixed breed of the European black skinned watermelon and the Japanese striped watermelon. It has a black-colored skin and the inside is bright red; it has an extremely high sugar content and the texture is very crisp. Due to this it is highly praised and is a popular gift.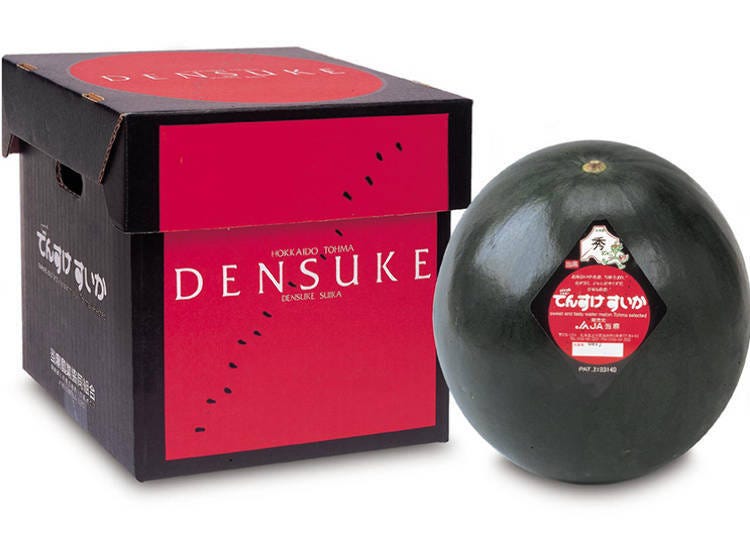 Densuke Watermelon with a unique black and slick look. Toma Towns brand watermelon, which is also a popular gift.
At Michi no Eki Bussankan Desuke no Ie (Toma roadside station) sells the watermelon flavored soft cream Suika Soft Cream (320 yen) between July and August.

With its vivid pink color, the refreshing watermelon sweetness and cream flavor match. The refreshing aftertaste will make you want more. The Densuke Watermelon colors are red and black, which is used in other product packagings such as cider, jelly, and rice cakes.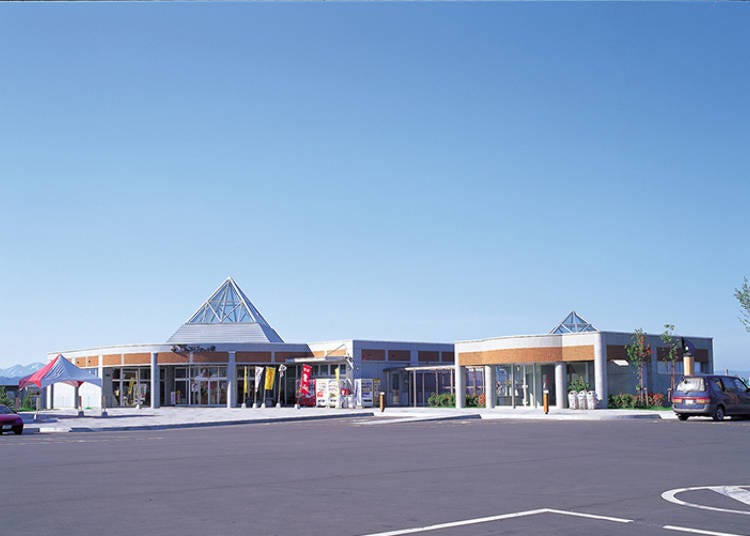 すいかソフトクリームは「道の駅とうま」の当麻町物産館で販売中
Michi-no-Eki Toma Bussankan Densukesan-no-Ie

道の駅とうま 物産館でんすけさんの家

Address

〒078-1300 北海道上川郡当麻町字園別2区/Toma-cho Kamikawa-gun, Hokkaido, 078-1300, Japan

Phone Number

0166-58-8639

Hours: 9 AM ~ 6 PM
Closed: December 31st ~ January 3rd
Access: 7 minute drive from JR Toma Station
5. Ebisu Kabocha Soft: Wonderful Rich Sweetness of Japanese Pumpkin (Eniwa City)!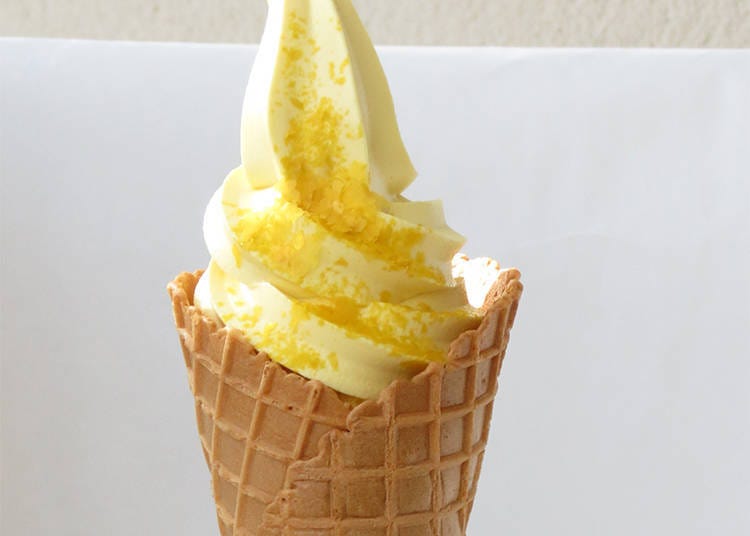 Ebish Kabocha Soft, which offers the sweetness of Ebisu Kabocha and Milk. It comes with Ebisu Kabocha flake topping
Next to Chitose Airport is Eniwa City, which is known as a flower town with a thriving production of agricultural products. The regional soft cream here is the Ebisu Kabocha Soft (300 yen) made from the popular local Ebisu Kabocha (Japanese pumpkin).

It is sold at Michi no Eki Hana Road Eniwa (Hana Road Eniwa Rest Area), which is surrounded in various colorful flowers.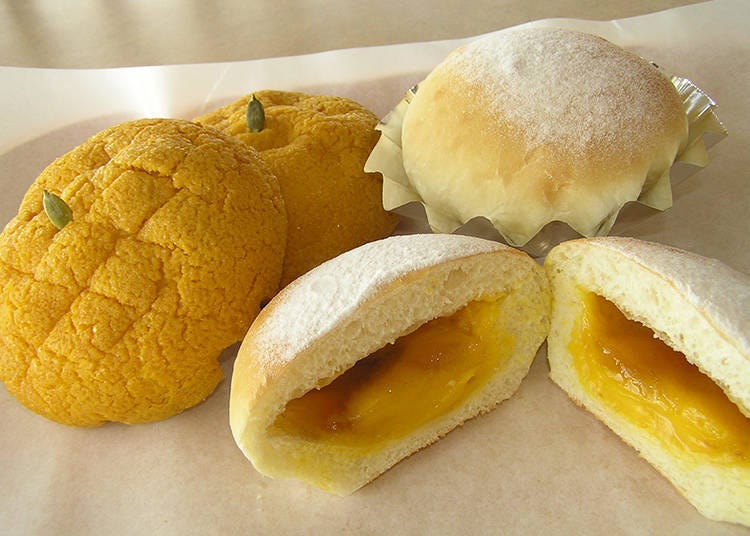 The Kabocha Pudding Bread and Kabocha Melon Bread, made with Eniwa's local specialty Ebisu Kabocha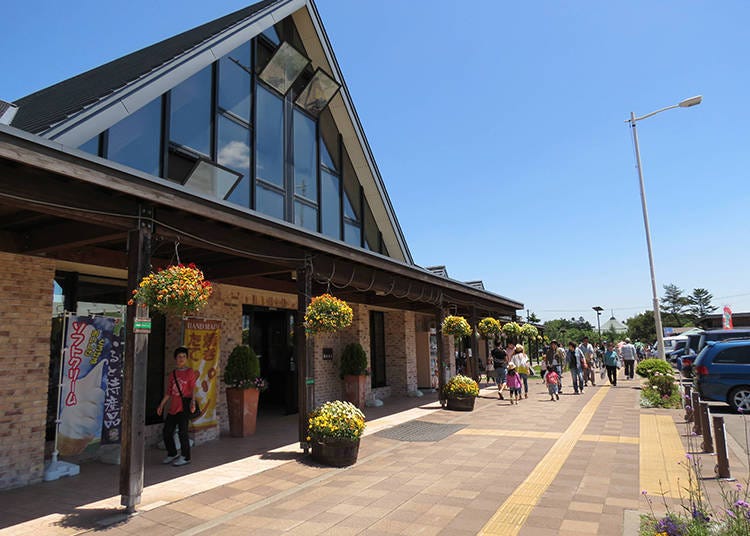 Michi no Eki Hana Road Eniwa (Hana Road Eniwa Rest Area) has a unique triangle roof. With different seasonal flowers planted it offers a different look each time you visit.
The light gold-colored soft cream mixed with the soft-textured sweet local specialty Ebisu Kabocha that's blended with rich cream. The unique-looking soft cream blends superbly with the deep rich milk and soft sweet pumpkin flavors perfectly.

The soft Hokkaido ice cream comes with pumpkin flakes topping, which is a perfect touch that brings out the deliciousness of the pumpkin. Some other popular items are the various breads baked with Ebisu Kabocha at the bakery. Enjoy your Kabocha Soft Cream while gazing out at the wonderful view of the flowers.
Michi-no-Eki Hana-Road Eniwa

道の駅 花ロードえにわ

Address

〒061-1375 北海道恵庭市南島松817-18/817-18 Minamishimamatsu, Eniwa-shi, Hokkaido, 061-1375, Japan

Phone Number

0123-37-8787

Hours: April to October 9 AM ~ 7 PM, November to March 9 AM ~ 5 PM *food service starts from 10 AM, last order is 30 minutes before closing
Closed: December 31st ~ January 2nd
Access: 3 minute drive from JR Megumino Station
6. Hamanasu Soft Cream: Light Pink Bitter Sweet Hokkaido Soft Serve (Ishikari City)!
A lick of the Hamanasu Soft Cream (300 yen) will spread the hamanasu flavor in your mouth. Cute light pink color
Hamanasu no Oka Park is located in Ishikari City, which is about a 50-minute drive from central Sapporo, the park has many seasonal flowers such as hamanasu (beach roses).

This popular sightseeing spot has a red and white striped lighthouse, the Ishikari Lighthouse, which is the oldest lighthouse in Hokkaido and also a symbol of Ishikari City. At the park where the Ishikari River meats the Sea of Japan, hamanasu are in full bloom from mid-June to early July. Hamanasu also offers rose hips and is edible, this is used to create the local specialty Hamanasu Soft Cream (300 yen).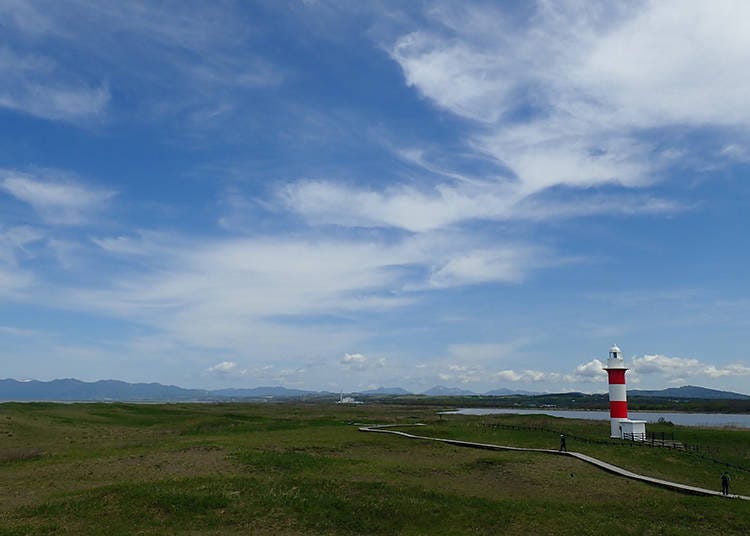 While feeling the wind and listening to the sound of the waves of Ishikarihama (Ishikari Beach), you can go on a stroll looking at the gorgeous flowers in Hamanasu no Oka Park
The light pink colored soft cream is popular for taking pictures for SNS. Along with the hamanasu flavor, there is a fresh bittersweet aroma with a cool sensation and sweetness that spreads in your mouth.

They also have the Hamanasu Mix (300 yen) mixed with milk soft cream. The second-floor terrace seats offer a wonderful view of Ishikari River and Ishikari Bay, while you enjoy your delicious treat.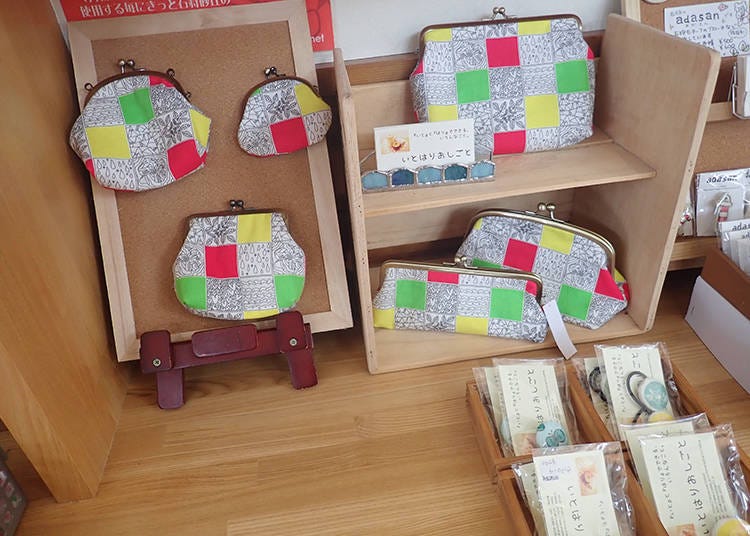 At the visitor center they also sell various sundries that resemble hamanasu
Hamanasu-no-Oka Park Visitor Center

はまなすの丘公園ヴィジターセンター

Address

〒061-3371 北海道石狩市浜町29-1/29-1 Hamamachi, Ishikari-shi, Hokkaido, 061-3371, Japan

Hours: Late April to August 31st 9 AM ~ 6 PM, September 1st to Early November 9 ~ 5 PM
Closed: Early November ~ late April
Access: 20 minute walk from Chuo Bus Ishikari Stop
Hokkaido still has many unique soft-serve ice creams such as squid ink, kombu (kelp), oyster sauce, strawberry, cheese, wine, and more. In any case, you will have to head over to try these unique flavors. Let's see what kind of unique flavors you come across during your travels in Hokkaido.
*This information is from the time of this article's publication.
*Prices and options mentioned are subject to change.
*Unless stated otherwise, all prices include tax.
Limited time offer: 10% discount coupons available now!