Worshipping methods are different at temples and shrines. Let's learn how to worship, along with the rules.
Entering a shrine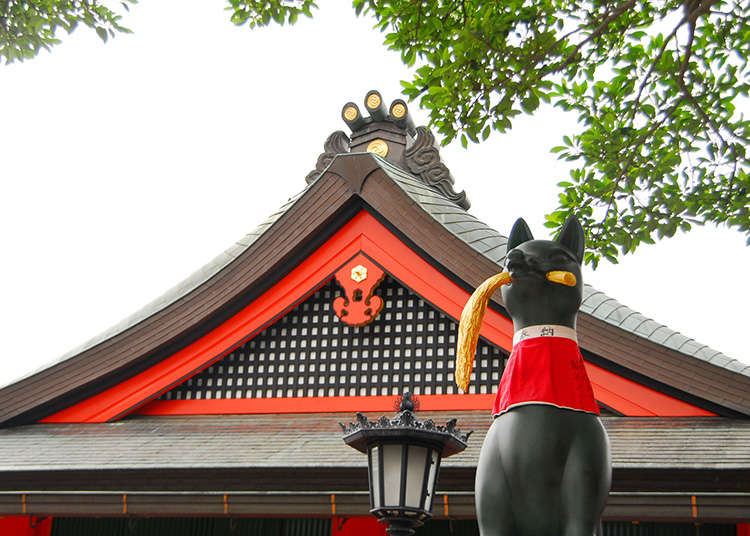 Shrines have different names depending on the enshrined presence. There are various enshrined presences, for example, the Emperor, the God of battle, the God of nature such as mountains. Shrines have "torii", a kind of gate. Beyond the torii is the god's territory, so you have to bow before passing through torii. There is a "sando (approach)" extending from the torii. You have to walk on the edges of it because the center of sando is the God's path.
How to purify yourself at chozuya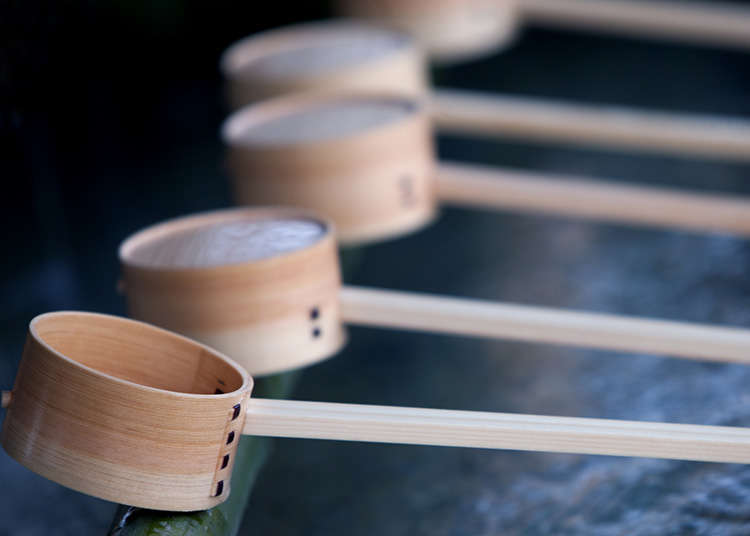 Before going to the hall of worship, you have to clean your hands and mouth at "chozuya", the water basin near the entrance. Purify your mind and body here.
1. Holding the dipper with your right hand, scoop some water and wash your left hand.
2. Wash your right hand.
3. Holding the dipper with your right hand again, pour water into your left hand, and use it to rinse your mouth.
4. Rinse your left hand and wash the dipper, then put it back in its original state.
How to worship
When you arrive at the hall, you can worship. Put money into an "offertory box" in order to express gratitude to the God. The amount of money is up to you. After that, shake the string hanging down from the ceiling to ring the bell. There is a rule of "2 bows 2 claps 1 bow".
1. Bend at 90 degrees from your waist and bow twice.
2. Clap twice in front of your chest.
3. Put your hands together and introduce yourself simply, convey the feeling of gratitude to God, then make a wish.
4. Finally, bow at 90 degrees again.
Omikuji and charms
There are other attractions in shrines. "Omikuji" is a fortune telling to know the will of the God. Originally it was used for political purposes, but now it is enjoyed as a lottery to predict one's own fortune. Also "Goshuin", stamps that are a sign of worship at each shrine, have different features, so they are interesting to collect. The low price from 300 yen to 500 yen, is also attractive.
What is enshrined in a temple?
The Buddha of Buddhism is enshrined in a temple. A temple was originally a place for monks to do training. Buddha's appearances are various. To feel its facial expression and aura is one way of enjoying the temple.
How to worship at a temple
Like shrines, there is a water basin on the way to the main hall where the Buddha is enshrined. You should purify yourself in the same way as shrines. If there is an incense burner, rub your body with the smoke of incense to purify yourself. At the main hall, ring the bell if there is, and offer "monetary offering". After that, close your eyes and put your hands together, then lower your head to pray. In a temple, you should not clap your hands but just put them together.
In conclusion
By learning the proper way to worship, you can experience the Japanese spirit with the historical buildings and nature.
*This information is from the time of this article's publication.