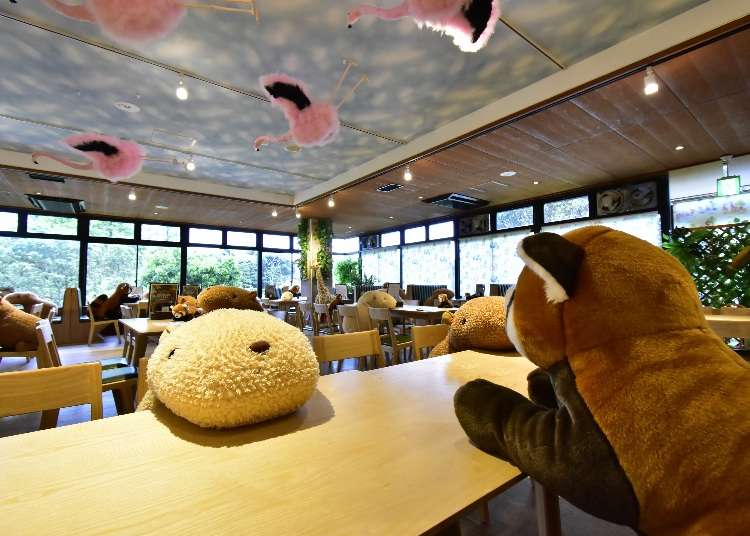 What COVID-19 measures are being taken at Japan's restaurants, hotels, transportation facilities and the like - and how are Japanese coping with "life with COVID-19?" Based on interviews done by LIVE JAPAN and on official company announcements, we've put together the following to help gain insight into how Japan is facing the current crisis on an everyday basis.
Restaurants: Partitions between neighbors; space sanitization; robot servers; plushies!?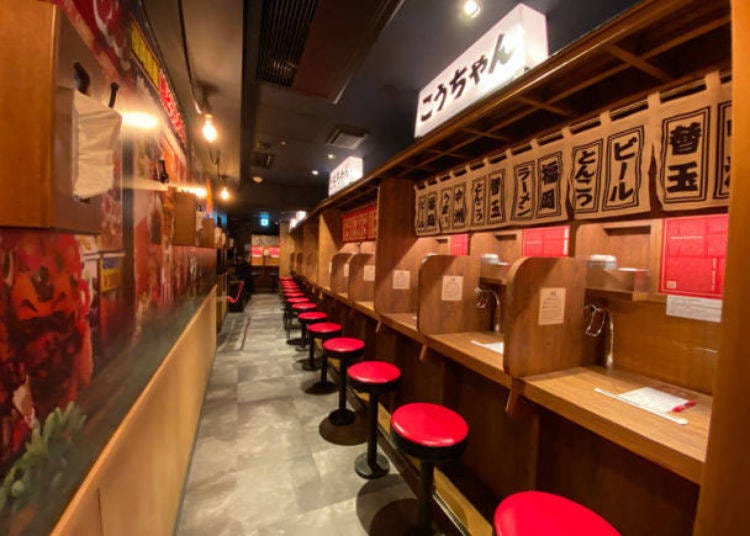 "Flavor Concentration Booths" at famous tonkotsu ramen shop Ichiran. There is only one disinfected cup and one pair of chopsticks per seat so that users can enjoy their meals with peace of mind.
At restaurants, some of the most commonly seen coronavirus countermeasures include the introduction of partitions between adjacent seats; an air filtration/sterilization system that completely replaces the air several times an hour; and contactless payments. The appearance of hand sanitizers at the entrance of the store and around the cash register another new sight.

While some restaurants have added cardboard or plastic dividers between seats and tables that are sanitized after customers leave, others have been embracing the concept of "food space" and taking it to another level. Famous ramen chain Ichiran, for instance, introduced "Flavor Concentration Booths" before COVID-19, and with COVID-19 these booths have been very popular.
At Kamimura Ranch, an all-you-can-eat yakiniku restaurant opened by Watami in May 2020, all seats have partitions. In addition, orders are taken via touchpanel menus and delivered via an automated tray, similar to what you might find at a conveyor belt sushi restaurant.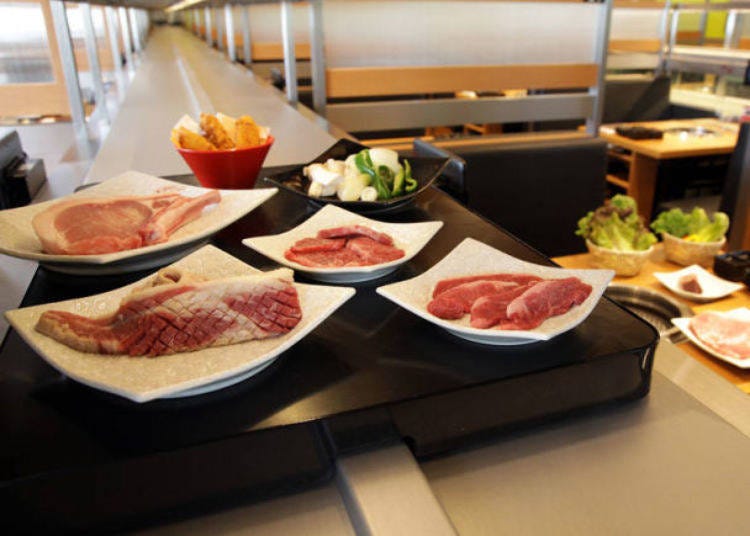 The all-you-can-eat yakiniku restaurant Kamimura Ranch (Keikyu Kamata Daiichi Keihin Side Road Store). A lane similar to what you might find at go-round sushi restaurants is used instead for yakiniku
Another unique example that became a hot topic on Japanese social media was the approach toward social distancing taken at GIBBONTEI, a restaurant at Izu Shaboten Zoo in Shizuoka Prefecture. Here, stuffed animals such as capybaras and red pandas sit together with guests, making it seem as though they are enjoying time with a cute stuffed animal. This playful approach has a healing effect, helping reduce anxiety among guests while securing a healthy social distance.
GIBBONTEI at Izu Shaboten Zoo. The cuddly stuffed animals also change seats. By sharing seats with capybara and red pandas, guests do not feel lonely due to social distancing.
Mos Burger, a popular Japanese burger chain, introduced a robot called "OriHime" at its store in Osaki, Tokyo. From July 27 until the end of August, the shop plans to use the robots to take customer orders and help guide customers through the menu.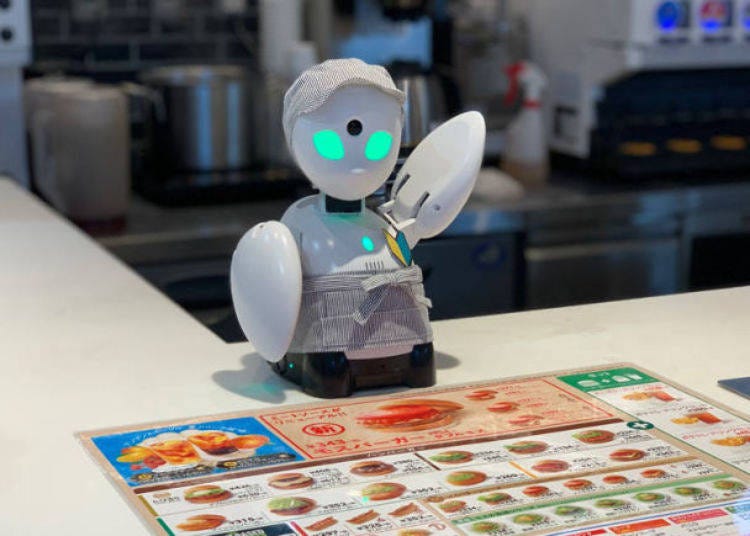 At the Mos Burger Osaki store, a remotely operated robot "OriHime" is installed in a dedicated "slow cashier" line. Many of the robot operators are based in the Kansai area, providing work for disadvantaged people.
At a restaurant in the Takashimaya Department Store in Tamagawa, through the introduction of robot servers, you can even choose your order style, opting for "non-contact" (no mutual or direct contact between customers and store staff); or "non-face-to-face" (customer and store staff do not communicate face-to-face), creating a whole new style of service.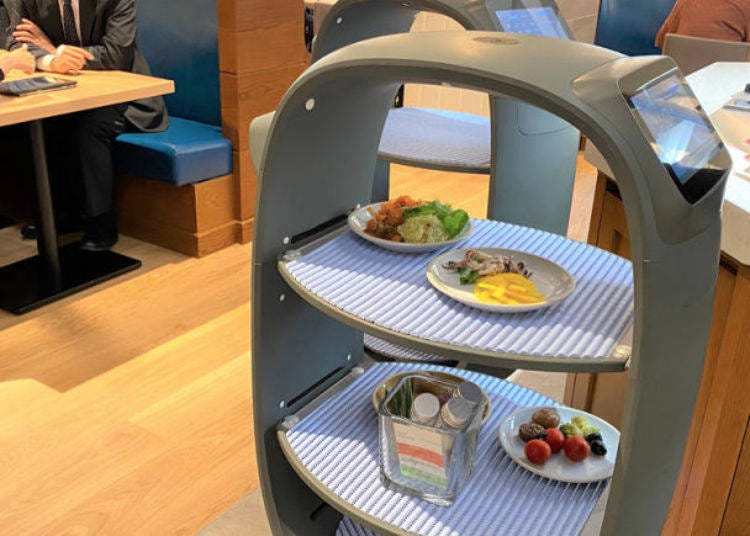 THE GALLEY SEAFOOD & GRILL, a custom salad bar restaurant, opened in Tamagawa Takashimaya in July 2020. The robot delivers salad to your seat without human contact.
Also, as a way to achieve a contactless environment, restaurants are offering touchpanel menus and apps allowing guests to pre-order, make table reservations, and even check on how congested a restaurant is.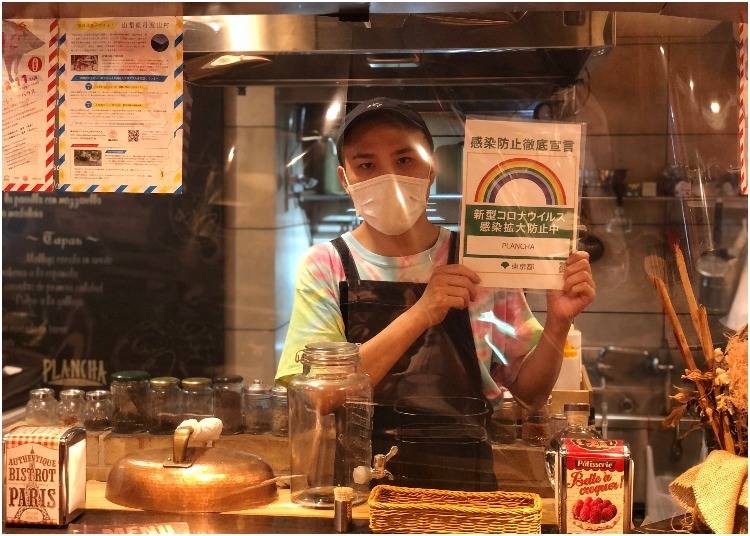 Example of a COVID-19 safety sticker at a restaurant that has enacted various countermeasures against coronavirus. (Image cooperation: Spain Bar Plancha)
Tokyo Metropolitan Government has also introduced a series of specific measures that restaurants, bars, and 22 other types of businesses should be taking to prevent the spread of COVID-19. Businesses that pledge they are adhering to each of the guidelines can apply for a special COVID-19 safety sticker which they can display at their place of business. The stickers (and posters) include a QR code that directs to a webpage detailing what measures are in effect at that business.
Hotels: Introduction of automatic check-in, thermography, and other measures
Accommodations such as hotels and ryokan inns have requested that, prior to their stay, guests check their body temperature and refrain from visiting the facility if they feel unwell. Also, upon arrival, guests are often asked to use hand sanitizer; an additional temperature check is in place at some facilities.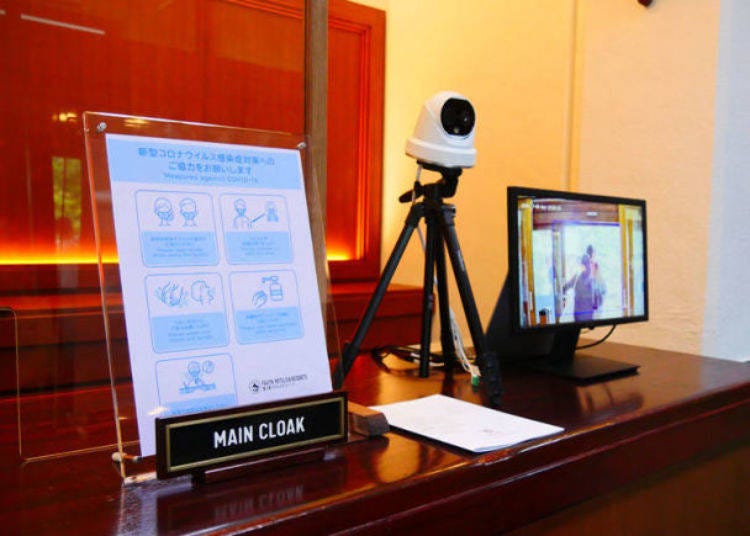 Fujiya Hotel has been reopened after undergoing structural work and repairs for about two years. For the time being, the policy is to operate with a room occupancy rate of around 70%.
At the Fujiya Hotel, a classic hotel that was reopened on July 15, 2020, a thermography system to automatically measure guests' body temperature at the reception desk. Hand sanitizers are installed in multiple places in front of the elevator, restaurant entrance, and in guest rooms.
Hoshino Resort, a resort company, has declared on its website that it aims to take the highest level of measures against COVID-19, has paused guest check-ins at the reception desk at its HOSHINOYA luxury hotels and KAI hot spring inns. Instead, guests are taken directly to their rooms where check-in proceeds. In addition, automated check-in machines have been added at select hotels, such as OMO5 Tokyo Otsuka, to reduce personal contact with staff.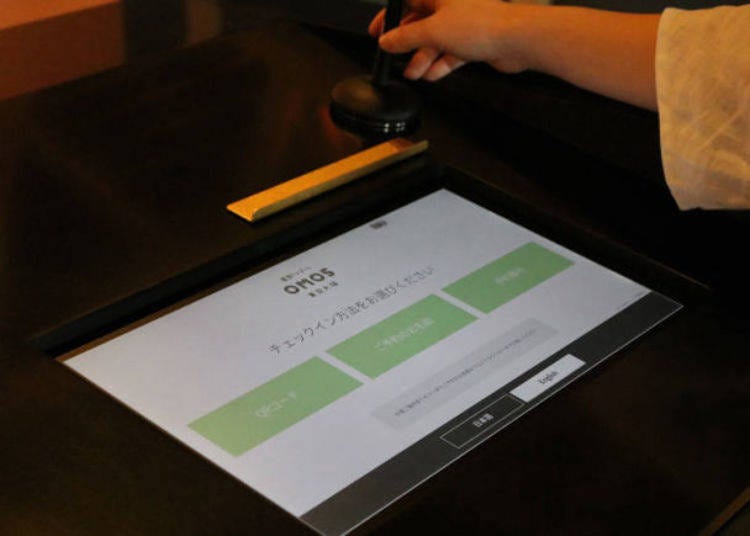 Automatic check-in machine at "Hoshino Resort OMO5 Tokyo Otsuka"
Also, Hoshino Resorts has introduced a system whereby guests can check their smartphones to see how congested the public baths are. At RISONARE Yatsugatake and RISONARE Tomamu, a similar system is in effect to let guests check how crowded the pools are.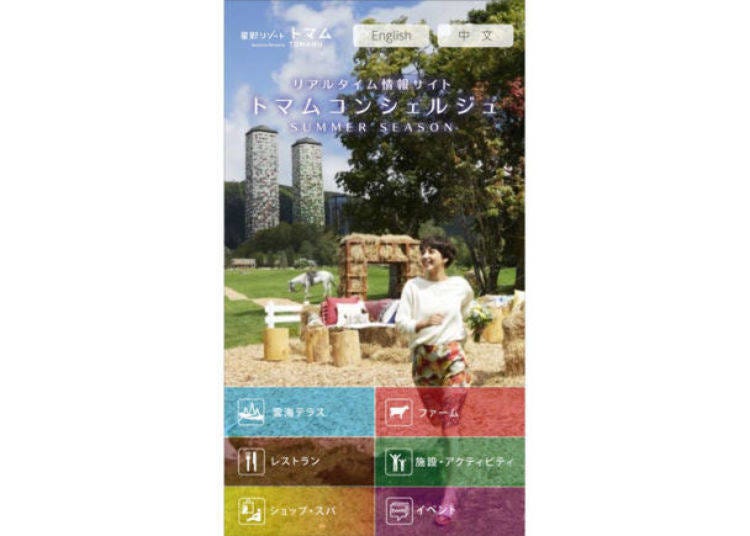 "RISONARE Tomamu" congestion status display site
As for meals, crowding is being reduced at restaurants by staggering guests' meal times. In addition, they are shifting from a buffet-style format to a set meal menu or takeaway format. At KAI, HOSHINOYA Tokyo and HOSHINOYA Kyoto, food is also being served in half-private rooms.
When it comes to hotel meals, many guests look forward to the wide selection of foods on offer at the buffet, so facilities are looking to devise a system that balances health and safety with guests' expectations of meals.

At Hakone Yutowa, a ryokan near Gora Station in the hot springs town of Hakone, the buffet-style meals have been temporarily stopped; dinner has changed from a buffet to a set menu under which guests can request additional portions; and breakfast is changed from a buffet to a set menu.

Meanwhile, they have two buffet counters for side dishes, desserts, and drinks in the restaurant so that guests can quickly select some of their favorites in addition to the set meal.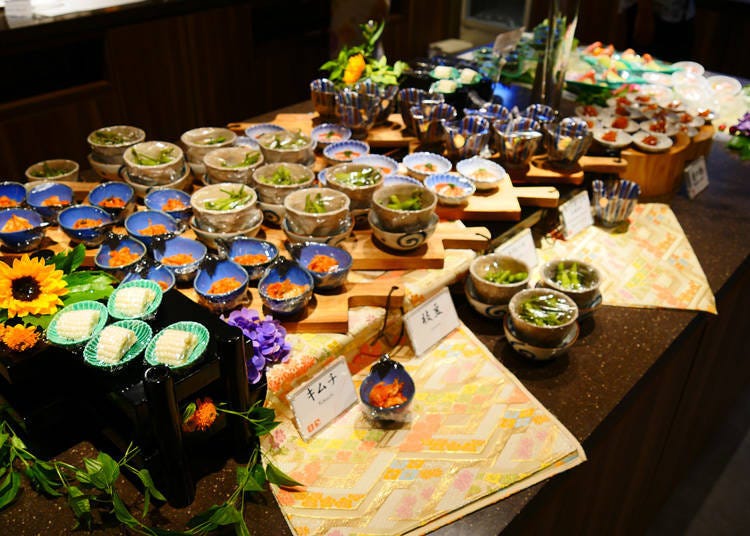 At the restaurant at Hakone Yutowa. All dishes are wrapped.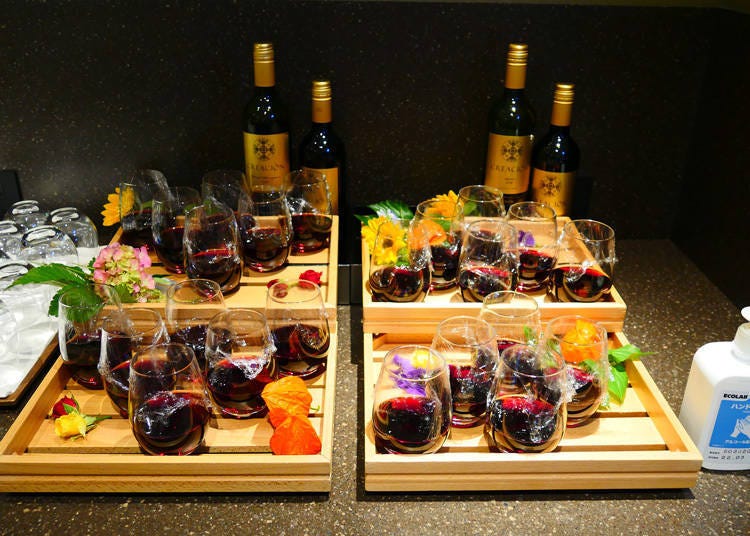 Alcoholic disinfectant and disposable gloves are installed at the buffet counter
Transportation: Spaces are disinfected; users wear masks and refrain from conversation
As for public transport, the Ministry of Land, Infrastructure, Transport and Tourism (MLIT) and each railway operator are working together to take measures to ensure the safety of riders and employees. The Ministry of Land, Infrastructure, Transport and Tourism has released the following three requests for railway users.

(1) Wear a mask and keep conversations modest
(2) Understanding of and cooperation with in-vehicle ventilation
(3) Using vehicles during times in a manner to avoid congestion
Rail and bus operators have also shared measures they are putting in place against coronavirus, on their websites.

One example is WILLER EXPRESS, a company that operates a variety of express busses. It launched a uniquely configured seat space known as ReBorn, a three-row shell-type seat that lets guests have a secure private space, complete with space disinfection and deodorization. In addition, an Aeropure device is installed, which uses UV-C light to disinfect the space. Aeropure is currently being introduced in restaurants and other spaces as well.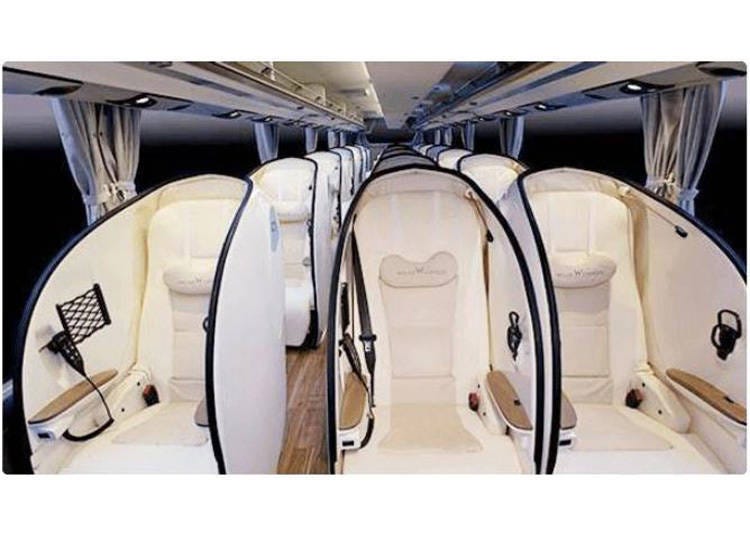 WILLER's original seat, ReBorn. A three-row, independent shell-type seat that secures a private space also creates a great environment for sleeping. Comfortable and with a seat structure allows it to recline nearly all the way, it allows you to stretch your legs and enjoy the trip ahead.
WILLER EXPRESS has also started letting guests see how full its buses are so that people can select seats and times that best fits their comfort zone.
Enjoy traveling safely and follow anti-COVID-19 measures
In addition to the standard practices of requesting (or requiring) guests' wearing a mask and using hand sanitizer before entering, many tourist facilities, amusement parks, theme parks, and other popular areas have additional measures in place.

For instance, Fujikyu Highland, an amusement park in Yamanashi Prefecture, has also asked that guests refrain from screaming or shouting even on its thrilling rides, demonstrated in a video of the park's president himself.
Also, social distancing measures are in effect at amusement parks and people are encouraged to avoid contact with others to the extent possible.
As for traveling in the age of coronavirus, the Travel Liaison Committee has also summarized guidelines that facilities and guests alike should mind in its "New Travel Etiquette," produced in cooperation with the Ministry of Land, Infrastructure, Transport and Tourism and the Japan Tourism Agency.
The New Travel Etiquette poster also shares a position that seems to be echoed in many other aspects of contemporary Japanese society: that each person's cooperation serves to protect everyone's enjoyable trip. This extends to many aspects of traveling, including the notion of selecting souvenirs with your eyes, not your hands.

Coping with coronavirus is still an evolving question throughout the world. Understanding what is expected of travelers and guests in Japan is an important planning step. Before traveling, be sure to check the websites of places you are interested in visiting, to see whether there are additional requests that will be made of guests.
Written by Shoko Kamiguchi
*This information is from the time of this article's publication.
*Prices and options mentioned are subject to change.
*Unless stated otherwise, all prices include tax.