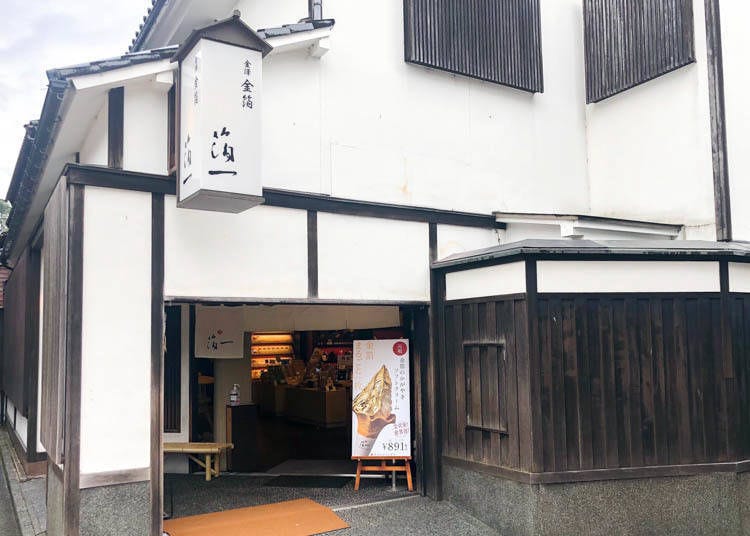 Did you know that 99% of all Japanese gold leaf is made in Kanazawa? The city is brimming with gold - including treats sprinkled with gold powder, dishes covered in sheets of gold leaf, and loads of gold-infused handicrafts!

Here we'll be introducing the Higashi Chaya district, where much of this gold leaf culture is centered. We'll let you in on 4 local gourmet, sightseeing, and souvenir shops that have been carefully selected by a Kanazawa local to bring your trip to the next level!

*Due to the impact of COVID-19, changes to business hours and temporary closures may occur.
*The information in this article is accurate as of June 2020.
What Exactly is Higashi Chaya?
Gold leaf was first produced in Kanazawa during the Era period. The climate of Kanazawa, including its humidity, temperature, and pure water, makes the perfect conditions for foil production, naturally developing the region into its leading producer.

To put it simply, gold leaf is made by infusing gold with minuscule amounts of copper and silver and beating it into a sheet measuring just a 10000th of a millimeter. It's so thin, you won't believe your eyes!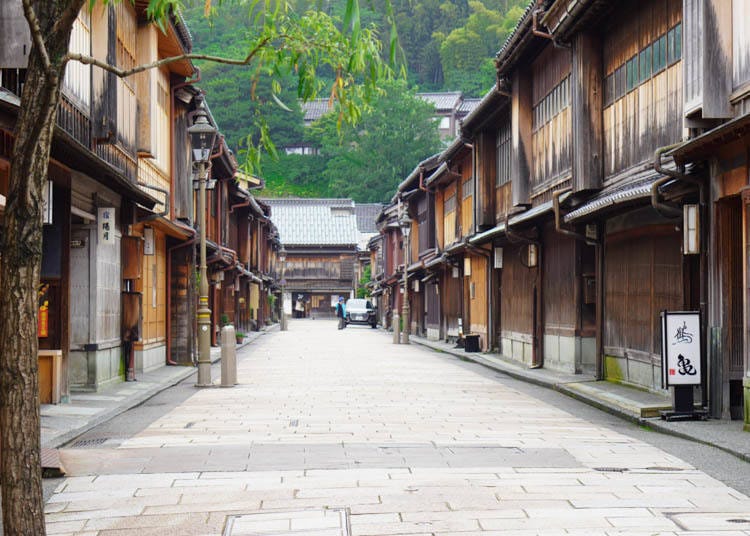 Within the three ancient districts preserving this ancient art, Higashi Chaya, Nishi Chaya, and Kazuemachi Chaya, the biggest is Higashi Chaya. This deeply historical area is filled by rows of teahouses with origins spanning the Edo era to the Meiji period.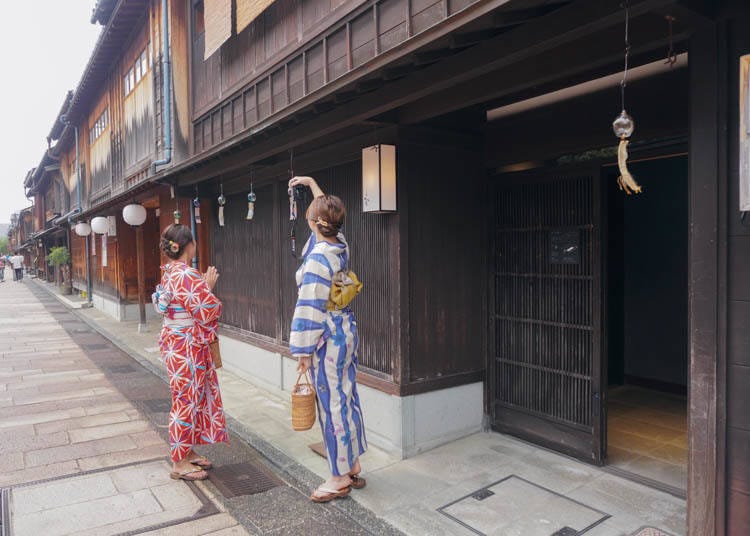 Lots of the area's historical buildings, known as 'Kanazawa Machiya,' were once the homes of Edo merchants and workers. They have now been skillfully and respectfully renovated into trendy cafes and shops.
1. HAKUICHI – Try the Legendary Golden Ice Cream!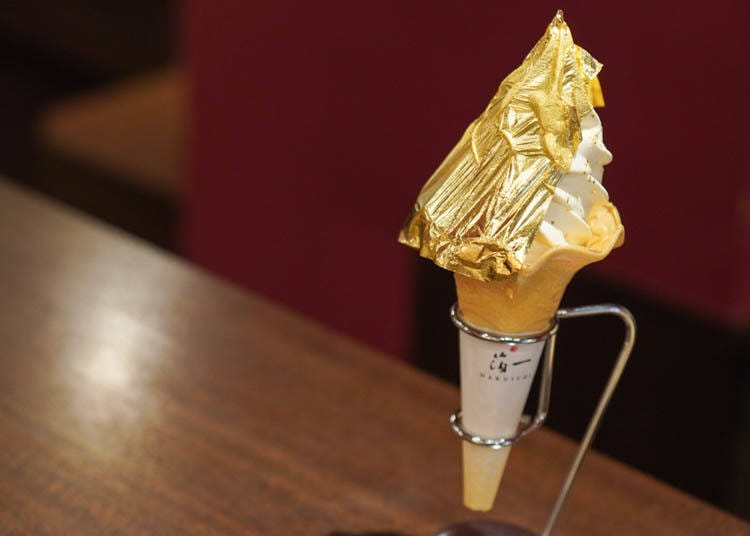 Gold Leaf Sparkling Soft-serve Ice Cream \891 (tax-included)
Our first recommended gourmet spot is HAKUICHI's Higashiyama outlet, located in front of the main street at Higashi Chaya's entrance. The shop flaunts the dark vermillion color-scheme and lattice doors typical of the area. They specialize in gold leaf handicrafts, make-up, and sweets.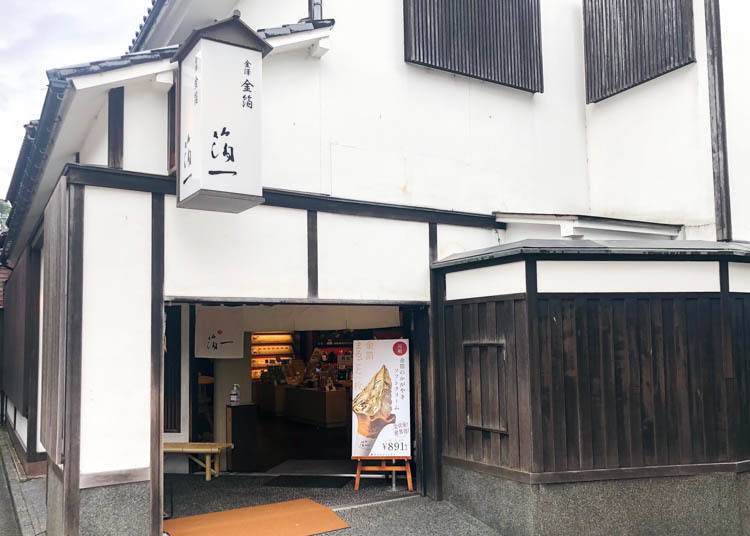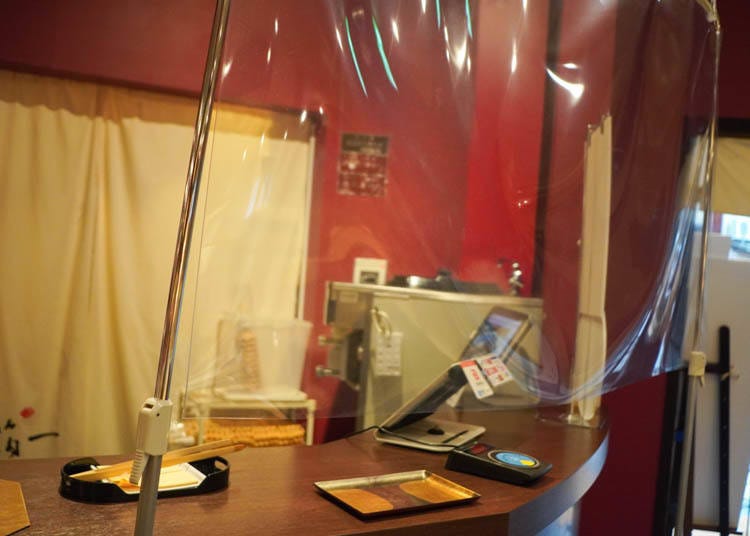 To help prevent the spread of COVID-19, hand sanitizer is placed at the entrance and plastic covers are spread across the checkout to block droplets
HAKUICHI's showcase item is the Gold Leaf Sparkling Soft-serve Ice Cream. This photogenic treat, which lavishly incorporates a sheet of gold leaf, was a hit the moment it went on the market, earning it a fan base from both domestic and international travelers. The rich milky texture will be sure to please!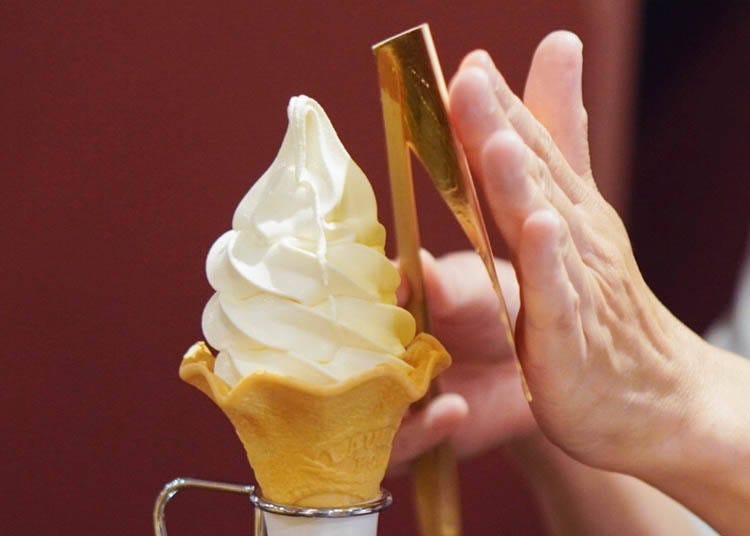 Don't miss the moment they put the leaf on your ice cream!
With its unbelievably small width, gold leaf will crinkle and break with the slightest touch. Even static electricity and slight gusts of wind can destroy it! The moment when the gold leaf is wrapped around the ice cream is over in a split second, so be careful not to miss it!

Eating while walking is banned in Higashi Chaya, so do be careful! There is space to enjoy your ice cream on the first and second floors of HAKUICHI, so eat first and explore later!
HAKUICHI Higashiyama Store

箔一 東山店

Address

1-15-4 Higashiyama, Kanazawa, Ishikawa 920-0831

Phone Number

076-253-0891

Hours:
- Shop: 9:00am - 6:00pm
- Café: 9:00am – 5:00pm (currently operating under shorter hours)
Price: \891 (tax-included)
Closed: None
URL: https://www.hakuichi.co.jp
2. Hakuza – Feast on Golden Takoyaki!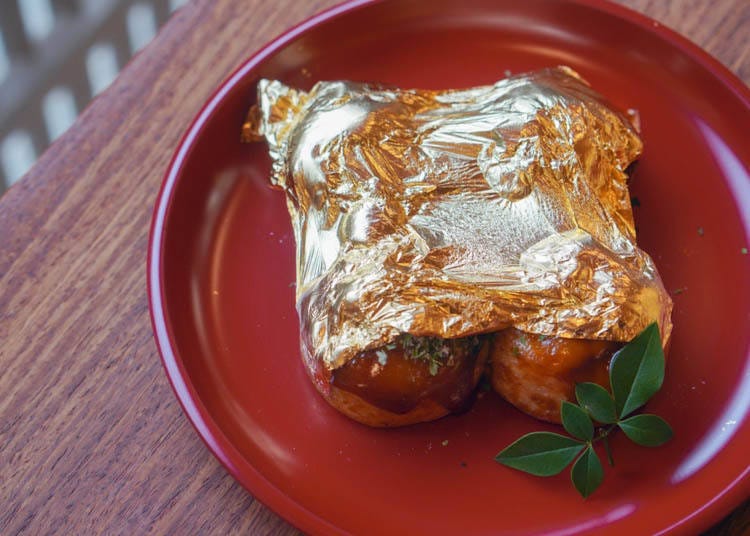 Golden Takoyaki \890 (tax-included).
In ancient Japan, gold was believed to bring fortune and protection and was thus revered as a good luck charm. Using this as their motif, Hakuza – Kin no Engiya, serve a collection of golden delicacies on the main street of Higashi Chaya.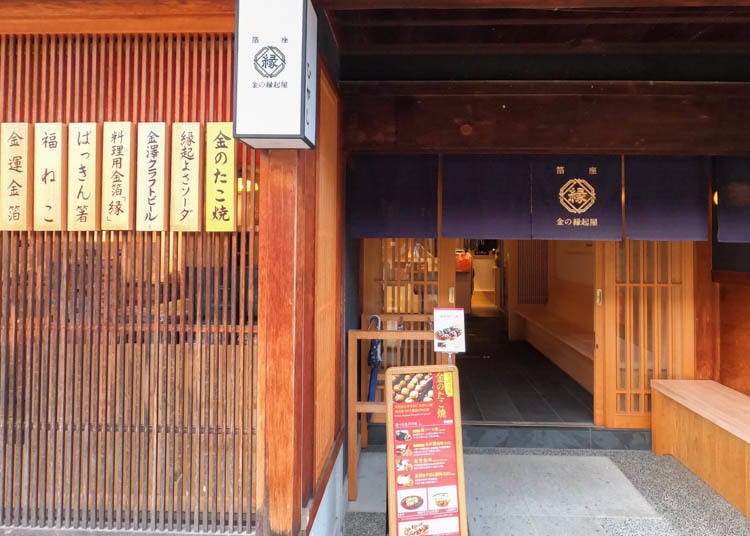 As soon as you pass through the curtain and enter the restaurant, you'll hear the sounds of traditional Japanese festival music. This jovial atmosphere creates an enchanting aura, projecting a feeling that something good is around the corner!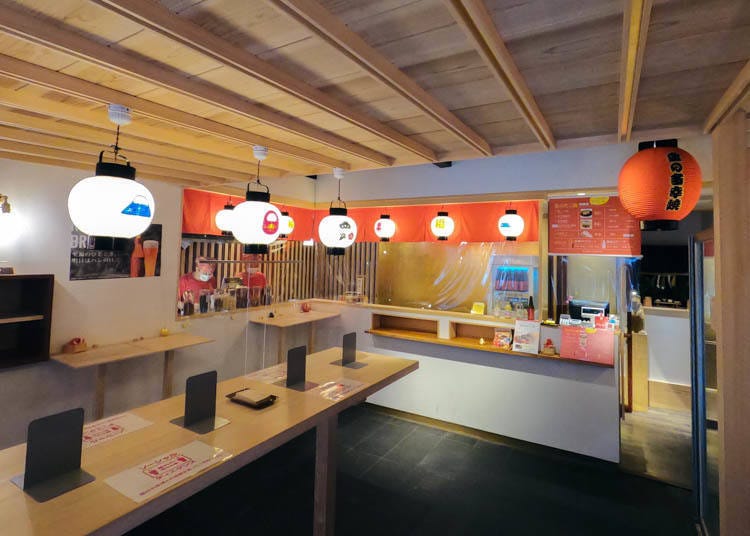 The restaurant's COVID-19 measures are thorough. Between the counter and kitchen is a plastic cover separating staff and customers along with barriers between each seat. Even during the pandemic, you'll feel safe.
Their most famous item is the 'Golden Takoyaki;' fried octopus and batter balls smothered by a sheet of stunning gold leaf. The batter, made using 7 kinds of natural 'dashi' soup stock, is delicately fried to perfection and is filled with umami flavors. Their soft, fluffy texture will melt in your mouth!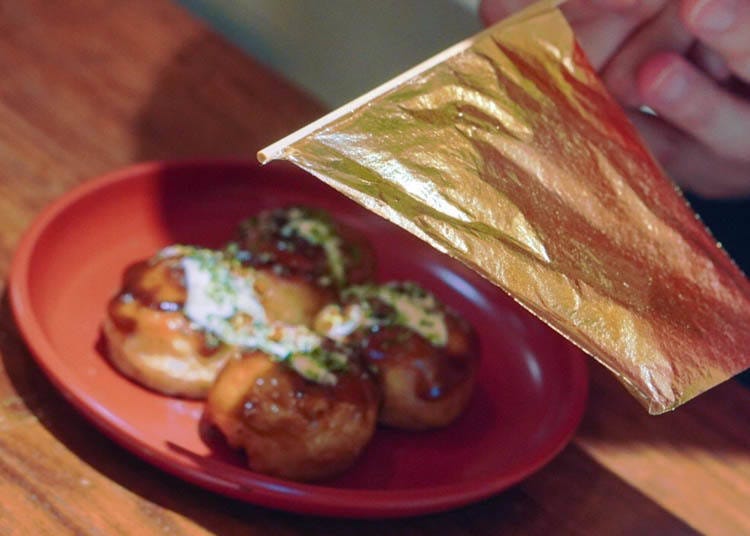 The staff will place the golden leaf upon the takoyaki right in front of you – so have your camera ready! You won't be able to take your eyes of their dazzling beauty!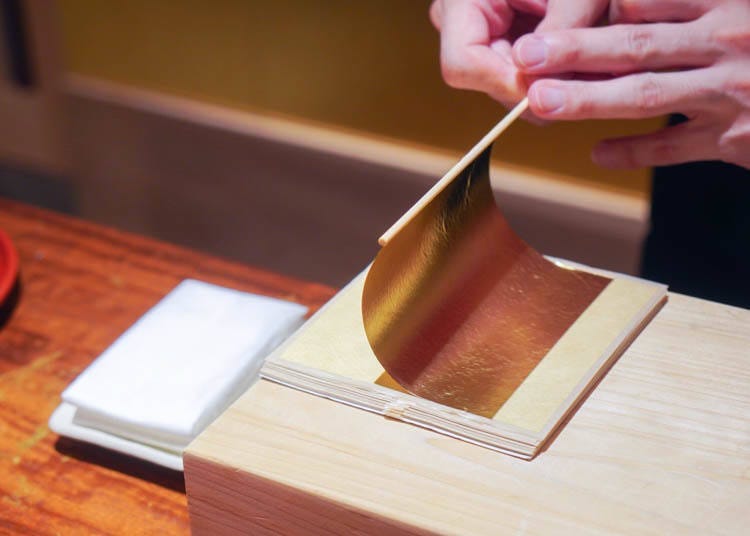 箔座 金の縁起屋

Address

1-13-2, Higashiyama, Kanazawa, Ishikawa 920-0831

Phone Number

076-253-8881

Hours: 10:00am - 5:00pm (currently operating under shorter hours)
Price: \890 (tax-included)
Closed: Irregular (check their Instagram for details)
Instagram: https://www.instagram.com/hakuza_engiya/
3. Gold Leaf Sakuda – A Restaurant Covered in Gold, Including the Toilets!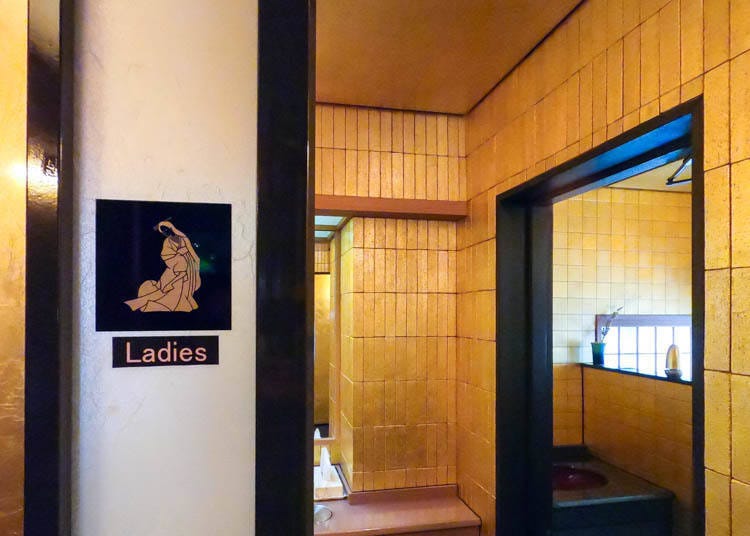 Around 100 steps from Higashi Chaya's entrance is the tranquil main outlet of Gold Leaf Sakuda. This spacious 'gold leaf theme park' allows customers to appreciate the charm of gold leaf through 'buying,' 'seeing,' 'experiencing,' and 'eating.'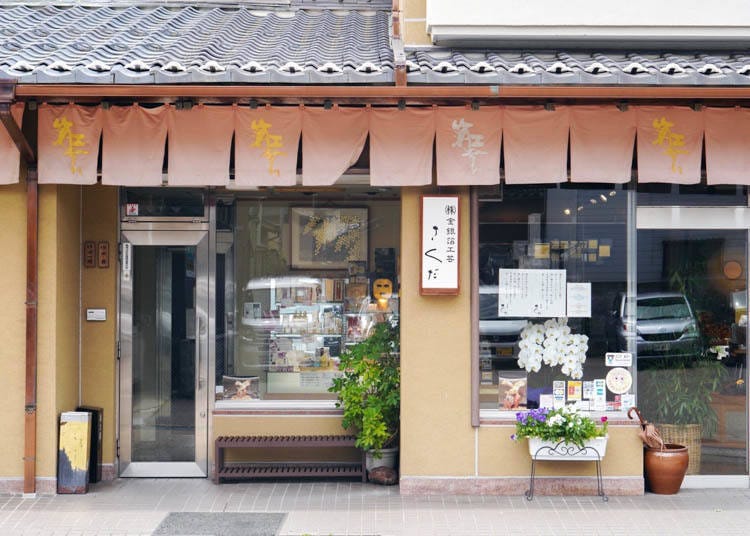 When visiting, don't miss checking out the golden second-story female bathroom. Approximately 3000 sheets of gold leaf cover the walls, making you feel like a queen in a castle!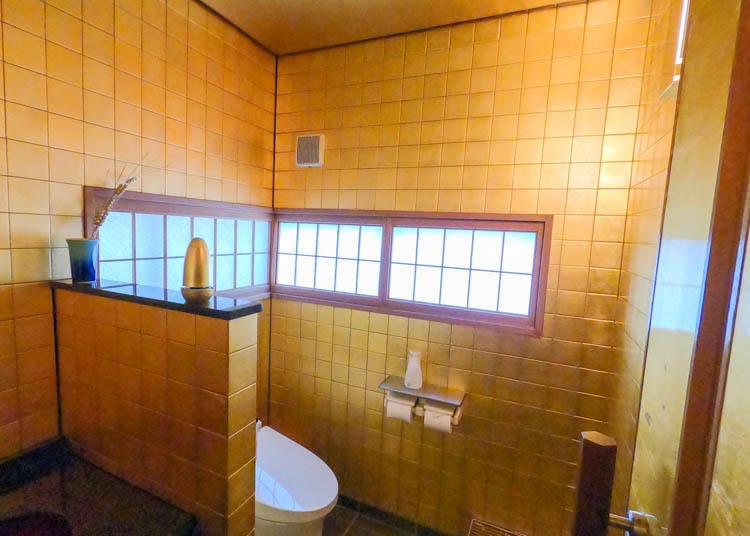 This spectacle is more than just an art exhibition - working toilets allow you to take care of business too! A great vacation story to share at home! While the men's toilet unfortunately isn't golden, it instead has a platinum leaf wall, which is also worth a look.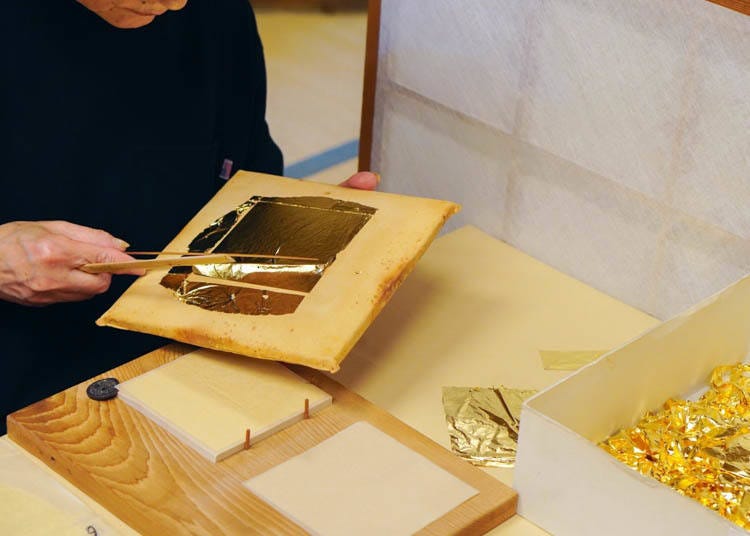 You can also get explanations and demonstrations from professional gold leaf crafters at their workshop. Many foreign tourists are extremely interested in their process, and questions from fascinated observers constantly fly across the room. Some of the crafters can speak basic English, and can answer most questions, so ask away!
金箔屋さくだ 本店

Address

1-3-27 Higashiyama, Kanazawa, Ishikawa 920-0831

Phone Number

076-251-6777

Hours: 9:00am – 5:00pm
Admission: None
Closed: Weekends (for the foreseeable future)
URL: https://goldleaf-sakuda.jp/
*future business hours may change depending on the situation
4. KINKA – Gold Lotion and More! The Ultimate Souvenir Shop!
Higashi Chaya's latest offering, KINKA, which specializes in HAKUICHI's best-selling product of the same name, is a newly-opened gold leaf cosmetics store.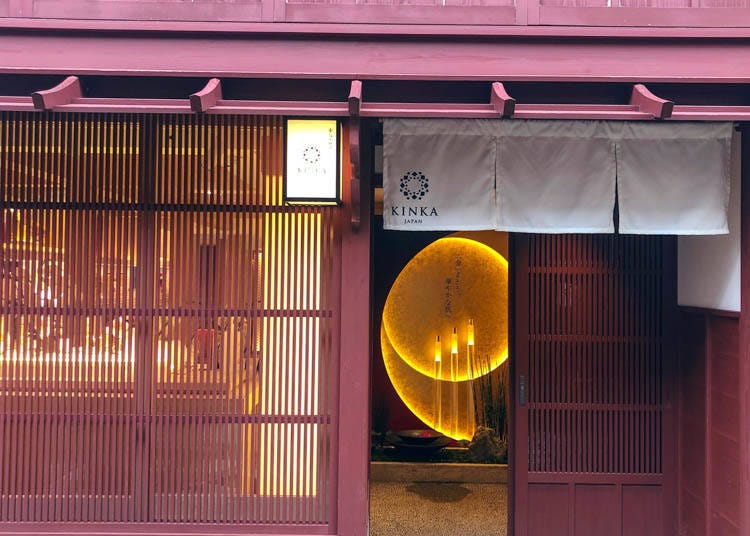 The store bases itself around two themes. The first is 'recommending the best products through careful attention to your skin's troubles,' and the second is 'getting close and personal with women everywhere!'

KINKA's cosmetic range all incorporate gold leaf, which has naturally led to it becoming a huge hit amongst foreign tourists! Once applied, gold leaf sticks to your skin and seals in moisture, preventing it from drying out. It has strong moisturizing properties, with long-term use resulting in added shine and luster to your body.

A pamphlet explaining their products is available in English, Chinese, and Korean. The English version also has a Q&A section, and if you're extra curious, asking the staff questions in English is fine too!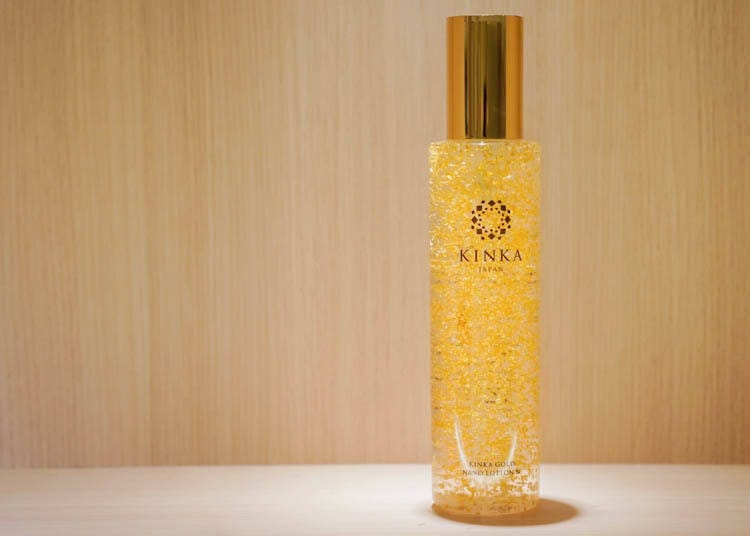 Kanazawa Gold Nano Lotion N \3850 (tax-included)
Their best-selling product is the 'Kanazawa Gold Nano Lotion N.' With natural plant extract and a huge helping of gold leaf, its moisturizing ability is second to none! Despite being a gel, it blends with your skin flawlessly without sticking. The pleasant feeling of it being absorbed by your skin will make you want to use it again and again!

After using, the gold leaf specks will quickly disappear. However, they're not gone! Their minuscule size renders them too small to be seen with the naked eye. The gold leaf will force moisture to penetrate the outer layers of your skin, resulting in a very noticeable effect. There is a sample bottle available for you to test, so give it a try for yourself!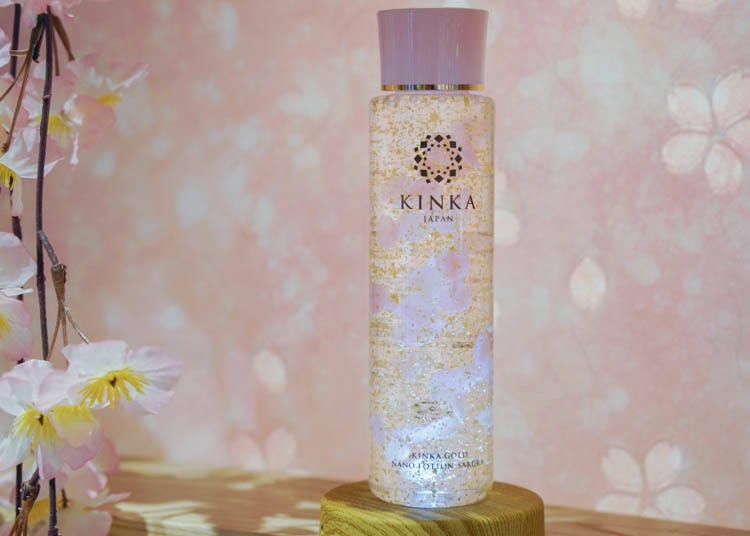 Nano Lotion Sakura \3850 (tax-included)
Using one of Japan's most powerful motifs, the cherry blossom tree, their aesthetics are a hit amongst foreign travelers. While cherry blossom designs were once a spring-only product, their huge popularity has led them to be sold all year round. The beloved 'Nano Lotion Sakura,' which has a bottle decorated by cherry blossom petals, has both gold leaf and cherry blossom infused in the lotion. Each time you use it the subtle fragrance of the beautiful tree will bring memories of Japan flooding back!

COVID-19 measures include hand-sanitizer and plastic sheets covering the checkout. There is also a sink available to remove sample cosmetics from skin.
Gold Leaf Cosmetics KINKA

金箔化粧品専門店KINKA

Address

1-chome, 13-5, Higashiyama, Kanazawa, Ishikawa 920-0831

Phone Number

076-252-0891

Hours: 9:00am - 6:00pm (currently operating under shorter hours)
Admission: None
Closed: January 1
URL: https://kanazawa.hakuichi.co.jp/user_data/kinka.php
After Getting Your Fill of Gold Leaf, Take a Relaxing Stroll Around Higashi Chaya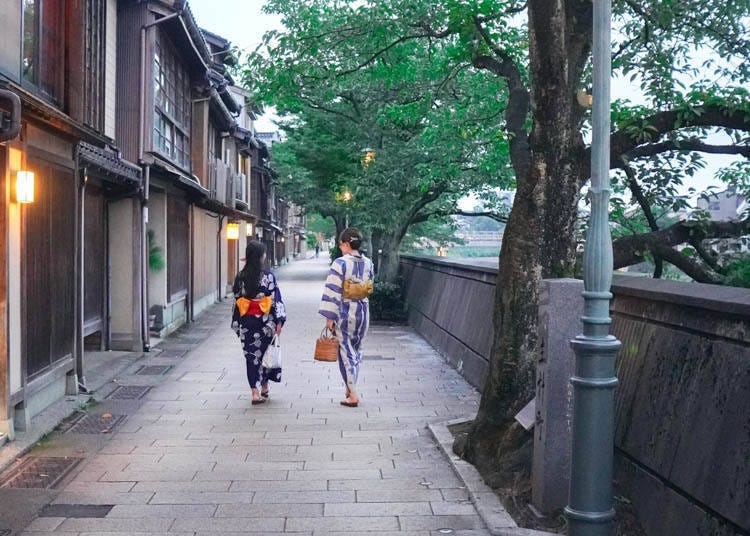 Once your gold leaf tour is over, take a peek into the Edo era world of traditional Japanese tea houses! These tea houses, many of which are still used today, once entertained high-standing men through performance and music while they socialized. Unfortunately, most of these establishments are very exclusive and refuse first time visitors. There are, however, two tea houses that allow tourists during the afternoon – Shima and Kaikaro.

5 minutes from Higashi Chaya is another ancient tea district of Kanazawa – Kazuemachi Chaya. This equally stunning area, which runs alongside the Asano River, gives off a more mature vibe, making it perfect for long, slow strolls. Finishing your day here will make the perfect end to your Kanazawa trip!

Article by Kana Tsuchiya
*This information is from the time of this article's publication.
*Prices and options mentioned are subject to change.
*Unless stated otherwise, all prices include tax.