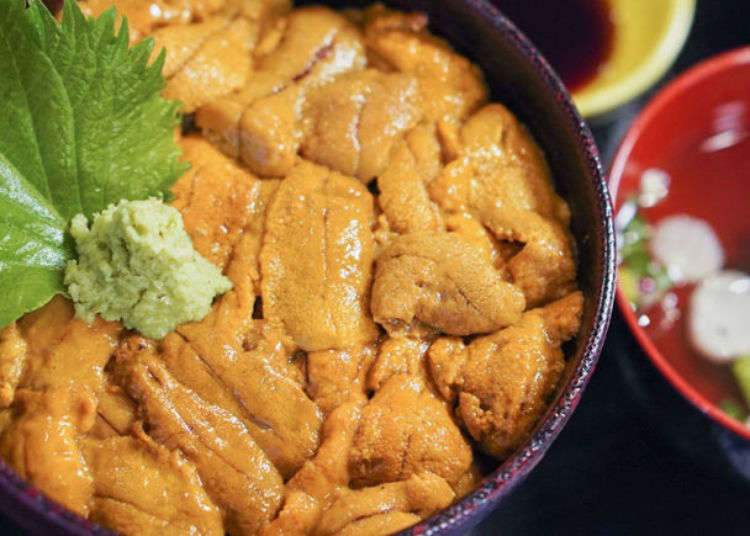 The heart of Kanazawa's rich seafood culture is at Omicho Market – known as the 'Kitchen of Kanazawa.' Here you can sample the city's incredible seafood for yourself - and there's nowhere better to start than a 'kaisendon!'

Today we'll introduce 3 restaurants within the market that serve this must-try seafood delicacy.

Due to the impact of COVID-19, businesses are subject to temporary closures and changes to opening hours.
The information presented in this article is accurate as of June 2020.
1. Sensai Enishi: The Bounty of Kanazawa's Blessed Ocean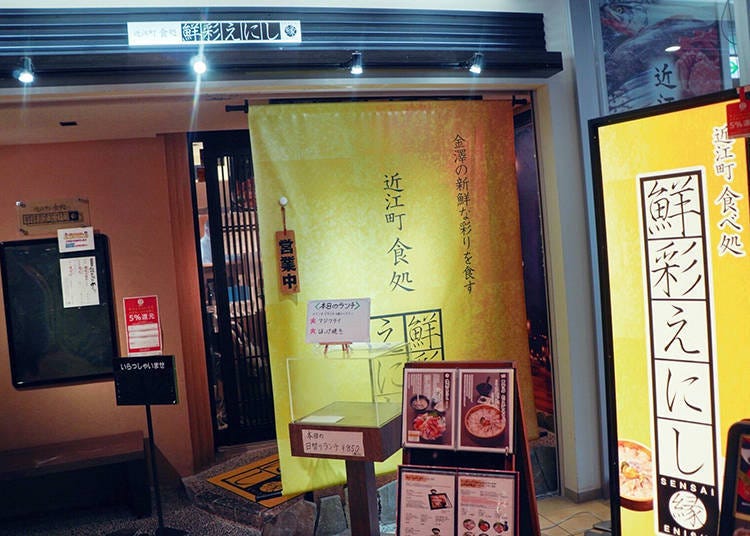 A 15-minute walk from JR Kanazawa Station, inside the Omicho Market complex building, is Sensai Enishi.

This restaurant is a direct outlet for the biggest fishing conglomerate within the city, so you know they mean business! Along with their mouth-watering kaisendon, they boast magnificent dishes of sushi, meats, deep-fried food, and more.

For those not good with raw seafood, their eel-donburi and Noto wagyu bowl will be sure to satisfy!

Their coronavirus measures are thorough, with alcohol spray outside the entrance and plastic sheets separating customers and staff.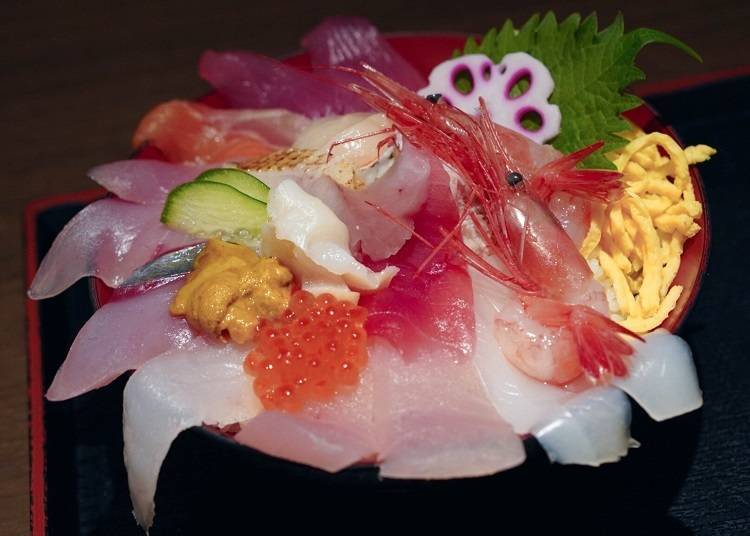 Kaisen Enishi donburi with nodoguro (includes miso soup) \2680
Their main dish, the Kaisen Enishi donburi, is packed with 14 different ingredients sourced from Kanazawa Port. It includes Kanazawa's go-to fish, the amberjack, along with shrimp, whelk, crab, and the most legendary fish in the area: the nodoguro (blackthroat seaperch). Considering its gigantic size, the price tag is not bad either!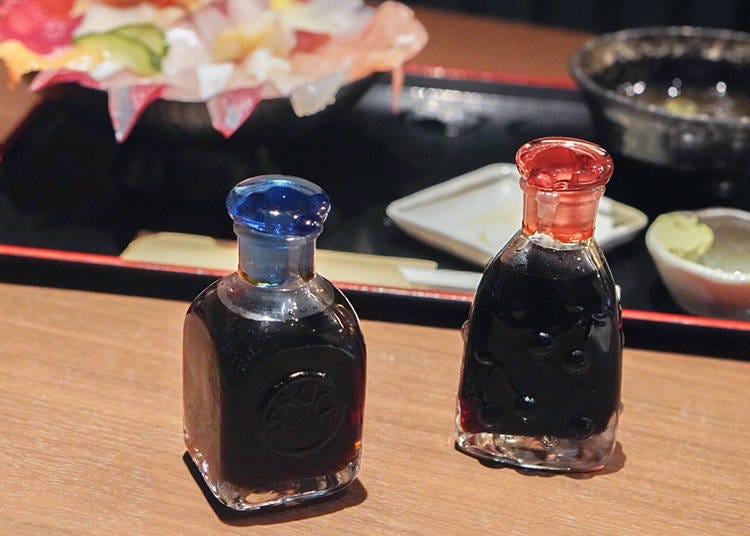 Sensai Enishi supply two types of soy sauce. The red-capped soy sauce has a rich taste and is used for sashimi, while the blue has Katsuo tuna stock added, giving it a lighter tang.
There are two ways to tackle the Kaisen Enishi donburi. The first is to savor each ingredient separately as sashimi, dipping them into the red-capped soy sauce to further highlight the umami flavors.

The other is to pour the blue-capped soy sauce over the entire bowl and enjoy the seafood and rice together. Whatever your choice, the result will be delicious, so do it your way!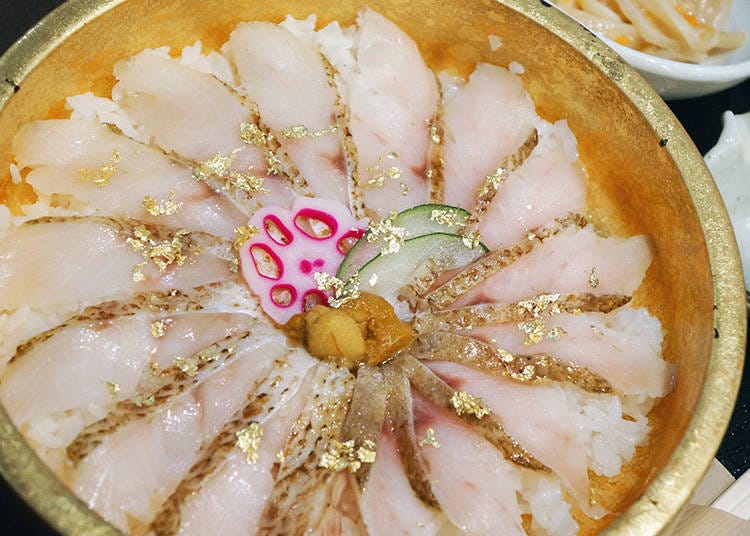 Sensai Enishi's other special offering is the 'nodoguro hitsumabushi,' a local take on the ever-popular dish. Housed inside a golden bowl and sprinkled with gold leaf, it overflows with the essence of Kanazawa.
The fish used in this dish is nodoguro - known in Japan as the 'king of the white fish.' This hitsumabushi (fish over rice) incorporates an entire nodoguro of the plumpest variety, making it one of the best ways to be introduced to its flavor. Having it together with the rice also allows you to savor its deep umami flavor.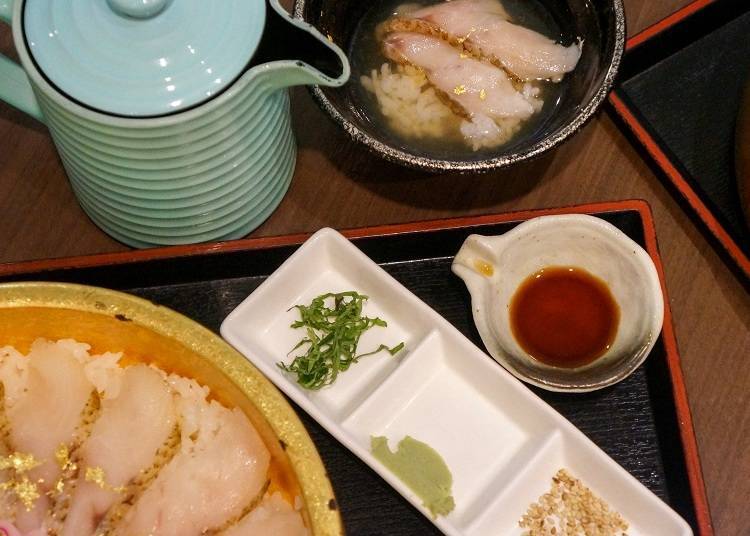 There are also a few different ways to enjoy your nodoguro hitsumabushi. The first and most standard is to eat the fish and rice together, as you would a donburi rice bowl. The second is to season it with condiments like sesame seeds, which adds a little extra gusto! The final is to soak it in warm dashi soup stock and turn it into ocha-zuke.

A dashi soup stock made from nodoguro brings out a refined and rich array of flavors that will heighten your appetite.

You can get dashi to make ocha-zuke for free! Simply ask the staff once you feel like trying something new!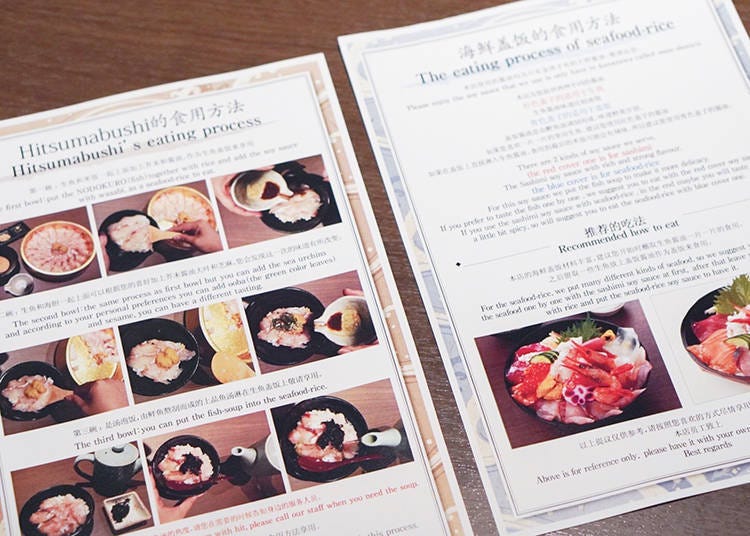 English and Chinese explanations on how to eat the Kaisen Enishi donburi and nodoguro hitsumabushi are provided, so feel free to use those as a reference! The standard menu also has an English and Chinese side.

Sensai Enishi is open fairly late, and you can often spot foreign travelers inside enjoying supper during the night.

*All prices are inclusive of tax
*Inclusion of certain ingredients depends on availability.
Sensai Enishi - Omicho Market

近江町食処 鮮彩 えにし

Address

Omicho Ichiba-kan Level 2, Aokusamachi 88, Kanazawa, Ishikawa, 920-0907

Phone Number

076-231-2211

Hours: Lunch 10:00am - 2:00pm (last order), Dinner 5:00pm – 8:00pm (last order)
Closed: Wednesdays
Website: https://enishioumicho.gorp.jp/
2. Bekkan Tama Iki Iki-tei: Only the Freshest Fish!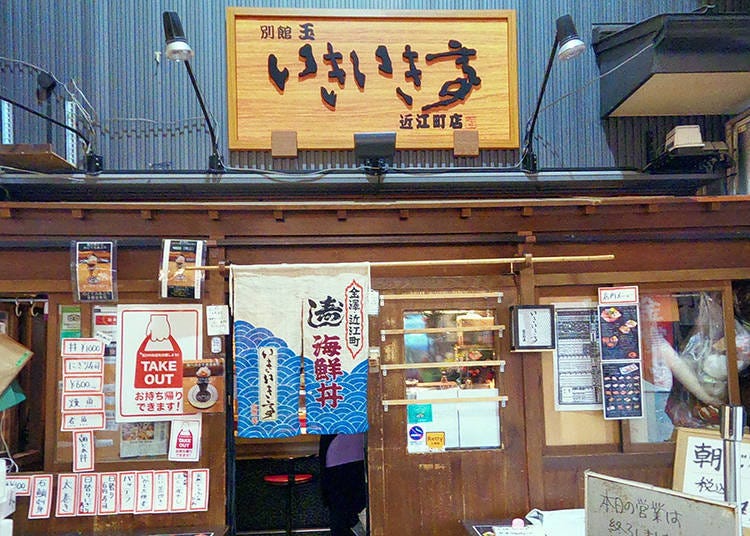 After a roughly 13-minute walk from JR Kanazawa Station's Omicho Market Musashi Exit, you'll find Bekkan Tama Iki Iki-tei. After passing through the noren - the cloth curtain outside the door of many Japanese restaurants - you'll be greeted to the warm smiles of the friendly staff.

There are only 10 seats at the counter (this has been recently reduced to 8 due to COVID-19), making it a cozy little place that welcomes all - even those dining alone!

Unfortunately, the lack of seating results in huge lines. To help keep things running smoothly, customers must first use an iPad located at the entrance to get a numbered ticket. Japanese, English, Chinese (simplified and traditional), and Korean language options swiftly appear, make things easier for those visiting from abroad.

Once your seat is ready, you'll be notified via email, so you can relax and stroll around Omicho Market while waiting.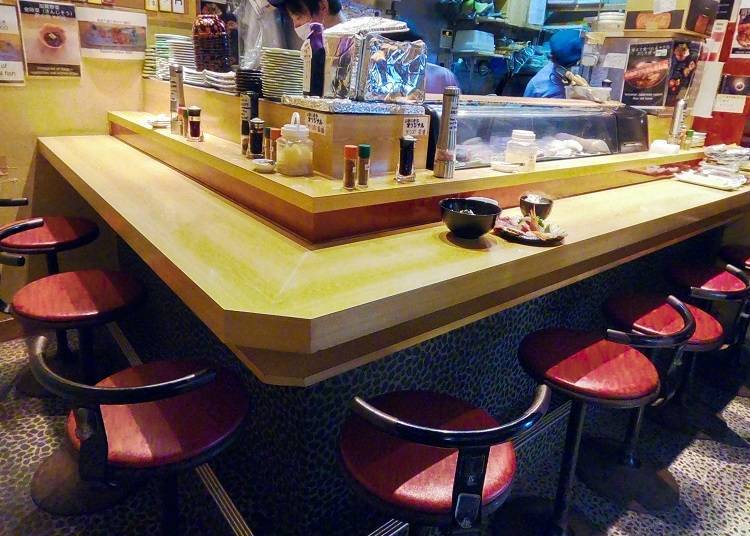 As part of their COVID-19 measures, only 3 groups are allowed in the restaurant at once. There are also English-speaking staff members available, so take the chance to get extra info in English!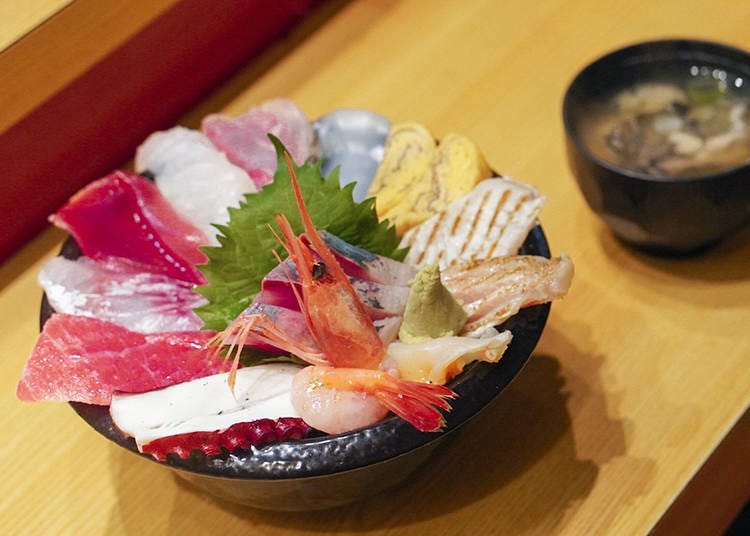 Iki Iki-tei donburi (miso soup included) \2200
Their signature menu item, the Iki Iki-tei donburi, is a mega-sized helping of sushi rice and seafood! The owner is obsessed with gathering and serving the freshest ingredients nice and cold, which is why they serve the warm rice on a separate plate.

The amount of rice can be adjusted as per your preference, with many foreign travelers preferring to have less rice and more seafood.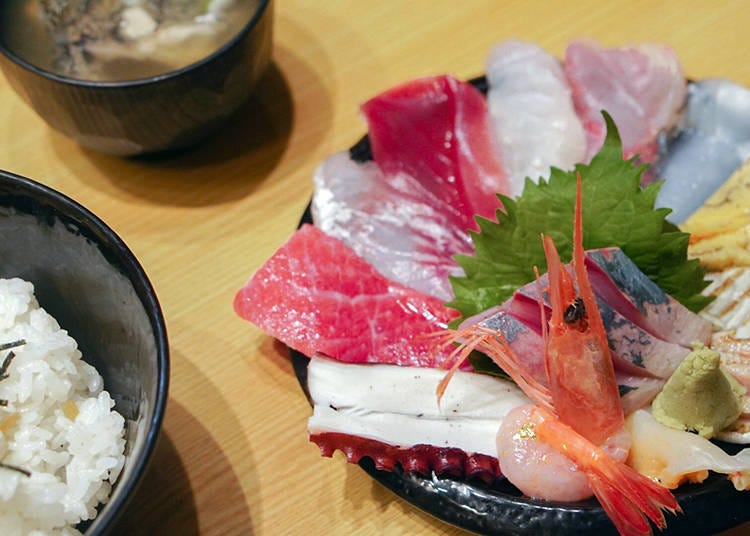 Iki Iki-tei's dynamic miso soup provides another way to relish Kanazawa's seafood culture.
The 14 kinds of ingredients, sourced entirely from Kanazawa Port, pack the bowl with the freshest seafood you can get. To ensure peak freshness, the contents depend on the season, and will thus cycle throughout the year.

In addition to the raw seafood commonly found atop a kainsendon, grilled seafood is also available upon request.

To top off your sashimi, we recommend using the restaurant's original soy sauce, which is made using a base brewed in Kaga. For grilled dishes, add a pinch of rock salt!

Another recommendation is the 'Mini-Kanazawa donburi' (\1600). While it is, as its name suggests, on the small side, it packs a punch with fresh ingredients, making it perfect for those with a small appetite.

If there's anything you're not good with, such as certain types of sashimi, you can exchange it for something else. Let the staff at the counter know your preferences! Business starts from 7am, so, in addition to lunch, you can fill your belly with seafood before your long day of Kanazawa sightseeing!

*All prices are inclusive of tax
*Inclusion of certain ingredients depends on availability.
別館 玉 いきいき亭 近江町店

Address

Omicho Ichiba-kan Level 1, Aokusamachi 88, Kanazawa, Ishikawa, 920-0907

Phone Number

076-222-2621

Hours: 7:00am – 3:00pm
Closed: Wednesdays (plus one alternating holiday every month)
3. Ichiban-boshi: For the Foodie in your life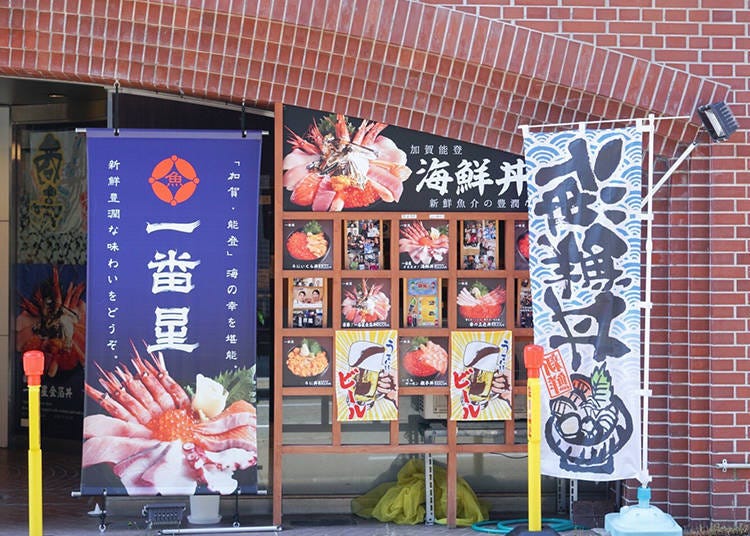 A 15-minute walk from JR Kanazawa Station, in the side streets of the Omicho Market, is Ichiban-boshi. First opening in August 2017, it is a relative newcomer to the kaisendon game.

The restaurant's owner, Akihiko Morimoto, was originally a truck driver who transported seafood all over Japan. Using his connections from the time, he was able to secure good prices on fresh and high-quality seafood, which he uses to create his signature kaisendon.

His restaurant also has stringent COVID-19 measures, which mandate that customers wear masks and submit to a temperature check upon entering. Seating is arranged diagonally to limit face-to-face contact, while thorough ventilation and ample disinfectant are ensured.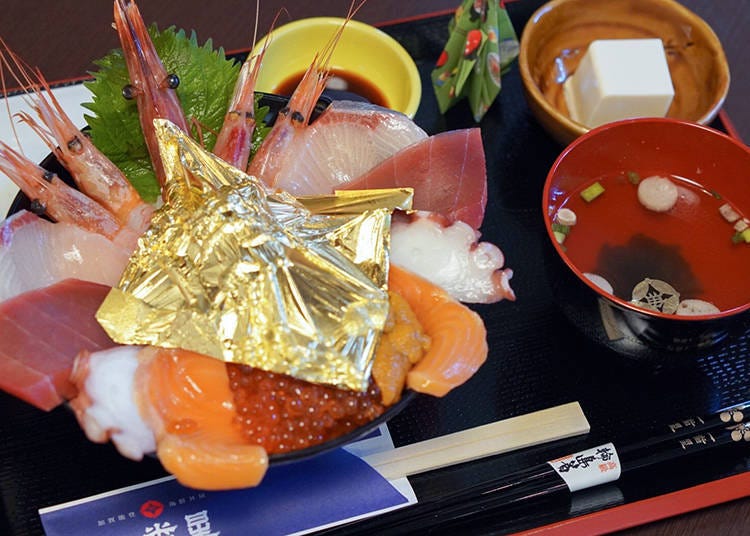 Ichiban-boshi's gold leaf donburi (side dish, soup, and traditional lacquer chopsticks included) \3900
Completely covered by a sheet of gold leaf, the dazzling brilliance of their signature Ichiban-boshi donburi flaunts the majesty of Kanazawa. While the gold sheet will catch your eye at first, the donburi resting underneath, packed with 8-9 different ingredients, proves to be an equal match.

Under the gold, we are treated to treasures from all over Japan. The octopus, sweet shrimp, and botan shrimp are all locally caught in Noto and Kanazawa. The tuna comes from Shizuoka Prefecture, while the sea urchin, salmon, and salmon roe were sent directly from the pure waters of Hokkaido. This mix of local and nation-wide ingredients is what makes Ichiban-boshi truly stand out.

A clear-broth soup and handmade tofu are also available to be served with your meal. If you want the experience to feel a little more Japanese, you can order your meal with an origami crane sitting on top!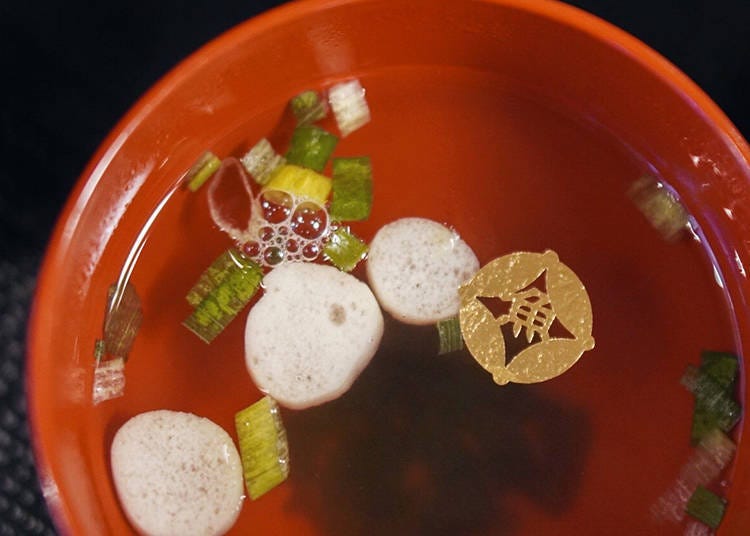 If you look in your clear-broth soup carefully, you'll notice a small piece of gold leaf with Ichiban-boshi's logo printed on it – which is the Japanese character for 'fish.'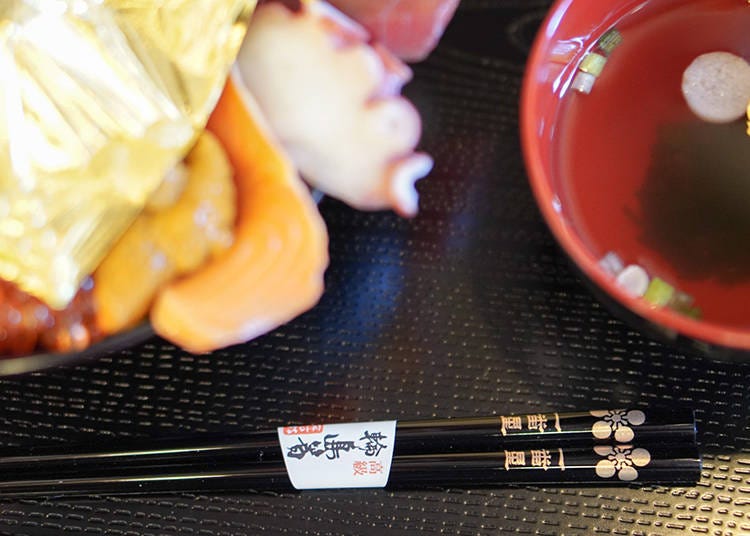 Customers who order the Ichiban-boshi donburi will also be treated to a pair of traditional Wajima lacquer chopsticks, a specialty of the nearby Noto Peninsula. After experiencing Kanazawa's gold leaf culture, being able to take home another legendary ancient craft is a true treat! You can knock off two Ishikawa experiences in one meal!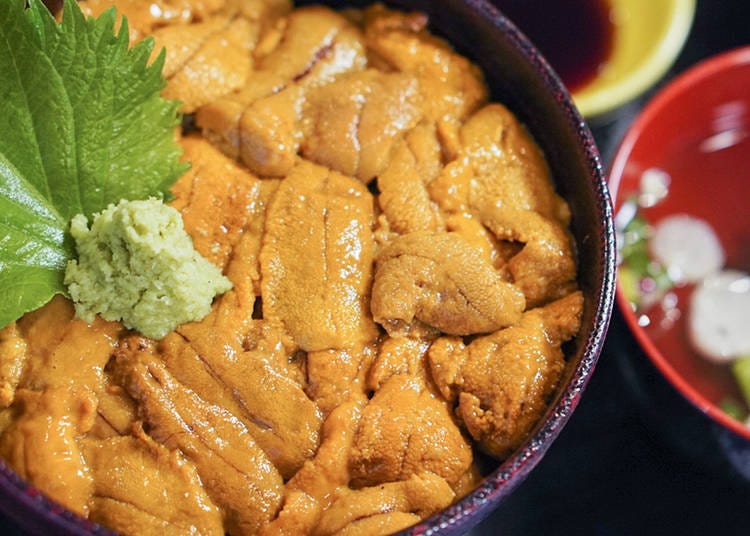 Sea urchin donburi (side dish and soup included) \3500
Topped with fresh sea urchin straight from Hokkaido, the pride of this restaurant is their sea urchin donburi. The thick layer of sea urchin makes your mouth water just looking at it! We recommend eating it with their specially-made soy sauce.

While raw sea urchin may not be something you've ever longed for, if you give it a try, you'll quickly find yourself hooked! After momentarily resting in your mouth, it quickly melts and spreads its sweetness across your palate.

*All prices are inclusive of tax
*Inclusion of certain ingredients may depend on availability.
金沢 下堤町 加賀能登海鮮丼 一番星

Address

Shitatsutsumi Building Floor 1, Shimotsutsumi-cho 20, Kanazawa, Ishikawa, 920-0917

Phone Number

076-255-1511

Hours: 9:00am - 6:00pm (winter: 9:00am - 5:00pm - last order 4:30pm)
Closed: Irregular (check website)
URL: https://1ban-bosi.com/
We hope our recommendations will help you find your way through the maze of seafood at Omicho Market. All 3 restaurants are equally amazing and extremely popular, even with locals! No matter what restaurant you end up visiting, if you ever have the chance to visit Omicho Market, don't miss out on a kaisendon!

Article by Kana Tsuchiya
Book an unforgettable experience in Kanazawa!
Make your trip extra memorable by booking one of these recommended experiences on our partner site, Voyagin!
*This information is from the time of this article's publication.
*Prices and options mentioned are subject to change.
*Unless stated otherwise, all prices include tax.