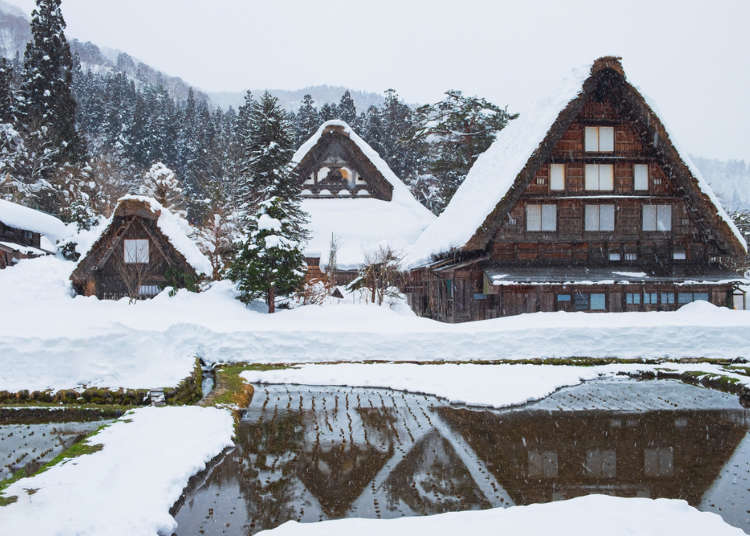 Local residents, Japanese tourists, foreign travelers – Gifu's Shirakawa-gō is loved by all! The town's homes, known for their unique triangular thatched roofs, are one of Japan's most famous World Heritage Sites.

In this article we'll be looking at what surprised, moved, and shocked foreign travelers during their visits to Shirakawa-gō. (Comments are the opinions of the respective respondent).
"Shirakawa-gō is Straight Out of a Fairytale!"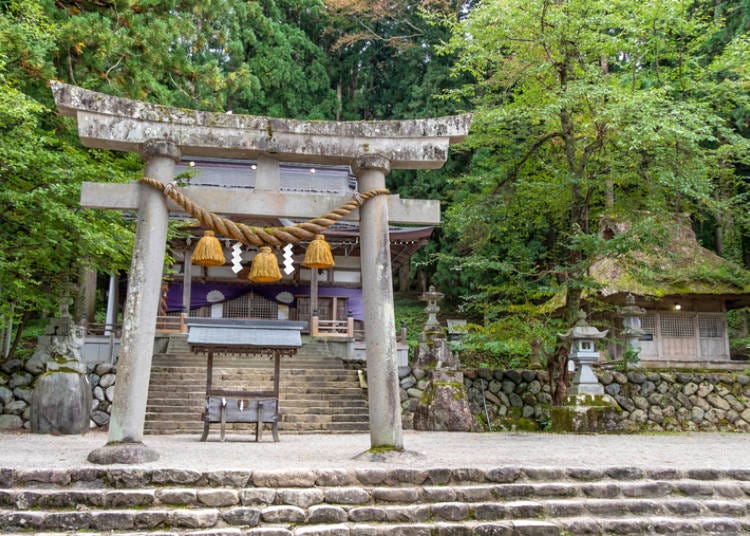 "To me, Shirakawa-gō didn't feel Japanese. It reminded me of the traditional buildings of Northern Italy or Germany. The shape of the roofs, the color patterns, even the sky and the surrounding nature was straight out of Europe. Crossing over the rope bridge and entering the town was like stepping into a fantasy kingdom. Like one of the fairytales I read when I was little. I was half expecting Snow White's Seven Dwarves to pop out! Truly, the scope of Japanese culture is enormous. The word 'Japanese' covers a lot more ground than I thought!" (Italian female)

"I went during winter. As if the entire area being covered in snow wasn't beautiful enough, at night the buildings were lit up, creating a deeply moving spectacle. This isn't the kind of experience you'd get from just walking around the streets of Japan, so it's definitely worth making the trip! You can see the perfectly woven thatched roofs up close, which are absolutely amazing!" (American male)

"I was deeply moved by the sight of this tiny village in the middle of the seemingly endless rice fields and mountains. It felt so authentically Japanese! I was able to actually enter the triangle houses and have a look inside. I was surprised at how wide the inside of the roof was!" (British male)

The breathtaking scenery of Shirakawa-gō has also appeared in numerous anime! One of the most commonly used locations is the iconic Hachiman Shrine. According to local legends, the ancient shrine was said to have been established somewhere between 708-714 CE, before being rebuilt in 1636.

This beloved shrine has now become an essential pilgrimage for overseas anime fans. One anime-lover who visited said: "I've always wanted to go! It's a dream come true!"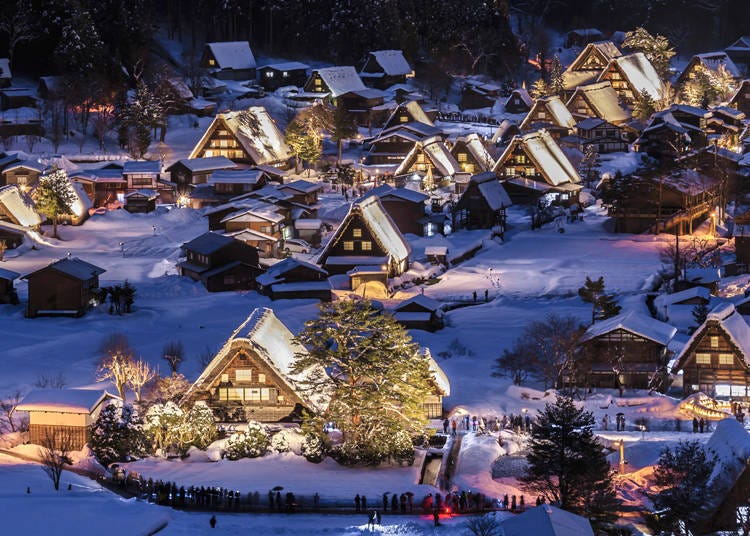 The annual illumination event is another highly anticipated facet of Shirakawa-gō's charm. Every single thatched-roof home is lit up to display a mystical scene. The best place to observe this marvel is from the Shiroyama Tenshukaku viewing platform. While winter's harsh conditions make access to this platform quite difficult, with a bit of hard work your trouble will soon be rewarded with brilliant views!

Due to the Shirakawa-gō illumination event's recent popularity, prior reservations are now necessary. Make sure you book before you go!
"Bigger Than I Could Have Ever Imagined!"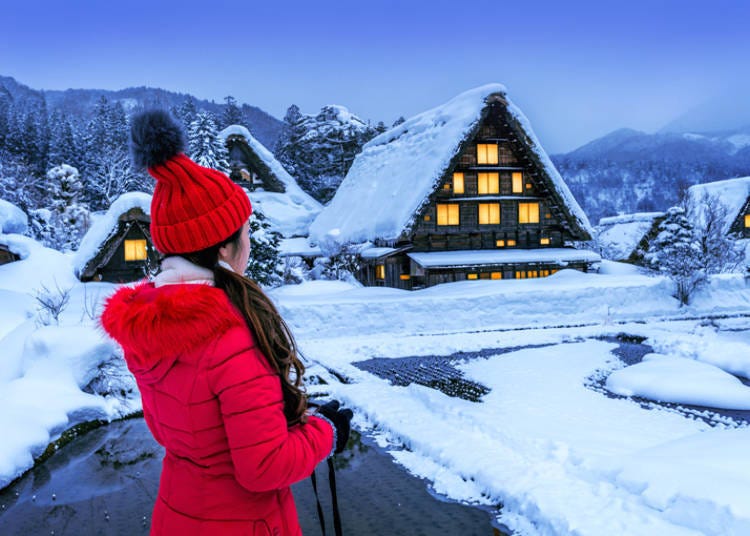 "I managed to get here driving by myself without getting lost. It's actually pretty easy to get to, so I'd definitely recommend it to my traveler friends. You could do something like drive here at night, stay at a nearby hotel, spend a day walking around Shirakawa-gō, and then head to Kanazawa. I will say that lots of people seem to come by car, so the car park was jam-packed." (Italian female)

"Being a World Heritage Site, the crowds were big, so unfortunately I couldn't quite capture the photos I was hoping for. The roads were super busy too, so I'd recommend leaving plenty of time and making a sightseeing plan in advance. I really wanted to check out the viewing platform, but it was too busy and cold, so I gave up. If I get another chance, I'd like to go again during a less crowded period." (American male)

"The main issue I had was Shirakawa-gō being bigger than I imagined! I had no clue where I should be heading, so I ended up just aimlessly wandering around. Despite there being no snow in nearby Kenroku Park in the morning, Shirakawa-gō still had snow resting on the roofs. It was way colder than I expected, so I wish I had brought some gloves with me!" (British male)

According to a public report by the Shirakawa City Hall, in 2018, before the coronavirus hit, out of the 1,745,000 visitors to Shirakawa, 46.65% or 810,000 were foreign travelers visiting Japan.

As expressed by the British traveler, Shirakawa-gō is a lot bigger than people expect and is packed with dozens of sightseeing spots. That's why, if you don't research and make a travel plan ahead of time, it's unlikely you'll be able to see them all. It would be a shame to miss out on popular tourist attractions like Wada House, the Kyuto-yamake Folk Museum, Deai Bridge, and the Shirakawa Hachiman Shrine because you ran out of time or got lost!
"People Still Live in Shirakawa-gō!?"
「他の観光地はアジア人が多い印象ですが、白川郷はヨーロッパ人が多いような気がしました。母国ではあまり有名ではないですが、日本好きの友達は白川郷に行ってみたいといっていました。やはり世界遺産なので、注目されていると思いますよ。レストランの注文やお土産屋では、簡単な英語なら通じました。お土産屋さんやレストランも合掌造りの建物なので面白かったです」(イタリア人女性)

「歴史ある建物だということは分かっていたのですが、実際に住んでいる人がいると知ってショックを受けました。世界遺産を守りながら暮らすのはなかなか想像できませんが、すごいことだと思います」(アメリカ人男性)

「『合掌造り』は木造で、1本もくぎを使っていないと聞いて、その造りの素晴らしさにカルチャーショックを受けました。建物の木の色から歴史を感じましたね。ドイツ、オランダなどでも茅葺き屋根を見たことがありましたが、日本にもあるとは思いもしませんでした。合掌造りという名前もユニークですよね。手と手を合わせて合掌したときの腕が屋根の形に似ているからと聞いて、なおさら興味深いなと思いました」(イギリス人男性)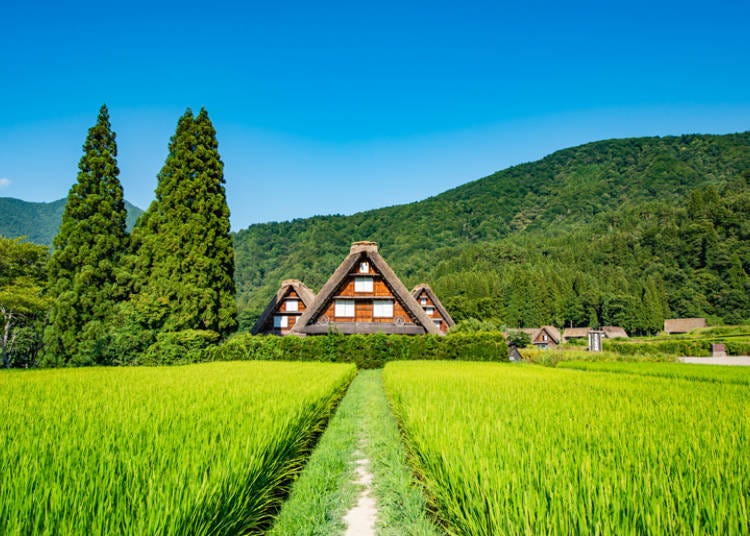 "I feel like the majority of tourists in Japan are from Asian countries, so I was surprised to see dozens of Europeans at Shirakawa-gō. It's not so well-known in my home country, however, friends of mine who love Japan have always said they really want to visit! I guess its status as a World Heritage Site put it on the map. You can get by with just simple English here. Even the restaurants and gift shops have the famous triangle thatched roofs! It's so special!" (Italian female)

"I knew that the buildings here were very historical, but I was shocked to learn that people still live in them today! While I find it a little hard to imagine how you can protect these buildings as a World Heritage while living in them, I have to admit – it's pretty cool!" (American male)

"I was shocked when I learnt that, despite being made out of wood, the triangle thatched roofs don't have a single nail in them. You can really feel the history of these structures by looking at the color of the wood. While I've seen thatched roofs in countries like Germany and Holland, I never thought I'd see them in Japan! The Japanese name for them, 'Gasshou,' is also interesting. It means putting both of your hands together to pray, which resembles the shape of the roofs. Extra little details like that make the trip all the more fascinating!" (British male)

Another must-see Shirakawa-gō gem is the famous Wada House. Out of all of the ancient homes in Shirakawa-gō, Wada House is one of the biggest and most well-preserved, earning it special recognition as an 'Important Cultural Property.' There are various opinions on when Wada House was actually constructed, however, it is said to be at least 300 years old.

Apart from the exhibition room, Wada House's rooms are also full of occupants living out their daily lives within its walls. Many foreign travelers are surprised to learn this. After the American respondent heard that you can still live inside Important Cultural Properties, he said "I almost don't believe it!"
Each Season Brings New Stunning Scenery!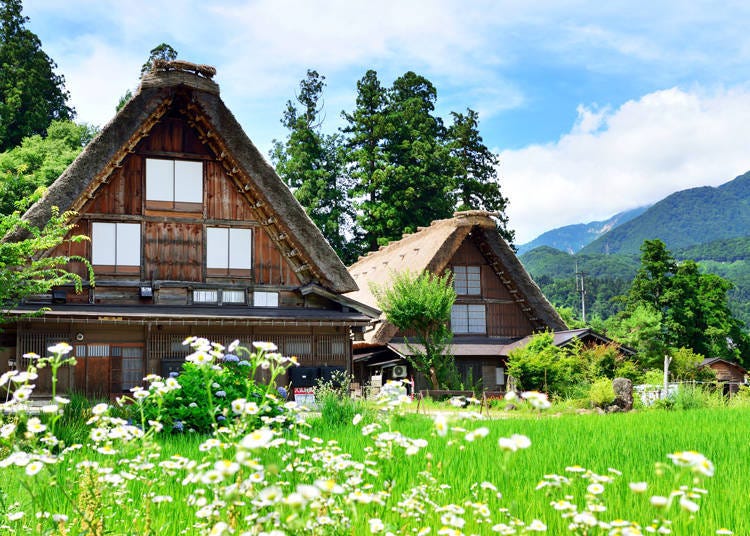 Shirakawa-gō – those who go say everyone should visit in their lifetime. Upon seeing its majestic scenery for yourself, you'll surely agree! While those who picture Shirakawa-gō often imagine it in winter, each season brings its own unique aura, making it an amazing place to visit all year round.
Written by Yuu Sato, Dali Corporation

References:
・2020 Shirakawa-gō Light-up: December 1st Update, General Incorporated Association, Shirakawa-gō Tourist Association.

・Shirakawa-gō Village Hall – Shirakawa Sightseeing Statistics
*This information is from the time of this article's publication.
*Prices and options mentioned are subject to change.
*Unless stated otherwise, all prices include tax.