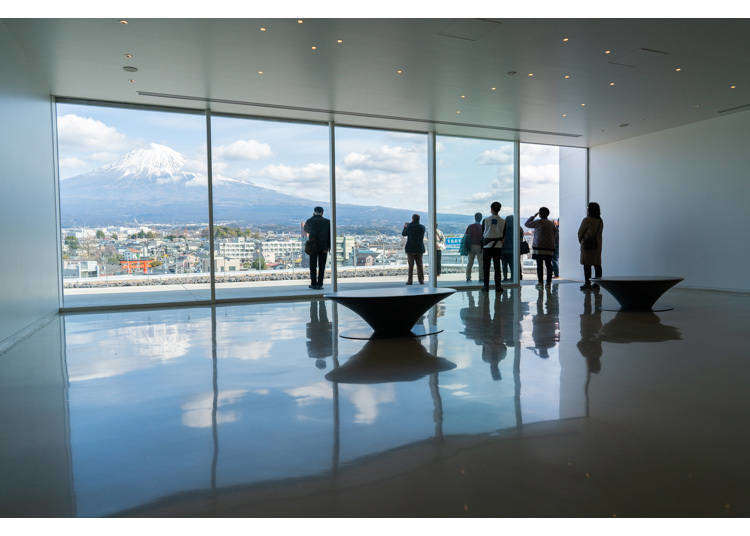 Looming at an impressive 3,776 meters (about 12,388 feet) above sea level, Mt. Fuji is the highest mountain in Japan and a familiar sight to locals since times of yore.

This mountain has been an object of worship for many and the source of countless artistic endeavors throughout history.

Nowadays, Mt. Fuji is one of the most well-known symbols of Japan, and its beauty became internationally recognized when it was registered as a UNESCO World Heritage Site on June 2013.

Mt. Fuji World Heritage Center in Shizuoka - the subject of this article - was inaugurated on December 2017 with the mission of conveying the charms of the mountain to visitors, as well as preserving the mountain for posterity. Everyone who steps through its doors is invited to experience Mt. Fuji through a series of meticulously designed visual exhibits. Let's see what it has to offer in detail!
More About Mt. Fuji World Heritage Center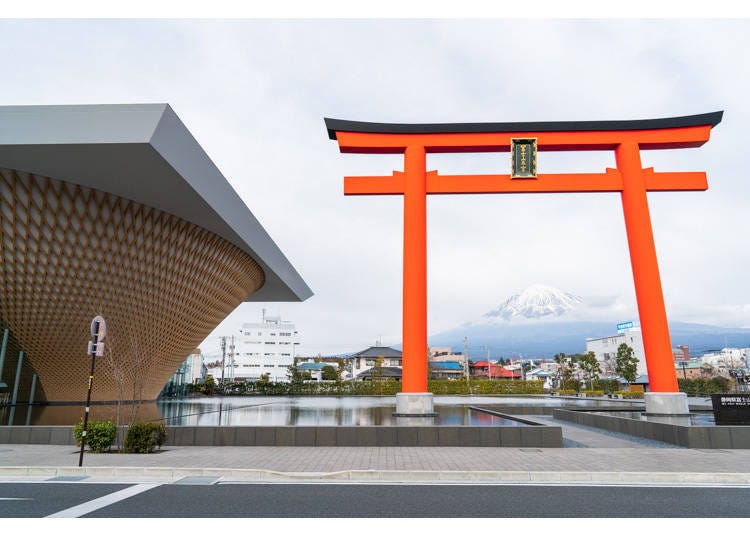 The center, located in Shizuoka Prefecture's Fujinomiya City officially opened its doors to visitors in December 2017. Because of its close proximity with Fujisan Hongū Sengen Taisha, the heart of the Mt. Fuji faith, there is a torii (temple gate) installed on the visitor's center that connects it to the temple. The beautiful Mt. Fuji in the distance is visible through this tall and stately gate.

The purpose of this facility is to preserve the value of World Heritage Site Mt. Fuji for future generations, and the historically and culturally-related exhibits here have been designed around the center's four major tenets of protection, transmission, interaction, and study to that end. Academic research to advance these tenets is also being carried out by specialized researchers on Mt. Fuji's history with the arts, history with humans, religions, folklore, volcanology, world heritage study, and Japanese literature.

The center is a very accessible 8-minute walk from Fujinomiya Station on the JR Minobu Line. If you'll be taking the Shinkansen, disembark at Shin-Fuji Station and transfer to a bus that will take you there in about 45 minutes. The place is thus easy to get to whether you're starting your trip from Tokyo, Osaka, or anywhere else.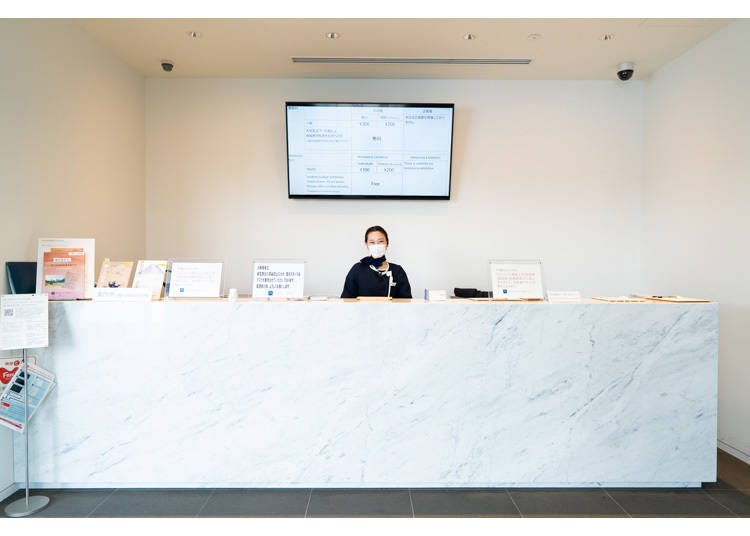 Tickets for permanent exhibits are 300 yen per person, 200 yen per person for groups of 20 and above, and free of charge for pre-college age minors, seniors above 70, or the disabled (ID verification needed) - all prices including tax
Multilingual Exhibits that Cater to International Visitors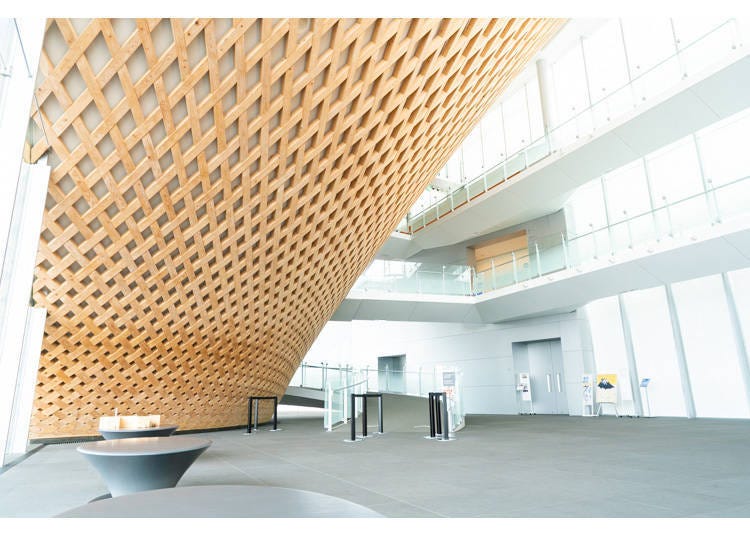 The exhibit hall's inverted cone-shaped forum - covered all over by wooden grates made of Fuji cypress - is its single most distinctive visual. The building was deliberately designed this way so that its reflection on the water basin at the entrance will resemble the conical shape of Mt. Fuji itself.

Inside the facility, there are six permanent exhibits with the names: Ascending Fuji, The Fierce Mountain, The Sacred Mountain, The Beautiful Mountain, The Nurturing Mountain, and The Inherited Mountain. Temporary exhibits are also set up on a seasonal basis, and there is a film theater that introduces the nature and culture of Mt. Fuji through impressively detailed 4K videos, ensuring that visitors will never run out of things to learn and enjoy at the center.

The pamphlets, audio guides, and explanatory monitors are available not just in Japanese, but English, Mandarin Chinese (Simplified and Traditional), and Korean as well, so that the charms of Mt. Fuji can be expounded clearly and comprehensively to visitors of all nationalities!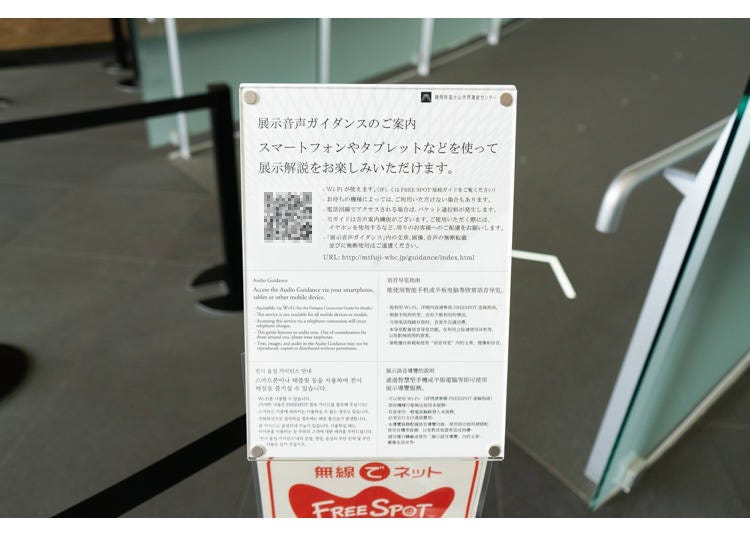 Explanatory boards on exhibits are available in multiple languages, as are the audio guides
Ascending Fuji: Scaling the famous mountain without stepping foot on it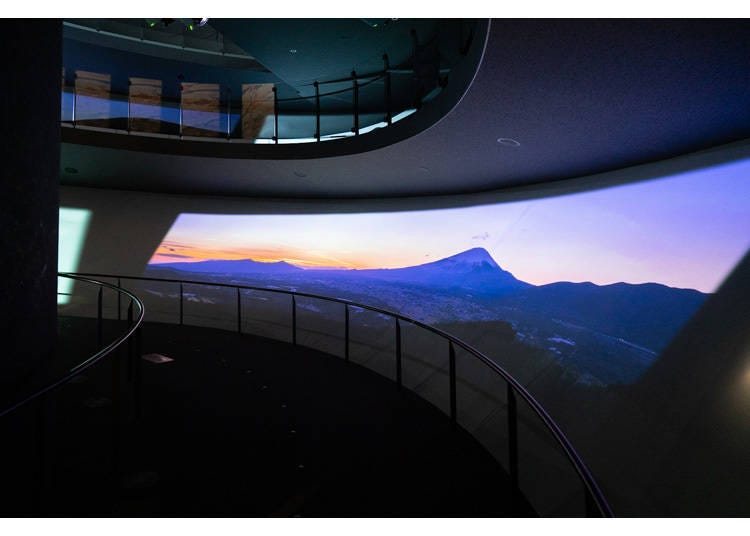 The very first thing you'll see upon entering the exhibit hall is the 193 meters (about 633 feet) long spiral path permanent exhibit known as Ascending Fuji. Projected on the walls around this path are time-lapse videos of the mountain trail that goes up to Mt. Fuji's summit all the way from the sea of Shizuoka. The path is designed to simulate the Mt. Fuji climbing experience as authentically as possible.

Sounds meant to bring the simulation closer to the actual experience, such as the rustling of leaves, chirping of birds, and the whipping winds near the peak will be played along with the videos as well. Every step you take up the sloped path brings about a new change in scenery, be it the sea, a town, lush forests, weathered mountain trails, or finally, the mountain summit itself. All this serves to impress upon visitors the sheer expansiveness of Mt. Fuji.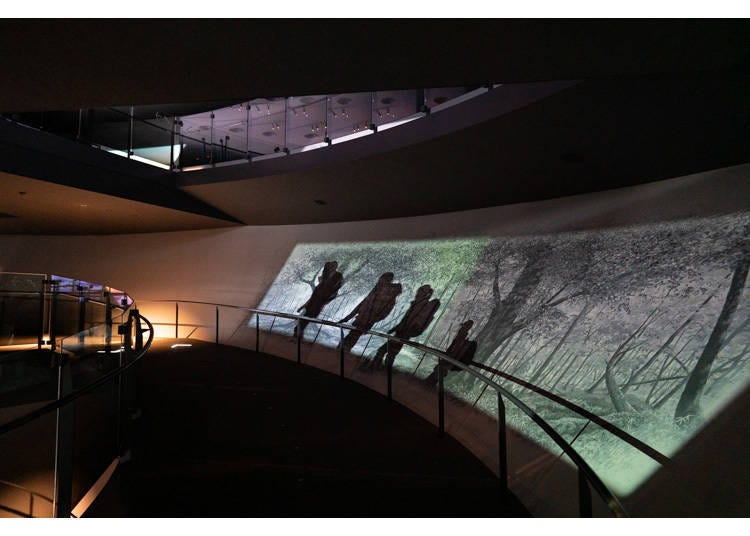 The occasional projected shadow images of mountaineers makes it feel like you're climbing Mt. Fuji together with them!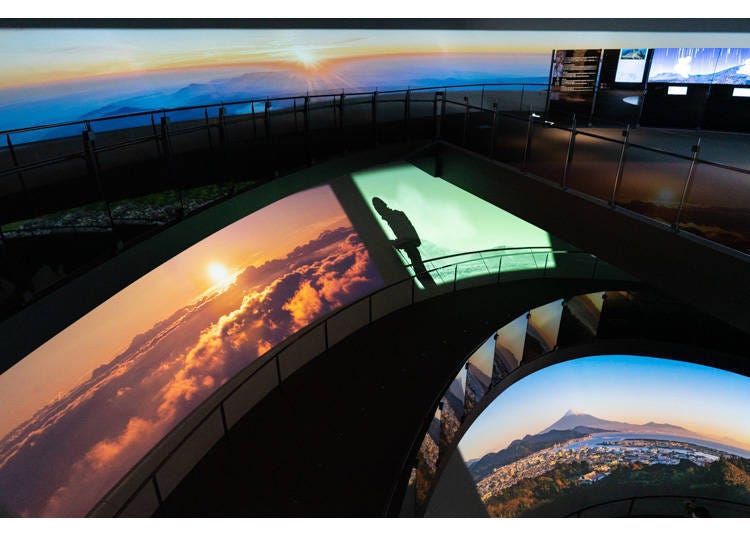 As you make your way up the slope, you may catch a glimpse of a mesmerizing sunrise as viewed from the mountain
Observatory Hall: A panoramic view of Mt. Fuji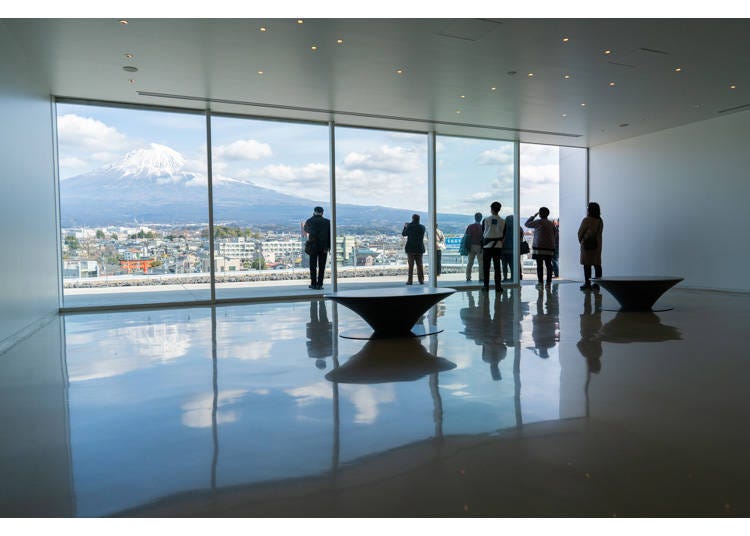 At the end of the spiral slope is the observatory hall, where all visitors will be treated to a spectacular sight that is like no other - a panoramic view of the large and impressive Mt. Fuji surrounded by the spacious and beautiful natural environment at its foot for as far as the eye can see. The mountain is especially beautiful when crowned with pure white snow at its peak from winter to spring. This moving scene makes the trek up the spiral slope worth every step!

At the back of the observatory hall is the exhibit space entitled The Fierce Mountain, and it documents the intense volcanic history of Mt. Fuji that created the plateau forming part of the Japanese archipelago, on which the mountain now stands. Various types of simulated exhibits are available to tell the tale of how Mt. Fuji met the human race.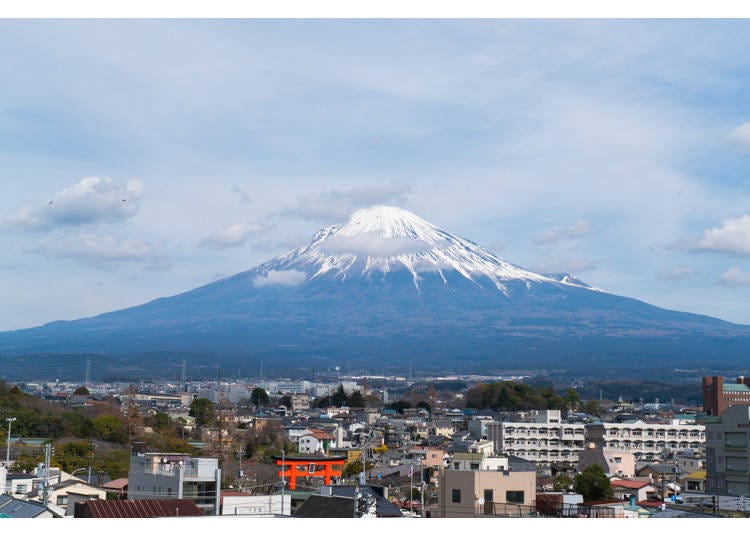 View of Mt. Fuji from the observatory hall
The Sacred Mountain: Learning about the Mt. Fuji faith and its history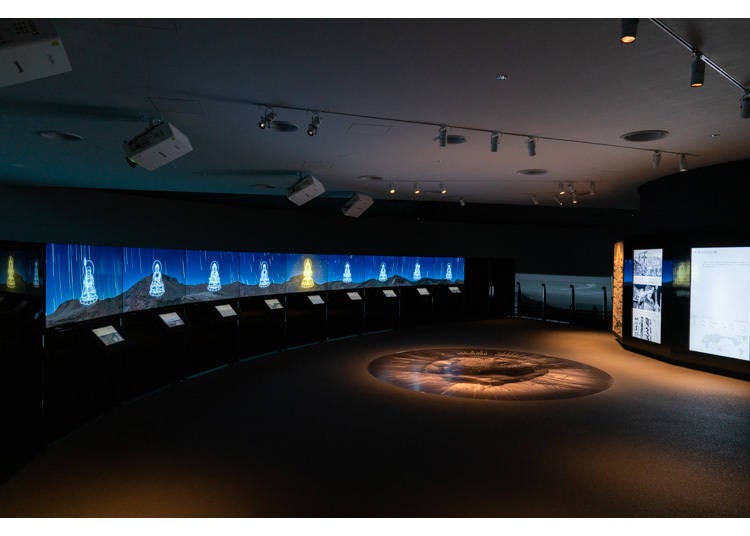 Halfway through the spiral slope is an exhibit space known as The Sacred Mountain that contains records explaining how Mt. Fuji has been viewed as a sacred spiritual site from times past. You'll learn about the religious faith of Mt. Fuji that came into existence through Japan's long history, and how this faith is practiced. Resources such as documents and pictures related to the subject will be on display, and there are also interactive touch panels available to help visitors understand the information in easier chunks.

The religion is rooted in the belief that the violent eruptions of Mt. Fuji are expressions of an angry god. In order to suppress the eruptions, religious rites known as yо̄uhai (distant rites) were performed from a distance. There are also tо̄uhai (climbing rites), which were carried out by pilgrims as part of their ascetic training. As a result, many Japanese still view Mt. Fuji as a sacred sanctuary in their hearts today.

At the center of this zone is a terrain map of Mt. Fuji's summit. You'll also be able to go on a quick ohachimeguri (eight pilgrimages) experience. This is a mountain trail that takes you through the eight peaks found on Mt. Fuji's summit.
The Beautiful Mountain: Arts and literature inspired by Mt. Fuji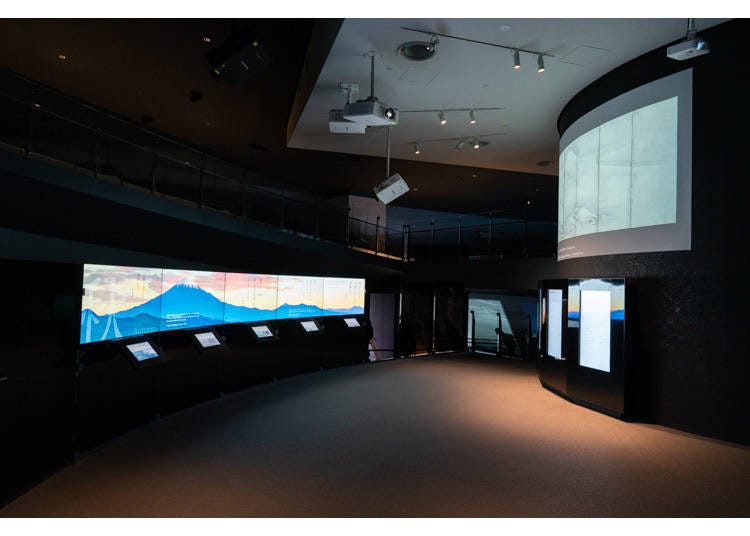 Another exhibit that you'll pass by along the spiral slope is The Beautiful Mountain, and this space introduces you to the artistic side of Mt. Fuji. The plethora of stories, poetry, and paintings created throughout history that use Mt. Fuji as inspiration is quite frankly mind-boggling, so much so that you would be forgiven for thinking the mountain is the source of all traditional Japanese arts and literature!

From Japanese classics like The Tale of the Bamboo Cutter or The Tales of Ise to well-known modern works by authors such as Sōseki Natsume or Dazai Osamu, you'll see that Mt. Fuji is often featured in these literary heavyweights. Countless people who have viewed these works inspired by Mt. Fuji throughout times and seasons have been touched by its majesty, even if they may not have come into contact with it directly - a testament to how far-reaching the influence of this iconic mountain has come to be.
The Nurturing Mountain: The natural ecosystem that defines Mt. Fuji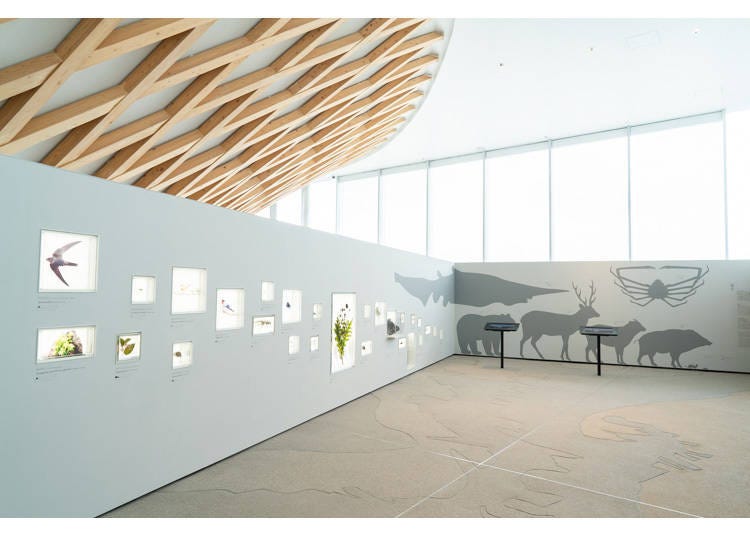 On the third floor of the hall is The Nurturing Mountain, an exhibition space that introduces the complex ecosystem that can be found from the bottom of Suruga Bay all the way to the peak of Mt. Fuji, an area that encompasses a height difference of 6,000 meters (about 19,685 feet) in all.

The ecosystem in the vicinity of Mt. Fuji is supported by snowmelt or water that bubbles up from under the sea. This exhibit is designed to help visitors get better acquainted with the fish of Suruga Bay in the sea of Shizuoka, the birds and plants found in the alpine region of Mt. Fuji, and all the various flora and fauna in between.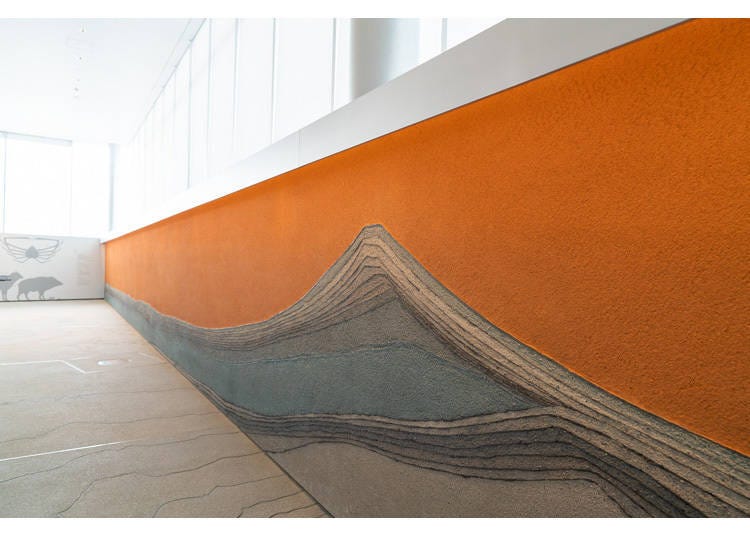 This mural of Mt. Fuji's strata was created by plaster craftsman Shūhei Hasado using natural soil
The Inherited Mountain: Walking towards the future with Mt. Fuji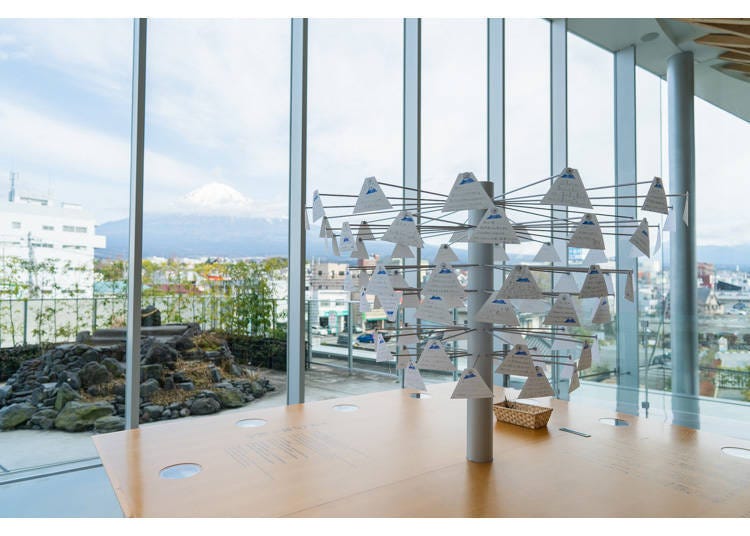 The Inherited Mountain is where visitors can see Mt. Fuji together with Fujizuka, an object modeled after Mt. Fuji
Located opposite The Nurturing Mountain is The Inherited Mountain, an exhibit that talks about the tumultuous side of Mt. Fuji when it was an active volcano, how people learned to build livelihoods around it, and some thoughts about how humans should continue to co-exist with it in the future, treating it as their inheritance. By viewing the surface preparation of volcanic ash collected from Mt. Fuji's 1707 eruption on display and investigating the volcanic eruption prediction map, visitors are helped to understand the very real possibility of the mountain erupting again sometime in the future, and the effect this will have on people.

At the message corner, everyone is welcome to leave messages for or about Mt. Fuji, whether it may be a personal wish or a word of encouragement. Reading these positive messages has been known to cheer some visitors up, and perhaps you'll be one of them! If you're visiting, you can feel absolutely free to write down your thoughts for this beautiful mountain here.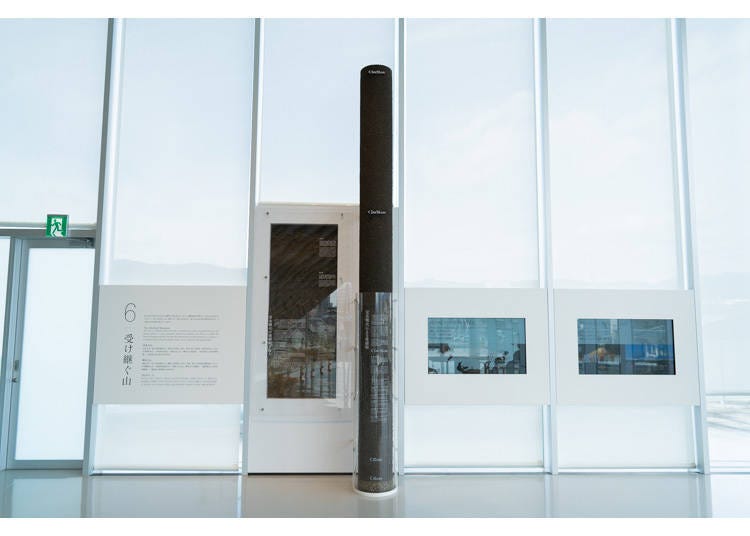 Right: Replica of volcanic ash (3.93 meters, or about 13 feet) from the Hōei eruption (1701 CE); Left: Surface preparation specimen
Cafe & Museum Shop: Souvenirs to remember this trip by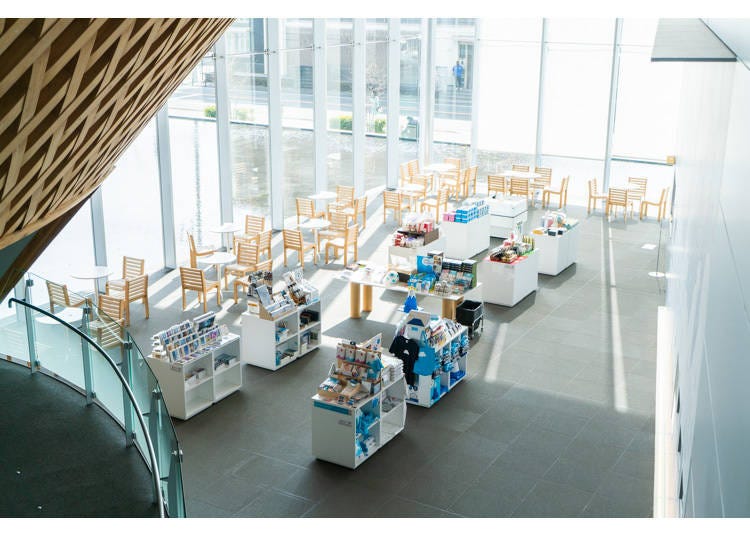 In need of a break in between exhibits in the middle of your tour, or perhaps after your tour? Step into the Cafe & Museum Shop located on the first floor of the hall. You'll be able to order the usual cafe offerings along with special Mt. Fuji-based food items such as "Mt. Fuji Soft Serve Ice-Cream" or "Lava Ice Bread".

The shop is packed with a great number of souvenirs as well. Again, you'll have access to Mt. Fuji-inspired products like snacks, towels, accessories, and small objects - each one creatively designed. If something catches your eye, consider buying it back home as a memoir of your trip here, as well as something to remember Mt. Fuji by. Since the first floor of the exhibition hall is free entry for all, the shop is free to enter as well.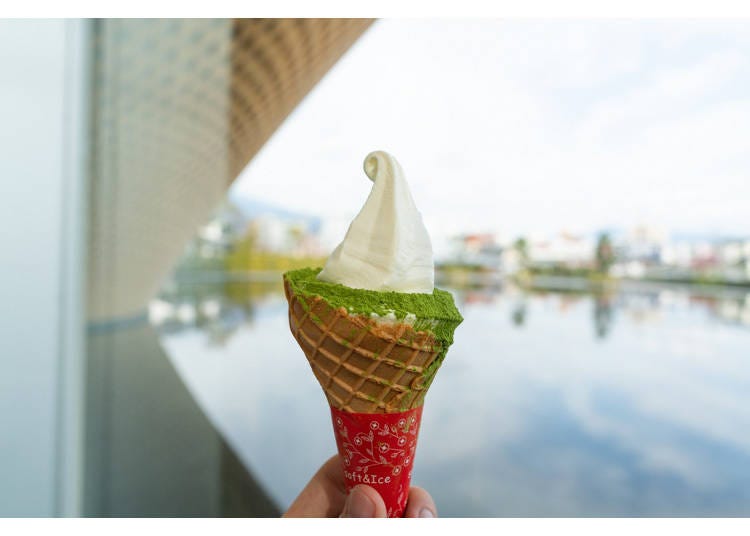 Matcha Flavor Mt. Fuji Soft Serve Ice-Cream "Haru Fuji" (400 yen, tax included)
After viewing the exhibits and experiences at Mt. Fuji World Heritage Center, you're likely to feel as if you've already scaled Mt. Fuji without having stepped foot on it! Your initial image of Mt. Fuji may completely change after the visit as well. Enrich your trip to Japan today by better understanding what is it about this Japanese cultural icon that has charmed many the world over!
Mt. Fuji World Heritage Center

静岡県富士山世界遺産センター

Address

5-12 Miya-cho, Fujinomiya-shi, Shizuoka-ken 418-0067

Nearest Station

8-minute walk from Fujinomiya Station on the JR Minobu Line
45 by bus from Shin-Fuji Station on the JR Shinkansen (take towards Kyukamura Fuji or Fujisan Station and disembark at Mt. Fuji World Heritage Center Bus Stop)


Phone Number

0544-21-3776

Hours: 9:00 a.m. – 5:00 p.m. (9:00 a.m. – 6:00 p.m. in July and August) *Last entry allowed half an hour before closing)
Closed: Every third Wednesday of the month, end of year and start of year, facility inspection days
Admission Fee: 300 yen per person; 200 yen for groups of 20 and above; Free for pre-college minors, seniors above 70, and the disabled
Written by: Gaiichirо Yoneyama
*This information is from the time of this article's publication.
*Prices and options mentioned are subject to change.
*Unless stated otherwise, all prices include tax.