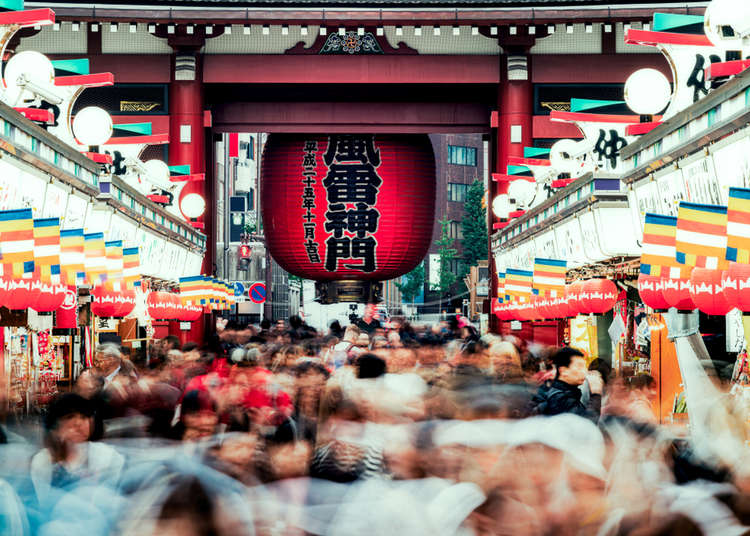 If you plan to visit Japan, Tokyo is most likely at the top of your list for many reasons. Being the capital city of Japan, the center of business and one of the most important and iconic cities in the world, Tokyo is the ultimate urban destination.

As the world's most populated city, Tokyo brings in millions of tourists every year and the trend is increasing. According to surveys by the Tokyo Metropolitan Government, in 2018 there were about 14 million foreign visitors to Tokyo. And almost 6 trillion yen was spent by these visitors while in Tokyo. That is a lot of tourist money, meaning hotels, restaurants, shops and tourist attractions are competing for tourist attention and dollars.

And although anywhere in Tokyo is filled with amazing things to do and see, some places are a little over-crowded and have a distinct "touristy" vibe. Here is a list of nine places that might be considered tourist traps and some alternatives if you want to skip the long lines and discover someplace new.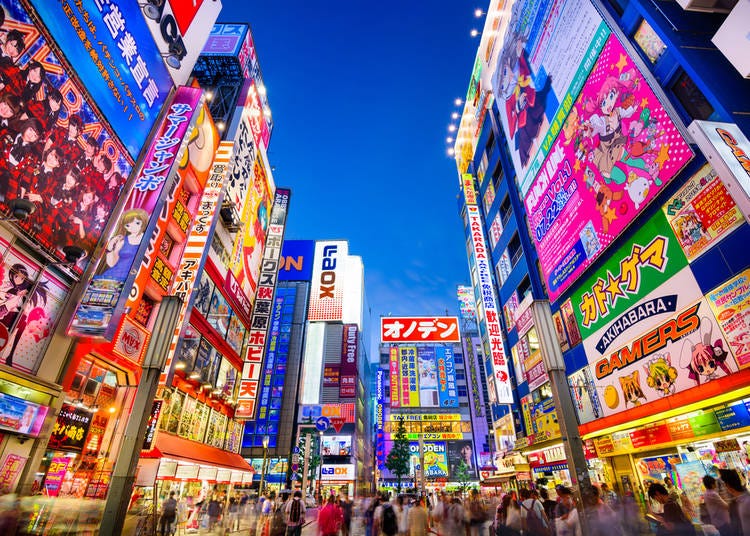 Credit: ESB Professional/Shutterstock
I am sure many otaku will be shocked that Akihabara, the otaku capital of the world is on this list but there is good reason. If you are just looking to gawk and awe at the giant anime posters and billboards of idols, maids, characters and video games then Akihabara is the place for you.

Walking the main street you will find girls in cosplay handing out flyers enticing you to enter their restaurant or cafe. There will be loud anime music coming from the shops selling figures, manga and Japanese subculture goods.

However, if you are looking for a place that houses much more specific manga, anime, figures, cosplay and other Akihabara type otaku goods then other places in Tokyo might be better. Akihabara is the main pull for tourists who are huge fans of Japanese comics and animation so the shops will tend to sell goods that are more expensive and mainstream.

You might not be able to find obscure anime or manga or goods relating to less popularly known characters. You will also find that line ups for stores, cafes, new products and events will be longer as well.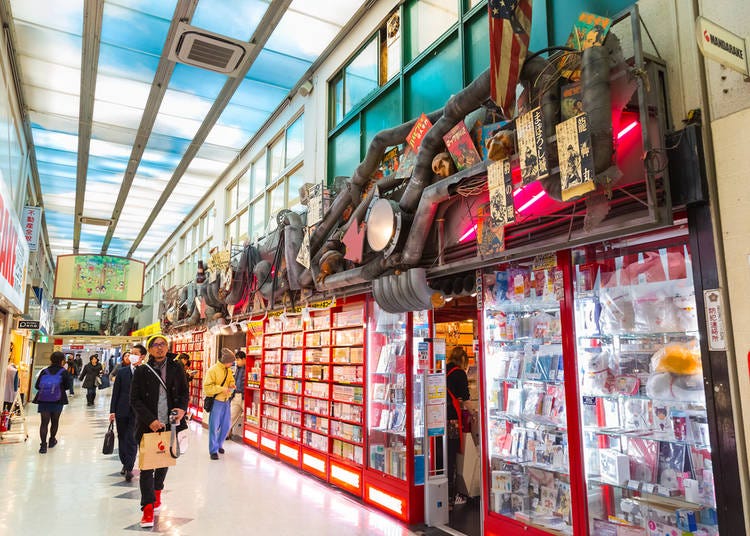 Credit: Corwardlion/Shutterstock
Instead go to Nakano Broadway

Nakano Broadway is Akihabara version 2.0, located in Nakano Tokyo and clustered together in a covered arcade. Since a lot of the shops are all located together and are protected from the cold and the rain, going from shop to shop or waiting in line to enter will be a lot easier. You will also find that there are many more shops and different items available here because of the jumbled flea-market style design of the area.

Shops range from enormous anime themed department stores like Mandarake to small, local custom shops selling unique collectors items. Here you will find manga, anime, idol fan goods, figurines, rare collector items, fashion, music, video games, cosplay and game centers.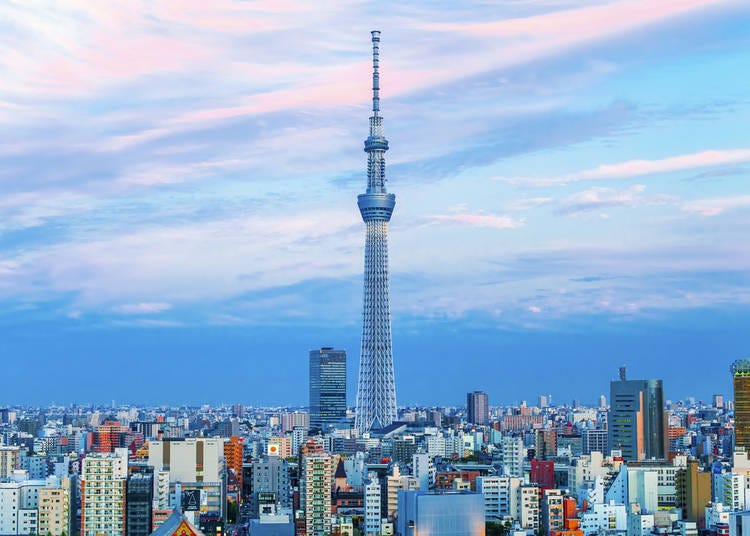 Credit: artapartment/Shutterstock
Going up the Skytree is a tad expensive, usually crowded and the observation area is often blocked by groups of tourists making it hard to get a good view or take a nice picture especially at peak hours. There are two different observation decks, the first being 350 meters and the higher one being 450 meters. To get the best view at the highest deck (which admittedly is a very impressive one - especially around sunset) you will spend more than 3000 yen for a combo ticket and have to wait in two different lines.

All that being said, I must admit, the Tokyo Skytree base area as well as shopping area is definitely worth a visit. The bottom of Skytree has a really nice shopping street called Solamachi and even a reasonably priced and elegant looking aquarium. The shops sell a variety of budget friendly as well as charming souvenirs for friends, family or yourself. The restaurants are also not too expensive and serve delicious food.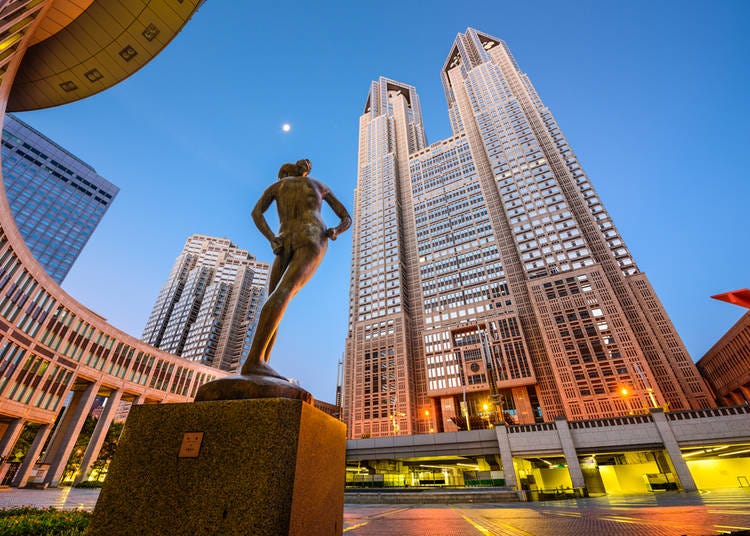 Credit: Sean Pavone/Shutterstock
Instead go to Tokyo Metropolitan Government Building

At one point this place was quite abandoned and off the beaten path, however due to word of mouth the Tokyo Metropolitan Government Building has also started becoming crowded and lines form at peak times to go up the elevator to the observation deck standing at 202 meters. The line moves relatively fast. And the best part is the entrance is free of charge.

The actual observation deck is much more spacious allowing more window room, walking space and the center has a nice cafe as well as souvenir stands selling interesting and amusing goods.

The observation is open from 9:30 am to 11:00 pm so going early or later in the night are good options if you want to avoid peak times.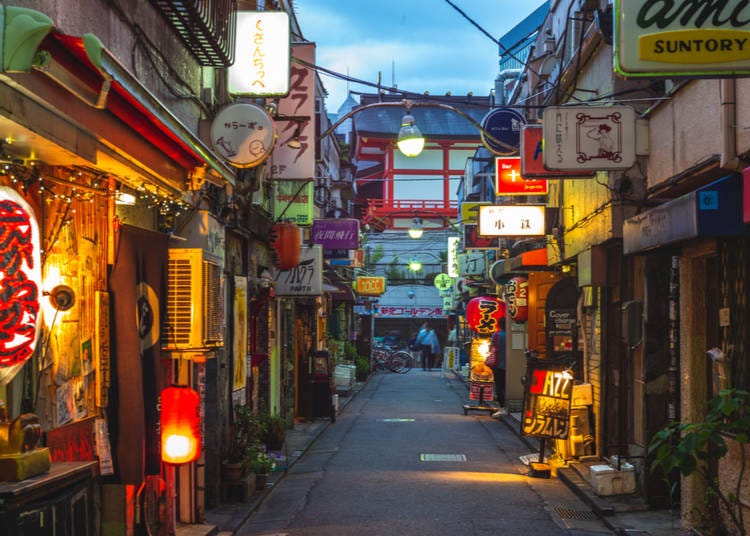 Credit: Richie Chan/Shutterstock
Golden Gai is a small network of alleys filled with drinking establishments serving a variety of Japanese alcohol and traditional Japanese bar food. The narrow alleyways are filled with around 200 bars and eateries each with a unique and charming design.

Walking through the streets is definitely a fun and interesting experience and a good chance to get a glimpse of Tokyo of the past but because of the onslaught of people passing through or trying to find space at an open bar, it can get quite frustrating navigating through the small spaces.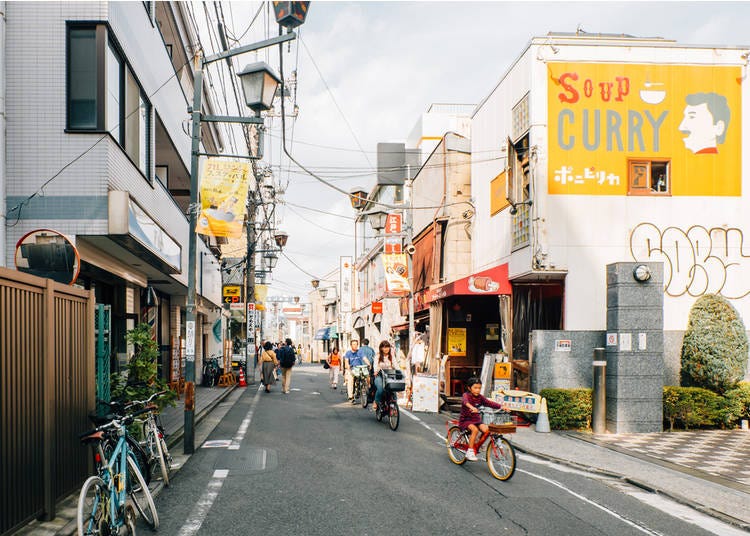 Credit: MMpai / Shutterstock.com
Instead go to Shimokitazawa

Shimokitazawa is a very trendy but hip old-school Tokyo neighborhood that has a variety of vintage clothing shops, jazz and coffee bars, bohemian restaurants and beatnik art galleries, museums and livehouses.

A lot more spread out and easy to navigate, you will see young Japanese people at local bakeries or sipping craft beer and enjoying Japanese music at the small but stylish live houses. There are a wide variety of restaurants and bistros serving Japanese, western, vegetarian and unique food. I recommend the soup curry shops that are quite popular and delicious.
Credit: Takashi Images / Shutterstock.com
Another popular destination you are most likely to visit in Tokyo is the Sensoji Temple in Asakusa. Along the route to the temple you will stroll through the Nakamise or inner-street shops that line the walkway to the temple.

The shops include food stands that sell a variety of sweet and savoury snacks, souvenir boxes of cookies, cakes, matcha flavored goods and a popular Nakamise snack called Ningyo-yaki which are little sponge cakes filled with red bean paste.

The shops and stands have been operated for generations and sell a variety of traditional and Japanese style goods from kimonos, charms, origami, fans, decorations and souvenir t-shirts. And although walking through this street is quite a treat as many people who rent kimonos are walking along and add to the feel of old Japan, you'll definitely find yourself squeezed in by all the tourists - it's not for the claustrophobic.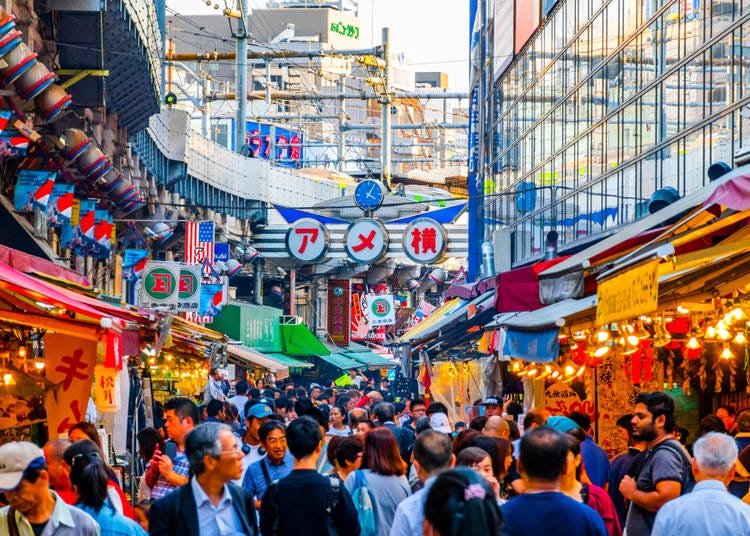 Credit: beeboys / Shutterstock.com
Instead go to Ameyoko

Ameyoko is a shopping street located across the street from Ueno Station and at times it can be just as crowded as Nakamise but offers more variety at a lower price. An open air market that resembles a bazaar, you will find vendors yelling out sales and specials.

The shops sell fresh seafood, dried goods, jewelry, clothes, shoes, candy, sports goods, souvenirs and electronics. The food stands are also a great option for grabbing a snack while you shop.

The best part of Ameyoko is the amazingly cheap prices for goods and the option of bargaining at shops which is rare in Japan. You will find many discounted goods and interesting products not found in other parts of Japan.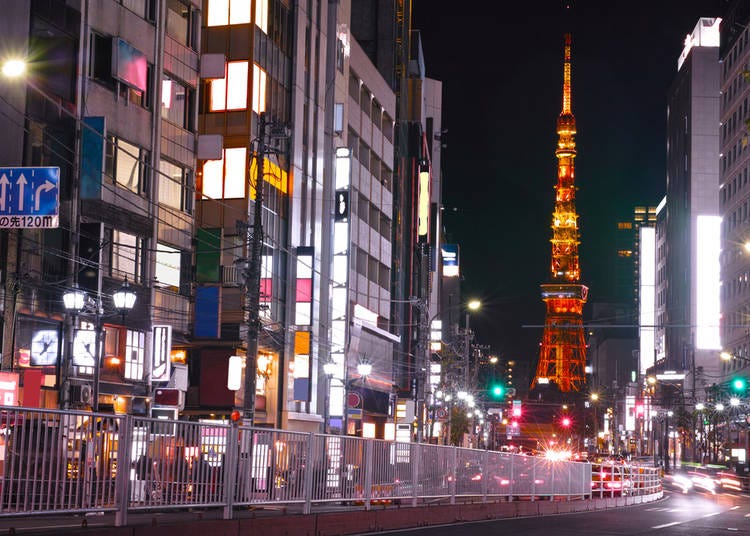 A popular drink and nightlife area in Tokyo, Roppongi has a variety of bars, lounges, restaurants and drinking establishments for the numerous numbers of foreigners roaming the streets looking to enjoy the night.

But with the increased amount of foreigners flocking to this area, fewer Japanese people choose Roppongi for drinking and a small number of the many establishments have become known to be quite seedy.

The crowds are a bit rowdy and police roam the streets patrolling the bar vendors who stand outside trying to lure people into their bars. While Roppongi also has a large number of quality restaurants and bars, if you follow the barkers outside, most likely you will overpay for your drinks or receive substandard service. Definitely one of the places where, at night, it's good to keep your street sense up.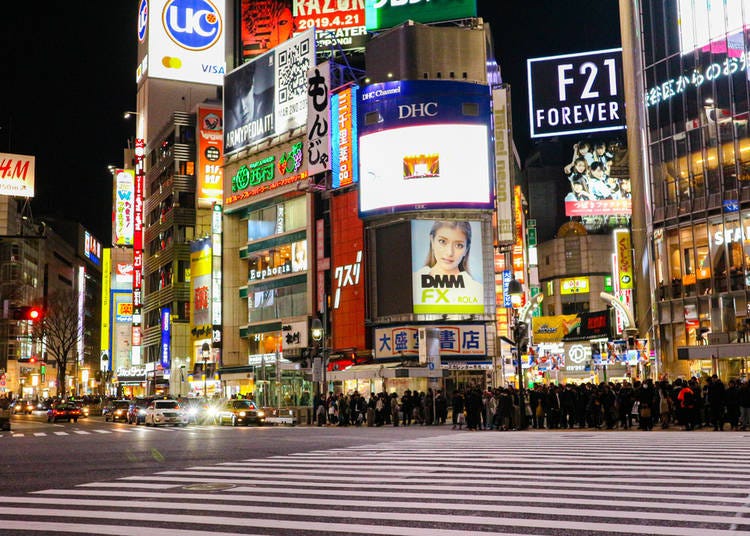 Credit: Sukanlaya Karnpakdee / Shutterstock.com
Instead go to Shibuya

Although Shibuya is a busy hub that has the famous intersection, the club and bar district are still safe and reasonably priced. There are also a variety of types of establishments depending on your age and tastes.

Shibuya has mega-clubs for those who are into the dance scene. There are also many big and small live houses to catch a world famous or locally sourced band or musician. And those looking for bars, Shibuya has a variety of pubs, izakayas, sports bars, small wine bars and sake stands.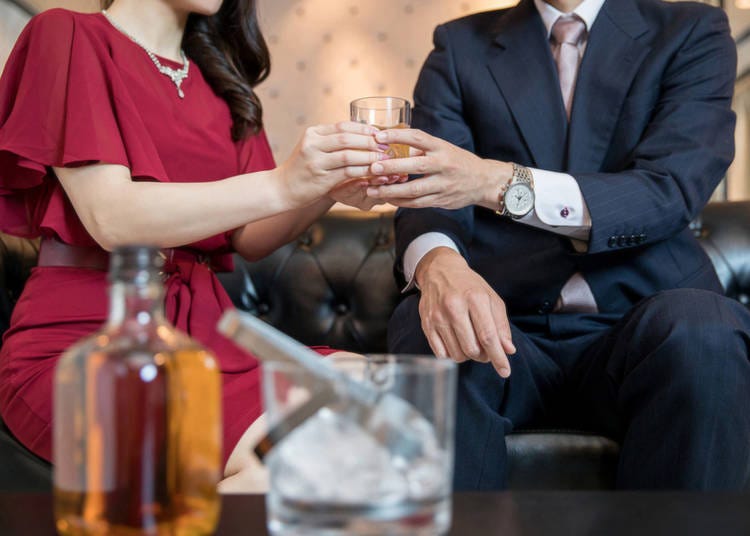 For those who don't know what a host or hostess club is, a simple explanation is a bar where you pay a man or woman to sit and drink with you. It's pretty much as innocent and simple as that.

Both host and hostess bars are quite popular among Japanese business men and women who shell out a lot of money to have a conversation or flirt with a beautiful man or woman. As they are popularized in movies, manga and anime, many foreigners want to experience what it is like to drink and chat with a well dressed and fancy Japanese person.

But the experience costs a lot more than you might set out for. There is an entrance fee that includes a time limit and drinks. Extending the time costs money and usually you have to buy drinks for the host or hostess sitting with you.

Plus there can be other charges like giving them a special tip or paying them if they sing karaoke for you. The night can add up quite quickly if you are not sure of the rules and system. (Before venturing into one of these spots, be sure to have the rules explained to you, and set a budget up front!)
Instead go to International Parties

Since Tokyo is so big and cosmopolitan, many foreigners and Japanese are looking to meet and talk with new people. Whether for work or travel, many foreigners and Japanese are only in town for a while and don't have a group of friends to spend their free time.

For this reason, Tokyo has many meet-ups and international parties where for a small fee you can be part of a group of people to drink, eat and get to know each other. Because these are often scheduled events, it is much easier to strike up a conversation with a stranger and make new friends.

Many Japanese people who are interested in foreign languages and cultures also attend because it is a good chance they might not have in their regular lives. Many international parties are free for foreigners and some include free drinks and snacks. Definitely a cheaper way to meet Japanese people than a host or hostess club.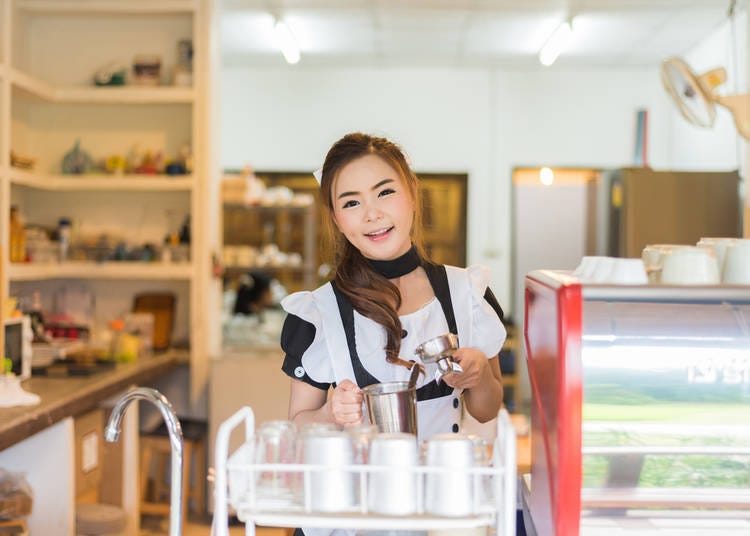 A popular item on the list of visitors to Japan is an authentic maid cafe in Akihabara. Since the first maid cafe opened in Japan in 2001, hundreds have popped up all across Japan and even in countries around the world.

Maid cafes feature young women dressed in maid outfits who welcome customers as if they are their masters returning home. They provide cute designed foods and drink and sing little chants and charms to provide a kawaii atmosphere similar to something you would find in a Japanese anime or manga. The maids chat with customers, play games, sing songs on request and take Polaroid photos as souvenirs.

Although maid cafes are interesting and unique, they do cost a bit of money. There is usually an entrance charge and time limit. Foods and desserts are a bit expensive and you must pay for each service individually. Expect to spend about 2000 yen or $20 for 30 minutes at one of these cafes.

Also, for those who don't speak Japanese you might find most of the maids don't speak English so will most likely not stop and chat with you much because of the language barrier.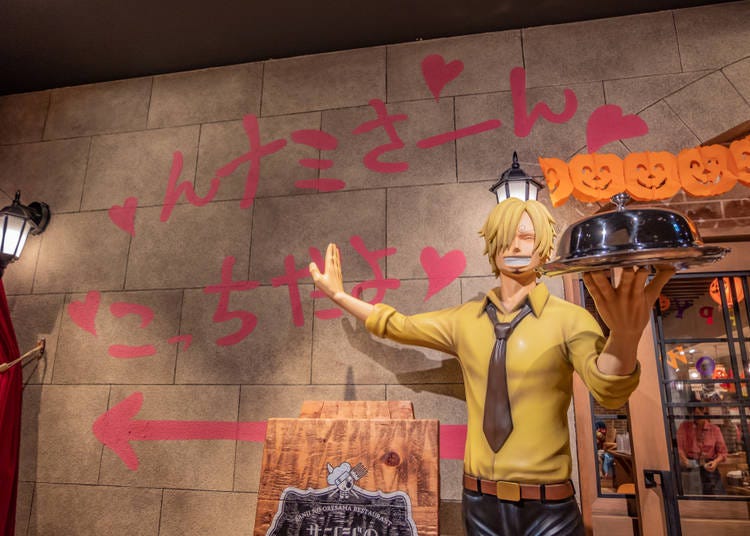 Credit: paitoon / Shutterstock.com
Instead go to a themed restaurant

To enjoy a better atmosphere and better food, going to a themed restaurant will probably be more enjoyable. There are a variety of themed restaurants based on your tastes.

There are spots like the One Piece themed-restaurant Baratie and bars like Lock Up which are haunted prison themed, an Alice in Wonderland Restaurant and cafes based on famous characters like Moomin, Pokemon or Gundam.

If you are looking for more of a Japanese themed place, you can check out some of the Ninja-themed restaurants as well as a fishing restaurant called Zauo which allows you to fish for your own food before it is cooked and served to you.
8. Tokyo Disneyland/DisneySea
Credit: Patcharaporn Puttipon / Shutterstock.com
Tokyo Disneyland is a popular destination for people all around the world as more than 30 million people visit the Tokyo Disneyland and DisneySea parks each year.

Open all year round and always having special events and parades, the park tends to be packed and has relatively long wait times for attractions. The price for an adult one day passport is around 7500 yen and is quite steep if you are visiting with your family.

If you are a Disney fan then you might nevertheless want to keep Tokyo Disney Resort on your bucket list, but if you are looking to have a family style outing in Japan that is kid friendly and features fun attractions then there are other options.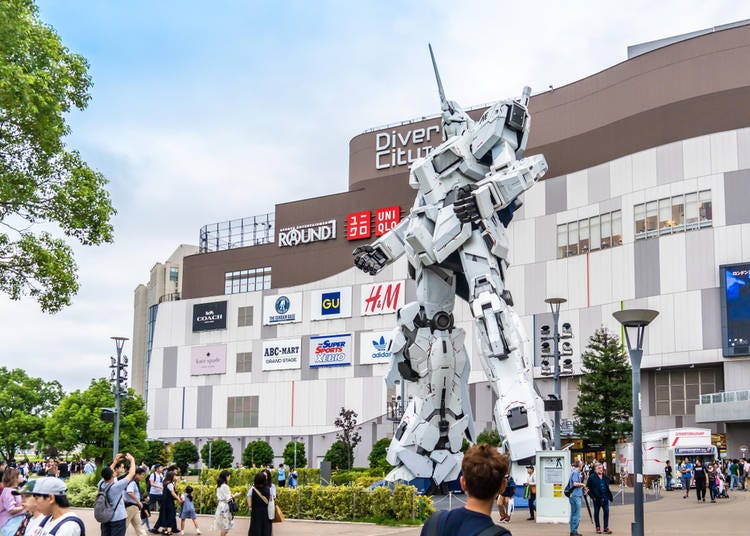 Credit: Anutr Yossundara / Shutterstock.com
Instead go to Odaiba

Odaiba is not a theme park like Disneyland but is an amazing place that has a variety of different attractions and things to do that can be fun for the whole family at a fraction of the cost. Here there is a replica Statue of Liberty Statue and Gundam Statue - in addition to other incredible sights.

Some of the most popular things to see or do in Odaiba include Joypolis, an indoor amusement park, Legoland, Madame Tussaud's Wax Museum, a trick art museum, Toyota car showroom, a ferris wheel, kids play area, science museum, maritime museum, a variety of shopping complexes, restaurants, game center and even a public bath.

The Odaiba area is easily reachable by the Yurikamome elevated train which is recommended as you can see a great view of all the surrounding area of Odaiba and Rainbow bridge.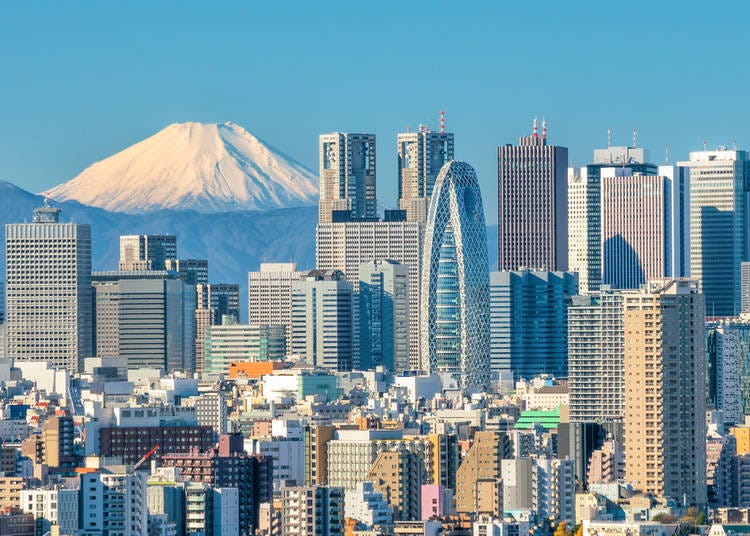 Tokyo is a big and elaborate city with many things to experience so there will always be something to do while here. Depending on your schedule, your tastes and tolerance for crowds and congestion you may want to adjust your itinerary accordingly.

If you are looking to stay away from the pricier and mainstream tourist destinations and check out more of the places off the beaten path than this list should give you an idea of some of the alternatives that are available.

Regardless of whether you stick to the main tourist attractions or explore more local spots, Tokyo is definitely a safe, fun and massive city you will never forget. Happy adventures!

*The above article is based on information from January 2020
Written by: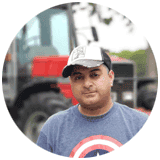 *This information is from the time of this article's publication.
*Prices and options mentioned are subject to change.
*Unless stated otherwise, all prices include tax.