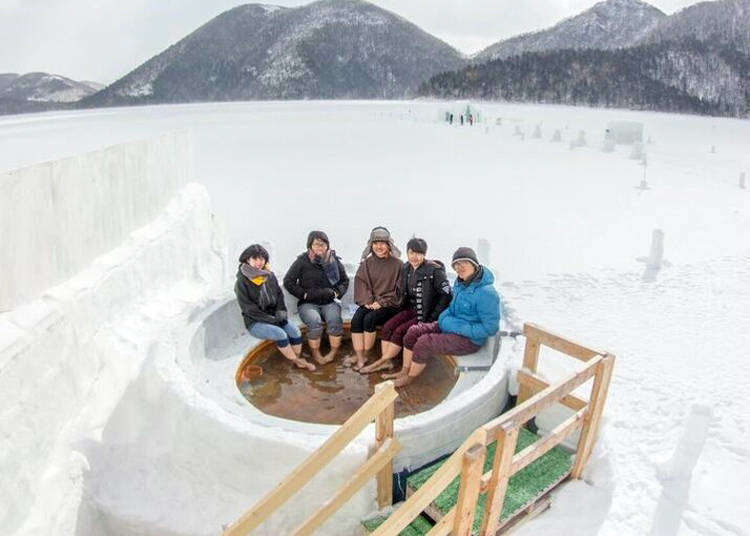 Japanese hot springs attract visitors from all over the world. In the hot-spring heaven that is Japan there are many baths that have interesting additions that may be surprising to foreigners. Here are 6 interesting hot springs we recommend.
Japan is one of the best "hot-spring countries" in the world
According to data released by the Ministry of Natural Environment at the end of March 2018, Japan has about 27,000 springs, in all pumping about 2.55 million liters of water per minute. With 20,000 springs in 3000 locations, Japan is one of the leading "hot-spring countries."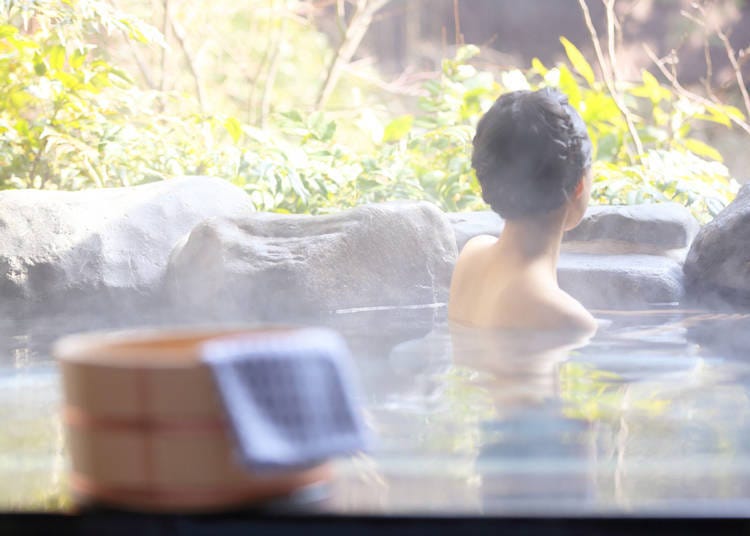 From the descriptions taken from historical documents like "Kojiki" and "Nihonshoki," it seems that Japan created a whole hot-spring culture revolving around these rich resources.

Soaking in a bath, instead of just showering, relaxes your body and mind. Japanese people enjoy public baths naked and not even towels should be immersed in the water, for hygiene purposes. This may seem a bit odd to many westerners - but not as odd as some of these unique bats!
1. Hino Valley Beer Bath: Misugi Resort
Japanese hot springs are very popular among foreigners. From famous hot springs that are famous all over the countries, to unique hot springs that are more hidden, there are many choices. To start with, we will introduce you to the "Hino Valley Beer Bath," at Misugi Resort, in the city of Tsu, Mie prefecture, an area rich of historical heritage remains.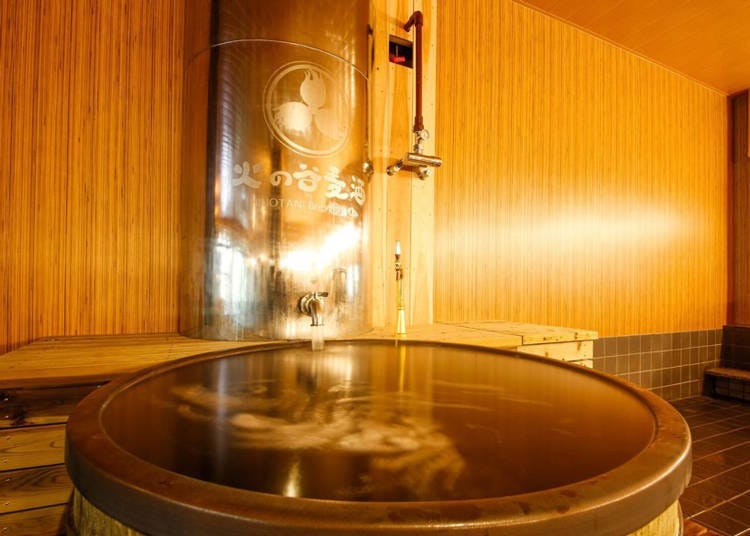 Misugi Resort was inspired by the colors of cypress in March. Large parts of the bath, resort, including the bath were renovated recently. One of its highlights is the "Hino Valley Beer Bath" which combines real hot springs with hot beer. The resort owns a local beer factory, also on the premises, and it produces three kinds of beer.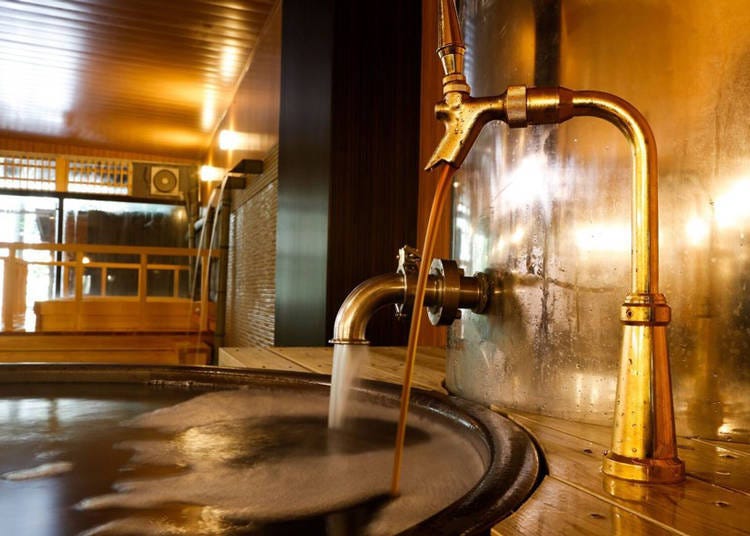 The beer used includes the so-called "Ninja Beer," which also won an international beer prize, as well as being one of Mie's prime selections. Beer contains yeast and malt, which contain enzymes, natural antibacterial, and carbonic acid, so that it has a smoothing and moisturizing effect.

For those of you who like beer, this is an unmissable experience. Even though the alcohol content is less than 0.03%, if you are with minors, pregnant women, or if you have allergies, you should refrain from using this bath.
美杉リゾート

Address

5990, Misugicho Yachi, Tsu Shi, Mie Ken, 515-3421, Japan

Nearest Station

Approximately 15 minutes walking from Ise Yachi Station on the JR Meisho Line. Free shuttle bus available from Kashihara Onsenguchi Station (Reservation required).


Phone Number

059-272-1155

Admission: Stay/from 14,650 yen (including tax)
One day bath and lunch/Adult from 6,050 yen (tax included)
One day bath/1,100 yen (including tax)
Closed: irregular closing days
2. Wine Bath: Hakone Kowakien Yunessun
Following the beer bath, we have the "Wine Bath" of Hakone Kowakien Yunessun. This is also a unique hot spring where you can bathe in real wine and enjoy the vivid amber color and rich aroma of the wine.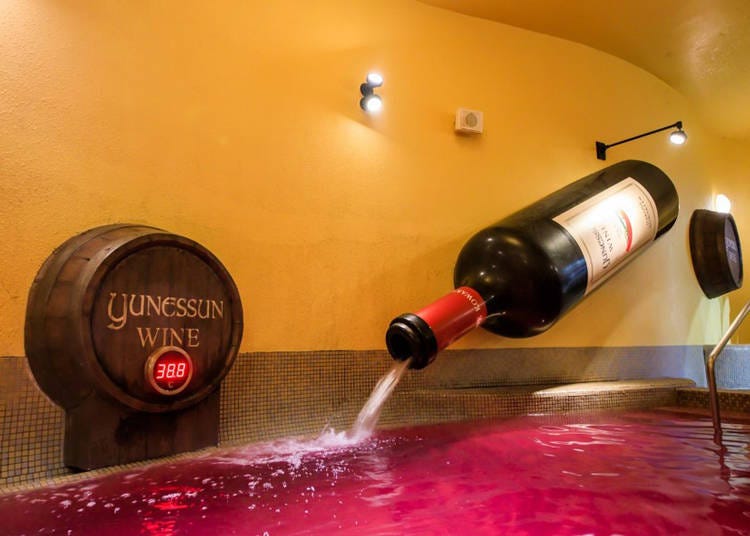 The wine bath is said to have a rejuvenating effect, and it's said that Cleopatra and Queen Mary used to love it. Now you, too can enjoy a little luxury. The wine is added to the bath three times/day, at 10:00am, 1:00pm, and 4:00pm, during weekends and holidays and during high season, and at 1:30pm and 4:00pm on weekdays. If you want to take a wine bath, make sure you mark the time.

In Hakone Kowakien Yunessun, in addition to wine baths, you can have a "real coffee bath," extracted at low temperature and added to the hot spring; the "green tea bath" emanates a strong green tea scent, and there is even a liquor barrel mixing sake into a bathtub.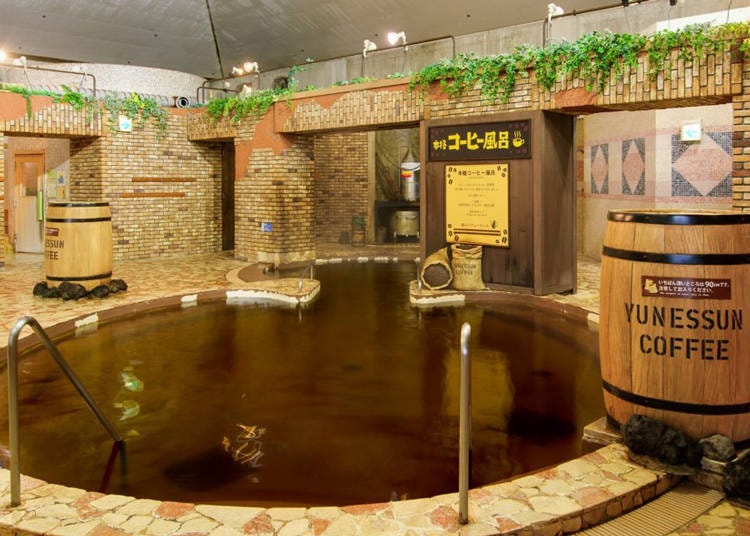 In Hakone Kowakien Yunessun you can also wear bathing suits, unlike other hot spring facilities.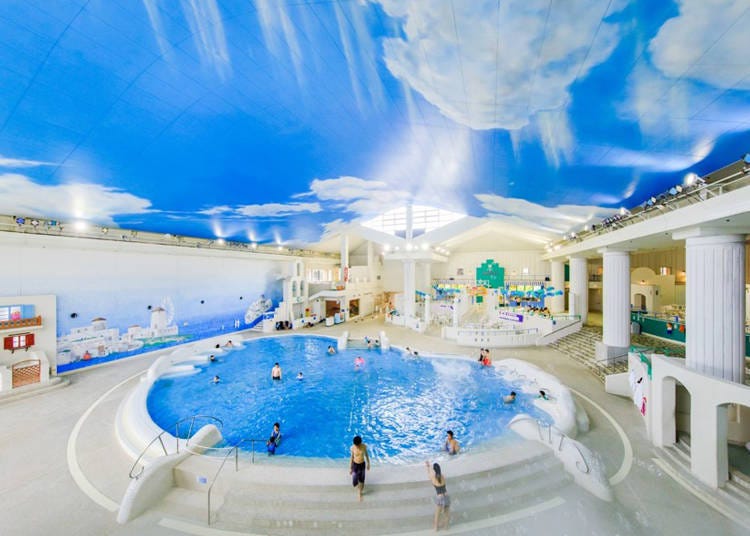 箱根小涌園ユネッサン

Address

1297, Ninotaira, Ashigarashimo Gun Hakone Machi, Kanagawa Ken, 250-0407, Japan

Nearest Station

From Hakone Tozan Railway "Hakone Yumoto" station, 20 minutes by Hakone Tozan Bus or Izu Hakone Bus to Kowakien bus stop
40 minutes from JR Odawara Station by Hakone Tozan Bus or Izu Hakone Bus; 10 minutes by free shuttle from Hakone Tozan Railway Gora Station.


Phone Number

0460-82-4126

Admission: Yunessun (swimsuit area)/adult 2,500yen, children 1,400 yen (tax included).
Closed: June 2-5 2020, December 1-4
3. Open Air Bath on Ice: Kokaribetsu Lake Kotan
By Lake Shibetsu in the Tokachi region of Hokkaido, you can soak in an open-air bath set up on the lake in winter, when the surface of the lake freezes. The hot water springs from the source located on the shore of the lake and diverted into the bath with a special pump.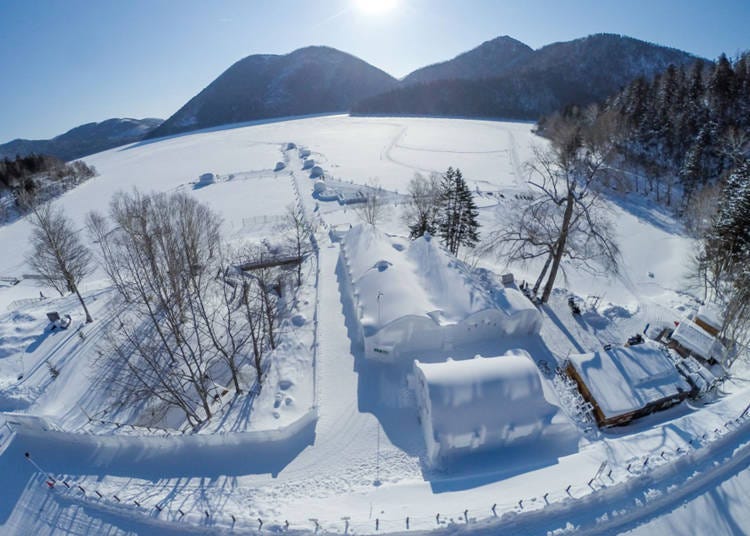 Only open between January 25th, 2020, to March 22, 2020. A hot open air bath in a place where temperatures reach -30℃, will make for an irreplaceable memory of your trip to Japan.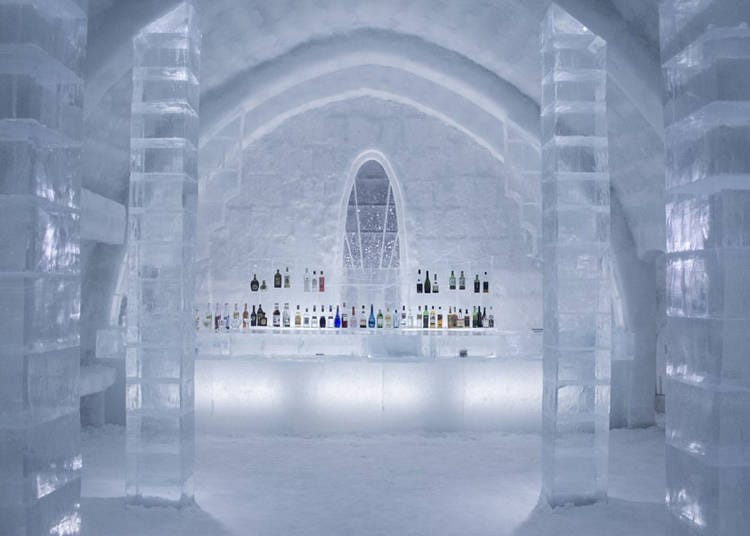 Only open between January 25th, 2020, to March 22 2020. A hot open air bath in a place where temperatures reach -30℃, will make for an irreplaceable memory of your trip to Japan.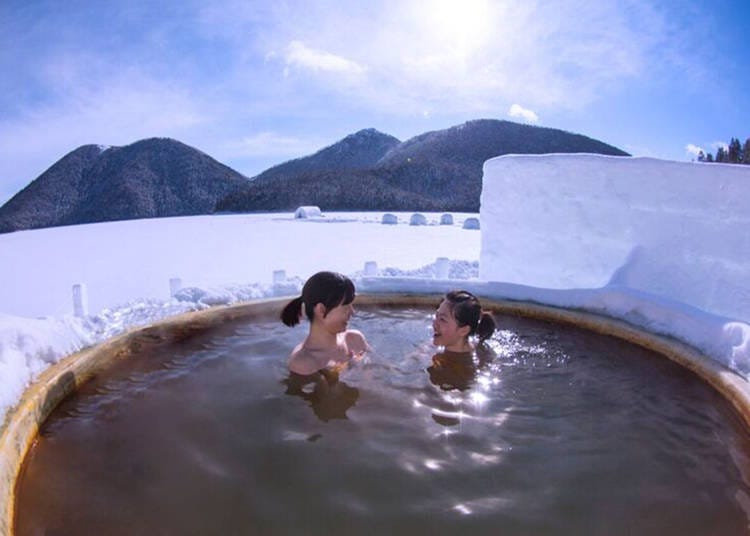 You can bathe in the middle of the ice only for about two months in winter, but bathing in a natural lake at high altitude in Hokkaido, where temperatures may reach 30 degrees below freezing, is a valuable experience that can't be missed. Even if you're exposed to the cold from the neck up, your body will enjoy a nice warmth. But as soon as you get out of the bath, your hair will freeze. In addition, bathing is free, and since 2018, "Ice Kami footbath"has also been added.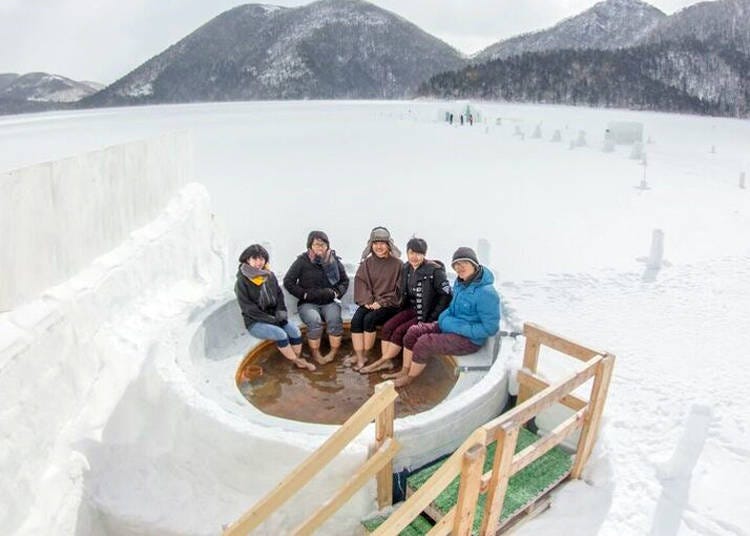 しかりべつ湖コタン(然別湖コタン実行委員会)

Address

Mubanchi, Kitaurimaku, Kato Gun Shikaoi Cho, Hokkaido, 081-0344, Japan

Nearest Station

100 minutes by Hokkaido Takushoku Bus from JR Obihiro Station


Phone Number

0156-69-8181

Admission: free
Closed: always open during the two winter months of operation
4. Tengu no Yu: Kita Onsen Resort
The Kita Onsen Ryokan is a hot spring among those "hidden ones," nested in the mountains of Nasu onsen town, in Tochigi prefecture. During the Heian period, this mountainous area was believed to be a sacred dojo where even Tengu used to train.

One day, while Tengu was sitting on a large stone to rest, he found out that a spring of hot water was coming to the surface. Since then, people used that as a hot spring bath.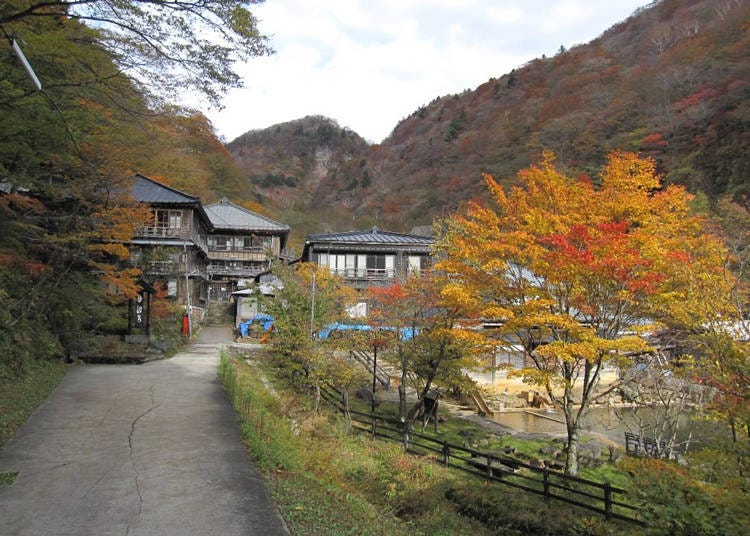 Famous for its Tengu legend, Tengu no Yu is known for its large Tengu masks hanging from the wall. Bathing while staring at the intimidating Tengu is certainly a new experience. Furthermore, this bath is one of the last ones which are mixed for men and women.

In addition to Tengu no Yu, there are also the "Kawara no Yu," a women only open-air bath, and "Women's hot spring."The mixed hot springs are bathing-suit ok or no-bathing suits. This hot spring has been a popular one among hot spring lovers as a secret hot spring, even though it was the stage of the movie "Thermae Romae" (2012), that made Kita Onsen Ryokan even more popular.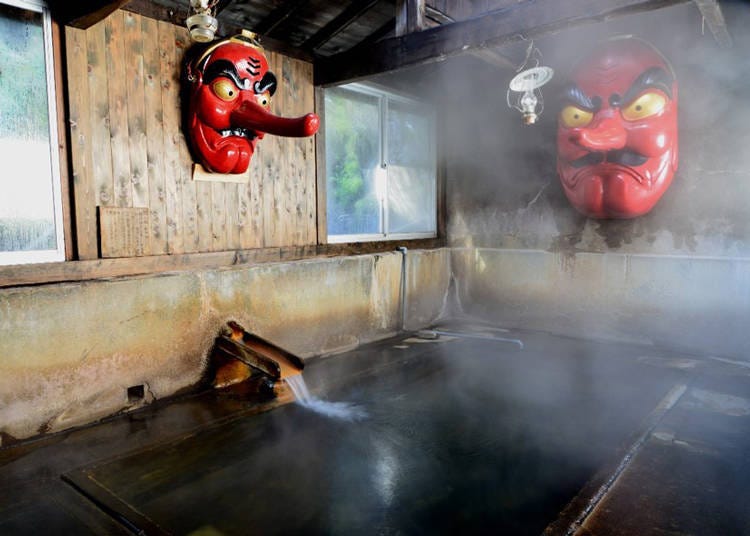 The inn has a retro style accentuated by the corridor that squeaks under your steps, the black pillars and the lamp lights. So how about enjoying a warm bath in the water coming from the mountains behind you, while Tengu stares at you?
Kita-onsen Ryokan Tengu no Yu

北温泉旅館 天狗の湯

Address

151, Yumoto, Nasu Gun Nasu Machi, Tochigi Ken, 325-0301, Japan

Nearest Station

55 minutes by bus (Kantou Jidousha) from JR Kuroiso Station, transfer at bus stop Daimaru Onsen and get off Kitayu Iriguchi and walk 30 minutes


Phone Number

0287-76-2008

Admission: one night with 2 meals/adult from 7,900yen, children 6-12 from 5,900yen, children 4-5 from 4,900 yen, children 1-3 1000 yen (meal not included)

Onsen admission/700 yen (1 year old-elementary school kids 400 yen)

Closed: irregular holidays
5. Kumonosuke: Hishino Onsen Open-Air Bath Accessible by Tokiwakan Climbing Train
There are many interesting onsen in Japan, but at the Tokiwakan in Komoro city, in Nagano Prefecture, you can take a mountain train to reach the superb view from the open-air bath "Kumonosuke," at the summit of mountain behind the inn. This is a very popular spot.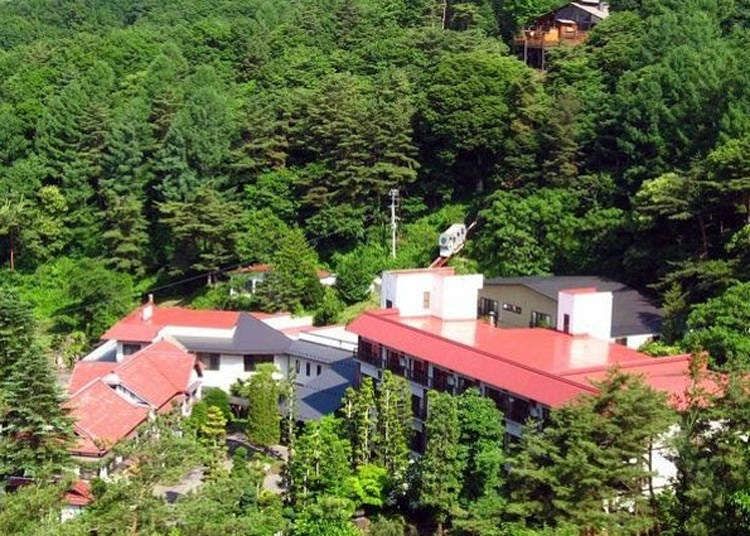 The climbing train is a small cable car on a 130meter line. Just like with an elevator, if you press the button, it will automatically run and stop. It takes about 1 minute and 30 seconds from the lobby of the inn to the open-air bath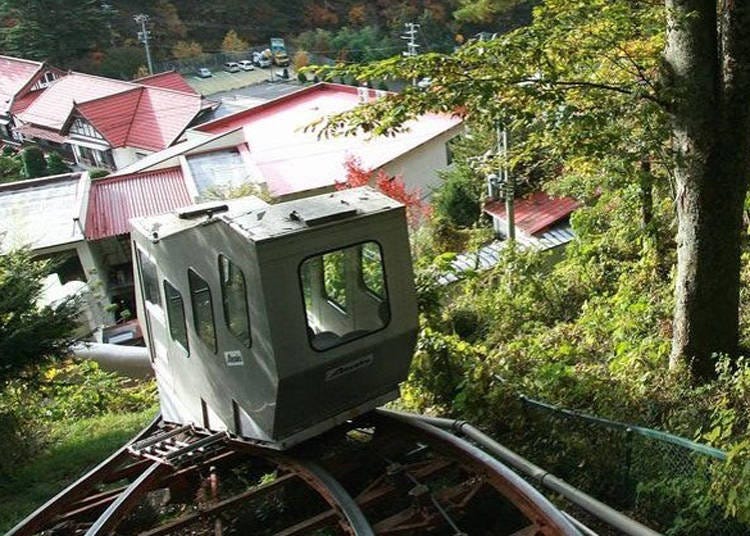 Although it takes only a short time, the ride is exciting and unique. From the open air bath at an altitude of 1050m, you can enjoy a great view of Yatsugatake, Mount Fuji, and Sakudaira, allowing you for a very special feeling of relaxation.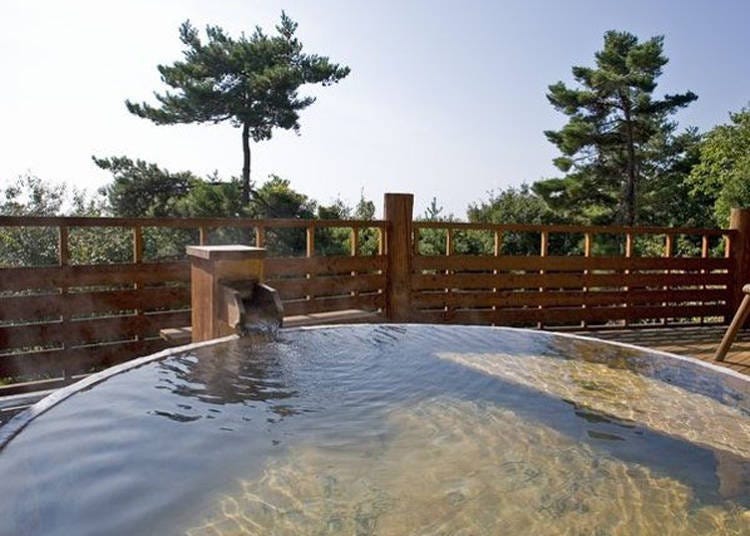 There are also terraces and shops, so in the warmer months, you can relax there. The open-air baths are from 11:00am to 9:00pm for people who are staying at the inn, and 6:30am to 8:30am. For onsen only, 11:00am to 4:00pm. The place is so relaxing that you will lose the track of time, so make sure you don't miss the last car down.
菱野温泉 常盤館

Address

762-2, Hishidaira, Komoro Shi, Nagano Ken, 384-0041, Japan

Nearest Station

From Komoro Station Shinano Tetsudou Koumi Line or JR Koumi Line, 15 minutes driving (taxi). For people statying at the inn there are shuttles from JR Komoro station and JR Hokuriku Shinkansen Sakudaira Station (reserve 3 days in advance)


Phone Number

0267-22-0516

Admission: 1 night (including breakfast)/from 16,650 yen (room for 2 people)
One-day-trip-plan/5,500 yen (including tax); need a group of more than 5 people to apply.
Onsen fee: older than junior high students 1000 yen (including tax), 3y/o to elementary school, 500 yen (tax included)
Starting from April 1, 2020, the plan will change to 1,500yen for adults and for 3y/o to elementary school kids 750yen (including tax)
Closed: irregular holidays

Vacancy search, reservation

from

24,300JPY

1room, 2adults

Check with our partner site as the latest rates, rate details, and guest room requirements may vary.
6. Tokyo Odaiba Oedo Onsen Monogatari: Tokyo's Onsen Theme Park
The last entry of our interesting onsen list is "Tokyo Odaiba Oedo Onsen Monogatari," an entire facility made to look like a theme park.

One of the first things that will surprise you is that there are 13 different types of baths for men and women. Oedo Onsen, Hundred People Bath, Sleeping Bath, Low temperature bath, Steam Sauna, Mist sauna, a large bath, a large open-air bath, a smaller open-air bath, and a wooden bath made to emanate a good scent, a foot bath, and a hot-rock sauna. It's unlikely you'll be able to enter them all in one day.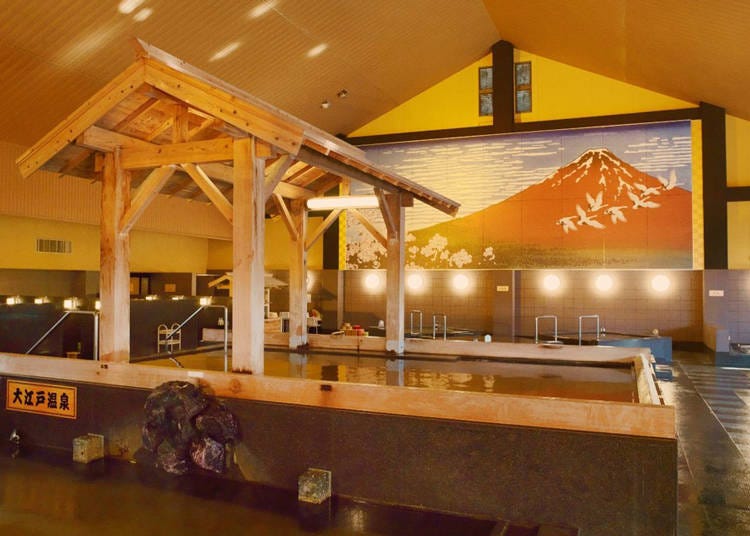 This is a unique hot-spring theme park where you can spend the whole day bathing, eating, and enjoy the extraordinary area recreating the streets of the Edo period. This bath is also very popular among foreign tourists, and you can choose a yukata to wear (from size S to size 3L and of different patterns for men and women), and a belt you can select from models of four colors.

You pay for your meals through a wristband with a barcode, so you don't have to worry about paying until you leave.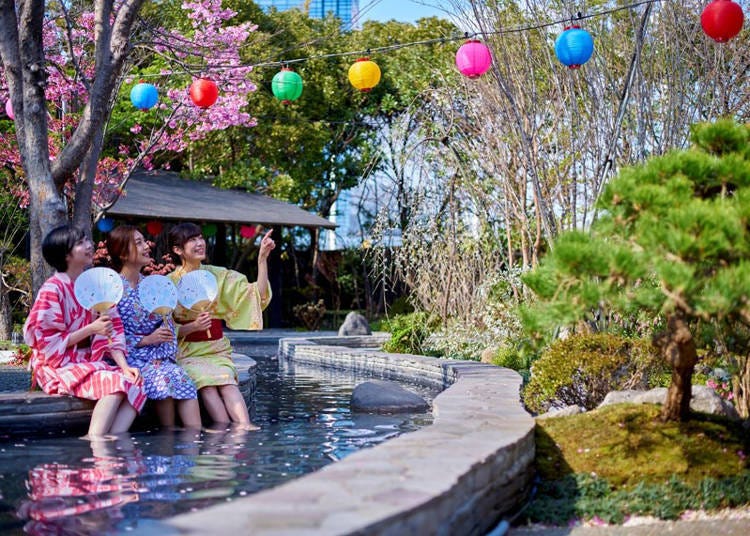 Here you can visit the streets of old Edo, while enjoying hot springs. The natural hot spring you can bathe in comes from 1,400 meters underground. It's an alkaline sodium chloride water rich of minerals. The theme park can be accessed from 11:00am to 9:00am the following morning, so you can stay there all day, if you want to.
The onsen that we talked about today, all use the surrounding nature very well and they are all unique, in their innovations and original ideas. Why don't you go and enjoy these interesting onsen? You can just enjoy the hot bath, but there is more for you to discover.

Written by: Shunichi Minami, Dali Corporation
*This information is from the time of this article's publication.
*Prices and options mentioned are subject to change.
*Unless stated otherwise, all prices include tax.