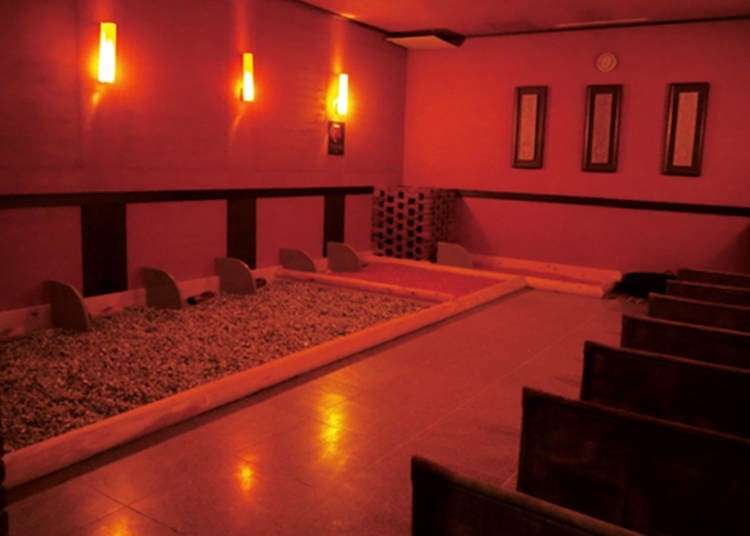 Spa LaQua is a luxurious hot spring facility where you can enjoy a typical resort feeling in the middle of Tokyo. It's a popular spot recommended to couples and friends. Today we will share some of the many appealing aspects of Spa LaQua.
Enjoy natural hot springs in the center of Tokyo at Spa LaQua!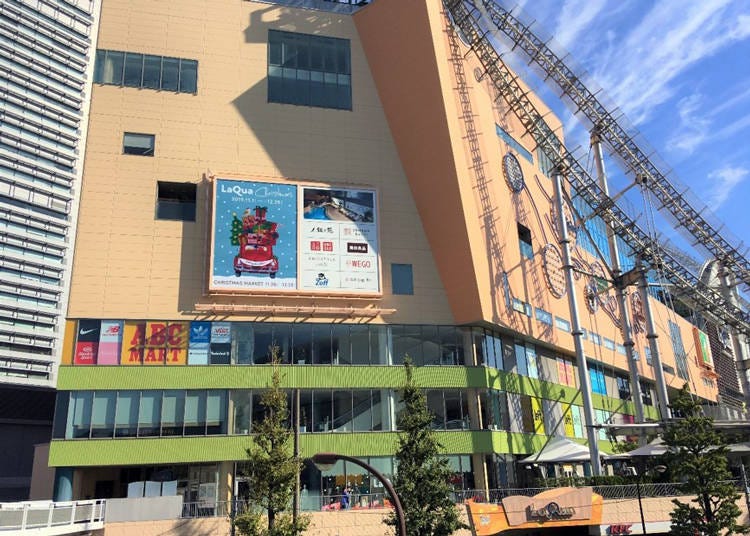 LaQua, standing next to Tokyo Dome, is a commercial complex with many restaurants and shops. It is also famous for its unique structure, seeing buildings connected with roller coasters.

Among the many businesses, there is also "Spa LaQua," which opened in May 2003 and was renovated in October 2017. In addition to an open-air bath and a large public bath, there several other amenities among baths and saunas. This is where its fame of being a place "that can be enjoyed several times" comes from.

Getting there is also very easy, being a 1-minute walk from 4 different stations on 5 lines, including JR East, Tokyo Metro, and Toei subway, and a no more than 6-minute walk from other stations.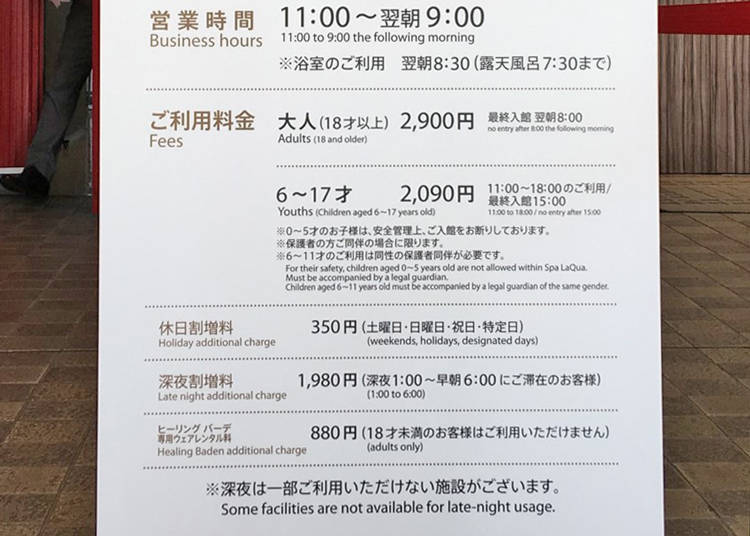 There are also cafes, restaurants, and a treatment salon on site that are open from 11:00am to 09:00 the following morning.

The admission fee, includes the rental fee for bath towels and clothes in the building, and the base fee is 2,900 yen for adults (tax included), for people 6-17 years of age, 2,090 yen (only until 06:00pm).

In addition to this, an extra charge of 350yen (including tax) is applied for holidays, and 1,980yen (including tax) for late nights (1:00am-6:00am). An extra fee is required to use the so-called "Healing Baden."
Once you enter, you can stay for as long as you want. Whether you want to relax after a long day at work or rest after partying too hard, or start your day with a nice bath in the morning, or come for a soak in the middle of the night, this place is for you.

There are also special offers. For example, every Wednesday is "Ladies Day" with discounted admission and added benefits.
How to check-in at Spa LaQua!
Let's check in.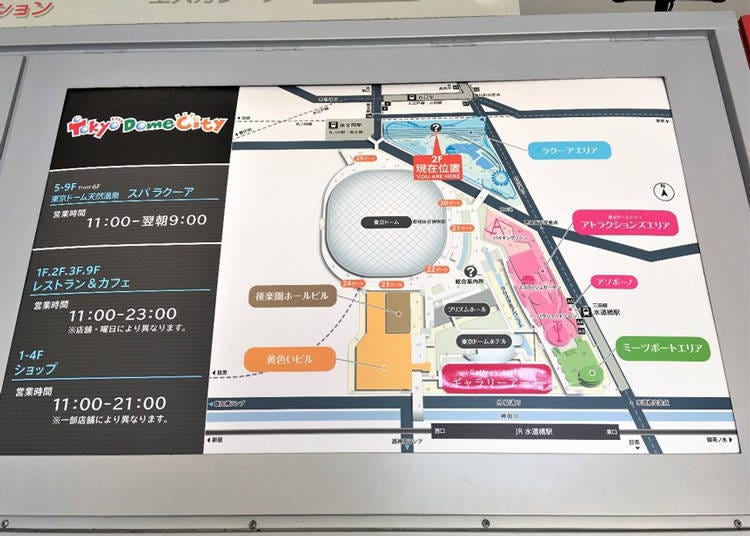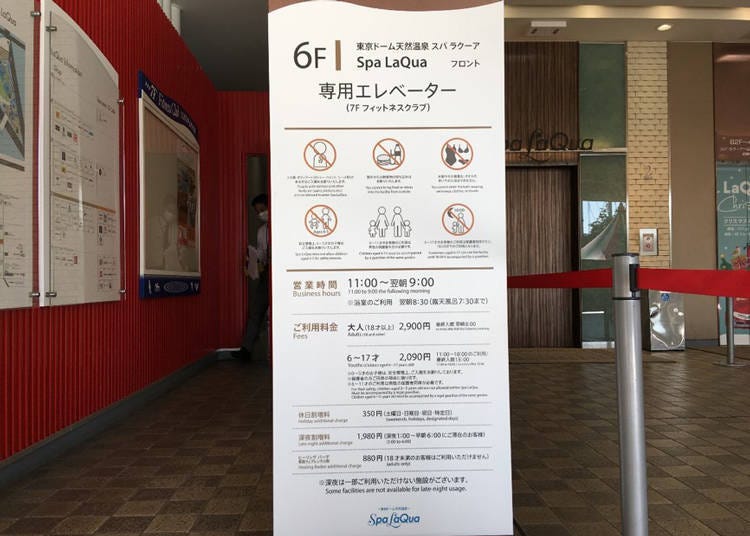 LaQua's 5th to 9th floor are spa areas, so let's go to the 6th floor via the dedicated elevator.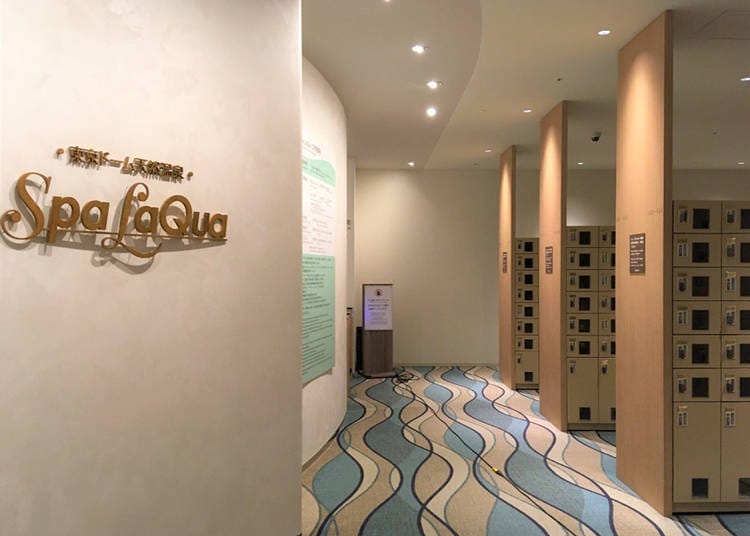 Take off your shoes before entering the hall and go to the shoe-lockers. Make sure not to lose the key.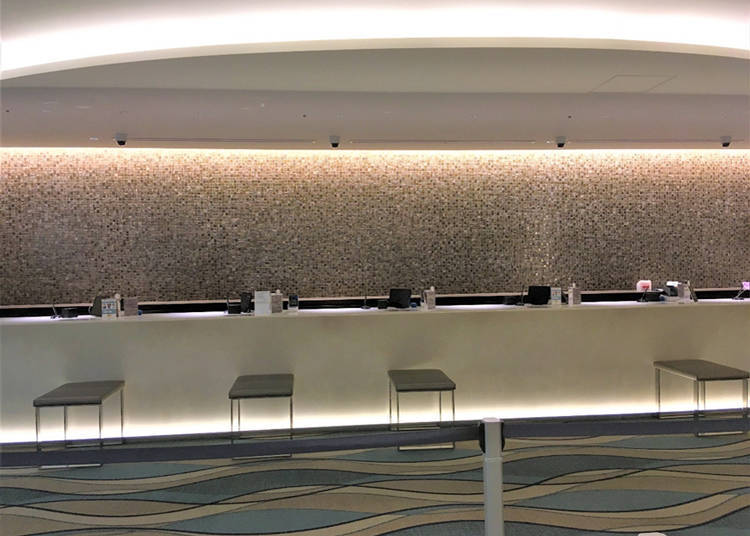 At the front desk, you will receive a wristband upon checking in, and a crystal bar to change your clothes in the building. Now go to the counter.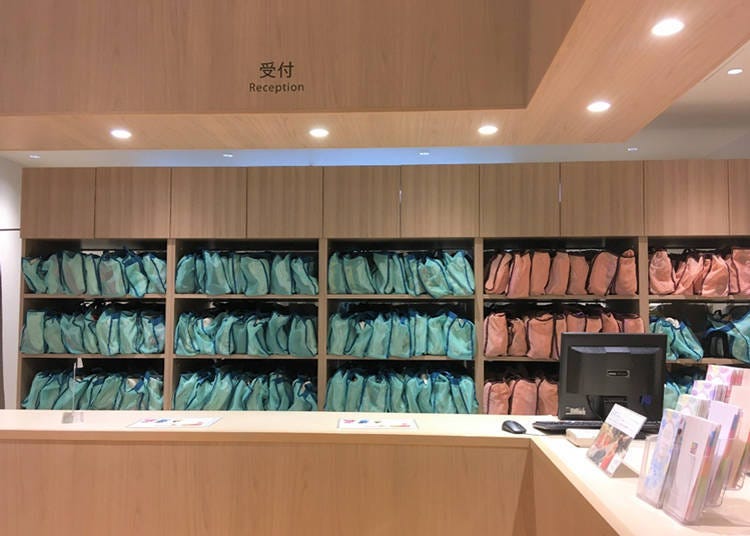 Here you can exchange your crystal bar for clothes, bath towels, face towels, and a mesh tote bag.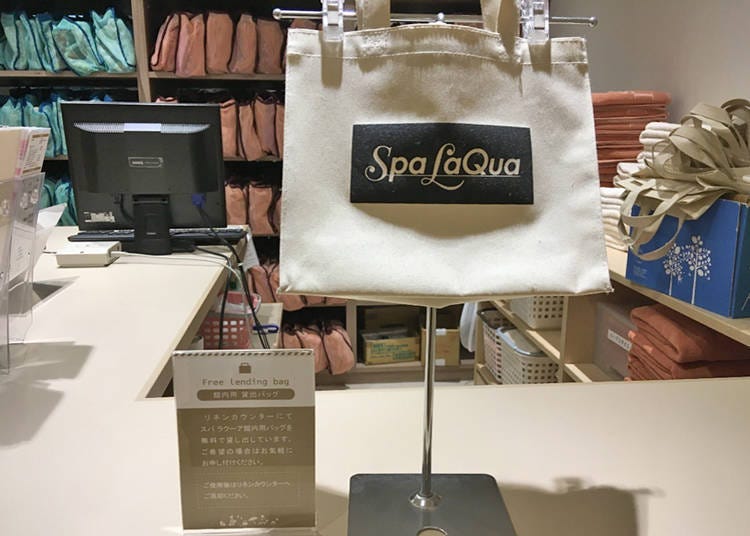 The small tote bag that you can get for free is useful if you want to carry your smartphone, eye drops, lipstick, and other small items with you.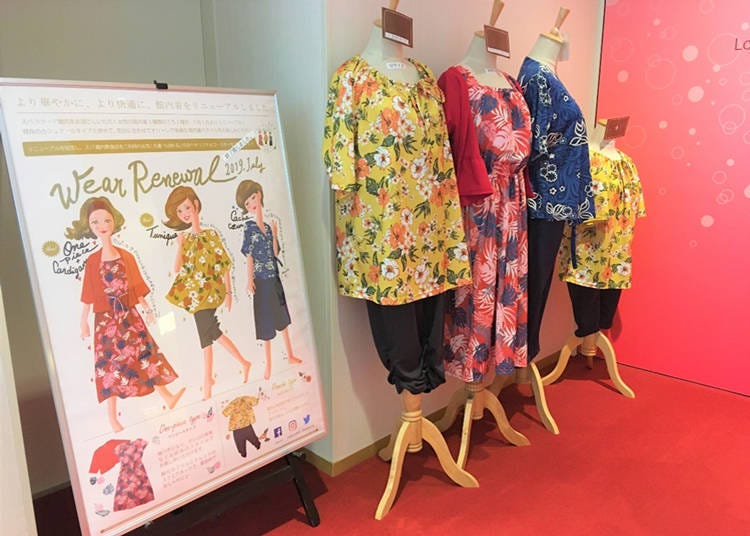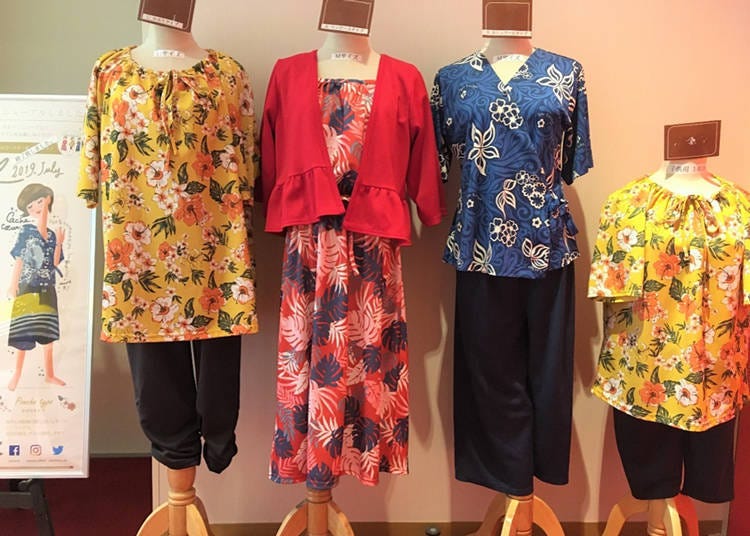 There are three kinds of in-house clothing for women (only one for men), two of which were introduced in July 2019. The most popular one is the red piece. If you are going with family, it would be cute to match your children with a yellow tunic.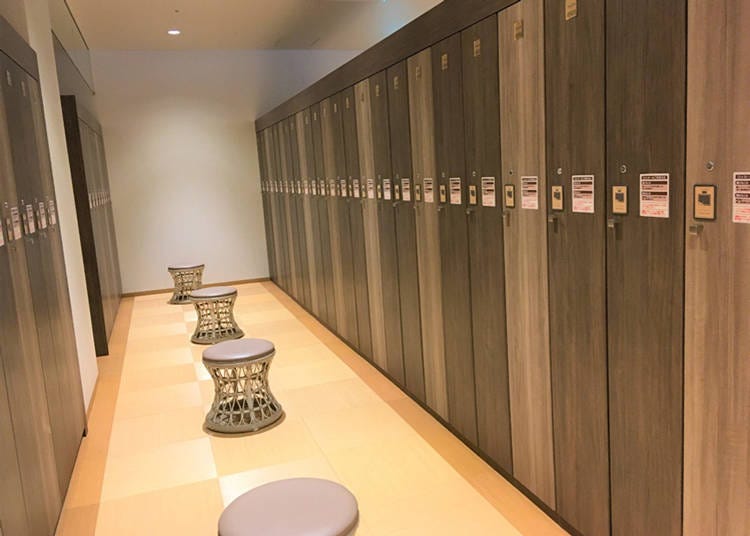 Large, bright, and clean locker rooms.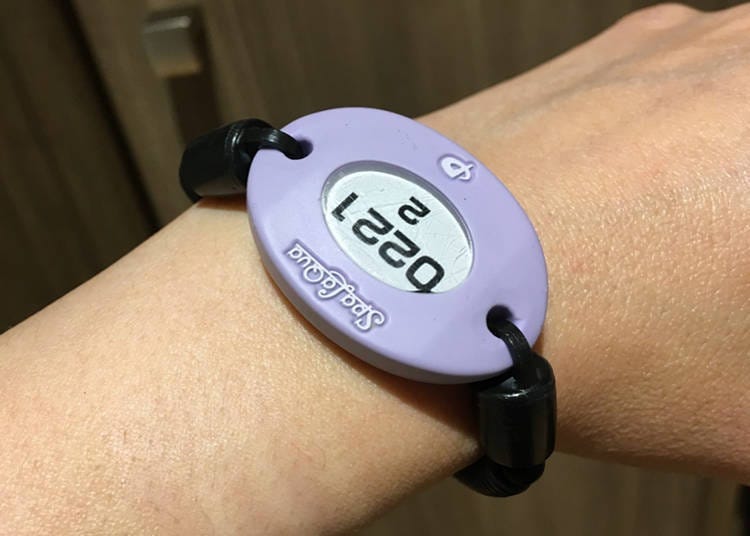 The number written on the wristband you receive at the front desk is your locker number—the key switches in and out of the wristband. You use the wristband also for all your payments, which will be charged onto your account later on, so you won't need to carry your wallet around.

You'll start really feeling like you're in a resort once you take off your clothes and stick them in the locker.
Spa LaQua is a facility made mostly for women, so there are lots of great products for women.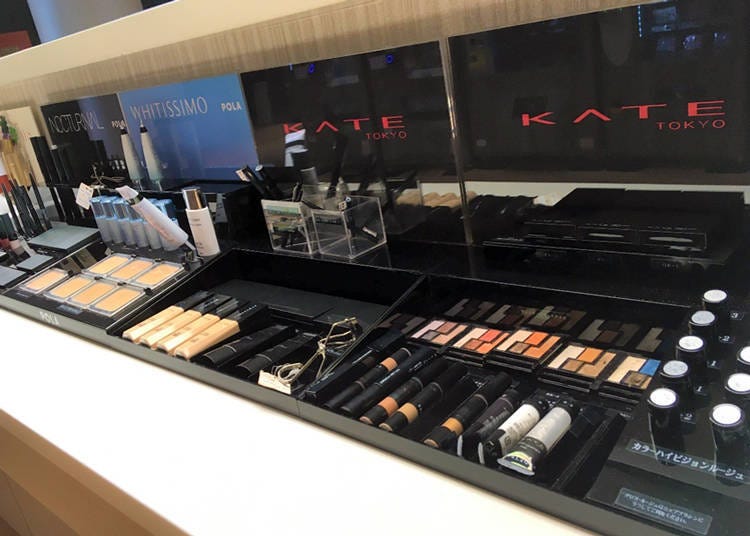 Women usually are reluctant to take baths or stay overnight if they don't have their cosmetics. At the "cosmetics bar," you can try the latest cosmetics by purchasing a brush set for 100 yen, including tax. Here you will find an assortment of all kinds of makeup.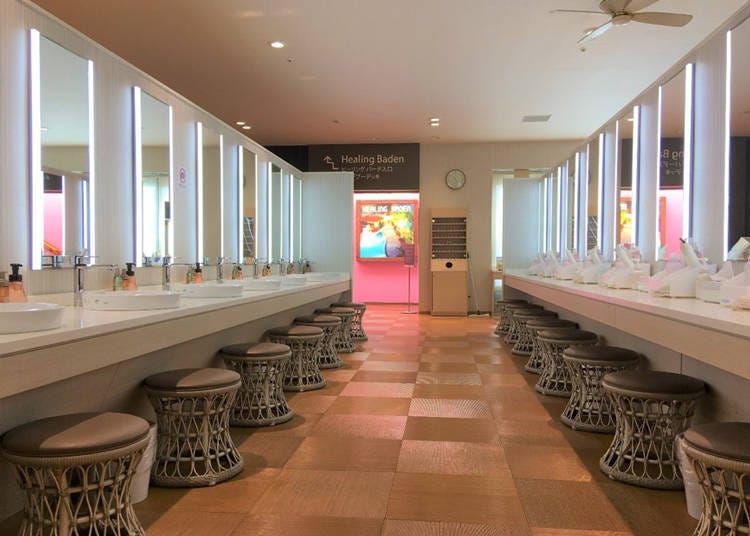 Makeup remover, body lotion, milky lotion, hair treatment, hairbrush, toothbrush, and T-shaped razor! There are two types of hair driers, a standard one, and one with brushes.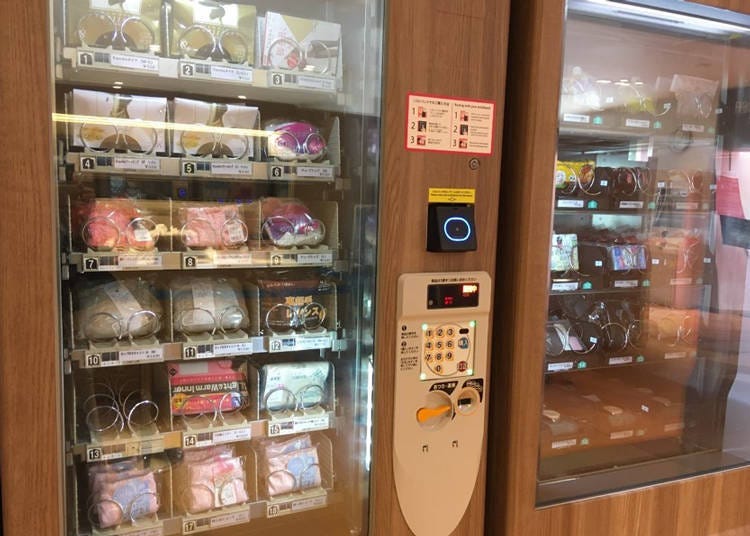 Besides the powder room, you can purchase underwear and sanitary products. You can also buy shirts for men in the facility. There are also many cosmetics shops among the stores outside of the spa, so you can check-in after buying some.
Relax at your own Tokyo onsen!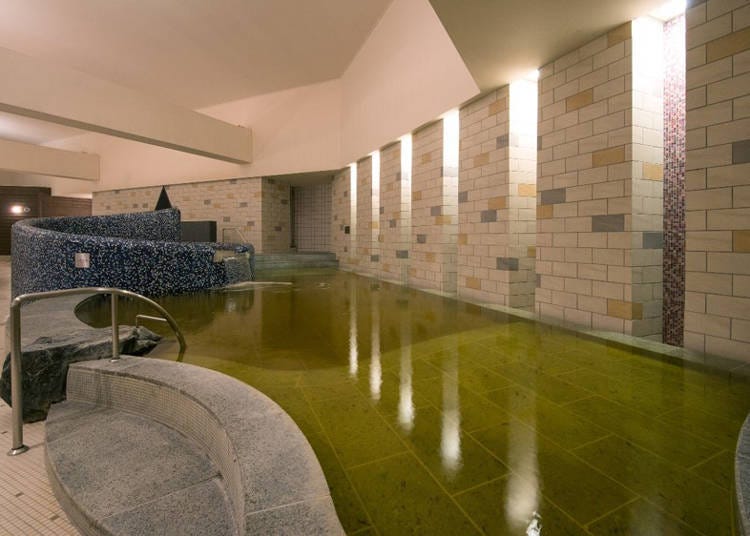 Spa LaQua is a natural hot spring pumped from 1,700m underground. It turns into scarlet hot water when exposed to air.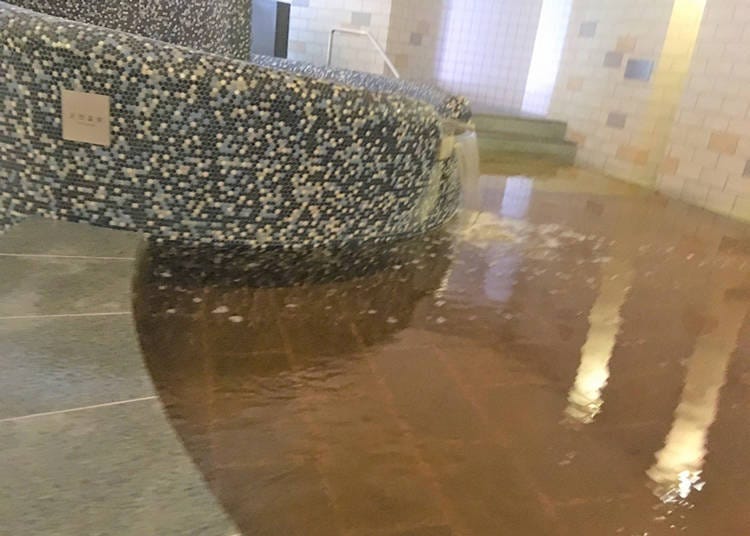 The spring is a sodium chloride, rich in salt, hot spring, which seems to be beneficial against stiff shoulders, colds, and fatigue, in addition to being excellent for moisture and heat retention. It's nicknamed "slimming hot spring" and "beauty hot spring."

The hot water is odorless, and the temperature is moderately adjusted since it's originated from a very hot spring, making it easier for everyone to enter.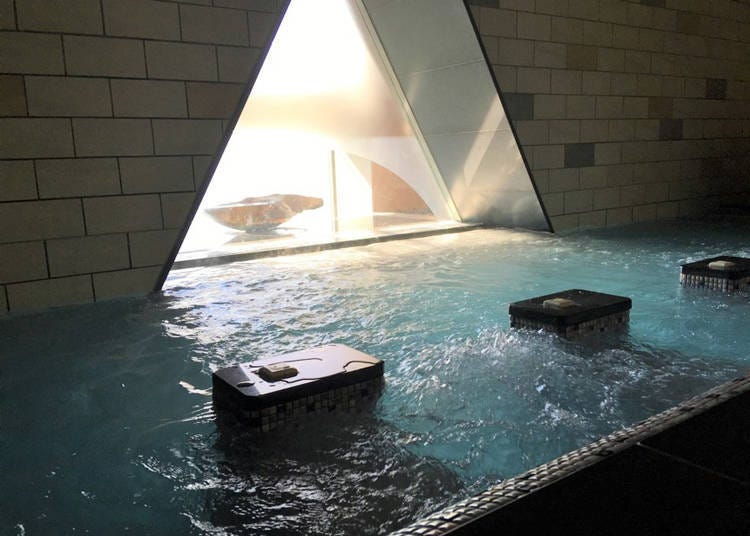 In addition to a large public bath, the indoor bath includes an oxygen spring called "Silky Bath," a jacuzzi, nicknamed "Bubble Pit," and the so called "Hydrofoot" where you can relax while watching TV.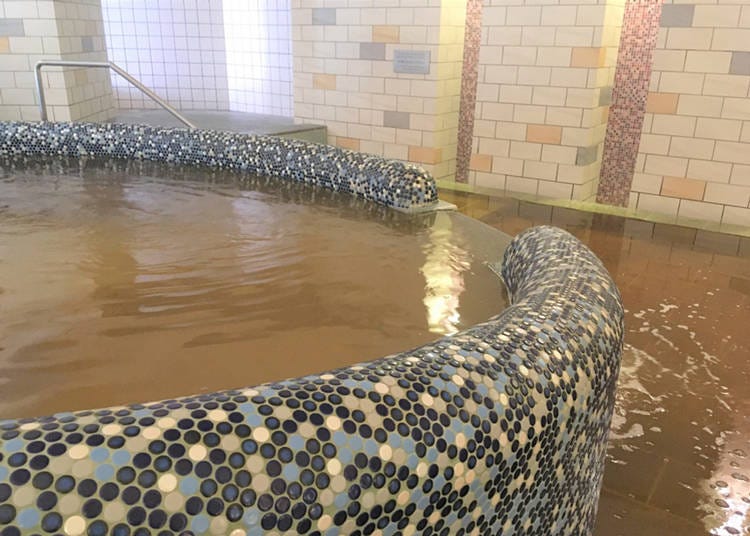 The Jacuzzi packed a jet stronger than I thought and it felt like a massage. The oxygen springs that look white and cloudy have a strong moisturizing effect for your skin.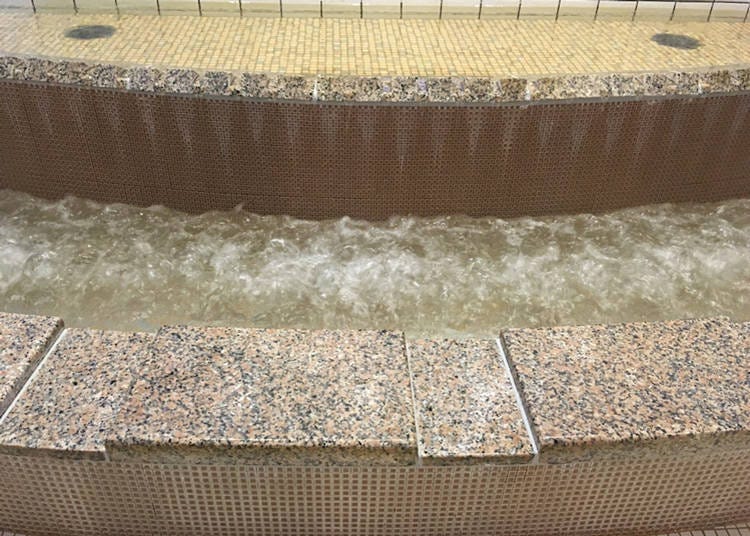 Once you've taken your nice warm bath, take a break with the Hydrofoot, while watching TV.
The luxury of an open-air bath in a prime location in the city center
Spa LaQua's popular secret is that you can enjoy an open-air bath in the middle of a big city. Unfortunately, you can't enjoy a view from the bath because it sits among other buildings, but it will make you forget that you are in the city for a moment.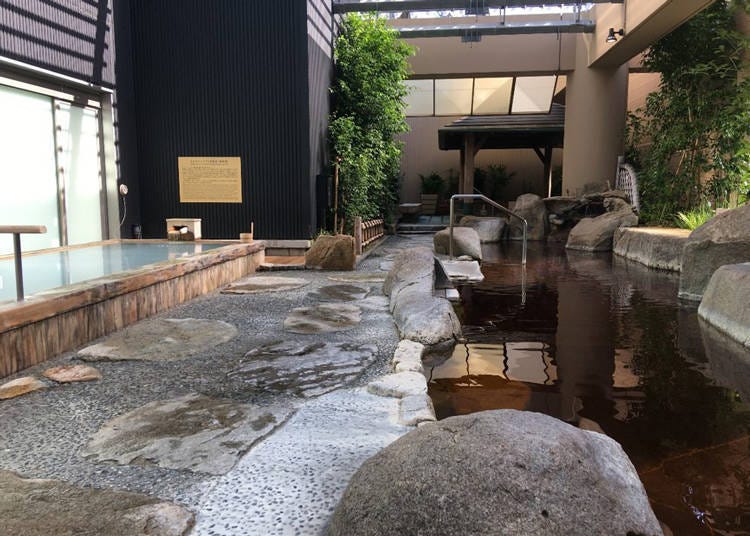 There are three bright open-air baths: a natural hot spring "rock bath," "Atsuyu," heated to 43℃, and the carbonated spring "Biwaburo," added after the renovations of 2017.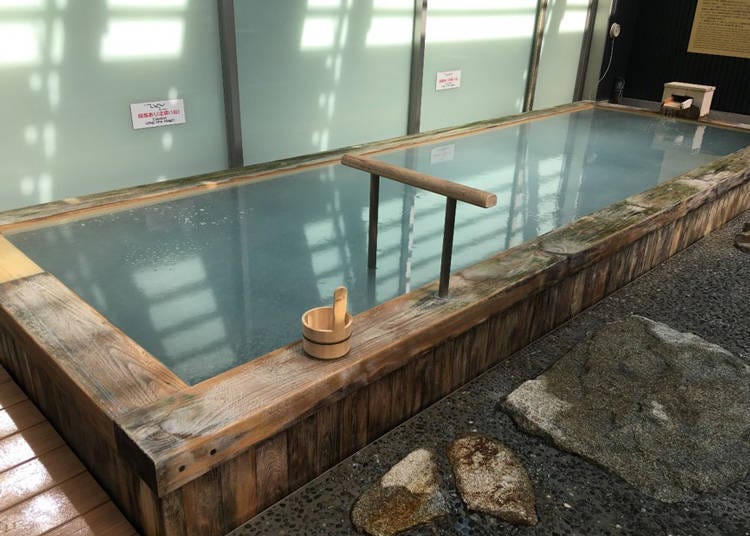 The hot water in the carbonated bath is whitish because of the oxygen spring. This spring is said to increase metabolism, and have beneficial effects on your skin. It seems to be recommended to take a rock bath and the biwaburo bath alternatively.
Here you will be able to enjoy many kinds of sauna. The sauna is known to have relaxing effects and help with detoxification, skin beautification, cold, and more. People who lead a stressful lifestyle should definitely experience it.

There are three sauna types for women in the spa: a medium temperature sauna, a mist sauna, and a Finnish sauna.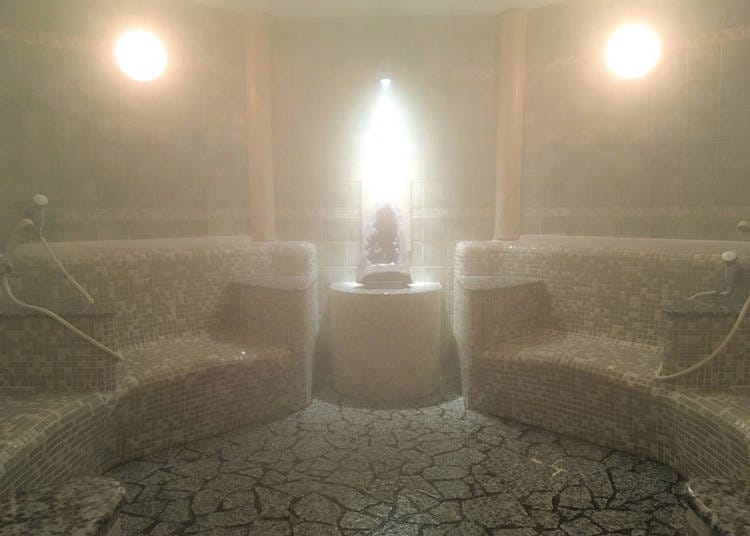 The mist sauna "Termale," is not too hot, so even people who usually don't like sauna are fine.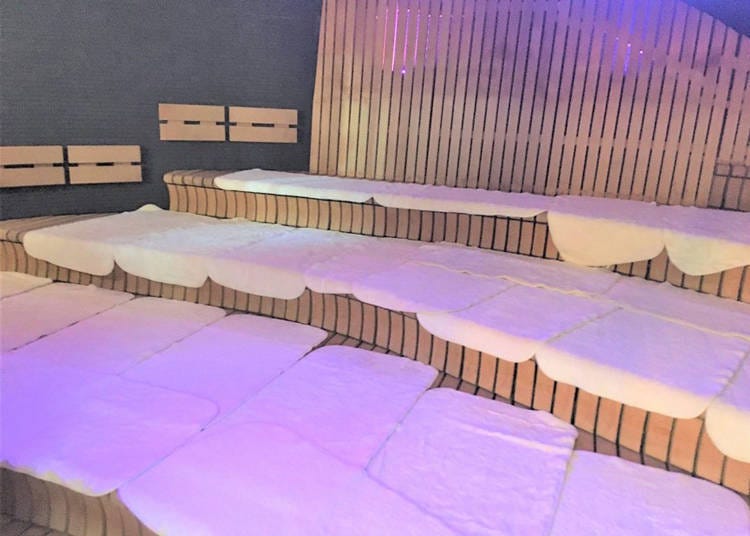 The mid-temperature sauna "Steffi" has a TV within the sauna. You can also receive the "Auf goose service," hot hair and fresh towels several times a day.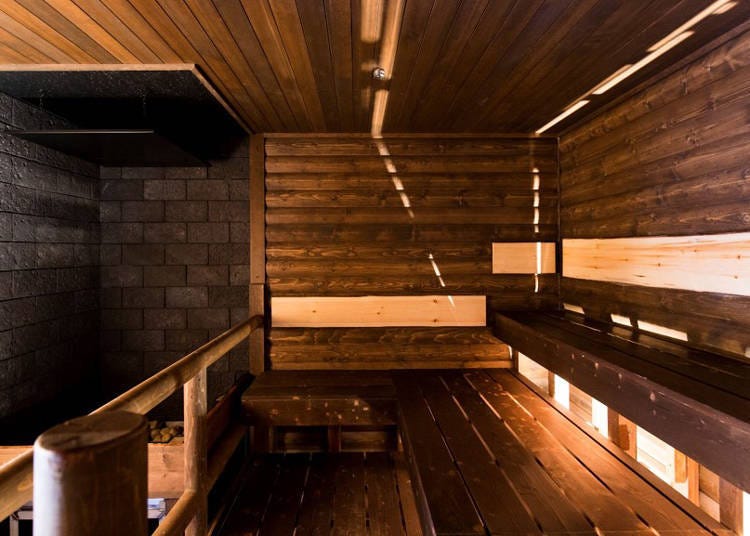 In the Finnish sauna "Jarvi," you can adjust the temperature off the sauna by pouring water on the sauna stone. The water is aromatic and it fills the sauna with a wonderful scent.
After you work up a good sweat in the sauna and enjoy a nice hot bath, continue relaxing in the lounge. The lounge is divided into a mixed space for women and men, and women can access it directly from the locker room.

You can use free Wi-Fi and plugs in the lounge, so feel free to bring your devices with you.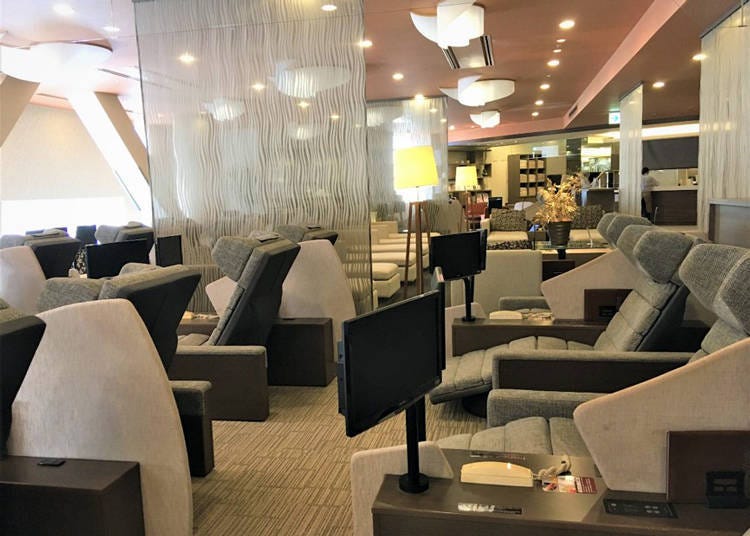 There are enough seats in the mixed space!
There are two types of lounges for women. This is one that has a TV on each seat.

By the way, in Spa LaQua, there are many different blends of room scents. The whole facility has different nice scents.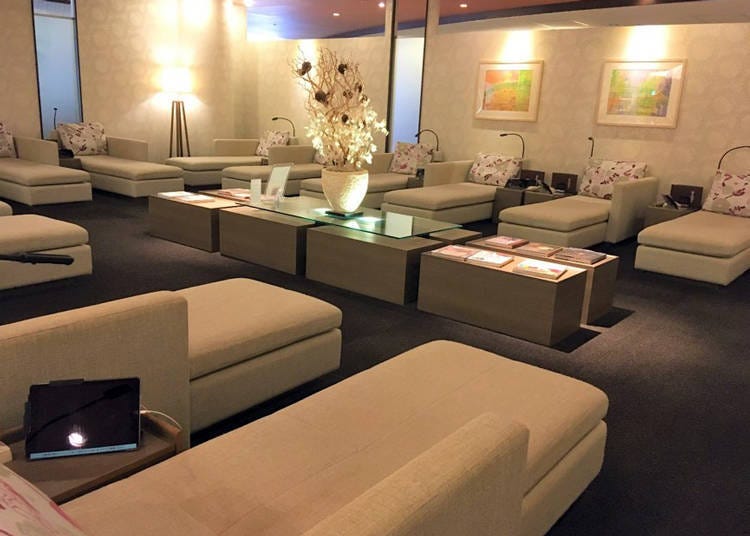 This is another kind with a tablet by the seat.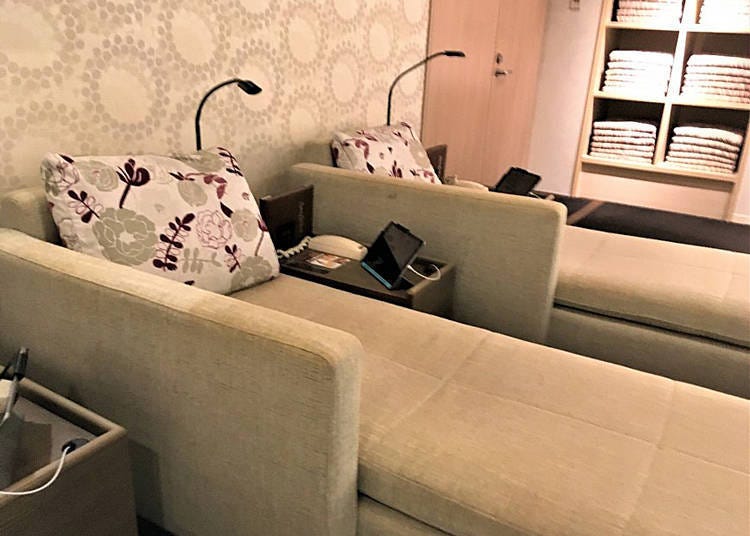 When you want to sleep or don't want to get cold, there are soft blankets available.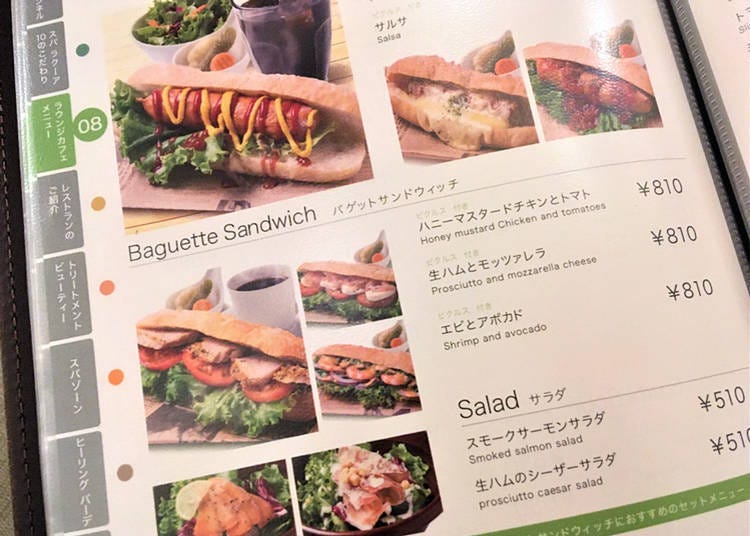 In the lounge, you can order drunks and food via the phones by each seat. The café is a mix-use space, but they also serve the seats, if you don't want to leave the women-only lounge.
In this space the food and its reasonable prices will make you happy.
Many people will surely be satisfied even just with the features we already showed you, but if you visit LaQua, you should definitely experience "Healing Baden."

Healing Baden is a variety of bedrock saunas and lounges. It's a mixed-use space, so it's perfect for couples.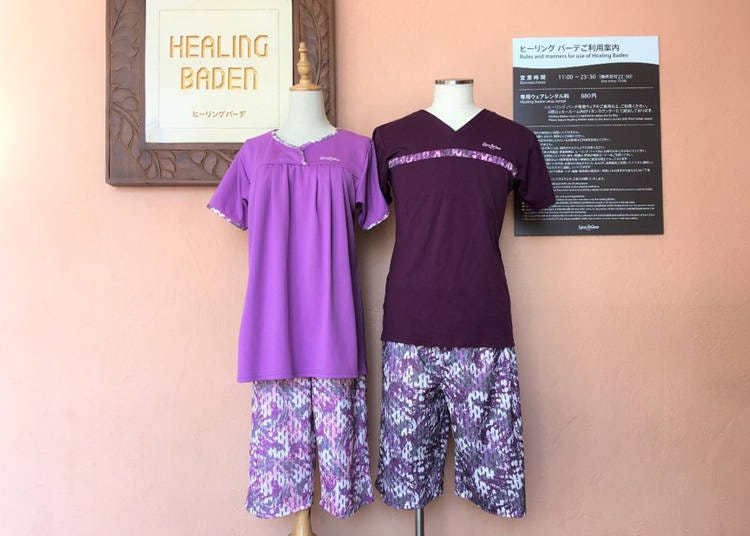 In this area, you will change into exclusive in-house wear (880yen including tax).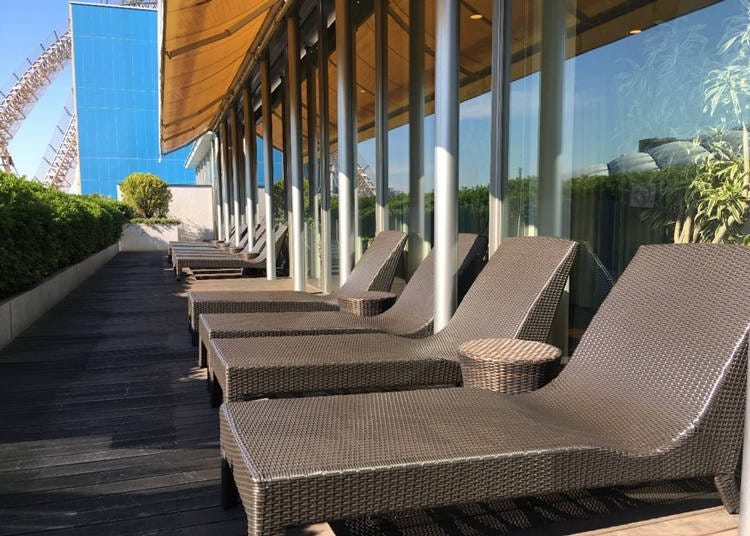 A meeting deck also used as a meet-up space on the way from the locker to the Healing Baden.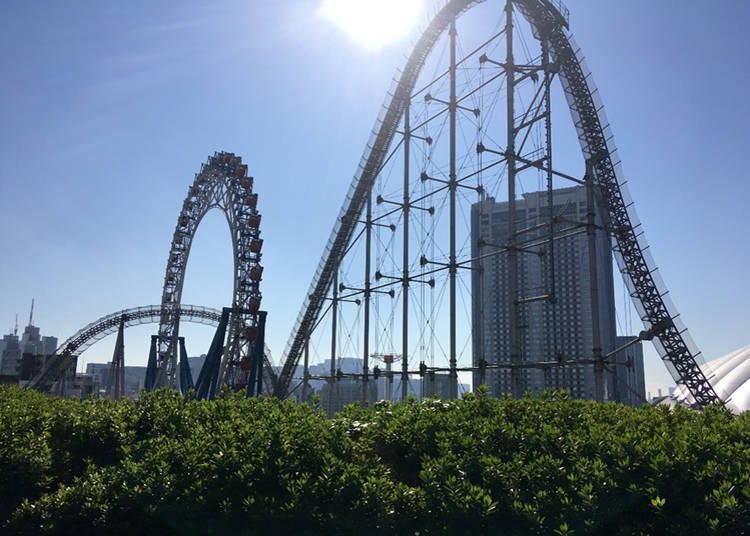 When the weather is nice, you can enjoy the view while sunbathing on the deck. The view at night is also beautiful.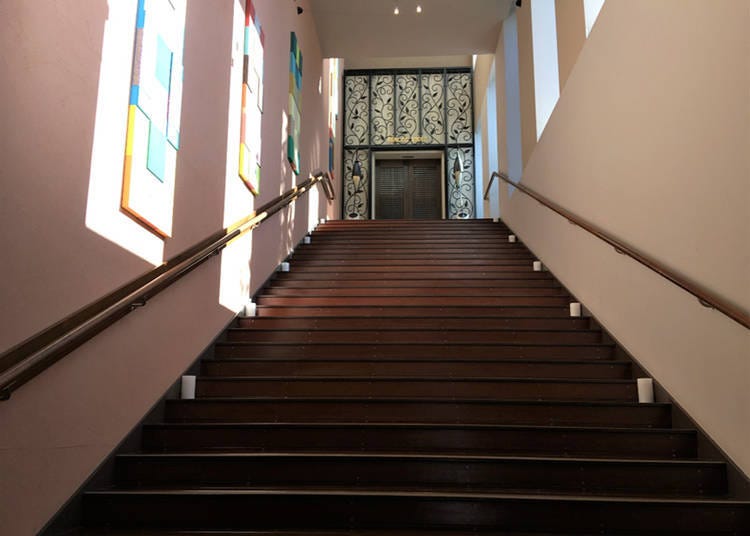 Once you all gather up, go up the stairs, towards the entrance to another space.
Open the door...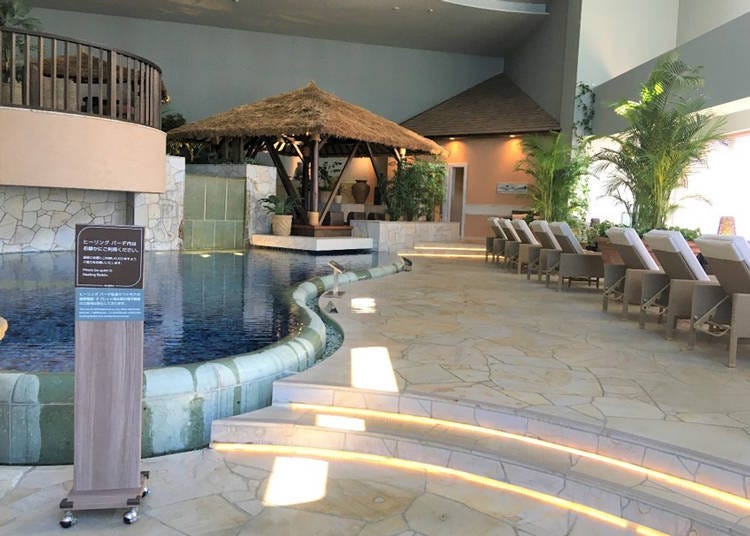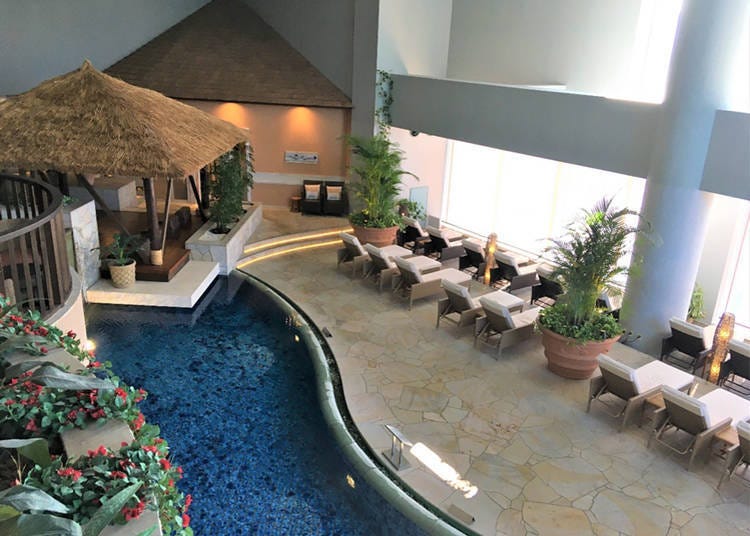 A large space with a great resort vibe.
In the evening you can relax and enjoy the view.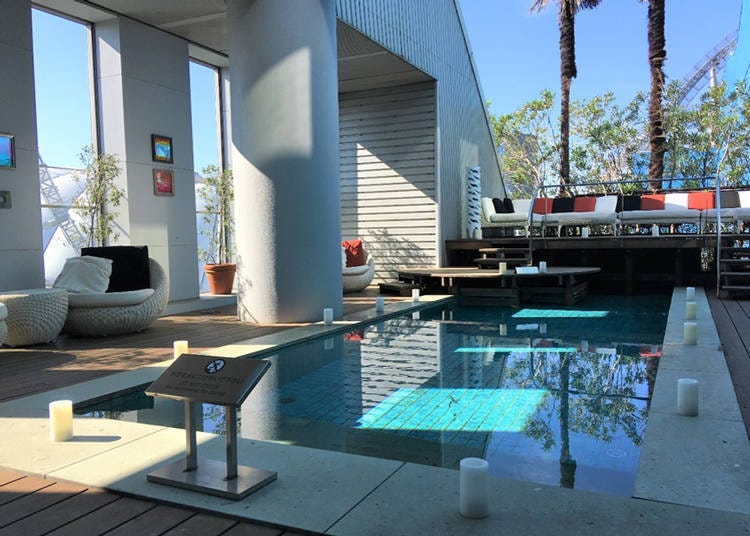 The outdoor deck is a great place for your Instagram pictures.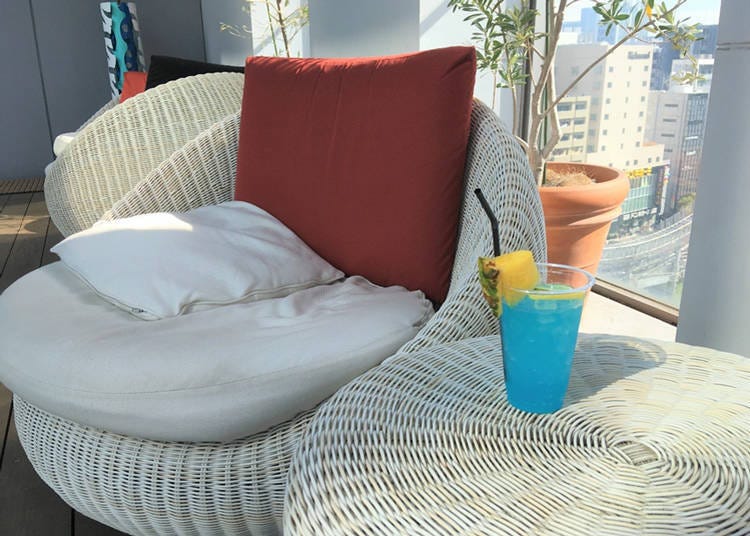 You can enjoy a tropical drink. The café in the Healing Baden offers a menu of mineral waters, tropical drinks, and snacks.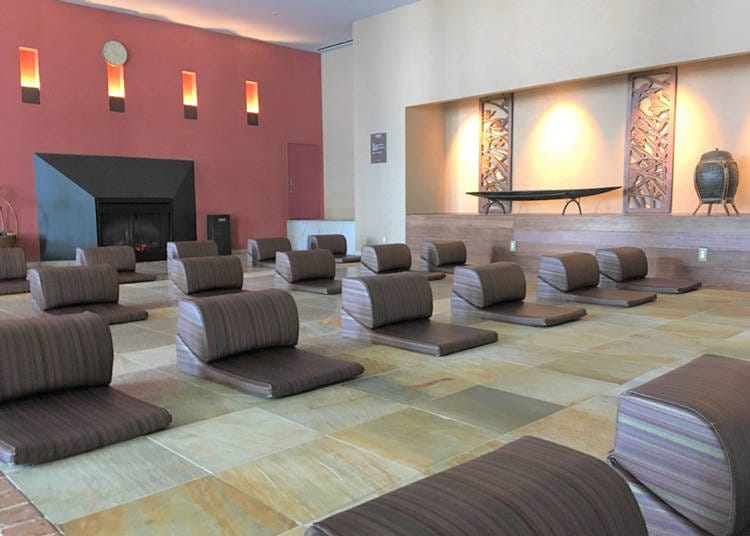 All areas are warmed through floor heating. In this break corner, women-only yoga classes are held from 02:00pm to 04:00pm (500 yen including tax).

There are 4 low-temperature saunas and 1 cool sauna in the Healing Baden, one of which is for women only.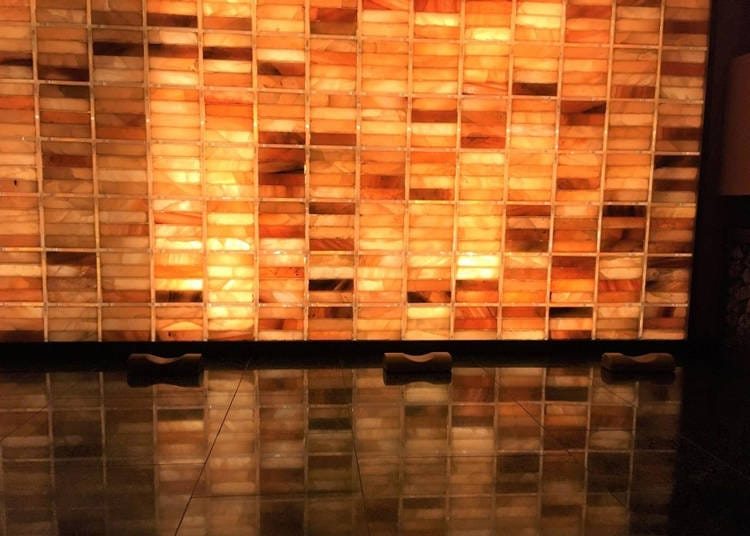 The fantastic "Tongekyu" is a low-temperature sauna that will have a detox effect. If you lay a bath towel on your face and lay down, it will gradually warm you from your core. There were many couples sleeping here.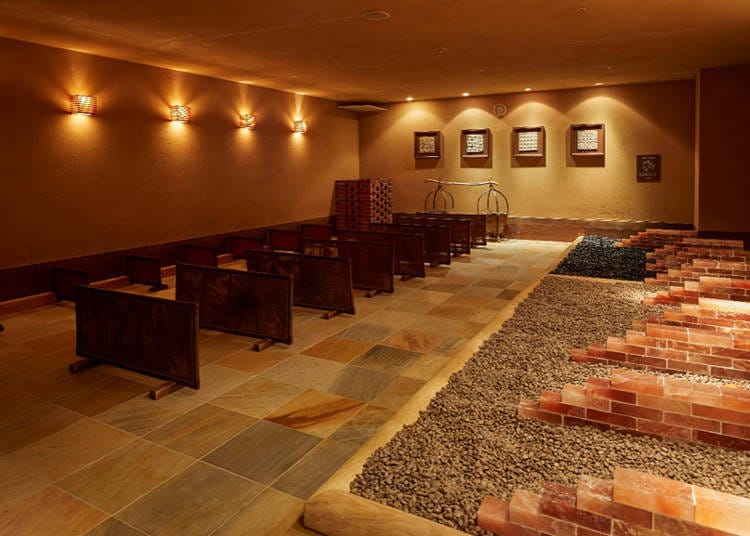 The low-temperature sauna "Odobo," uses the "far-infrared" effect, which seems to help with preventing aging, and with detoxification.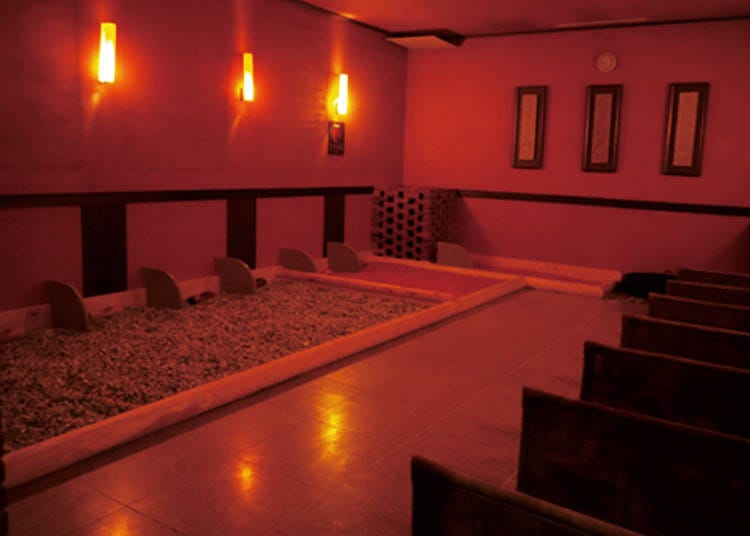 "Benisei-do" is a place where you can expect to relax. For women only.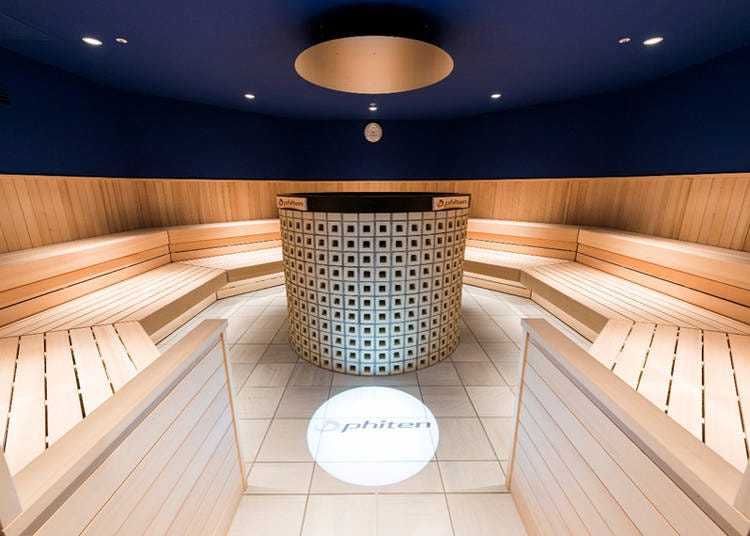 "Taikou dou" enhances the sweating effect with Phiten's exclusive "Aqua Titan."
Enjoy plenty of great food while relaxing at this Tokyo onsen!
If you get hungry, visit one of the restaurants. There are 6 cafes and restaurants in the spa, where you can find complete meals or light snacks.
Meals can be enjoyed at LaQua with plenty of sunlight filtering in.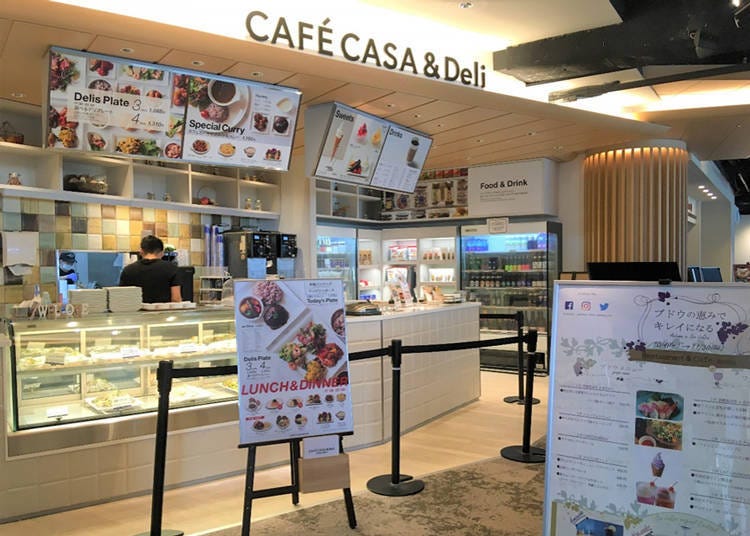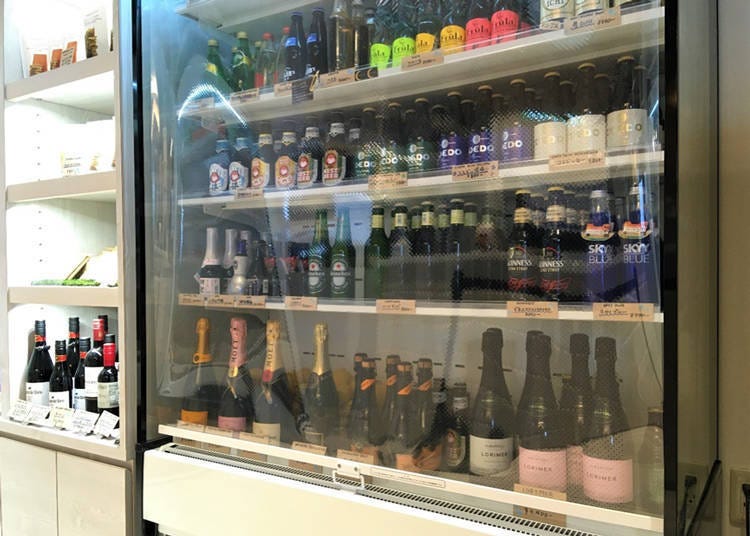 "Café Casa & Deli" offers healthy food, desserts, and wines.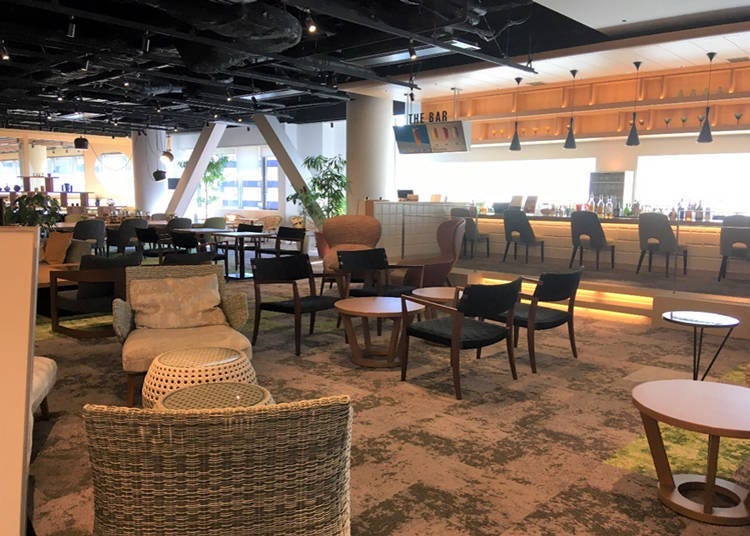 There is a space where you can enjoy a mean in front of the deli, and a bar in the back.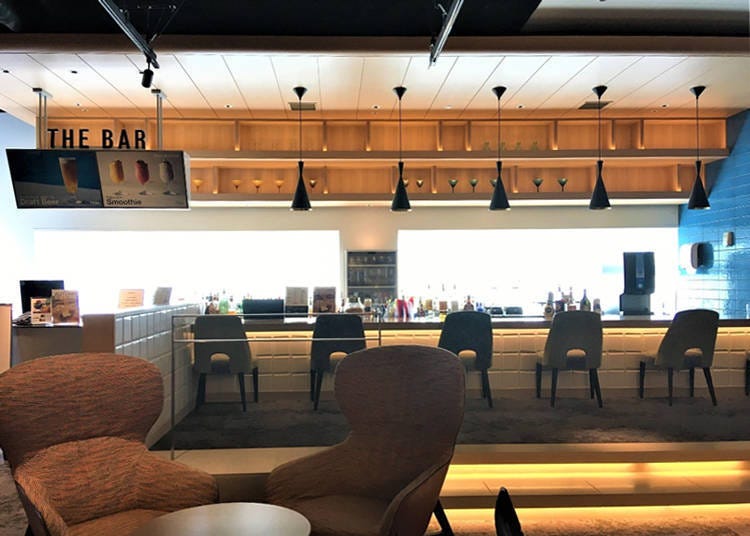 At the bar, in addition to alcoholic beverages, we recommend smoothies. "I often see elegant women gathering here in the daytime" (Person in charge of PR).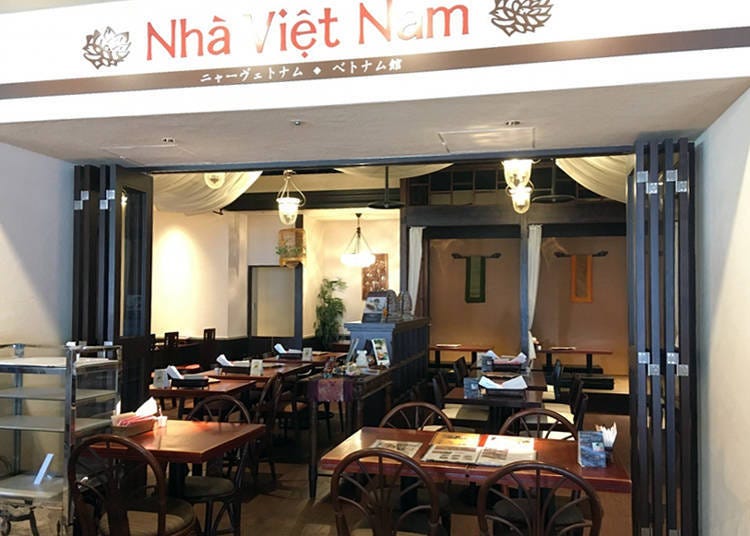 "Nha Viet Nam" specializes in Vietnamese cuisine with plenty of vegetables and herbs.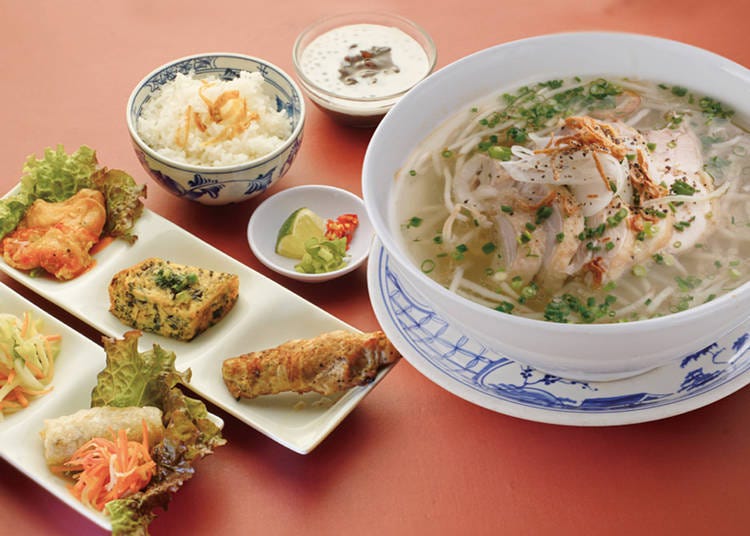 The set menu with 6 kinds of pho is a little extravagant.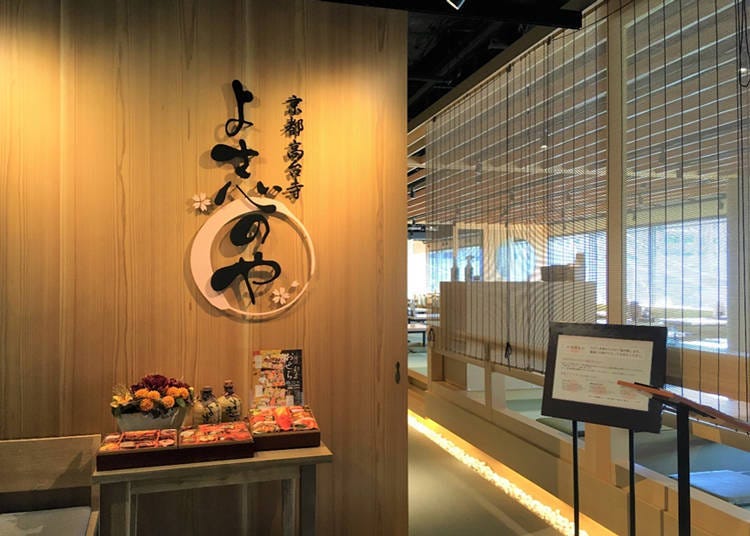 The shop "Kyoto Kodaiji Yoshinoya" is a branch of Kyoto Cuisine Ryokan Kodaiji Yoshinoya in Higashiyama, Kyoto, with a rich menu.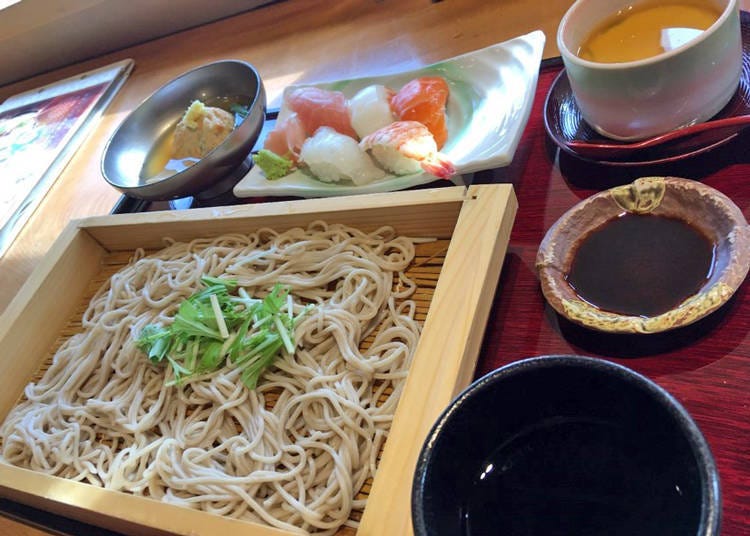 One of the popular items in "Higashiyama Gyoen" (1,650yen including tax) is a soba noodles set with sushi, boiled food and a steamed rice bowl. It's an unmissable combination for Japanese food lovers.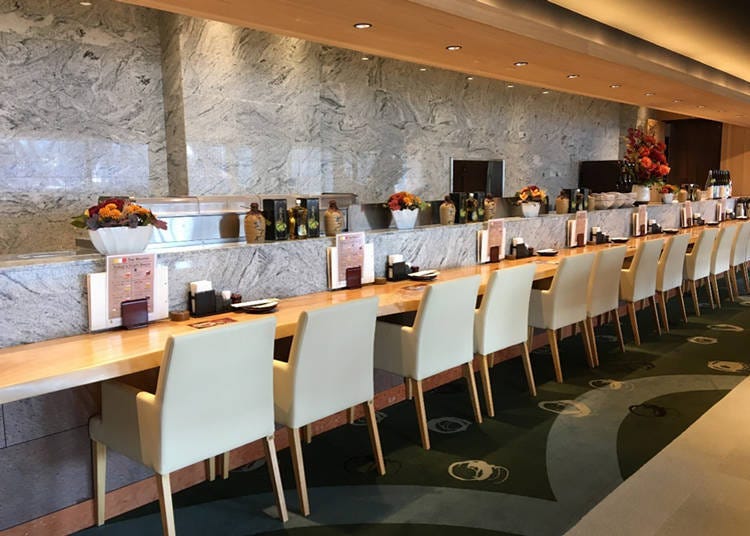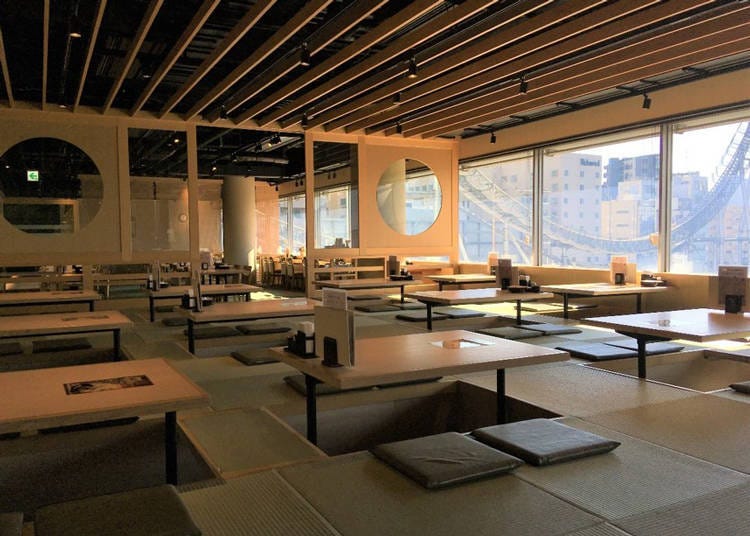 There are counter seats and tables, for both men and women.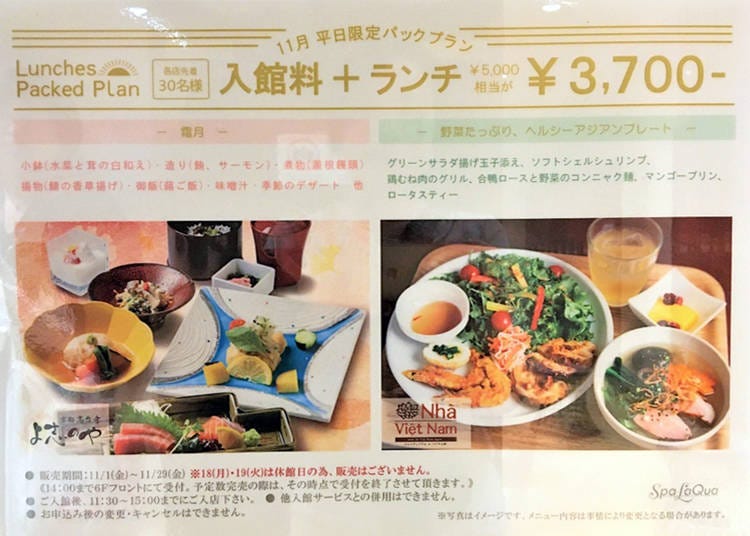 Only on weekdays, you can choose to add Japanese food or Vietnamese food to your entrance fee, with menus that change monthly. This is a popular plan (3,700yen, tax included). By just adding 800 yen on top of the entrance fee, you will certainly feel like it's a good deal.
At Spa LaQua, everyone will be satisfied!
Spa LaQua has a lot to offer, even if it's just called a "one day hot spring." Spa LaQua is only available to those over 6 years of age, but because LaQua has other attractions, shops, and restaurants, there are plenty of places that meet the needs of families, couples, and tourists.

If you are a foreign traveler who is not familiar with "Japanese bathing rules," you'll be fine thanks to the many pamphlets in English, Chinese, and Korean. Almost all information about the facilities are written in both Japanese and English, and there are translating devices in several locations.
スパ ラクーア

Address

112-0003 1-1-1 Kasuga, Bunkyo-ku, Tokyo, Tokyo dome City, LAQua 5-9F (front desk on 6th floor).

Nearest Station

JR Chuo Line, Sobu Line, Toei Mita Line "Suidobashi" station, about 6 minutes on foot.
From Korakuen Station on the Tokyo Metro Marunouchi Line and Namboku Line, one minute on foot.
From Toei Subway Oedo Line/Mita Line "Kasuga" station, 2 minutes on foot.


Phone Number

03-3817-4173

Hours: 11:00am-9:00am
*Use of baths until 08:30am (open-air bath 7:30am)
*Last admission 8:00am
*Patrons aged 6-17 must be accompanied by a guardian (allowed until 06:00pm – last admission 03:00pm)
Closed: open daily (there are unscheduled closing days)
*This information is from the time of this article's publication.
*Prices and options mentioned are subject to change.
*Unless stated otherwise, all prices include tax.